NFL Nation:

2013 NFL owners meetings
March, 20, 2013
3/20/13
2:45
PM ET
PHOENIX -- After spending about 25 minutes Wednesday morning with
Detroit Lions
coach Jim Schwartz, I can tell you at least one thing: Schwartz is just as excited as you are about the acquisition of running back
Reggie Bush
.
Bush
We've discussed
the favorable run schemes
the Lions routinely face when receiver
Calvin Johnson
is in the lineup, and
we've noted the slam-dunk fit
of Bush's skill set. Wednesday, Schwartz used an extended and self-deprecating baseball analogy -- utilizing the Detroit Tigers'
Miguel Cabrera
, of course -- to further explain the potential we all see.
"If the Tigers had Cabrera and they had Schwartz batting behind Cabrera, how many intentional walks would Cabrera get?" Schwartz said. "A lot. A lot. I might be able to move the runner across. I might be able to hit behind the runner. I might be able to foul one off. I might be able to bloop one over the first baseman's head. But I can't clean the bases. That's my skill-set.
"But Reggie Bush can clear the bases. … Calvin's the kid in little league that the other coach … intentionally walks four times in a row. Well, along with the other guys, we need to make more explosive plays when teams choose to play us that way. I think Reggie will be a big part of that."
In that analogy, 2012 tailbacks
Mikel Leshoure
and
Joique Bell
were the guys batting behind Johnson. They combined for 1,212 yards, but only three of their 297 carries went for at least 20 yards. They rarely cleared the bases even when given consistent opportunities. If Bush doesn't capitalize on open space near the line of scrimmage -- er, the loaded bases -- then maybe it wasn't meant to be.
March, 20, 2013
3/20/13
1:32
PM ET
PHOENIX --
Chicago Bears
tailback
Matt Forte
called it "absurd."
Leslie Frazier worried that his MVP running back would be
subjected to an increasing number of hits to his knee.
The NFC North generated as much opposition to the NFL's proposed crown-to-helmet penalty as any other division, but in the end -- as we discussed Sunday -- the nebulous "player safety" tag has once again carried the day.
All four NFC North teams voted for a rule that passed overwhelmingly Wednesday. Frazier and the Vikings produced a notable about-face; Frazier had reiterated concerns as recently as an hour before the vote, during the NFC coaches breakfast here at the NFL owners meeting. After the vote, however, Frazier said: "The overriding factor regarding player safety kind of overrode [our] concerns."
Look, we all know what happened here. NFL commissioner Roger Goodell has made player safety a priority, both for the long-term health of players and the long-term viability of the game. Creating "safer" rules puts those efforts in writing and creates a paper trail, in both a practical and legal sense. I'm pretty sure the NFL doesn't want coaches or other employees publicly questioning its efforts to do so, regardless of the issues at play. The league is making a macro movement in spite of whatever micro issues it might cause.
The rule makes sense in the abstract -- a player shouldn't be allowed to, as the rule is worded, "deliver a blow with the top/crown of his helmet against an opponent" -- but there are practical ramifications that make you wonder how it will be enforced.
Forte noted that running backs naturally lower their shoulders to protect themselves from contact and to break tackles. As a result, the head lowers as well. Will officials recognize the difference between that and an intentional lowering of the head to initiate contact? Frazier wondered if defensive players would go low on tailback
Adrian Peterson
to avoid the 15-yard penalty of hitting his helmet with theirs.
In the end, those issues won't dissipate. We'll probably have some questionable calls to discuss this season. But go ahead and book it: Anytime a rule change is attached to "player safety," its chances of passing is excellent. It's a sign of our times.
March, 19, 2013
3/19/13
9:10
PM ET
PHOENIX -- Very few of you appreciated
my afternoon tweet
from the lush grounds of the Arizona Biltmore resort. What? You didn't like my view of paradise as you dealt with a Winter Wonderland in NFC North territory? I'm sorry to hear that.
Rest assured, however. As I took in some natural vitamin D, I also was working diligently alongside NFC West blogger/legal analyst Mike Sando, scouring the fine print of the NFL's 2013 bylaw-change proposals for possible impact in our respective divisions. We found at least one that could affect our 2013 season.
Among other things, Bylaw Proposal No. 2 would add two weeks to the window for return by players who open the season on the physically unable to perform (PUP) list. If it passes, the rule would allow a player to return any time between his team's sixth and 11th games. (It currently requires a decision after the ninth game.)
Technically, then, a player could miss the first 14 games of the season -- an 11-game PUP stay plus three weeks of practice -- and still be eligible to play the final three games. It's debatable whether a coaching staff would judge a player to be ready for live-game action after that long of a layoff, but in the right situation it could provide a late-season boost.
In the NFC North, for example, the
Green Bay Packers
could give defensive lineman
Jerel Worthy
-- who suffered a serious knee injury in Week 17 last season -- an extra two weeks to rehabilitate. Wednesday is the final day of these meetings. I'll let you know if the final wording of this bylaw and if anything else changes.
March, 19, 2013
3/19/13
6:15
PM ET
PHOENIX -- So the main media attraction Tuesday at the NFL owners meeting was the AFC coaches' breakfast. There isn't much to be gleaned about NFC North teams from that group, so I decided to circulate among the AFC North coaches -- whose teams are on our collective 2013 schedules -- to check in on their offseason progress. A few snippets:
Baltimore Ravens
Issue:
The team has been gutted by free-agent departures and is awaiting word on a decision from free agent safety
Ed Reed
. As a result, this team belongs to quarterback
Joe Flacco
like never before.
Coach John Harbaugh:
"Joe's going to do a great job of just continuing to get better in everything that he does and rallying the guys around him. He's going to take those young guys under his wing and he's going to push those guys forward. He's going to be a big part of building our offense. We're going to build it around Joe, but you also build it around your offensive line. You've got to have a great offensive line. You've got to have playmakers outside who can make plays for Joe and you've got to have a great running back, so it's still a team game."
Cincinnati Bengals
Issue:
The team is in a contract stalemate with offensive lineman
Andre Smith
, leaving the Bengals in a precarious spot with an important player.
Coach Marvin Lewis:
"I'm not in charge of contracts. I don't think it's unsettling for me. It'll happen when it happens. If not, we'll move on and get another guy. I think Andre would have preferred to have this done by now, most importantly."
Cleveland Browns
Issue:
The Browns have yet to follow through on plans to add a competitor for the starting quarterback job currently held by
Brandon Weeden
.
Coach Rob Chudzinski:
"I see it as creating competition. That can be from a number of different places that you create competition. We have some guys there and we're going to coach them all and coach them all hard. We're going to give them all opportunities to show what they can do. … Competition comes from within, too. As coaches, we have to bring that out in them. I have no doubt we'll be able to bring that out."
Pittsburgh Steelers
Issue:
Safety
Troy Polamalu
missed nine games because of a calf injury last season, a year after the team encouraged him to participate in all of its offseason program.
Coach Mike Tomlin
[In response to a question on whether the team wants Polamalu to change his offseason regimen]: "I want him to be ready, and I think he wants to be ready, like everyone. I'm not going to make more out of that than what it is."
March, 19, 2013
3/19/13
11:00
AM ET
PHOENIX -- In January, the
Minnesota Vikings
picked up a one-year option on coach Leslie Frazier's contract rather than negotiate a long-term extension. When the move was announced in February, Frazier
didn't hide his surprise and disappointment
before pledging to push forward into the 2013 season.

Frazier
Here at the NFL owners meeting this week, I got a chance to speak with Vikings owner/president Mark Wilf about a number of topics, including Frazier's contract. I asked Wilf if he felt compelled to speak with Frazier or otherwise reiterate his support in light of public discussion about the implications of the decision.
Wilf said there has been ample communication on the issue, made clear the team's expectation is to win the NFC North in 2013 and strongly downplayed the possibility of opening negotiations during the season.
"We have a great relationship with coach Frazier," Wilf said. "We've had a lot of communicating back and forth on that. But now we're turning the page to the 2013 season and our focus is on, first, winning our division, which is a very tough division, and we want to get back to where we were a few years ago, and that's the top of our division. We know it's competitive, but that's our No. 1 focus. From there, hopefully it's our best opportunity for our ultimate goal, which is to win the championship."
I don't think that means an NFC North title will be required for Frazier to keep his job in 2014, but it's clear the Vikings want to see more than they saw last season. Asked if there was a possibility of addressing Frazier's contract during the season, as the Vikings did in 2009 with former coach Brad Childress, Wilf said: "Once the season goes, we're not discussing any contractual relationships or anything of that sort."
So one way or the other, the Vikings will face a franchise decision next offseason. There are no more options in Frazier's contract, meaning he is signed through 2014. Given most teams' reluctance to enter a season with a "lame duck" coach in the final year of his contract, the Vikings almost certainly will give Frazier an extension after the 2013 season or fire him. The stakes are as high for this franchise as they have been in a while.
March, 18, 2013
3/18/13
6:13
PM ET
PHOENIX -- They said this would not happen. As someone who hated the idea of an outdoor Super Bowl in the Northeast from the moment it came up, I distinctly remember NFL commissioner Roger Goodell saying this would not happen. This was back when they announced that the 2014 Super Bowl would be held at MetLife Stadium in East Rutherford, N.J., and one of the many questions (along with, "What the heck are you guys thinking?") was whether other outdoor northern venues would then be candidates for future Super Bowls as well. Goodell said no, that this New York thing was a one-time, special opportunity.
Nevertheless, at the NFL owners meetings on Monday,
Philadelphia Eagles
owner Jeffrey Lurie said he'd push for a Super Bowl in Philadelphia if the New York/New Jersey game is a success.
"I will, yes. I will, if it's a success," Lurie said. "New York will help us."
Lurie offered the NFL party line bit about how cool it is when football's played in the snow, asserting he has great memories from growing up in Boston and watching games played in the snow. And he said he thinks, as long as it's no threat to public safety, it'd be great if next year's game had a little bit of snow.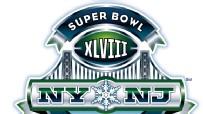 AP Photo/NFLLook, there's a snowflake there in the 2014 New Jersey/New York Super Bowl logo.
But again, as was the case when the New York/New Jersey idea came up, this cliched and myopic argument ignores the many, many reasons not to do this. Ever again. Having the game in New Jersey next year is a monumental mistake, and the NFL will be lucky if it goes off without a hitch. The league should absolutely not press its luck by trying to do it again in Philadelphia, Washington, New England, Chicago or any such place where the threat of a weather-related, game-day mess is added to the threat of a weeklong logistical mess akin to what happened when they had a freak ice storm in 2011 in Dallas.
As I write this, according to weather.com, it is 36 degrees in the fine city of Philadelphia. "Areas nearby," the page I'm looking at tells me, "are reporting a mixture of rain and snow." It is also currently 44 days since the Super Bowl was played. That's more than six weeks gone by from Super Bowl Sunday, and the Northeast is still dealing with the very real daily threat of messy weather. Why, I continue to ask, would the NFL want to invite this to its signature event? And before you answer, please consider that the Super Bowl, from the NFL's standpoint, is not simply one game at 6:30 p.m. on a Sunday, but rather a weeklong festival of football to which the whole world comes hoping to have a good time and party. It is important to the NFL that the entire week -- not just Sunday night -- go well. Dallas was an embarrassment, but at least that could be dismissed as a fluke because they don't generally have winter storms in February in Dallas.
They do, generally, and somewhat frequently, have winter storms in northern New Jersey. They have them in Philadelphia. The idea the NFL would want to hold its signature event in a place where this is not only possible but likely -- and then also bring game day into the potentially messy equation by playing the Super Bowl in a cold-weather stadium without a roof -- is senseless and always was. The league is already juggling next year's schedule for Super Bowl week in ways it wouldn't have had to if sense had prevailed. There will be no "NFL Experience," because there's nowhere to put it. Media Day will be in a hockey arena in Newark, N.J. because the NFL doesn't want to risk having it outside in bad weather. The league has reportedly discussed contingency plans for moving the game to Saturday or some other day of the week if there's a big storm. "Super Bowl Friday" just doesn't have the same ring, right? Why invite these problems? And why more than once?
I hold to the belief that the New York/New Jersey Super Bowl was part of the deal with the owners of the Giants and the Jets when they agreed to build their new stadium. The league hasn't come out and said that, but I believe it to be the case. And if it is, fine. They've all made worse backroom deals, I am sure. But this should be where it stops, and if next year's game happens to go off without a hitch, the NFL should not allow that to change its mind about the outdoor northern Super Bowl as a repeatable concept. It's a bad idea and will continue to be a bad idea whether the league gets lucky next year or not. I thought, when this came up the first time, that Goodell had made it clear to other owners that this did not open things up for places like Philadelphia to follow suit. I think the NFL should make that clear again, tell Lurie to stand down, hope next year's Super Bowl goes off without any gigantic problems and then start putting the game back in places like Miami and New Orleans, where it belongs.
March, 18, 2013
3/18/13
4:55
PM ET
PHOENIX --
Dallas Cowboys
executive vice president Stephen Jones said the team is continuing its discussions with quarterback
Tony Romo
on a contract extension and that he believes they will eventually reach an agreement. Jones acknowledged it would be nice to reduce Romo's very high 2013 salary cap cost, but he did not indicate any particular deadline or hurry for reaching a deal.
[+] Enlarge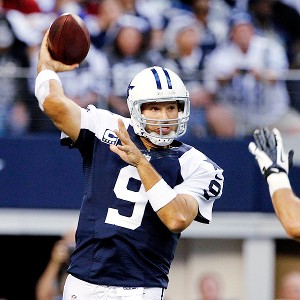 AP Photo/Tim SharpThe Dallas Cowboys are intent on getting a new deal done with quarterback Tony Romo.
"There's never really a start or stop time with Tony," Jones said in the lobby of the Arizona Biltmore. "I do think it will get done."
The Cowboys would like to lock up Romo long-term before his contract expires at the end of the 2013 season. Reducing this year's cap cost by spreading out signing bonus money from a new deal over future years would be one benefit of that, but that's not the sole motivation. The Cowboys like and believe in Romo as their starting quarterback and want him around for a long time. Asked which was a higher priority, Romo's new deal or a new long-term deal for defensive end
Anthony Spencer
, Jones didn't hesitate.
"Tony's," he said. "Quarterbacks take precedence."
Jones didn't make much of the extent to which the team's salary cap concerns have limited its ability to maneuver this offseason -- even as he revealed that the team had re-signed linebacker
Ernie Sims
to a veteran minimum deal and were down to "five figures" worth of cap space.
"We were never going to be big players in free agency this year," Jones said. "We played there last year, and we felt like we did some good things, and we've got to see what the end results are. A big focus for us is on this draft. We need to draft well."
They do indeed. Jones said he believes that offensive linemen such as
Nate Livings
,
Mackenzy Bernadeau
and
Doug Free
will play better in 2013 than they did in '12. And he said the team believes it has its two starting safeties already on on the roster, citing
Barry Church
and
Matt Johnson
. He acknowledged that they can't count on Johnson, who was a mid-round pick last year and missed the whole season due to injuries, and he said he wouldn't be surprised if they added a veteran safety. But the fact is the draft is the Cowboys' only significant means of filling the holes on their roster right now, and they need to find 2013 starters in the early rounds. Especially on the offensive line.
In terms of line specifics, Jones said no decision has yet been made on Free, who would save the team $7 million in salary cap space as of June 1 if cut.
"I think he improved last year," Jones said of the Cowboys' right tackle. "Obviously, toward the end of the year, when the competition got going there, he played some of his best games."
I still think they'll upgrade at tackle, but since they don't know for sure whether they'll be able to do that with their first-round pick -- and since they can't get the savings until June anyway -- it makes sense for the Cowboys to hold onto Free for now, and delay their decision until they know who his replacement will be.

NFL SCOREBOARD
Thursday, 9/4
Sunday, 9/7
Monday, 9/8