NFL Nation:

2013 predraft positional rankings
April, 22, 2013
4/22/13
8:40
PM ET
The NFL does not crown division champs in April. Matt Williamson and I kept that in mind when breaking down his
pre-draft positional rankings
for NFC West teams.
Williamson, who scouts the NFL for ESPN.com, wraps up the series with thoughts on where NFC West teams stand overall.
Williamson:
I think Seattle is the best team in the league right now.
Sando:
Spoiler alert.
Williamson:
The 49ers are the second-best team. The Rams are maybe 12th or in that neighborhood and a very legitimate playoff contender, particularly if they were in another division. But it wouldn't shock me if three teams from this division made the postseason.
Sando:
Arizona sends its regards.
Williamson:
I think Arizona is underrated, definitely better than most people probably realize. Carson Palmer will help. Bruce Arians will help. Everyone talks about Palmer getting crushed behind that Arizona line, but Arians can scheme that up.
Sando:
Andrew Luck was under duress or hit while throwing more than any quarterback in the NFL last season, according to ESPN Stats & Information. Arians was running that Colts offense. At the same time, Palmer has done a good job over his career getting rid of the football. He takes relatively few sacks.
Williamson:
Ben Roethlisberger took hits when Arians was coordinating the Steelers' offense, but they still had a great offense throwing the deep ball with a bad offensive line. That was even more true with Indy. It's not like this coach [Arians] has never played with a bad offensive line.
Sando:
Palmer will certainly benefit from playing with Larry Fitzgerald and a strong group of wide receivers.
Williamson:
Last year, if you watched Raiders, Palmer had extreme knuckleheads playing receiver, running the wrong routes, dropping the ball. He'll throw too many picks, but his circumstances will be better in Arizona.
Sando:
It's only fitting we go on at some length about Arizona. We've spent quite a bit of time anointing Seattle and Arizona while pointing to what should be a bright future in St. Louis with all those draft choices.
Williamson:
It just dawned on me that I ranked Seattle first or second on my list at every position but tight end. San Franciso actually has a couple fours. Some of these are pretty debatable, of course.
Sando:
No question. The gap between first and fourth on the defensive line is miniscule. It's laughable in some ways to rank the 49ers fourth at more than one position on defense until you realize fourth in this division can still be really good. Back to the Cardinals, though. What do you think of their additions at running back?
Williamson:
Rashard Mendenhall and Ryan Williams, one can be very legit. The offensive line has to be better. It wasn't as bad in the second half of last season. They got an awful player off the field when they moved on from D'Anthony Batiste. Now you throw in Levi Brown and you are, say, the 25th-best line.
Sando:
Sounds like the Cardinals think they'll be better than that. They could address the position in the draft, too. They will.
Williamson:
Levi Brown is much better than a guy off the street, which is what Batiste was. I feel bad for Ken Whisenhunt. He had no chance.
Sando:
We're out of time. Thanks for doing this, Matt. We'll revisit the rankings down the line.
April, 17, 2013
4/17/13
3:11
PM ET
The
San Francisco 49ers
have fielded an effective, sometimes dominant defensive line recently, even without factoring outside linebacker
Aldon Smith
into the line equation.
That's why it was shocking to see ESPN's NFL scout, Matt Williamson, rank the 49ers' defensive line fourth among those in the NFC West.
The No. 4 ranking could be misleading, however. Williamson explained why in kicking off the latest conversation in our series
ranking NFC West teams at each position
.
Williamson:
I could make an argument to put these defensive lines in almost any order.
Sando:
So, you're not necessarily downgrading
Justin Smith
and the rest of that 49ers line.
Williamson:
I still think Smith is the best defensive lineman in the division and that is really saying something. But I wonder if his best days were in 2011. Those were very good days. He was the best defensive player in the league. You wonder if he is 90 percent of his best days, which is still a great player and the best defensive lineman in the division, but he might not be quite the same. I like
Ray McDonald
.
Glenn Dorsey
will be a nose tackle/McDonald type. They will move him around. He'll be a better version of Ricky Jean-Francois. That is who he is replacing, not
Isaac Sopoaga
.
Sando:
The 49ers could have
significant plans
for Dorsey, although those remain a little vague.
Williamson:
Dorsey was my favorite player in the '08 draft as a
Warren Sapp
type and a perfect fit for the scheme the Chiefs had at the time, but then everyone got fired, they turned him into a 3-4 defensive end and it was a totally wasted resource of a high pick. The 49ers will be smarter about how they use him than Kansas City was, but I don't think he is the same player because he has added weight and has been a slight bust.
[+] Enlarge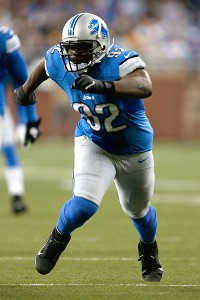 AP Photo/Scott BoehmThe Seahawks added Cliff Avril to an already impressive group of defensive linemen.
Sando:
Looking at the division overall, I might have put the Rams ahead of the Seahawks. For Seattle,
Chris Clemons
is hurt,
Alan Branch
departed,
Tony McDaniel
was arguably a so-so replacement and
Red Bryant
is coming off a tough year.
Michael Brockers
looks like a star in the making for the Rams.
Chris Long
and
Robert Quinn
can easily combine for 20-plus sacks.
William Hayes
is in there too.
Williamson:
I didn't penalize the Seahawks in the rankings for Clemons' injury. He is still a really good player who will factor in at some point. He was really good on last viewing.
Bruce Irvin
will be better.
Michael Bennett
is a great addition.
Cliff Avril
is a phenomenal addition. They will put that NASCAR package out there when Clemons is healthy.
Brandon Mebane
is really good. I believe in Red Bryant. That is six quality defensive linemen and they can add somebody. McDaniel can hold his own. They can go eight deep with quality players and some fringe Pro Bowlers.
Sando:
The depth is impressive. That is one area where I think the 49ers are lacking. They don't need as large of a rotation because Aldon Smith plays in their four-man line packages. Still, the Seahawks are stacked up front to a degree that came into clearer focus the way you spelled it out.
Williamson:
They have a wide skill set, which I like, too. Irvin and Bryant are totally different players at defensive end. Irvin, Clemons, Avril and Bryant give you versatility. For the Rams, Hayes is an important part of that equation. He had seven sacks last year. Quinn and Long are questionable against the run. Hayes can be a base run defensive end. Plus, he moves inside and can be a quality rusher there.
Sando:
I hadn't really thought of Long as a liability against the run.
Williamson:
You can run at Long. Part of that is scheme. Sort of like in the
Dwight Freeney
-
Robert Mathis
days, they play the run on the way to the quarterback. With the Rams, a lot of it is ahead of them. I'd draft Quinn very high if I were building a team, but he is not as good as Cliff Avril right now. Brockers is going to be a total stud. I didn't love him coming out of LSU, but he far exceeded my expectations. I think he'll be a multiple Pro Bowl player.
Sando:
We haven't even mentioned the Cardinals, who have, by the way,
Calais Campbell
-- arguably the best defensive lineman in the division at any given time. There are some unanswered questions about scheme as the team transitions to a new staff, however.
Williamson:
Even though they ran a 3-4 defense under former coordinator Ray Horton, they allowed those defensive ends to penetrate. If they were to go to a 4-3, it would be great for
Darnell Dockett
. He could compete for being the best three-technique in the league. The old scheme hurt Dockett. He is a great player and a better player than people realize because he hasn't been used properly.
Sando:
We'll have a better feel for the Cardinals' line once we learn more about how new coordinator Todd Bowles plans to use everyone.
Dan Williams
is a key variable, too. He was drafted as a 3-4 nose tackle, a position pretty specific to the Horton scheme.
Williamson:
Williams has come along and is an above average 3-4 starting nose tackle.
Sando:
The Cardinals also added
Frostee Rucker
and
Matt Shaughnessy
for depth, but their line's ranking probably hinges on whether the new scheme maximizes Dockett. There are also some questions about the outside pass rush. Some of those questions will arise again when we look at the Cardinals' linebackers.
Williamson:
Overall, I don't love their depth on the line. They don't have that guy off the bench like Hayes or all those defensive ends in Seattle or even Dorsey in San Francisco.
Sando:
Great discussion, Matt. The takeaway is pretty clear to me. This division should be strong along its defensive lines. Keeping a straight face while ranking the 49ers' line fourth drives home the point.
April, 17, 2013
4/17/13
12:49
PM ET
Three of four starting NFC West left tackles have been named to start a Pro Bowl over the past few seasons.
The fourth,
Levi Brown
, was drafted fifth overall in 2007.
From 2009 through 2011, NFC West teams used five first-round selections for offensive linemen, more than any other division.
Results have been mixed. Overall, however, the lines in this division should be on the rise. There is still quite a bit of variance top to bottom.
Matt Williamson, who scouts the NFL for ESPN.com, picks up the conversation from there as part of our
ongoing series
ranking NFC West position groups.
Williamson:
San Francisco has the best offensive line in the league. The 49ers bring back all five starters. They are loaded. Arizona has one of the worst lines in the league, although I think it will be better. Brown is back from injury.
Bobby Massie
and
Nate Potter
will be better in their second seasons. All the draft analysts seem to think the Cardinals need a tackle. They really need a guard. That is the weakest spot on the line, right guard.
Sando:
I was pretty surprised when the Cardinals gave decent starting money to
Adam Snyder
in free agency last offseason. He's most valuable for his versatility and would be ideally suited as the sixth man for any line.
Williamson:
Snyder is terrible. I don't think they'll draft
Chance Warmack
seventh overall. They need an outside pass-rusher. Still, they should strongly consider Warmack. He would help their line more than anybody.
[+] Enlarge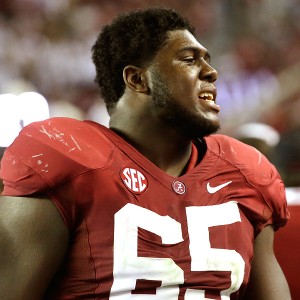 AP Photo/Dave MartinESPN's Matt Williamson says Alabama guard Chance Warmack would fill a glaring need for Arizona.
Sando:
Arians and general manager Steve Keim think the line will be vastly improved this season for some of the reasons you outlined. I tend to agree. The line already improved once
D'Anthony Batiste
left the lineup. Beyond Arizona, you've got Seattle with the second-best line in the division. Was that a tough call for the second spot?
Williamson:
I think you could make an argument between the Seahawks and the Rams O-lines. The Rams' line has been so bad for so long that it's easy to say they stink. But look at them player by player. They have four quality starters now that
Jake Long
is the left tackle. Age and/or injury is a big issue for three of the four. I think they should draft Warmack on
Jonathan Cooper
over a wideout. Add one of those guards to the line and you'd have five solid starters. Not many teams can say they have that.
Sando:
There is definitely a tendency for people to pencil in a wide receiver for the Rams in the first round. If there is a truly elite WR prospect available, I'd have no problem with that. But there's absolutely no need to force a wideout in the first round. The Rams already have developmental prospects at the position. Using a first-round pick for another
Brian Quick
really wouldn't make sense if an immediate starter were available for the line.
Williamson:
Guard is a bigger need than wideout, with safety being the biggest need. Rams fans will go crazy if they end up with Cooper and
Kenny Vaccaro
, but to me that would be a home run.
Jared Cook
is a wideout. Quick will be a good player. Givens already is good. He emerged. And if you can protect, Givens will be that much better.
Sando:
Let's get back to the debate between Seattle and St. Louis for the No. 2 line in the division. The Seahawks have two Pro Bowlers on their line in center
Max Unger
and left tackle
Russell Okung
. They're not all that great elsewhere on the line.
Williamson:
Seattle has the two best guys from either team's line. If you asked 100 people to rank these guys, 98 would put Seattle over St. Louis, but it's much closer than people think. That right side of the offensive line in Seattle scares me. Before the
Percy Harvin
trade, I would have said
D.J. Fluker
was who I would add to Seattle -- the biggest, nastiest pure right tackle and guard to compete with the physicality of the Niners.
Sando:
The Seahawks don't have a first-round pick now, and I'm not sure they see the line as a primary need. For reference, NFC West teams have drafted 10 offensive linemen in the first three rounds over the past five drafts.
Mike Iupati
,
Anthony Davis
, Okung, Unger and
Rodger Saffold
became starters.
Chilo Rachal
,
James Carpenter
,
John Moffitt
,
Jason Smith
and
John Greco
haven't produced and have moved on in some cases.
Williamson:
No picks for Arizona in there.
Sando:
Right. That will presumably change this year. To your point about the right side of Seattle's line scaring you, we should note that right tackle
Breno Giacomini
gives the Seahawks a physical, nasty presence. He has played to negative reviews, but I think Seattle likes him.
Williamson:
Breno has been serviceable.
Marshawn Lynch
has room to run. I think they have two good players and then a bunch of guys. I do think the whole is greater than sum of the parts. There is some truth to that in Seattle, which goes to coaching.
Sando:
That really was true for the Rams last season as well. Adding Long lets them move Saffold to right tackle, an upgrade from
Barry Richardson
last season.
Scott Wells
' return to the lineup for the final seven games last season went under the radar a little bit. His presence for a full season could help
Sam Bradford
. But there are injury concerns across the board for the Rams on their line. Adding a starting guard through the draft would certainly improve the outlook.
April, 16, 2013
4/16/13
1:32
PM ET
As promised
, Matt Williamson is here to discuss the NFC West positional rankings posted Monday and republished in the chart at right. Matt has been a regular on the blog for some time as the NFL scout for ESPN.com. We spent about an hour on the phone Tuesday running through each position. We begin with quarterbacks.
Sando:
Just to be clear, Matt, we're talking about ranking positions for the 2013 season. We're not projecting how positions could take shape in a year or two. I know you've been a huge
Colin Kaepernick
supporter going back to when the
San Francisco 49ers
drafted him. You still gave the
Seattle Seahawks
your No. 1 ranking at quarterback. Why?
Williamson:
It wasn't an easy decision. I clearly think the race for one-two is between Kaepernick and Wilson. We could make an argument that
Carson Palmer
belongs above
Sam Bradford
, too. If I were starting a team from scratch and could pick one of these NFC West quarterbacks to build around, I'd take Kaepernick. I just think Wilson is further along. There is a greater chance Kaepernick falls back next year than Wilson falls back. Wilson has proved he can be a pocket passer. All the other things come after that. Wilson is the safer pick right now.
Sando:
That sounds reasonable to me. Wilson started all 16 games, plus two playoff games. The body of work was bigger for him. However, Kaepernick had a year on the bench and a half-year on the sideline before taking over the 49ers' offense and playing a leading role in their run to the Super Bowl. There's a lot to like.
Williamson:
If I were starting a team, Kaepernick and Wilson would rank among my top five picks. The upside for Kaepernick is so great. I don't expect him to take a step back. I just don't think he is as far along as Wilson in the fundamentals of quarterback play. Wilson coming into the league was ahead of Kaepernick in terms of being a pocket passer, reading defenses, not relying on his physical gifts so much and just in the mental side of things.
Sando:
Both these quarterbacks were first-time NFL starters last season. Skeptics might naturally wonder if sophomore slumps await (even though Kaepernick will be in his third season overall). What do you expect?
Williamson:
Every defensive coordinator on the Seahawks' schedule is spending time on
Russell Wilson
where they were not doing so last year at this time, but I don't think we're going to see a sophomore slump. Usually when I think of those, it's like the pitcher who lights up the majors and then everyone realizes he has no curveball. I don't see the hole in Wilson's game or Kaepernick's game.
Sando:
Both the Seahawks and 49ers should be in better position to help their quarterbacks this season. Neither team will be adjusting to a new starter on the fly. Let's shift our focus to the other starting quarterbacks in the division. You ranked the Rams third and the Cardinals fourth, but it sounds like you could have gone either way.
Williamson:
I didn't have a really difficult time taking Bradford over Palmer. I think he is the better player, but not by much. Palmer had awful circumstances last year and you could say he and Bradford had somewhat similar seasons. Now, it's not like Bradford had a great situation, either. Palmer makes more mistakes than Bradford makes, but he also makes more things happen. Who do I want on opening day? I'll take Bradford. He just hasn't done a whole lot to this point.
Sando:
Thanks, Matt. We're one position down and have quite a few to go. We'll pick up the discussion with rankings for running backs a bit later.