NFL Nation:

2013 Week 10 BUF at PIT
November, 10, 2013
11/10/13
8:00
PM ET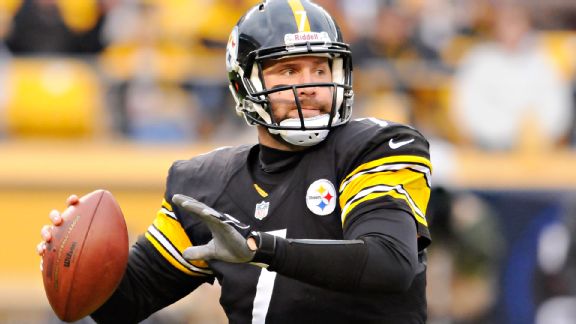 Mark Konezny/USA TODAY SportsBen Roethlisberger insists he'll be a Steeler past this season, despite a report to the contrary.
PITTSBURGH -- He wore a No. 7 jersey and watched quizzically from the arms of a
Pittsburgh Steelers
staffer as his father addressed a semi-circle of reporters near the front of the home locker room.
Ben Roethlisberger
Jr. either received as strong an assurance as possible that he will long call the Pittsburgh area home. Or he witnessed an acting job worthy of an Oscar nomination, courtesy of his old man.
The elder
Ben Roethlisberger
turned in a workmanlike performance in the Steelers' 23-10 win against the hapless
Buffalo Bills
at Heinz Field on Sunday.
He later allowed himself to look ahead only so he could angrily deny an NFL Network report he took personally because of its most titillating claim: that Roethlisberger might want out of Pittsburgh after this season because he is so unhappy with the direction of a franchise that has won a record six Lombardi Trophies.
"It's one of the most B.S. stories I've ever heard," Roethlisberger said after throwing for 204 yards and a touchdown against the Bills. "When it comes to wanting to go somewhere else, that's completely unacceptable."
So is what the Steelers' season had devolved into following a 55-31 unmasking last Sunday in New England. The 3-6 Steelers did not restore hope after beating the Bills on Sunday in a game that was as drab as a gray, cold day, as much as they stanched the latest round of bleeding.
The reality is the Steelers are almost certainly going to miss the playoffs for the second season in a row. That and the fact that Roethlisberger isn't getting any younger -- and continues to take a beating behind a patchwork offensive line -- led to a report that appears to have added two and two and gotten five.
Forget the layers of denials, and that Roethlisberger's agent unequivocally discredited the report even before talking to his client about how to handle it.
Roethlisberger has always said he wants to play for the Steelers his entire career. And his roots here extend now beyond leading the Steelers back to Super Bowl glory.
Roethlisberger's wife, Ashley, is from New Castle, which is about an hour north of Pittsburgh. The couple's first child was born here, and they are expecting another child.
Do you really think Roethlisberger wants to uproot his growing family just so he can link up with his good buddy and former Steelers offensive coordinator Bruce Arians in Arizona?
A lot of tough decisions loom for the Steelers this offseason, and they will almost certainly have to hire their second offensive coordinator since sending Arians into what the team framed as retirement at the end of the 2011 season.
It is simply not working out between Roethlisberger and Todd Haley -- the two still have a frayed relationship, according to a source, despite their appearance of working better together this season -- and guess which one is more expendable?
The offense continues to labor under Haley, and it managed just two touchdowns against the Bills despite a balanced attack and short fields provided by an
Antonio Brown
punt return and a
Ryan Clark
interception.
The Steelers, however, so thoroughly dominated the Bills that they extended for at least another week hope that a season that started 0-for-September can still be salvaged.
Not that the Steelers players dared go there after the get-well win.
"It was one step in the right direction," Steelers defensive end
Brett Keisel
said. "If we play like this we can be tough."
The Steelers agave those fans who braved the biting air and whipping winds what coach Mike Tomlin called an "appropriate" response following the Steelers' loss at New England.
They looked like the Steelers of old as opposed to the old Steelers in dominating both lines of scrimmage, toying with a rookie quarterback and taking control of the game with touchdowns that bridged the second and third quarters.
They played angry, none moreso than
Lawrence Timmons
, who had eight tackles and a teeth-rattling sack of
EJ Manuel
.
The caveat is that the Bills are even worse in the win-loss column than the Steelers, and that Pittsburgh has now beaten
Joe Flacco
and two rookie quarterbacks this season.
That is why when Roethlisberger was asked if the Steelers remain relevant relative to the playoff picture he said, "It's way too early to tell."
It's apparently not too early for Roethlisberger to foresee how the rest of his career plays out, and the 10
th
-year veteran and the Steelers publicly pledged their allegiance to one another.
"I'm not quitting on anything, this season, this team, these fans," Roethlisberger said. "I'm going to give it everything I have. This is home."
This is also the place where he won his 90th-regular season game on Sunday -- and where Roethlisberger still represents the best hope of winning, even with so much uncertainty swirling around the Steelers.
"I've always wanted to be a Steeler for life," he said.
The reiteration of that desire trumped the other big news of the day: that the Steelers aren't dead.
Yet.
November, 10, 2013
11/10/13
7:15
PM ET
PITTSBURGH -- One month after returning from a fractured wrist,
Buffalo Bills
cornerback
Stephon Gilmore
still isn't right.
That much was clear just looking at Gilmore, who hung his head in the Heinz Field locker room following the Bills' 23-10 loss to the
Pittsburgh Steelers
on Sunday, his left wrist still noticeably swollen.
Gilmore
"It's not 100 percent, I wouldn't say that. It's sore after every practice, after every game," he said. "I'm just out there fighting."
For his first two games back, Gilmore wore a club over his left hand that essentially left him with one functioning arm. The club came off three weeks ago, but his play has still been noticeably impacted.
"I don't use it like I would use it if it was 100 percent," he said.
Gilmore was flagged for holding on the Steelers' opening drive, and later missed a tackle on receiver
Jerricho Cotchery
, springing a 26-yard catch-and-run.
Both of those plays can be explained in part by the wrist injury, but Gilmore appeared to be out of position for several other plays, with the Steelers finding success targeting his part of the field.
On one of those plays, Cotchery left Gilmore in his wake on a fade pattern for a 5-yard second-quarter touchdown.
"He came up and blocked me and then went out for a pass," Gilmore said. "He kind of lulled me to sleep a little bit on that play."
Not surprisingly, that was just how Steelers drew it up.
"[It was] a fall-asleep fade," Cotchery said. "We just try to lull the guy to sleep. Once he peeks [into the backfield], it's a touchdown."
Bills coach Doug Marrone was quick to defend Gilmore last week, when the Chiefs attacked him for most of the game. Marrone said Gilmore had the tough task of covering
Dwayne Bowe
and reacted similarly to Gilmore's performance Sunday.
"I think sometimes you have to give credit where credit is due," Marrone said. "Sometimes they are going to make a play. Cotchery is a good, veteran receiver. He made a nice move back there."
The problem, though, is that Gilmore is the Bills' top cornerback. As Buffalo's 2012 first-round pick, it's Gilmore's job to cover the best an opponent can offer and win consistently.
Injury or not, that hasn't happened lately. Under Mike Pettine, the Bills' defense requires strong man-to-man coverage to support blitzing and pressure, and if Gilmore isn't playing as well as he or the team would like, they will need to adjust.
"I'm getting better and better everyday. We're playing a lot of man [coverage]," he said. "That's what we like to do. That's what I like to do. So I'm trying to fight for my team."
November, 10, 2013
11/10/13
6:45
PM ET
PITTSBURGH -- After a week in which the
Buffalo Bills
celebrated the return of their first-round pick,
EJ Manuel
, it didn't take long for his "welcome back" balloon to deflate Sunday.
In a 23-10 loss to the
Pittsburgh Steelers
, the rookie quarterback completed 22 of 39 passes for 155 yards in his first game since leaving with a knee injury in Week 5.
Following the loss, coach Doug Marrone was quick to point out Manuel's four-game absence.
[+] Enlarge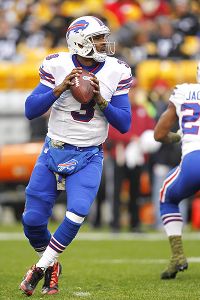 Charles LeClaire/USA TODAY SportsEJ Manuel struggled in his return to the field following a four-game layoff, but the quarterback wasn't making any excuses.
"The kid missed four weeks and just came back. He's trying his best," Marrone said. "If you want to know exactly what happened out there, he's going through his footwork too quickly and [he's] not as slowed down to see things develop as quickly."
Manuel, however, wasn't one to blame rust for his performance, one in which he completed just 44 percent of his passes until the game's final drive, when he went 11-for-14 for 76 yards and a touchdown.
"I didn't feel rusty. I felt good," he said. "I don't think that is a big deal with missing games or anything like that. You have to feel. You can tell when you have pressure. You can tell when guys are getting closer to you, so I don't think missing games has anything to do with the internal clock."
Like Marrone, center
Eric Wood
came to Manuel's defense, saying wind -- which was particularly gusty early in the game -- played a part in the passing game's struggles.
"The elements. It was tough," he said. "Early on, that wind was really kicking."
Manuel, again, wasn't buying it.
"No, I don't think the wind was a problem," he simply said after the game.
The problem, Manuel stressed, was how the Steelers' defense -- which allowed 55 points and 432 passing yards to the Patriots last week -- tried to take away the big play.
"They did a lot of coverages that were deep and had deep safeties and things like that," Manuel said. "So at times it was tough to stretch the ball down the field. You can only take what they give you. There's no point trying to force balls down the field if it's not there."
If there's any silver lining to his outing, Manuel avoided throwing an interception until the fourth quarter. On the play, his intended receiver, fellow rookie
Marquise Goodwin
, got tangled up with a Steelers defender while running downfield, allowing safety
Ryan Clark
to step in front of the pass and return it 37 yards.
There were other instances, however, when Manuel tried to force passes into tight windows, nearly causing interceptions.
"Their coach did a good job scheming for us," he said. "Sometimes the first read was covered and the second read, too."
Manuel's replacement for three games,
Thad Lewis
, was healthy Sunday after missing one game with sore ribs. However, Marrone said there was never any thought of turning to their backup.
"I really didn't," he said. "No."
It's not surprising that the Bills are choosing to ride Manuel, who Marrone is confident will improve despite the Bills' dwindling chances to turn this season around.
"I will say this: He will play to a point one day where I'm going to be able to stand here and say, 'You know what? I'm proud of him,'" Marrone said. "It's awesome. He's that type of quarterback that we all want."
November, 10, 2013
11/10/13
5:31
PM ET
PITTSBURGH -- Observed in the locker room after the
Buffalo Bills
' 23-10
loss
to the
Pittsburgh Steelers
:
Marrone explains decision to punt:
Early in the fourth quarter, down 14 points, the Bills faced a fourth-and-5 from the Steelers' 36-yard line. They chose to punt, a decision that coach Doug Marrone defended after the game. "I still think we're going to get enough possessions, trying to play the field position," he said. "We weren't able to make big plays, so I was trying to play the field position where we could get good field position and pin them back."
Johnson
Playoffs fading:
It's debatable whether the playoffs were ever a serious consideration for the Bills, who entered the season with a first-year head coach and rookie quarterback. At 3-7, they're still far from being officially eliminated, but they will need to win five of their final six games to finish with a winning record. Playoffs or not, however, Marrone talked about the need to continue to fight in each game. "I don't want to give you the old 'They play to win the game' speech, but there is a lot of truth to that," he said. "There are a lot of players on this team that have the potential to come back. There are a lot of coaches that I plan on coming back. There are a lot of things that we need to do. There are a lot of things that we need to establish."
Three injuries to note:
The Bills announced in the fourth quarter that
Stevie Johnson
had left the the game with a groin injury. Marrone didn't have an update on Johnson but added that safety
Da'Norris Searcy
(hamstring) and
Chris Hogan
(concussion-like symptoms) were also injured. Hogan was spotted in the locker room after the game.
November, 10, 2013
11/10/13
4:06
PM ET
PITTSBURGH -- A few thoughts on the
Buffalo Bills
' 23-10
loss
to the
Pittsburgh Steelers
:

What it means:
This was as bad as the Bills have been all season. Going against a Steelers defense that allowed 55 points last week, the Bills mustered only a field goal -- itself the result of a first-quarter interception -- through the first 59 minutes of the game. The Bills and Steelers were even in turnovers -- each team had one -- but Buffalo punted nine times and was 3-for-14 on third down.
Manuel's rough day:
After missing four games with a knee injury,
EJ Manuel
returned Sunday and put up his worst performance of the season. He finished 22-for-39 for 155 yards and one touchdown, not cracking 100 yards passing until the final drive of the game. Manuel was sacked three times, but pressure was hardly the story; it was accuracy and decision-making. He was intercepted once and came close to being picked off at least once more.
Stock watch:
Falling: Punter
Brian Moorman
. Signed to replace
Shawn Powell
, who struggled in five games to start the season, Moorman had a tough afternoon. While wind was a factor, Moorman seemed to struggle no matter which direction he was punting. He had two touchbacks and added another line-drive punt that was returned 24 yards in the third quarter. The Bills entered Sunday averaging 37.3 net yards per punt, fourth-worst in the NFL.
Johnson leaves game:
Wide receiver
Steve Johnson
left the game in the fourth quarter with a groin injury. It's unclear whether it's the same injury that Johnson suffered two weeks ago in a loss to the Saints. Johnson finished with three catches for 48 yards.
What's next:
The Bills drop to 3-7 and remain in fourth place in the AFC East. They return home to host the
New York Jets
next Sunday, their final game before the bye week. At this point, the Bills' chances of making the playoffs are slim.
November, 10, 2013
11/10/13
4:05
PM ET
PITTSBURGH -- A few observations from the
Pittsburgh Steelers
'
23-10 victory
against the Buffalo Bills at Heinz Field:

What it means:
The Steelers kept their season from spiraling out of control by beating up on the Bills in a stadium that had more than a few empty seats. As cathartic as the victory proved to be a week after the Steelers were humiliated in New England, there isn't anything to suggest it is anything more than a Band-Aid. The Bills (3-7) were awful, and the Steelers (3-6) need to string at least three victories together before there can be any talk of them as plausible playoff contenders, as mediocre as the AFC North and the conference is.
Stock watch:
Yes, the Steelers weren't exactly facing Jim Kelly and the K-Gun offense, but the defense needed to play well in the worst way, and it did for the most part during a cold, drab day at Heinz Field. The Steelers used a familiar formula -- stopping the run and not letting a young quarterback beat them -- a week after arguably the worst defensive performance in franchise history.
C.J. Spiller
never got out of neutral, and the Bills were just 3-of-14 on third-down conversions. The Steelers improved to 17-2 against rookie quarterbacks since 2004, the year Dick LeBeau returned for a second stint as the team's defensive coordinator.
Walking wounded:
It wouldn't be a Steelers game without an injury sustained by at least one of the offensive linemen. Left guard
Ramon Foster
left the game with an ankle injury early in the third quarter and did not return to the game. Starting outside linebacker
LaMarr Woodley
(calf) and reserve safety
Shamarko Thomas
(ankle) also left the game with injuries.
Hardly a clinic:
Somewhere
Drew Butler
is laughing.
Zoltan Mesko
, too. The punters ushered out of Pittsburgh by coach Mike Tomlin probably couldn't have done worse than
Mat McBriar
in his first two games with the Steelers. McBriar, signed after Pittsburgh waived Mesko two weeks ago, had punts of 27 and 36 yards in the first quarter and was a major reason the Steelers were unable to flip the field.
No regrets:
The Steelers were reminded that it could be worse when it comes to their punting situation.
Brian Moorman
couldn't beat out Butler in training camp -- Butler was later dumped for Mesko -- and he didn't do much of anything for Buffalo against the Steelers. Moorman nearly kicked a ball into the stands when the Bills were hoping they could down a punt deep inside Steelers territory. He later kicked a low line drive that
Antonio Brown
returned 24 yards and led a 4-yard touchdown run by Le'Veon Bell.
Next up:
The Steelers and their defense face what should be a considerably sterner test next Sunday when the
Detroit Lions
visit Heinz Feld for a 1 p.m. ET game.
Matthew Stafford
is the kind of passer who can carve up the Steelers' secondary if he gets time in the pocket. Lions wide receiver
Calvin Johnson
, meanwhile, is a bigger matchup problem than polka dots and stripes.