NFL Nation:

2013 Week 10 CIN at BAL
November, 10, 2013
11/10/13
10:00
PM ET
BALTIMORE --
Vincent Rey
squeezed his large frame into a narrow space just outside the small blue locker that contained his belongings as an army of reporters, eager to ask all about one of the best individual performances of his NFL career, surrounded him.
A career-high in tackles and sacks gave the
Cincinnati Bengals
linebacker plenty of reasons to smile, but he struggled to.
The bottom line? He was hurting. Pained by a second straight overtime loss and annoyed by an outcome he and his teammates had spent all of Sunday afternoon dreading, Rey felt there was very little for him to actually be happy about.
"I want to win," he said. "Winning is all I want."
[+] Enlarge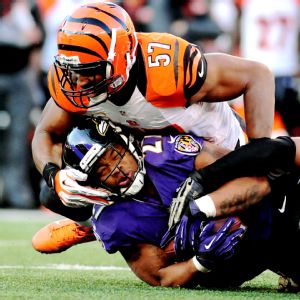 Evan Habeeb/USA TODAY SportsVincent Rey had a team-high 15 tackles in just his second start of the season.
Winning didn't happen Sunday. After Cincinnati's offense rallied to tie the game at 17 on a Hail Mary touchdown reception as time in regulation expired, the Bengals still ended up falling to Baltimore in overtime,
20-17
. It was their second overtime loss in as many weeks, leaving them with very little to celebrate in the moments immediately after the game.
Overall for the Bengals, it was an ugly game. In addition to the defeat, the Bengals were slapped with nine penalties for an unfathomable 134 yards of infractions. Their offense wasn't in sync, completing just 47 percent of its passes, giving up five sacks and throwing three interceptions. Down 17 at halftime, a win seemed far from the realm of possibility for Cincinnati.
As tough as the day was, though, Rey was an unmistakably bright spot.
The fourth-year linebacker, making just the third start of his career, had 15 tackles, three sacks and his first career interception. He seemed to be everywhere, flying through holes at random and making some of the game's biggest stops.
"He was on," fellow linebacker
Vontaze Burfict
said. "At the beginning of the game, we were both a little sluggish and I kept telling him, 'Let's go. Your play is going to come.'"
In the second quarter, a series of them came, as Rey recorded a sack and the interception.
"It was the calls," Rey said about being in position to make so many plays. "The coaches did a great job this week, and we practiced hard. I just happened to come free a couple of times.
"I was happy that I was the person that was free a lot."
Often when Burfict would begin directing a blocker a particular way, or forcing a ballcarrier to break in one direction over another, Rey would be on the back end of the play, breaking through a hole, ready to strike for a stop. His 15 tackles marked the first time any player other than Burfict had led the Bengals in tackles during a game this season.
"That's as good a game as you could possibly have as a middle linebacker," cornerback
Chris Crocker
said. "The kid stepped up. It's too bad we couldn't get the win for him."
Rey, who has played the last two games for the injured
Rey Maualuga
, has yet to see a win as a starter this season. Along with Sunday's loss, the Bengals also fell to the Dolphins in overtime in Miami last week, when he started his first game of the season.
The backup, who Burfict considers the Bengals' "smartest linebacker," should start next week against the Browns as Maualuga continues to recover from a knee injury suffered two weeks ago against the
New York Jets
. Maualuga is expected to be healthy when the Bengals come off a bye and play at San Diego on Dec. 1. When that return takes place, coaches will have quite the decision to make with respect to how much they want to play Rey.
For now, though, Rey doesn't want that decision to be part of his focus.
"I feel like I've been learning," Rey said. "The biggest thing I've learned from my fellow defensive players -- Vontaze and
Reggie Nelson
-- is go to the next play. Sometimes I get down on myself, but we have some leaders on this team that pick me up with I'm down. And it's my responsibility to pick other guys up, too."
He was picking the Bengals up in this game, all right. But as strong as his efforts were, they just weren't enough.
November, 10, 2013
11/10/13
9:19
PM ET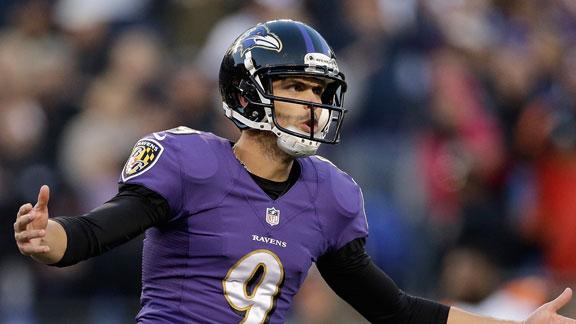 BALTIMORE -- It doesn't seem that long ago when
Andy Dalton
was the talk of the NFL.
He was the
Cincinnati Bengals
' hero in black-and-orange striped clothing. From his right arm came victory and success.
The words "good" and "effective" were being used interchangeably to describe the quarterback, and for the first time in a long while, when they were being said by those outside the team's locker room, few even blinked an eye. People were believing it. Pinch themselves or not, they were living it.
Dalton was playing well, his team was playing well and all was right in the Bengals' universe.
After Sunday's
20-17 overtime loss
to the
Baltimore Ravens
, though -- the Bengals' second extra-period defeat in as many games -- a disturbance has settled into "Who Dey Nation." In the past 10 days, there has been little praising of Dalton. He hasn't been as good nor as effective as he was during that blissful early-fall stretch that saw him racking up yards and wins and ballooning his completion percentage and season QBR.
Where, oh where, has October Andy gone?
Through the first 30 days last month Dalton played at a blistering and, for him, unprecedented pace. As he had re-established his passing relationship with
A.J. Green
, he started completing passes with his other young, lesser-known wideouts, too. Across a four-game stretch between Oct. 6 and 27, he led the league in yards per pass attempt and passing touchdowns, and ranked second in QBR. His 89.2 four-game QBR spiked with the 98.9 rating he posted in the Oct. 27 49-9 win over the
New York Jets
. Four days after that 325-yard, five-touchdown showing in the blowout victory, he was named the AFC's offensive player of the month.
Dalton didn't just look like a playoff-game winner, coupled with his team's hurt but still suffocating defense, he looked like a Super Bowl participant.
But the Dalton who has been behind center since the last day of October looks like neither.
Ten days ago, on the eve of November, a stiffer, less comfortable version of the quarterback appeared at Sun Life Stadium in Miami. Hounded all night by a consistent Dolphins pass rush that was led by defensive end
Cameron Wake
, he threw three interceptions and couldn't complete a passing touchdown. Five dropped passes didn't help matters, either. Three of them could have led to first downs that might have helped spark more touchdown drives.
[+] Enlarge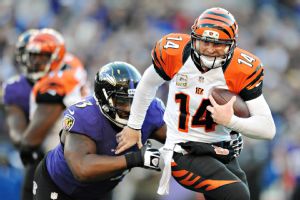 AP Photo/Gail BurtonPart of Andy Dalton's recent decline can be attributed to the constant pressure he's been facing.
Even though he crossed the 300-yard passing threshold for a fourth consecutive game, Dalton couldn't get out of the way of a Wake rush on the game's final play and ended up getting sacked into his own end zone for a safety.
A second-straight three-interception effort Sunday was the product of the same inconsistency that existed in South Florida. It's the same inconsistent play that has confounded Bengals fans for the better part of the past three seasons.
Two particularly adverse factors contributed to Dalton's struggles on Sunday. Intense pressure from various members of the Ravens' secondary led to a number of forced throws. It also contributed to the five-sack effort that matched the Dolphins' mark last week.
In addition to being under constant duress, Dalton also had to deal with throwing into a confounding and confusing wind cross current. The gusty winds made passing difficult, even if Dalton didn't want to admit it.
"The wind was definitely a factor, but that's the way it goes," Dalton said. "You just can't think about it too much."
Similarly, Dalton can't think too much about what's been going wrong lately. Coach Marvin Lewis has been imploring him all season to leave that to the reporters, bloggers and fans.
Why Dalton is struggling now after an impressive October is uncertain. What is known is the Bengals can't succeed without more consistency at quarterback. If the Bengals are going to live up to the lofty expectations they and many others had in the preseason, they'll need a more consistent Dalton throughout the rest of the season.
Can he regain that form?
Well, he better. It's clear Bengals fans have grown quite restless and agitated with the version of Dalton who has spent the past 10 days with them.
November, 10, 2013
11/10/13
8:30
PM ET
BALTIMORE --
Baltimore Ravens
defensive coordinator Dean Pees challenged his defense to play more aggressively Sunday, and safety
James Ihedigbo
was the one who stepped up as the game-changer in the 20-17 overtime win over the
Cincinnati Bengals
.
Ihedigbo was all over the field with team-leading nine tackles, two interceptions, three passes broken up and one tackle for a loss. He set up the Ravens' second touchdown with an interception and stopped a fourth-quarter drive by picking off
Andy Dalton
deep in Baltimore territory. And, with the Bengals driving again, Ihedigbo helped make the fourth-down stop that led to the game-winning kick.
Not bad for a player who spent last week answering questions on whether he choked Browns receiver
Greg Little
. On Sunday, he was the answer for a defense needing to make key stops at the end of games.
"I was just saying to the whole team, 'Don't let your good get in the way of being great," Ihedigbo said. "I look at myself as a great player, and that's what I aspire to be."
Even Ihedigo's biggest mistake was the result of being aggressive. Anticipating the Hail Mary pass was going to be short because of the wind, Ihedigbo moved up instead of staying back, which is his job on that play. The 51-yard pass bounced off the left shoulder of Bengals receiver
Marvin Jones
and then deflected off of Ihedigbo before falling right to
A.J. Green
to tie the game at 17 as regulation ended.
Said Ihedigbo: "I made a bone-head play to kind of put us in the position that we were [and] you can do one of two things. You can [drop] your head and [say], 'Oh, man, and give up another one.' Or you can say, 'Hey, the next time they'll throw the ball in my vicinity, I'm going to make a play. That's what I did."
Ihedigbo gave the momentum back to the Ravens when he helped stop the Bengals on fourth-and-two in overtime. When elusive running back
Giovani Bernard
caught the swing pass, Ihedigbo ran up in the right flat to force him to change directions. Bernard was dropped for an 11-yard loss, and the Ravens kicked the game-winning field goal eight plays later.
The biggest criticism of the defense this season has been their inability to make critical stops. Ihedigbo was the reason why the Ravens offense got the ball back in overtime.
"They ran the play earlier in the game, and the offensive lineman, he grabbed me, and I couldn't get off the block, so the other guys made the tackle," Ihedigbo said when asked about the fourth-down play. "Once I saw the tight end go to the other side, I said, 'Oh, they're running it again.' It just clicked. He broke out. He's a strong runner,
Giovani Bernard
. He's a very strong runner, [We] chased him down, bottled him up."
Ihedigbo was a factor in regulation, too. He caught an overthrown Dalton pass in the second quarter and ran it back 37 yards, which led to the Ravens' second touchdown of the game. It was Ihedigbo's first career touchdown and this was his 78th game in the NFL.
In the fourth quarter, he pulled in a deflected pass at the Ravens' 12-yard line with under two minutes remaining. These were much-needed turnovers for a defense that had picked off just four passes in its first eight games.
"It's a hunger. You've got to want more," Ihedigbo said. "You can never be satisfied. You can't really ever get complacent on the field. You want to be the guy to make the play. I was in an opportunity to do that and capitalized on it, and the offense did what they did."
November, 10, 2013
11/10/13
5:54
PM ET
Observed in the locker room after the
Cincinnati Bengals
' 20-17
overtime loss
to the
Baltimore Ravens
.
Crocker
Perturbed by penalties:
The Bengals were glad to get
A.J. Green
's 51-yard Hail Mary touchdown reception at the end of regulation, but they didn't want to talk much about it. Instead, penalties were the hot topic of conversation in the locker room. Cincinnati was flagged nine times for 134 yards. It held a 7-2 advantage in penalties at halftime. "You can't speak about the refs without getting fined," cornerback
Chris Crocker
said, "but I'm not going to totally agree with what happened." Coach Marvin Lewis said the calls seemed one-sided at times.
Total-yard shocker:
As a few reporters walked past the defensive back's wing of the Bengals' cramped visitors locker room inside M&T Bank Stadium, three curious players asked them what the Ravens' total yardage for the game was. When they were told "189," the defenders shook their heads. It isn't often a team loses a game in which it allowed fewer than 200 yards of offense.
Still in it:
Center
Kyle Cook
may not be pleased with the loss, but the Bengals still lead their division, he noted. Not all is lost: "We've got three more division games left, and we'll write our own destiny here."
November, 10, 2013
11/10/13
4:47
PM ET
BALTIMORE -- A few thoughts on the
Cincinnati Bengals
' 20-17 overtime
loss
to the
Baltimore Ravens
.

What it means:
All of a sudden, the same Bengals team hyped as one of the best in the NFL isn't looking like it. A second straight loss has them reeling a bit. The division championship that once appeared to be a lock no longer appears that way. Now at 1-2 against AFC North teams, the Bengals will have to win every division game from here on out and rely on help from others. The Bengals didn't look very good for much of the contest offensively, and lost in overtime for the second consecutive game.
Stock watch:
Andy Dalton
: falling. During the windiest conditions he has dealt with this season, Dalton had trouble getting into a passing rhythm. The result of his syncopated play was a 24-for-51 showing for 274 yards, with two touchdown passes and three interceptions. It was his fourth three-interception game, and marked the first time in his career that he has thrown three interceptions in back-to-back games. All of that said, it might not be reasonable to say his stock has completely fallen. After all, he did rally the Bengals for the game-tying score that sent the game to overtime. After making a few questionable time-management decisions at the start of the drive, he ended it with a Hail Mary throw that was tipped and resulted in a 51-yard touchdown reception by
A.J. Green
.
Replacing Rey:
For the past two weeks, second-year Bengals linebacker
Vincent Rey
has been tasked with replacing
Rey Maualuga
in the middle of Cincinnati's defense. Coach Marvin Lewis said last week that he was pleased with the way Rey filled in during last week's loss at Miami. He had five tackles on 60 snaps. If Lewis was impressed by that, he had to be beyond thrilled with Rey's play Sunday. Once again playing in relief of Maualuga, whose knee injury likely will keep him out two more weeks, Rey had 13 tackles that included three sacks. He also deflected three passes and had his first career interception.
What's next?
With their marathon tour of four road games in five weeks now over, the Bengals (6-4) return home for a rematch next Sunday against the
Cleveland Browns
(4-5). The Browns, who were idle this week, won the season's first meeting 17-6. Ahead of the Bengals' own bye week, the division matchup marks a second straight must-win scenario for them.
November, 10, 2013
11/10/13
4:43
PM ET
BALTIMORE -- A few thoughts on the
Baltimore Ravens
' 20-17
overtime win
over the
Cincinnati Bengals
.

What it means
:
Justin Tucker
's 46-yard field goal with 5:27 left in overtime allowed the Ravens to save their season. Baltimore (4-5) ended its three-game losing streak by knocking off the AFC North-leading Bengals (6-4), edging closer in the standings and moving into a second-place tie with the
Cleveland Browns
. It marked the fourth straight time that the Ravens have beaten the Bengals in Baltimore. The Ravens made it interesting at the end after failing to hold a 17-point lead and letting the game go to overtime.
Momentum swing
: After allowing a 51-yard Hail Mary touchdown to tie the game at the end of regulation, the Ravens' defense stopped the Bengals on fourth down when cornerback
Corey Graham
tackled Bengals running back
Giovani Bernard
behind the line.
Joe Flacco
completed passes to
Ray Rice
and
Ed Dickson
to set up the game-winning field goal in overtime.
Stock watch
: Rising:
James Ihedigbo
. The Ravens safety didn't have an interception in 77 career games, but he came up big Sunday by picking off
Andy Dalton
twice. His first one featured a 37-yard return that set up the Ravens' second touchdown. His second one stopped a Bengals drive in Baltimore territory late in the fourth quarter. But his tip on the last play of regulation fell into the hands of
A.J. Green
for the tying touchdown.
Mixed results for Flacco
: It was a hit-or-miss type of game for Flacco. In the red zone, he threw two touchdowns, scrambling to buy time on the first one and hitting
Torrey Smith
on a slant for the second. Outside of the 20-yard line? Flacco was often off the mark. He finished with 140 yards passing and three turnovers (two interceptions and one fumble).
Rare fast start
: Flacco's 1-yard touchdown pass to
Dallas Clark
was the Ravens' first touchdown in the first quarter since the season opener. The Ravens, who had scored 16 points in the first quarter in the first eight games, jumped out to a 10-0 lead in the opening period. This also represented Baltimore's first lead at any point in a game since Oct. 6 in Miami.
What's next
: The Ravens go back on the road for the third time in four games, when they play at the
Chicago Bears
.
NFL SCOREBOARD
Sunday, 2/2
WEEKLY LEADERS