NFL Nation:

2013 Week 10 HOU at ARI
November, 11, 2013
11/11/13
8:00
AM ET
A review of four hot issues from the
Arizona Cardinals
' 27-24
win
over the
Houston Texans
.
Ellington
Andre Cat:
Last year it was the Pat Cat. This year it'll be the Andre Cat. The Cardinals unveiled a Wildcat package Sunday with rookie running back
Andre Ellington
behind center. He took three straight snaps early in the third quarter, running for 12 yards on two of them and handing off to
Patrick Peterson
on the third.
"It was a little bit different flavor," Ellington said.
Ellington ran it in college, but was surprised when coach Bruce Arians introduced the package Monday. Arians will only run the Wildcat if his quarterback isn't on the field, he said. But don't expect Ellington to throw the ball. It's not his forte, the rookie added.
Expect more of it, maybe a little spicier, throughout the season, Ellington said.
"It was a good little change of pace," Arians said.
Adjusting on the fly:
At halftime, the Cardinals heard about how much they were letting the Texans move the ball. And they did something about it. Arizona allowed 41 total yards in the second half -- 32 passing and just 9 rushing. They turned the Texans into a one-dimensional team, taking away the run and turning up the pressure on quarterback
Case Keenum
.
"I thought he had a lot of time in the first half, patting the ball back there and [we] couldn't cover him quick enough," linebacker
Daryl Washington
said. "So we was able to come out [in the] second half and play our game of football."
Bethel
Bethel blocks:
Even when they prepared specifically for
Justin Bethel
, the Texans couldn't stop the second-year gunner from having an impact on special teams. Bethel blocked his second career field goal with four seconds left in the first half, coming off the left side. It turned out to be the difference in the Cardinals' 27-24 win.
"You never know," he said. "You never know what could happen. I made the play, it happened and I'm just happy we won."
Texans interim coach Wade Phillips said his team singled Bethel out, but even then Houston couldn't block him.
"[No.] 31 is the guy that we emphasized," Phillips said. "It's the guy that we've got to stop because he's the field goal blocker, and he did it."
Just enough:
Ellington had 15 touches Sunday -- 11 rushes and two catches -- which was mostly in line with his past few games. He had 55 yards on the ground and 18 yards through the air, but Arians feels that's the right mix for now.
"I think it's right where it needs to be," Arians said. "He had plenty again today."
Rashard Mendenhall
fumbled late in the fourth quarter as the Cardinals were trying to seal the win, but that didn't diminish Arian's belief in his starter. It's still the same.
"Oh yeah," Arians said. "There's no doubt."
November, 10, 2013
11/10/13
11:41
PM ET
GLENDALE, Ariz. --
Rob Housler
doesn't like to plan his touchdown celebrations, but he had this one in mind.
Midway through his third season, the
Arizona Cardinals
tight end had yet to find the end zone, and this year, especially, he's been hearing about it. When coach Bruce Arians was hired in January, he introduced a pass-happy offense that would feature the tight ends. This was the season Housler was expected to break through, but an ankle injury in preseason forced him out of the Cardinals' first two games and slowed his progress.
Housler
Housler underperformed all season, until Sunday. He broke out in the Cardinals' 27-24 win against the
Houston Texans
with a season-high 57 yards and his first career touchdown. After initially lining up as a fullback, then breaking out to the left side of the line, Housler was thrown a screen and took it 12 yards for a score.
That's when he broke out the celebration. He viciously ripped the proverbial monkey off his back as his teammates mobbed him.
"I didn't want to get anyone in trouble by asking them to get involved, so I was just like, 'I'm going to take this monkey off myself,'" Housler said.
With the monkey now gone, Housler can be another option for quarterback
Carson Palmer
in an offense that's starting to finally find its personality. When Housler was struggling, that facet of the offense was essentially erased. With him able to stretch the field, the Cardinals have more ways to benefit off the run.
And Arians thinks Sunday's outing will benefit Housler.
"It should be a great confidence boost for him," Arians said. "Carson was looking for him a number of times."
Palmer had tried all season to get Housler involved, but something clicked Sunday. He wasn't just catching passes, he was cutting back, getting extra yards.
With each catch, the burden of the past eight games seemed further in the distance. It wasn't something Housler concerned himself with, it was just placed there by other sources. But none of that matters now. The burden and the monkey are gone.
"You try not to think about it, but it does weigh on you a little bit," Housler said. "It's just something we take in stride, because whatever you do to distract yourself, you're not focused on your job.
"You hold yourself to a standard but you don't really let it bother you. I think a lot of the external pressure's off me, but it never really bothered me in the first place."
November, 10, 2013
11/10/13
11:10
PM ET
GLENDALE, Ariz. --
Houston Texans
safety
Ed Reed
didn't see much playing time again
on Sunday
against the
Arizona Cardinals
.
And as he watched as the Texans let another halftime lead, albeit a smaller one than last week, Reed had some thoughts.
I touched on this a bit in
my Locker Room Buzz
, but here is more context to Reed's thoughts on how the Texans played.
"Arizona played their best ball," Reed said. "We played really well outside of certain situations. Certain situations, we just got outplayed and outcoached."
Would he expand? He sure would.
"If you're watching the game, it's not no-brainers," Reed said. "Certain situations we have to get off the field. We need three-and-out. You have to also come out as an offense and move the ball. We can't go three-and-out and put your defense on the field that quick. That drive that they had, I'm looking at it like guys are a little fatigued because I know if you don't control the ball as much, offensively and defensively, you're going to get fatigued. They're going to get plays.
"Eventually, they're going to figure out what you're doing if you're doing the same old things."
Reed isn't the first person to address the Texans' predictability, but to hear a player say it is interesting.
He added that he would have liked to be on the field more and indicated that he stopped short of expressing his true feelings.
"I'm just doing what I'm told for the most part," Reed said. "At the same time, I know a lot of football. I know a lot about football. I know a lot about this game. I'm not just watching it blind. The stuff I do know, I can't say to you guys because it is a team sport and I do look at it from a coaching perspective as well. There's lots of soul searching, top to bottom, that needs to be done as coaches and as players."
November, 10, 2013
11/10/13
11:04
PM ET
GLENDALE, Ariz. -- By most standards,
Patrick Peterson
did his job against Houston wide receiver
Andre Johnson
.
A week after he hauled in 229 yards, Johnson was limited to five catches for just 37 yards as Arizona handed Houston its seventh straight loss. But Johnson showed, much to the chagrin of Peterson, that he doesn't need to put up splashy numbers to impact a game.
Peterson
Johnson
All he needs, actually, are a few inches. Well, maybe a foot. That's how much space -- combined -- that Johnson had to complete both touchdown catches.
The first was a seven-yard pass from quarterback
Case Keenum
on a busted play, according to Peterson, that gave Johnson just about an inch or two to drag his back foot. He stuck the landing and the score.
The second was a little more acrobatic. Peterson had his left hand completely on the ball but Johnson simply went over him and took the five-yard pass off Peterson's fingertips to pull Houston within three late in the fourth. Again, Johnson needed to drag his back foot to make the score count, but this time he had about six inches to do it.
"His hand was like over my shoulder, so I knew I had to go up with one hand, and it just barely slipped out of my grasp," Peterson said. "He made a hell of a catch on both of them. Obviously, I didn't do enough to make the play. He came down with both touchdowns. Tip my hat off to him."
As did everyone else.
Houston interim head coach Wade Phillips said Johnson will be in the Hall of Fame one day. Before the game, safety
Ed Reed
told Johnson to "just go out there and get a score, make some plays."
In just his third game as Houston's quarterback, Keenum had a hard time containing his excitement about Johnson's highlight-worthy catches.
"Those were two of the best catches I've ever seen in my life," Keenum said. "Those were incredible. I can't even describe it. You have to watch it to see how awesome those catches are."
Peterson was proud of holding Johnson to 37 yards, because Johnson makes the "big bucks" as Peterson aspires to do. But to Johnson, Sunday was just another day at the office.
Though the replay booth was busy on both of Johnson's touchdowns, he didn't think twice about them.
"I knew my feet were in," Johnson said. "That's something I work on a lot, keeping my feet in bounds when I make catches. I never had any doubt about it."
November, 10, 2013
11/10/13
10:26
PM ET
GLENDALE, Ariz. -- What happened was perfectly natural and understandable, given the experience level of the
Houston Texans
' starting quarterback. It also showed the
Arizona Cardinals
' ability to understand and adjust to exactly what would make things difficult on their opponent.
Case Keenum
played well in the first half. He completed 15 of 26 passes for 159 yards. On the game's first play he was sacked and fumbled, and Arizona returned it for a touchdown. But he threw touchdowns to
Andre Johnson
and tight end
Ryan Griffin
, and his passer rating was 101.3.
[+] Enlarge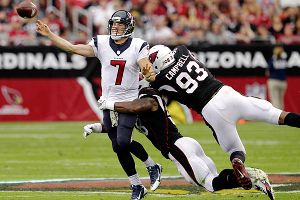 AP Photo/Rick ScuteriCase Keenum has had problems facing defensive pressure as an NFL quarterback.
Then the Cardinals started sending pressure at Keenum, and they did it furiously. Keenum struggled with their adjustment -- something that has been a pattern for the young quarterback -- and the Texans went on to lose
27-24
.
In the first half, the Cardinals sent five or more rushers at Keenum on only 9 of 28 dropbacks, according to ESPN Stats & Information. In the second half, they did so on 14 of 20 dropbacks.
All three of Keenum's sacks came against five or more rushers, and he did well to avoid more. Though his touchdown pass to Griffin came in such a situation, Keenum completed only 6 of 19 passes against five or more rushers. He was off target on 21 percent of those passes, by ESPN Stats & Info's analysis, and averaged just 2.4 yards per attempt.
By contrast, Keenum completed 16 of 24 passes against four or fewer rushers, averaged 6.5 yards per attempt and was off target on only 4 percent of those passes.
This is something the Cardinals like to do, though they usually don't do it at quite the rate they did it in the second half Sunday. They came into the game blitzing on a league-high 52 percent of opponents' dropbacks. It helps to have the talented rushers the Cardinals do, but it's especially fruitful against a team with an inexperienced quarterback and one whose second-string running back has been on an active roster for exactly two games.
Keenum's second-half dropoff isn't exclusive to this game. In the three games he's started for the Texans, Keenum's first-half QBR is an excellent 91.1. His second-half QBR is a paltry 12.2. He is much better in the first half than his predecessor
Matt Schaub
(32.9 QBR) and much worse after halftime than Schaub (44.1 QBR). (Thanks to Stats & Info's Doug Clawson for looking this up for me.)
That's a ratio the Texans can live with this early in Keenum's career. That first-half number shows a lot of promise.
But it's not a ratio that will work in the long term. Keenum has to improve from here. He can't let opponents' adjustments work so well on him as his career progresses. Successful quarterbacks can outsmart them.
November, 10, 2013
11/10/13
10:03
PM ET
GLENDALE, Ariz. --
Andre Roberts
knew this season would be different.
He realized new head coach Bruce Arians ran a two-tight-end set, which meant one receiver would be left out. He knew that would be him.
Roberts
As the season -- which began with Roberts getting 97 receiving yards against the
St. Louis Rams
-- unfolded, Roberts' impact became smaller by the week. He had four straight games with six or fewer receiving yards, including none against Carolina.
But Roberts continued to prepare every week as if he was going to start. It paid off Sunday, in the Cardinals' 27-24 win against the
Houston Texans
.
"I'm human. Of course, it's frustrating," Roberts said. "Coming off last year, playing a lot and not playing a lot this year, or getting as many touches this year, I should say -- of course it's frustrating.
"I know my role and I have to play my role, and in games like this I have to step up when Mike's out and produce."
Receiver
Michael Floyd
went down midway through the first half with an A/C joint sprain in his right shoulder, Arians said. He expects Floyd back next week against the
Jacksonville Jaguars
, but Roberts picked up any slack left by Floyd's absence.
He finished with 72 yards and a touchdown on five catches.
It was Robert's first touchdown, a 19-yard double move that found him about four yards behind Houston linebacker
Joe Mays
, since Week 7 of last season.
"Finally, for me," Roberts said. "It felt like forever. I got it done."
Had it not been for Floyd's injury, Roberts would've likely had another pedestrian game. He had a 19-yard catch to start the Cardinals' second drive, but that most likely would've been the chunk of his yards.
Instead Roberts showed regardless of how small of a role he has, when his number gets called, he can step up.
"That is what you do when your opportunity arises," Arians said. "You make the best of it."
Roberts' touchdown catch gave the Cardinals a 27-17 lead with 6:47 left, and it renewed the Cardinals confidence in him as another option.
"When you lose a guy like Mike, who is such an integral part of our offense, Andre comes in and knows his job," quarterback
Carson Palmer
said, "blocks his guys in the running game in our four-minute offense and made some really nice plays to get the ball in his hands, too."
November, 10, 2013
11/10/13
7:45
PM ET
Thoughts from the
Houston Texans
'
27-24 loss
to the
Arizona Cardinals
:

What it means:
Houston is now on the longest losing streak in franchise history. The Texans have lost seven in a row and things went from bad to worse. They are now only one win better than the previously winless
Jacksonville Jaguars
, who beat the
Tennessee Titans
on Sunday.
Stock watch:
Case Keenum
fumbled on the very first play of the game and Cardinals linebacker
Matt Shaughnessy
returned the fumble for a touchdown. On the next series, Keenum threw a pass that was nearly intercepted. He did well to recover after that, having a commendable first half. Keenum completed 15 of 26 passes for 159 yards and a passer rating of 101.3. Things changed in the second half. Keenum attempted only two passes in the third quarter and completed one for 4 yards. It went about like that for most of the fourth quarter, too, until the Texans' defense recovered a fumble inside the Cardinals' 10-yard line.
More vintage Dre:
Andre Johnson
made two tightrope touchdown grabs, one in the first quarter and one in the fourth. Both times he got his feet down in the end zone by margins that were tough to see with the naked eye. Both times Cardinals cornerback
Patrick Peterson
had great coverage on him. It's astounding to think that before last weekend's three-touchdown performance, Johnson had zero touchdown catches this season. It's even more astounding to think he has never caught double-digit touchdowns in a season.
What's next:
The Texans will host the
Oakland Raiders
in the hopes (again) of breaking out of their slump.
November, 10, 2013
11/10/13
7:42
PM ET
GLENDALE, Ariz. -- A few thoughts on the
Arizona Cardinals
'
27-24 win
against the
Houston Texans
.

What it means:
There's still work to do, but the Cardinals seem to have found an offensive rhythm. Sunday's win against the Texans showed two things: a running game does wonders for an offense and the Cardinals can come back. Everyone knows how good the defense is, and while it produced a touchdown on Sunday, the offense finally came into its own. The Falcons' win could've been considered a fluke, but the Cardinals' win over the Texans showed this offense can win games, unlike in the first seven. A few tweaks, such as on third down and red zone -- the two areas that plagued Arizona all season -- could make this a fully-operational, and highly dangerous, team down the stretch.
Stock Watch:
Rob Housler
finally broke out of his slump with a 12-yard touchdown catch in the first quarter and finished with 57 yards receiving. His return signifies the addition of another playmaker on offense, rounding out a tight-end unit that benefited from the addition of
Jake Ballard
. Housler's role may increase if
Michael Floyd
's shoulder injury ends up being serious. Throughout the game, Housler seemed to become more comfortable, shedding the burden that followed him because he wasn't living up to expectations.
He's still got it:
The Cardinals' defense played well before
John Abraham
became an every-down linebacker but they've flourished with him playing the majority of the snaps. His two sacks against the Texans showed it. The sack on the first play of the game, in which he stripped Houston quarterback
Case Keenum
led to Cards linebacker
Matt Shaughnessy
scooping and scoring. Sunday was Abraham's 30th multi-sack game of his career.
Up and running:
At first, it didn't look like the Cardinals learned a lesson from their win over the Falcons, but as the game progressed coach Bruce Arians went to the running game more, even lining rookie running back
Andre Ellington
at quarterback for three straight plays. Having a running game has opened the passing attack for the Cardinals, proved by wins against Atlanta and Houston.
What's next:
The Cardinals travel to Jacksonville to play the Jaguars at 11 a.m. MT on Sunday at EverBank Field.