NFL Nation:

2013 Week 10 MIA at TB
November, 12, 2013
11/12/13
12:00
PM ET
TAMPA, Fla. -- An examination of four hot issues from the
Tampa Bay Buccaneers
' 22-19
victory
against the
Miami Dolphins
on Monday night:
[+] Enlarge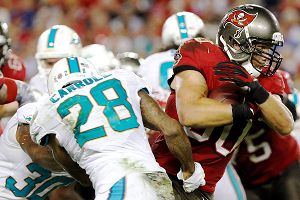 Kim Klement/USA TODAY SportsBrian Leonard rushed for 57 yards on 20 carries after Mike James was injured.
The depleted backfield.
The Bucs lost rookie running back
Mike James
to a fractured ankle early in the fourth quarter. Backups
Brian Leonard
and
Bobby Rainey
did a nice job filling in, but can they do it for the rest of the season? The Bucs don't have much choice besides Leonard and Rainey because
Doug Martin
and
Jeff Demps
already are on injured reserve.
The run defense.
Tampa Bay's run defense, which was ranked No. 1 in the league last season, was ordinary in the first eight games of this season. But that changed Monday night. The Bucs held the Dolphins to two yards of net rushing (a franchise record).
Schiano Watch.
One win isn't enough to take coach Greg Schiano off the hot seat, but it does provide some hope that he might keep his job for next season. If the Bucs can build off this game and win the majority of their games in the second half of the season, Schiano could have a chance of sticking around.
Revis is ready.
The Bucs didn't unveil the full
Darrelle Revis
in the early stages of the season because he wasn't fully recovered from the knee injury he suffered last year. But the Bucs have been taking the reins off Revis gradually in recent weeks and that trend continued. Revis helped limit
Mike Wallace
to four catches for 15 yards. Revis also recorded an interception.
November, 12, 2013
11/12/13
2:30
AM ET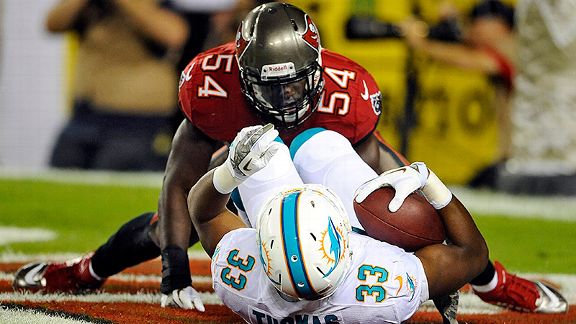 AP Photo/Brian BlancoLavonte David's Buccaneers stifled Daniel Thomas and the Dolphins' running game.
TAMPA, Fla. -- No
Richie Incognito
. No
Jonathan Martin
. No chance for the
Miami Dolphins
' offensive line.
Incognito and Martin are in the midst of a national media firestorm. Martin left the team Oct. 28 and claimed to have been bullied and harassed by Incognito, who was suspended indefinitely. Their absence on Miami's short-handed offensive line played a key role in a
22-19 loss
to the previously winless
Tampa Bay Buccaneers
on Monday night.
Tampa Bay's defensive front pushed the Dolphins around. The Bucs registered two key sacks in the fourth quarter that ended any chance for a comeback. For the game, the Dolphins rushed for a franchise-low 2 yards --
2 yards
-- on 14 carries.
"That's tough, man," said Dolphins guard
Nate Garner
, who replaced Incognito in starting lineup. "I mean, that's hard to handle as an offensive lineman. We love to run the ball."
Here is the harsh reality for Miami: Incognito and Martin are not coming back.
Fair or not, Incognito has become the poster child for bullying. The Dolphins, in an effort to preserve what remains of their public image, are unlikely to bring him back. ESPN's Lisa Salters reported Monday that
Martin doesn't want to return to Miami
and would prefer to continue his career elsewhere. The Dolphins are expected to oblige. They would be unwise to try to bring Martin back to the same environment that prompted him to leave the NFL to begin with.
In other words, the Dolphins are stuck with what they have up front. That is not a good sign for Miami with seven games left in the season.
"Those two guys were starters, so when you lose two starters, it will affect you a little bit," Dolphins left tackle
Bryant McKinnie
said. "But the guys who stepped in did a good job. We just have to work with who's here."
It's already ugly for the Dolphins (4-5) and it could get worse. Look for future opponents to continue to expose Miami's biggest weakness.
The offensive line had struggles this season when it was at full strength. But the Dolphins were at least capable of running the ball at times with Incognito and Martin in the lineup. That helped mask some of the line's issues.
With the inability to run, the Dolphins could be a one-dimensional mess for the rest of the season. How many times can they win with second-year quarterback
Ryan Tannehill
throwing the ball 42 times, as he did Monday?
The Dolphins entered Monday as a .500 team with a chance at making the playoffs. But with a struggling offensive line getting even worse without two key cogs, those postseason chances look slim.
"I think the psyche of this team is we're right in the middle of the wild-card hunt," Dolphins right tackle
Tyson Clabo
said. "We have a good opportunity to win several football games here and make the playoffs."
Not really. Miami cannot be taken seriously as a contender if it can't beat a winless team in November.
The Dolphins' offensive line needs major retooling, but it won't happen until 2014. Incognito, Clabo and starting guard
John Jerry
will all be free agents.
In the meantime, the Dolphins must accept mediocrity up front. In the complex saga of Incognito and Martin, which will dominate headlines for weeks, Monday's porous performance by the offensive line was an immediate side effect.
November, 12, 2013
11/12/13
1:52
AM ET
TAMPA, Fla. -- As he went onto the field for pregame warmups,
Tampa Bay Buccaneers
left tackle
Donald Penn
ran into a man who has given grief to plenty of offensive linemen through the years.
That man was Hall of Famer
Warren Sapp
, who was having his No. 99 retired and being inducted into the Buccaneers' Ring of Honor at halftime. Sapp, a former defensive tackle who never has been at a loss for words, had a firm message for Penn.
"He told me before the game, 'You guys cannot lose on my day,'" Penn said.
The Buccaneers didn't lose Monday night. They defeated the
Miami Dolphins
22-19 to earn their
first victory
of the season.
For one night anyway, glory returned to a franchise that hasn't won a postseason game since its Super Bowl victory more than a decade ago. Many of the stars of that era -- including
John Lynch
,
Ronde Barber
,
Derrick Brooks
and
Mike Alstott
-- returned to salute Sapp on Monday. Raymond James Stadium was sold out (a rare event) and the crowd was firmly in the game.
Just like the good old days?
"We've got a lot of wins to get that back here," Bucs coach Greg Schiano said.
Schiano is right. The Bucs have a long way to get back to anything approaching the Sapp era.
What the Bucs did Monday night was run into a team that's more dysfunctional than they are. They ran into a Miami team that is reeling from whatever took place between
Richie Incognito
and
Jonathan Martin
.
The Dolphins (4-5) have dominated the news in recent weeks, and Monday night was no exception. Prior to the game, Dolphins owner Stephen Ross held a news conference in the media dining room to address the Incognito-Martin situation for the first time.
The Bucs seemed to have cornered the Florida market on controversy until the Dolphins took over. Miami opened the game like a team in disarray. The Bucs jumped out to a 15-0 lead in the second quarter and seemed on the verge of blowing out the Dolphins.
But that's when the Bucs, who entered the game with an 0-8 record, started looking like the same team that squandered leads early in the season and blew a 21-0 edge against Seattle last week.
"It had that same feel going down the stretch," Schiano said. "But our guys bowed up."
After falling behind 19-15 late in the third quarter, the Bucs did the one thing they hadn't been able to this season. They finished.
[+] Enlarge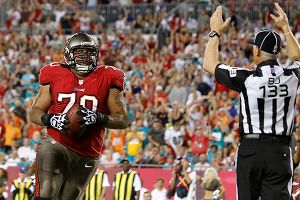 Kim Klement/USA TODAY SportsFormer Buccaneer Donald Penn is expected to be one of four new starting offensive linemen for Oakland.
It happened with recently signed running back
Bobby Rainey
playing a huge role in the fourth quarter. He broke off a 31-yard run to set up his game-winning 1-yard touchdown run. Rainey was playing only because the Bucs already had put
Doug Martin
and
Jeff Demps
on injured reserve. Rookie
Mike James
got the start against the Dolphins, but
fractured his ankle
early in the first quarter.
James' injury was the biggest downer of the night. But Rainey and the defense held off the Dolphins when it mattered most. The defense did its job all night. The Dolphins finished with only 2 net rushing yards (the previous Tampa Bay record was 10 yards against Carolina last season).
"A win cures everything," cornerback
Darrelle Revis
said.
I'm not so sure about everything. But there were smiles in the Tampa Bay locker room for the first time this season.
"Y'all don't know how tough it's been," Penn said.
Maybe not. But the fans have a pretty good idea how tough it has been.
So what if it was a win against the reeling Dolphins? At least for one night, Tampa Bay was a winner -- just like in the old days.
November, 12, 2013
11/12/13
1:36
AM ET
TAMPA, Fla. -- In a little over one week, the
Tampa Bay Buccaneers
have put running backs
Doug Martin
and
Jeff Demps
on injured reserve. Very soon,
Mike James
will join them.
James suffered a fractured ankle early in the first quarter of Monday night's 22-19 victory against the
Miami Dolphins
. But the Bucs didn't run out of running backs.
That's because veteran
Brian Leonard
and the recently-signed
Bobby Rainey
stepped up in a big way.
Leonard carried 20 times for 57 yards and caught two passes for 16 yards. Rainey gained 45 yards on eight carries.
The Tampa Bay coaching staff has history with Leonard and a sudden confidence in Rainey. Leonard went to Rutgers, where Tampa Bay's Greg Schiano and a bunch of his assistants, used to coach.
"When we acquired Brian, we knew what kind of young man he is and the character and the toughness and all those things,'' Schiano said. "He certainly stepped up.''
Leonard did what was expected of him, but it was Rainey who stepped up in more spectacular fashion. In the fourth quarter, Rainey broke off a 31-yard run, which set up his own 1-yard touchdown run that put the Bucs ahead to stay.
"To do what he did, shows that he's a real special player,'' quarterback
Mike Glennon
said.
"I thought the best thing he did was ball security,'' Schiano said. "Sometimes you get a guy in there that hasn't played lately and that ball gets all over the place.''
The Bucs are going to have to be secure with Leonard and Rainey as their running backs for the rest of the season.
"That's probably how we'll have to go -- ham and egging with those two guys and see what we can do,'' Schiano said.
The Bucs are a run-first team and that's not going to change. Leonard and Rainey are going to get a lot more chances to do what they did against the Dolphins.
November, 12, 2013
11/12/13
12:33
AM ET
TAMPA, Fla. -- Observed in the locker room after the
Miami Dolphins
' 22-19
loss
to the
Tampa Bay Buccaneers
.
Pouncey
No excuses:
Dolphins players offered no excuses for falling to the winless Buccaneers. Center
Mike Pouncey
and others admitted Tampa Bay played better and deserved to win. The Buccaneers jumped out to a 15-0 lead early and held on.
The boss:
Dolphins owner Stephen Ross was in the locker room and didn't seem too thrilled with another loss. Miami lost its fifth game in six tries.
HOF:
Hall of Fame running back
Curtis Martin
was in attendance. He was a guest of the Dolphins after being appointed by Ross to be a part of a task force to clean up the locker-room culture.
November, 11, 2013
11/11/13
11:42
PM ET
TAMPA -- A few thoughts on the
Miami Dolphins
' 22-19
loss
to the
Tampa Bay Buccaneers
on Monday night.

What it means:
The Dolphins continue to struggle with consistency. Miami lost its fifth game in six tries to fall to 4-5 on the season. This was perhaps the Dolphins' worst loss of the season, and their playoff hopes took a big hit. Miami fell behind early, 15-0, in the first half and had to fight back the entire game. The Dolphins got a brief lead in the third quarter but still lost. You have to wonder how much distractions from the
Richie Incognito
-
Jonathan Martin
controversy played a part in Miami losing to Tampa Bay.
Stock watch:
The Dolphins got a nice showing from new slot receiver
Rishard Matthews
, who is replacing the injured
Brandon Gibson
. Matthews caught 11 passes for 120 yards and two touchdowns. It was his first 100-yard game of the season.
In terms of stock down, Miami's running game was terrible once again. The Dolphins rushed for just 2 yards on 14 carries. They had zero yards on seven carries in the first half. Miami's offensive line was dominated at the line of scrimmage and couldn't get many running lanes against Tampa Bay's defensive line. Dolphins tailback
Lamar Miller
(2 yards, seven carries) also didn't do his part to break many tackles.
Owner speaks:
Dolphins owner Stephen Ross met with the media before the game and promised to make organizational changes to fix their locker-room culture after the Incognito-Martin fallout. Ross backed Miami head coach Joe Philbin but said no one is above repercussions if they're found culpable in the NFL investigation. Ross will meet with Martin on Wednesday to discuss what happened.
What's next:
The road only gets tougher for Miami. The Dolphins will play host to the
San Diego Chargers
(4-5) in a game that could have AFC wild-card implications. Miami is 2-2 at home this season.
November, 11, 2013
11/11/13
11:40
PM ET
TAMPA, Fla. -- A few thoughts on the
Tampa Bay Buccaneers
' 22-19
win
against the
Miami Dolphins
on Monday night.

What it means:
The Bucs are no longer winless. This wasn't pretty by any means. After jumping out to a 15-0 cushion, the Bucs let the Dolphins take the lead in the second half. That brought back some haunting memories of last week's loss to Seattle. But the Bucs found ways to win this one.
Bobby Rainey
's fourth quarter running put the Bucs back in the lead and the defense, which found a late pass rush and an interception by
Darrelle Revis
, did its part. At 1-8, Tampa Bay remains in a tie with Jacksonville for the first overall pick in the NFL draft.
Bad timing:
Rookie quarterback
Mike Glennon
hadn't thrown an interception in the previous three games. But that streak came to an end with 1:34 left in the third quarter. A Glennon pass intended for
Vincent Jackson
was intercepted by
Jimmy Wilson
. That set up a Miami field goal and gave the Dolphins a 19-15 lead.
A place in the record books:
With a scoring grab on a tackle-eligible play,
Donald Penn
(340 pounds) became the heaviest player to catch a pass in the NFL this season.
Stock watch:
Second-year linebacker
Lavonte David
quietly has been having a very good season. Maybe his second-quarter sack for a safety will help get him some Pro Bowl votes.
Injury woes continue:
Rookie
Mike James
had taken over after
Doug Martin
went down with a season-ending shoulder injury. But James' night was cut short. He suffered an ankle injury little more than five minutes into the game and didn't return. After James went out, the Bucs split their carries between
Brian Leonard
and Rainey.
November, 11, 2013
11/11/13
6:49
PM ET
TAMPA, Fla. -- In addition to being inducted into the
Tampa Bay Buccaneers
' Ring of Honor and having his jersey retired during halftime of Monday night's game,
Warren Sapp
will get a surprise.
Well, it is sort of a surprise. Sapp has known for months that it's coming, but halftime will be the first time he will see (and wear) his Pro Football Hall of Fame ring.
I ran into Hall of Fame vice president Joe Horrigan on the field a little bit ago and he gave me a quick look at the ring. Unfortunately, technical difficulties prevented me from getting a usable photo of the ring. But it was impressive. Let's just say it makes Super Bowl rings look modest.
Sapp has been on the field throughout pregame and has been visiting with more than 20 former teammates that are in attendance.