NFL Nation:

2013 Week 10 STL at IND
November, 10, 2013
11/10/13
8:15
PM ET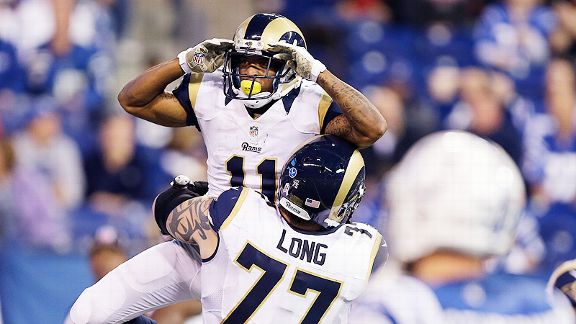 AP Photo/Darron CummingsTavon Austin racked up 314 all-purpose yards and three TDs, all of which went for 55 yards or longer.
.
INDIANAPOLIS --
Tavon Austin
, the
St. Louis Rams
' rookie receiver and returner, announced his presence to the NFL by telling his teammates to get away from a bouncing football. Tavon time was about to begin.
A little more than 12 seconds and 98 yards after ignoring his own advice, Austin found himself standing in the
Indianapolis Colts
' end zone, ball in hand and ready to celebrate his first NFL punt return for a touchdown.
"He got the football in his hands and I found myself saying, 'Get away, get away, get away,'" Rams coach Jeff Fisher said. "And I went from 'Get away, get away, get away' to 'Go, go, go.'"
And go, go, go was about all Austin did in the Rams' stunning
38-8 victory
over the Colts on Sunday at Lucas Oil Stadium.
Austin added touchdown catches of 57 and 81 yards to the goody bag from his coming-out party. By the time Austin was through, he had 314 all-purpose yards, the second most in franchise history, and his 98-yard punt return was the second longest in Rams history and tied for third longest in NFL history.
Austin's three touchdowns also put him in some elite company when it comes to big plays by young players. He, Randy Moss and Gale Sayers are the only rookies to score three times in a game from 50 yards out or more. And in posting 140 or more yards from scrimmage and 140 or more yards as a punt returner, Austin joined Carolina's
Steve Smith
as the only players in league history to hit those numbers in a game.
"When he's able to catch the ball in space, as you can see, it's a race and he always wins," guard
Rodger Saffold
said.
In previous incarnations of readily apparent breakthrough performances, Austin and his teammates have found themselves reflexively stopped in their tracks.
There was the 84-yard punt return for a touchdown against Dallas called back for holding and the 63-yard touchdown catch against Carolina erased by a tripping penalty. Those are just two of the big plays Austin has seen tossed by the wayside in his first NFL season.
Even as Austin sprinted toward the end zone on each of his three touchdowns, there was an overwhelming instinct to look around for something yellow on the field.
"Tavon did the same thing everybody does," Saffold said. "As soon as he crosses the end zone, we all look like this and make sure there's nothing on the ground."
The result of those mishaps has been frustrating for all parties.
"It's kind of difficult but it all boils down to patience," Austin said. "I have been fishing for eight weeks, and hopefully it's my time right now. But if it's not, I have just got to keep working hard in practice and wait for another time."
For the Rams, there would be no better time than the present for Austin to become a threat capable each week of single-handedly wrecking games.
During the three-game losing streak the Rams finally stopped Sunday, they consistently found themselves a big play or two short of a win, especially in the past two. With almost no margin for error, they came up empty each time.
In the absence of those game-changing plays, many eyes have turned to Austin. The Rams traded up to draft him with the No. 8 overall selection in April's NFL draft. Fair or not, the expectations with that lofty status ask for a quick return on investment even if history suggests it's a difficult task for a rookie at Austin's position.
Earlier this week, Rams defensive end
Chris Long
-- a player who knows all about exaggerated expectations -- offered some advice to Austin, telling him to be patient and not to force anything.
The message was simple: Austin's big day would come; it was just a matter of time.
"Nobody in this locker room was looking at Tavon like, 'You haven't done this or that,'" Long said. "That's a lot of the outside world. In this locker room we know what kind of a commodity he is for us. Even if they take him away, that helps us. He forces them to make adjustments, that helps us. If he continues to work hard, he's going to be a real big player in this league."
Austin clearly took Long's advice.
"I definitely knew things were going to come," Austin said. "That's just me being patient and being true to myself. I keep working. I'm just glad I got the opportunity."
With six games remaining in the season and a large hill to climb to make it interesting, the more opportunities Austin gets, the better.
November, 10, 2013
11/10/13
8:01
PM ET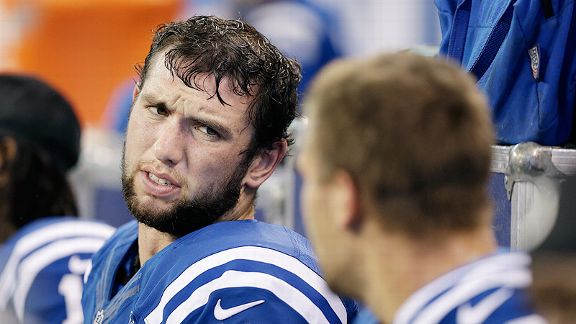 AP Photo/Darron CummingsThe Indianapolis Colts can't count on dramatic comeback victories from quarterback Andrew Luck every week.
INDIANAPOLIS -- You were just waiting for that moment to happen. A
Robert Mathis
strip sack to energize the
Indianapolis Colts
. Then
Andrew Luck
calmly leading them to a come-from-behind victory.
Why wouldn't it happen that way?
We've all seen Luck work his magic before. You spend Monday morning standing around the watercooler talking about how much of a joy it is to watch Luck rescue the Colts.
But something happened on Sunday afternoon in front of 66,004 fans at Lucas Oil Stadium. The Rams jumped on Indianapolis and made sure they weren't going to be Luck's 11th come-from-behind victim in just 25 games.
The Rams embarrassed the Colts, handing them
their worst home loss
in the Luck and coach Chuck Pagano era, 38-8.
"They beat us in every single phase," Pagano said. "We just didn't do anything. And I take full responsibility as the head football coach, did not have this team ready."
Is it time to panic?
No, the Colts are still in first place in the AFC South by two games. But Sunday was a dose of reality -- the kind that causes you to spend the night tossing and turning in bed -- that they cannot continue to think they can constantly come back from first-half deficits.
That plan was risky even when veteran receiver
Reggie Wayne
was in the lineup. The Colts won't survive playing that way without him even if they did manage to get away with falling behind and coming back against Houston on Nov. 3. The Colts can't do it with so many players out with injuries, a weak receiving group outside of T.Y. Hilton and an offensive line that can't protect Luck.
The Colts have trailed at the end of the first quarter in five of their nine games this season.
"Regardless of what happens, we know what we have," Colts defensive lineman
Cory Redding
said. "Like I said, our mental mentality, our toughness, our belief in one another has not wavered. They were the better team today. They outplayed us, period."
The Rams tried to help Indianapolis cure its slow starts when they were called for a taunting penalty on the opening kickoff and then a neutral-zone infraction. Not even a free 20 yards could help the Colts, though.
The Colts got to St. Louis' 42 before defensive end
Robert Quinn
beat
Anthony Castonzo
for the strip sack on Luck. Quinn's sidekick on the other side,
Chris Long
, picked up the loose ball and ran 45 yards for a touchdown.
A short touchdown run by running back Zac Stacy followed, then a 98-yard punt return for a touchdown by rookie
Tavon Austin
, and an 81-yard touchdown reception by him sent the Rams into the half with a 28-0 lead.
There was never a feeling that the Colts would make it a game in the second half. There shouldn't have been any hope, not with Luck trying to avoid Quinn and Long from sandwiching him and a running game -- if you want to call it that -- rushing for 5 yards in the first half.
The Colts finished with 18 yards rushing on 14 attempts, and Luck was sacked three times, was hit seven times and matched his season total in interceptions with three.
"We knew coming into this game after last week's game [at Houston] that we're not going to be able to consistently spot teams three-touchdown, four-touchdown leads and be able to come back," Pagano said. "And we can't count on executing well on both sides of the ball and special teams for 30 minutes of the game. You got to do it over 60 minutes."
Luck, as he's done throughout his short career with the Colts, didn't get discouraged. After the game he addressed the media, then walked around the locker room slapping hands and offering words of encouragement to his teammates before finally making his way to the shower.
That's what the Colts will need from Luck off the field to go with his competitiveness on it because they'll likely encounter another situation like Sunday at some point in their remaining seven regular-season games.
"It's a tough business," Pagano said. "It's not for the meek. It's for grown men. Everybody in that locker room, coaches and players, we got broad enough shoulders to handle it. You sit there and you dwell on it and dwell on it; we ain't got time to dwell on it."
November, 10, 2013
11/10/13
6:00
PM ET
INDIANAPOLIS -- Observed in the locker room after the
Indianapolis Colts
' 38-8
loss
to the
St. Louis Rams
:
McAfee
An emotional surprise
: The Inocencio family thought they were getting a new Toyota at halftime that was donated by Colts punter
Pat McAfee
. It turns out the family got something better than the car. Army Sgt. Jeremy Inocencio surprised his family by being inside the car after returning home from an overseas deployment. Inocencio's emotional surprise caused a lot of hugs and tears of joy. "Those things are so awesome," McAfee said. "Anytime you see a kid going up to his dad, who he hasn't seen in months. His dad is a hero fighting for our country. It's an unbelievable moment, and I hope they will remember it forever because their dad is such a hero."
Wanted to continue playing
: Colts quarterback
Andrew Luck
said his preference was to finish the game despite being down by 30 points midway through the fourth quarter. Coach Chuck Pagano pulled Luck because the outcome had already been decided and they play again on Thursday at Tennessee. Sunday was only the second time in Luck's career that he did not take every offensive snap. "I think any competitor is going to want to stay in the game," Luck said. "You understand at the end of the day, Coach Pagano is making the decisions, and he's thinking on a much more macro scope of things. Understand his decisions are final."
Injury update
: Guard
Mike McGlynn
left the game in the second half with a thumb injury. He's scheduled to get an MRI. Safety
Larry Asante
went out with a hamstring injury. Pagano said he didn't know the extent of his injury.
November, 10, 2013
11/10/13
5:45
PM ET
INDIANAPOLIS -- Observed in the locker room after the
St. Louis Rams
' 38-8
win
against the
Indianapolis Colts
.
Never comfortable:
The Rams jumped all over the Colts in the first half, taking a 28-0 halftime lead. That dominant performance would have most teams feeling pretty confident about walking away with a win, but the feeling on the Rams' side was a bit more tenuous.

Fisher
Given Indianapolis quarterback
Andrew Luck
's propensity for amazing fourth-quarter comebacks -- he has 10 in less than two full NFL seasons -- the Rams found themselves wondering how many points would be enough.
"What kept going through our mind is Andrew's comebacks, his comebacks, his comebacks, and it's never enough points," Rams coach Jeff Fisher said.
Field-position dominance:
It might fly under the radar on a day when so many things went right for the Rams, but one thing they did that they haven't done much of this season is own field position. Outstanding kickoff coverage for the Rams combined with questionable decision-making by Colts kick returners
David Reed
and
Dan Herron
left the Colts starting eight of their 14 drives inside their 20, including three inside their 10. A number of Rams pointed out the advantage created by the kickoff coverage after the game.
Bad bye:
Fisher stuck by the old coaching cliché that there's never a bad time for a bye week, but a few players in the locker room made it clear they wished they had a game next week. After a disappointing three-game losing streak, those Rams wanted a chance to carry over any momentum generated by a convincing victory.
November, 10, 2013
11/10/13
3:59
PM ET
INDIANAPOLIS -- A few thoughts on the
St. Louis Rams
'
38-8 win
over the
Indianapolis Colts
:

What it means:
The Rams have been waiting for a big breakout game from rookie receiver/returner
Tavon Austin
after making him the first skill-position player picked in the NFL draft in April. After a series of near misses, many of which were caused by penalties, Austin announced his presence in the league with a resounding proclamation. The Rams moved to 4-6 with the convincing victory, and although any hopes of a postseason run remain in the pipe-dream category, this game provided some tangible evidence of progress. As the youngest team in the league, that's the most important thing as the Rams build toward the 2014 season. The Rams' 30-point win was their second overwhelming win against an AFC South opponent on the road this season and their largest margin of victory since a 31-point win in Week 13 of 2003, when they beat Minnesota 48-17.
Stock watch -- rising:
There were a few choices here, but Austin is the obvious winner. Austin has been frustrated by the penalties that have kept him from breaking out and has had his share of drops. All of that seemed to vanish in the period of time it took Austin to cover the distance of one of his lightning-strike touchdowns. Austin finished with 314 all-purpose yards. He is one of only three players in NFL history to have three touchdowns of 55 yards or more.
Stock watch -- falling:
Running back
Isaiah Pead
. Maybe it's not possible for his stock to drop any further, but Pead remains buried on the depth chart and did nothing to help his cause against the Colts. While Pead didn't get any carries or touches with the offense, he managed to pull off the oh-so-rare taunting penalty on the game's opening kickoff. Mind you, the kickoff went for a touchback and there was no reason to taunt anyone on said play. As for the running back part of the job description,
Zac Stacy
remains the primary runner and
Benny Cunningham
, banged-up thumb and all, continues to get carries as his backup.
The mighty Quinn:
Perhaps lost in Austin's breakthrough game was the performance of a player having a breakthrough season. Defensive end
Robert Quinn
set the tone for the game by sacking quarterback
Andrew Luck
on the game's opening drive and causing a fumble that
Chris Long
recovered and returned 45 yards for a touchdown. That gave the Rams a 7-0 lead they would never relinquish. Quinn added another sack and has 12 sacks and five forced fumbles on the season. He's clearly the Rams' best defensive player, and it might be time to start thinking about where he ranks in the league.
What's next:
Most coaches will say there's never a bad time for a bye week, but one has to wonder whether the Rams wouldn't mind to try to ride the wave of this performance for another week or two. Regardless, the Rams are off next week before a home date with the
Chicago Bears
on Nov. 24.