NFL Nation:

2013 Week 10 Upon Further Review AFC
November, 12, 2013
11/12/13
12:00
PM ET
A review of four hot issues from the Miami Dolphins' 22-19 loss to the Tampa Bay Buccaneers on Monday:
Incognito
Martin
New low:
Miami's loss to the previously winless Buccaneers is now its worst loss of the season. It trumps the Dolphins' previous home loss to the
Buffalo Bills
. Miami (4-5) cannot be taken seriously as a playoff contender if it can't beat a winless Buccaneers team in November. Chances are, the Dolphins will be sitting at home in January -- and they have ugly and disappointing losses such as to Tampa Bay and Buffalo to blame.
Saga continues:
The Dolphins didn't take care of business on the field, and many layers remain in Miami's huge controversy involving suspended guard
Richie Incognito
and teammate
Jonathan Martin
. Both players appear unlikely to return. However, the NFL is fully investigating all parties, and there could be major repercussions if coaches or members of the front office are culpable. Expect plenty of new developments over the next several days and weeks.
Disappearing act:
Just when you thought Miami's running game was coming around, it completely disappeared Monday against Tampa Bay. The Dolphins rushed for a franchise-low 2 yards on 14 carries. The losses of two starters -- Incognito and Martin -- certainly contributed to Miami's struggles up front. With neither player likely coming back this year, Miami must stick with what it has up front.
Looking ahead:
The games get more challenging for the Dolphins. They have an important two-game home stand against the
San Diego Chargers
in Week 11 and the
Carolina Panthers
in Week 12. Both of these homes games will go a long way to determine whether or not the Dolphins are capable of turning their fledgling season around. Miami has lost five of its past six games.
November, 11, 2013
11/11/13
10:00
AM ET
An examination of four hot issues from the
Cincinnati Bengals
' 20-17 overtime loss to the
Baltimore Ravens
:
[+] Enlarge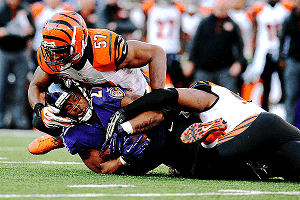 Evan Habeeb/USA TODAY SportsBengals LB Vincent Rey, No. 57, had a career performance against the Ravens on Sunday.
Defense stands tall:
Lost in much of the chatter about Cincinnati's defeat Sunday was the fact that its defense, all things considered, had a rather impressive game. Penalties were a problem all afternoon for the Bengals, who were charged with seven infractions on defense alone. The first one, a pass interference charged to safety
Reggie Nelson
on a flea-flicker that came on the Ravens' fifth play of the game, set an ugly tone for the Bengals' defensive unit. When they weren't whistled for fouls, the Bengals made life difficult for Baltimore's offense. They allowed the Ravens to gain only 189 yards of total offense, and limited them to a 3-for-19 showing on third down. Interceptions from
Terence Newman
and
Vincent Rey
and a fumble recovery from
James Harrison
were key turnovers for the at-times-beleaguered unit.
Green goes off:
Receiver
A.J. Green
didn't really want to discuss his 51-yard touchdown reception off a Hail Mary as time expired in regulation. "It would have been a greater play if we had won," he said. Still, as great as that play itself was -- win, lose or tie -- it was only one piece in what ended up being a historic day for the wideout. Targeted 15 times, Green caught eight passes for 151 yards and that lone touchdown. It marked the fifth straight time he had more than 100 yards in a single game. No other Bengals receiver has accomplished that feat in franchise history. After struggling with getting his yards early in the season, Green has suddenly hit his stride and has a strong connection with quarterback
Andy Dalton
, even as Dalton has struggled in recent weeks.
King Rey:
With
Rey Maualuga
still out with a knee injury, the Bengals have been relying the past two weeks on backup Vincent Rey to keep things stable until Maualuga can make his return. The starting middle linebacker is expected to miss possibly one more game as he recovers from an MCL sprain. In relief, Rey hasn't only kept the defense stabilized. He's taken over. Along with his five tackles in last week's loss at Miami, Rey had 15 against the Ravens on a day that was full of personal milestones. Not only were the 15 tackles a career high, but so were his three sacks. His second-quarter interception also was the first of his career.
Wind a factor?
If you ask Dalton or Green if the winds affected their play, they will quickly shake their heads no. Of course, few players would admit that. That's just a case of someone not making excuses. But if we're to be honest, it did appear the wind, which had gusts upward of 20 mph, was a factor for both quarterbacks, and at least the Bengals' kickers.
Mike Nugent
missed his fourth field goal of the year when he kicked into a tough crosswind that yanked the ball wide left, and
Kevin Huber
had two punts that barely traveled any distance. He averaged 34.3 net yards on his six punts. Dalton, who often missed throws high, was 24-for-51 passing.
November, 11, 2013
11/11/13
9:45
AM ET
PITTSBURGH -- A review of four hot issues from the
Pittsburgh Steelers
'
23-10 win
over the
Buffalo Bills
:
[+] Enlarge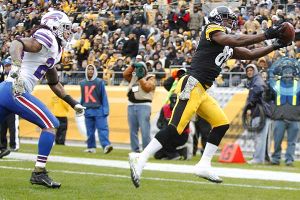 Charles LeClaire/USA TODAY SportsSteelers wide receiver Jerricho Cotchery catches a touchdown behind Bills cornerback Stephon Gilmore during the second quarter of their Week 10 game.
It's a start:
The Steelers improved to 17-2 against rookie quarterbacks since 2004, and
EJ Manuel
averaged less than four yards per passing attempt. Manuel's inexperience and the fact he was playing in his first game in five weeks because of a knee injury precluded the Steelers' players from saying the defense is back after giving up 610 total yards the previous week at New England. "No offense [to the Bills], but they have a quarterback who hasn't had the opportunity to play in awhile," Steelers free safety
Ryan Clark
said. "I think they played extremely vanilla and didn't allow him to do much so we needed to stop the run and that was the first step toward getting back, but we have a long way to go."
Sleeper hold:
Jerricho Cotchery
tied his career high for touchdown receptions in a season when the 10th-year veteran hauled in his sixth scoring catch late in the second quarter. Running what he called a "fall-asleep fade," Cotchery delayed his release and caught Bills cornerback
Stephon Gilmore
peeking into the backfield. Quarterback
Ben Roethlisberger
put enough touch on the pass for the touchdown that snapped a 3-3 tie. "It was a great call by [offensive coordinator Todd] Haley," Cotchery said. "He went into the archives for that one and pulled it out at the right time." According to Cotchery, it was a play Haley had used when he coached the wide receivers for the Bears from 2001 to '03. "It's something that we've been working on," Cotchery said. "We executed it well."
Key to victories:
Roethlisberger always talks about how important balance is to the Steelers' offense, and the math backs him up. In the Steelers' three wins, they have run the ball 51.1 percent of the time. In six losses they have run the ball just 30.5 percent of the time. The Steelers established the run early against the Bills and rushed for 136 yards on 4.1 yards per carry. Roethlisberger, meanwhile, had fewer passing attempts (30) than Steelers rushing attempts (33). "I thought we were able to find a rhythm and establish the running game and convert on some third downs," Steelers coach Mike Tomlin said.
OL sustains another injury:
The Steelers lost another offensive lineman to injury when left guard
Ramon Foster
hobbled off the field early in the third quarter after hurting his ankle. Safety
Shamarko Thomas
(ankle) and outside linebacker
LaMarr Woodley
(calf) also left the game with injuries and did not return. Tomlin said all three were evaluated after the game but he did not have any information beyond that. Woodley said his injury was not serious. "I'll be good to go," he said.
November, 11, 2013
11/11/13
8:00
AM ET
INDIANAPOLIS – An examination of five topics from the
Indianapolis Colts
' 38-8
loss
to the
St. Louis Rams
:
[+] Enlarge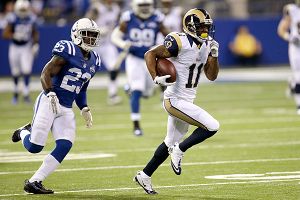 AP Photo/AJ MastReceiver Tavon Austin gave the Rams a spark as a rookie in 2013.
Getting roasted:
Colts cornerback
Vontae Davis
was defending Rams rookie
Tavon Austin
on both of his long touchdown receptions (57 and 81 yards). Davis appeared to give up chasing Austin on his first touchdown catch along the Colts' sideline. "Oh no, we just had busted coverage," Davis said when asked if he was injured on the play. "It was busted coverage on my part. I misread the play. Busted coverage on my part, so he got behind us." Austin came across the middle of the field, caught a pass from
Kellen Clemens
and then just outran Davis and safety
Antoine Bethea
for his second touchdown. "They moved him around a lot, put him in mismatch situations, using his speed to run away from coverage and stuff," Davis said. Austin finished with two catches for 138 yards.
Good to get back on the field:
Having a short turnaround in between games is supposed to be a bad thing. The Colts don't see it that way. They like that they play again on Thursday night against
Tennessee Titans
. The Titans are coming off a home loss to the
Jacksonville Jaguars
, who went into the game winless. "Yeah, this is a time where we're looking forward to getting back out there," Bethea siad. "We can get this taste out of our mouth and put this game behind us. Give credit to St. Louis, they played better than us today. But we have to bounce back and get ready for Thursday."
Zero running game:
I give Colts offensive coordinator Pep Hamilton credit for trying to establish the running game with
Trent Richardson
. It just simply didn't work. Richardson ran the ball four times in the first quarter. Those four carries led to minus-3 yards. That was just a sign of things to come the rest of the afternoon for the Colts. They gained 18 yards on 14 attempts. But wait, there's more: Quarterback
Andrew Luck
was responsible for 17 of those yards. That means Richardson,
Stanley Havili
,
Donald Brown
,
Matt Hasselbeck
and
Dan Herron
combined for 1 yard rushing. The Rams entered the game ranked 28
th
in the league against the run. "It's tough when you can't run the ball," Luck said. "Credit to them for forcing us into a one-dimensional attack."
Good play turned bad:
Sergio Brown
did the right thing when he saved the ball from going into the end zone in an attempt to pin the Rams deep on their end of the field. What Brown and the Colts didn't expect, though, was for Austin to grab the ball and go 98 yards for a touchdown. "Had guys down there and a bunch of guys maybe assuming play is going to be down at the 1-yard line," Colts coach Chuck Pagano said. "We told our guys, they knew this guy would catch it at the 1, catch it 5 yards deep. He's that type of player and he's dynamic that way. He made a great play and we obviously didn't cover well enough." Austin finished with 172 yards on punt and kickoff returns.
Scoreless day:
Colts kicker
Adam Vinatieri
's streak of scoring at least one point came to an end at 154 games. The Colts scored a touchdown when Luck threw a 13-yard touchdown pass to Brown in the third quarter. Pagano bypassed the extra point to go for two. Luck found tight end
Coby Fleener
for the conversion.
November, 11, 2013
11/11/13
8:00
AM ET
An review of four hot issues from the
Oakland Raiders
' 24-20
loss
to the
New York Giants
:
A new ground attack?
Seemingly lost in the Raiders' listless passing offense was the gritty showing of running back
Rashad Jennings
, who rushed for 88 yards on 20 carries in place of
Darren McFadden
(hamstring). Jennings ran hard and hardly went down on first contact. "The offensive line was putting hats on hats and leaving holes for the backs," Jennings said. "Hats off to them. That's what we expect from the backfield, is for us to run physical." It's something McFadden, who has now missed two games this season and 15 of Oakland's past 34 games, has not provided much of lately.
[+] Enlarge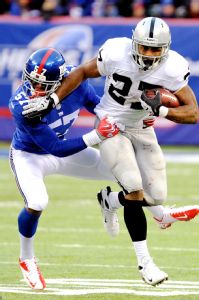 AP Photo/Bill KostrounRashad Jennings rushed for 88 yards on 20 carries against the Giants.
Punch it in:
As welcome a sight as it was for the Raiders to see themselves employ a successful power running game, it was just as disheartening for them to settle for a field goal after having first-and-goal at the 1-yard line in the third quarter. "There are no excuses for not being able to get in the end zone," Jennings said, "and that's starting with myself just being the running back out there." Jennings ran for no gain on first down, then
Terrelle Pryor
threw an incompletion before
Khalif Barnes
was called for a false start. "I could hear T.P. say, 'Hut, hut,' but I've got to move when the ball moves," Barnes said. Another Pryor incompletion followed and
Sebastian Janikowski
kicked the field goal to put the Raiders up 20-14. "That's the difference in the game," Pryor said. "We got three points there and lost by four."
The book on the Mannings:
With his second-quarter 43-yard pick-six on Giants quarterback Eli Manning,
Tracy Porter
became the only player in league history to return an interception for a touchdown against both Manning brothers. "It's just a coincidence," said Porter, who picked off
Peyton Manning
and returned it 74 yards for a score that sealed the
New Orleans Saints
' Super Bowl XLIV win over the
Indianapolis Colts
. "It would have been the same if we had won the game [against the Giants]. It's bittersweet."
Of explosive plays IX:
And now for our weekly tracking of "explosive" plays. As deemed by Raiders coach Dennis Allen, such a play is one that gains at least 16 yards through the air or 12 yards on the ground. The Raiders had four such plays against the Giants, one run, and three passes, while New York had five explosive plays, two runs and three passes. In nine games, the Raiders have 64 explosive plays (22 runs, 42 passes), with two TD runs and four passing scores. Oakland's opponents, meanwhile, have 64 explosive plays combined, with 14 runs (one TD) and 50 passes (five TDs).
November, 11, 2013
11/11/13
8:00
AM ET
BALTIMORE -- A review of four hot issues from the
Baltimore Ravens
' 20-17
overtime win
over the
Cincinnati Bengals
:
[+] Enlarge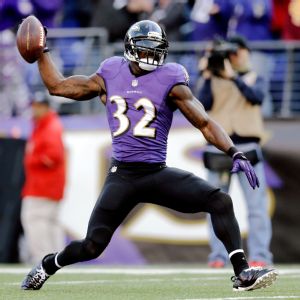 AP Photo/Patrick SemanskyJames Ihedigbo had two interceptions and tied for a team high with nine tackles.
Constant pressure
: Baltimore held Bengals quarterback
Andy Dalton
to a 52.2 passer rating, the second worst of his career. This was the result of constant pressure on Dalton (five sacks and nine quarterback hits).
Elvis Dumervil
led the Ravens with 2 1/2 sacks, the most of his brief Ravens career. The Ravens have recorded at least two sacks in 17 straight games, the NFL's longest such streak. Baltimore now has 67 sacks at home dating back to 2011, an average of 3.4 sacks per game. This year, the Ravens have recorded 16 sacks in four home games.
Rare miscues at home
:
Joe Flacco
led his 17th game-winning drive in the fourth quarter or overtime, but it was hardly a stellar performance. His 140 yards passing were a season low, and no one had fewer yards passing in a win Sunday. Flacco's three turnovers (two interceptions and one fumble) were his second most in a game this year. This was the first time Flacco has been picked off at home this season, ending a streak of five straight without an interception at M&T Bank Stadium (a span of 176 passes). Flacco hadn't thrown multiple interceptions in a home game since Oct. 11, 2009, which also came against the Bengals. The Ravens improved to 3-7 in games when Flacco turns the ball over at least three times.
Pick party:
The Ravens nearly matched their interception total for the season Sunday when they picked off Dalton three times. Baltimore had only four interceptions in its first eight games of the season and hadn't picked off a pass since Oct. 13. Safety
James Ihedigbo
came up with the first two interceptions of his career after going 77 games without one. Cornerback
Lardarius Webb
wrestled an interception away from Bengals receiver
Marvin Jones
, which was his first since tearing his anterior cruciate ligament last October. Under coach John Harbaugh, the Ravens are 18-5 when they force at least three turnovers.
Clutch kicker
:
Justin Tucker
's 46-yard field goal in overtime was the fifth game winner of his 29-game career and his third in overtime. He has now converted a career-best 16 straight field goals and hasn't missed since Week 2. During his streak, Tucker has hit half of those field goals from 40 yards or longer. His career success rate (including playoffs) is 91.2 percent. Only three kickers -- Jacksonville's
Josh Scobee
, Seattle's
Steven Hauschka
(a former Raven) and Dallas'
Dan Bailey
-- have been more accurate since the start of the 2012 season.
November, 11, 2013
11/11/13
8:00
AM ET
A review of four hot issues from the
Jacksonville Jaguars
'
29-27 victory
over the
Tennessee Titans
:
[+] Enlarge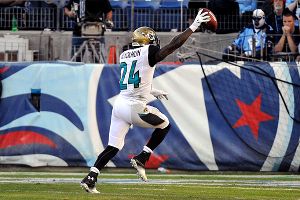 Frederick Breedon/Getty ImagesThe Jaguars went "back to basics" on defense and forced four turnovers, one of which Will Blackmon returned for a touchdown.
Simple success:
Apparently, simpler is better for the Jaguars' defense. Coach Gus Bradley and defensive coordinator Bob Babich spent part of the bye week going over the defensive game plans from the first half of the season and decided that trimming the amount of coverages, blitzes and personnel groups would help. The result was the defense's best performance of the season. The Jaguars forced four turnovers -- the most they'd had in a game in three years -- and held the Titans to just 83 yards rushing. The Jaguars were last in the NFL in rush defense (161.8 yards per game) entering the game. "We got back to basics," linebacker
Paul Posluszny
said. "Early on or even the last couple weeks ... we had games we were trying to do a little too much, and we scaled our package down for this week. I think we had a really good plan going into the game, very basic, not complex. It was stuff that we knew really well and we felt like we could play really fast with."
Special teams:
Kick returner
Jordan Todman
nearly got benched this week after bobbling three kickoffs against San Francisco, but he responded with a huge game against the Titans. He averaged 33 yards on three returns, including a season-long 46-yarder. That came on his final return and it helped set up another big play on special teams, when
LaRoy Reynolds
downed
Bryan Anger
's punt at the Tennessee 1-yard line. The Jaguars got a safety two plays later on a holding call in the end zone, which ended up being the winning margin. The Jaguars' special teams have improved markedly since training camp, thanks mainly to an overhaul of the bottom of the roster and the addition of players such as
J.T. Thomas
and
John Lotulelei
.
No stupid penalties:
Did the Jaguars make mistakes on Sunday? Plenty, such as
Chad Henne
's terrible throw to
Marcedes Lewis
that got intercepted and
Brad Meester
's shotgun snap that bounced off receiver
Ace Sanders
. But the Jaguars didn't commit the stupid penalties that were a regular occurrence during the team's first eight games. They were penalized four times for a season-low 19 yards. Meanwhile, the Titans did commit a couple of costly penalties: a holding call in the end zone for a safety and a roughing-the-passer flag on
Bernard Pollard
that extended a drive that ended with a touchdown.
Commitment to the run:
The Jaguars didn't have a lot of success on the ground, rushing for only 54 yards and averaging just 1.8 yards per carry, but offensive coordinator Jedd Fisch stayed committed to it all day. The Jaguars had only 56 offensive snaps and Fisch called 30 runs, including 21 by
Maurice Jones-Drew
. That's the kind of balance Fisch wants in terms of runs and passes. Obviously the production needs to increase on the ground.
November, 11, 2013
11/11/13
8:00
AM ET
An examination of four hot issues from the
Tennessee Titans
'
29-27 loss
to the
Jacksonville Jaguars
at LP Field:
Who's a cancer?
Safety
Bernard Pollard
and now tight end
Delanie Walker
have talked after recent failures about players who may be holding the Titans back. Walker went so far as to say after this loss that it may be time to start calling guys out and that the Titans need to "
find the cancer
." So who's the cancer? Nobody is saying at this point, though the Twitterverse is drawing some conclusions. I'm not going to speculate who qualifies without anyone telling me a name. But I think the place to start looking is where big paychecks aren't meeting big production.
Spencer
Depth issues:
Teams aren't going to be deep everywhere, but they need to be deep at the right spot. I don't know what kind of player
Chris Spencer
really is. That's the first we've seen him at center in the regular season. But
Brian Schwenke
had been a difference-maker in two games since he became a starter. He was lost relatively early to an ankle injury, and his physical presence left when he did and Spencer took over. The Titans ended up running for 3.1 yards a carry and just 83 yards total against the NFL's worst run defense. That's not close to good enough for a team that expects to be one of the top rushing attacks in the league.
Quarterback:
The Tennessean reported that
Jake Locker
is not expected to play again, and a source told me he was
99 percent sure
the quarterback is done for the season after suffering a foot injury late in the first half.
Ryan Fitzpatrick
was an ineffective starter when he filled in for Locker against Kansas City and Seattle. Perhaps he will be better this time around. Locker grew in his third season and second as a starter, but not enough. He showed gradual improvement in his first four games. Then he missed two games while hurt, and he wasn't strong in the three games since he came back. Now he's going to carry a question about whether he's injury prone.
Self-inflicted:
Four giveaways, missed tackles and poorly timed penalties were all factors in the Titans' loss. They aspire to be a disciplined team that plays crisp football and puts stress on opponents. At 4-5, they more often hurt themselves in the ways bad teams do. Still, they are one of five teams with four wins in the AFC, just one game behind the Jets, who are in line for the final playoff berth at 5-4. As bad as things look, they aren't dead yet.
November, 11, 2013
11/11/13
8:00
AM ET
ENGLEWOOD, Colo. -- A review for four hot issues from the
Denver Broncos
' 28-20
win
over the
San Diego Chargers
on Sunday.
Hits keep on coming:
In each of the last three games, quarterback
Peyton Manning
has been hit from his blindside by an opposing pass-rusher and fumbled the ball. First, it was the Colts'
Robert Mathis
, then it was the Redskins'
Brian Orakpo
and Sunday it was Chargers outside linebacker
Tourek Williams
, who swiped the ball out. It is a growing concern and obviously opposing defenses see backup left tackle
Chris Clark
as someone they can take advantage of from time to time. Clark has generally played well since
Ryan Clady
went to injured reserve, but opposing pass-rushers have forced the issue a little more of late with momentum-changing results.
[+] Enlarge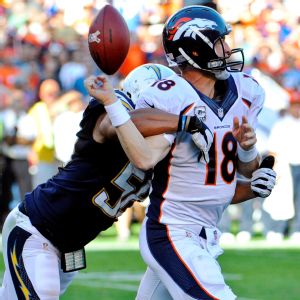 AP Photo/Denis PoroyTourek Williams was the latest pass-rusher to force Peyton Manning into fumbling.
Lots of action in play action:
Manning has always said he believes play-action, when done by an offense that has enough of a running game to make it work, is one of the most difficult things for a defense to handle. Sunday was certainly proof of that. According to ESPN Stats & Information, Manning was 9-of-9 passing with three touchdowns on play-action plays. That total included Manning's 7-yard scoring pass to
Demaryius Thomas
, when he also moved from the shotgun to under center just before the snap.
Rotation:
It's not clear whether it's due to the fact linebacker
Von Miller
missed six games to open the season with a suspension or Jack Del Rio's desire to use everyone in uniform, but Miller was not in the lineup for several plays on defense Sunday. Miller was not in the nickel package for five consecutive snaps in the second quarter -- he is usually lined up as a defensive end in that look -- and was also not in the nickel and base defense for a selection of snaps in the first quarter.
Ground rules:
During two recent games in which Manning has taken plenty of punishment -- the Broncos' loss in Indianapolis and Sunday in San Diego -- the Broncos ran the ball a season-low 20 and 22 times, respectively. Nothing slows down an opposing rush like the running game. Sunday the Broncos ran it just three times in the first half. The Broncos did have just one possession -- a three-play scoring drive -- in the first quarter Sunday, but the Broncos may have to go big and grind it out a little more moving forward, especially if Manning's mobility is limited at all against the Chiefs.
November, 11, 2013
11/11/13
8:00
AM ET
GLENDALE, Ariz. -- A look at four hot issues from the
Houston Texans
' 27-24
loss
to the
Arizona Cardinals
.
[+] Enlarge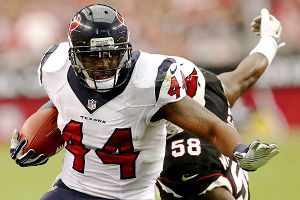 Photo by Stephen Dunn/Getty ImagesBen Tate 15 carries for 56 yards in the loss to the Houston Texans.
Andre Johnson wasn't giving up those touchdowns
: Texans receiver Andre Johnson was a big part of what kept Houston in the game. He caught a first-quarter touchdown and a fourth-quarter touchdown, barely getting his feet in. He admitted after the game that Arizona cornerback
Patrick Peterson
had good coverage on him, but added that wasn't going to get in the way of his own determination to come down with the ball.
Should the Texans have stayed on the ground more?
Ben Tate
, now the Texans' starting running back with
Arian Foster
headed to injured reserve, thought the Texans should have run the ball more in the second half. "I felt like it was working," he said. "I don't understand why we went away from it. Besides that, I really don't know. We just can't play one half of football every week. If we were playing one half of football, we'd be doing great right now, but there's two halves." The Texans ran the ball 14 times in the first half and seven times in the second half. Tate said that while he wasn't 100 percent (still recovering from broken ribs) he felt he was effective and could have carried more.
The feat of the foot:
A few weeks ago when I approached punter
Shane Lechler
to tell him how close he was to 50,000 career punting yards, long snapper
Jon Weeks
jokingly indicated fatigue at hearing about how good Lechler is. The punter lightly indicated it had more to do with being old. He doesn't care much about punting yards as a statistic, but on Sunday he went over the 50,000-yard mark. Only five other punters have reached that landmark, according to ESPN Stats and Information. More than anything it indicates longevity. Lechler, who is in his 14th season, said he wants to punt for 20 years.
Critical Arizona score:
The Cardinals took a three-point lead into the fourth quarter, but it turned into 10 when Cardinals quarterback
Carson Palmer
found
Andre Roberts
5 yards beyond his defensive back,
Brice McCain
. "All out blitz," McCain said. "My eyes were bad. Double move. He beat me." Wade Phillips said it was probably his fault for blitzing then, "but it was a little more desperation at that time, although we came back and still had a chance."
November, 11, 2013
11/11/13
8:00
AM ET
A review of four hot issues from the
Buffalo Bills
' 23-10
loss
to the
Pittsburgh Steelers
:
Hughes
Did Marrone make right call to punt?
After Sunday's game, Bills coach Doug Marrone said he chose to punt from the Steelers' 36-yard line early in the fourth quarter because he wanted to "play the field position." But with the Bills down 14 points, it's hard not to question that decision. The Bills' offense did nothing to inspire confidence that it could convert on fourth-and-5, but even with good position in the fourth quarter, it struggled in the red zone. That should have given Marrone an even greater sense of urgency to try to convert, even with 14 minutes left.
Points perspective:
The 23 points allowed by the Bills' defense in this game was actually lower than its season average, which is now at 25.9. Of course, the Steelers played with a lead and turned to their running game to burn the clock, but it was hardly an offensive explosion from either team in Pittsburgh. When an opponent's top rusher -- in this case, Steelers running back
Le'Veon Bell
-- averages 2.6 yards per carry and has no runs for more than 9 yards, you wouldn't expect the sort of one-sided game we saw Sunday.
Pass rush a positive:
Despite the loss, the Bills sacked
Ben Roethlisberger
four times and intercepted him once. Similar to the Bills' successes in defending the run, you wouldn't think Buffalo would put as much pressure on a quarterback, stay even in the turnover battle, and still be staring at a 20-point fourth-quarter deficit. It's the kind of outcome that overshadows a two-sack game from
Jerry Hughes
, who now has six sacks this season, a career high. The Bills have to be happy with their offseason trade that sent
Kelvin Sheppard
to Indianapolis for Hughes.
Offside penalty stings:
Defensive lineman
Marcell Dareus
was called for encroachment on a third-quarter Steelers field goal attempt, giving Pittsburgh a first down it turned into a touchdown. It wasn't a clear-cut call against Dareus; it looked like other Bills might have jumped, or even possibly some members of the Steelers. "I couldn't see it. They didn't show it afterwards," Marrone said. "The officials were there, they know everything that goes on, and you just have to go with what they say. That's a four-point swing there, from three points where they have to kick the field goal and [instead] wound up getting the touchdown."
November, 11, 2013
11/11/13
8:00
AM ET
SAN DIEGO -- An examination of four hot issues from the
San Diego Chargers
' 28-20
loss
to the
Denver Broncos
.
[+] Enlarge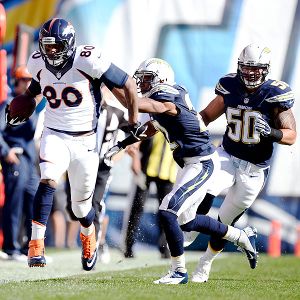 John Leyba/The Denver PostThe Chargers gave up a 74-yard touchdown to Julius Thomas early in the game.
Tackling still an issue:
For a second straight week, San Diego's defense struggled to stop explosive plays. Denver finished with five passing plays of 18 or more yards, including two for touchdowns. A week earlier, Washington's offense finished with eight plays of 20 or more yards against San Diego's defense. The Chargers are struggling to take the proper angle to the ball, and not enough defenders are rallying to the ball. "It's just tackling," San Diego middle linebacker
Donald Butler
said. "You've got to tackle -- plain and simple."
That Peyton Manning guy is pretty good:
Manning, the top-rated passer in the league, did not disappoint, finishing 25-of-36 for 330 yards and four touchdown passes. The Chargers managed to get some pressure on Manning, sacking him twice, including a strip sack by
Tourek Williams
that was recovered by Butler. Manning also suffered a right ankle injury on a hit by
Corey Liuget
. But Manning still finished with a 135.2 passer rating, and is 3-0 against the Chargers since his arrival in Denver.
On the road again:
Losers of two straight for the first time this season, the Chargers hit the road for a two-game stretch that begins in Miami on Sunday, and has the Chargers traveling to Kansas City to face the team's AFC West rivals in two weeks. San Diego is 2-3 on the road this season. After back-to-back road games, the Chargers finish with four of their last five games at home. Even with the two straight losses, at 4-5 the Chargers are a game behind the
New York Jets
(5-4) for the final AFC wild-card spot.
Fake punt works:
San Diego's fake punt attempt in the opening quarter worked, but it didn't create game-changing momentum for the Chargers. At fourth-and-1 from San Diego's 29-yard line, the Chargers lined up to punt. However, up back
Eric Weddle
took the snap and plunged down the middle of the line for 2 yards to pick up the first down. Weddle's effort was wasted when the Chargers had to punt four plays later after failing to pick up a first down. "I had a nice little collision there, but I feel I can get 1 yard over anyone," Weddle said. "If I can't, I shouldn't be in there."
NFL SCOREBOARD
Sunday, 2/2
WEEKLY LEADERS