NFL Nation:

2013 Week 11 DET at PIT
November, 17, 2013
11/17/13
8:52
PM ET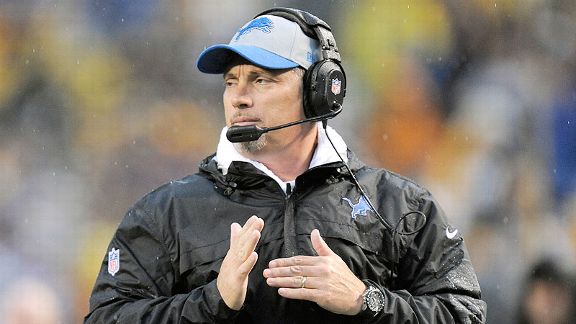 AP Photo/Don WrightLions coach Jim Schwartz has no regrets about the play calling in Sunday's loss to the Steelers.
PITTSBURGH -- It was a call that speaks to the mantra of a team: safe or aggressive. Take the points, or go for it all?
In Pittsburgh on Sunday, the
Detroit Lions
wanted it all. Early in the fourth quarter, they faced a fourth-and-5 on the Steelers' 10-yard line. The field goal was the safe play, the smart play.
Detroit lined up for the field goal, but instead of giving
David Akers
the chance to convert the chip shot and give them a 30-23 lead, the Lions called for the fake, and punter
Sam Martin
fumbled the ball while fighting for the first down.
So what if a field goal would have turned the Lions' four-point lead into a seven-point lead? If Martin had converted the first down or scored, Detroit would have had another big win in a season's worth of aggressive play calls by head coach Jim Schwartz.
But in Sunday's 37-27 loss to the Steelers, it didn't turn out that way. Martin said he "got hit by a 350-pound man." He fumbled. Pittsburgh recovered. Drove down the field. Scored. Took the lead. Won the game.
Schwartz didn't second-guess the decision. He had no regrets. He wanted to put the game away. Instead, he played a part in putting his own team away for the day.
"It had to do with trying to make the plays to win the game. We didn't make it. But look, you could say whatever you want," Schwartz said. "Y'all say whatever you want about me, OK.
"Don't say I'm scared. Cause we ain't, OK? This team is going to be aggressive. We're going to play our very best. We didn't play well enough to win this game, OK. But it's not because we're passive or anything."
If there is a defining characteristic about Schwartz and the Lions in second halves of games this season, it's aggressive calls. Schwartz wants his team to make plays. He's done it with a style that has mostly worked, including a fourth-down sneak against Washington in Week 3 that worked and led to a Lions victory.
It's the same type of mindset that helped the Lions to a come-from-behind win two games ago against Dallas and last Sunday against Chicago. Being aggressive is part of the makeup of this team.
Detroit's players had no problem with the call -- at least the ones who knew about it. Quarterback
Matthew Stafford
thought the Lions had botched the field goal attempt instead of it being a planned fake.
Even Pittsburgh's players said after the game they understood why Detroit made the call.
"It was drawn up extremely well," Pittsburgh safety
Ryan Clark
said. "But when you've got guys that hustle to the ball on your front line the way we do, that's how you stop things like that."
Pittsburgh did. It helped in its victory.
One thing was clear about the Lions and how they felt publicly about the call: Every Detroit player in the locker room didn't take issue with the call and how aggressive it was.
"It comes down to a mentality," Akers said. " 'Are you going to play it safe or are you going to be aggressive and go after it?' "
The aggressiveness has worked in the past and the future is still there for Detroit, although the way the Lions imploded in the second half is a definite cause for concern. The fourth-down fake field goal was somewhat emblematic of it Sunday.
The fake field goal was just part of a complete outage by Detroit in the second half. After Stafford threw for 327 yards in the first half, he completed three passes for 35 yards in the second. After
Calvin Johnson
had six catches for 179 yards and two touchdowns in the first half, he was targeted only three times and caught no passes for no yards in the second.
Reggie Bush
had 54 total yards and lost a fumble.
The Detroit defense struggled to stop Pittsburgh all day.
Ben Roethlisberger
threw for four touchdowns and passed for 367 yards. After the fake field goal, the Lions gave up a 97-yard drive, and touchdowns on the last two possessions of the game.
So Detroit's problems Sunday weren't necessarily with an aggressive play call but everything else surrounding it.
"If you're not on your P's and Q's and the next man is, you're going to look embarrassed, and that's what happened today," cornerback
Rashean Mathis
said. "We had some embarrassing plays that shouldn't have happened but when it all comes back to it, it wasn't just a man beating us. It was missed tackles. Technique sound. Things of that nature.
"Those things are fixable. That's what playoff teams do."
For now, Detroit is still a playoff team. The Lions, even after this loss, are still tied for the division lead with Chicago. It's a team, though, that struggled a lot Sunday.
"I don't know how much momentum we're going to lose from this," center
Dominic Raiola
said. "Going back home with Tampa coming into town, everything's right in front of us.
"You know, we're not, we don't need a State of the Union. It's just a loss. We lost, you know. They got us. Just bounce back like we do after every loss."
November, 17, 2013
11/17/13
8:45
PM ET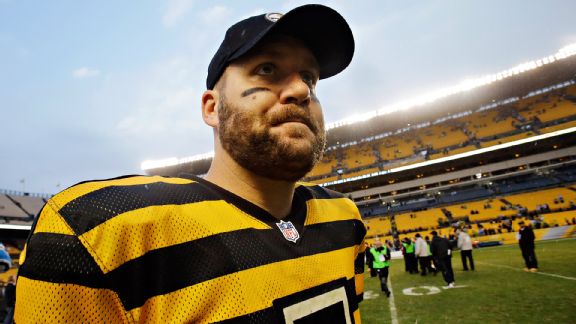 AP Photo/Gene J. PuskarBen Roethlisberger threw for 367 yards and four TDs, leading the Steelers' second-half rally.
PITTSBURGH -- On a gray day when not even a steady rain could snuff out the offensive fireworks at Heinz Field,
Ben Roethlisberger
showed why the
Pittsburgh Steelers
will find a way to keep him in Pittsburgh through the end of his career.
Or at least as long as the 10
th
-year veteran is able to lead drives like the one that covered 97 yards in a half-empty stadium on Sunday. That fourth-quarter drive might have saved the Steelers' season.
Roethlisberger completed 7 of 10 passes for 82 yards on the drive that he capped with a 1-yard scoring toss to fullback
Will Johnson
and put the Steelers ahead for good in their
37-27 win
against the Lions.
His clutch play in leading the Steelers back from a fourth-quarter tie or deficit for the 32
nd
time of his career allowed the Steelers to improve to 4-6 and stay in the playoff hunt in the mediocre AFC, as well as remain in contention in the AFC North.
The Steelers are either tied for second in the division or in last place depending on your vantage point. And the mood that prevailed in the Steelers' locker room late Sunday afternoon sure made it feel like the former.
The Steelers had every reason to be both happy and relieved.
They lacked a signature win before beating the Lions, and they won despite playing without three starters -- and playing without a defense for an entire quarter.
After the Lions scored 27 points in the second quarter to turn a 14-point deficit into a seven-point halftime lead, you figured last rites were being administered to the Steelers' season in the locker room, or coach Mike Tomlin was yelling at his players loud enough to be heard in Cleveland, or that his captains were doing it for him.
But the Steelers, to a man, said they stayed calm and resolute.
"There's a time and place for (locker room outbursts), and I think it takes veteran leadership to have that discernment," strong safety
Troy Polamalu
said, "where you've got to challenge people or you've got to keep calm and make sure everybody has their wits about them."
Nobody exemplified that more than Roethlisberger, who was at his best when the Steelers needed him most.
A failed fake field goal by the Lions left the Steelers on their own 3-yard line early in the fourth quarter. But Roethlisberger calmly led them down the field, hitting
Antonio Brown
on third-and-nine from the Steelers' 4-yard line with a 16-yard pass. He later rumbled 10 yards on third-and-12 to set up a 3-yard swing pass to
Le'Veon Bell
that moved the chains.
Roethlisberger didn't flinch. Two plays after Antonio Brown bobbled a perfectly thrown pass as he was going out of bounds, Roethlisberger calmly threw a swing pass that Johnson pulled in on his way to the most important score of the season.
"I think when the game is on the line you just love that situation," Roethlisberger said after throwing for 367 yards and four touchdowns.
The defense made the touchdown stand up, and it played its most inspired -- and unlikely -- half of the season following intermission. Stafford completed just three passes in the final two quarters. He threw for 47 fewer yards than Roethlisberger had on the drive that put the Steelers ahead for good.
The Steelers also shut out
Calvin Johnson
in the final two quarters, and anyone who saw only a box score would have thought that the wide receiver known as Megatron either got hurt or was kidnapped before the second-half kickoff.
The Steelers said they didn't make any major adjustments in covering Johnson. And as well as the defense played in the second half, the Steelers won the game for a reason that several players articulated afterward.
"They couldn't stop our offense," free safety
Ryan Clark
said of the Lions. "Our offense ran up and down the field all day. We just needed to get the ball to them."
The win showcased Roethlisberger's greatness and also validated offensive coordinator Todd Haley as a play-caller for at least one week. It also showed why Roethlisberger has to be the player the Steelers build around as they retool an aging defense.
The NFL is clearly a passing league, and if you don't have a quarterback in this league, you don't have a chance. Even when there was more of a premium on quaint concepts such as running the ball and winning with defense, the position of quarterback was still critical.
Remember, the Steelers went through quite a few quarterbacks in between Terry Bradshaw and Roethlisberger.
The stretch that is littered with forgettable signal callers is all the more reason why any separation between the Steelers and Roethlisberger would be foolish on the former's part. It is also something that would destroy the latter's legacy in Pittsburgh if he orchestrated it, and you have to think that means something to Roethlisberger as much as he talks about wanting to play his entire career for one team.
Questions continue to swirl around Roethlisberger's long-term future after the NFL Network reported on Sunday that money and the specter of losing could cause him to want out of Pittsburgh sooner rather than later.
"False and false," Roethlisberger said. "I don't want to go anywhere for any reason."
Neither should the Steelers.
And the franchise that has won a record six Lombardi Trophies will figure out a way to keep Roethlisberger, and keep the Steelers competitive.
November, 17, 2013
11/17/13
5:50
PM ET
PITTSBURGH -- Observed in the locker room following the
Detroit Lions
' 37-27
loss
to the
Pittsburgh Steelers
.
Supporting the field goal call:
Almost unanimously in the locker room Sunday, the Detroit players supported coach Jim Schwartz's decision to go for the fake field goal in the fourth quarter.
"I thought it was a good call," center
Dominic Raiola
said. "Aggressiveness, yeah, trying to put somebody away."
Johnson
Quiet Johnson:
After being one of the last players in the locker room, Detroit wide receiver
Calvin Johnson
declined to talk with the media after the game Sunday.
"Ain't got nothing for y'all," Johnson said as he walked out of the Lions' locker room following a game in which he had 179 yards receiving in the first half and none in the second half.
Fiery Schwartz:
Schwartz is usually fairly reserved whenever he talks with the media. Not Sunday. He came into his postgame news conference more angry than he has been for any other game this season. He spent the first minute of his news conference defending the fake field goal call.
November, 17, 2013
11/17/13
4:35
PM ET
PITTSBURGH -- A few thoughts on the
Pittsburgh Steelers
'
37-27 win
over the
Detroit Lions
:

What it means:
The Steelers finally bagged a signature win, and they did it after a disastrous second quarter had pushed their season to the brink and caused more than a few fans to leave Heinz Field early. They improved to 4-6 after blowing a 14-point lead and then rallying from a seven-point halftime deficit. With winnable games at Cleveland and Baltimore next up on the schedule, the Steelers are still in the AFC North race as well as the wild-card hunt. There have been a lot of big wins in the Mike Tomlin era. This has to rank near the top of the list.
Stock watch:
The defense pitched a second-half shutout after
Matthew Stafford
and
Calvin Johnson
toyed with it in the second quarter. And the Steelers scored a season-high 37 points because of the brilliance of quarterback
Ben Roethlisberger
and offensive coordinator Todd Haley. Roethlisberger threw for 367 yards and four touchdowns, and he led the Steelers to a win after they trailed or were tied in the fourth quarter for the 32nd time of his career, including the postseason. The oft-criticized Haley called a masterful game; had their execution near the end zone been a little better, the Steelers would have scored a few more touchdowns.
Missed opportunities:
The Steelers' red zone struggles reached a new and almost comical low. The Steelers had to settle for field goals three times after driving inside the Lions' 15-yard line, and they should have had touchdowns all three times, including late in the third quarter. The Steelers had a first down at the Lions' 1-yard line, but they couldn't punch in what would have been a game-tying touchdown.
Le'Veon Bell
got stuffed twice, and those runs sandwiched Roethlisberger overthrowing a wide-open
David Paulson
after a perfect play call by Haley.
Déjà vu all over again:
It was hard to imagine the Steelers having as bad a quarter then they did earlier this month in New England when the Patriots scored four touchdowns in the final 15 minutes to blow open what had been a tie game. But the defense suffered another epic collapse, and this one allowed the Lions to score 27 points in the second quarter while gaining 280 yards. Detroit's outburst came despite a lost fumble early in the second quarter and a goal-line stand made at the end of the half by the Steelers. The Lions' three touchdown drives came on a total of 11 plays.
Next up:
The Steelers travel to Cleveland next Sunday. The Browns dropped to 4-6 after blowing an early 13-point lead and getting routed 41-20 in Cincinnati. The Steelers lost in Cleveland last season after losing five fumbles and committing a ghastly eight turnovers.
November, 17, 2013
11/17/13
4:35
PM ET
PITTSBURGH -- A few thoughts on the
Detroit Lions
' 37-27
loss
to the
Pittsburgh Steelers
.
What it means:
What a complete collapse for the Lions, a team that had went through every sort of emotion during Sunday's game. They started off discombobulated in the first quarter, set records in the second quarter, then fell apart in the second half.

It's tough to explain how the Lions went from an offensive juggernaut in the first half to
Calvin Johnson
not having a reception in the second half and
Matthew Stafford
unable to even throw for half a field after halftime. It is, though, a loss that could hurt the Lions down the road. Detroit had complete control over this game before a combination of defensive lapses, dropped passes and a bizarre fake field goal call in the fourth quarter turned a win into a loss and a potential three-game winning streak into a 6-4 record that gives the Bears and Packers a chance to keep pace in the NFC North.
Stock Watch:
Rising -- Safety
Don Carey
. Carey had yet another week of significant playing time with cornerback
Bill Bentley
injured, and he had a decent game, making nine tackles and two tackles for loss. ...
DeAndre Levy
had a game-high 12 tackles, including two tackles for loss. Falling -- Detroit's fourth quarter defense. The Lions gave up a 97-yard drive to
Ben Roethlisberger
and the Steelers midway through the fourth quarter, resulting in a touchdown with 4:46 left to give Pittsburgh the lead. ...
Reggie Bush
's production. The running back fumbled, ran for 31 yards on 12 carries and caught two passes for 23 yards. Not his best day.
Setting records:
Detroit's typical combination of Stafford-to-Johnson gave the Lions some big records in the first half. Stafford threw for 327 yards in the first half, a franchise record. He also broke Bobby Layne's franchise passing record of 15,710 yards. With 362 yards Sunday, Stafford now has 16,005 yards. Stafford, though, faded in the second half, passing for only 35 yards.
What's next:
The Lions return home for two games in less than two weeks when they face Tampa Bay next Sunday and then Green Bay on Thanksgiving Day.

NFL SCOREBOARD
Thursday, 12/18
Saturday, 12/20
Sunday, 12/21
Monday, 12/22
WEEKLY LEADERS