NFL Nation:

2013 Week 11 IND at TEN
November, 15, 2013
11/15/13
2:45
AM ET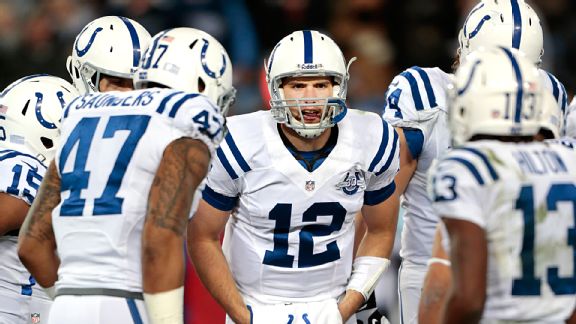 AP Photo/Wade PayneThe Colts saw "a different Andrew" Luck during halftime Thursday with the team trailing 17-6.
NASHVILLE, Tenn. --
Andrew Luck
's approach in dealing with his teammates is similar to how he plays the quarterback position. The Indianapolis Colts signal-caller often maintains his composure, rarely allowing anything to get under his skin.
That changed inside the walls of the locker room at LP Field at halftime Thursday.
Luck was frustrated, he was angry and he didn't hold back his feelings from his teammates.
"It was to a whole new level," punter
Pat McAfee
said. "Normally, he has a calming presence, meaning we know what we have to do to win the game. This was a different Andrew."
Luck had every right to clench his jaw and let loose.
The Colts, a team that has stuck together and fought through adversity on different levels the past two seasons, showed signs in the first half of cracking and possibly falling apart for the first time.
Another slow start and three straight unsportsmanlike penalties by the defense, including a childish head-butt by linebacker
Erik Walden
, had them looking like they'd be in a fight to hold on to first place in the AFC South.
All eyes were on Luck as he spoke, and his message sank in. The Colts got it together in the running and passing game to take complete control of the division with a
30-27 victory
.
"He had that look in his eye," Colts defensive lineman
Cory Redding
said. "He basically told the team to jump on his back. He really got caught up today when he was talking to us. He challenged everybody to fight and go out there and win this game. You like to hear that from your leader."
The Colts had to win this game. They had too much on the line to lose back-to-back games for the first time with Luck quarterbacking them.
Their image took a substantial hit when they were thoroughly outplayed and embarrassed at home by the
St. Louis Rams
last weekend, losing 38-8. But more important, the Colts' lead in the division would have been down to a game had they lost Thursday. Now they have a three-game advantage with six games remaining.
"This speaks to their character, their mindset," Colts coach Chuck Pagano said. "They are resilient. They were bound and determined to try to find a way to make amends for the home loss. Everyone was embarrassed, and they wanted to do whatever they could."
You would have never known the Colts wanted to make "amends" for what happened against the Rams with the way they opened the game Thursday.
The Titans went no huddle and used a spread offense to score on their first two series, taking a 14-0 lead.
A shaky offensive line, no running game and a struggling receiving group made a two-touchdown deficit seem like it would be significant obstacle for the Colts to overcome.
Tempers started to flare and frustration took a toll on the Indianapolis defense in the second quarter. The three unsportsmanlike penalties gave the Titans 41 free yards.
"A lot of it, I believe, was instigated by them," Redding said. "They always catch the second guy. We got the mentality we're not going to be no punks. We're going to stand up to whatever is going on the field, and we just got caught in the act three times."
The Colts went into the half trailing 17-6.
And that's when Luck used words, not his arm or legs, to get his team going.
"He had fire and passion with his talk," tackle
Anthony Castonzo
said. "He had some powerful words behind it. It's been three weeks in row that we were down at halftime. There was some frustration. He wanted to make sure we came back and won this thing."
The Colts didn't wait until the fourth quarter to pull off the comeback. They took Luck's words to heart and jumped on the Titans at the start of the third quarter by playing the type of football Pagano and offensive coordinator Pep Hamilton envisioned when the season started.
The offensive line, which took a lot of criticism for its play against the Rams, had one of its best halves of the season by opening up holes for the running backs, and Luck used the short passing game to keep drives going.
Running back
Donald Brown
gained 51 of his 80 yards in the second half, and Luck was 11-of-15 for 124 yards without being sacked in the final 30 minutes of the game. The Colts totaled 137 rushing yards after being held to only 18 against the Rams.
"We weren't going to crumble," Colts linebacker
Robert Mathis
said. "If we crumbled, I was going to fight somebody. It was a matter of not getting down on yourself, no pity parties. We were just going to go out and play football."
November, 15, 2013
11/15/13
2:30
AM ET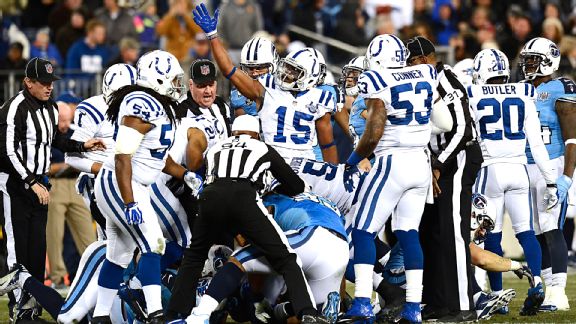 AP Photo/Mark ZaleskiThe game pivoted the Colts' way when they fell on a third-quarter fumble by the Titans' Devon Wylie.
.
NASHVILLE, Tenn. -- Every team in the NFL has regular conversations about withstanding adversity. Good teams fight through down moments and have a clear understanding that those bad stretches are not the same as zeros on the game clock.
Thursday night at LP Field, the
Indianapolis Colts
gave up four first downs and 41 penalty yards during a second-quarter defensive series. They were a crumbling, undisciplined mess.
Yet they ultimately gathered themselves, recovered and beat the
Tennessee Titans
by a
30-27
score.
The Titans, meanwhile, saw their new return man run a kickoff into the back of one of his teammates and fumble. And after
Devon Wylie
bumped into
Craig Stevens
and gave away the turnover early in the third quarter, the hosts fell apart and never regained their balance.
That's pretty much the story of the Titans, who have lost five of their past six games. They don't really know how to recover from mistakes, and they are party to the other team doing it pretty regularly.
"We see what we're doing," strong safety
Bernard Pollard
said. "These teams are not better than us. They might handle certain things better than us, but they are not better than us."
With apologies to Pollard, the fact that opponents handle certain things better than the Titans is precisely what makes those opponents better.
This is a downtrodden bunch that once had a 3-1 record to validate the in-house expectations built with an offseason of free-agent activity, coaching-staff alterations and promises from coach Mike Munchak that they wouldn't disappoint.
Now, at 4-6, they are three games and a tiebreaker out of the lead in the AFC South with six games to play. They remain alive for the sixth seed in the AFC playoffs only because there are so many other bad teams bunched together. But some of them can start pulling away Sunday.
"We've still got six games to pull something together and do something," cornerback
Alterraun Verner
said. "A lot of it's probably out of our hands now. I don't know what's going to happen this weekend or whatnot."
The Titans were practically apathetic at the start of last weekend's loss to the previously winless Jaguars. Thursday night they started off far better, unveiling a hurry-up, no-huddle offense that played to the strengths of
Ryan Fitzpatrick
, their quarterback the rest of the way after
Jake Locker
's season-ending foot injury.
They built leads of 14-0 and 17-3 in the first half, but then they watched the Colts march 74 yards in 11 plays to open the second half with a touchdown. Wylie's gaffe followed, and it took only two plays for Indianapolis to get to the end zone again and take its first lead, 20-17. The Titans didn't roll over, but they never got the lead back.
Maybe the Titans could have won if they had held the Colts to a field goal on big fourth-quarter drive. Instead, linebacker
Akeem Ayers
hit
Andrew Luck
late after a handoff -- not even on a pass play -- for an unnecessary-roughness penalty that positioned Indianapolis for a touchdown that built the late lead to 30-20.
[+] Enlarge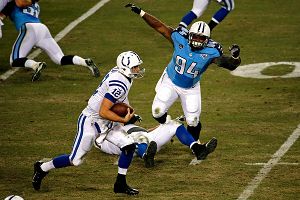 AP Photo/Mark ZaleskiTwo plays after the Titans fumbled away a kickoff, Andrew Luck's TD run put the Colts ahead for good.
All of which set up the same postgame questions: What's wrong? Why is this happening? Why can't you fix it?
"We are who we are," defensive end
Derrick Morgan
said. "There are no excuses; there's no explanation. We can sit here and talk for an hour, but we are what we put on that field. ... You can only talk so much. We've been talking the last several weeks, and we haven't been getting the results that we want. We didn't go do it.
"We keep having the same conversation. We just went downhill from a good start. We've got all the talent in the world, but it's not showing up on game day. ... Obviously we don't [know how to win]. We've been losing close games, games that we think we should have won. We're not finishing."
The Titans don't do much dictating; instead, they're always trying to respond.
And then they wind up in position to look at something like the Colts' 32 carries for 137 yards and hear Munchak say, "They ran the ball much better than they should have been able to."
The Colts are an incredibly annoying and frustrating team for the Titans. When the AFC South was formed in 2002,
Peyton Manning
and Indy were kings of the division forever. When he got hurt and then was released, the division door opened, but it was Houston that walked through. Now Luck is in place and seems poised to begin a reign similar to Manning's.
The Colts and their quarterback seem to have DNA that means they can withstand tough stuff and find ways to win.
The Titans, to put it simply, don't.
November, 15, 2013
11/15/13
2:06
AM ET
NASHVILLE, Tenn. –- In the middle of what was a career-best day for Titans tight end
Delanie Walker
, he found himself face to face with Colts linebacker
Erik Walden
.
[+] Enlarge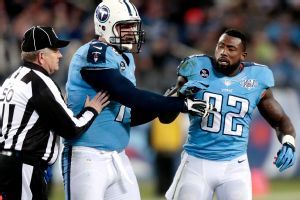 AP Photo/Wade PayneDelanie Walker is restrained by tackle Michael Roos after an altercation with Erik Walden.
In the middle of a bad penalty stretch for Indianapolis, Walden yanked off Walker's helmet and then head butted Walker.
Walker did not take it well.
"That's dirty play, there is no need for stuff like that in the NFL," Walker said. "If you're getting your butt kicked, get your butt kicked. Don't rip somebody's helmet off and then head butt them. I'm surprised he didn't get ejected. ...
"Dang, this is a sport we all play with each other, we're all family, this is a fraternity. For you to do some senseless act like that, that just tells me what type of player you are. There is no need to talk. I'm going to see him in two weeks and I'm going to whoop his butt again."
Walden was contrite after the game.
"It was a selfish act," he said of the play that drew an unnecessary roughness penalty. "It could have cost my team bigger than I did. I lost my composure. It something that can't happen. It wasn't really something he did, it was ticky-tack. I can't allow myself to take it that far."
November, 15, 2013
11/15/13
1:10
AM ET
NASHVILLE, Tenn. – Observed in the locker room after the
Indianapolis Colts
'
30-27 victory
over the
Tennessee Titans
Brown
Always competing:
Running back
Donald Brown
opened the season behind
Vick Ballard
and
Ahmad Bradshaw
on the depth chart. Then he was behind Bradshaw and
Trent Richardson
. But Brown has remained ready for his opportunity. He proved that Thursday night when he gained 80 yards and scored two touchdowns on 14 carries. "He's been doing it all year," Colts coach Chuck Pagano said. "He's running as good, or better, than he has since I've been here. It's a tribute to his hard work."
Still perfect:
Pagano and quarterback
Andrew Luck
's run of not losing back-to-back games was on the line when they went into the half trailing 17-6. But the Colts outscored the Titans 24-10 in the second half to make sure that didn't happen.
Heyward-Bey hurt:
Receiver
Darrius Heyward-Bey
missed part of the second half with an ankle injury. He wanted to get back on the field, but Pagano said they decided to keep him out. Heyward-Bey finished one catch for 10 yards.
November, 15, 2013
11/15/13
1:03
AM ET
NASHVILLE, Tenn. -- Observed and heard in the locker room after the
Tennessee Titans
' 30-27
loss
to the
Indianapolis Colts
at LP Field:
Fitzpatrick
Maybe a new offense:
The Titans had the Colts on their heels early with a hurry-up, spread out offense. The element of surprise wore off and the Colts settled in against it. But I suspect we're going to see a lot more of it. It's what
Ryan Fitzpatrick
is best at, and with
Jake Locker
finished for the season, Fitzpatrick isn't a fill-in now. This is his offense, and that may well be what it looks like. "That's something I really enjoy," Fitzpatrick said of the no-huddle. "... I feel like we operate at a higher level when we've got that tempo going."
That onside kick:
The Titans have tried this spinning onside kick twice before during this season, including Sunday at the end of the loss to the Jaguars. No tee. Ball sideways on the line. It was handled easily again. Kicker
Rob Bironas
said everyone with the team knows he can chop a more traditional onside kick that bounces high. He didn't sound like a giant fan of what the team has been trying. "It's not playing into our favor," Bironas said. "I don't think there are any players in this locker room that call their own plays. I give it my best effort, the idea behind it is obviously to get it to bounce off the hands. You hit a high bounce, it hangs up there for two, two-and-a-half seconds, your men get blocked, it goes more than 12 yards, you've got an easy catch. We see it all the time, it doesn't work all the time." In case you missed it, here's something from the past couple of days
about the attempt
against Jacksonville.
Common theme:
A lot of guys talked about how the Titans have to stick together. But a team that's lost five of its past six couldn't be much worse if it fractured. If somebody really popped off about what he thinks the issue is, perhaps it could shock the team back to life. "This sucks," strong safety
Bernard Pollard
said. "There are so many things that I want to say that I can't. We put so much in weekly and we're not getting what we want on Sunday or Thursday. ... As far as being a professional, I've learned my lesson on what to say, and how to say it and who to say it to."
Check
pkuharsky
at Instagram for a few postgame pictures.
November, 14, 2013
11/14/13
11:32
PM ET
NASHVILLE, Tenn. – A few thoughts on the
Indianapolis Colts
'
30-27 victory
over the
Tennessee Titans
at LP Field:

What it means:
The Colts continue to roll the dice with slow starts. They went into the half trailing 17-6 to bring their first-half deficit over their past three games to 66-9. But instead of waiting until the fourth quarter to get back into the game, the Colts got it going in the third quarter. Indianapolis used an 11-play, 74-yard drive that ended with running back
Donald Brown
scoring from 6 yards. The Colts got the ball back seconds later when
Devon Wylie
fumbled the ensuing kickoff and
Dan Herron
recovered the ball, and they took the lead for good two plays later when quarterback
Andrew Luck
, seeing Titans defensive lineman
Derrick Morgan
jump into the passing lane, tucked the ball and ran in from 11 yards. Luck spiked the ball with force once he got into the end zone. Brown outplayed teammate
Trent Richardson
, finishing with 14 carries for 80 yards and two touchdowns. Tight end
Coby Fleener
had eight catches for a career-high 107 yards. The Colts are in control of the AFC South now, ahead by three games with six games remaining.
Walden loses his cool:
Colts linebacker
Erik Walden
should expect to hear from the league office after he gave a helmetless
Delanie Walker
a head-butt following a play in the second quarter. It was surprising that Walden wasn't ejected because the league has taken a stand on protecting players. Walden tried to redeem himself with a sack in the third quarter, but it doesn't make up for his classless play in the first half. The league will at least fine Walden and could suspend him.
The ageless wonder:
Colts kicker
Adam Vinatieri
nailed a 50-yard field goal in the third quarter to give him four field goals of at least 50 yards this season. He's two shy of the Colts' single-season record established by Dean Biasucci in 1988 and equaled by Mike Vanderjagt in 1998.
What's next:
The Colts play at the
Arizona Cardinals
on Nov. 24. The Cardinals are coached by Bruce Arians, who coached the Colts last season while Chuck Pagano was out battling leukemia.
November, 14, 2013
11/14/13
11:30
PM ET
NASHVILLE, Tenn. -- Reaction from the
Tennessee Titans
' 30-27
loss
to the
Indianapolis Colts
at LP Field:
What it means:
The Titans fell to 4-6 and have now lost to all three teams in the AFC South. The Colts boosted their record to 7-3 and 3-0 in the AFC South, where they have a three-game lead plus the head-to-head tiebreaker over Tennessee. The teams play in Indianapolis on Dec. 1.

Stock watch:
Devon Wylie
is the third return man the Titans have used this season. They cut
Darius Reynaud
after seven mistake-filled games and saw
Damian Williams
get hurt in his second game in the role. Wylie cost them big-time in his first game as the return man, running a kick return into teammate
Craig Stevens
and losing a fumble early in the third quarter that set the Colts up for a go-ahead touchdown. Goat with a capital G.
Revamped offense:
The Titans surprised the Colts early with a hurry-up, spread-out offense and they moved the ball well early while building 14-0 and 17-3 leads. But gradually things slowed down and the Colts gained a sense of what the Titans were doing and did a better job of slowing it. It wasn't good enough this night, and what happens from here may not matter in terms of earning a playoff bid. If the Titans go with this style of offense the rest of the way with
Ryan Fitzpatrick
at quarterback, it'd probably be smart.
What I don't understand:
The determination to spin the onside kick without a tee. It had no chance last week against the Jaguars. It had no chance at the end of this game either.
What's next:
The Titans have a nice break before a Nov. 24 game at Oakland.

NFL SCOREBOARD
Thursday, 9/11
Sunday, 9/14
Monday, 9/15
WEEKLY LEADERS