NFL Nation:

2013 Week 11 SD at MIA
November, 17, 2013
11/17/13
11:45
PM ET
MIAMI GARDENS, FLA --
Antonio Gates
put it succinctly when asked what the 4-6
San Diego Chargers
have to do to consistently win games.
Play perfect football.
Gates
"Based on where we stand now at 4-6, I do," Gates said. "Despite what we believe, we're a 4-6 team. When I think of every game we lost this season, we made errors and we weren't good enough to overcome them. So now we understand as a team that we're not the caliber of a team that can make these kinds of mistakes and overcome them. It's just too tough to overcome them."
The mistakes the Chargers could not overcome were plentiful in
Sunday's 20-16 loss
to the
Miami Dolphins
. San Diego finished with a season-high 10 penalties for 76 yards. The Chargers once again struggled to tackle receivers in the open field. They finished 1 for 3 in the red zone.
And San Diego did not make plays in the critical moments of the game to overcome those mistakes.
Elite teams can overcome those types of errors when they aren't playing well because they have talented playmakers bail them out at the end of games. But general manager Tom Telesco and head coach
Mike McCoy
are in Year 1 of the rebuilding effort in San Diego.
Expect a lot of roster moves by those two once the season's over, as they continue to infuse this roster with young talent that can help turn the Chargers into a sustainable playoff contender long term.
But right now, the Chargers have to play mistake-free football to win games. Five of the team's six losses this season have been by eight points or less.
"I don't know about perfect, but we know we have to play well," San Diego quarterback
Philip Rivers
said. "I think that's the mentality of most teams, and all of the teams that I've been on. You never play with a mentality that you can afford some hiccups, but we all know that we've been able to overcome some hiccups, and right now we're not overcoming those.
"There are two ways to look at it. One we've got to find a way to overcome them. And the other one is to not have them. I don't feel that we feel an added pressure to make every play be perfect. We've just got to go cut it loose and play. But we've got to try and avoid some of those critical errors."
At 4-6, the Chargers are on the outside looking in as far as the postseason is concerned. Gates knows it will take an extraordinary effort for his team to work back into the AFC playoff conversation.
"It goes back to what kind of team we are," Gates said. "You want to be a certain kind of team. You want to find that identity. But what happens is when you play 10 games, and you go back and look at those 10 games, you somehow create an identity,
"Whether you like it, whether it's positive or negative, it doesn't matter because you've created one and that's who you are. Right now we just can't do things. We can't make these mistakes and assume that we will be able to overcome them, because we haven't been able to do that this year."
November, 17, 2013
11/17/13
9:40
PM ET
MIAMI GARDENS, Fla. -- It's not the homecoming
San Diego Chargers
defensive end
Corey Liuget
imagined, playing in front of his family and friends in his return to his hometown of Miami.
The third-year pro out of Illinois finished with three tackles, no sacks and no quarterback hurries.
Liuget
Even worse, Liuget totaled two penalties against the
Miami Dolphins
, including a costly roughing the passer personal foul that wiped out a defensive turnover for the Chargers.
"I have to do my job, and I did it very poorly today," Liuget said. "I had some of the biggest and costly penalties of the game. I had a pretty awful game. It was different today."
Liuget attended Hialeah High in Miami, where he earn all-state honors in football and also wrestled. Liuget had been San Diego's most consistent defensive lineman up until Sunday's game.
His costly penalty occurred in the second quarter. On second-and-6 from San Diego's 12-yard line, safety
Eric Weddle
forced Miami receiver
Brian Hartline
to fumble while trying to cross the goal line.
Cornerback
Shareece Wright
recovered the fumble, and the Chargers appeared to thwart a promising Miami scoring drive.
However, Liuget was whistled for taking Miami quarterback
Ryan Tannehill
down late on the play.
"Once I hit him I was like, 'Oh crap, the ball is gone,'" Liuget said. "When I saw him on the ground, at first I thought I had a sack and I was like, 'Let me help him up.' And then I saw the flags coming."
Liuget had one of five defensive off sides penalties for San Diego, as Tannehill did a nice job of altering his cadence to take advantage of the Chargers' antsy defensive linemen. Although he had a sack,
Thomas Keiser
also had three of the five defensive line of scrimmage infractions.
"It was shown a little bit on film," Weddle said. "But after the first couple series you should be adjusted to it. And we weren't. So there's no explanation you can give us as to why you should continue to be off sides. It's unacceptable, and they know that. And our guys will learn from it."
Brenner faces hometown team:
A San Diego-area native who prepped at nearby Oceanside High, Miami offensive lineman
Sam Brenner
got his first career start against his hometown Chargers.
With guard
Richie Incognito
and tackle
Jonathan Martin
already out indefinitely due to the controversy involving those two, and center
Maurkice Pouncey
a late scratch due to an illness, Brenner was added from Miami's practice squad to the team's active roster this weekend, and started at left guard for the Dolphins.
Brenner was an undrafted rookie free agent out of Utah who went to training camp with the Dolphins, was released during final roster cut downs and signed to Miami's practice squad.
"I was just really grateful for the opportunity -- that these coaches gave me this opportunity to come up and play tonight – the opportunity to make this team better and contribute to a win," Brenner said. "I was just really excited about that."
Injury update:
Cornerback
Johnny Patrick
suffered a head injury and did not return for San Diego. Rookie receiver
Keenan Allen
appeared to suffer a knee injury late in the second half, and was replaced by Seyi Aijrotutu, who had a couple big catches on San Diego's final drive of the game during the two-minute drill.
November, 17, 2013
11/17/13
9:10
PM ET
MIAMI – Don't look now, but amid all the controversy off the field and struggles on it, the
Miami Dolphins
find themselves back in the postseason hunt.
Yes, those Dolphins.
The same Miami team that's currently being investigated by the NFL for potential bullying and harassment involving right tackle
Jonathan Martin
and guard
Richie Incognito
. The same Miami team that lost to the previously winless
Tampa Bay Buccaneers
in its last game.
[+] Enlarge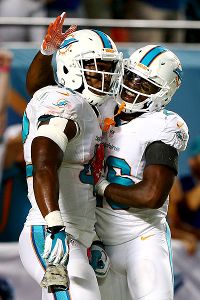 Streeter Lecka/Getty ImagesCharles Clay (left) caught the TD that put Miami ahead for good.
The NFL is a wild league, and perhaps no team has had more of a roller-coaster season in 2013 than the Dolphins. In what was essentially a must-win game Sunday, Miami improved to 5-5 with a
20-16 victory
over the
San Diego Chargers
.
Miami is now just a tiebreaker behind the
New York Jets
(5-5) for the sixth seed in the AFC. But the Dolphins will play New York twice in December, so, in many ways, they control their own playoff destiny.
"I told the guys in the locker room after the Tampa Bay game, you either have faith and confidence in one another or you don't," coach Joe Philbin said. "You can't swing back and forth based on a particular outcome of a single game."
The Dolphins held it together during a very tough week. Philbin and his players were constantly peppered with questions about Martin and Incognito, and new developments in the the story came to the surface nearly every day.
However, the Dolphins put together a good week of preparation, and it showed against the Chargers. The Dolphins took a lead in the third quarter that it never relinquished after tight end
Charles Clay
rumbled for a 39-yard touchdown. Miami did a good job of closing out the game in the fourth quarter, something that has been an issue this season.
Last week the Dolphins were embarrassed and considered on their last legs after losing to the Buccaneers. But one big win changes the outlook of their season with six games remaining.
"Stuff is going to happen, everything is not going to be perfect at all times," said Dolphins cornerback
Brent Grimes
, who got a key interception. "But as professionals, we have to go out and play a football game. That's our job, and that's what we came out and did. We just focused on football all week."
Next week will only get tougher for the Dolphins. The NFL is coming to town to ask questions about the Martin-Incognito controversy. The Dolphins also have another tough game, this time against the red-hot
Carolina Panthers
, who have won five straight.
How the Dolphins handle this situation is up to them. They control their own fate for the final wild-card spot, despite an up-and-down 10-game stretch to start the season.
"That's something we have our eyes on," defensive tackle
Jared Odrick
said of the playoffs. "But it can slip away from you just as quick as you got it. So we have to stay on top of it, get rest and let everything else fall into place."
November, 17, 2013
11/17/13
7:52
PM ET
MIAMI -- Observed in the locker room after the
Miami Dolphins
'
20-16 win
against the
San Diego Chargers
.
Thomas
Happy times:
It was a much more joyous locker room Sunday than what we've seen recently from the Dolphins (5-5). Many players were smiling and were very happy after picking up a key win against San Diego (4-6). The Dolphins had lost five of their past six games before Sunday. But now they are back at .500 and in the playoff hunt.
Checked out:
Dolphins tailback
Daniel Thomas
had a solid game, rushing for 57 yards and a touchdown on 10 carries. However, Thomas went into the X-ray room afterward to get checked out for an unspecified injury. Thomas finished the game and it didn't appear the injury was serious.
Brenner gets congrats:
Miami backup lineman
Sam Brenner
made his first career start at guard after center
Mike Pouncey
was a late scratch with an illness. Brenner held his own and helped the Dolphins rush for 104 yards on 19 carries. Brenner received a lot of congrats from his fellow offensive linemen in the locker room for stepping up.
November, 17, 2013
11/17/13
7:25
PM ET
MIAMI -- A few thoughts on the
San Diego Chargers
' 20-16
loss
to the
Miami Dolphins
.

What it means:
The Chargers lost their third game in a row to a very beatable opponent. At 4-6, San Diego faces an uphill climb to reach the postseason for the first time since 2009. According to ESPN Stats & Info, under the current playoff format, which began in 1990, only seven percent of teams to start 4-6 went on to make the playoffs.
More tackling practice needed:
The Chargers missed at least eight open-field tackles defensively, including four on one play when Miami tight end
Charles Clay
took a route in the flat to the end zone for a 39-yard score. San Diego gave up a 74-yard touchdown reception to Denver tight end
Julius Thomas
last week on a similar pattern.
Penalties prove costly:
Heading into the game against Miami, the Dolphins averaged six penalties a game. The Chargers finished with a season-high 10 penalties for 76 yards against Miami. Costly penalties by San Diego included
Corey Liuget
's roughing the passer penalty that erased a fumble recovery by cornerback
Shareece Wright
. Dolphins running back
Daniel Thomas
scored two plays later from a yard out.
Philip Rivers
also was called for an illegal forward pass while crossing the line of scrimmage in delivering a 5-yard touchdown pass to
Antonio Gates
. The Chargers had to settle for a
Nick Novak
27-yard field goal.
Mathews tops 100 yards:
For the third time this season, running back
Ryan Mathews
eclipsed 100 yards rushing, finishing with 127 yards on 19 carries. Mathews' total included a career-high 51-yard run.
Red-zone woes continue:
Once again, the Chargers settled for field goals instead of scoring touchdowns in the red zone. San Diego finished 1-for-3 inside the 20-yard line, twice settling for Novak field goals, from 29 and 27 yards out. On the final play of the game, Rivers failed to connect with receiver
Seyi Ajirotutu
from 25 yards on a go route in the end zone.
What's next:
The Chargers hit the road for a second straight week, looking for the team's first AFC West division win, at Kansas City, next Sunday.
November, 17, 2013
11/17/13
7:04
PM ET
MIAMI -- A few thoughts on the
Miami Dolphins
' 20-16
win
against the
San Diego Chargers
on Sunday.

What it means:
Despite all their issues on and off the field, the Dolphins (5-5) are back in the thick of the AFC playoff race after a big win. Miami is tied with the division-rival
New York Jets
(5-5) for the sixth seed in the conference. The Dolphins still play the Jets twice in the month of December, and both games are shaping up to be important.
Stock watch:
Someone who improved their stock was Miami tight end
Charles Clay
. He had a big day with six receptions, 90 yards and a 39-yard touchdown catch where he ran through three would-be tacklers. Miami's running game also improved, but had a low bar to work with. The Dolphins rushed for 104 yards against the Chargers after gaining a franchise-low 2 yards last week in a loss to the
Tampa Bay Buccaneers
.
As far as stock down, Miami's pass protection was an issue again. Without starting center
Mike Pouncey
, the Dolphins' offensive line allowed four more sacks, which upped the total to 41 this season. The Dolphins' run defense also allowed 154 rushing yards, and has underachieved in that area most of this season.
Focus a premium:
The Dolphins will have some trouble staying focused during the upcoming practice week. NFL investigators are expected to visit the practice facility to talk to multiple players, coaches and executives about
Jonathan Martin
's claims of bullying and harassment. Martin met with NFL lead investigator Ted Wells for seven hours last week, which should provide plenty of questions for Dolphins personnel once Wells arrives. Miami still has a game to prepare for, and must handle this distraction.
What's next:
The games do not get any easier for the Dolphins. They will host the streaking
Carolina Panthers
, who have won five straight. Miami will get a chance to scout Carolina on Monday. The Panthers will be coming off a short week, and have a big game against the
New England Patriots
on ESPN's "Monday Night Football."
November, 17, 2013
11/17/13
3:04
PM ET

NFL SCOREBOARD
Thursday, 9/18
Sunday, 9/21
Monday, 9/22
WEEKLY LEADERS