NFL Nation:

2013 Week 11 Upon Further Review NFC
November, 19, 2013
11/19/13
8:00
AM ET
CHARLOTTE, N.C. -- An examination of five hot issues from the
Carolina Panthers
'
24-20 victory
over the
New England Patriots
:
[+] Enlarge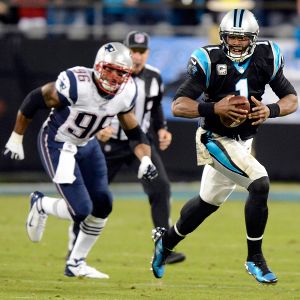 David T. Foster III/Charlotte Observer/MCT via Getty ImagesA mobile Cam Newton kept the New England defense on its heels Monday night.
Run for your life:
ESPN analyst Jon Gruden said early Monday that quarterback
Cam Newton
's ability to run was his strength. He wasn't concerned about how many carries the first pick of the 2011 draft got during his first two seasons, as Hall of Famer John Madden expressed to Carolina coach Ron Rivera during the offseason. Newton proved Gruden right, running four times on third down for 56 yards. Each time he converted a first down, including a 14-yarder in the third quarter that ESPN Stats & Information determined took 75.8 yards to accomplish and a 15-yarder on the game-winning drive. Newton has scrambled 31 times for a first down, the most in the league since he was drafted.
Leg whipped:
Defensive tackle
Charles Johnson
missed most of the second half after New England's
Marcus Cannon
leg whipped him early in the third quarter. Cannon likely will be fined when the play is reviewed by league officials. Carolina's more immediate concern is Johnson. He is scheduled to undergo an MRI on the knee that was struck. Asked if he might miss playing time, Johnson responded, "I don't know." But Johnson did return for the final series that ended with rookie safety
Robert Lester
intercepting a pass. He came back in part because he felt the team needed him and it was important to gut it out. "It gave us a little bit of a boost," Rivera said. Statistics bear that out.
Tom Brady
was under duress four times on the final 11-play drive. Before the final drive he had been pressured on four of his previous 31 dropbacks (12.9 percent).
Penalty or not:
A lot of analysts and New England fans are screaming that the officials got it wrong when they waived off a pass interference penalty on Carolina linebacker
Luke Kuechly
guarding tight end
Rob Gronkowski
in the back of the end zone on the final play. As you can see on the replay, the two were so close they looked like dance partners at the prom. The officials waived it off because, under the letter of the law, the ball has to be catchable. It was underthrown and picked off. But few are pointing out that the Patriots still would have had to score on one play with no time left on the clock to change the outcome.
Best in NFL:
The Carolina defense that came in ranked second in the NFL in general didn't have one of its better efforts. There were more missed tackles than usual and huge gaps in the middle of the field at times for Brady to find receivers. But Kuechly and
Thomas Davis
didn't hurt their reputation as being two of the best linebackers in the league. Davis had a game-high 17 tackles and Kuechly added 12.
Double trouble?
What happened to Carolina's running game against the league's 30th-ranked run defense? Backs
DeAngelo Williams
,
Jonathan Stewart
and
Mike Tolbert
combined for 41 yards, with Tolbert leading the way with 17. Were it not for Newton's 62 yards the average per rush would have been 2.5 instead of 4.5. Williams, who averaged 97 yards rushing in the first three games, hasn't had more than 46 yards in any of the past five games. This is not the more traditional run offense the Panthers were building toward and need moving forward.
November, 18, 2013
11/18/13
9:25
AM ET
A review of four hot issues following the
Washington Redskins
'
24-16 loss
to the
Philadelphia Eagles
:
Ref-gate:
The NFL will look into left tackle
Trent Williams
' allegations that umpire Roy Ellison called him a "garbage-ass, disrepectful m-----f-----" Sunday, which teammates corroborated. If that's indeed what Ellison said, it's beyond uncalled for by someone in his position. But for the Redskins, the conversation should not shift away from why they're 3-7 and where they might be headed. The problem with their season has not been officiating, it has been their own play. In fact, Washington had only four penalties Sunday compared to nine for the Eagles. And for the season, Washington is averaging 6.1 penalties per game compared to 7.2 in 2012. Some bad calls? Yes. Missed calls? Absolutely (See: Dallas). I've also seen
David Amerson
get away with what looked like holds or pass interference penalties. Williams' accusations are serious, but when adding up reasons for their bad record, officiating is far down on the list. Good teams overcome obstacles.
[+] Enlarge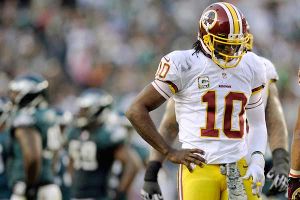 Michael Perez/AP PhotoRedskins QB Robert Griffin III is still maturing as a passer, even during a Week 11 loss at Philadelphia.
Return game:
The Redskins used
Nick Williams
on punt returns Sunday and nothing changed. He muffed one punt and failed to field another that led to a 15-yard roll to the Washington 4-yard line. Williams was playing for a punt to the other side of the field, so he was aligned on his left hash (with the ball on the right hash). When the ball was snapped and as punter
Donnie Jones
started to angle the other way, Williams drifted to his left, anticipating a punt to that side. Williams said he handled it the right way, but it still begs the question: Would a more experienced returner have handled it differently -- not drift so soon -- and saved those 15 yards? Regardless, the return game looked a lot like it had all season. Williams will get more chances and you can't draw conclusions after his first game in the NFL; but at some point the return game needs to provide a spark.
Griffin's passing:
One week
Robert Griffin III
looks as if he's maturing as a passer (Chicago, San Diego, Minnesota). The next week he looks bad (Denver, Philadelphia). The reality is that Griffin is an inexperienced passer and any legitimate improvement won't come until next season. It's not just about making reads; it's about going through progressions at a certain pace and maintaining your mechanics. Things that are tough to work on during the season. He was bad from the pocket Sunday and his big plays occurred when he could get outside of it -- the touchdown passes to
Darrel Young
and
Aldrick Robinson
.
Second chance:
Former starters
Josh Morgan
and
Fred Davis
were inactive Sunday -- for Morgan it was the first time. Neither is happy with their situation, but both might get another opportunity because of injuries.
Leonard Hankerson
is undergoing an MRI Monday to determine the extent of a possible LCL injury to his left knee. If he has to miss time, then Morgan would return to the lineup at the Z position. But he needs to be a lot more productive than he had been in the first nine games (19 targets, 11 catches, 124 yards). Yes, he didn't play as much, though he also didn't do enough to maintain his grip on the starting job. Davis lost his job as much because of the emergence of rookie
Jordan Reed
as anything; a sprained ankle didn't help, either. But Reed now has a concussion and his status for Monday's game versus San Francisco won't be known until later in the week. It could provide Davis an opportunity to remind everyone that only a year ago he was a good receiving tight end.
November, 18, 2013
11/18/13
8:00
AM ET
EAST RUTHERFORD, N.J. -- An examination of four hot issues from the
New York Giants
'
27-13 victory
against the
Green Bay Packers
:
Pierre-Paul
Anatomy of a game-changer:
Linebacker
Jon Beason
said part of the scouting report on the Packers'
Scott Tolzien
was that the ball came out of his hand on a low trajectory. So if the Packers were going to be taking three-step drops all night, as they were, the Giants' pass-rushers were instructed to get their hands up quickly to try to bat down the ball.
Jason Pierre-Paul
knew this, and he said he also knew, right before that fourth-quarter play, that Tolzien was going to throw a screen pass to his side of the field. So Pierre-Paul stayed home instead of rushing and threw his hands up in the air. But he didn't want to bat down the ball; he wanted to catch it. Which he did. And then he ran 24 yards for the game-sealing touchdown.
Don't blame Eli for this one:
Eli Manning
's second-quarter interception was his league-leading 17th of the year, but it was clearly not his fault. Wide receiver
Louis Murphy
was supposed to break inside -- Giants coach Tom Coughlin said there was no option on the route, and that Murphy just blew it. What was weirder, though, was that Murphy was on the field instead of
Hakeem Nicks
, who appeared to hurt himself on a play earlier in the drive on which
Tramon Williams
was called for pass interference. Nicks sat out a few plays, and after the Murphy blunder some teammates went over to talk to and encourage Nicks, who returned to the game on the next drive and didn't want to talk after the game about what was bothering him.
Getting the ball:
After allowing an average of only 206.3 yards per game during the first three games of their winning streak, the Giants gave up 394 to the Packers on Sunday. But they also got three turnovers, giving them a total of 11 during their four-game winning streak after forcing only seven during the first six games of the year. They have won the turnover battle in three of their past four games.
Looking ahead:
Pierre-Paul said of the Cowboys, who come to town next week, "We're going to put it on them, man."
Brandon Jacobs
said, "Playing the Cowboys is always good. That's one of the opponents I love to play more than anybody in the National Football League. It means something to our football team." The Giants moved the ball against a relatively full-strength Cowboys defense in Week 1 but lost mainly because they turned it over six times. They are eager for revenge against a Cowboys defense that will be without middle linebacker
Sean Lee
. If the Giants' offensive line can protect Manning, the game could be a shootout. That's a big "if," but Manning's 279 passing yards Sunday were his most since Week 5, his 71.4 completion percentage was by far his highest of the season and his 92.4 passer rating was his highest since the opener in Dallas.
November, 18, 2013
11/18/13
8:00
AM ET
TAMPA, Fla. -- A review of four hot issues from the
Tampa Bay Buccaneers
' 41-28
victory
against the
Atlanta Falcons
on Sunday:
The Schiano Watch:
A few weeks ago, it seemed like a foregone conclusion that coach Greg Schiano would be fired at the end of the season or maybe even sooner. But the Bucs have won two games in a row, so it might be time to re-think Schiano's future. He still may be facing an uphill battle to keep his job, but now there's at least a chance. If the Bucs can win more than they lose in the second half of the season, Schiano could have a chance to be back for 2014.
McCoy
McCoy or Suh?
Defensive tackle
Gerald McCoy
has picked the best possible time to start playing the best football of his career. McCoy had a three-sack game, one that comes as the Bucs get ready to face the
Detroit Lions
. You know what that means?
Ndamukong Suh
plays for the Lions. He and McCoy came out in the same draft. Early on, it looked like Suh clearly was ahead of McCoy. But McCoy now is playing as well as any defensive tackle in the NFL.
Rainey days:
Running back
Bobby Rainey
had 163 rushing yards, two rushing touchdowns and a receiving touchdown against the Falcons. Not bad for a guy who never was able to distinguish himself during stints with Baltimore and Cleveland.
Doug Martin
's starting job is safe when he comes back from injury next year, but Rainey has shown enough that he should have a roster spot next season.
Glennon's development:
Very quietly, rookie quarterback
Mike Glennon
had a strong day. He completed 20 of 23 passes for 231 yards and two touchdowns. I still don't know if Glennon can be a franchise quarterback. But I'm seeing signs that Glennon can be a solid quarterback when the rest of the team is playing well.
November, 18, 2013
11/18/13
8:00
AM ET
A review of four hot issues from the
Seattle Seahawks
' 41-20
victory
against the
Minnesota Vikings
:
[+] Enlarge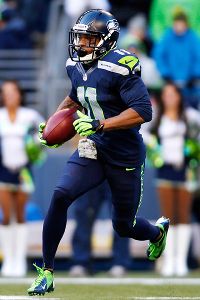 AP Photo/John FroschauerSeattle is hoping that Percy Harvin will be able to produce during Saturday's playoff game.
Oh that offensive line:
With all the starters back on the offensive line, the Seahawks looked like the offense that can make the big plays that matter.
Russell Wilson
was sacked only once (which he called a coverage sack) and wasn't hit much. Returning tackles
Russell Okung
and
Breno Giacomini
did have a little rust after the long layoff. Okung was flagged for holding on what would have been a 58-yard gain for Seattle on a deep pass to
Percy Harvin
that was an interference call. And Giacomini was beaten by Minnesota defensive end
Brian Robison
on the one sack. But overall, it was a strong effort and showed how good the line can be with all its starters in the game.
Percy's tumor talk:
Harvin shocked everyone after the game when he said he had a tumor removed last year. No one knew for sure what he was talking about at first or how serious it was. But the Seahawks' public relations staff later learned that doctors found a tumor (apparently benign) on his appendix when Harvin had an appendectomy in late November in Minnesota, three weeks after he went on injured reserve with an ankle injury. That little oddity aside, Harvin showed his stuff in his Seahawks debut with a 58-yard kickoff return and an athletic 17-yard catch on his finger tips that kept a Seattle TD drive alive in the second quarter.
Wilson stays perfect at home:
Wilson just can do no wrong at CenturyLink Field. He now is 13-0 at home in his NFL career, and those 13 consecutive home wins are a franchise record. Wilson was 13-of-18 for 230 yards with two TDs and a 151.4 quarterback rating. Both TD throws were eye-catching. The first was 19 yards to
Doug Baldwin
when Wilson lofted it over two defenders in a place where Baldwin was the only person who could catch it in the back corner of the end zone. The other TD toss was an improvising move when Wilson was scrambling in the middle of the field and let go a shovel pass to
Marshawn Lynch
at just the right moment for a 6-yard score. Wilson's 13 completions went to eight different receivers, including four catches for tight end
Zach Miller
.
Hauschka is a kicking clinic:
Seattle kicker Steve Hauschka is having a remarkable season. He was 2-for-2 on field goals Sunday, including a 50-yarder, and has made 24 of 25 attempts this season. His only miss was a blocked attempt at Indianapolis, which wasn't his fault. Come playoff time with a game on the line, Hauschka could be the difference for the Seahawks.
November, 18, 2013
11/18/13
8:00
AM ET
SEATTLE -- A review of four hot issues after the
Minnesota Vikings
'
41-20 loss
to the
Seattle Seahawks
:
[+] Enlarge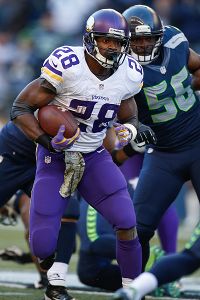 Otto Greule Jr/Getty ImagesAdrian Peterson wasn't his normal self in Sunday's loss to Seattle.
Should Peterson sit?
There will be plenty of questions raised about lineup changes for the Vikings this week -- and this post will tackle several others -- but after running back
Adrian Peterson
admitted a groin injury "was bothering me a lot" during Sunday's game, it's worth asking whether the Vikings should give last year's league MVP a chance to let the injury heal up by sitting him down for a week. Peterson isn't the type to beg out of the lineup if he's able to play, and it's hard to see the Vikings taking the conservative approach with him when they have so little on offense and jobs are on the line for their coaching staff. But at 2-8, the Vikings can do little other than dress up their record, and Peterson might be more helpful in that pursuit a week or two from now if he's running closer to 100 percent.
More discipline for Simpson?
Wide receiver
Jerome Simpson
did not start on Sunday after being arrested on Nov. 9 for drunken driving, but was in the game by the second play after the Vikings sat
Greg Jennings
down with a strained Achilles tendon. He didn't play nearly as much as he normally would, though, finishing with one catch for 1 yard, and it will be interesting to see if the Vikings levy further discipline on Simpson this week, particularly if Jennings is able to play against the
Green Bay Packers
. Coach Leslie Frazier said last week that general manager Rick Spielman would be in touch with the NFL on Monday to see what the team's next steps would be, and it seems as though the Vikings are taking their cues from the league about how much they can reprimand Simpson. If they're worried about running afoul of the union by suspending Simpson, they might opt to limit his role again if he is active against the Packers.
Jennings' heel is "the flukiest thing:"
After being listed as probable for Sunday's game, Jennings' deactivation was a surprise move on Sunday afternoon. Frazier said Jennings would be ready to go for the game after sitting out of practice last week, and Jennings still wasn't sure on Sunday what caused his left Achilles tendon to flare up on Thursday morning. It would be surprising if he wasn't ready to go for his return to Lambeau Field on Sunday, but him missing the game against the Seahawks did serve as a reminder of why Jennings found lukewarm interest on the free-agent market last spring; he had missed 11 games in his final two seasons with the Packers.
Kicking to Harvin:
Former Vikings receiver (and kick returner)
Percy Harvin
didn't start the day on special teams in his first game back from hip surgery, but once
Jermaine Kearse
left the game, Harvin was lobbying to return to the job he did so well with the Vikings. He slipped onto the field for a third-quarter kickoff return, hoping the Vikings wouldn't see him, and surged 58 yards up the middle of the field as part of his electric cameo in Sunday's game. Afterward, Frazier said he knew Harvin was on the field, but made the decision to kick to him anyway. "I thought we could cover the kick," Frazier said. "We didn't, they ended up with great field position and they scored." It was the fourth return of 50 yards or longer the Vikings have allowed this season, and it's worth noting the Vikings didn't kick to Harvin again after that.
November, 18, 2013
11/18/13
8:00
AM ET
A review of four hot issues from the
New Orleans Saints
' 23-20
victory
over the
San Francisco 49ers
at the Mercedes-Benz Superdome:
Defense dominant:
One of the NFL's most remarkable makeovers continued in a big way Sunday as the Saints' defense held San Francisco to a total of 196 yards. Stunningly, the Saints' defense now ranks fourth in the league in yards allowed (305.4 per game) after setting the NFL record for yards allowed last year (440.1).
[+] Enlarge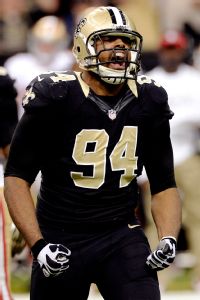 John David Mercer/USA TODAY SportsCameron Jordan and the Saints held the 49ers to 196 total yards.
They were as good as ever against a 49ers team that features one of the league's best offensive lines and run games. The Saints were physical -- holding San Francisco to 81 rushing yards and forcing three sacks. And they were deceptive, mixing creative formations like a 3-5 front with only three defensive backs, among others that were implemented for the first time this week.
"The defense has been playing unbelievable. Each week we gain more and more respect for them," Saints fullback
Jed Collins
said. "They just keep proving they're not only here to benefit the offense, but they're here to win games."
Offense patient:
This certainly wasn't the most eye-popping performance we've seen from the Saints' offense. But they were very good, aside from an ill-advised interception by quarterback
Drew Brees
in the third quarter. And the offensive line was outstanding against one of the league's most physical defenses. The best thing the Saints did was stick with their patient game plan even when they were trailing by six points in the fourth quarter.
Brees completed 10 of 14 passes for 144 yards during the Saints' three fourth-quarter field goal drives. And the Saints ran the ball nine times for 34 yards on those drives.
Hartley resilient:
On a day when the Saints overcame adversity to deliver in the clutch, it was fitting that kicker
Garrett Hartley
finished things off with field goals of 21, 42 and 31 yards. Hartley had missed four of six field goals coming into the game, but the Saints' faith in him paid off big-time.
Going forward? I expect Hartley to make about 80 percent of his kicks, like he has throughout his career. But I don't expect the big moments to faze him.
49ers off their back:
Players were split over how much it meant to beat the 49ers for the first time in three years -- or at least how much they wanted to admit it publicly. But several players did acknowledge that it was an important hump for them to finally get past.
"When you lose to a team a couple of times, especially when you lose to a team people continually tell you: 'You can't play with a team like that, you can't play with a physical team, you can't play with a running team' ... I think it's human nature to say, 'Eh, I don't know if I like being told I can't do something,'" Saints offensive tackle
Zach Strief
said. "There was definitely a little bit of a chip today."
November, 18, 2013
11/18/13
8:00
AM ET
A review of four hot issues from the
Chicago Bears
' 23-20
overtime win
against the
Baltimore Ravens
:
Force takeaways and stay turnover free:
Staying on the plus side of the turnover ratio virtually guarantees victory for the Chicago Bears this season. They're 5-0 on the season when they finish with a positive turnover margin, 1-2 with a negative turnover margin and 0-2 this year when the turnover margin is equal. The Bears finished plus-2 against the Baltimore Ravens, including a 24-yard pick-six from defensive end
David Bass
.
[+] Enlarge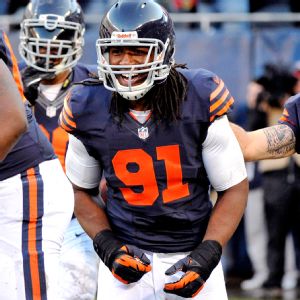 Rob Grabowski/USA TODAY SportsDavid Bass celebrates his 24-yard pick-6 against the Baltimore Ravens.
The Bears have won 11 games in a row when they've scored a touchdown on defense. But if the defense can't score, the Bears can do the next best thing, which is to take the ball away and not turn it over on offense. Backup quarterback
Josh McCown
hasn't thrown an interception in 101 attempts thus far.
Cut out the penalties:
By halftime of Sunday's game, the Bears had already topped the season-high six penalties they were flagged during an Oct. 6 loss to the
New Orleans Saints
, with seven for 61 yards against the Ravens. For the game, the Bears racked up 13 penalties for 111 yards. Bears coach Marc Trestman has established a standard of fairly penalty-free play in Chicago because he knows unnecessary penalties are one of the easiest ways to give away ballgames. It needs to stop.
Youngsters up front keep shining:
Bass picked off
Joe Flacco
and returned the interception 24 yards for a touchdown, while defensive end
Cheta Ozougwu
posted the first sack of his career by stripping the Baltimore quarterback in the fourth quarter. Ozougwu had just been moved up a day prior from the practice squad to the active roster, and wasted no time making an impact. With all the injuries on the defense, youngsters such as Bass and Ozougwu need to continue to step up.
Keep it up Peppers:
Julius Peppers
sacked Flacco twice, marking the 24th time (sixth time with the Bears) he's collected at least two sacks in a game. Peppers needs to continue producing and being a disruptive force. Having now recorded three sacks in the past three games to go with an interception and two pass breakups, Peppers is starting to show that he's still got plenty left in the tank. He just needs to do it on a more consistent basis to help this defense finally elevate to a level where it can consistently help out the club's potent offense.
November, 18, 2013
11/18/13
8:00
AM ET
A review of four hot issues from the
Arizona Cardinals
' 27-14
win
over the
Jacksonville Jaguars
.
Bethel
Williams
Backup ammo:
With gunner
Teddy Williams
out for the rest of the season with a torn Achilles and Pro Bowl candidate
Justin Bethel
having suffered a concussion in Jacksonville, the Cardinals find themselves looking at a slew of potential replacements. However, who they pick to be the gunners can dictate how this team goes during the next few games. Bethel had become a one-man game-changer, getting to punt returners quickly and flipping the field with his speed alone. With Williams on the opposite side, the Cardinals had maybe the fastest and most formidable gunner tandem in the league. That's changed, and it could cost the Cardinals.
Just the Jags:
How long until someone brings up the fact that the offense played well only because it played the Jaguars? While the Jaguars' front seven gave the Cardinals' running game fits, Arizona took advantage of the young secondary over and over again. But the Cardinals still didn't make as many mental errors and formation mistakes that have plagued them all season. The receivers and tight ends finally seemed to understand the playbook against Jacksonville and it resulted in 419 passing yards for quarterback
Carson Palmer
.
Playoff mentality:
Whether the Cards are on the inside of the wild-card race heading into Sunday will be determined Monday night when Carolina, currently the fifth seed, plays New England. If the Panthers lose, Arizona will be the sixth seed while San Francisco moves to fifth. But Cardinals coach Bruce Arians isn't waiting for the playoffs to start putting his team in a postseason mentality. They've already been playing like it's the playoffs.
"We have talked about how the playoffs have already started [for us] -- you lose, you're out," Arians said. "We are a game behind teams so we have to keep winning. We have to take a playoff attitude every week, that this game is a playoff game and we have to win to catch up. The guys have done it."
Indy week:
Forget Seattle, San Francisco and St. Louis. Sunday's game against the Colts was the matchup Bruce Arians had circled since the schedule was released in April. It would have more of an impact if the Cardinals were returning to Indianapolis, where Arians won Coach of the Year by going 9-3 as interim coach of the Colts last season. But with Chuck Pagano and the Colts coming to town, Arians will still be a ball of emotions. Even a weathered veteran like Arians won't be able to contain his emotions about his opponent, as he usually does.
November, 18, 2013
11/18/13
8:00
AM ET
TAMPA, Fla. -- An examination of five hot issues from the
Atlanta Falcons
' 41-28 loss to the
Tampa Bay Buccaneers
:
Self-reflection:
Most figured a somewhat healthy
Roddy White
would make a huge difference for a struggling Falcons offense. Well, White had little impact with three catches for 36 yards against the Buccaneers while being targeted nine times. White's second-quarter fumble led to a Bucs touchdown that all but put the game out of reach at 24-3. "I have to play better, first of all,'' White said. "Right now, I'm not playing very well. I've got to work on me. I can't fumble the ball and give them the ball at the 50. And I can't drop the ball on third-and-2 and stop a drive. I can't let somebody knock the ball away on fourth-and-[1], stop a drive when we're trying to get going. I, myself, have to play a whole lot better in these games in order for us to win. I can't just go out there and not make enough plays for us not to win. I've got to start on myself and look in the mirror. There are a lot of things I've got to fix.'' White did score his first touchdown of the season, but not even that score was clean.
White
Jackson
On the run:
The Falcons talked all week leading up to the game about establishing the run with
Steven Jackson
. They looked well on their way after Jackson picked up 22 yards on his first two carries. But after starting the game with those two runs, consecutive sacks by Bucs defensive tackle
Gerald McCoy
on
Matt Ryan
seemed to knock the Falcons' offense out of whack for the remainder of the game. And once the Falcons got behind by 21 points late in the second quarter, they had to abandon the running game once again. Jackson finished with 41 yards on 11 carries -- not exactly what you would call "working your workhorse," as offensive coordinator Dirk Koetter vowed to do.
New faces:
Speaking of the running game,
Antone Smith
showed some things in a reserve role for the Falcons late in the fourth quarter. The special teams ace had a 50-yard touchdown sprint up the middle -- his first career touchdown -- and led the team with 88 yards on just two carries. Smith had just one carry for 8 yards for the season coming into the game. Unheralded players such at Smith should get more opportunities over the last six games for the 2-8 Falcons. "Absolutely,'' coach Mike Smith said of playing such players more. "I don't believe there is anything that is out of the question. It is all on the table. When you play the type of football that we have played the last four weeks, you've got to look at everything. You've got to turn over every stone.'' Tackle
Ryan Schraeder
, safety
Zeke Motta
, running back
Josh Vaughan
and backup quarterback
Dominique Davis
were some of the players who got some game experience. Davis suffered what could be a serious knee injury, which would mean the Falcons might have to find a quarterback to back up Ryan on Thursday night against the Saints.
Foul play:
Once again, procedural penalties killed the Falcons .
Tony Gonzalez
and
Lamar Holmes
were whistled for false starts. White was whistled for illegal motion.
Peria Jerry
was whistled for encroachment. The Falcons had seven penalties for 45 yards. "We have had way too many procedural penalties,'' Smith said. "We are a team that prides itself in playing smart football and we have not done that, especially the past four games.'' Actually over the last five games, the Falcons have been penalized 34 times for 275 yards.
Spoon's return:
Linebacker
Sean Weatherspoon
's return to the starting lineup for the first time since Week 2 (Lisfranc sprain) didn't inspire the defense as much as he would have liked, but Weatherspoon gutted it out. He finished with nine tackles, second behind rookie
Paul Worrilow
's 16. Weatherspoon looked a bit hobbled after the game but said he was good. The team's emotional leader was obviously frustrated about the outcome. "It's about going out there and just playing together and playing efficiently, and that's something we didn't do,'' Weatherspoon said. "I go home, get my iPad and watch the tape, get a chance to see what actually happened. You just have to come back to work, man. I've been in the league for a while. I've lost some games. It's all about how you respond to it.'' With four straight losses, the Falcons haven't responded well.
November, 18, 2013
11/18/13
8:00
AM ET
NEW ORLEANS -- A review of four hot issues from the
San Francisco 49ers
' 23-20 loss at New Orleans:
Brooks
Brees
Costly penalties:
The 49ers committed two colossal penalties in the final few minutes that turned a 20-17 lead into a loss. First, there was some controversy. The 49ers appeared to get the ball on a turnover with about three minutes to go. But linebacker
Ahmad Brooks
was called for a personal foul for a hit to
Drew Brees
' neck that gave the Saints new life. It was a questionable call because it appeared Brooks hit Brees' shoulder more than the neck. New Orleans ended the drive with a game-tying field goal with 2:06 to go. After the 49ers went three-and-out on the ensuing series, San Francisco special teams ace
Kassim Osgood
blew into New Orleans punt returner
Darren Sproles
, who had called for a fair catch at the Saints' 25. Osgood was called for a 15-yard penalty with 1:48 to go. It gave the Saints good field position and led to the winning field goal. The 49ers complained about the call on Brooks, but it was close and a superstar quarterback like Brees is going to get that call at home.
Slow offensive start:
The 49ers had just 18 yards of offense in the first quarter. They had 45 yards in the second half of a loss to Carolina last week. The 49ers didn't get their first first down at New Orleans until the second quarter. The 49ers did make some progress as the game went on, but they had five three-and-outs, including one on their final drive of the game.
Bad challenges:
It wasn't the smoothest game for 49ers coach Jim Harbaugh. He swung and missed on two first-half challenges. The Saints ended up scoring a touchdown on the San Francisco defense when Harbaugh had his first unsuccessful challenge. His other failed challenge didn't matter. The 49ers scored a touchdown on the next play.
Injuries mount:
The 49ers have dealt with a lot of injuries this season, and Sunday was no different. Guard
Mike Iupati
had to be carted to the locker room with a left knee injury. He left the stadium on crutches and had a brace on his knee.
Adam Snyder
took his place. Starting cornerback
Tarell Brown
had a rib injury. The 49ers are deep at cornerback, so if both players are out for an extended time, Iupati's loss might hurt the team more.
November, 18, 2013
11/18/13
8:00
AM ET
A review of four hot issues from the
Green Bay Packers
' 27-13
loss
to the
New York Giants
on Sunday:
Playing too safe?
Coach Mike McCarthy said after the game that he feared early last week he put too much on the plate of quarterback
Scott Tolzien
as he prepared for his first start. But considering how Tolzien played at times, maybe McCarthy played it too safe. The offense was slow to get out of the gate, running only six plays in the first quarter and going three-and-out twice. On both series, the Packers ran the ball on first and second down only to put Tolzien in an obvious passing situation on third down. It was clear from the beginning that the running game was going to struggle (
Eddie Lacy
rushed for just 27 yards on 14 carries). As the game went on, Tolzien showed he could handle throwing the ball downfield. According to ESPN Stats & Information, he completed all six of his passes thrown at least 15 yards downfield. It was just the fourth time since the start of the 2006 season that a quarterback went 6-of-6 or better on such throws in a game. In throwing for 339 yards on 24-of-34 passing, Tolzien had completions of 52 yards (to
Jarrett Boykin
), 45 yards (to
James Jones
), 29 yards (to
Jordy Nelson
), 26 yards (to
Brandon Bostick
) and 25 yards (to Nelson). As productive as Tolzien was down the field, all three of his interceptions (including the one Giants defensive end
Jason Pierre-Paul
returned 24 yards for a touchdown in the fourth quarter) came on shorter throws. "It's my job first and foremost to take care of the football," Tolzien said. "Guys were playing their tails off, and that's Football 101. From the time you're playing youth ball to every level, that's the starting point for a quarterback. And I did not do that."
[+] Enlarge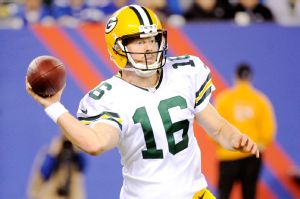 AP Photo/Bill KostrounScott Tolzien completed 24 of 34 passes for 339 yards against the Giants.
Red zone woes:
It's not like the Packers were lighting up the scoreboard when they got in the red zone with
Aaron Rodgers
at quarterback. We
noted last week
that they were tied for 17th in the NFL in red zone touchdown percentage (50 percent) during the first seven games of the season. But in the last three games without Rodgers (except for the opening series against the
Chicago Bears
on Nov. 4), the Packers have converted just 2 of 9 red zone trips into touchdowns. Tolzien went 1-for-2 against the Giants. "It's not all on Scott by any means," Jones said. "This is a team game. Everybody wants to look at the quarterback first. A lot of things go into it. Scott just needs to keep on doing what he's doing, and we'll be OK."
One takeaway not enough
: Remember when coordinator Dom Capers' defense used to be a turnover machine? In 2011, they led the NFL with 31 interceptions. Now, they go weeks without creating takeaways. When cornerback
Tramon Williams
picked off
Eli Manning
in the second quarter, it marked the Packers' first interception since Week 7 against the
Cleveland Browns
and just their fourth interception of the season. If the Packers are going to win without Rodgers, their defense needs to make plays like JPP did for the Giants. "Defensively, we need to start doing stuff like that," linebacker
A.J. Hawk
said. "I think Tramon's interception was huge. [It] took points off the board. It was big. If we can find a way to multiply that and keep doing it and get the ball out on some of these sacks we got, it would've been nice. If you want to be a dominant defense, you have to make those plays."
Rallying cry:
Maybe McCarthy was just looking for something to cling to or maybe he actually saw enough in the Packers' third straight loss to be encouraged about for the rest of the season. Either way, it was somewhat surprising to hear McCarthy say, "I think this football team still has a chance to be special." In order to do that, the Packers need Rodgers back. It has become evident that they can't win without him. He's not likely to return for this Sunday's home game against the
Minnesota Vikings
. After that, the Packers will be on a short week when they prepare for their Thanksgiving Day game at the
Detroit Lions
.
November, 18, 2013
11/18/13
8:00
AM ET
A review of four hot issues from the
Detroit Lions
'
37-27 loss
to the
Pittsburgh Steelers
.
[+] Enlarge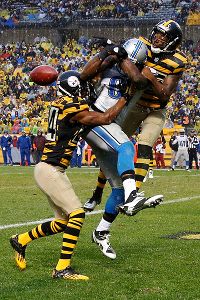 Gregory Shamus/Getty ImagesThe Steelers blanketed Calvin Johnson in the second half.
Where was Calvin?
After one of the better halves
Calvin Johnson
has had in his career (six catches for 179 yards), he legitimately disappeared from Detroit's offense in the second half Sunday. Johnson was targeted only three times in the second half and caught no passes, becoming a stunning nonfactor for the Lions. "They were doubling him most of the game," quarterback
Matthew Stafford
said. "They were doubling most guys, playing two deep, man under a lot of the game. They were top-10 against the pass in the NFL coming into the game. They can rush the passer and guard receivers." Still, Johnson is the best receiver in the game, and it was surprising to see him, well, not used much at all.
Quin is a concern:
While a lot of attention will be focused on Detroit's defensive meltdown in the fourth quarter, one of the reasons it happened might be because of who wasn't in the game. By then, safety
Glover Quin
had been sidelined with an ankle injury, and if you questioned his value before, you won't now. Quin might be one of the three most important players on Detroit's defense, along with
DeAndre Levy
and
Ndamukong Suh
. He helps set the defensive backfield and is a good balance to
Louis Delmas
. Quin didn't have his best game Sunday, but he has experience and chemistry with Delmas and the corners. That can't be overlooked.
Belief in Bush:
When Detroit signed
Reggie Bush
, it was to be a difference-maker in the offense, the short-game complement to Johnson and the guy who could create something out of nothing. After his second-quarter fumble, though, Bush did nothing with, well, nothing. Bush had 31 yards rushing, 23 yards receiving and the fumble -- not what the Lions were hoping for. The bizarre part came at the end of the game, when the Lions used
Theo Riddick
instead of Bush when they tried to rally back. And Bush said he was healthy enough to play. He said the fumble was part of the reason he was on the bench late. "That's for the coaches," Bush said. "You gotta ask Coach that question. Like I said, I turned the ball over, and that's what happened when you turn the ball over." Still, I don't get sitting Bush, who is a receiving threat despite his penchant for dropping passes, at such a critical time in favor of an untested rookie.
The fake field goal:
Detroit's failed fake field goal attempt in the fourth quarter will be a topic of discussion this week, and while it was certainly a different call in that type of situation, it is not a call I had a problem with. Detroit has won games this season by going for it, either with gutsy play calls or coming from behind late. So no issues there from me. Detroit has some issues, for sure, but that isn't one of them.