NFL Nation:

2013 Week 11 WAS at PHI
November, 17, 2013
11/17/13
10:10
PM ET
PHILADELPHIA -- Thoughts and observations after the
Washington Redskins
' 24-16 loss to the
Philadelphia Eagles
:
Griffin
1. The Redskins proved something in the fourth quarter that we already knew: They have strong character and won't quit. Yeah, it matters and I'm not being sarcastic about that point. What they haven't proven is that these players and these coaches can win enough games. What they haven't proven is that they can be consistent winners. Yes, they have had a couple things work against them such as
Robert Griffin
III's lack of development as a passer, owed to a lost offseason. They also had the salary cap mess. But that does not explain 3-7? No way.
2. In a game the Redskins viewed as a must-win game, coming off an ugly defeat, they came out and trailed 24-0 and were completely out of it into the third quarter. If you keep practicing well and it matters as much as they say -- and I have no reason to believe it doesn't -- then at some point it should translate on the field. It hasn't. And I mean into wins, not just valiant-but-fall-short efforts.
3. The Philadelphia Eagles had a complete makeover, both in the coaching staff and the playbook, had a bad defense in 2012 and have had to change quarterbacks a few times this season and lost a good receiver. They're 6-5 and lead the Redskins by 2.5 games.
4. Either the players aren't good enough. Or the coaches aren't getting the most out of them. Or it's both. I agree with them that the attitude has been good; the locker room atmosphere has been very good the past couple years. There will be frustration in every locker room in which teams are losing. There's some even when winning. The next seven weeks will provide a major test because there's more uncertainty than last year when they were sitting at 3-6 -- and coming off back-to-back double-digit loss seasons. More contracts are up after the season; and will owner Dan Snyder extend head coach Mike Shanahan? Let the season play out, then make a decision. Everyone here has a lot to prove.
5. Yes, receiver
Josh Morgan
is clearly frustrated and told reporters that he was told he couldn't talk after the game, then later telling The Washington Post, "Coach said I can't talk. Coach said I can't play football and I can't talk." Don't know if that's really true or not; Shanahan had already spoken by the time Morgan said this and could not be reached later. Morgan was inactive. He's been frustrated for a couple weeks, but Morgan hasn't been productive. He was given numerous chances to produce in various roles and did not do so. The Redskins paid him $6 million this season. We'll call this Exhibit A as to why free agency is not a slam dunk answer and why the salary cap mess can't be blamed for all that ails Washington.
6. Griffin will face more adversity after a game like this. Some of it will be deserved; take away his first read and it disrupts him and the offense too much (must be an offseason focus). But I think it's way too early to think the kid can't develop as a pocket passer -- and if/when he does the complexity of the offense will increase. He showed that he can recover from a bad three quarters and still put the Redskins in position to have a chance. Leaders do those sorts of things. But that last pass was the sort of mistake he just did not make a year ago. He's turned the ball too often in the red zone. The protection could be better -- running back
Roy Helu
could not stop the linebacker's rush on the sack/fumble; the receivers did not win on the play; Griffin held the ball too long. Losing tight end
Jordan Reed
to a concussion did not help. If I'm Griffin, I can't wait to get to the offseason to truly work on my game. This franchise desperately needs him to become a consistent passer; when he plays a certain way it uplifts everyone on the sidelines.
7. How does linebacker
Ryan Kerrigan
end up on a running back such as
LeSean McCoy
in solo coverage? It's a complete mismatch, of course. Kerrigan is a former defensive end trying to cover an all-world back. "That was tough," fellow linebacker
Brian Orakpo
said. "We're 260 [pounds]. It's just a tough situation Ryan was put in. Ryan can only do the best he can. We don't run 4.4s." McCoy ran a wheel route, something the Eagles have shown in recent weeks, out of a bunch formation. And he caught it for a 49-yard gain.
8. Here's the thing: It wasn't the only time the Redskins used that coverage. The reason? The Eagles style of play-action left them more vulnerable to inside pressure. On the 49-yard play, both inside linebackers,
Perry Riley
and
London Fletcher
blitzed. They clearly didn't get to Foles. On Fletcher's sack later in the game they used the same coverage, with Kerrigan on the back; this time Fletcher got free for a quick hit.
9.
Pierre Garcon
was not in a talkative mood, at all, after this game. He did not like that
Trent Williams
spoke about what the official said, partly because of a potential fine and also because he did not want it to seem as if they were blaming the refs. Then he told another reporter he wasn't going to talk because he was hurt. Then when he did talk the answers were rather short. Frustration? Yep.
10. The Redskins' defense tried to use more man coverage, a tactic I applaud because their zone in the first game did not work. But the Eagles did a good job keeping Foles upright and they ran enough plays that worked against man, like an underneath crosser to
DeSean Jackson
or the wheel route to McCoy versus Kerrigan. They hurt Washington when it went to zone, too. But the Eagles managed only 46 yards on their last full five drives of the second half as the defense did its job during that stretch.
November, 17, 2013
11/17/13
9:04
PM ET
PHILADELPHIA -- Nobody had to take a bigger
leap of faith in Chip Kelly
than
Philadelphia Eagles
veteran
Trent Cole
.
The new offensive system has generated huge numbers for the stars on that side of the ball. The new defensive system meant a humbling change of role for the team's best-known defensive player.
Cole went to two Pro Bowls and amassed 71 career sacks as a defensive end. In new coordinator Bill Davis' 3-4 defense, he plays outside linebacker. It is a very different position with different responsibilities. Cole had just one sack going into Sunday's
24-16 victory
against Washington. He got to
Robert Griffin
III for two sacks.
"I know everybody is tracking Trent with his number of sacks," Davis said, "but it's not how we track it. We know all season that Trent has had that consistent pressure and put stress on the quarterbacks and tackles he's going against. It's nice to see him get rewarded with the sacks, but that's not how we judge him."
"Sacks are fun," Cole said. "They're going to come. But I just want to make sure we do our job."
Cole left the game briefly and was evaluated for a concussion. He was cleared to play and said he felt fine afterward.
-- The Eagles were happy to end their home losing streak at 10 games. They were especially happy that they won't have to answer any more questions about it.
"It's good that we got that off our back," linebacker
Connor Barwin
said. "It's really good because we have three out of our next four at home."
"It's a weight off our shoulders," wide receiver
Riley Cooper
said. "Finally get a win at home and give our fans something to cheer about."
"We wanted to win this one badly in front of our fans," wide receiver
Jason Avant
said, "which is why we came out and played the way we did. We kind of scared them [with Washington's near comeback], but you should appreciate those types of things because it's worth the price of admission."
That's one way to look at it.
-- The television broadcast caught Cooper apparently bickering with
LeSean McCoy
late in the game. Cooper told reporters he was actually mediating between McCoy and wide receiver
DeSean Jackson
. Running backs coach
Duce Staley
stepped in as well.
-- Punter
Donnie Jones
had a standout game -- a team record with a 50.7 net average -- but his 70-yard punt in the fourth quarter came at a crucial juncture.
The Eagles, who ran out the clock with a nine minute, 32 second drive last week in Green Bay, got the ball with 5:52 left and a 24-16 lead to protect. On third-and-4, quarterback
Nick Foles
ran to his right and was tripped up by cornerback
Josh Wilson
.
The officials spotted the ball, measured and award the Eagles a first down. Washington coach Mike Shanahan challenged the spot and won. The Eagles were forced to punt from their own 26. Jones boomed it over the head of return man
Nick Williams
and the ball rolled out of bounds at the 4.
"It was huge," Kelly said. "To make them go that far, to get us out of that situation we were in. For our special teams to contribute like that, that's what it takes. To win a division, you have to play well in all three phases. I thought that punt was huge for us."
November, 17, 2013
11/17/13
8:35
PM ET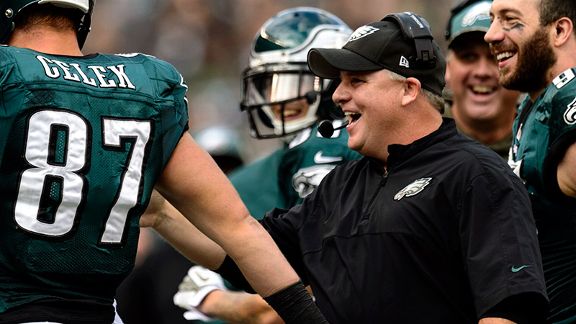 Howard Smith/USA TODAY SportsChip Kelly and the Eagles could smile after beating Washington to end a 10-game home losing streak.
.
PHILADELPHIA -- Give
Brandon Boykin
credit. It couldn't have been easy for the
Philadelphia Eagles
cornerback to stay on his feet through the wind gust from 70,000 people exhaling all at once.
When
Robert Griffin III
threw that off-balance, back-foot wobbler, it carried three seasons' worth of dread and frustration with it. The fans at Lincoln Financial Field hadn't witnessed a victory in person since Sept. 30, 2012 -- a franchise-record 10 games in a row. They hadn't witnessed many victories, period, during the two-year winding-down of the Andy Reid era.
When the ball came down into the waiting hands of Boykin, all of that blew away in the collective sigh of relief. The
Washington Redskins
' desperate comeback attempt was over. The Eagles'
24-16 victory
was over. The home losing streak was over. The Eagles had a winning record, at 6-5, just 11 months after finishing last season at 4-12.
And, oh yes, the Eagles were in sole possession of first place in the NFC East. They are, as unbelievable as it might have seemed when they were 1-3, a legitimate contender to win the division title.
After their bye this week, the Eagles come back for a five-game playoff push, ending with a Dec. 29 showdown with the second-place Cowboys in Dallas. Three of the next four games will be at the Linc. Instead of dread and frustration, there will be excitement and anticipation.
"We put ourselves in a situation where those five games in December are meaningful," Eagles coach Chip Kelly said. "It's all for naught if we don't continue to build from here."
Kelly was the rock-star coaching hire last offseason, the wizard of Oregon about whom everyone had an opinion. He would revolutionize the NFL with his offbeat approach and offensive innovation. Or he would flame out the way hotshot college coaches such as Steve Spurrier and Bobby Petrino did before him.
When the Eagles ran their fast-break offense to perfection in the Monday night opener at Washington, it looked like Kelly's fans were right. When the offense stalled for two touchdown-less weeks, Kelly's detractors were sure the NFL had already solved the riddles posed by his scheme.
The Eagles are 3-0 since then.
Nick Foles
has emerged as a smart, poised quarterback, operating an offense that has gotten the most from stars
LeSean McCoy
(NFL-leading 1,009 yards rushing) and
DeSean Jackson
(985 receiving yards). The defense has steadily progressed from fire-drill disorder to competent to imposing.
It turns out both extremes were wrong about Kelly. He may not revolutionize the game or fail spectacularly. He may just be a very good, very smart coach who is building a program to win over the long term.
"When he first walked through the door on April 1," Jackson said, "just off what he established at Oregon, a lot of guys respected him and were very excited. It was interesting. For a group of men who had gone through a tough year last year, we were able to come in and almost erase everything. We had a new coach, a new guy calling the shots. We had to kind of start from scratch."
"Everybody bought in," said veteran
Trent Cole
, who had two sacks Sunday in his new role as an outside linebacker.
Foles' 4-yard touchdown run gave the Eagles a 7-0 first-quarter lead. More important, it kept the crowd cheering instead of booing. The cheering crescendoed after McCoy's second touchdown run gave the Eagles a 24-0 lead in the third quarter.
"They were into it the entire game," Kelly said. "It was an awesome feeling. There was a lot of energy in that stadium and we needed every ounce of it."
That's because things got a little shaky there in the fourth quarter. Griffin found fullback
Darrel Young
standing alone on the left sideline for a 62-yard touchdown. With just under six minutes left, Griffin threw a 41-yard touchdown to
Aldrick Robinson
. Washington made two-point conversions after both touchdowns, so it was a one-score game when
Donnie Jones
' 70-yard punt rolled out of bounds at the Washington 4-yard line.
"We thought we would shut them out," defensive end
Fletcher Cox
said. "But things happened. They made a few plays in the second half that they shouldn't have made."
The clock showed 3:26 left. Griffin went to work, and the Eagles' defense started backing up.
"We were expecting something good to happen," inside linebacker
DeMeco Ryans
said. "In the past, it would have gone the other way for us. It got very interesting there at the end."
Griffin drove his team 78 yards, all the way to the Eagles' 18. It was third-and-1. Every one of those 10 home losses was rattling its chains.
"That's fun," linebacker
Connor Barwin
said. "You want to be out there and thrive in those situations."
"Either we were going to make a play or Washington was going to make a play," defensive coordinator Bill Davis said. "We stepped up and made it."
Cox broke through the line. As he bore down on Griffin, the quarterback tried to back away. He made the ill-advised decision to throw the ball. He couldn't get enough on it to get it out of the back of the end zone.
Boykin was the only player there.
"When I saw the ball floating in the air," Boykin said, "I was like, 'Is this real life? Like, wow.' It was really slow. It looked like a high school pass. A lot of thoughts went through my head."
The same thoughts went through 70,000 other heads as 70,000 people held their breath. Ten home losses in a row. Blown leads and busted coverages. There was always something bad, an injury or a penalty or a turnover, waiting to happen.
But this time the ball fell into Boykin's hands, and all the rest of it fell away.
The Eagles were in first place and proud owners of a one-game home winning streak. Kelly's first season is no longer about smoothies and loud music at practice and quirky formations. It's about contending for the NFC East title and maybe hosting a playoff game.
"I don't know where I expected to be," Kelly said. "I have seen us improve. We're going to pick our heads up on December 29 to figure out where we are."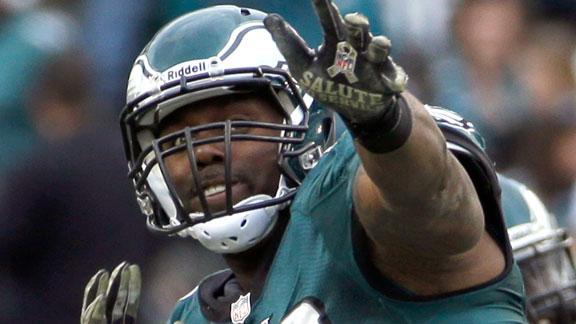 .
November, 17, 2013
11/17/13
8:25
PM ET
PHILADELPHIA –
Philadelphia Eagles
quarterback
Nick Foles
didn't throw seven touchdown passes against the
Washington Redskins
Sunday. He didn't throw any touchdown passes.
Foles played a different kind of good game to lead the Eagles to a 24-16 victory over Washington. He completed 17 of 26 passes for 298 yards. His passer rating was 104.3, very good but not in the 150 range as it was the previous two weeks. Foles ran the ball nine times for 47 yards and a touchdown, which includes a 1-yard loss on the final kneel-down.
"I think the big thing this offseason that I really wanted to work on was decision making and being smart with the football," Foles said. "You watch a lot of the guys who are the top guys in the league -- Peyton (Manning), Drew (Brees), Aaron (Rodgers), Tom (Brady) -- that are really good at decision-making."
Foles still hasn't thrown an interception in 162 attempts. He distributed the ball to seven different receivers Sunday. Although he didn't complete any deep passes, Foles got the ball to
LeSean McCoy
,
DeSean Jackson
and
Brent Celek
so they could pile up yards after the catch.
"They played us off a little bit," coach Chip Kelly said. "They were letting us throw the ball underneath. If they're going to do that, we need to convert in those situations. I thought that was a big part of what we were doing in the first half."
Foles was the one making those correct reads and throws. Truth be told, he probably should have two or three touchdown passes. His pass to McCoy went for 49 yards before safety
Brandon Meriweather
ran McCoy down at the Washington 4. Foles ran it in from there.
In the second quarter, Celek took a screen 41 yards. The officials ruled it a touchdown, but replay review showed Celek's knee was down at the 1-yard line. McCoy ran it in on the next play.
McCoy's second 1-yard touchdown run, in the third quarter, also came after a Foles near-touchdown pass. Foles threw to
Riley Cooper
at the goal line. He might even have been in the end zone, but the on-field officials ruled him down at the 1. Kelly didn't challenge, opting instead to run a quick play before the Washington defense could adjust personnel.
In the second quarter, Foles took a hit and got up slowly. For the rest of the quarter, he was shrugging his right shoulder and shaking his arm out.
"I just got it banged up," Foles said. "I was trying to keep it warm because I really didn't know what was going on. I had a shoulder injury in high school and I knew the key when you get it banged up is to keep it warm. It feels great."
However they scored, the Eagles won their third consecutive game with Foles at quarterback. They are in first place in the NFC East.
"Nick is doing a great job," Jackson said. "He's come a long way. He is hot right now. We're on a roll and we just have to keep it going and finish the season strong."
November, 17, 2013
11/17/13
8:10
PM ET
PHILADELPHIA -- This is the problem with the
Washington Redskins
: It's not the same mistakes every week. It's just the same results. They saw it again Sunday in a game that unofficially ended their season. A team that believed it was a Super Bowl contender won't even make it to Thanksgiving with a legitimate shot at the playoffs.
It's shocking when you look back to August. It's not shocking when you look back at their play in recent weeks, when they've suffered too many breakdowns. A frustrating
24-16 loss
to the
Philadelphia Eagles
? Add it to the list of frustrating games for the Redskins, who are 3-7 after a second straight loss.
[+] Enlarge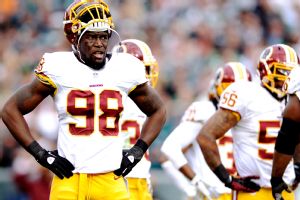 AP Photo/Michael Perez"We are what our record is," Brian Orakpo said. "We're 3-7, I'll go to war with these guys."
They couldn't generate any offense Sunday for the first three quarters, at least not when it came to the passing game. By late in the third quarter reporters were scrambling to see when the last time the Redskins were in single digits for net passing (1977).
That changed in the fourth quarter and the defense did a better job over the final five series. It matters that the Redskins played better in the fourth quarter; it doesn't change the fact they're 3-7 and have yet to play well in consecutive games.
"The feeling is just frustrating, disappointment, sadness," Redskins corner
DeAngelo Hall
said. "Hell, I was about to cry on the sidelines. I don't understand where we're falling apart. Everyone in this locker room wants it so bad. We just haven't been able to get it going. It's frustrating. It's something no one in this locker room wants to see happen. But week in and week out it keeps happening."
Yes, it does. Last week it was turning
Christian Ponder
into a Pro Bowl quarterback. This week it was turning a Philadelphia Eagles defense into the 1985
Chicago Bears
, for three quarters at least. Washington's last three drives totaled 225 net yards. Their first nine drives totaled 217 net yards.
"It's difficult, especially a game like this," Redskins linebacker
Brian Orakpo
said. "We are what our record is. We're 3-7, I'll go to war with these guys. I don't care what our record is; we fight and everyone knows it."
Fighting's not enough. The Redskins haven't figured out how to play a complete game. They continue to endure growing pains with a young quarterback.
They say the attitude is good and that practices are strong.
"You make a mistake and guys are pissed at each other like, 'Come on, we've got to do better, repeat the play,'" Redskins fullback
Darrel Young
said. "You don't see that from a team that's 3-6, now 3-7. It's something special. I don't know why we're not winning."
There's probably a simple reason: They're not good enough. It's a brutal reality for a franchise that entered the playoffs last season with a boatload of hope for the future. One
Robert Griffin
III knee injury later things changed. Now the future is uncertain, not just for him but everyone.
"Just ran out of time," Redskins linebacker
London Fletcher
said of the game.
They've also run out of ways to explain these losses. And this season.
November, 17, 2013
11/17/13
7:15
PM ET
PHILADELPHIA -- Observed in the locker room after the
Washington Redskins
' 24-16
loss
to the
Philadelphia Eagles
:
Williams
Simmer down:
When left tackle
Trent Williams
was relaying what an official had said to him, several teammates tried to get him to stop. Initially no one was loud, but then receiver
Pierre Garcon
from across the room started in, trying to prevent Williams from eventually earning a fine. "I hear ya," he said when Williams said why he was saying something, "but they're going to fine you." That clearly didn't matter to Williams. And if he's right, there's no need for him to be the one worried about a fine. A loud discussion continued as the players showered.
Injury update:
The Redskins have several players who will need MRIs on Monday, with receiver
Leonard Hankerson
possibly tearing his lateral collateral ligament -- the same ligament
Robert Griffin III
first hurt last December. Defensive end
Stephen Bowen
said he suffered no ligament damage, but will have an MRI. He's been playing with a meniscus tear. Corner/safety
E.J. Biggers
will get an MRI to see if he tore cartilage. Garcon said his ankle was hurting him badly after the game. Tight end
Jordan Reed
suffered a concussion and will follow the league's mandated medical protocol throughout the week. Safety
Brandon Meriweather
injured his arm, though coach Mike Shanahan did not include him on his postgame injury report.
Wash, rinse, repeat
: The Redskins' locker room feels the same after games these days. Players talking about how they're better than this, and how they can't explain the constant losing. They still seem to take losses hard; it would be wrong to think they're immune from it. But numb? Yeah, probably. "Week to week it's a struggle," nose tackle
Barry Cofield
said.
November, 17, 2013
11/17/13
6:00
PM ET
PHILADELPHIA -- Seen and heard in the
Philadelphia Eagles
' locker room after their
24-16 victory
over Washington on Sunday at Lincoln Financial Field.
McCoy
Nick Foles and LeSean McCoy are OK.
McCoy, the NFL's leading rusher, left the game late in the first half with a hamstring injury. He returned for the second half. McCoy said it felt like the hamstring "gave out" but after moving around a bit, it felt fine.
Foles took a hit after throwing a pass earlier on the same drive. He kept shaking out his right arm and shrugging his shoulder. He said it was a little sore, but all the gesticulating was just to keep it loose. "I thought he was trying to get the fans into the game," coach Chip Kelly said.
That's a lot of grass.
That's how Buddy Ryan described
Randall Cunningham
's surprise quick kicks. Cunningham once punted the ball 91 yards in the Meadowlands.
Donnie Jones
' 70-yard punt in the fourth quarter was the Eagles' longest punt since Cunningham hit one 80 yards in 1994. It rolled out of bounds at the Washington 4-yard line.
"That was huge," linebacker
Connor Barwin
said. "That was like having a 12th man playing defense for us."
Cincinnati in the house.
Barwin had a huge sack inside the 10-yard line, forcing
Robert Griffin
III to fumble.
Trent Cole
had two sacks.
Brent Celek
had a 42-yard catch to set up a touchdown.
Jason Kelce
anchored the offensive line. All four played at the University of Cincinnati.
"It was a great day for the Bearcats," Barwin shouted as Cole answered reporters' questions.
"Go, Bearcats," Cole responded.
So much for the Oregon East rep Kelly's team was developing.
November, 17, 2013
11/17/13
4:31
PM ET
PHILADELPHIA -- A few thoughts after the
Washington Redskins
' 24-16
loss
to the
Philadelphia Eagles
:

What it means:
The Redskins' season is over. The plug was pulled early Sunday afternoon courtesy of the Eagles. So one year after winning the division and then entering the season with plenty of optimism, the Redskins won't even make it to the end of December in the hunt for a playoff spot. They can blame the cap issues and
Robert Griffin III
's knee all they want, but this disaster goes beyond those issues. To think otherwise would be a failure to learn why this season unraveled. They recovered in the fourth quarter to make it a competitive score and even had the ball with a chance to drive for the tie. But they played so poorly for three quarters that they needed a miracle comeback. At 3-7, the Redskins have shown no ability to play well in consecutive weeks, and lately it's been tough to even put one complete game together. For a while this was going to be perhaps the worst loss in the Mike Shanahan era when the game turned. Good to come back; but you can't overlook why they dug themselves such a deep hole.
Red zone failures:
The Redskins did not play well, but had they executed better in the red zone, they could have won this game. Griffin was hit and fumbled in the first half inside the Eagles' 10-yard line. He hung onto the ball, but
Roy Helu
failed to block the linebacker and it did not look like any receiver had won their one-on-one battle. Then, on the final drive of the game, he was under pressure and appeared to try to throw the ball away out of the end zone. But he left it about 5 yards short, leading to an easy interception.
Defensive doesn't get it done:
The Redskins' defense said it'd be much improved from the opener, but the Eagles didn't have a whole lot of trouble in building a 24-0 lead as Washington missed too many tackles and allowed 6.5 yards per play. It fared better in the last quarter and a half, especially on third down. But it wasn't enough.
No happy returns:
Nick Williams
was active and replaced
Josh Morgan
as a punt returner, but he did not have a strong day in that department. He muffed one punt and failed to field another, forcing the Redskins to drive 96 yards. Williams did catch a two-point conversion, but he did not distinguish himself on returns.
Up next:
The Redskins host San Francisco a week from Monday, the first of three straight home games.
November, 17, 2013
11/17/13
4:23
PM ET
PHILADELPHIA -- A few thoughts on the
Philadelphia Eagles
'
24-16 victory
over the
Washington Redskins
:

What it means:
The Eagles are in first place in the NFC East and, at 6-5, above .500 for the first time since Week 1. They also put a merciful end to their franchise-record 10-game losing streak at home. The game also represented the third strong performance in a row for
Nick Foles
, making it very unlikely coach Chip Kelly will go back to
Michael Vick
when Vick fully recovers from his hamstring injury. The Eagles swept Washington, taking big leads in both games and then white-knuckling at the end.
Brandon Boykin
's end zone interception preserved the victory for the Eagles.
McCoy, for real:
The Eagles got a scare late in the first half when running back
LeSean McCoy
clutched his right hamstring after a run. McCoy went to the locker room for the last few minutes of the second quarter. He returned after halftime, however, and surpassed the 1,000-yard rushing mark for the season. McCoy finished with 77 yards on 20 carries. He had two 1-yard rushing touchdowns.
Stock watch:
Rising: Bill Davis. The Eagles' defensive coordinator had an excellent scheme and called a great game against
Robert Griffin III
and
Alfred Morris
. Since that terrible 52-20 loss in Denver, the Eagles haven't allowed an opponent to score more than 21 points. If the offense had been effective in two home losses against the Cowboys and Giants, the Eagles could easily be at 8-3 with a seven-game winning streak. Davis has the players buying into, and really starting to thrive in, his 3-4 defense. Griffin made things interesting at the end, but Davis' defense ultimately held.
What's next:
The Eagles go into their bye week with a three-game winning streak. When they come back, they have back-to-back home games against Arizona (Dec. 1) and Detroit (Dec. 8). The late bye should help a handful of players with nagging injuries to heal, including left tackle
Jason Peters
, cornerback
Bradley Fletcher
and linebacker
Mychal Kendricks
.
NFL SCOREBOARD
Sunday, 2/2
WEEKLY LEADERS