NFL Nation:

2013 Week 12 CAR at MIA
November, 24, 2013
11/24/13
9:10
PM ET
MIAMI -- Riverboat Ron Rivera, let me introduce you to Comeback
Cam Newton
.
The
Carolina Panthers
are starting to rack up nicknames as fast as they are wins.
Yet another one might have been born during Sunday's
20-16 victory
over the
Miami Dolphins
as Newton engineered his second consecutive last-minute touchdown drive, running Carolina's winning streak to seven straight.
Newton's 1-yard touchdown pass to tight end
Greg Olsen
with 43 seconds left came less than a week after he threw a 25-yard touchdown pass to
Ted Ginn Jr.
with 59 seconds left in a 24-20 Monday night victory over the
New England Patriots
.
But the win against Miami may never have materialized had Newton's coach not shred his conservative play calling earlier this season for what has been dubbed his Riverboat Ron mentality.
Rivera successfully gambled on fourth-and-1 from his own 41 in the third quarter to set up a touchdown, then successfully gambled on fourth-and-10 from his own 20 with 2:33 remaining to set up the game winner.
The latter gave one the feeling this might be a team of destiny. There was almost a sense of inevitability this would be another Carolina win after the 19-yard completion to wide receiver
Steve Smith
.
"It's a relief," Smith said. "We've been getting dog-cussed and talked about how bad we are, we're pretenders and all that stuff. We'll still hear a little bit of flak from people and fans and naysayers, this team is not for real.
"We'll see next week. 'Cause obviously, this week has surpassed and we survived, so it will give y'all something to talk about next week."
Carolina (8-3) will go for its eighth consecutive victory when Tampa Bay visits next Sunday. Yet despite the win streak that is setting the stage for an NFC South showdown with division-leading New Orleans (9-2) in two weeks, the Panthers still play with a chip on their shoulder, like they have something to prove.
Players are far from satisfied with getting past a Miami team that didn't play like it had been distracted by NFL investigators being in house all week.
"I feel pissed," defensive end
Greg Hardy
said. "I've got to go get ready to play another game next week."
Hardy was angry because the Panthers, with their sloppiest effort in two months, were in danger of losing all the momentum they'd gained. They made what Rivera called "silly" missed assignments and penalties that allowed Miami (5-6) to be in position to win until the final gun.
They made two, in Rivera's words, "scary" plays by allowing Miami wide receiver
Mike Wallace
to get behind the secondary for a 53-yard touchdown in the first quarter and a 57-yarder in the second which set up a field goal that gave the Dolphins a 10-3 lead.
They almost made another on the next-to-last play when Wallace found himself deep, near the end zone, with single coverage by safety
Mike Mitchell
.
How close was it?
[+] Enlarge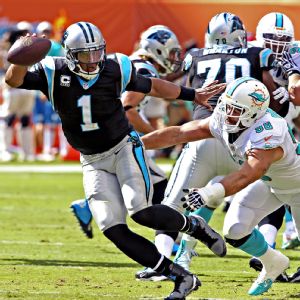 Charles Trainor Jr./Miami Herald/MCTCam Newton's Panthers outscored the Dolphins 14-0 in the second half.
"My heart about fell out of my chest," said defensive tackle
Dwan Edwards
, who ended the game with a sack of quarterback
Ryan Tannehill
.
Play was so sloppy at times that Rivera suggested his players "disrespected" the Dolphins in the first half with their play.
"Before I say anything, I hope you guys understand one thing: That Miami Dolphins team is very tough and resilient," said Rivera, reminding that the Dolphins played hard despite the
Richie Incognito
-
Jonathan Martin
bullying scandal.
But these Panthers are tough and resilient, too. In past years, had they played like they did in the first half it would have been a blowout loss.
"We wouldn't have been able to recover from it," left tackle
Jordan Gross
said.
Remember, this is the same team that, after a 24-23 Week 2 loss to Buffalo, was 2-14 under Rivera in games decided by a touchdown or less. Now it has won three straight by a touchdown or less, beginning with a 10-9 victory at San Francisco in which Newton engineered a fourth-quarter drive that led to the decisive field goal.
"When you're a good team I think you get more good fortune than other times," Gross said.
The Panthers are a good team because they won a game like this. They are a good team because their quarterback continued to play at a level that has him in the MVP conversation.
Newton is resilient, too. He took a hit so hard on his first play that he called a timeout to make sure he hadn't bitten his tongue off.
"I was reading about horror stories of football and a guy swallowed his tongue, so I didn't want that to happen," said Newton, who was spitting blood on the sideline. "I had to feel around for it for a minute, and I felt it so I was good."
Newton and the Carolina offense felt their way around Sun Life Stadium for most of the first half. They struggled to find a tempo until they went to an up-tempo, quick-huddle game at the end of the half.
It won't get the attention of the fourth-and-10 completion, but the play Newton made with eight second left in the first half set the stage for the comeback.
He dropped the snap, quickly picked it up and tossed it to wide receiver
Brandon LaFell
in the flat. LaFell raced 29 yards down the sideline before stepping out of bounds with a second on the clock.
That led to a 46-yard
Graham Gano
field goal that cut Miami's lead to 16-6.
Newton and the Panthers were in control the rest of the way. The league's third-ranked defense, without sack leader
Charles Johnson
(knee), held the Dolphins to 119 yards in the second half and the team played more like the one that beat San Francisco and New England.
"We became lazy in the first half," Smith said. "We underestimated that team. They're a good team. They've got a great defense. We had to improve and improve quickly, because it was getting ugly."
In the end, it was another Newton comeback thanks to another gutsy call by a head coach who believes his offense can do nothing wrong on fourth down.
"I kind of felt like a couple of times we were going through the motions like they they're supposed to lay down," Rivera said of the first half play. "This is the NFL, and at any point in time anybody can beat anybody.
"This was not an easy victory. This was a hard victory. This victory tested us."
And provided perhaps another nickname for a team that is looking to make a name for itself.
November, 24, 2013
11/24/13
7:28
PM ET
MIAMI – The big connections between
Miami Dolphins
quarterback
Ryan Tannehill
and receiver
Mike Wallace
have been few and far between this season. Through their first 10 games together, Wallace was averaging just 12.1 yards per catch.
But something clicked on Sunday that may have lit a spark with both players. Tannehill and Wallace connected on a pair of deep balls, for 53 and 57 yards, in a
20-16 loss
to the
Carolina Panthers
.
[+] Enlarge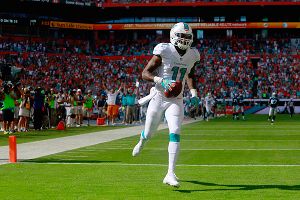 Chris Trotman/Getty ImagesMike Wallace caught passes of 57 and 53 yards, the latter for a Dolphins touchdown.
Wallace finished with five catches for a season-high 127 yards in a losing effort. His 53-yard catch, on which Wallace zipped by Carolina cornerback
Captain Munnerlyn
, was Miami's longest touchdown passing play of the season.
Big-play capability was the reason the Dolphins signed Wallace to a five-year, $60 million contract in the offseason. Before Sunday's game, Wallace hadn't scored a touchdown since a Week 2 win over the
Indianapolis Colts
.
"It felt awesome," Wallace said. "I hadn't been able to score a touchdown in so long. I got the game started. Our team got kind of hyped, so that's always good. We just got to have more of that."
The bad news is the pair just missed on two more deep balls in the second half, both of which could have produced touchdowns against a very tough Carolina defense.
Tannehill had been criticized this season for underthrowing Wallace, but the quarterback let it rip in this game. In the third quarter he overthrew Wallace streaking down the middle of the field. And on a broken play in the fourth quarter, Tannehill spotted Wallace in one-on-one coverage, but Wallace said he struggled to locate the football and couldn't make the catch.
"That's tough for me to say; I don't know what he told [the media] on that play," Tannehill said when asked whether Wallace should have made that final catch. "That's a tough play. It's basically a hope and a prayer and get it out there."
Tannehill and Wallace need to be on the same page and making big plays if the Dolphins (5-6) are to have any chance at the final wild card in the AFC. They are grouped in with several teams, including the
Baltimore Ravens
(5-6),
Pittsburgh Steelers
(5-6) and
New York Jets
(5-6). The Dolphins will travel to play the Jets and Steelers in back-to-back weeks, and these essentially will be elimination games.
November, 24, 2013
11/24/13
6:35
PM ET
MIAMI -- There is something missing with the
Miami Dolphins
this year that is hard to put a finger on.
The Dolphins have talented players. They compete hard on most weeks and can compete with just about anyone in the NFL.
But there is one key reason Miami is 5-6 this season, and it's something that is difficult to measure: The Dolphins simply lack the killer instinct necessary that it takes to build a consistent winner.
The Dolphins' inability to finish was on full display Sunday during their
20-16 loss
to the
Carolina Panthers
. Miami blew a 16-6 halftime lead in a game that could have done wonders for its playoff chances. The Dolphins were outscored 14-0 in the second half and allowed 17 unanswered points .
[+] Enlarge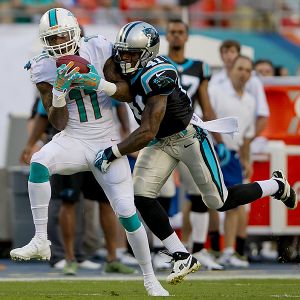 Joe Rimkus Jr./Miami Herald/MCT via Getty ImagesMike Wallace was one of the few bright spots for the Dolphins on Sunday.
"I think we kill ourselves," Dolphins receiver
Mike Wallace
(five catches, 127 yards) said after the game of Miami's second-to-last drive when the Dolphins could have gone up 10 points. "I think we could have put them away on the drive before that. We just didn't. We've got to have killer instinct. I don't think we really have it that well.
"We've got to do a better job of finishing teams off when we have them coming back out of the half. That's the biggest thing."
Getting outplayed in the second half and fourth quarters have been troubling trends for the Dolphins all season. Miami also blew a 17-0 halftime lead to the New England Patriots on Oct. 24.
There were many of the same ingredients in Sunday's collapse to Carolina, which won its seventh straight game. The Dolphins became predictable and one-dimensional on offense and couldn't get key stops on defense late in the game.
Miami's inconsistent running game produced just 52 yards on 17 carries. Quarterback
Ryan Tannehill
was the Dolphins' leading rusher with 36 yards. Carolina's front seven dominated Miami's patchwork offensive line, which is missing two starters due to the
Jonathan Martin
-
Richie Incognito
scandal.
With Miami becoming predictable on offense, it became easy for Carolina to shut out the Dolphins in the second half.
"Penetration," Dolphins head coach Joe Philbin said of Miami's inability to run. "We were running one or two times an outside zone play, [and] the defensive ends are 4 yards in the backfield and we tried to bend and weave. Again, if you don't get the ball at any point to the line of scrimmage it's tough. You have to do better."
With the offense stalling, it became more and more difficult for Miami's defense to hold the lead.
Miami's defense did a solid job bottling up Carolina quarterback and MVP candidate
Cam Newton
for much of the game. Newton threw for 174 yards, one touchdown and one interception. But his 80-yard touchdown drive in the final three minutes of the fourth quarter sealed the victory for Carolina. Newton capped the drive with a 1-yard touchdown pass to tight end
Greg Olsen
with 43 seconds remaining.
"I feel like they started making adjustments," Dolphins linebacker
Philip Wheeler
said. "They blocked up a few plays differently. They are a good team and they made some plays and we didn't make them towards the end when it counted."
The Dolphins have the talent to be a playoff team. But they often don't play that way, especially in crunch time.
Whether that's a player or coaching issue is debatable. Opposing coaches have made good halftime adjustments against Miami's coaching staff. Yet, at the same time, it's up to the Dolphins players on the field to produce. Too often that does not happen late in games.
That leaves the Dolphins with a mediocre 5-6 record with five games remaining. There is a strong chance they will end up regretting tough losses like Sunday's when their season is over.
November, 24, 2013
11/24/13
4:24
PM ET
MIAMI -- A few thoughts on the
Miami Dolphins
' 20-16
loss
to the
Carolina Panthers
on Sunday.

What it means:
Every game is crucial down the stretch, and the Dolphins lost a big one in the final minute to fall to 5-6. Panthers quarterback
Cam Newton
threw a game-winning, 1-yard touchdown pass to tight end
Greg Olsen
with 43 seconds remaining. The Dolphins led 16-6 at intermission and couldn't hold on against Carolina at home. They are now grouped with several teams in a battle for the final wild-card spot in the AFC.
Stock Watch:
Dolphins receiver
Mike Wallace
's stock is certainly up after this game. Wallace had two huge catches of 53 and 57 yards in the first half that gave the Dolphins some early momentum. Wallace beat
Captain Munnerlyn
with ease on both plays and finished with five receptions for 127 yards and a touchdown. But Dolphins quarterback
Ryan Tannehill
did miss on a deep connection late in the game that could have made a difference.
As far as stock down, Miami's running game again pulled a disappearing act. The Dolphins struggled moving the ball on the ground all game and had just 52 rushing yards. Tannehill was the team's leading rusher with 36 yards. The inconsistency of Miami's running game has been an issue all year.
Thomas injured:
Miami lost a key contributor in the second half in running back
Daniel Thomas
. He injured his left ankle in the third quarter and didn't return. Thomas led the team in rushing in last week's win over the
San Diego Chargers
. If he misses time, that may provide an opportunity to rookie running back
Mike Gillislee
to get backup reps next week.
What's next:
The Dolphins have their first of two huge games upcoming against the AFC East rival
New York Jets
(5-6). Miami will travel to East Rutherford, N.J., next Sunday for a road game with major playoff implications. Both teams are fighting for the final wild-card spot in the AFC.
November, 24, 2013
11/24/13
4:23
PM ET
MIAMI -- A few thoughts on the
Carolina Panthers
' 20-16
victory
against the
Miami Dolphins
:

What it means:
The streak goes on. The Panthers, despite themselves, won their seventh straight game to improve to 8-3 and move toward a huge NFC South showdown against New Orleans in two weeks. I say despite themselves because they looked like the team having to deal with distractions for much of the day, struggling to defend the deep pass and looking sloppy on offense. A holding penalty that negated a first down in Miami territory with about six minutes to go typified the day. Yet the Panthers kept this one close enough to win against a Miami team fighting for its playoff survival. In past years this one would have been a blowout loss with all the mistakes.
Stock watch:
Three straight comebacks for quarterback
Cam Newton
. Time to call him Comeback Cam? A 19-yard completion to
Steve Smith
on fourth-and-10 from his own 20 was huge to eventually set up a game-winning 1-yard touchdown pass to
Greg Olsen
with 43 seconds left. But he set the tone on the first series of the third quarter. Newton rushed four times for 35 yards, including an 8-yard run on fourth-and-1, and capped the drive with a 5-yard touchdown run.
Exposed:
The Panthers hadn't given up more than three pass plays of 20-plus yards in any of the past three games. They gave up two of more than 50 in the first half -- one for a touchdown -- and three of 20 or more. They should have given up another as
Mike Wallace
was in a different zip code when quarterback
Ryan Tannehill
overthrew him in the third quarter.
Riverboat Ron lives:
This might have been the gutsiest of coach Ron Rivera's fourth-and-1 calls. He went for it from his own 41-yard line, the first time this season he's done that in his own territory. Newton made him look good with an 8-yard run for the first down. Carolina has now been successful on fourth-and-1 six times on eight attempts since Rivera was called out for being conservative and not going for it at Buffalo in Week 2. Newton then converted a fourth-and-10 play with just over two minutes left from his own 20. Not sure there's an official stat on that one.
Bad day for Ginn:
Wide receiver
Ted Ginn
had his second chance this season -- the other against San Francisco -- to make a statement against a former team. He dropped a deep pass on which he had badly beaten the secondary, had two questionable fair catches inside his own 10, and didn't field a punt around the 10 with one defender to beat for a big gain.
What's next?
The Panthers play host to the
Tampa Bay Buccaneers
at Bank of America Stadium. They defeated the Bucs 31-13 in a Thursday night game in Tampa on Oct. 24.
November, 24, 2013
11/24/13
2:43
PM ET
MIAMI -- A look at the first half between the
Carolina Panthers
and
Miami Dolphins
:


Miami looked like the team on a six-game winning streak and Carolina the team facing a week's worth of distractions as it went into halftime with
a 16-6 lead
.
The Panthers were sluggish on offense and the secondary looked more like the one that began the season with a lot of questions marks instead of the one ranked fifth against the pass.
Here's how it unfolded:
•
Bad omen I:
First the Panthers failed to turn an interception into a touchdown on the game's first series. Then
Graham Gano
had a 50-yard field goal attempt blocked, the first this season and first for the Panthers since last season against Washington.
•
Bad omen II:
Quarterback
Cam Newton
was hit hard on Carolina's first play and was slow getting up, appearing to spit out blood. He was hit hard more times than the Panthers probably care to have in the first quarter.
•
Bad omen II:
Carolina's secondary, that has played exceptionally well the past two months, was beaten for a 21-yard completion and 53-yard touchdown pass during a three-play stretch midway through the first quarter. Cornerback
Melvin White
, who struggled against the Patriots, was beaten on the first. Corner
Captain Munnerlyn
was beaten badly by
Mike Wallace
on the second.
•
Bad omen III:
Newton was given a yard and first down on the last play of the first quarter. Miami challenged and it was ruled Newton's knee was down short of the first down.
•
Bad omen IV:
The Panthers challenged a 57-yard reception by Wallace, again against Munnerlyn, and lost. The Dolphins turned that into a 32-yard field goal and a 10-3 lead.
•
Bad omen V:
Newton threw an interception with just over two minutes left in the first half, setting up Miami for another field goal and a 16-3 lead.
•
Good omen I:
Newton dropped the snap on the next-to-last play of the first half, picked it up and found
Brandon LaFell
for a 29-yard gain that set up Gano's 46-yard field goal to end the first half.
November, 24, 2013
11/24/13
2:38
PM ET
MIAMI -- The
Miami Dolphins
lead the
Carolina Panthers
,
16-6
, at intermission.
Here are some notes:
Dolphins fans have been waiting for big plays from new receiver Mike Wallace, and he exploded Sunday for his biggest first half of the season. Wallace had two big receptions from quarterback Ryan Tannehill, for 57 and 53 yards, respectively. The latter catch was for a touchdown. Wallace is having his way with Panthers cornerback Captain Munnerlyn. Wallace ran by him twice with ease for big plays.
Miami's defense is doing a good job of rattling Panthers quarterback Cam Newton. The Dolphins got to Newton early with a couple of hits. Newton has been out of synch since. Newton is 10-of-19 for 100 yards and an interception.
Panthers receiver and former Dolphins draft bust Ted Ginn Jr. received jeers when he was introduced Sunday. But Ginn responded early in the first half with a good punt return of 53 yards. The return led to a 52-yard field goal by Graham Gano.
It's been an up-and-down first half for Miami's special teams. In addition to allowing Ginn's 41-yard return, the Dolphins also blocked a field-goal attempt. Dolphins rookie defensive end Dion Jordan got his hand on the ball.
This is a big second half for the Dolphins (5-5). They're tied with the Jets (5-5) for the final wild-card spot in the AFC. The Dolphins also need this game to hold off other wild-card contenders such as the Baltimore Ravens (4-6) and Pittsburgh Steelers (4-6).