NFL Nation:

2013 Week 12 CHI at STL
November, 24, 2013
11/24/13
9:30
PM ET
ST. LOUIS – After scoring 21 points in the first quarter for the first time since the middle of the 2008 season, the
St. Louis Rams
looked poised to run away from an opponent for the second game in a row. The Rams dominated the
Chicago Bears
for the better part of the opening 30 minutes, but just before going into the locker room at the half, a chain of unfortunate events began.
Left guard
Chris Williams
left the game with a head injury. Running back
Zac Stacy
soon exited with a similar injury. And at the start of the third quarter, cornerback
Trumaine Johnson
followed suit. Three of the team's key starters were out.
[+] Enlarge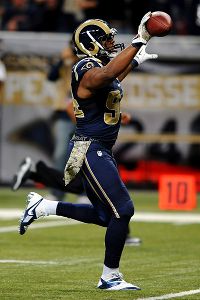 Michael Thomas/Getty ImagesThe Rams pulled away with two late touchdowns, including one on a fumble return by Robert Quinn.
Then, with a little more than eight minutes remaining in the third quarter, the Rams took their biggest hit by delivering one. Defensive tackle
Michael Brockers
was flagged for roughing Bears quarterback
Josh McCown
on a sack that appeared to be so fundamentally sound you could almost hear the applause from Tim Duncan in San Antonio.
Instead of a drive-killing stop, the Bears got new life and scored to get to within six points, at 27-21.
"They just kept playing," Rams coach Jeff Fisher said.
For those who have seen the Rams of recent vintage, at least pre-Fisher, "just keep playing" would have equated to something like packing up their briefcases and calling it a day.
What this edition of the Rams did was respond with resilience and gumption, a trend that continues to pop up in tiny spurts.
"Seven points, that's the only thing we were thinking about," guard
Rodger Saffold
said. "That's what we were saying on the sidelines. I can't lie. Emotions got into it. I was extremely angry, and then the only way to overcome that is to work."
The Rams' offense immediately put together a seven-play, 80-yard drive for a touchdown, with Stacy's backup,
Benny Cunningham
, doing most of the damage. One minute later, Rams defensive end
Robert Quinn
forced a fumble, recovered it and raced 31 yards for a touchdown and the final margin.
With the game teetering in the balance, the Rams didn't flinch. They offered an angry stare and pushed the Bears over the edge.
"This team, we are a bunch of fighters," Saffold said. "We're a bunch of dogs caged, so when you cut us loose, you see what we can do."
Sunday's win gave the Rams a two-game win streak, but how they achieved it might speak to something bigger. The Rams are 5-6 and still sitting on the outskirts of any realistic playoff discussion. But consecutive convincing wins against teams that are firmly in said postseason picture indicate the Rams just might be a team nobody wants to see down the stretch.
Prosperity has been fleeting for the Rams for most of the past decade. What little they've had has soon been frittered away and has often spiraled into further despair.
Over the course of the first 11 weeks this season, the Rams have clearly matured to the point where they can not only embrace prosperity but create it in the face of adversity.
"I think that we are starting to believe, which is what you need," quarterback
Kellen Clemens
said. "As a whole, we are starting to believe. Coming off a big win at Indianapolis, I was proud of the guys, there's no letdown. We didn't come out flat coming off a bye week, a lot of times that happens."
Even when in-game letdowns seemed plausible, the Rams found a way to get out of it. Witness the goal-line stop by linebacker
Jo-Lonn Dunbar
on the first drive of the third quarter. Or the defense managing to keep the Bears out of the end zone on three plays from the Rams' 1-yard line before they finally scored following Brockers' penalty.
A game the Rams had in control nearly slipped away on multiple occasions, yet they discovered ways to hang on.
"We have got a bunch of tough dudes in this locker room," end
Chris Long
said. "We knew that. Everybody else is starting to figure that out."
That may not be the sign of a team ready to make a run at the postseason. But it might be one that signals it's going to take a mighty blow to knock them out.
November, 24, 2013
11/24/13
8:00
PM ET
ST. LOUIS -- For the better part of the 2013 offseason, the
St. Louis Rams
' key decision makers repeated the mantra that the job of replacing running back
Steven Jackson
would fall into more than one pair of hands.
In a league that has slowly but surely seen the idea of the workhorse back fall by the wayside, it seemed certain the Rams would be next in line to employ a committee instead of a bell cow.
That approach appeared to change with the emergence of rookie
Zac Stacy
, who took over as the starter in Week 5 against Jacksonville. Since then, the Rams have been searching for at least a complement if not a full-fledged tag team partner.
Sunday's
42-21 win
forced the Rams to speed up the search after Stacy left with a head injury just before the end of the first half. Stacy had been shredding the Bears' shoddy run defense almost at will and the Rams' ability to continue pounding the ball on the ground was suddenly up in the air.
[+] Enlarge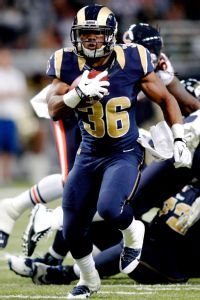 Scott Kane/USA TODAY SportsUndrafted rookie Benny Cunningham rushed for 109 yards on 13 carries against the Bears.
Enter
Benny Cunningham
. Before Stacy's injury, the Rams had rushed for 163 yards on 15 carries, including
Tavon Austin
's 65-yard touchdown run. Continuing that type of production with Cunningham as the primary runner was a lofty request. He wasn't able to continue it. Instead, he actually improved it.
"He's a great back," quarterback
Kellen Clemens
said. "He really is. He's a great back and he works hard. I was excited to see him get an opportunity and then make the most of it."
By the time the undrafted rookie out of Middle Tennessee State was done making the most of the Bears 31st-ranked run defense, he had 109 yards on 13 carries and a 9-yard touchdown run that all but sealed the win.
Although Cunningham is only 11 games into his rookie season, the road to this moment has been brewing longer. Cunningham went undrafted in April because of a knee injury that cost him a chunk of his final season at Middle Tennessee.
Rams coach Jeff Fisher knew of Cunningham from their mutual Nashville ties and personally called the 5-foot-10, 209 pound back after the draft to recruit him to St. Louis. Aside from the most die-hard draftniks, Cunningham was a name that wasn't on most people's radar.
Soon after his arrival, Cunningham attacked his rehabilitation and didn't get on the field until training camp. He impressed in the preseason and began biding his time for an opportunity.
"(You are) kind of watching and you always want to get the opportunity," Cunningham said. "I just felt like if I kept preparing myself like a starter, I wouldn't have to get ready because I would already be ready."
Cunningham had a few stops and starts this season; most notably a stop caused by an ankle injury, but got his first extended chance to work in tandem with Stacy against Indianapolis on Oct. 10.
In that game, Cunningham made the most of his limited work, rushing seven times for a team-leading 72 yards. The performance earned Cunningham another look as Stacy's understudy Sunday against the Bears.
After watching the Rams offensive line punish Chicago for most of the first half, Cunningham knew he'd have a chance to do what Stacy was doing when his teammate left for a concussion evaluation.
"I just knew if I protect the ball, the holes will be there, they'll open up and just do what I have been doing all week in practice ... and just take advantage of the opportunity," Cunningham said.
Immediately after his own breakthrough performance, Cunningham quickly and repeatedly gave credit to his offensive line and other blockers for opening sizable holes.
It's worth noting all of the Rams running backs had a much easier job than normal because of the Peterbilt-sized holes they had to run through. According to ESPN Stats & Information, the Rams had 213 rushing yards before contact against the Bears, the most by any team in a game this year.
Still, there's something to be said for a rookie running back, who before today had a whopping 27 carries to his NFL name, taking over and doing what was needed to help his team sew up a win.
"I'm extremely proud of him," Saffold said. "He works as if he's going to play every week. All of our backs do. You can't ask for a better group of guys. I think there was a lot of questions when Jack left and I think we are starting to see the answers."
The operative word to note is answers. Plural.
November, 24, 2013
11/24/13
6:48
PM ET
ST. LOUIS -- The first matchup between
Chicago Bears
guard
Kyle Long
and his brother,
Chris Long
of the
St. Louis Rams
, received attention entering Sunday's game, but a scuffle in the second quarter shined the spotlight directly on the duo.
During Chicago's 42-21 loss to St. Louis, quarterback
Josh McCown
absorbed a vicious hit while attempting to throw a pass to
Tony Fiammetta
, with Kyle Long becoming involved in somewhat of a mini-brawl with Rams defensive end
William Hayes
away from the play.
During the scuffle, it appeared Long kicked Hayes.
[+] Enlarge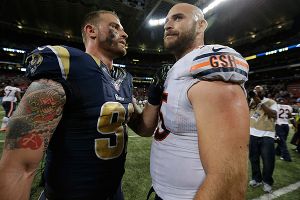 AP Photo/Nam Y. HuhRams defensive end Chris Long, left, talks to his brother, Kyle, a Bears guard, after St. Louis' win.
That led to Chris Long sprinting off St. Louis' sideline to grab his younger brother and pull him away from the fight.
Kyle Long declined to discuss the incident after the game, saying, "Look, I'm here to talk football. So if there are any football questions you guys have, I'd love to answer those."
He later apologized on Twitter.
"I want to apologize to the fans for losing my cool today," Long said. "Not a representation of the person that I am or the Bears. Shouldn't happen."
Bears coach Marc Trestman said Long calmed down quickly.
"I looked over at him once [offensive coordinator] Aaron [Kromer] got a hold of him, and he seemed to quiet himself down," Trestman said. "I think I'll be able to talk more about that tomorrow, because I really didn't see everything that happened. I saw Kyle lose his temper. I don't know why. I was on the other side of the field."
Given that Kyle Long appeared to kick a player during the scrum, it's fortunate for the Chicago Bears that officials didn't eject him. Asked why Kyle Long was allowed to continue to participate, referee Jerome Boger said, "O.K., I was one of the covering officials on that play, and what I had the unnecessary roughness call was for piling on, that he piled on onto a player who was already on the ground. I didn't see a kick by him."
Chris Long wasn't forced out of the game or penalized, because there is no automatic ejection for coming off the bench in the NFL.
"It's tough. One of your best friends and your brother," Chris Long said. "They're two of the strongest people I know. I'm just glad everybody got out of there O.K. It was just a heated game."
Asked whether he helped his younger brother by pulling him from the pile, Chris Long said he was simply trying to pull an opponent away from a teammate.
"If pulling him out of the pile and yoking up is helping him ... I'm trying to get him off my teammate just like any other situation that would arise," he said. "I don't want us to get a flag, and one way to defuse that situation is to get everybody out of there. He happened to be the body that I saw."
November, 24, 2013
11/24/13
6:25
PM ET
ST. LOUIS -- Defensive lineman
Corey Wootton
pulled on a shirt slowly Sunday, shaking his head at the thought of knowing how his team's next opponent -- the
Minnesota Vikings
-- might react after seeing the
St. Louis Rams
run roughshod over the
Chicago Bears
in a
42-21 win
at the Edward Jones Dome.
"They're gonna look at the film and say, 'We can gash them,'" Wootton said. "I don't blame them."
[+] Enlarge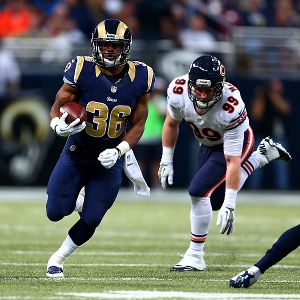 Dilip Vishwanat/Getty ImagesThe Bears watched Benny Cunningham and the Rams run for 8.9 yards a carry and 258 yards total.
The Rams ran for 258 yards Sunday, with three ball carriers --
Tavon Austin
,
Zac Stacy
and
Benny Cunningham
-- scoring touchdowns. Before the Rams began kneeling down in the final minutes, resulting in lost yardage, they'd averaged 10 yards per carry on the day, which would have gone down as the highest single-game rushing average a team had produced against Chicago in franchise history.
St. Louis' first run of the day, an 11-yard gain by Stacy, pretty much foreshadowed what would take place the rest of the game. On the Rams' third play from scrimmage, Austin took a pitch left that called for him to reverse direction to the right. Out in space, Austin shook Bears safety
Chris Conte
long enough to pick up a block, which allowed him to go down the Rams' sideline for a 65-yard touchdown.
St. Louis gained 81 yards on its first three snaps.
"We haven't done a good job of stopping the run. We've got to try to find a way to do a better job. You don't see that happening in practice," Bears coach Marc Trestman said. "The guys are in the right place. But they didn't get it done. I'm not gonna go into the technical aspects of it, but we didn't [get it done]. We're putting in the time and the effort. We've just got to continue to work at it. We've certainly got to do a better job next week."
Wootton agrees, considering Chicago's next opponent is the Vikings, led by running back
Adrian Peterson
. Facing a healthier defense on Sept. 15 than the one the Bears are fielding now, Peterson rushed for 100 yards on 26 attempts.
In Chicago's last two games, it has surrendered 432 yards on the ground.
"I don't know. We talk about [stopping the run] every week, but it doesn't happen," Wootton said. "It's something that's definitely a cause for concern. If we even want to make the playoffs, we have to shore that up. We have Adrian Peterson next week, who is arguably one of the best running backs. We have to figure out what it is. We must if we want to go to the playoffs."
Cunningham rushed for 109 yards on 13 attempts, while Stacy contributed 87 yards on 12 carries. Austin's only run resulted in the 65-yard touchdown. All three became a part of group of runners such as
Jonathan Dwyer
,
James Starks
, Peterson,
Reggie Bush
,
Ray Rice
and
Eddie Lacy
who have each taken at least one run for a gain of 25 yards or more this season against the Bears.
Stacy busted loose for a 35-yard gain in the first half, and Cunningham produced a 27-yard gain in the second half.
"They had a lot of pullers. They had a lot of zone schemes. It was a pretty good scheme," Bears defensive end
David Bass
said. "We lost. We're going to use that as motivation to get back into the facility tomorrow, watch film, make the corrections needed and get ready for the next week. There's not much we can do right now coming off the game except correcting and learning from our mistakes."
The Bears have now allowed eight runs of 32 yards or more, including three of 40-plus yards. They have surrendered 40 runs for gains of at least 10 yards.
"We expected them to start to try to run the football. Most teams do. They were able to get Tavon outside quickly," Trestman said. "We've got work to do, but our guys are up for it. We've got a strong, hungry football team that's passionate about playing the game, practicing the game and winning. We're gonna get over it. We've got to get over it quickly."
November, 24, 2013
11/24/13
4:36
PM ET
ST. LOUIS -- A few thoughts on the
Chicago Bears
' 42-21
loss
to the
St. Louis Rams
at the Edward Jones Dome:

What it means:
The Bears blew an opportunity to seize control of the NFC North with the loss to the Rams. Detroit fell 24-21 to Tampa Bay earlier on Sunday. So a Bears win would have given them sole possession of the division lead.
Run defense remains horrid:
Before they started downing the ball at the end of the game to run down the clock, the Rams averaged 10 yards per attempt against a Bears run defense that came into Sunday's contest ranked No. 31 in the NFL. By the time
Benny Cunningham
scored on a 9-yard run with 3:05 left to play, the Rams had already ripped the Bears for 261 yards on the ground. St. Louis finished with 259 yards.
Zac Stacy
took the team's first run 11 yards. Two plays later,
Tavon Austin
caught a pitch left, reversed field right, and picked up a block to go down the sideline 65 yards for a touchdown. The Rams gained 82 yards rushing on their first three plays from scrimmage, and set a franchise record by finishing the first quarter with 123 yards rushing (100 coming on Austin's run, and a 35-yard gain by Stacy).
Austin, Stacy and Cunningham join Johnathan Dwyer,
James Starks
,
Adrian Peterson
,
Reggie Bush
,
Ray Rice
and
Eddie Lacy
as players to bust runs for gains of 25 yards or more this season against the Bears. Chicago has now given up eight runs for gains of 32 yards or more, including three runs of 40-plus yards.
Bass still opening eyes:
Rookie
David Bass
was nominated last week for Rookie of the Week after making five tackles and tipping a
Joe Flacco
pass to himself for a 24-yard interception return for a touchdown. Bass followed that up with a sack against the Rams. He dropped
Kellen Clemens
for a 9-yard loss with 4:12 left in the first quarter.
Too much laundry:
By halftime last week, the Bears had already topped their season high with six penalties for 61 yards. They finished with 13 penalties for 111 yards. Chicago obliterated that against the Rams -- not because of the number of penalties or yardage, but the impact of the penalties. Bears touchdowns by
Devin Hester
and
Brandon Marshall
were nullified by holding calls.
Missed opportunity:
The Bears missed an opportunity to cut a 24-14 deficit in the third quarter when coach Marc Trestman attempted to convert a fourth-and-goal from the St. Louis 1. Trestman called for an off-tackle run by
Michael Bush
, but linebacker
Jo-Lonn Dunbar
dropped Bush for a 4-yard loss. St. Louis took advantage of Chicago's setback and extended its lead on the next possession, going 73 yards in 11 plays with
Greg Zuerlein
nailing a 40-yard field goal to make the score 27-14.
Coming into the game, the Bears had converted 6 of 9 fourth downs.
What's next:
Another road trip awaits; this time, it comes Sunday against NFC North foe Minnesota. Given Chicago's injury situation, look for the Bears to take the day off Monday before beginning preparations Wednesday for the matchup against the Vikings.
November, 24, 2013
11/24/13
4:33
PM ET
ST. LOUIS -- A few thoughts on the
St. Louis Rams
'
42-21 win
against the
Chicago Bears
.

What it means:
Left out of the playoff conversations that have begun in earnest, the Rams sent a reminder to the rest of the NFC that they aren't going to be an easy out for anyone. A dominant run game that piled up 258 yards helped the Rams score 28 points or more in consecutive games for the first time since 2000. The win is the Rams' second in a row and again came at the expense of a team with a winning record. Now 5-6, the Rams still have almost no margin for error in their final five games, but they can at least stake claim to having a better shot at the playoffs than they did before this game.
Stock watch -- up:
Running back
Benny Cunningham
. When starting running back
Zac Stacy
went out because of a head injury, the undrafted rookie from Middle Tennessee State stepped in and didn't missed a beat. Cunningham posted his first career 100-yard game and scored his first career touchdown to help put the game away late. All told, Cunningham had 13 carries for 109 yards with the score.
Stock watch -- down:
Cornerback
Brandon McGee
. It's unfair because this was McGee's first extended chance to play on defense, but he was simply overmatched by Chicago's bigger receivers. McGee picked up pass-interference and holding penalties to set up a late touchdown for the Bears and had trouble in coverage otherwise. He'll improve from the experience, but his struggles helped Chicago stay in the game.
Fighting through injuries:
The Rams were able to hang on to the lead despite losing three key starters to head injuries. Stacy, left guard
Chris Williams
and cornerback
Trumaine Johnson
left to be evaluated for concussions. After originally having their returns listed as questionable, they were downgraded to out in the third quarter. The loss of Stacy was particularly costly as he was shredding the Bears' defense to the tune of 12 carries for 87 yards. Cunningham replaced Stacy,
Shelley Smith
stepped in for Williams and McGee filled in for Johnson.
What's next:
The Rams begin a two-game West Coast swing against San Francisco and Arizona, the two teams directly ahead of them in the NFC West standings, before returning to St. Louis for two more at home before Christmas.
November, 24, 2013
11/24/13
8:00
AM ET
Here's a look at five things to watch for Sunday when the
Chicago Bears
face the
St. Louis Rams
at the Edward Jones Dome:


Communication in the noise:
The Bears know they'll need to find a way to communicate efficiently in the Edward Jones Dome, which is a noisy venue. Complicating that, however, will be St. Louis' formidable pass rush led by
Robert Quinn
(12 sacks) and
Chris Long
(6.5 sacks), not to mention the Rams, coming off a bye will be fresh.
"The Rams are a very fast defense, especially when you play them on turf," Bears offensive coordinator Aaron Kromer said. "The two defensive ends are very quick off the ball. They time your snap count. So we have to do a good job of changing the count and being ready to get off in a hurry. The difference is probably the turf and the noise in an away game. Last week, we faced two excellent ends, but when you get in someone's home field and they have the noise and you have to get off in the noise, out of your stance in the noise, it's a little tougher; big challenge for us."
That's why center
Roberto Garza
and quarterback
Josh McCown
will be key in making pre-snap adjustments and line calls. McCown needs to change up the snap count constantly to keep the Rams off balance.
Offense's start:
In Chicago's first two possessions last week against the
Baltimore Ravens
, McCown hit on just 2 of 5 throws for 8 yards and suffered a sack. Garza flipped out a bad snap on the third play from scrimmage that also slowed the team's start.
The Bears can't hope for a weather delay like last week, which actually helped the offense to regroup and come out firing on all cylinders after the stoppage in play.
"I think we've just got to be a little bit more tuned in maybe Friday through Sunday [with the game plan]," McCown said. "I'm not sure exactly, but I think there's something. There was a disconnect there for us. It's not coaches, it's just players."
To prevent a similar start this week, McCown and Trestman have stressed the need for the Bears to conduct extra studying in the 48 hours prior to Sunday's kickoff.
Julius Peppers:
Facing a solid tackle last week in Baltimore's
Eugene Monroe
, Peppers finished with 12 tackles and a pair of sacks in Sunday's win. Peppers has posted three sacks, 15 tackles and two pass breakups over his last three outings. So it's safe to say Peppers is finally rolling after notching only one sack over the first four games of the season. But that needs to continue as the Bears embark on the playoff push.
In recent weeks, the coaching staff has started to limit Peppers' practice repetitions in an attempt to make sure he's fresh for Sundays.
"How do I feel? Not as fresh. This is Game 11, so it's a long season," Peppers said. "We've just got to adjust, whether it be getting extra treatment, managing practice time or you just got to find what works for you. We're still trying to jell. It's an ongoing process, and I see a little improvement, but we still have a long ways to go. We'll never get there, but we'll try to get as close as possible."
Run defense:
Chicago's run defense is what needs to improve most. The Bears currently rank 31
st
against the run, allowing an average of 133.9 yards per game. The Bears have surrendered 40 runs this season for gains of 10 yards or more, including 10 runs for gains of 21 yards or more.
"If you just take a look at the last game. We had a double-digit run, a big run, early in the first drive, and then we were able to make some corrections and settle down for the most part, the rest of the game," Bears defensive coordinator Mel Tucker said. "That's what we have to do, we have to start faster and we have to eliminate those big runs. There is progress being made, but its' not where we want it to be right now. We know the areas where we need to improve."
Kick coverage teams:
The Bears have
Devin Hester
. The Rams have a younger version in
Tavon Austin
, the eighth overall pick of the 2013 draft. Austin became the first Ram since 2008 to score three touchdowns in a game on Nov. 10, and the third player NFL history to score three touchdowns of 55 yards or more in a game. Austin did that by catching two TD passes, but what scares the Bears is the 98-yard punt return he ran back against the Colts.
So the Bears need to tighten up the kick-coverage units, especially with so many inexperienced players filling in due to injuries.
"We've got one that's like him [in Hester]," Bears special teams coordinator Joe DeCamillis said. "I know when we were playing Devin, it was always nerve wracking getting ready for him and it's the same thing with this guy. The thing that nobody gets is how many returns he's had called back. Dallas, a touchdown, a 50-yarder I believe, and there were several others during the year. He's explosive. It's going to be a real test for us."

NFL SCOREBOARD
Thursday, 9/4
Sunday, 9/7
Monday, 9/8