NFL Nation:

2013 Week 12 DAL at NYG
November, 25, 2013
11/25/13
12:29
AM ET
EAST RUTHERFORD, N.J. -- After having breakfast Sunday morning,
Dallas Cowboys
cornerback
Orlando Scandrick
figured he'd relax and watch a little TV.
Minutes after turning on ESPN's "Sunday NFL Countdown," Scandrick was sitting up in his hotel bed, as mad as could be.
"They said we don't have a chance, that we don't have a player who can stop
Victor Cruz
," Scandrick said, still fuming after the Cowboys'
24-21 victory
over the
New York Giants
at MetLife Stadium. "And I say Victor Cruz caught one pass for 5 yards and he fumbled, and we returned it for a touchdown."
[+] Enlarge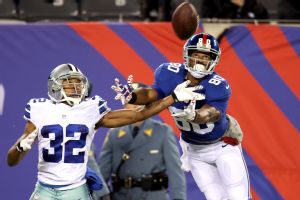 AP Photo/Peter MorganOrlando Scandrick (32) and the Cowboys limited Victor Cruz (80) to just two catches for 27 yards.
Cruz actually caught two passes for 27 yards, but his 22-yard reception in the fourth quarter was one of the few times all day that the Giants' Pro Bowl receiver wasn't Scandrick's responsibility.
This might have been the best performance of Scandrick's six-year career. He not only shut down a longtime nemesis, but Scandrick's strip of Cruz in the first quarter was a game-changing play. Safety
Jeff Heath
returned the fumble 50 yards for the game's first score.
"Orlando did an awesome job," defensive coordinator Monte Kiffin said. "Some people double Cruz a lot. We really didn't double him. Sometimes on certain routes, he might have some help, but most of the time [Scandrick] had him himself."
That's a challenge that Scandrick not only embraced, but begged the coaches to give him.
"I want to take 80 everywhere he goes," Scandrick told his coaches.
Make no mistake, there was plenty of historical evidence to point to for those making the case that that assignment would be a mismatch in the Giants' favor.
One of the worst games of Scandrick's career occurred here in the win-or-go-home 2011 regular-season finale. Cruz had six catches for 178 yards and a touchdown in that game, including a leaping catch over Scandrick on a deep ball that essentially sealed Dallas' fate.
Cruz also had five catches for 118 yards and three scores in the Giants' Week 1 loss this season, although Scandrick wasn't covering him on his 70-yard score.
"I'm just a better player than I was when I used to go against
Steve Smith
and when I went against Victor Cruz earlier," said Scandrick, who used to be tormented by ex-Giant Smith out of the slot. "I feel like I've always had all the tools, and once I got my confidence and I got my technique and I found myself and I matured as a player, I'm tough to beat. ...
"The guy's good. I respect him. He's a Pro Bowler. Hopefully I can be in the Pro Bowl one day. I feel like I proved once again that I'm a good player. I'm getting better and I'm not going to stop working. I'm going to continue to improve."
Scandrick, who is a full-time player instead of just the nickel corner for the first time in his career, has improved enough for Kiffin to say he has a Pro Bowl case this season.
And Scandrick has improved enough to prove the experts who expected Cruz to dominate Dallas again wrong.
As Scandrick said, "The stats say everything."
November, 24, 2013
11/24/13
11:27
PM ET
EAST RUTHERFORD, N.J. -- Before Sunday,
Tony Romo
had a 1-4 record in games played when it was colder than 40 degrees.
Romo
With Dallas' 24-21 win against the
New York Giants
, the
Cowboys
quarterback is now 2-4, with potential cold-weather games coming Dec. 9 at Chicago and Dec. 22 at Washington.
According to the official play-by-play sheet, the game-time temperature was 25 degrees with an 18-degree wind chill.
The wind was officially listed as 6 mph, but that had to be a misprint.
"It was just constant," said Romo, who completed 23 of 38 passes for 250 yards with two touchdowns and an interception. "And if you caught a gust, it could really affect a throw, and there were a few times that happened out there. But you've got to just keep piercing the ball and try to get it right and cut through the wind. If you throw well enough, you can usually battle that."
Super Bowl XLVIII will be played at MetLife Stadium on Feb. 2.
What does Romo think it will be like for that game?
"I think it'll be cold," he said. "We've already done it once. Hopefully we'll do it again."
The Cowboys sure wouldn't mind a return trip to MetLife Stadium in early February.
November, 24, 2013
11/24/13
11:20
PM ET
EAST RUTHERFORD, N.J. -- In the joyous Cowboys' locker room after an ugly, yet needed
24-21 victory
over the
New York Giants
on Sunday, defensive tackle
Jason Hatcher
talked about eating a Giant as fake blood streamed down his face.
Cornerback
Brandon Carr
sat at his stall feeling good despite playing in 25 degree weather at MetLife Stadium.
Carr's teammate
Orlando Scandrick
, talked with reporters about shutting down the Giants
Victor Cruz
, who caught two passes for 27 yards on the cold day.
Yeah, the Cowboys' defense was feeling pretty good on Sunday evening.
Maybe one man, the man who counts around here, Jerry Jones, the Cowboys' owner/general manager, summed up what the defense did on Sunday: "I hate to say the word redeem but I sure thought he and our defense played well tonight."
[+] Enlarge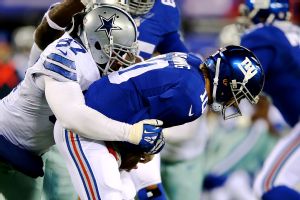 Photo by Al Bello/Getty ImagesJason Hatcher records one of his two sacks on Giants QB Eli Manning.
The
he
is defensive coordinator Monte Kiffin who worked some magic, finally. Minus starting middle linebacker
Sean Lee
, Kiffin installed a dime package for the first time this season to compensate. He moved safety
Barry Church
, probably the best tackler among the defensive backs, to a linebacker role, Scandrick begged to remain on Cruz, who he battled every snap as if it was a 12-round fight, then he got some gifts from a few no-named players.
There was rookie safety
Jeff Heath
snatching a fumble out of the air, caused by Scandrick, and taking it 50-yards for the first touchdown of the game.
Kyle Wilber
, playing outside linebacker, after starting the season at defensive end, had a tackle for loss on a first-and-goal from the Cowboys' 4, which eventually forced the Giants into a field goal.
In the fourth quarter Wilber and another no-named guy,
Drake Nevis
, stopped
Andre Brown
on a third-and-1 from the Giants' 25 to force a punt. Why was this significant? Considering how the Giants rushed for 202 yards on 30 carries against the Cowboys, any stop is a good one.
"It is disappointing," defensive end
DeMarcus Ware
said of the run defense. "We had some missed tackles (and) we should have had and some fits that didn't go right. But they were really big gains on us. We're going to see that this week (in film study) and we're going to harp on it and teams are going to attack us that way and we're going to get better there."
Giants quarterback
Eli Manning
was held to just 174 passing yards and a 1-for-3 effort in the red zone.
"The defense hung in there," coach Jason Garrett said. "They played good situational defense in this ballgame, particularly down in the red zone and it made a difference in this game."
Confidence in Kiffin seemed to be waning after the
New Orleans Saints
game two weeks ago. The Saints ran up a NFL-record 40 first downs and had 625 total offensive yards, the most the Cowboys have allowed in the franchise's history.
We're not going to even talk about the four quarterbacks who have thrown for at least 400 yards this season, something that's never happened in the history of the league.
The defense has endured injuries this season including to Ware, who said he was 85 percent healthy on Sunday. Hatcher's return from a stinger netted him two sacks and revenge on the smack talk from the Giants earlier in the week.
"I just finished eating a Giant," Hatcher said. "That's some leftover blood. They said blood was going to be shed right?"
Whose blood is it?
"Giants blood from the Giants. I don't know which one it is, but I ate them."
Scandrick and Carr were chirping as well, a little irked, but happy.
"It feels good to shut them up," Carr said of the Giants.
The Cowboys have to move on now because they have their annual Thanksgiving game to worry about against the
Oakland Raiders
.
This defense, while it should feel good about what it did, might not have cornerback
Morris Claiborne
next week because he re-injured his left hamstring again. Lee and fellow starting linebacker
Justin Durant
are still out.
Opponents are still targeting rookie corner
B.W. Webb
and middle linebacker
Ernie Sims
isn't looking like a suitable replacement for Lee.
"It's usually called the no-named defense, guys just getting out there and just playing and doing what they needed to do," Ware said. "To get the job done and when guys go down like starters, we still have guys who can go out there and still make plays and really show that it's not a one-person team we can play together."
November, 24, 2013
11/24/13
11:17
PM ET
EAST RUTHERFORD, N.J. -- Officially, the wind at kickoff was listed as 6 mph on Sunday. It seemed a lot more than that, and it was swirling inside MetLife Stadium.
But
Dan Bailey
was able to knock home a 35-yard field goal to give the
Dallas Cowboys
a 24-21 victory against the
New York Giants
.
"It died down a little bit [later in the game], but it was still there -- still a factor, I guess you could say," Bailey said. "I felt like we had a pretty good read on it going from different directions, so you just kind of had to make the best of it."
Bailey appeared to go through a more involved pregame warm-up, but he tried not to overthink the wind.
"For me, it was just put it through the upright," Bailey said.
It was his eighth game winner, establishing a team record. He had been tied with Rafael Septien. Bailey is in his third NFL season, all with Dallas.
It was Bailey's first game-winning kick this season and his first since beating the
Pittsburgh Steelers
in overtime with a 21-yarder in Week 15 last season.
"I don't know about that [being routine]," Bailey said. "It came down to three, and we've just got to go out there and do our job. Luckily we were able to do that today."
November, 24, 2013
11/24/13
10:59
PM ET
EAST RUTHERFORD, N.J. -- Obviously, this is over now, this
New York Giants
dream of rising from the ashes of an 0-6 start to win their mediocre division.
There was some brave postgame talk, after
Dan Bailey
kicked their season through the uprights and into the trash can, about going back to work and trying to win their last five games to get to 9-7. But underneath it all, the Giants know the calendar and the math have them beaten.
"I mean ... I don't know exactly how it all works in terms of the playoffs and everything, but I know Dallas has four division wins and the most we can get is three," Giants cornerback
Prince Amukamara
said after
a 24-21 loss
to the Cowboys. "I would think that would put us out of the race."
He's right. With five games left in the season, the Giants are 4-7, two games behind a first-place tie between the 6-5 Cowboys and the 6-5 Eagles. They went 0-2 against the Cowboys and 1-1 against the Eagles, and the No. 2 tiebreaker in a division race (two-way or three-way) is the teams' record in division games. The Giants are 1-3 in NFC East games. The Eagles are 3-2 and the Cowboys are 4-0. So the Giants would basically have to make up three games, not two, in the final five in order to get in.
And they won't, because they're not very good and never were. The 0-6 start was a far more accurate indicator of what kind of team this is than was the four-game winning streak that followed. The Giants got fat on four teams that were using unprepared and/or unqualified quarterbacks. Sure, the Giants played better defense against the bottom-rung offensive competition. But while the offense cut back on self-inflicated damage, it never really clicked the way it's supposed to click.
It didn't click Sunday, either. The running game was tremendous, and
Eli Manning
made a few big plays late to tie things up. But with
Hakeem Nicks
inactive and the interior pass protection still a mess, the Giants amassed just 154 passing yards against a Dallas pass defense that came in allowing a league-worst 313 per game. No rhythm, no continuity, no point at which it felt as though Manning and the Giants were in control of the game's outcome. This is the story of the Giants' season, and all those four wins did was cover it up.
Sunday, when it came time for the defense to stop a real NFL quarterback, it couldn't. Banged-up in the secondary with cornerback
Trumaine McBride
out with a groin injury, the Giants shuffled people around, used three safeties and sat back in coverage instead of trying to pressure
Tony Romo
into a mistake. Romo didn't make a mistake. He made three killer third-down throws that put Bailey in range for a 35-yard field goal as time ran out on the clock and the Giants' season.
When it was over, the Giants claimed they'd played well. And within the context of their 2013 season, they had. They played about as well as they can play. Too many penalties, of course, but bad teams commit a lot of penalties, and when you spend the whole week talking about spilling blood and guaranteeing victory and winding yourselves up the way the Giants felt they needed to wind themselves up for this game, you're bringing dangerous levels of emotion into play.
[+] Enlarge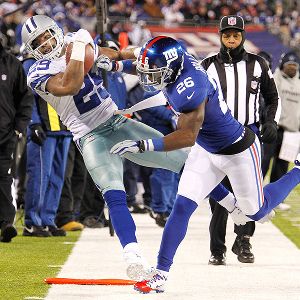 Paul Moseley/Fort Worth Star-Telegram/Getty ImagesThis unnecessary roughness by Antrel Rolle didn't help. It happened deep in Giants territory during a Cowboys scoring drive.
"The one thing I think we can learn from this is, the bigger the game, the more you have to control yourself," Giants coach Tom Coughlin said. "More poise. We lost it a couple of times, and it cost us. You've got to control yourself."
Good teams aren't still learning those lessons in Week 12. Good teams don't have to be taught about self control. But the Giants are a bad team that has become a desperate team, and so
Mathias Kiwanuka
is out there hitting the quarterback in the head and
Antrel Rolle
is hitting the running back out of bounds, and the Giants are making bad-team types of mistakes that cause bad teams to lose games.
"We didn't play Giants football at all," said cornerback
Terrell Thomas
, who'd guaranteed a victory in a radio interview late last week.
But the thing is, they did. They played 2013 Giants football. They gave up points on a turnover. They committed 11 penalties. They failed to consistently protect the quarterback, who failed to make consistently good throws. It wasn't their worst game of the season by any stretch. May have been one of their best, actually. But they weren't good enough to win it, and that's the part that stings.
"Our season was on the line, and we lost the game," Thomas said. "We had to win that game. It's Giants-Cowboys, all from the heart. It's the will that's going to win this game, and the better team won today."
In the end, that is the simple story of the 2013 New York Giants' season. You can break it down a million different ways, and we all will. Enough has gone wrong to justify all manner of postmortem. But the basic takeaway from Sunday -- and from the season as a whole -- is pretty uncomplicated: They just weren't very good.
November, 24, 2013
11/24/13
10:40
PM ET
EAST RUTHERFORD, N.J. -- No matter how hard he tries, even if he takes the
Dallas Cowboys
to a Super Bowl,
Tony Romo
will have to deal with the prevailing thought so many people had early Sunday night.
When the Cowboys took possession with their game against the Giants tied at 21 with 4:45 left, many of you probably winced while thinking about how Romo would lose this one.
[+] Enlarge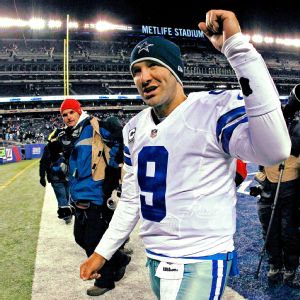 Paul Moseley/Fort Worth Star-Telegram/MCT via Getty ImagesTony Romo completed first-down passes on three third downs during a 64-yard, game-winning drive.
Admit it: More of you thought about the fourth-quarter interception against the
Denver Broncos
that led to the Cowboys' 51-48 loss on Oct. 6 than the 90-yard game-winning drive he directed three weeks ago against the
Minnesota Vikings
.
Only this time, Romo didn't lose this one. With the season on the line, Romo directed a 14-play, 64-yard drive that ended with Dan Bailey's 35-yard field goal for a 24-21 victory that pushed the Cowboys back into first place in the NFC East.
This game won't qualify as a come-from-behind victory for Romo (Dallas led 21-6 at one point), but it was as meaningful.
"You either feel comfortable in those situations or you don't," Romo said. "You feel all the experiences and times you've put yourself in that position as a team and you feel good. We've done that a couple of times in these last three or four weeks. You just go out and do it."
The Cowboys had not had a drive last 14 plays since their season-opening win against the Giants. Only three of their past 32 drives reached even 10 plays because their third-down offense had been so bad.
Before the final drive, the only third down the Cowboys converted on Sunday was a
Jason Witten
touchdown catch, which happened to be the 200th scoring throw of Romo's career. Only six of Romo's previous 31 third-down attempts resulted in a first down.
Yet on the final drive, Romo completed all three third-down attempts.
After a
Tyron Smith
false-start penalty moved a third-and-2 to third-and-7, Romo hit Bryant for 19 yards on a throw down the sideline. On third-and-5 from the Dallas 47, he hit Bryant on a slant for 8 yards.
"Yeah, I just made sure to save all of our good third downs for that last drive," Romo said. "I think we had some good plays up. Guys made some good plays and ran some good routes. It just comes down to execution at that point."
And he saved
Miles Austin
for the end, too. Austin caught his first pass since Sept. 22 (against the
St. Louis Rams
) for 17 yards to the Giants' 28 one snap after he dropped a Romo pass on the sideline.
"He just showed confidence in me," Austin said, "and he put the ball on the money. I made sure I wasn't going to drop that one."
There would be one more crucial third-down conversion with the Cowboys using their empty package on third-and-10 from the 28. If they did not convert, they were looking at a 45-yard field goal in a swirling wind inside MetLife Stadium.
Romo did not go to Bryant or Austin or Witten. Instead he checked the ball down to
Cole Beasley
, who turned up field for 13 yards.
"There's a definite high chance," Beasley said of getting the ball there. "It's pretty much a 50 percent chance. I run every route like everyone is coming to me, especially that route because that's pretty much the route that gave me playing time."
With his work over, Romo took a knee on the next two snaps to set up Bailey's game winner.
"It's a tough environment against a team who is ready to go, obviously had their season, in some ways they felt like their season was on the line in this game," Romo said. "It was a playoff-like game. It was a very similar feeling to the win or go home from a couple of years ago. I think we had to find a way to win. I was proud of the guys' effort, commitment and the way they handled it."
November, 24, 2013
11/24/13
10:25
PM ET
EAST RUTHERFORD, N.J. -- The
New York Giants
finally faced a good quarterback again Sunday, and they came up short.
It wasn't a terrible defensive performance, but it wasn't nearly good enough. The Giants gave up a long touchdown drive in the second quarter, and another one in the third that included two critical penalties. And when the offense scored 15 unanswered points to tie the game at 21 in the fourth quarter, the defense let the Cowboys march right down the field for a game-winning field goal in the final seconds.
"We didn't do our job," defensive end
Jason Pierre-Paul
said. "We didn't do it good enough. They wound up winning the game. They were a better team than us."
[+] Enlarge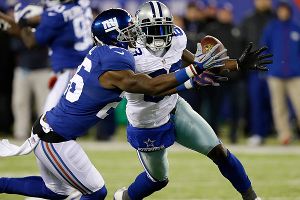 AP Photo/Seth WenigAntrel Rolle, left, and the Giants' defense came up short late in the fourth quarter against Dallas.
The third-quarter drive was particularly painful. Trailing 14-6, the Giants appeared to have forced a turnover, when Cowboys wideout
Cole Beasley
fumbled and the ball was recovered by safety
Will Hill
. But defensive end
Mathias Kiwanuka
was flagged for roughing the passer, negating the fumble.
Kiwanuka clearly did not agree with the call, but did not directly criticize the officials after the game. "That's how they're officiating the game obviously these days," he said. "As defenders, as guys who've been around the league for a while, we've seen the change, we have to be able to make that adjustment. But that's tough. I felt like I pulled off on him, but the ref saw it a different way."
On the very next play, safety
Antrel Rolle
picked up another 15-yard penalty, for unnecessary roughness. That placed the ball on the Giants' 6-yard line. Three plays later, the Cowboys led 21-6.
The normally mild-mannered Kiwanuka also drew a 15-yard unnecessary roughness penalty later in the third quarter, although the Cowboys did not score on that drive.
"It was definitely a lack of self-control," Kiwanuka said. "It hurt the team, and I gotta give credit to these guys. They had my back, and we went out there and got a stop."
"The one thing that I think we can learn from this is, the bigger the game, the more you have to control yourself, more poise," Giants coach Tom Coughlin said. "We lost it a couple of times, and it cost us."
On the game-winning drive, starting cornerback
Trumaine McBride
was unavailable after aggravating a groin injury. Rolle was forced to move over to cornerback -- something he's done in the past, but not in recent weeks.
"I can't say that I was at my best with my craft, with my press technique," Rolle said. "Certain times I think I was a little too antsy in my press technique, being that I haven't really been working down there for the last five, six weeks. ... (But) there's no excuses. You gotta make the plays."
Tony Romo
seemed to pick on Rolle as he marched the Cowboys from their own 20-yard line to the Giants' 16 over the final four minutes and change. The Dallas quarterback completed six of nine passes on that drive for 67 yards, including three passes to star wideout
Dez Bryant
.
"You gotta take your hat off to them," Rolle said. "I think Tony made some exceptional throws, and I think more importantly, Dez did a great job of holding onto the ball even when I was punching at it."
The Giants heard all week long that they still had something to prove. That shutting down the likes of
Josh Freeman
,
Matt Barkley
, a banged-up
Terrelle Pryor
and
Scott Tolzien
wasn't all that impressive. That they needed to stop a top-shelf NFL quarterback.
They certainly slowed down Romo. The Giants had four sacks, one interception, and held the Cowboys to 17 points. (The other seven were scored by the Dallas defense.)
But that wasn't good enough.
"That's the part that's gonna sting, because we had an opportunity," Kiwanuka said. "The offense went out there and did their job and put it in our hands, and we didn't get it done."
November, 24, 2013
11/24/13
10:10
PM ET
EAST RUTHERFORD, N.J. -- There would be no repeat of Week 1 for the Giants' receivers.
After torching the Cowboys' secondary for 450 yards in the season opener, the Giants' passing game totaled just 174 yards in Sunday's
24-21 loss
to Dallas at MetLife Stadium. The Giants' receivers pointed to the success of the running game, which ran for 202 yards, but the passing attack never got going and was often out of sync.
Receiver
Victor Cruz
made the costliest mistake of the game when he was stripped and Dallas returned the ball for a score, and receiver
Hakeem Nicks
was inactive for the first time all season.
[+] Enlarge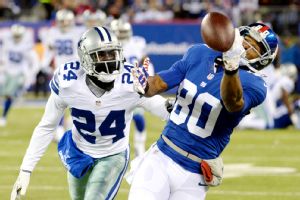 Robert Deutsch/USA TODAY SportsVictor Cruz hauled in just two catches for 27 yards.
"We didn't particularly throw the ball or have as much yardage as we would have thought with the passing game," Giants coach Tom Coughlin said.
Opposing offenses have had great success this year attacking Dallas through the air as the Cowboys entered Sunday's game ranked last in the NFL by allowing 313 passing yards per game. The Giants were privy to this information based on the last matchup with Dallas on Sept. 8, when Cruz, Nicks and
Rueben Randle
each went for more than 100 receiving yards in the Giants' 36-31 loss.
The Giants' running game had its way with Dallas' depleted defense, but the passing attack, once considered the strength of the team, couldn't get going as Manning and his receivers weren't on the same page. After catching five passes for 118 yards in the previous game, Cruz had just two for 27 yards. Randle led the team with three catches for 64 yards, but that was 37 less than he posted last time.
In a revealing sequence late in the second quarter, the Giants chose to run the ball on third-and-goal from the 10 rather than have Manning throw. The run was not enough and the Giants kicked a field goal.
"There were definitely voids and times where I was open. It was just different circumstances where Eli was sacked or Eli was moving other ways, things of that nature," Cruz said of Dallas' plan against him. "I don't think it was necessarily them doing a better job. I felt there were still voids and still routes open."
Cruz had the biggest blunder of the game when he fumbled after hauling in a 5-yard catch in the first quarter. As Cruz fought for an extra yard with two defenders draped over him,
Orlando Scandrick
pulled the ball out and it was recovered by
Jeff Heath
, who took it 50 yards to put the Cowboys up, 7-0.
It marked the third defensive touchdown the Cowboys scored against the Giants this season.
"I can't let those type of things happen," Cruz said. "I got to take better care of the football and know that they are doing that and they're going to try to come in there and strip it and take better care of it."
Leading up to the game, Nicks, who is bothered by an abdominal injury, said that he would play, which proved to be false confidence. The Giants certainly could have used him Sunday as Manning and Randle weren't always on the same page -- which has been an reoccurring issue -- and the Giants weren't able to get much from
Jerrel Jernigan
.
Louis Murphy
did catch his first touchdown pass.
"All week things happen throughout our team, coaches make decisions," Cruz said of Nicks not playing. "I have no part in that so obviously when I come in and I don't see him I'm going to be surprised."
November, 24, 2013
11/24/13
7:47
PM ET
EAST RUTHERFORD, N.J. -- A few thoughts on the
Dallas Cowboys
' 24-21
win
against the
New York Giants
on Sunday.
What it means:
The Cowboys find themselves back in first place in the NFC East with the win, thanks to the tiebreaker over the
Philadelphia Eagles
, and can claim an outright share of first place in the division with a win Thursday against the
Oakland Raiders
.

The Cowboys are 4-0 in the NFC East and swept the Giants for the first time since 2007. It is the fourth time since 1989 the Cowboys have started out 4-0 in the division.
With two weeks to stew over the worst loss of the Jason Garrett era (49-17 to the
New Orleans Saints
in Week 10), the Cowboys were able come up with a drive that led to a 35-yard, game-winning field goal by
Dan Bailey
.
A loss would have been traumatic for a team that would have started its traditional December slide a month earlier. Now, the Cowboys figure to find themselves in the race for the rest of the season. Oh, and they all but eliminated the Giants, who entered on a four-game winning streak.

Stock watch:
Tony Romo
, rising. With the season on the line, like it was against the
Minnesota Vikings
earlier in the month, Romo responded on the Cowboys' final drive, completing six of nine passes to set up the winning kick. Two of the incompletions were drops by
Miles Austin
and
Dez Bryant
, respectively. With everybody wondering what Romo would do in a big moment, he came up big.
Clutch late:
Before the final drive of the game for the Cowboys, the only third-down conversion was
Jason Witten
's third-quarter touchdown. On the winning drive, the Cowboys converted three times on third down.
Bryant had a 19-yard grab after a third-and-7 following a
Tyron Smith
false start penalty. Bryant converted on third-and-5 with an 8-yard grab from the slot. On third-and-10,
Cole Beasley
picked up 13 yards to set up Bailey's game winner.
Still can't stop the run:
The Cowboys have been historically bad with their pass defense through 10 games, but what was lost in the New Orleans game was just how poor their run defense was.
The Saints ran for 242 yards against the Cowboys. The Giants ran for 202 Sunday.
Andre Brown
had 127 yards.
Brandon Jacobs
had 75 yards.
The Cowboys missed
Sean Lee
badly.
Ernie Sims
was consistently out of position, but the defensive line didn't do much to help the linebackers, either.
It was the third time the Cowboys have allowed 200 yards rushing in a game. The
Washington Redskins
had 216 on Oct. 13.
What's next:
The Cowboys have a quick turnaround with the Raiders visiting AT&T Stadium on Thursday for the annual Thanksgiving Game. The Cowboys have lost two of their past three games on Thanksgiving but beat the Raiders 24-7 on Nov. 26, 2009.
November, 24, 2013
11/24/13
7:39
PM ET
EAST RUTHERFORD, N.J. -- A few thoughts on the
New York Giants
' 24-21
loss
to the
Dallas Cowboys
:

What it means
: You have to think it's over now, right? The Giants' four-game winning streak came to an end in a tough game in which
Dan Bailey
's 35-yard field goal went through the uprights as time ticked away, and now they are 4-7 with five games left in their season. The Giants ran the ball well, but
Eli Manning
and the passing game couldn't even get 200 yards against a pass defense that was allowing a league-worst 313 yards per game coming in. Now, the Giants need to win all five of their December games just to finish above .500. Dreams of a miracle run to the playoffs all but died in the cold at MetLife Stadium on Sunday.
Stock watch
: The running game -- UP. The Giants ran for more than 200 yards in a game for the first time since Oct. 7 of last year.
Andre Brown
went over 100 yards for the second time in his three games this season, and
Brandon Jacobs
contributed with a couple of surprisingly big plays. His 37-yard gain in the first half was the first Giants' run play of the season that covered at least 20 yards. The interior of the offensive line, even after losing center
Jim Cordle
to a knee injury, did a fine job of opening holes for the running backs, and the Giants stuck with the run even though they were trailing all game.
Sacks are back
: After being largely absent during the season-opening, six-game losing streak, the Giants pass rush has returned over the past month. They sacked
Tony Romo
four times Sunday. Defensive tackle
Cullen Jenkins
collected two by himself as the interior of the Giants defensive line continues to be a consistent strength of the team.
Bonehead plays:
There were plenty both ways, but
Mathias Kiwanuka
picked up a couple of damaging personal-foul calls that ranked among the lowlights of the 11 penalties assessed against the Giants. The Cowboys were called for 11 as well.
What's next
: The Giants play their first road game since Oct. 27 when they travel to Washington for an 8:30 p.m. ET game against the
Redskins
next Sunday night. The Redskins are 3-7 heading into this week's "Monday Night Football" game against the
49ers
.
November, 24, 2013
11/24/13
7:05
PM ET
EAST RUTHERFORD, N.J. --
Dallas Cowboys
cornerback
Morris Claiborne
will not return to the game against the
New York Giants
because of a hamstring injury. Claiborne has missed the past two games with a hamstring injury, and has struggled with his health most of the season.
He's played through a separated shoulder, suffered in the first meeting with the Giants, and he's dealt with a hamstring injury the past few weeks.
Last week, Claiborne said his shoulder is completely healthy and that he was running full speed in practice this past week.
November, 23, 2013
11/23/13
2:00
PM ET
A Week 1 loss to the
Dallas Cowboys
was the first of six straight defeats to open the
New York Giants
' season. Since that 0-6 start, the Giants have won four in a row to move a game behind the second-place Cowboys in the NFC East. Revenge for the season opener, as well as their still-flickering hopes of a historic comeback, is on the Giants' minds as they prepare to host the Cowboys at 4:25 pm ET Sunday at MetLife Stadium. Here are some things to look for if you're heading or tuning in to the game.


Prince Amukamara vs. Dez. Bryant
: Amukamara, the Giants' top cornerback, is likely to draw the bulk of the assignment of stopping Bryant, the Cowboys' dynamic top wide receiver. Bryant had just 22 yards on four catches in the opener, largely because the Giants were able to double-team him for most of the game. But rookie
Terrance Williams
hadn't established himself as a major threat yet, and the Giants may have to adjust due to Williams' improvement and
Miles Austin
's anticipated return from a hamstring injury. That could leave Amukamara against Bryant one-on-one in some instances, and it will be important for Amukamara to be able to win the physical matchup downfield against Bryant. Amukamara doesn't mind getting physical with receivers, but Bryant is as tough a challenge as any this side of Detroit.
Is this the week for the passing game?
Eli Manning
had his best game since the opener Sunday, and the Cowboys are allowing a league-high 313 passing yards per game this year. That bodes well for Manning and a wide receiving corps that saw three different guys eclipse the 100-yard mark in Week 1. Questions surround the health of
Hakeem Nicks
, who doesn't have a touchdown catch all year. But if he can play and the receiving corps is at full strength, this could be the best chance yet for Nicks,
Victor Cruz
and
Rueben Randle
to return to that Week 1 form.
Lacking Lee:
Cowboys linebacker
Sean Lee
is out for this game with a hamstring injury, and the significance of that is not lost on the Giants. Running back
Andre Brown
called Lee "the quarterback of their defense." Lee is an instinctive sideline-to-sideline difference-maker whose absence should offer the Giants greater opportunity in the run game and in the short passing game.
Rattling Romo:
The Giants sacked Cowboys quarterback
Tony Romo
twice in the opener, but their pass rush wasn't clicking the way it has been lately. Since they play Romo twice a year, the Giants know he's able to extend plays with his feet, and they will work to pressure him without letting him escape the pocket. It'll be a tougher test for a defense that has built the current four-game win streak against lesser quarterbacks.