NFL Nation:

2013 Week 12 MIN at GB Rapid Reaction
July, 31, 2014
Jul 31
4:59
PM ET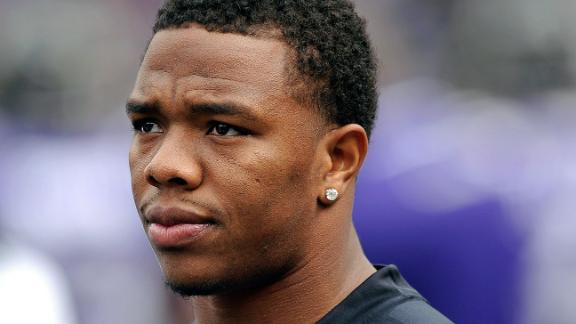 OWINGS MILLS, Md. -- In stark contrast to
Ray Rice
's awkward news conference in May, the
Baltimore Ravens
running back showed Thursday that he finally understood the weight of his actions from the alleged altercation with his then-fiancée in February.
He delivered the correct message, one the NFL failed to do last week with the two-game suspension, by not only apologizing to his wife, Janay Palmer, but also expressing a desire to become an advocate for domestic-violence causes.
Rice was compelling in his contrition, calling it the biggest mistake of his life. He stood in front of the microphone alone, without his wife standing by his side, and took full responsibility for the incident. Perhaps more importantly, Rice actually said the words "domestic violence," which weren't heard in his statement two months ago.
"My actions were inexcusable," Rice said. "That's something I have to live with the rest of my life."
Before anyone pats Rice on the back, this is what he should have said the first time when he broke his silence in May. Instead, Rice nervously fumbled through notes on his phone and apologized to team officials and his sponsors. That debacle of a news conference came across as damage control to his image.
His 17-minute news conference Thursday hit the right tones. He apologized to all women affected by domestic violence. He accepted the blame for losing the respect of fans. Rice came across as genuinely sorry.
"I let my wife down, I let my daughter down, I let my wife's parents down, I let the whole Baltimore community down," Rice said.
Rice's biggest misstep was not talking about what happened in the elevator. He was asked twice about it and declined to answer both times. His stance against domestic violence would have resonated stronger if he had explained his transgressions.
"I'll be honest: Like I said, I own my actions," Rice said. "I just don't want to keep reliving the incident. It doesn't bring any good to me. I'm just trying to move forward from it. I don't condone it. I take full responsibility for my actions. What happened that night is something that I'm going to pay for the rest of my life."
The only way Rice can move forward from this incident and show he's truly sincere is through his actions. It's not by his words. It's not by a hefty donation, which is merely a gesture. It's by proving this will remain a "one-time incident" and by supporting domestic-violence causes.
Thursday represented a small step forward for Rice. But it was an important one.
November, 24, 2013
11/24/13
5:03
PM ET
GREEN BAY, Wis. -- A few thoughts on the
Green Bay Packers
'
26-26 tie
against the
Minnesota Vikings
on Sunday at Lambeau Field:

What it means
: Well, the Packers' three-game losing streak is over. That's about all you can say about this one. One of the more improbable comebacks in recent Packers history will end up being an almost. Not a loss, but not a win, either. Backup-to-the-backup quarterback
Matt Flynn
rallied the Packers from a 23-7 deficit and into overtime -- where the Packers scored first on a field goal but couldn't get one last stop. On a day when the NFC North co-leading
Chicago Bears
and
Detroit Lions
both lost to fall to 6-5, the Packers couldn't get a share of the division lead. Their first tie since Sept. 20, 1987, left them at 5-5-1.
Stock watch
: All those good feelings about backup quarterback
Scott Tolzien
after he threw for 339 yards a week earlier in his first start against the
New York Giants
were wiped out on Sunday, when he was inaccurate and ineffective. Packers coach Mike McCarthy pulled Tolzien after he went three-and-out on his first series of the second quarter. Tolzien completed just 7 of 17 passes for 98 yards. He scrambled for the Packers' first touchdown, scoring on a 6-yard run in the first quarter. Flynn, who finished 21-of-36 passing for 218 yards with one touchdown and no interceptions, likely will take over as the starter unless
Aaron Rodgers
can return from his broken collarbone for Thursday's game at Detroit.
All Lacy, all the time:
Rookie running back
Eddie Lacy
turned in one of his most complete games of the season with another 100-yard rushing game (25 carries for 110 yards) and his sixth rushing touchdown of the season. Lacy also was more involved in the passing game than usual. He caught six passes for 48 yards but left the game in overtime with an undisclosed injury.
Early two
: Those who have followed me on Twitter over the years know I'm passionate about when to go for the two-point conversion. I've long maintained that doing it with more than eight minutes left in the game is a mistake because you never know what that one point that you're risking might mean. Yet when the Packers went for two with 11:42 left after they had cut the deficit to 23-13, I thought it was a good idea. Turns out, I should have stuck to my own beliefs. Had the Packers kicked the PAT,
Mason Crosby
's 27-yard field goal with 46 seconds left in regulation would have put the Packers ahead by a point.
What's next
: The Packers have their shortest turnaround of the season when they play at Detroit on Thursday in the Lions' annual Thanksgiving Day game.
November, 24, 2013
11/24/13
4:58
PM ET
GREEN BAY, Wis. -- A few thoughts on the
Minnesota Vikings
'
26-26 tie
with the
Green Bay Packers
on Sunday.

What it means:
Well, it's hard to say. On one hand, the Vikings (kind of) broke their four-game losing streak at Lambeau Field, and have to be encouraged by many of the things
Christian Ponder
did on Sunday. But there's no getting around the fact Minnesota had a 23-7 lead in the fourth quarter and appeared ready to deliver a body blow to their biggest rival. Well, at least we know they probably won't end up in a tie in the draft standings.
Stock watch:
Rising:
Toby Gerhart
. The backup running back has talked many times about how he's auditioning for his shot at free agency next year after spending three years behind
Adrian Peterson
, and when he got his chance to work on Sunday, Gerhart didn't disappoint. He gained 91 yards on eight carries, getting more work than usual while Peterson played with a strained groin, and broke several big runs on the Vikings' game-tying overtime drive after the Packers started the extra period with a field goal. Gerhart didn't match his career high of 109 yards, but as he gets close to free agency, he might have made himself a little money with what he did on Sunday.
Running game surges:
Peterson, who was listed as questionable with a strained groin, churned out 146 yards on 32 carries, joining Gerhart to put together the Vikings' best running game of the season. The Vikings finished with 232 rushing yards, eclipsing their previous season-best total of 169 yards on Nov. 3 against the Cowboys.
Vikings' CB depth tested:
Rookie cornerback
Xavier Rhodes
had the finest game of his short career, breaking up a handful of passes, including one in the end zone, but he left the game for several series after landing awkwardly on a pass breakup late in the third quarter. As a result, the Vikings -- who had already lost
A.J. Jefferson
to a neck injury and were missing
Josh Robinson
because of a fractured sternum -- had to use backup safety
Robert Blanton
at slot cornerback while
Marcus Sherels
took Rhodes' spot in the base defense. Rhodes was able to return to the game in the fourth quarter, before eventually leaving with concussion symptoms.
What's next:
The Vikings (2-8-1) return home to face the
Chicago Bears
next Sunday.