NFL Nation:

2013 Week 12 SF at WAS
November, 26, 2013
11/26/13
2:55
AM ET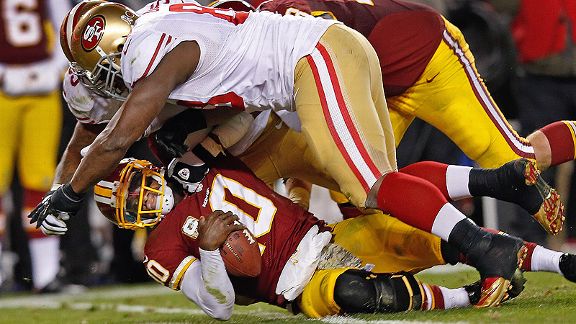 AP Photo/Alex BrandonAfter going 10-6 and winning the NFC East last year, the Redskins are 3-8 through 11 games.
LANDOVER, Md. -- They don't have the answers, though they certainly say all the right things. They're trying hard. They're led by the right people. They have the right guys in the locker room. Here's the thing: Parades aren't thrown for those accomplishments. Not when you're four years into a regime.
The
Washington Redskins
are 3-8. They're 3-8 in a season that began with high expectations. They're 3-8 and headed nowhere fast, all the while trying to convince everyone, most of all themselves, that they're moving in the right direction.
They'll have to forgive everyone outside the organization for thinking this is not the right direction. Some of it can be explained, but not all. If they have the right players and have the right coaches and have the right organization, then they would be better than this. They would put up a better showing on prime-time TV than
losing 27-6
to the
San Francisco 49ers
.
At this point, you must question everything, because nothing seems to be working.
"We certainly deserve some criticism now, that's for sure," Redskins guard
Kory Lichtensteiger
said.
If the coaching is fine, as the players say, then it's on the players. If the players are good enough, as they still say they believe, then it's on the coaches. If both of those are working to their capability, then it's on those responsible for bringing in those players.
Something is not working. It's not just the quarterback. You can point your finger just about anywhere and have a legitimate beef. You want to blame head coach Mike Shanahan? Go ahead. You want to blame defensive coordinator Jim Haslett? Have at it. You want to target special-teams coordinator Keith Burns? Stand in line. You want to point the finger even higher and look at the owner, Dan Snyder? Fair game.
The Redskins have gone from being a team playing badly to just being a bad team. It's not about the record; it's about the way they've gotten there. It's about the fact that they haven't played a complete game at any point this season. It's about needing to do so in the next five weeks.
"It's fair at this point to wonder," Lichtensteiger said, when asked if they're just a bad team. "It's just a bad display of football tonight by us."
True, the salary-cap penalty (brought on by their actions, others would say) put them in a bad spot. They couldn't fill holes they knew were coming or already existed. True, the quarterback's lack of an offseason hurt as well. It prevented a quarterback who needs to learn to pass at an NFL level from taking what he learned as a rookie and improving upon it.
But does that explain all that has gone wrong? No, it does not. If everyone wants quarterback
Robert Griffin III
to look in the mirror and accept blame for his shortcomings, then everyone else must do the same, starting at the very top of the organization. Good organizations win consistently. The Redskins have not done so since 1992. If they had been banged up all season plus had those other issues? OK, a 3-8 fall would not be inconceivable. That hasn't been the case.
They've collected players who won't blame one another. That's great -- and to this point players have not done so. They're more shocked than anyone at what has happened. But four years into a regime, there should be more to hang your hat on than this, especially when an owner will have a decision to make in a month or so: Do you extend the contract of the head coach or tell him he must serve as a lame duck? Or do you fire him? You need to provide more than talk. There has to be an upward stretch over the next five weeks.
[+] Enlarge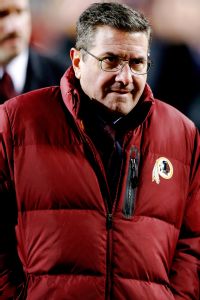 AP Photo/Joe RobbinsThe blame for this disappointing season stretches all the way to owner Dan Snyder.
"At the end of the day the only stat that matters is the win and loss column," Redskins left tackle
Trent Williams
said. "You can choose and judge by that and you can make your own opinion. I'm never going to say we're a bad team."
That's not the players' job, of course, to say such a thing.
"What am I supposed to do? Come up here and talk about how bad we are?" Griffin said. "My job is to answer your questions and move on to the next day and get better. ... I mean, I love my guys. I'll go to war with them any day."
It's the proper attitude to have. Again, it's a locker room full of proper attitudes. The locker room culture is better than it was during Jim Zorn's two seasons as coach, when backstabbing happened all the time. You still don't hear players knocking the head coach; even privately, it's just the opposite.
But it's not enough anymore to sell that, because the locker room will change after this season. The defense needs an overhaul and there are only three defensive regulars who will be 26 or younger next season -- linebacker
Ryan Kerrigan
, corner
David Amerson
and end
Jarvis Jenkins
. That means a defensive rebuild is coming. That means more change next season. Are you confident the right changes will be made?
"This is unacceptable when you look at what we were able to accomplish last year," linebacker
London Fletcher
said. "To be where we're at, it's not a good feeling at all. Individually, you have to look at yourself."
Yes, they do.
"We had high hopes, but we understood talk is cheap," said defensive end
Kedric Golston
, who has been with the team since 2006. "That's been our message. We're prepared and we work hard and we're coming up short. It's frustrating, but the onus is on us, the people in this locker room and the people in this organization. We can't blame anybody else for it."
The tough part this season? There's so much blame to go around. There are so many areas that need to be fixed.
November, 26, 2013
11/26/13
2:50
AM ET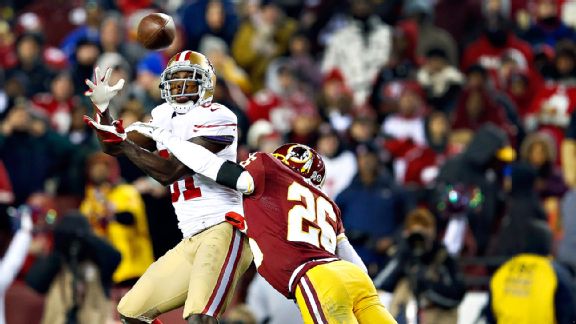 AP Photo/Evan VucciAnquan Boldin's 94 receiving yards were the most he's had since Week 1.
LANDOVER, Md. -- In the past two weeks, the
San Francisco 49ers
watched their grip on a playoff berth grow shaky after losing two games by a combined total of four points. They went from being one of the hottest NFL teams to a 6-4 club lacking an offensive identity.
Yet, as the 49ers traveled across the country to play under the bright lights of "Monday Night Football," coach Jim Harbaugh wasn't interested in style points or making statements. After falling at home to the
Carolina Panthers
by a point and losing a controversial game at the
New Orleans Saints
by a field goal, the 49ers cared only about winning.
It was a relieved Harbaugh who met the media Monday night after his team got back on the winning track with a dominant
27-6 victory
over the hapless
Washington Redskins
.
"By any means necessary," Harbaugh said after the game. "That's what we wanted. We just wanted to win."
However, it was significant that the 49ers made strides in cleaning up their most pressing issue: the offense.
If the 49ers are going to beat out the
Arizona Cardinals
for the final NFC playoff spot (the NFC West rivals are tied for the second wild-card berth with 7-4 records), their offense is going to have to stay as effective as it was Monday night. San Francisco has played championship-level defense most of the season. In the losses to Carolina and New Orleans, it was the offense that lagged with fewer than 200 total yards in each game. Against the Redskins, the 49ers totaled 304 yards.
"We did some big things in the passing game tonight," San Francisco running back
Frank Gore
said. "Good things happened. We needed it."
The 49ers, who scored at least 31 points in each game during a five-game winning streak earlier this season, weren't perfect offensively Monday. But they were much improved from the past two weeks and did more than enough to win.
The key was that quarterback
Colin Kaepernick
pressed the offense down the field. In what could be a good sign heading down the stretch, Kaepernick actually had multiple passing options.
Mario Manningham
, in his third game since returning from a knee injury, was a key target in the first half and finished the night with a season-best four catches for 45 yards.
While Manningham's numbers look modest, his presence was enough to spring loose
Anquan Boldin
and
Vernon Davis
. Boldin and Davis had faced double- and triple-teams all season as the 49ers' only receiving threats, and it often caused the offense to stagnate. But Manningham's effectiveness changed that dynamic.
The result was that Kaepernick played freely and confidently. The 49ers moved the ball.
Kaepernick was 15 of 24 for 235 yards with three touchdowns (two to Boldin and one to Davis), his most since having three in Week 1, and no interceptions. Kaepernick has thrown for 14 touchdowns this season, all to Davis (nine) and Boldin (five).
According to ESPN Stats & Information, Kaepernick went 6 of 9 for 158 yards and a touchdown on passes that traveled at least 15 yards downfield. Kaepernick had entered Monday night with a 36.5 completion percentage on such throws.
"We got back to being explosive tonight," San Francisco guard
Alex Boone
said. "We really got back to having success in the passing game. … I think having Mario out there really helped. It just gives us more weapons."
The 49ers will be getting deeper, too.
Michael Crabtree
is expected to be activated to the 53-man roster Tuesday. He has been out since May with a torn Achilles tendon. Harbaugh said Monday night he anticipates that Crabtree, the 49ers' No. 1 receiver, will play Sunday against the
St. Louis Rams
. It would be a stretch to think Crabtree will be a major factor immediately, but he should be near full strength in the next few weeks.
Monday provided a glimpse of what this offense can do when Kaepernick has options. Naturally, Kaepernick has taken the brunt of the criticism for the 49ers' offensive woes, but I've maintained that his struggles had more to do with the pieces he had to work with.
Things should only be getting better for Kaepernick and San Francisco.
If so, the 49ers (who have won six games by double digits, second most in the NFL behind Denver) will catapult right back to being one of the NFL's most dangerous teams. If the passing game is on track, there are few weaknesses left.
According to Harbaugh, style points weren't the goal Monday night, but if this team is going to play into January, offensive style points will become a necessity. Monday's performance showed that the 49ers have enough passing threats on the roster to succeed when it counts.
November, 25, 2013
11/25/13
11:33
PM ET
LANDOVER, Md. -- A few thoughts and observations after the
Washington Redskins
' 27-6
loss
to the
San Francisco 49ers
:

What it means:
The Redskins are a mess. They're 3-8 and have dropped the notion that they can turn their season around. Now they just have to salvage it and prove that they are indeed headed in the right direction. You can blame the salary-cap penalty and
Robert Griffin III
's knee all you want, but this team has more issues that must be addressed. The Redskins are now staring at a third double-digit loss season in four years and that can't be acceptable for anyone, not when the team -- from the top on down -- expressed great optimism in the summertime despite knowing they were coming off two years of cap hell and that Griffin had no offseason. San Francisco is a better team so there's no shame in losing, but to not play well at home and on "Monday Night Football" is not a good thing. The Redskins have five weeks to prove that another direction is not needed.
Stock report:
Down -- cornerback
Josh Wilson
. He was in a mismatch against the 49ers' bigger targets -- not just in terms of height, but overall size. A tough night for Wilson. Also, Griffin and the pass game in general. His protection did not help him, but Griffin was unable to make plays on his own downfield. The 49ers used a lot of two-deep looks, which always makes it difficult for this passing game. Griffin missed one chance when he failed to lead
Aldrick Robinson
on a deep ball. Robinson still had a chance to catch the ball -- and should have caught the ball -- but if Griffin throws it out front a little bit it's a touchdown. That is, if Robinson catches it on the run. Still, too many breakdowns up front, including by left tackle
Trent Williams
.
Wherefore art thou?:
Tight end
Fred Davis
barely played and was not much of a factor when he did get into the game. We'll have to find out why that's the case and if there were circumstances that kept him from playing more (his week of preparation, for example). The Redskins' starting tight ends,
Logan Paulsen
and
Niles Paul
, did not play well.
Second-half breakdown:
The Redskins had just 30 total yards in the second half after gaining 160 in the first half. They managed just 7 yards in the third quarter.
Up next:
The Redskins get to play another game in prime time, which is probably not what this team needs. They host the
New York Giants
on Sunday night. America might be giving thanks on Thursday; it probably won't be Sunday night.
November, 25, 2013
11/25/13
11:30
PM ET
LANDOVER, MD. -- A few thoughts from the
San Francisco 49ers
' 27-6
victory
over the
Washington Redskins
on Monday night.

What it means:
The 49ers' short funk is over. San Francisco saw a five-game winning streak end with back-to-back losses to Carolina and New Orleans -- by a combined total of four points. The defeats dropped the 49ers to 6-4 and made their playoff chances murky. Monday night's victory puts them at 7-4 and on pace to be the sixth and final NFC playoff team. However, NFC West rival Arizona also has a 7-4 record. It could setup a major showdown in Arizona in Week 17.
Stock watch:
49ers quarterback
Colin Kaepernick
and the passing offense got rolling again after struggling in the past two weeks. Kaepernick had downfield success and threw touchdown passes to
Anquan Boldin
(two) and
Vernon Davis
. Receiver
Mario Manningham
gave San Francisco another option, with four catches for 45 yards.
Defense stifles Griffin:
The 49ers defense has been playing at a high level all season and played well enough to win against the Panthers and the Saints. That didn't change Monday night: The 49ers dominated the Redskins. Washington quarterback
Robert Griffin III
was harassed all game and was unable to do much against a defense that was led by
Ahmad Brooks
,
NaVorro Bowman
,
Justin Smith
and
Aldon Smith
. Aldon Smith had his first two sacks since coming back from treatment for substance abuse. He was dominant in this game.
Points off turnovers:
The 49ers cashed in with a field goal after an interception and have now scored on 19 consecutive drives after getting a turnover. They have an NFL-high 101 points off of turnovers.
East Coast success continues:
The 49ers are now 7-1 on the East Coast since 2011. That does not include a win at London earlier this season. No other West Coast-based team has had as much success on the East Coast during that stretch.
What's next:
The 49ers host St. Louis on Sunday -- a rematch of Week 4, when the 49ers beat the host Rams 35-11. The Rams and 49ers tied in San Francisco last year. The Rams have been playing improved football in recent weeks behind backup quarterback
Kellen Clemens
.
November, 25, 2013
11/25/13
8:00
PM ET
LANDOVER, MD. -- There were no surprises on the
San Francisco 49ers
inactive list Monday night.

Here are the team's inactives against Washington: quarterback
McLeod Bethel-Thompson
, receiver
Quinton Patton
, cornerback
Tarell Brown
, guard
Mike Iupati
, tight end
Garrett Celek
, defensive
Ray McDonald
and defensive tackle
Tank Carradine
.
Iupati (knee), Brown (ribs) and McDonald (ankle) are the injured starters.
Adam Snyder
will replace Iupati,
Tramaine Brock
replaces Brown and
Tony Jerod-Eddie
and
DeMarcus Dobbs
will spell McDonald.
Carradine has been inactive all three games he's been on the active roster. He is still recovering from a torn ACL he suffered in 2012 at Florida State. He is also getting acclimated to the 49ers' system. The team hopes he can play late this season.
November, 25, 2013
11/25/13
7:58
PM ET
LANDOVER, Md. -- The
Washington Redskins
will try to snap a two-game losing streak without three starters, one of whom they already knew wouldn't play. But in addition to tight end
Jordan Reed
, the Redskins will be without starting defensive end
Stephen Bowen
and fullback
Darrel Young
because of injuries. Also, ESPN980 reported that
Santana Moss
would handle punt-return duties Monday night.

Bowen was not rushing as well as he has in previous seasons, but his play against the run has been solid. He re-injured his right knee last week against Philadelphia and did not practice all week.
Chris Baker
will replace him in the starting lineup. Though Baker can be disruptive at times, he also has a tendency to play undisciplined and leave gaps in the defense. Still, he can occasionally make plays in the backfield.
The Redskins don't have a backup fullback, but their tight ends are familiar with the position enough that they can fill in. Indeed, tight end
Niles Paul
will play fullback for Young. They'll also use tight end
Fred Davis
for the first time since an Oct. 13 game at Dallas. Davis, a pending free agent, is not as athletic as Reed but has been aching for another chance since losing his starting job earlier this season. The Redskins didn't sour on Davis as much as they liked others for what they needed, including
Logan Paulsen
as a blocker. But this will be a good chance for Davis to prove what he can still do.
As for Moss, he'll apparently take over for
Nick Williams
after a rough debut a week ago. Moss at least gives the Redskins an experienced returner, something they have not had all season in
Josh Morgan
and then Williams. It's surprising it took this long for them to go with Moss, but they've wanted to save him for slot duty and not wear out the 34-year-old.
San Francisco will be without starting guard
Mike Iupati
and starting defensive lineman
Ray McDonald
. Iupati does a good job pulling for the 49ers and will be replaced by
Adam Snyder
.
Demarcus Dobbs
will replace McDonald on the left side. They already were down starting corner
Tarell Brown
, who will be replaced by
Tramaine Brock
.

NFL SCOREBOARD
Thursday, 8/21
Friday, 8/22
Saturday, 8/23
Sunday, 8/24
WEEKLY LEADERS