NFL Nation:

2013 Week 12 Upon Further Review AFC
November, 25, 2013
11/25/13
12:00
PM ET
An examination of four hot issues from the Denver Broncos' 34-31 overtime loss to the
New England Patriots
on Sunday.
[+] Enlarge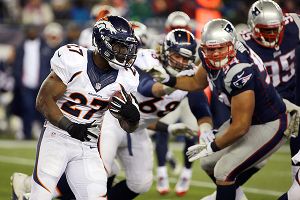 AP Photo/Stephan SavoiaDenver's Knowshon Moreno has been the most reliable running back for the Broncos -- but it's time for someone else to help shoulder the load.
Working overtime:
Broncos running back
Knowshon Moreno
tore an ACL in 2011 and had another knee procedure this past offseason, and the Broncos have consistently talked about watching his workload. But then their other running backs kept fumbling the ball -- both
C.J. Anderson
and
Montee Ball
lost the handle against the Patriots on Sunday night -- so Moreno has been left as Mr. Reliable or the one, offensive coordinator Adam Gase said, who has "that trust factor." And after 37 carries as the piece of the team's offense that could function in the cold Sunday night, Moreno left Gillette Stadium in a walking boot on his right leg. With his 27 carries the week before against the Chiefs, Moreno's 64 carries in the past two games are more than he had in the previous four games combined before the win over Kansas City. Somebody else in that running backs meeting room must now step forward.
Thinning out:
The Broncos kept 11 defensive backs on the roster when they exited the preseason, and at the time it looked like a healthy surplus. But then
Champ Bailey
aggravated his left foot injury in Indianapolis, and he has played in just two games this season. Then
Rahim Moore
had surgery on his lower left leg, and on Sunday, two other defensive backs left the game.
Dominique Rodgers-Cromartie
suffered a freakish shoulder injury trying to make a diving catch on a Hail Mary play to end the first half Sunday night, and
Omar Bolden
suffered a concussion in the second half. It means
Quentin Jammer
will have to play more on the outside and rookie
Kayvon Webster
is going to act and play like a starter.
Cold as ice:
The Broncos and quarterback
Peyton Manning
continue to say the cold isn't an issue on offense, that Manning practices in it all the time. But all the rest of the world has to go on is the past two games the team has played in below-freezing temperatures. Against the Ravens in the playoff loss in January when kickoff temperature was 13 degrees (and wind chill was 2 degrees), Manning was 28-of-43 with two interceptions and didn't push the ball down the field. Sunday night, with a kickoff temperature of 22 degrees (and a 22 mph wind made the wind chill 6 degrees), Manning was 19-of-36 for 150 yards and an interception. For many, the Broncos' cold-weather postseason prospects will continue to be a question mark until they all show, including Manning, that it isn't.
It's time:
Broncos interim head coach Jack Del Rio has said recently he liked rookie defensive tackle Sylvester Williams' progress this season, that Williams was ready for far more in the defense. He said that even as Williams was a game-day inactive three times this season, twice in the past four games. Now Williams will have to lift his game with Kevin Vickerson's right hip injury. Williams will have to play more and be an early-down force, especially in run defense, if the Broncos are to get some momentum going defensively down the stretch.
November, 25, 2013
11/25/13
11:30
AM ET
FOXBOROUGH, Mass. -- A review of four hot issues following the
New England Patriots
'
34-31 win
over the
Denver Broncos
:
Ridley's fumbles and his future:
It is often said that when a player carries the football, he carries the fate of the entire team in his hands. In that case, what do the Patriots do with lead running back
Stevan Ridley
? Ridley lost his third fumble in as many games and was benched after playing just five snaps. When asked whether the Pats had reached a breaking point with Ridley, Bill Belichick didn't directly address the question, but did say the team's ball security as a whole needs to improve (six fumbles, three of which were lost on Sunday night).
[+] Enlarge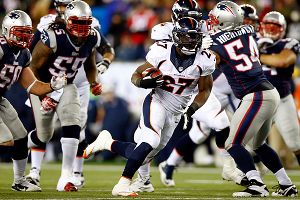 Jared Wickerham/Getty ImagesWith Knowshon Moreno producing, the Broncos were more than just a pass-happy offense.
Run defense:
The Patriots played Sunday night's game almost exclusively in their 4-2-5 nickel, which had them lighter in the box against the run. The results weren't pretty, as the Broncos gained 280 yards on 48 carries (5.8 average). Part of that is matchup-based and there is also a personnel element to it as well, as the Patriots obviously miss perennial Pro Bowler
Vince Wilfork
. As the Patriots look at areas for improvement, run defense when playing in the nickel is near the top of the list.
Injuries pile up:
Linebacker
Dont'a Hightower
came out of the game at the end of the second quarter and was one of three defenders not to play a snap in the second half, joining defensive tackle
Isaac Sopoaga
and cornerback
Alfonzo Dennard
. Each player's status will be monitored closely as the Patriots' defense is already short-handed. On offense, fill-in starting right tackle
Marcus Cannon
left in the second quarter with an ankle injury and didn't return. If Cannon is out for any length of time, it might require a roster move to add depth at tackle (practice squad tackle Jordan Devey is the top in-house option).
Avoiding the letdown:
After such an exciting, emotional win, the Patriots now travel to Houston to face a Texans team that has lost nine straight games. This reminds us of last year's trip to Jacksonville late in December. This week will be as much about the mental challenge as the physical one for the Patriots.
November, 25, 2013
11/25/13
9:00
AM ET
HOUSTON -- Analyzing four hot issues from the
Houston Texans
' 13-6
loss
to the
Jacksonville Jaguars
:
Watt
Revisiting the defense:
In my rapid reaction last night, I talked about the defense having issues as well as the offense. Truthfully, holding the Jaguars to 13 points should have been enough for a win. The Texans allowed only one touchdown and held firm in the red zone once.
J.J. Watt
had another good game with one sack and one blocked field goal. But the Jaguars did significantly outperform their season average for yards, gaining 333 on Sunday, and were right about at their season average for points per game (12.9). The real story, though, was about the Texans' offensive ineptitude.
Tate ineffective:
The Houston Chronicle dug up the statistic that
Ben Tate
became the first running back in the league this year to have only 1 yard rushing on seven or more carries. "We had planned on playing [running back
Dennis Johnson
] some, but when he went in he just looked so good running the ball so we played him a little bit more," Texans coach Gary Kubiak said. Johnson finished the game with 74 of the Texans' 77 rushing yards. It was a good day for Johnson, but against a team that allows an average of 133.5 rushing yards per game, the third most in the NFL, that doesn't say much.
Not much blitzing:
We've talked a lot about quarterback
Case Keenum
's inability to understand blitzes, but the Jaguars didn't do much blitzing at all. They sent five or more rushers on only eight dropbacks. Keenum completed 4 of 7 passes and was sacked once. They sent four or fewer rushers on 28 dropbacks. Keenum completed 14-of-26 on those with one interception and one sack. I'll write a little more about this later after reviewing each of Keenum's sacks this season. There are times when Keenum needs to be more aware of the right thing to do, and there are other times when the scheme could be more helpful.
Hopkins regression:
Rookie receiver
DeAndre Hopkins
was targeted five times and caught one pass for 8 yards. From afar it seems hard to blame the receivers for a lot of what was wrong with the offense because a lot of Keenum's throws were off target. (The interception, though, wasn't Keenum's fault, as it bounced off
Keshawn Martin
before it was intercepted.) Kubiak referred to a fourth-quarter pass to Hopkins as one of the plays the Texans "have to" make. Keenum went deep to Hopkins. "It was a pretty tough ball," Hopkins said. "I tried to keep my feet in bounds and it glazed my fingertips. I don't know. Maybe if I was 6-4, I would have caught it."
November, 25, 2013
11/25/13
8:21
AM ET
OAKLAND, Calif. -- A review of four hot issues from the
Tennessee Titans
' 23-19
win
over the
Oakland Raiders
at O.co Coliseum:
Third down:
Third down was key on both sides of the ball. The offense and defense were productive when it came time to stay on, or get off, the field. The offense converted 10 of 18 chances (7 of 9 in the second half). The conversions included two third-and-11s, two third-and-10s, three third-and-7s and a third-and-6. Defensively, the Titans allowed just three conversions by Oakland in 10 chances.
[+] Enlarge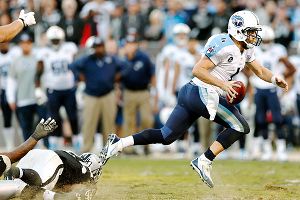 AP Photo/Beck DiefenbachRyan Fitzpatrick completed 30 passes for 320 yards against Oakland.
Perfect execution:
Offensive coordinator Dowell Loggains and quarterback
Ryan Fitzpatrick
deserve credit for the way they engineered the final drive. They had 6:10 to use and they used 6:00 of it as the Titans moved 80 yards in 14 plays. If they didn't score a touchdown to win it, leaving Oakland virtually no time, they were going to be in close field goal range to at least force overtime. They converted three third downs along the way. They didn't even need to use their third timeout.
Clean up:
Ten penalties for 100 yards were just killer, and I've noted in the past the Titans' inability to account for the way a game is being officiated. Once you're called for a couple of holds, shouldn't coaches be telling guys how it's being called and making them more conscious of it? Six holding penalties, four against the offensive line, demand better explanation than the Titans offered. First-and-20 is no way to live. One nice thing here: They committed just one defensive penalty. I know safety
Michael Griffin
was going low and tight end
Mychal Rivera
was going down at the same time. There was an element of bad luck, but it was still a hit against a defenseless receiver that isn't allowed.
Contributing nothing:
Kenny Britt
had two balls thrown his way, and dropped both. He had to dive for the second, but it went right though his hands. I figured the Titans would eventually need Britt again and get something from him. But it's probably past time to give up and start deactivating him.
Michael Preston
is on the practice squad and if
Damian Williams
needs another week to get healthy, the Titans probably should find a way to get Preston on the roster to be the fourth receiver. They can't have a receiver on the field who offers little to no chance of making a catch when the ball comes in his direction.
November, 25, 2013
11/25/13
8:20
AM ET
A review of four hot issues from the
Pittsburgh Steelers
'
27-11 win
against the
Cleveland Browns
:
[+] Enlarge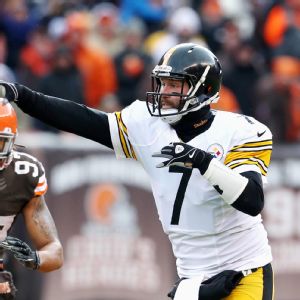 Ron Schwane/USA TODAY SportsBen Roethlisberger had a solid game in a win against the Browns, throwing for 217 yards and two TDs.
Big Ben shows his value:
The absurdity of why the Steelers would consider trading
Ben Roethlisberger
was highlighted late in the second quarter. Browns fans booed
Brandon Weeden
, a first-round draft pick in 2012, as he jogged onto the field to take over for the injured
Jason Campbell
. A Weeden incompletion led to a punt and two plays later Roethlisberger threw a 41-yard touchdown pass to
Antonio Brown
. Roethlisberger's primary target on the play that changed the complexion of the game had been
Jerricho Cotchery
. But when he saw the Steelers' No. 1 receiver race past Browns cornerback
Joe Haden
, Roethlisberger launched a throw into a stiff wind. Brown made a nice adjustment on the ball to haul in his sixth touchdown catch of the season. While Roethlisberger continues to torment the Browns, the Browns continue to cycle through quarterbacks. They already have given up on Weeden and are likely to use their first pick in the 2014 draft on a quarterback. The Browns, who passed on Roethlisberger in the 2004 draft, know as well as any team that finding a franchise quarterback is not easy. And when you have one, you hang onto him.
Hurry back:
Jason Worilds
hasn't just put pressure on opposing quarterbacks the past two games. He also may have turned up the heat on left outside linebacker
LaMarr Woodley
. Woodley has missed the past two games with a calf injury, and the highest-paid defensive player in Steelers history can't seem to stay healthy. Woodley has missed 11 games since injuring his hamstring in a late October 2011 win against the Patriots. In the 25 games he has played in since returning from that injury, Woodley has managed only nine sacks. Worilds has started for Woodley the past two games, and the fourth-year veteran has recorded a sack and accumulated double digits in quarterback hits. Worilds was credited with six pressures against the Browns.
Line shines against Browns:
The Steelers averaged just 2.5 yards per carry, but they ran the ball well enough to stick with it and achieve a perfect 50-50 split in running 34 times and attempting 34 passes as well. That balance helped keep the Browns from teeing off on Roethlisberger. So did an offensive line that has allowed only one sack in the past two games and didn't yield any to the Browns. "I thought they did a nice job," Steelers coach Mike Tomlin said of the offensive line. "I appreciate keeping him clean."
Defensive line shuffle?
Defensive end
Al Woods
recorded two sacks and two quarterback pressures, and he could play significant snaps if starting nose tackle
Steve McLendon
is lost for the rest of the season because of a broken ankle. The Steelers went with Woods instead of nose tackle
Hebron Fangupo
after McLendon went down at the end of the first quarter, and the former took advantage of his first extended playing time this season. Tomlin will provide an update on McLendon later today, but if he is sidelined for the rest of the season, Woods, Fangupo and
Ziggy Hood
could form a rotation at nose tackle.
November, 25, 2013
11/25/13
8:00
AM ET
KANSAS CITY, Mo. -- An examination of four hot issues from the
San Diego Chargers
'
41-38 win
over the
Kansas City Chiefs
.
[+] Enlarge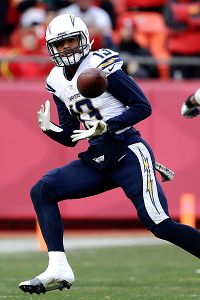 AP Photo/Charlie RiedelKeenan Allen caught nine passes for 124 yards, and he drew double coverage that opened things up for teammates.
Allen is a No. 1 receiver:
Yes, the Chiefs showed the ultimate respect for Chargers rookie receiver
Keenan Allen
. After he blistered the Chiefs for eight catches and 104 yards in the first half, Kansas City double-covered him, putting a safety over the top of the cornerback on his side. Allen finished with nine catches for 124 yards, but the double coverage opened up opportunities for teammates such as tight end
Ladarius Green
and slot receiver
Eddie Royal
. And it shows that Allen is emerging as a true No. 1 receiver in the NFL. Allen said he looked forward to playing against the Chiefs because the corners play so much press man coverage. "That's when I'm at my best," Allen said. "I can work a release off the line of scrimmage and make a guy miss."
Woodhead the utility man:
Running back
Danny Woodhead
did a little bit of everything for San Diego. He finished with an 11-yard touchdown reception and a 3-yard touchdown run. He made a block that allowed Royal to pick up an important first down on a scoring drive. And he finished with 137 kick-return yards, helping to give San Diego good field position. Woodhead has a career-high five receiving touchdowns this season, and he leads all running backs in receptions with 59 for 469 yards.
Time for Cox to take a seat:
Cornerback
Derek Cox
was benched for a third time in four games after giving up a touchdown to
Donnie Avery
. Cox was replaced in the lineup by
Richard Marshall
, and did not return. Cox obviously feels pressure to perform because of the four-year, $20 million deal he signed in the offseason. But Cox doesn't seem right physically; he doesn't appear to have the ability to hit another gear and run with faster receivers. Maybe it is time for him to be placed on injured reserve, or at least benched for an extended period of time until he gets his confidence back. Both Cox and coach Mike McCoy maintain the cornerback is healthy.
Home cooking:
Along with
Philip Rivers
leading the offense, one of the main reasons NFL observers are giving San Diego a shot to make the playoffs is because of the team's schedule down the stretch. The Chargers finish with four of their last five games at home, and still have three games against AFC West foes. The favorable schedule gives San Diego plenty of opportunity to make the postseason for the first time since 2009.
November, 25, 2013
11/25/13
8:00
AM ET
HOUSTON -- A review of four hot issues from the
Jacksonville Jaguars
' 13-6
victory
over the
Houston Texans
:
[+] Enlarge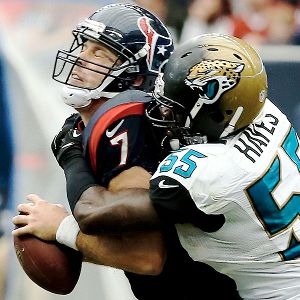 Scott Halleran/Getty ImagesJacksonville brought constant pressure against Case Keenum on Sunday.
Shorts involved:
Jaguars coach Gus Bradley and offensive coordinator Jedd Fisch said they were going to get receiver
Cecil Shorts
more involved in the offense this week after Shorts complained about getting only two catches in a loss to Arizona. They were true to their word. Shorts was targeted a team-high 11 times and caught a team-high eight passes for 71 yards. The Jaguars got him involved early, too, targeting him four times on their first three possessions.
Good gambles:
Bradley's new buzz word is "bold," and he's coaching that way. He went for it on fourth-and-goal from the 1-yard line on the game's opening possession and also called a Wildcat formation pass by
Denard Robinson
, a play that would have worked for a big gain had Shorts not dropped the pass. Bradley also told Fisch to stay with the offense and not just call running plays when the Jaguars got the ball back with 4:24 to play and clinging to a seven-point lead. "We preach to our players that we're going to be bold when opportunities present themselves," Bradley said.
Front plays well:
Texans defensive end
J.J. Watt
is usually the one who bats down passes at the line of scrimmage, but the Jaguars did a better job of that on Sunday. Defensive tackle
Sen'Derrick Marks
deflected two and defensive end
Andre Branch
deflected one. The front seven pressured quarterback
Case Keenum
all day, sacking him twice and hitting him five other times. The Jaguars generally don't blitz a lot, but defensive coordinator Bob Babich called several middle blitzes to try to get players in Keenum's face. Keenum said he never felt comfortable and could never get in a rhythm.
Henne hangs in:
Quarterback
Chad Henne
took a pounding against the Texans, especially early, but hung in there and had one of his better games despite not throwing a touchdown pass. Henne was sacked four times, including three in the first half, and hit 13 other times. Watt sacked him once and hit him five more times and linebacker
Whitney Mercilus
sacked him once and hit him four times. Despite the battering, Henne completed 23 of 32 passes for 239 yards. He did not throw an interception. "You just have to sit in there and sometimes you're going to get hit and sometimes you're not, but overall the offensive line did a good job," Henne said. "For the most part we got the ball out on time and really fought through and did really well."
November, 25, 2013
11/25/13
8:00
AM ET
An review of four hot issues from the
Cleveland Browns
' 27-11
loss
to the
Pittsburgh Steelers
:
Last seven:
The Browns have no one but themselves to blame for what has happened the last two games. In the last seven quarters, they've been outscored 68-18. And in that time they've given up a touchdown on a blocked punt, a fumble return and an interception return. They also had a blocked punt, fumble and interception set up three other touchdowns. That's 42 points directly given to the opposition.
Cameron
Big non-catch:
One small play in a game of many big ones did matter: Late in the first half,
Brandon Weeden
(who entered the game to replace Jason Campbell, who had suffered a rib injury) threw over the middle to tight end
Jordan Cameron
, who could not make the catch. That miss set up a short field for Pittsburgh, which capitalized on a long pass to
Antonio Brown
for a touchdown. Cameron said he simply should have made the catch.
Ordinary Joe:
Joe Haden
has been exceptional all season, but Brown had six catches for 92 yards and a 41-yard touchdown against Haden. The Browns corner misread the route on the touchdown, as he stopped, thinking Brown was going to make a move. Brown, though, kept going. Brown made some catches on Haden, but the overall picture on the Browns cornerback does not change. He has shut down a lot of the league's best receivers.
Nowhere to run:
At some point this season the Browns were going to see their poor running game catch up to them. The Browns ran 16 times for 55 yards, a total eclipsed by Pittsburgh's Le'Veon Bell alone. The Browns threw 52 passes. Game circumstance dictates a lot of play calls, but offensive coordinator Norv Turner lamented last week that the team had to throw 57 times against Cincinnati and said the Browns would not win doing that. Sunday they threw 52 times.
November, 25, 2013
11/25/13
8:00
AM ET
BALTIMORE -- A review of four hot issues from the
Baltimore Ravens
' 19-3
win
over the
New York Jets
:
[+] Enlarge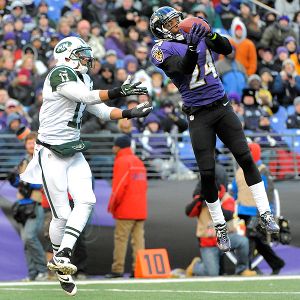 Lloyd Fox/Baltimore Sun/MCTCorey Graham's two interceptions helped the Ravens keep the Jets from converting on third downs.
Three-and-out
: The Ravens forced three-and-outs on eight drives. On the other five drives, Baltimore stopped New York twice with interceptions (both by
Corey Graham
). Overall, the Ravens didn't allow a conversion on 11 of 12 third downs. By holding the Jets to an 8.3 percent success rate on third down, the Ravens tied the fourth-best mark in team history. It was the stingiest effort of the season for Baltimore's defense. Three points was the fewest the Ravens have allowed since December 2009 and marked the 20th game in franchise history in which they've allowed three or fewer points.
No blitz, no problem
:
Joe Flacco
, one of the most blitzed quarterbacks in the NFL, surprisingly didn't face much extra pressure from the Jets, and he made them pay for it. Flacco was was 14-of-18 for 249 yards and a touchdown (his 66-yard strike to
Jacoby Jones
) against four or fewer pass-rushers, according to ESPN Stats & Information. This was a reversal for Flacco, who had struggled against standard pressure. When defenses dropped at least seven into coverage, Flacco had a 6-10 touchdown-interception ratio, which was tied for fourth-worst in the NFL. Perhaps the Jets should have blitzed more. When New York sent five or more rushers, Flacco was 3-of-8 for 24 yards and an interception.
Triple threat
: The Ravens decided to get wide receiver Jones more involved in the offense. His six targets Sunday were two more than he had in the previous two games combined, and it showed in his production. Jones caught four passes for 103 yards and a touchdown. In his previous six games, he had 160 yards receiving and one touchdown. This was Jones' first 100-yard receiving game of his two-year Ravens career and his first since he had 115 yards receiving while playing for the
Houston Texans
in 2010. It was an all-around game for Jones, who totaled 249 combined yards (103 receiving, 108 on punt returns and 38 on kickoff returns).
Kicking it up a notch
:
Justin Tucker
has made 22 straight field goals, tying
Matt Stover
for the second-longest streak in franchise history. The record is 36 in a row, which Stover set over two seasons (2005 and 2006). Tucker hit a season-long 53-yard field goal Sunday, the third time in four games that he's made one over 50 yards. For his career, Tucker is 8-of-9 (88.9 percent) from beyond 50 yards in his career. His eight field goals from 50 yards or longer ranks fourth in the NFL since he entered the league in 2008. Only
Blair Walsh
(12 FGs),
Sebastian Janikowski
(nine) and
Phil Dawson
(nine) have made more over that span.
November, 25, 2013
11/25/13
8:00
AM ET
A review of four hot issues from the
Miami Dolphins
' 20-16
loss
to the
Carolina Panthers
on Sunday:
Can't finish:
The Dolphins proved once again that they lack the killer instinct it takes to be a consistent winner in the NFL. Miami fell to 5-6 and blew its second double-digit lead in the second half in the past month. The Dolphins led the Panthers 16-6 at intermission and had Carolina (8-3) reeling. But Miami failed to put the Panthers away and let them score 14 unanswered points to close out the game. The Dolphins also blew a 17-3 halftime lead to the Patriots in late October. Miami will regret both losses.

Wallace
Big-play Wallace:
Dolphins fans have been waiting for quarterback
Ryan Tannehill
and speedy receiver
Mike Wallace
to make big plays. Tannehill finally connected on a 53-yard touchdown pass to Wallace and another 57-yard catch in the first half that gave Miami some early momentum. Wallace finished with five catches for a season-high 127 yards and a touchdown. However, Wallace and Tannehill did miss on two additional connections that could have made a difference in the outcome of the game.
Investigation pending
: The
Richie Incognito
-
Jonathan Martin
saga continues this week. NFL lead investigator Ted Wells spent a week in Miami talking to every Dolphins player, coach and key executives. ESPN's Adam Schefter reports Wells will take his findings back to Martin for a second interview. Both sides got a chance to tell their story as the NFL is starting to get to the bottom of the situation.
Jets week:
Next up for the Dolphins: a huge game against the
New York Jets
(5-6). Both AFC East rivals are fighting for the final wild-card spot with several other teams such as the
Baltimore Ravens
(5-6),
Tennessee Titans
(5-6) and
Pittsburgh Steelers
(5-6). Miami will play road games at the Jets and at the Steelers. These are essentially elimination games for the Dolphins.
November, 25, 2013
11/25/13
8:00
AM ET
An examination of four hot issues from the
New York Jets
'
19-3 loss
to the
Baltimore Ravens
:
[+] Enlarge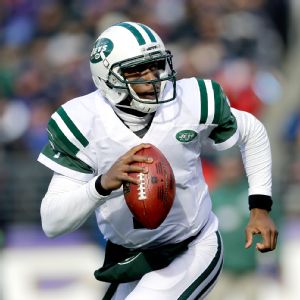 AP Photo/Patrick SemanskyWill coach Rex Ryan stick by and start struggling QB Geno Smith in the Jets' Week 13 game?
Potential division in the locker room
: Understandably, the defense is frustrated by the lack of production on offense. You could tell by the clenched jaws and short answers in the postgame locker room. Can you blame the defense for feeling that way? The Jets produced a season-low 220 total yards, almost taking an oh-fer on third down (1-for-12) and playing as if the field were 200 yards long. The defense was far from perfect, but it played well enough to win. In fact, the Ravens accounted for 126 of their 312 yards on two plays. The Jets have reached a vulnerable stage. If the locker room fractures, it would really hurt Rex Ryan's chances of keeping his job. So far, Ryan has done a nice job of building team chemistry, but those bonds will be tested if the offense continues to sputter.
The quarterback decision
: Rookie
Geno Smith
stunk up the joint again, committing three turnovers and completing only 9 of 22 passes for 127 yards. Afterward, Ryan was noncommittal, declining to say if Smith will remain his starter. That's hardly a vote of confidence, but I don't think it means he has decided to bench Smith in favor of
Matt Simms
. Ryan didn't want to discuss individuals after the game -- the company line -- saying he wanted to watch the tape first. The coach is in a precarious position. Ryan has to weigh several factors before making a decision, including accountability and locker-room impact. Turning to the unproven Simms would be a Hail Mary, but would he lose the locker room if he sticks with the mistake-prone Smith? Frankly, I'd be surprised if Ryan makes the switch now.
Biggest bust -- the secondary
: Looks like the defensive backs need more of those "Buddy Ryan drills," as Ryan called them. The coaches placed a huge emphasis on defending the deep ball, but the Jets still allowed 60- and 66-yard completions. The latter came against rookie cornerback
Dee Milliner
(yes, him again), who was torched by
Jacoby Jones
. Safety
Ed Reed
appeared to be late with deep help, but he was exonerated by Ryan. Cornerback
Antonio Cromartie
, continuing his disappointing year, allowed a 60-yard completion and left the game with a hip injury -- one that bears watching. The Jets have provided plenty of fodder for those who believe they should've kept
Darrelle Revis
.
Playoffs: Going, going ...:
The Jets, who began Sunday as the second wild-card team in the AFC, didn't destroy their playoff hopes. But now they're one of six teams at 5-6, all vying for the second wild card. In one day, they went from the No. 6 position to No. 10. The main problem for the Jets is they're 2-6 in the conference, having lost to three of those 5-6 teams: the Ravens,
Pittsburgh Steelers
and
Tennessee Titans
. In other words, they're in tiebreaker hell. The playoff chatter started after their Week 9 upset of the
New Orleans Saints
, but they've lost two straight for the first time, having been outscored 56-17. Playoff team? Gimme a break. At this rate, they're lucky if they make it to 8-8.
November, 25, 2013
11/25/13
8:00
AM ET
An examination of four hot issues from the
Oakland Raiders
'
23-19 loss
to the
Tennessee Titans
.
Porter
Playing soft:
The defense the Raiders were in with the Titans facing a third-and-goal from the Oakland 10-yard line with 15 seconds to play? Try a zone. "If I had to do it all over again," mused Raiders coach Dennis Allen, "I would have been more aggressive right there and come after them." Instead, with only a three-man rush coming after him, Titans quarterback
Ryan Fitzpatrick
had enough time to find
Kendall Wright
in a soft spot inside the 5-yard line, between slot cornerback
Tracy Porter
and cornerback
Phillip Adams
, and Wright plowed in for the game-winning score. "It was a great read and also the position I was in in zone coverage," Porter said. "Great throw by Fitz right between me and the corner, and it was difficult for both of us to make the play in such a short window." Said Allen: "Tracy was fine. It's a tough route versus the coverage that we were in ... put that one on me." It was a tough ending for the Raiders' defense, which allowed an 80-yard drive in 14 plays and six minutes after the offense had taken a 19-16 lead. Rookie cornerback
D.J. Hayden
being placed on season-ending injured reserve last week and starting cornerback
Mike Jenkins
leaving with a concussion early in the fourth quarter did not help matters.
Get off the field:
A strength of the Raiders' defense had been its ability to get off the field on third down. Not against Tennessee, though. The Titans picked up 175 yards on third-down conversions for the game, including four that were third-and-10 or longer. The Titans were 7-for-9 in the second half and 10-for-18 overall on third down. "I'm just going to say it: It was one of those days," said safety
Charles Woodson
. "It wasn't like they were giving us anything we hadn't seen before on film. You just have to credit it to not making the play." The Titans had a field day with passes across the middle.
Judging talent:
For what it's worth, the Raiders' "new" regime had more of its undrafted free agents starting the game (QB
Matt McGloin
, LG
Lucas Nix
, WR
Rod Streater
) than its rookie draft picks (DT
Stacy McGee
, LB
Sio Moore
).
Of explosive plays XI:
And now for our weekly tracking of "explosive" plays. As deemed by Allen, such a play is one that gains at least 16 yards through the air or 12 yards on the ground. The Raiders had nine such plays against the Titans, one run and eight passes, including McGloin's 27-yard TD pass. Tennessee had six explosive plays, one run and five passes, including a touchdown. In 11 games, the Raiders have 79 explosive plays (24 runs, 55 passes), with three TD runs and seven passing scores. Oakland's opponents, meanwhile, also have 79 explosive plays: 17 runs (one TD) and 62 passes (seven TDs).
November, 25, 2013
11/25/13
8:00
AM ET
GLENDALE, Ariz. -- An examination of five topics from the
Indianapolis Colts
'
40-11 loss
to the
Arizona Cardinals
.
Hurting even more
: The Colts have struggled on defense since cornerback
Greg Toler
went down with a groin injury before the Nov. 3 game at Houston. Fellow starting cornerback
Vontae Davis
left the game in the third quarter Sunday, also with a groin injury. The Colts have to hope Davis' injury won't keep him sidelined for an extended time the same way it's kept Toler out for the past four games. Toler could return to the lineup for the next game against the
Tennessee Titans
. Receiver
LaVon Brazill
left the game in the fourth quarter with a back contusion.
Mathis
Luck
A record for Mathis
: The Colts sacked Cardinals quarterback
Carson Palmer
three times on Sunday. One of those sacks was a strip-sack by linebacker
Robert Mathis
. That was the 40th strip-sack of Mathis' career, moving him ahead of Jason Taylor for first on the all-time list. Mathis leads the league in sacks with 14.5. Mathis didn't talk about his accomplishment because he left the locker room without speaking to reporters.
Where's T.Y.?
Receiver
T.Y. Hilton
has vanished from the offense after having back-to-back games of at least 121 yards receiving. Teams have offset Hilton's speed by providing help over the top, which has made him a nonfactor in the past two games. He followed up his 44 yards receiving against Tennessee on Nov. 14 by having five catches for 38 yards against Arizona. Hilton left the game momentarily with a shoulder injury. "You hate to see people go down like that," quarterback
Andrew Luck
said. "He's a tough warrior. He's a tough sucker."
By the numbers
: The Cardinals didn't have to pressure Luck with extra men for him to have the second-lowest passing game of his career. Luck completed only 55.4 percent of his pass attempts when facing four or fewer rushers. Arizona sent extra pressure on only 12 of Luck's 42 dropbacks. Luck finished the game 20-of-39 for 163 yards. He threw for a career-low 159 yards against San Francisco in Week 3.
Running game is an embarrassment
: Not that Luck has many options to choose from at receiver, but the Colts are better off putting the ball in his hands and letting him dictate things than trusting their running backs.
Trent Richardson
and
Donald Brown
, the team's top two running backs, combined for 16 yards on nine carries. The Colts ran the ball only 15 times. They've rushed for more than 100 yards just once in their past four games. "We want to run the football, but again, when you get down like we got down it's hard to stick with the run," Colts coach Chuck Pagano said. "And we were going against the No. 2 run defense in the league."