NFL Nation:

2013 Week 13 ATL at BUF
December, 2, 2013
12/02/13
5:00
AM ET
TORONTO -- A review of four hot issues from the
Buffalo Bills
'
34-31 overtime loss
to the
Atlanta Falcons
:
Robey frustrated with call:
The Falcons' final scoring drive of regulation saw a barrage of penalty flags, the final one being a pass interference call against cornerback
Nickell Robey
. The undrafted rookie got tangled up with receiver
Harry Douglas
in the corner of the end zone, with both players falling to the ground as the pass sailed in. In the locker room after the game, Robey aired his frustrations about the call. "I was just playing football, trying to make a play. I felt like he pushed me more than I held him. I felt like when the ball was coming, it was underthrown and when I was trying to come back to the ball, he extended his arm and I fell. I was just trying to make a ball, playing football, you know? Coaches just kept telling me to play. I felt like that was just a bad call," he said. Coach Doug Marrone said he didn't have a good view of the play but will review it and may include it in his weekly report to the NFL office.
Spiller
Bills secondary expected loose officiating:
Cornerback
Leodis McKelvin
said that the Bills had done their homework on official Walt Anderson and his crew and were expecting fewer penalty flags than the norm. "They let you play. They let you hold. They let you do whatever you gotta do," he said. Robey echoed the same thought. "They let us play all day today," he said. Asked about the officiating, Marrone did not provide an opinion, saying, "You guys are trying to get [me] in trouble. I can't do it. My wife will kill me."
Spiller hobbled, returns:
The Bills never officially announced an injury, but running back
C.J. Spiller
was limping early in the game. It's unclear if it was related to his nagging ankle injury, but Marrone said he spoke to running backs coach
Tyrone Wheatley
, who said Spiller was fine to re-enter the game. Spiller played more sparingly in the second half but broke a 36-yard touchdown run and finished with 149 rushing yards. "He goes in there and makes a big run, gets nicked up, starts limping a little bit, gets back in there," Marrone said. "I think it's kind of been that type of season for C.J."
Marrone ignores crowd noise, loud or not:
The crowd of 38,969 in the Rogers Centre on Sunday was a mix of Falcons and Bills fans, so loud cheers could be heard whenever either team made big plays. That's not entirely the "home-field" advantage the Bills are looking for, but asked after the game about the effect the crowd has on players, Marrone gave an interesting response. "It's funny, when you play and you're out there, even when you're coaching you really don't know what's going on," he said. "I think people think players feed off the crowd and things like that. That may have happened, but basically you have to feed off each other." Asked a follow-up question, though, Marrone changed his tone. "I thought the crowd today was good. They were on our side. They were giving us the boost that we needed," he said.
December, 1, 2013
12/01/13
11:05
PM ET
TORONTO – The final numbers showed
Roddy White
catching a season-high 10 passes for a season-high 143 yards. In talking to him Sunday after the
Atlanta Falcons
'
34-31 overtime win
over the
Buffalo Bills
, one would think the wide receiver was held without a catch.
The frustration in White's tone had nothing to do with the final score. It had everything to do with the way injuries have held him back all season long.
[+] Enlarge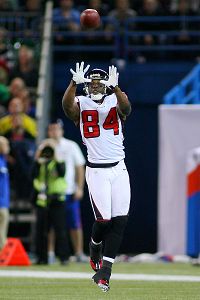 Rick Stewart/Getty ImagesRoddy White caught 10 passes for 143 yards Sunday, high marks in an injury-plagued season.
Yes, White still isn't healthy.
"My ankle is still bothering me, but I'm a football player," White said. "That's what they pay me to do: play football. And that's what I've been doing my whole life. That's all I know how to do. So I'm going to get myself out there and fight with my teammates every week, if I can. If I feel like I can go out there and be productive, I'm going to go out there and help my team win."
Ankle and hamstring injuries caused White to be inactive in Weeks 7-9 against Tampa Bay, Arizona and Carolina, the first three games he had missed in his nine-year NFL career. He suffered a high-ankle sprain in the preseason and never got a chance to really recover properly.
"Nah, I didn't think I was going to be healed by now," White said. "I dealt with this my rookie year. And with these kinds of things, you need a break. You need maybe two months of not doing anything so your body naturally heals itself. Then you feel like you can go 100 percent."
Regardless, White will continue to give his full effort. He also had a season-high 29-yard reception against the Bills, showing he can still be a deep threat. And his 10 catches were four more than he had in his previous three games combined.
White was targeted 14 times Sunday, something he knew would happen even before kickoff.
"Going over the game plan earlier in the week, they drew up a lot of plays, so I knew I was going to get the ball," White said. "I just knew we had to go out and execute and just make plays when it was my time to make them. We did a good job with that today. We actually went down there, got in the red zone and scored some touchdowns today. We looked efficient."
And White looked himself, injured or not.
"I thought Roddy played great, I really do," Falcons quarterback
Matt Ryan
said. "I thought Roddy played really well, made some big plays for us. Obviously, the deep pass down the sideline was huge during the game. I thought he played really well."
Tight end
Tony Gonzalez
agreed.
"I'm really happy that he came out and played the way he did,'' Gonzalez said. "He's still an upper-echelon receiver in this league. And if you get him one on one, he's going to make you pay for it.''
December, 1, 2013
12/01/13
10:35
PM ET
TORONTO -- Television cameras caught a shot of
Atlanta Falcons
head coach Mike Smith having an extended conversation with rookie cornerback
Robert Alford
after Alford lateraled a fumble recovery to
Desmond Trufant
.
Alford
Maybe under difference circumstances, Smith would have had no problem with Alford's decision. But since it came after
William Moore
forced a fumble by
Buffalo Bills
tight end
Scott Chandler
on the first possession of overtime, one could understand why Smith was a little annoyed.
"Obviously, said that should be the last time you do that," Smith said of his message to Alford. "That wasn't the exact quote. But that's paraphrasing it. We don't need to do that in that situation. And I think he understands that we won't do it again."
Actually, the result worked in the Falcons' favor. Although Alford loss five yards, Trufant ended up picking up 18 yards after the lateral. It gave the Falcons first-and-10 from the Buffalo 47-yard line.
Matt Ryan
's 20-yard connection to
Harry Douglas
two plays after the turnover set up
Matt Bryant
's game-winning, 36-yard field goal.
Trufant explained what happened on the lateral from his vantage point.
"It was like Madden," Trufant said. "It was in slow motion. But it was great. We work on it in practice. Not for that exact situation, but we work on lateralling. So it's probably just a natural instinct for him. But it got us in good field position. We ended up winning."
December, 1, 2013
12/01/13
10:08
PM ET
TORONTO -- It's over.
Not officially over, but it's over.
The
Buffalo Bills
' slim playoff hopes were effectively dashed in Sunday's
34-31 overtime loss
to the
Atlanta Falcons
.
"We knew this was a game that we had to have," running back
Fred Jackson
said. "I think that's why this will sting so much. It was in our grasp. We had it. We didn't finish the game. That's why we ended up losing."
Not only did the Bills lose, but they lost in a way that only the team with the NFL's longest playoff drought could manage. With two chances to make the game-winning score -- once late in the fourth quarter and once in overtime -- the Bills fumbled back to the Falcons both times.
"It hurts. You want to bring this town, this region to the playoffs and to know that kind of slipped away on those plays, it's tough," said tight end
Scott Chandler
, who fumbled in overtime.
At 4-8, the Bills aren't technically eliminated from the playoffs, but it would take a miracle for the Bills to wind up in the postseason. Their climb was already steep entering Sunday, but now it's virtually insurmountable.
"I'm hurting. I mean, I am. I'm mad. I'm not going to sit here and try to come across and smile. I'm upset," coach Doug Marrone said. "There's words that I can't use to describe how I feel. But we're going to get to a point where it's not going to come down to calls or a drop or this or that, we are going to work our butts off and become good enough where that stuff doesn't matter. And we don't have to sit here and make excuses and feel the way we feel. That's what I told the team afterwards. I'm going to do a better job and it's not going to come down to that."
Marrone has kept an upbeat tone and an enviable energy level, even coming off key losses this season, but as he wrapped up his news conference after Sunday's loss, the wear and tear of the season began to show through.
"I'm just hurting," he said, beginning to stand up from his chair. "I'm hurting."
With the loss, the Bills can still avoid a losing record, but they will also finish without a winning record for the ninth consecutive season. Wide receiver
Stevie Johnson
has been with the team for the last six seasons, so the feeling that comes with losing is all too familiar.
"I don't like what I'm about to say, but we've been here before," he said. "It's not going to stick with us. Once this day's over, it's over with. We have to move on to Tampa Bay."
As painful as the defeat was, the playoffs were never a realistic hope for the Bills in their first year of a rebuilding project. That takes some pressure off Marrone, but the NFL is still a performance-based business. The expectations will naturally be higher entering next season.
How will the Bills improve? What will they change? What will stay the same? The answers to all of those questions will come more into focus in the next few months.
In the meantime, Buffalo will chew on what will likely be its latest losing season. Ask around, and there's plenty of hope to be had.
"We're a good team, period. No matter how this game went, we are a good team and we know we are," Johnson said. "It's just going to take more time."
December, 1, 2013
12/01/13
9:55
PM ET
TORONTO -- A collective sigh of relief whistled through the
Atlanta Falcons
locker room Sunday, and
William Moore
likely exhaled a little deeper than anyone else.
The safety was obviously disappointed about dropping a potential interception and picking up another one of those illegal-hit penalties. But Moore certainly atoned for those miscues by forcing arguably the most critical turnover of the season.
The host
Buffalo Bills
had the ball at the start of overtime. On second down, tight end
Scott Chandler
caught a pass from
EJ Manuel
that Moore knocked from Chandler's hands. Falcons teammate
Robert Alford
picked up the loose ball and made a risky lateral to teammate
Desmond Trufant
, who sprinted 18 yards.
The key turnover helped set up
Matt Bryant
's game-winning, 36-yard field goal in the Falcons'
34-31 triumph
in front of a Rogers Centre audience that suddenly turned in their favor. Atlanta (3-9) won its first road game of the season and ended a five-game losing streak.
"One thing coach preaches is finishing, and we showed that in overtime," Moore said. "You know, it's easy for a team that's 2-9 to lay down when you go overtime. But we didn't do that. We show our resilience. And we finished.
[+] Enlarge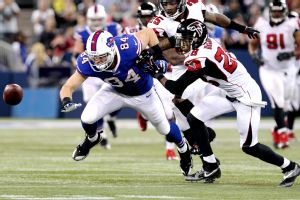 Timothy T. Ludwig/USA TODAY SportsWilliam Moore forces a fumble by Bills tight end Scott Chandler during overtime.
"Defensively, I'm happy for our finish and our efforts also. We forced a lot of turnovers at the end of the ball game. We've just got to start that earlier and we'll be all right."
Moore made a great point. The Falcons wouldn't have had to crawl out of hole had the defense been as stingy the whole game as it was for a 54-second span between the end of regulation and overtime. It started with 28 seconds remaining in the fourth quarter and the Bills driving into Falcons territory. Manuel threw a pass to
Stevie Johnson
, who had gotten the best of Falcons defensive back
Robert McClain
for most of the day while working out of the slot. But McClain recovered in time to strip the ball from Johnson, and Moore corralled the loose ball to thwart the possible game-winning drive.
"Well, it talks about his individual resiliency," head coach Mike Smith said of McClain. "He had some tough downs. We put him in some one-on-one situations there in the slot with (Johnson). But he told me in the first quarter coming off, 'It's just the first quarter, coach.' And we needed all four (quarters). And the fifth one."
McClain talked about his overtime-forcing turnover.
"I should have been more inside leverage, but I made up a lot of ground with it," he said. "I saw him cut back in and I figured I'd punch it and hope my hand gets there and knocks the ball out. (I) knock the ball out and see William Moore right there to pick it up. And I was excited.
"I knew the game wasn't over, though."
When the Bills won the coin toss in overtime, it was up to the Falcons defense to hold strong, even after surrendering a 77-yard run to speedy Bills running back
C.J. Spiller
earlier in the game and giving up a 36-yard touchdown to Spiller near the start of the fourth quarter. Based on the way the season had gone, one figured the Falcons would yield yet another explosive play in the extra session.
Moore made sure it didn't happen.
"It just something I always want to do; run to the ball and be a playmaker," Moore said. "That's what they brought me here for. And I also had some mistakes in the ball game. So I can't sit here and act like I had a perfect game."
It felt like perfection, based on the way the Falcons have struggled to stop anybody this season. They entered the game 30th in turnover differential at minus-12. They still gave up 149 rushing yards to Spiller and 195 total rushing yards to the Bills. The Falcons yielded five explosive plays Sunday, including a 48-yard gain for the Bills after Moore was whistled for unnecessary roughness on top of 33-yard reception by receiver
Robert Woods
.
"We really needed this because we've given up a lot of explosive plays throughout the season," Moore said. "And also we gave up some explosive plays here today.
"Overall, we said it before: We're going to finish. And that's what we did."
December, 1, 2013
12/01/13
9:43
PM ET
TORONTO -- Unavoidable mistake or preventable error?
When it comes to the
Buffalo Bills
' pair of fumbles late in Sunday's 34-31 overtime loss to the
Atlanta Falcons
, it depends on whom you ask.
With the game tied late in the fourth quarter and the Bills driving, wide receiver
Stevie Johnson
caught a pass across the middle and was heading towards the sideline when cornerback
Robert McClain
punched the ball out from behind. The Falcons recovered, sending the game to overtime.
"No it's not tough at all, no matter if you're a veteran or a rookie. You catch the ball and tuck it. He made a play. It is what it is," Johnson said. "That's what we have to charge it to. It ain't like we had the ball loose or outside of our body. They made a good play and we got to commend them on it."
[+] Enlarge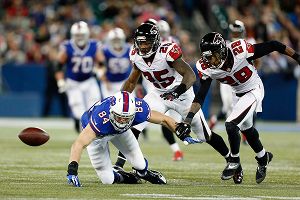 AP Photo/Gary WiepertScott Chandler's fumble in overtime led to the Falcons' game-winning field goal.
In other words, it was an unavoidable mistake.
But it was a costly one. Had Johnson held onto the ball, the Bills would have been well within field goal range with about 20 seconds left in regulation. Chances are, they would've walked away from Toronto with their second win in their six-game history north of the border.
Still, the Bills had life after the first fumble. They won the overtime coin toss and on their second play, tight end
Scott Chandler
gained 22 yards on another pass across the middle.
Then it happened again. Falcons safety
William Moore
forced Chandler to fumble and cornerback
Robert Alford
picked it up.
"Right as I put the ball away, I didn't get my hand underneath it enough, and the guy hit it right on the ball and just knocked it loose," Chandler said. "Really disappointing. Obviously you want to be able to protect the ball in that situation and you want to make a play that helps your team win and not the play that really turns the tide to make your team lose."
So in Chandler's mind, it was a preventable error.
Either way, this much is true: The Bills played well enough to win Sunday but when it came down to it, two of their veterans couldn't hold onto the football.
"A lot of fingers are going to point at them," coach Doug Marrone said. "That's what I told the players afterwards."
However, Marrone put the emphasis on what happened in the first 59 minutes of regulation that led to their loss against a 2-9 team that had already been eliminated from the playoffs.
"At the end of the day, you don't like it to come down to those plays. There's other things that go on during the game," he said. "We have to do a better job all around so the game doesn't come down to that. We want to be better than that."
December, 1, 2013
12/01/13
7:37
PM ET
TORONTO -- A few thoughts on the
Atlanta Falcons
'
34-31 overtime victory
over the
Buffalo Bills
on Sunday at the Rogers Centre in Toronto:

What it means:
No matter the outcome, the Falcons' draft status is sure to be a topic of conversation for the remainder of the season, even if head coach Mike Smith said the draft is not a concern right now. Atlanta, the
Jacksonville Jaguars
and
Houston Texans
all sat at the bottom of the NFL standings entering Sunday. While the Texans lost to the
New England Patriots
, the Jaguars defeated the Browns. Sunday's victory wasn't the best-case scenario for eager Falcons fans hoping for the No. 1 overall draft pick.
Stock watch:
Antone Smith
's stock continues to soar. The diminutive running back once again took advantage of his touches. He scored on a 38-yard touchdown run in the second quarter, sweeping to the left and darting through the hole with his blazing speed. Smith also ran 50 yards on a kickoff return after taking a reverse from
Jacquizz Rodgers
. That's not to say carries should be taken away from
Steven Jackson
, who played rather well himself while scoring two rushing touchdowns.
Turn of events:
Although the defense gave up some big plays once again, the Falcons managed to create turnovers when they needed them most.
Robert McClain
forced Bills receiver
Stevie Johnson
to fumble in the final moments of regulation, allowing the Falcons to force overtime. Then
William Moore
knocked the ball away from Bills tight end
Scott Chandler
on the first possession of overtime. The fumble was recovered by rookie
Robert Alford
, who foolishly lateraled it to teammate
Desmond Trufant
. Regardless, the Falcons got the ball and were able to win on Matt Bryant's 36-yard field goal. Moore's forced turnover turned out to be the difference-maker.
Regaining his form:
Roddy White
hasn't been himself most of the season thanks to ankle and hamstring injuries. Now apparently back at full strength, White looked like his old self against the Bills. He surpassed 100 receiving yards for the first time this season and looked fluid running his routes. He finished with 10 catches for 143 yards. White had 80 yards combined on six catches in the three games before the trip to Toronto.
Stumbling back:
Quarterback
Matt Ryan
didn't help his own cause. On one play from the goal line, Ryan stumbled as he dropped back and fell to the ground. On another, he fumbled an exchange with center
Joe Hawley
that helped set up a Bills score. Ryan seemed to have trouble with his footwork on a couple of plays. Maybe it was playing on foreign soil, although he said earlier in the week that Canada was no different from any other U.S. city.
What's next:
The Falcons have another road matchup, this time against the
Green Bay Packers
at historic Lambeau Field. Uncertainty remains concerning
Aaron Rodgers
' status coming off a broken collarbone. If Rodgers is out, the Falcons legitimately have a chance to win. But how will the dome-oriented adjust to life outdoors in the cold?
December, 1, 2013
12/01/13
7:33
PM ET
TORONTO -- A few thoughts on the
Buffalo Bills
'
34-31 overtime loss
to the
Atlanta Falcons
:

What it means:
Wow. The Bills let this one get away. With the game tied late in regulation and the Bills driving, receiver
Stevie Johnson
fumbled after a catch, forcing overtime. Then, after the Bills won the overtime coin toss, tight end
Scott Chandler
lost another fumble after a catch, which led to the Falcons' 36-yard winning field goal. With a 4-8 record, the Bills' playoff hopes are effectively put to rest. This is their second overtime loss this season, and one that will sting.
Spiller's spark:
Just when things haven't looked good for
C.J. Spiller
this season, he has pulled off some of the better runs you'll see. He did it again Sunday, sprinting for 77 yards in the first quarter to set the table for a Bills touchdown. In the fourth quarter, Spiller dashed for a 36-yard touchdown that put the Bills in the lead. He finished with 149 yards on 15 carries, not too far off from his career high of 169 yards.
Stock watch:
Falling:
Stephon Gilmore
. It wasn't all bad for the 2012 first-round pick, but the Bills' top cornerback had his struggles. He was called for a penalty in the third quarter that bailed the Falcons out of a third-and-14 and eventually led to a touchdown. Gilmore was also beaten by
Roddy White
for a 22-yard gain in the second quarter, and later by
Harry Douglas
on a 13-yard catch in the red zone. After Gilmore
told the team's official website
last week that he feels like he did back in training camp, before his wrist injury, the Bills may need a little bit more out of him going forward.
Attendance drops:
In their sixth regular-season game in Toronto, the Bills saw their attendance drop since last season's loss to the
Seattle Seahawks
. The announced attendance was 38,969, while 40,770 fans saw last season's contest. The Rogers Centre's football capacity is 46,470, not including luxury boxes. There was a wide swath of empty seats in the upper deck behind one end zone, but the close game kept the crowd in it.
What's next:
The Bills will be back on the road the next two weeks, beginning Sunday against the 3-9
Tampa Bay Buccaneers
. With the playoffs now a distant possibility, the Bills' focus in their final four games will turn to next season. What are their needs? Where can they improve? Those questions have now moved onto the radar.
December, 1, 2013
12/01/13
5:35
PM ET
TORONTO -- Offering some halftime thoughts as the
Buffalo Bills
are tied
17-17 against
the
Atlanta Falcons
:

1. Quite the up-and-down half for the Bills. After taking an early 14-0 lead, they've allowed the Falcons to stay in this game. Who's to blame? It's been the Bills' run defense, which has allowed
Steven Jackson
(27 yards) and
Antone Smith
(38 yards) to walk into the end zone on all-too-easy touchdown runs.
2. Speaking of running backs,
C.J. Spiller
broke off the longest run of his career on the Bills' first drive. His 77-yard dash led to a 1-yard touchdown run by
EJ Manuel
. The initial ruling was that Manuel did not cross the plane, but the Bills challenged and won. It's the first time coach Doug Marrone has been successful in five challenges this season.
3. Some injury notes to monitor: Manuel was drilled by linebacker
Sean Weatherspoon
in his ribs after an incomplete pass in the first quarter. Weatherspoon was flagged on the play, and Manuel stayed down for a few minutes. He was replaced by
Thad Lewis
for one play, but returned to the field. Meanwhile, Spiller has been seen jogging on the sidelines, a sign that his injured ankle still might not be right. Spiller has 105 yards on nine carries.
4. It didn't look to be the case just before kickoff, but there is a decent crowd. The lower bowl of the Rogers Centre is mostly full, while the upper bowl is generally full from end zone to end zone, with a large area of empty seats behind the end zone. Both teams have received loud cheers today, making the Bills home-away-from-home more like a neutral venue.