NFL Nation:

2013 Week 13 CIN at SD
December, 1, 2013
12/01/13
11:30
PM ET
SAN DIEGO -- Three days ago,
Cincinnati Bengals
linebacker
Vontaze Burfict
was hurting.
The second-year player had just sprained an ankle, rolling it in his team's final practice before it boarded a plane for a four-hour trip from the Ohio Valley to Southern California. And even though he still was being bothered and bugged by the stinging sensation left by the injury that had just come his way, the native Californian was resolved over the weekend to not let it make him miss his first game of the season.
[+] Enlarge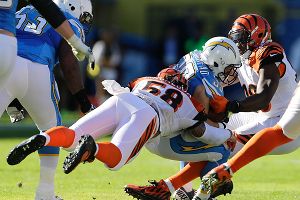 AP Photo/Lenny IgnelziBengals linebacker Rey Maualuga is attempting to rebound after seeing his production slip in 2013.
He wasn't going to be denied. He was going to play in front of his friends and family. He was going to play for his teammates. He was going to be a factor in the game.
He was going to help his team win the game.
"I have so many leaders around me where I feel like I have to step up to the plate, because they are expecting me to be great," Burfict said.
Not only was he great, but all things considered, he was spectacular. Playing through an injury that coach Marvin Lewis was convinced would have any other man or superman shelved for the day, Burfict ended up having a 13-tackle performance that mostly kept the
San Diego Chargers
out of the end zone and off the scoreboard. Even though San Diego was able to move the ball at times Sunday, Burfict's play was the difference-maker in the Bengals' 17-10 win, his teammates said.
"There's no doubt in my mind, most people wouldn't have been able to play," Lewis said. "He had another special day, and he played his tail off."
Lewis said Burfict will be placed in a boot for much of the week and probably won't practice until Thursday. AFC North-leading Cincinnati hosts the AFC South-leading
Indianapolis Colts
next Sunday.
While his teammates all said they expected Burfict to play, and expected the same level of execution once they learned he was going to give it a shot to play, they still were in awe by the special performance he turned in Sunday. According to them, it's that kind of approach that has helped pace the rest of the team.
"He's an animal," defensive end
Michael Johnson
said. "He was able to man-up and go, and that's who we've got around here. We've got a bunch of tough-minded, physical people that love playing football. That's what this team is built on, and it's going to take us a long way."
Burfict went through a series of drills to test his mobility about three hours before the game. After running through them with a trainer, he spoke with Lewis and his trainers and convinced them he was good enough to play. He said he wasn't trying to twist any arms, but he did want to make sure he ended up out there.
"Marvin asked me before the game if I would be able to go, and if he was second-guessing himself," Burfict said. "I said, 'Just trust me. Trust me to go out there and play well.'"
The style of play Burfict routinely showcases might take him to the Pro Bowl. He entered the weekend leading the NFL in tackles, and has begun earning a reputation for being a hard-hitting, trash-talking enforcer. He's spent his young career playing with an edge that borders on being reckless and boisterous, but also persevering and tough-willed.
"That young dude is going to be a great football player," safety
Reggie Nelson
said. "As long as he keeps handling business on and off the field, he'll play for a long time. His play speaks for itself. He's a good football player now, but as long as he keeps working on his craft and learning the game, he'll be alright."
December, 1, 2013
12/01/13
11:06
PM ET
SAN DIEGO -- On a wall inside meeting rooms used by members of the
Cincinnati Bengals
' offense, three simple numbers are posted. Behind them lies an unspoken, but well understood meaning for the men who walk by them every day.
"150-plus."
That's the yardage target for the Bengals' rushing attack every game. Next to that number on the wall, a string of unmet expectations from earlier in the season have been spelled out. But when the Bengals glance at the number Monday morning, there won't be any disappointment. They will see something they had only seen twice before this year: a "yes."
"All we've been seeing is, 'No, no, no, no, yes, no, no, no,'" offensive tackle
Anthony Collins
said inside the visitors locker room at Qualcomm Stadium. "This time it's going to feel good going into our meeting room and seeing a 'Yes.' It's going to feel real good."
The Bengals rushed for 164 yards against the
San Diego Chargers
. It was only the third time they had gone beyond the 150-yard mark this season.
If they are going to experience the deep postseason run many have been anticipating since last offseason, the Bengals are going to need more feelgood Mondays and more yeses on their meeting room walls.
How will they do that? By focusing on having the type of run-game revival that led to Sunday's important 17-10 win on the road over the Chargers.
[+] Enlarge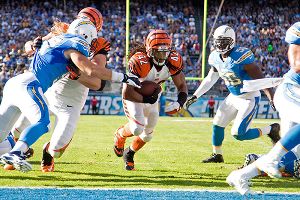 Stan Liu/USA TODAY SportsBehind BenJarvus Green-Ellis, the Bengals racked up 164 yards on the ground against the Chargers.
"We have to be able to establish the run out there because it's getting to be that time of the year," running back
BenJarvus Green-Ellis
said. "It's colder and things like that and the weather might play a factor down the stretch, especially in the AFC North and in Cincinnati."
For a team with a quarterback that has been as inconsistent as
Andy Dalton
, it also is getting to that time of year when the coaching staff realizes that perhaps it's time to forgo certain elements of the passing game in an effort to ride the running game. Since the swoon that Dalton fell into following a red-hot October appears to be continuing, the Bengals would be well served to help their struggling quarterback by letting Collins, Green-Ellis and the rest of those responsible for the ground attack to take over.
For three weeks, some thought Dalton might finally be considered among the elite quarterbacks in the league.
But the past four weeks have shown just how far away from that he remains.
Just consider his latest outing.
After committing to running the ball on their final drive of the first quarter, the Bengals decided to test out Dalton's arm in the second quarter. What they got were three incompletions in five attempts, an interception and a 21.2 first-half passer rating. The passing game wasn't working.
Following halftime, the Bengals resumed a run-pass balance that helped free up A.J. Green for a 21-yard touchdown reception. That play was the difference in the win.
Of the 17 offensive plays Cincinnati had in the third quarter, nine were runs. Of the seven plays that resulted in first downs in the quarter, four came on runs.
"We knew that running the football was going to be important," Bengals coach Marvin Lewis said. "We did a very good job of that."
Green-Ellis paced the rushing attack, grinding out 92 yards on 20 carries.
Part of what helped the prolific rushing attack was the fact that Cincinnati was forced to move left offensive tackle
Andrew Whitworth
to the inside following the first-quarter injury to left guard
Clint Boling
. Much like the Bengals did when Boling went down briefly in a game at Cleveland this season, they made up for his absence Sunday by sliding Whitworth over and moving Collins into Whitworth's tackle slot. Right tackle
Andre Smith
, who had been benched in favor of Collins for an unspecified reason, came into the game after the injury and played his normal position.
It's hard to call what could be a significant knee injury a blessing in disguise but in this case, it might be. With Boling out, the large and athletic Whitworth was forced into pulling and serving as a lead blocker for Green-Ellis.
"With him pulling, it was just like an old-school game," Green-Ellis said. "When he pulls, you can't even seen the linebacker. So you just kind of pick your poison with where you go."
Whitworth's blocks and Green-Ellis' runs freed Dalton to connect with receivers on play-action and in running-down situations. After taking the ball for the final five-minute drive, the Bengals came out looking like they would run on first down. Instead, they sent Green down the sideline for a 28-yard catch. Dalton, who had 41 yards passing at the half, ended with 190 yards in the game.
Bengals linebacker
Vincent Rey
understands how a balanced offense will better challenge opposing defenses.
"It's tough. They're not one-dimensional," he said. "In this league, offensive players are so good that you need to make offenses one-dimensional for you to have a chance to win. It's tough when you're hitting on all cylinders like our offense. When they're running the ball, if you're an opposing defense, you don't know what's coming. It's tough. You never want to be in that position."
As an offense, it doesn't get much better than what the Bengals showcased Sunday. Keep moving the ball with the run and countering with key passes, and the Bengals might be saying "Yes" for more reasons than one.
December, 1, 2013
12/01/13
9:35
PM ET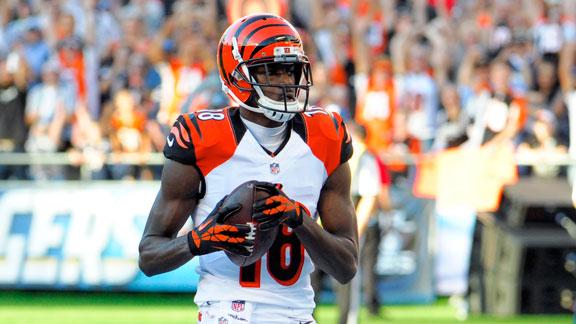 SAN DIEGO --
Antonio Gates
has been Mr. Reliable for the
San Diego Chargers
. During his 11-year tenure, Gates lost just two fumbles heading into the 2013 season.
But this year, with a young team needing Gates to make game-changing plays more than ever, Gates has been pressing.
The result is two lost fumbles for Gates this season, including a particularly costly one -- along with a
Philip Rivers
' interception that was pretty much a fumble -- in San Diego's head-scratching
17-10 loss
to the visiting
Cincinnati Bengals
on Sunday.
"I made some plays today that are uncharacteristic of who I am and what I stand for," Gates said.
Both turnovers occurred on Cincinnati's side of the field, thwarting potential scoring drives.
Keenan Allen
also had a fumble late in the game as the rookie receiver attempted to make a play for an offense struggling to move the ball against a talented Cincinnati defense.
The miscues were unusual for a team that had just 13 turnovers all season heading into Sunday's contest.
"We have to protect the football," San Diego coach
Mike McCoy
said. "There's no excuses -- you can't turn it over."
Losers of four of their past five, the Chargers are stumbling to the finish line in Mike McCoy's first season as the team's head coach. But in a mediocre AFC, the Chargers still have hope. San Diego is one of four teams at 5-7, and just a game back of the final AFC wild-card spot.
"We obviously know the circumstances," Rivers said. "But I think we just keep plugging along, keep fighting. We got four to go, and we're going to play all four of them."
So did the Chargers let one slip away against a Cincinnati team on the longest road trip of the season?
"To me when you say, 'Let one slip away,' that means you're playing an inferior opponent," Rivers said. "This is a good team. Now, did we let an opportunity pass us by? Yes. It wasn't like we had it in our grasp, and they came in and stole it from us.
"It was a good opponent. We knew we were going to have to play well. I thought defensively, arguably, that's the best defense we've played against. We helped them some, but they had a lot to do with it."
Rivers is right. The Chargers didn't let this one slip away. Cincinnati litterally took it from them.
The Bengals were the more physical team on Sunday. Along with the three forced turnovers by the offense, San Diego's defense had no answer for running backs
BenJarvus Green-Ellis
and
Giovani Bernard
, who helped the Bengals run for 164 yards, including a demoralizing, 12-play drive in which Cincinnati grounded out 4:43 on the clock to salt away the game.
"They've got run formations in and we've just got to stop them," San Diego cornerback
Shareece Wright
said. "It's all about determination -- just finding a way to stop them from getting those four or five yards on first down."
Added McCoy: "Defensively, there were 104 yards in the first half they gave up, and then they fell apart. They gave up 250 in the second half."
Heading down the backstretch of a roller-coaster season, Gates said once again his team's resolve will be tested.
"When things are going well, it's easy for guys to go out, practice hard and make plays," Gates said. "But now we're dealing with a little adversity at this point. So your character will definitely show up at this point of time during the season."
Safety Eric Weddle
still believes reaching the postseason is an attainable goal.
"We'll bounce back," Weddle said. "This team's not going to quit on anybody, especially in this locker room. Everybody on the outside may think otherwise, but we're going to fight to the end and see what happens."
December, 1, 2013
12/01/13
7:26
PM ET
SAN DIEGO -- A few thoughts on the
Cincinnati Bengals
'
17-10 victory
over the
San Diego Chargers
.

What it means:
The Bengals kicked off December exactly the way they had hoped before they boarded the plane Friday for the West Coast. All last week they talked about going 5-0 across the final five games of the season. Now they have Game 1 in the books. This one was important, in part, because they had to travel so far. It also was important because they continue to factor in discussions of the first-round bye and home-field advantage in the AFC. The more wins the Bengals can amass across the next few weeks -- including an important one against another division leader next week -- the longer they will be in those conversations.
Stock watch:
Running game -- rising. Cincinnati's ground game has been turning a corner in recent weeks, and it certainly made its presence felt Sunday.
BenJarvus Green-Ellis
paced the rushing attack, going for 92 yards on 20 carries. Rookie
Giovani Bernard
wasn't too far behind, going for 57 yards on 14 carries. It was a positive step forward for an offense that predicates itself not only on achieving balance between the run and the pass but also upon having diversity among its top ball carriers. Both Green-Ellis and Bernard had runs that went for double-digit yards, including Bernard's 19-yard scamper in the third quarter that helped set up the Bengals' second touchdown. While a fourth-quarter Green-Ellis fumble cost the Bengals a chance to ice the game earlier, it didn't end up hurting them.
Dalton's roller coaster:
By halftime,
Andy Dalton
's passer rating was 21.2. He ended the day at 83.6. Perhaps there was no better indication of how up-and-down Dalton's day was than the juxtaposition of those two numbers. Early in the game, it appeared his recent troubles would continue. It seemed he would be lucky to reach 100 yards passing. He did, finishing at 190. He also had a touchdown pass and an interception. The intercepted ball came when he threw long on a deep route to receiver
A.J. Green
. With pressure in his face, Dalton didn't get completely into his throw, and it sailed. He now has thrown at least one interception in the past five games. That's his longest stretch with an interception since last season, when he was intercepted at least once in each of the year's first eight games.
What's next?
The Bengals hope to keep their winning ways going next week when they host the
Indianapolis Colts
in another important conference contest. Both 8-4, the Colts and Bengals could be playing for a higher seeding in the playoffs. As both appear on their way to division titles, this game could serve as an important tiebreaker.
December, 1, 2013
12/01/13
7:25
PM ET
SAN DIEGO -- A few thoughts on the
San Diego Chargers
' 17-10
loss
to the
Cincinnati Bengals
:
What it means:
The Chargers drop to 5-7 on the season and are now a game out of the final AFC wild-card spot. But San Diego still has a chance to work back into the postseason conversation, with three of its final four games at Qualcomm Stadium.

Chargers give it away:
The Chargers' inability to hold on to the football was costly. Twice, veteran tight end
Antonio Gates
was responsible for a turnover inside Cincinnati territory.
Reggie Nelson
forced Gates to fumble on San Diego's opening drive, and safety
George Iloka
recovered. In the second half, Gates had a
Philip Rivers
pass stripped by Cincinnati cornerback
Dre Kirkpatrick
for an interception. Receiver
Keenan Allen
was stripped by Iloka in the fourth quarter, and
Vincent Rey
recovered. Heading into Sunday's contest, the Chargers had 13 turnovers all season.
Bengals own line of scrimmage:
San Diego's defense allowed Cincinnati to grind out 164 rushing yards, as the Bengals' offensive line got a consistent push up front. On the other side of the ball, Cincinnati's defense held the Chargers to 91 rushing yards.
Stock watch:
San Diego safety
Eric Weddle
made a couple of game-changing plays. He corralled his first interception of the season on a poorly thrown ball by
Andy Dalton
intended for
A.J. Green
in the first half. And with Cincinnati trying to run out the clock, Weddle recovered a
BenJarvus Green-Ellis
fumble caused by fellow safety
Marcus Gilchrist
. The turnover led to a
Nick Novak
48-yard field goal.
What's next:
The Chargers host the
New York Giants
next weekend at Qualcomm Stadium in a 4:25 p.m. ET kickoff.
December, 1, 2013
12/01/13
2:50
PM ET
SAN DIEGO -- Welcome to Qualcomm Stadium, where the
Cincinnati Bengals
and
San Diego Chargers
are preparing for an important AFC clash that has real postseason implications.

The Bengals are coming off a bye and looking to earn their second straight win after beating the Browns two weeks ago to stop a two-game skid. This past week, the Bengals have harped on the importance of winning Sunday's game in order to kick off a string of five-straight victories to conclude the regular season. Their thinking is that with wins in each of those games, they will do enough to set themselves up for home-field advantage and a first-round bye in the playoffs.
The Chargers are looking to build off their win last week against the
Kansas City Chiefs
. Quarterback
Philip Rivers
' last-minute scoring drive ended with his 26-yard touchdown pass to
Seyi Ajirotutu
. Since then, San Diego has entered the playoff chase fully, hoping it can do enough to surge to the top of the AFC West and sneak past either the Chiefs or Broncos. Entering play Sunday, the Chargers had a better chance to get past Kansas City.
As you get ready for the day's game, here are a few items to be aware of:
Kickoff/TV:
4:25 p.m. ET/CBS
Weather:
71 degrees. Mostly sunny. Winds: NNW 8 mph during the game.
Records:
Bengals (7-4); Chargers (5-6)
Series history:
San Diego has a 19-13 all-time advantage against the Bengals. The teams have split the past four meetings, with Cincinnati claiming the past two. Last season, the Bengals won 20-13 in a late-season meeting in Southern California. The teams' only postseason meeting was a 27-7 Bengals win that came in the 1981 AFC Championship Game that sent Cincinnati to the Super Bowl. With a wind chill that nearly touched minus-60, the 1981 game was so cold it was dubbed the "Freezer Bowl." Don't expect such conditions Sunday.
Worth noting:
Bengals linebacker
Vontaze Burfict
sprained an ankle during practice Friday and was listed as questionable. About three hours before Sunday's game, Burfict was out near one of the end zones working on his lateral and diagonal movement. While being observed by a trainer, he was trying to see how his ankle would respond to the potentially awkward movements that he might end up taking it through if he plays. He appeared to be favoring the injury and spent a few minutes talking with the trainer after the workout before heading back into the locker room.
If the injury ends up keeping Burfict out of the game, the Bengals would be forced to tweak their lineup.
Rey Maualuga
, who is returning this week from his own knee injury, and
Vincent Rey
would see time to account for Burfict's absence. Rey likely would play the weak side, and Maualuga would return to the middle. We'll know soon whether Burfict is inactive.
Bengals Friday Injury Report
OUT:
OG
Kevin Zeitler
(foot).
QUESTIONABLE:
LB Vontaze Burfict (ankle).
PROBABLE:
LB
Michael Boley
(shoulder), S
Chris Crocker
(hamstring), P
Kevin Huber
(left ankle), LB Rey Maualuga (knee), DT
Devon Still
(elbow), WR
Brandon Tate
(ankle)
Chargers Friday Injury Report
DOUBTFUL:
OT
King Dunlap
(neck).
QUESTIONABLE:
LB
Jarret Johnson
(hand), WR
Eddie Royal
(toe/chest), S
Darrell Stuckey
(concussion).
PROBABLE:
WR Seyi Ajirotutu (hamstring), OT
D.J. Fluker
(knee), TE
Antonio Gates
(hamstring), DE
Lawrence Guy
(toe), C
Nick Hardwick
(neck), DE
Corey Liuget
(shin), RB
Ryan Mathews
(hamstring), LS
Mike Windt
(ankle)

NFL SCOREBOARD
Thursday, 9/18
Sunday, 9/21
Monday, 9/22
WEEKLY LEADERS