NFL Nation:

2013 Week 13 DEN at KC
December, 1, 2013
12/01/13
11:35
PM ET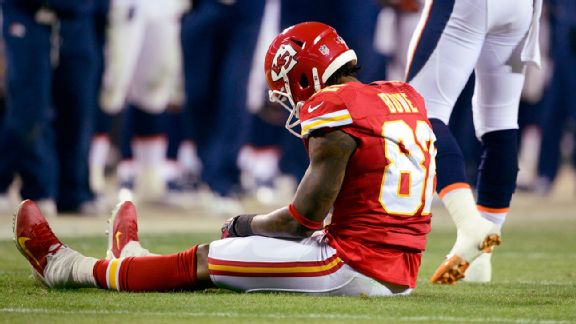 AAron Ontiveroz/The Denver Post/Getty ImagesThe Chiefs led 21-7 until four unanswered TDs gave the Broncos control of the game and the division.
KANSAS CITY, Mo. – The day began with the
Kansas City Chiefs
entertaining visions of regaining a grasp on the AFC West race. It ended in frustration, with the Chiefs having been sent a message by the division's bully about just how far they really are from being a championship team.
The Chiefs played with great energy for the game's first 19 minutes, building a two-touchdown lead in front of a raucous home crowd. The
Denver Broncos
then showed the Chiefs how a true Super Bowl contender gets things done by shifting their game into a higher gear, reeling off four unanswered touchdowns and taking control of what ended up a
35-28 victory
.
In doing so, the Broncos realistically ended Kansas City's hopes of a division title. At 10-2, Denver has a one-game lead over the Chiefs, a sweep of the season series between them and four regular-season games remaining, all against teams with sub-.500 records.
Two times in three weeks the Chiefs have tried and failed to keep up with the NFL's highest-scoring team. Those failures, wrapped around last weekend's defensive collapse against the
San Diego Chargers
, have left the Chiefs pondering what appears to be a certain fate: a berth in the playoffs as a wild card.
"Certainly we are in a position to go another direction, not to say we still can't win the division," quarterback
Alex Smith
said. "There are still a lot of games left, but those things are out of our control at this point.
"There certainly are two other ways to get into the playoffs, with the two wild-card spots, and we're sitting pretty good with that."
By early in the second quarter on Sunday, the Chiefs looked ready to take command of the division race again. They raced to a 21-7 lead by doing all the things they failed to do in their loss to the Broncos in Denver two weeks ago. They were getting pressure on Denver quarterback
Peyton Manning
. They intercepted a pair of Manning passes. Their offense scored a pair of touchdowns. They got a big special-teams play in a 108-yard kickoff return from
Knile Davis
.
At that point, the Broncos did what the league's best teams do when faced with adversity on the road. They didn't just match Kansas City's energy -- they topped it.
The Broncos scored four touchdowns in five drives to leave the Chiefs flailing in their wake. They weren't content to take only what the Chiefs were giving them, which at that point probably would have been enough to help them win the game.
Instead, the Broncos started protecting Manning and gouged the Chiefs for five plays of more than 30 yards. In what seemed like an instant, Denver moved from being in a precarious position with regard to the game and the division race to controlling things.
The Chiefs scored a touchdown in the fourth quarter, and later, down by seven points, moved as far as the Denver 13-yard line. That's where they relinquished the ball on downs with less than two minutes remaining.
"We weren't going to knock that team out with 10 minutes left in the second quarter," Smith said. "Yeah, we jumped on them 21-7, but we knew what they were capable of. You knew they were going to battle back and be able to put up some points. There was just so much game left at that point.
"I don't think we were in a place to finish them off."
The trouble is that the Chiefs played for a long stretch as if their 21 points would hold up. From the time the Chiefs went ahead 21-7 to the point where Denver's 28-point blitz was finished, the Broncos outgained Kansas City 356 yards to 97.
Where the Broncos put together one big play after another, the Chiefs bungled their chances at big plays.
Donnie Avery
(twice) and
A.J. Jenkins
(once) dropped deep passes from Smith that could have halted Kansas City's slide.
"Those things are going to happen," Smith said. "It's my job just to keep throwing them. That's the nature of the passing game. You're striving for perfection. You'd love to hit every single one, but it's not going to happen."
That's one of the things that separates the Chiefs from the Broncos. Denver expects to make those plays and then, more often than not, the Broncos go out and do it.
Now, there's something else separating these teams. It's just one game in the standings, but it might as well be a mile.
December, 1, 2013
12/01/13
10:40
PM ET
KANSAS CITY, Mo. – In the span of four weeks the
Denver Broncos
saw their head coach have open-heart surgery, safety
Rahim Moore
rushed to emergency surgery for internal bleeding in his left leg, defensive tackle
Derek Wolfe
suffer seizure-like symptoms on the bus ride to the airport Friday and easily the most daunting four-game stretch on the schedule.
The Broncos asked, and needed, Jack Del Rio to guide them through it.
[+] Enlarge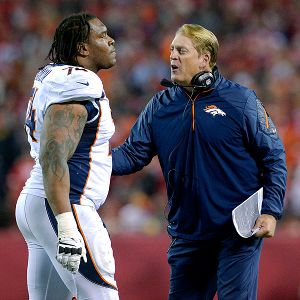 John Sleezer/Kansas City Star/MCT via Getty ImagesJack Del Rio will return the coaching reins to John Fox with the Broncos now alone atop the AFC West.
"He did great,'' said cornerback
Champ Bailey
. "When things could have gone bad, he didn't let that happen.''
John Fox, who had surgery Nov. 4 to replace his aortic valve, will return to his head-coaching duties bright and early Monday morning. Fox was back in Denver last Wednesday and visited players following practice on Thanksgiving Day.
During Fox's absence, Del Rio was named the team's interim head coach, largely because of a long association with Fox as well as nine seasons as a head coach with the
Jacksonville Jaguars
. And the Broncos players said Del Rio made it clear from the start he believed it was everyone's responsibility "to handle their own business the right way,'' as linebacker
Wesley Woodyard
put it.
The Broncos went through a stretch of games that included the
San Diego Chargers
, the
New England Patriots
and the
Kansas City Chiefs
twice – with three of those games on the road – and came through it all with a 3-1 record. (And the loss came in overtime.) The Broncos, after their
35-28 win
over the Chiefs on Sunday, are 10-2 -- solidly in the AFC West lead and solidly in place for a shot at home-field advantage in the AFC playoffs.
"[We'll] welcome coach Fox, that'll be great,'' Del Rio said following Sunday's win. "We went through a tough stretch, missed him and it'll be great to have him back as a football team that took care of business. … It was an honor to be called on, but it was something I couldn't do on my own and I think I asked everybody to help and everybody did. We were just an eyelash away from getting all four of them, but we ended up winning three in a tough quarter.''
Del Rio interviewed for the USC head-coaching job Nov. 1, the day before Fox suffered dizziness and lightheadedness on a Charlotte, N.C., golf course, but his work over the last month certainly garnered him notice for similar opportunities in the NFL after whatever becomes of the Broncos' season. Denver players, including quarterback
Peyton Manning
, have lauded Del Rio's leadership and composure as he led the meetings as well as practice each week.
Del Rio kept his defensive play-calling duties and handled much of what a head coach has on his plate as well, but left the offense in the hands of coordinator Adam Gase and special teams in the hands of Jeff Rodgers. The Broncos practiced well and won games.
Or as Del Rio put it: "What we went through the least month is really playoff-level football.''
Even Sunday, when the Chiefs had vaulted to a 21-7 lead, Del Rio gathered his defense in a huddle near the Broncos' bench. And while he wasn't screaming, wasn't over the top, the players said he made his points crystal clear at a key time in the game.
"He just looked at us, right in the eyes, and said we got to settle down,'' Woodyard said, adding, "He just stressed the things he had talked to us about all week. He knew the right thing to say and how to say it, I think that's why guys respect him so much.''
"At that point it was like, 'Hey, can we just do our job? We just need to settle down and do our job,''' Del Rio said. "There were just minor breakdowns at that point and they happened to hit at that point. Once we settled down and just [took] care [of] our business, things got a lot better for us.''
After the game, after Del Rio had been presented with the game ball, he was asked if he took pride in how things have gone over the last four weeks.
"Sure I do, sure I do," Del Rio said. "We all take pride in what we were able to accomplish together. It took all of us."
December, 1, 2013
12/01/13
10:23
PM ET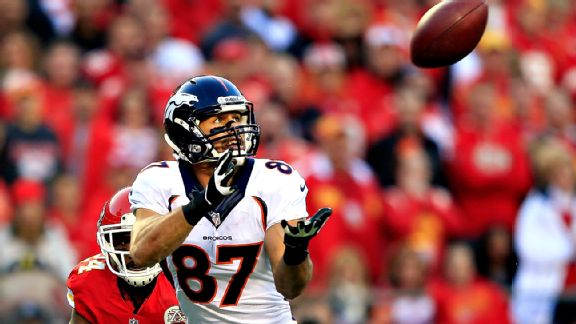 Jamie Squire/Getty ImagesEric Decker finished with a single-game franchise record four touchdown catches in Denver's 35-28 victory against Kansas City.
KANSAS CITY, Mo. -- There are times when folks just look at the
Denver Broncos
and see the Perfect World team.
As in a perfect world, there is only sunshine, warm weather and two-touchdown leads. That the Broncos are one of the league's best only when all things are right. But when things get a little rocky, well, not so much. After their overtime loss in frigid Foxborough, Mass., a week ago, the night the 24-point lead got away, the refrain got a little louder from points both near and far.
"Hey, but we know we can play Denver Broncos football," linebacker
Wesley Woodyard
said. "We know we can make plays when we have to, we know we can fight through injuries, we know we can keep battling when Coach [John] Fox is out and we know Peyton is Peyton."
The Broncos know, after a
35-28 victory
in Arrowhead Stadium to open December, they can get up off the deck after taking the best shot a division foe has to offer, dust themselves off, dig in and win. And they know, at 10-2, they now have two wins in hand against the
Kansas City Chiefs
in the AFC West race and that for a guy who has his arm strength questioned on a week-to-week, almost a down-to-down basis almost like no other these days,
Peyton Manning
can still overwhelm a defense.
"I think he did all right," said wide receiver
Eric Decker
, who finished with a franchise record four touchdown catches. "He showed people why he's so great."
We'll get to Manning, but for about a quarter and a half Sunday, the Chiefs looked intent on making their own statement about the state of affairs in the AFC West. Kansas City intercepted Manning's fourth pass attempt of the game, returned a kickoff 108 yards, intercepted Manning's 10th pass attempt of the game and had a 21-7 lead with 10:57 still to go in the second quarter.
The sellout crowd was in a frenzy, the Chiefs had energy and momentum as the Broncos looked like a battered team on wobbly legs in its third road game in four weeks.
"I think if you're going to be a good team, a really good team, you have to build that toughness," Broncos cornerback
Champ Bailey
said. "I think sometimes people don't look at us that way, but we showed it [Sunday]. We got down in one of the toughest places to play in this league against a team that was going to give us the very best shot it had. I've said, we had a lot of reasons to fold right there. 'We've got injured guys, it's not our day.' Whatever. But we didn't. We stayed in it and Peyton got it going."
Ah, yes, Peyton. The Chiefs did not score between tight end Anthony Fasano's 12-yard touchdown catch with 10:57 to play in the second quarter until running back
Jamaal Charles
powered into the end zone from the 1-yard line with 6:57 left in the game. In between, Manning was once again in the whatever-he-wants zone, the one defensive coordinators around the league have grown oh so weary of, the one in which he consistently finds the hole on defense in an avalanche of touchdowns.
So while the discussion of Manning's arm strength is a regular affair if the throws a wobble here and a bounce there, the simple fact remains he finished 22-of-35 passing Sunday for 403 yards and five touchdowns. It was his third 400-yard game of the season -- his 4,125 yards are the most ever after 12 games -- and his five touchdown passes amounted to the sixth, yes sixth, game he has thrown at least four in a game.
So, perhaps everybody ought to throw up their hands, slap on the glove and wobble a few out there.
"I know it's a hot debate," Manning said. "The distance, and the RPMs, whatever, I enjoy it when they go for touchdowns."
Manning threw four of those touchdown passes during the Chiefs' scoring drought, including three of his four in the game to Decker. He attacked Chiefs rookie
Marcus Cooper
in coverage, attacked former Pro Bowler
Brandon Flowers
in coverage and everyone in between.
"You have guys that play football and you have football players," Chiefs safety
Eric Berry
said. "He's a football player. When it's down to it he's going to make plays."
"It just shows you Peyton's going to find you if he likes the matchup," interim head coach Jack Del Rio said.
The Broncos also got 114 yards rushing from rookie
Montee Ball
and they survived on defense without starters
Kevin Vickerson
(placed on injured reserve last week),
Derek Wolfe
,
Dominique Rodgers-Cromartie
and
Rahim Moore
as Moore's replacement,
Mike Adams
, knocked away Kansas City quarterback Alex Smith's last-gasp pass with 1:46 to play.
And in the end, Broncos Hall of Famer
John Elway
, now the team's chief football decision-maker, simply handed Del Rio the game ball for a job well done. Fox, who had open heart surgery Nov. 4 to replace his aortic valve, will return to work Monday. The Broncos were 7-1 when Fox underwent surgery and he comes back to a 10-2 team that went 3-1 with Del Rio in charge, has taken charge in the AFC West and will face the final four games of the regular season on the inside track for home-field advantage in the AFC.
"It was special," Del Rio said. "To have John Elway recognize ... But I basically just want to say that's just a representation of what we all did, that it's about we, not about me, about the collective effort. [We hand Fox] over a team that took care of business and sitting on top of the division with a month to go."
December, 1, 2013
12/01/13
7:48
PM ET
KANSAS CITY, Mo. -- A few thoughts on the
Denver Broncos
'
35-28 win
over the
Kansas City Chiefs
:

What it means:
With another remember-when day from
Peyton Manning
, the Broncos put themselves squarely on the inside lane for the AFC West title, with a one-game lead and a season sweep of the Chiefs. The Broncos sit at 10-2 and don't play a team with a winning record the rest of the way (Tennessee, San Diego, Houston and Oakland).
Stock watch:
It has been a bumpy ride at times for running back
Montee Ball
, including a fumble deep in Broncos territory in the third quarter against New England last weekend that helped fuel the Patriots' comeback and was his third lost fumble of the season. But against the Chiefs, with
Knowshon Moreno
dealing with a bone bruise in his right ankle, Ball got quality snaps at important times. And his 45-yard run to open the Broncos' drive with five minutes left in the third quarter was perhaps his biggest jaunt of the season.
A measured return:
Broncos cornerback
Champ Bailey
played for the first time since he left the Week 7 loss in Indianapolis after aggravating a left foot injury. He briefly left Sunday's game after being hit in the midsection on a tackle, then played largely in the nickel.
Kayvon Webster
and
Chris Harris
played much of the time as the corners in the base defense, and in the second half there were times when Harris, Webster and
Quentin Jammer
played as the three cornerbacks in the nickel. They want Bailey available for the long haul, and had said they may work him into things on a situational basis.
A full Decker:
The Broncos came into the game with three players --
Demaryius Thomas
,
Julius Thomas
and
Wes Welker
-- with at least nine touchdown receptions. But
Eric Decker
had not really joined the scoring fun, with three touchdowns in the Broncos' first 11 games -- he had just one catch for 5 yards in the loss in New England. Then Decker manhandled the Chiefs' man coverage, especially rookie
Marcus Cooper
, and finished with 174 yards and four touchdown catches.
What's next:
The Broncos are fairly battered, with a long list of aching players coming in and kick/punt returner
Trindon Holliday
having left Sunday's game with a right shoulder injury. They will now have two games in a five-day span, facing Tennessee next Sunday and San Diego on the following Thursday. It's an important late-season stretch for a team with more than its share of guys in the trainer's room.
December, 1, 2013
12/01/13
7:44
PM ET
KANSAS CITY, Mo. -- A few thoughts on the
Kansas City Chiefs
' 35-28
loss
to the
Denver Broncos
:

What it means:
The Chiefs lost both games in the season series to the Broncos. While at 9-3 the Chiefs trail the 10-2 Broncos by one game in the AFC West standings, they effectively trail by 1½ games, because Denver has the tiebreaker. So the Chiefs would need to finish ahead of the Broncos in the standings to win the division, while the Broncos could finish tied in the standings with the Chiefs at the end of the season and still be the division champion.
Stock watch:
The Chiefs again failed to sack Denver quarterback
Peyton Manning
. They were able to get some pressure on Manning early in the game and affect some of his throws, but that pressure dissipated as the game went on and Manning was able to step into all of his throws. They were frequently asked to cover for too long, but the cornerbacks again had a tough day. That's particularly true for
Marcus Cooper
, who was beaten cleanly off the line by
Demaryius Thomas
on one of the game's crucial plays. Thomas had a 77-yard catch and run in the third quarter to set up the Denver touchdown that put the Broncos ahead for good.
On offense, wide receiver
Donnie Avery
dropped a pair of deep passes, and a reserve,
A.J. Jenkins
, dropped another pass. The Chiefs received some contributions from unexpected places, though. Rookie
Knile Davis
returned a kickoff 108 yards for a touchdown in the first half, the longest such return in Chiefs history and second-longest in NFL history. Wide receiver
Junior Hemingway
had a pair of catches, including a 17-yard reception for the first touchdown of the game.
Losing steam:
The Chiefs had everything going in the first half as they built a 21-7 lead. They came after the Broncos in all three phases with great energy and, with the backing of a loud home crowd, appeared headed for a lopsided victory. The Broncos weren't matching their intensity. But while Denver put its game into a higher gear, it was the Chiefs who couldn't sustain the pace. The Chiefs owned the last half of the fourth quarter, but after scoring one touchdown, their final drive stalled and they relinquished the ball on downs at the Denver 13.
What's next:
The Chiefs begin a two-game road trip next Sunday with a game against the
Washington Redskins
. The Chiefs will finish the road trip on Dec. 15 against the
Oakland Raiders
.
NFL SCOREBOARD
Sunday, 2/2
WEEKLY LEADERS