NFL Nation:

2013 Week 13 GB at DET
November, 28, 2013
11/28/13
8:00
PM ET
DETROIT -- Sometimes, statistics are meaningless.
Like the Green Bay Packers' four takeaways in Thursday's 40-10 loss to the
Detroit Lions
. Two interceptions and two fumble recoveries don't mean much when the same defense also gives up 561 yards, including 241 yards rushing.
"I've been through a lot of games statistically where it didn't make sense what happened throughout the game," Packers cornerback
Tramon Williams
said. "Those things tend to happen. You've just got to find a way to win, and we didn't do that."
But other times, the numbers tell quite the story.
Such as when you break down what went wrong with their offense against the Lions.
Maybe offensive lineman
T.J. Lang
wasn't all that far off
when he called it
: "Probably the worst (expletive) offensive day in the history of the (expletive) Packers."
It will go down as one of the worst offensive performances in the tenure of coach Mike McCarthy, who took over in 2006.
Consider the following numbers, courtesy of ESPN Stats & Information:
The Packers' 24 yards rushing was their lowest total since 2005.
Their 126 yards of total offense was their lowest since 2006.
Their seven first downs were their fewest since 2006.
Their 10 completed passes were the least in a game since 2006.
They did not have a rushing first down for the first time since 1990.
"Right now, everyone's upset, embarrassed a little bit, especially myself, especially offensively," said quarterback
Matt Flynn
, who threw for 139 yards on 10-of-20 passing with no touchdowns and one interception. "That's probably one of the worst games I've ever been a part of."
The yardage differential of 435 between the Packers (126) and Lions (561) was the most in an NFL game since the
Philadelphia Eagles
outgained the
San Francisco 49ers
by 441 yards in a 2005 game.
November, 28, 2013
11/28/13
7:30
PM ET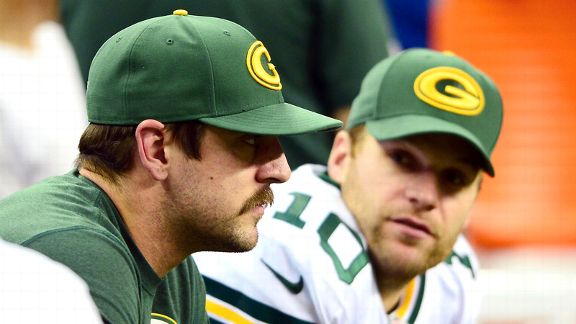 Andrew Weber/USA TODAY SportsThe Packers haven't recorded a win since Aaron Rodgers broke his collarbone.
DETROIT -- The best throw
Aaron Rodgers
made in the past month -- the only throw, really -- came when he chucked his clipboard in disgust on Thursday.
It was early in the fourth quarter of the Thanksgiving debacle in Detroit, the fourth straight game the
Green Bay Packers
' MVP quarterback missed because of the broken collarbone he sustained on Nov. 4, and Rodgers had just watched running back
Eddie Lacy
run twice for a loss of 3 yards and a gain of 2.
It was third-and-11 from their own 19-yard line, and another series -- another game -- was going nowhere.
[+] Enlarge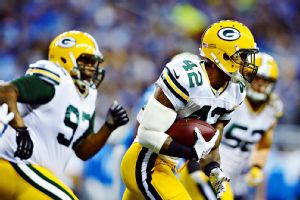 Andrew Weber/USA TODAY SportsThe Packers will be looking for more aggression from safety Morgan Burnett in 2014.
Even if Rodgers comes back for the Packers' next game, it will probably be too late. Thursday's
40-10 shellacking
at the hands of the Lions was the Packers' fifth straight game without a victory. Since Rodgers left in the first quarter against the
Chicago Bears
nearly a month ago, the Packers have four losses and a tie to their credit.
With a 5-6-1 record, even Rodgers' return -- which seems likely when the Packers reconvene for their next game on Dec. 8 against the
Atlanta Falcons
-- might not be enough to save a once-promising season.
"We haven't won a game without him in five weeks," Packers left guard
Josh Sitton
said. "He's the best player on the team. Yeah we need him, but there's a lot more going on than just that."
That's for sure. But let's start with the quarterback carousel.
Matt Flynn
, the third quarterback coach Mike McCarthy started since Rodgers went down, looked nothing like he did in relief of
Scott Tolzien
four days earlier when he helped bring the Packers back from a 16-point, fourth-quarter deficit to tie the
Minnesota Vikings
.
Flynn, who once threw for 480 yards and six touchdowns against these same Lions, held the ball too long too often. His offensive line didn't help much, either. The Lions sacked Flynn seven times. Only two teams had more sacks in a game this season. Flynn was sacked on 25 percent of his 28 dropbacks, the highest single-game percentage against Packers quarterbacks since ESPN Stats & Information began recording that in 2006.
When the Packers took the field for their final series with four minutes, 12 seconds left in the game, they had 56 yards of total offense.
The Lions had 563 at that point. They would finish with 561 after two kneel-downs to end the game.
Flynn picked up 70 garbage yards on that final series, including a 56-yard pass to
James Jones
that helped him finish 10-of-20 passing for 139 yards with no touchdowns and an interception.
"Probably the worst [expletive] offensive day in the history of the [expletive] Packers," offensive lineman
T.J. Lang
said. "It was bad. Didn't run the ball, didn't pass block. Give credit to those guys, man. They did a good job. We've got to take a long, hard look at what we're doing and find a way to get better. We've got four games left now."
That may not matter if the Packers' defense doesn't make an about face.
A run defense that ranked third in the NFL through Week 7 clearly isn't the same run defense. That, too, has crumbled in Rodgers' absence. The Lions rushed for 241 yards. Just like the Vikings did on Sunday, when
Adrian Peterson
rushed for 146 yards and
Toby Gerhart
added 91, the Lions nearly had two 100-yard rushers.
Reggie Bush
ran for 117 yards, and
Joique Bell
added 94.
In the past two weeks, defensive coordinator Dom Capers' unit has allowed 473 yards rushing. In the first six games of the season, the Packers allowed just 474 yards rushing.
While criticism of Capers surely will intensify after this performance, McCarthy -- who strongly supported Capers publicly last week -- had another answer.
"Scheme is not a crutch," McCarthy said. "When you're in run defense, you play with leverage. You've got to get off the damn block and tackle the ball carrier. So you can cut it any way you want and we're not doing that right now. We haven't done that in a month."
[+] Enlarge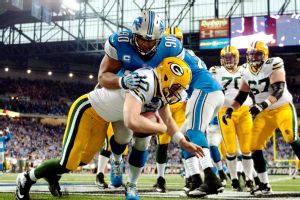 Tim Fuller/USA TODAY SportsMatt Flynn struggled against the Lions, completing 10 of 20 passes for 139 yards. He was sacked seven times, including once for a safety.
Capers' defense forced four turnovers -- two interceptions and two fumbles -- and gave the Packers their only touchdown of the game on
Morgan Burnett
's 1-yard return of a fumble forced by
Nick Perry
in the second quarter, and it didn't matter a bit.
Those on the offensive side of the locker room took the blame for the defensive woes.
"They got four turnovers, and we didn't do anything," Sitton said.
According to ESPN Stats & Information, the Packers' 126 yards of total offense was their lowest since Nov. 19, 2006, when they had just 120 yards in a 35-0 loss to the
New England Patriots
-- a game in which
Brett Favre
left with an elbow injury and Rodgers broke his foot.
Even that last drive, the one that accounted for more than half of the Packers' total yardage, ended in disaster when Flynn fumbled the snap from Lang, who moved from right guard to center after
Evan Dietrich-Smith
left because of a second-quarter knee injury.
It was Flynn's second lost fumble of the day. After his first, which came on a strip sack by Lions defensive end
Devin Taylor
in the third quarter, McCarthy threw his play sheet down in disgust.
"You saw that huh?" McCarthy said.
There was plenty of bad football to digest, and we haven't even talked about the abysmal tackling on special teams.
How much of it can be solved by Rodgers' return?
Surely he can fix the offense.
But can he cure the defensive woes and help save Capers' job?
If so, it just might keep coaches and quarterbacks from throwing things on the sidelines.
November, 28, 2013
11/28/13
7:30
PM ET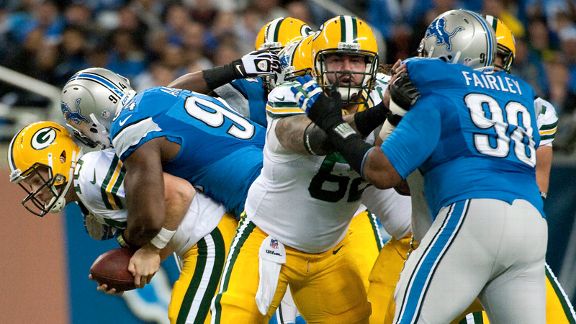 Tim Fuller/USA TODAY SportsDetroit's defensive line stuck to its team approach Thursday, getting after Green Bay QB Matt Flynn.
DETROIT -- In some ways, the
Detroit Lions
' defensive line was sleeping most of the season. It had been inconsistent. It was a group in the middle of the NFL in sacks, a group long on talent and short on statistics.
They would see stacked protections -- to the point that defensive end
Willie Young
would joke with opponents they were on the wrong side just to try to find an opening. They would pressure the quarterback but never actually reach him.
Then Green Bay offensive lineman
Josh Sitton
spoke. Called the Detroit defensive linemen dirtbags. Scumbags. Insulted Lions coach Jim Schwartz. It might have been all the poking
Ndamukong Suh
and
Nick Fairley
needed.
"It's waking up sleeping dogs," cornerback
Rashean Mathis
said. "But that's how he felt. He expressed it.
"We responded."
By the time the Lions'
40-10
thrashing of the Packers ended, the Lions' once-hibernating defensive front was wide awake. And there could be another easy word to describe them.
Dominant. Utterly and completely dominant.
"It's just the performance we always believe we can have," defensive tackle
C.J. Mosley
said.
When the Detroit defensive line plays like it did Thursday -- with 16 tackles, seven quarterback hits, five sacks, two fumble recoveries, one forced fumble and a safety -- the Lions can be one of the top teams in the NFL.
The pressure Detroit's front four can place on an opposing quarterback -- and it appeared the Lions blitzed linebackers and safeties Thursday more often than they usually do -- changes the entire game.
When Detroit can combine that with taking away a quarterback's first read, which the Lions did to
Matt Flynn
, it'll give the Lions enough time to reach the passer.
This was, by far, the best the Lions defense played this season and, by far, the best the Lions have played overall. The way the defense played eliminated pressure on
Matthew Stafford
and the offense because they knew they might get extra opportunities and wouldn't have to score on every possession to win.
It begins with the defensive line, a group that insisted it approached things the same way every week, always rushing the quarterback, but due to quick-twitch passers or protections featuring linemen, tight ends and running backs, it was unable to actually sack the quarterback.
"Every game, we go out and do the same thing over and over," rookie defensive end
Devin Taylor
said. "Every time, something happens. We get closer and closer.
"Finally, today, we were actually able to get back to the quarterback."
It all started before the game. Instead of coming out individually during introductions, the defensive line -- and safety and the soul of the defense,
Louis Delmas
-- ignored that. When Young was announced, the entirety of the line came out.
Together.
After the game, the Lions' defensive linemen said it had nothing to do with being called scumbags and dirtbags by Sitton. It was an idea, Suh said, that came from
Andre Fluellen
to show solidarity.
How they played backed that up. With perhaps a little bit extra because of Sitton.
"Unreal," center
Dominic Raiola
said. "They looked unblockable today. Seriously."
They pretty much were. It wasn't just the line, either. The defense held Green Bay to 24 rushing yards and sacked Flynn almost as often as he completed passes (seven sacks, 10 completions).
Ndamukong Suh
reached the end zone for a safety. That's more than the Packers' offense did all day long.
"It's embarrassing," Sitton said. "We got our a-- beat. Plain and simple. They smacked us today."
Of course, Sitton influenced that. While Detroit's defensive line -- those guys Sitton thought were scumbags and dirtbags a couple of days ago -- tried to downplay what he said, the line played differently Sunday.
The linemen played as if they were trying to prove something. To themselves. To Sitton. To the rest of the NFL.
From the veterans such as Young, who had five tackles and a fumble recovery, and Suh, who had the safety sack, to the rookies such as Taylor and
Ziggy Ansah
, who each had three tackles and two sacks, the entire group appeared both present and almost possessed by a singular goal of flattening Flynn.
"I know it motivated some guys, especially the D-line," offensive tackle
LaAdrian Waddle
said. "I feel like it did motivate them.
"[Green Bay] kind of hurt themselves by saying that, I feel like. Just because it was another thing to add into the pot of extra motivation for those guys."
It was something already percolating, too. Detroit had heard a lot about the dirtiness of its defensive line over the past month, from Chicago's
Brandon Marshall
to Sitton. Combine that with a two-game losing streak to teams with losing records. And giving up two leads in the fourth quarter the past two weeks.
Motivation wasn't going to be an issue. Add Sitton's words and it turned combustible.
It blew up on Sitton. The Packers are now under .500 and well behind Detroit in the NFC North race.
It blew up for Detroit. The Lions once again gained tenuous control of the division, with a 1½-game lead on Chicago because of the tiebreaker they have over the Bears.
It all started with the defensive line, a group that can now be called whatever they want.
"It was, you can say it was a dominating performance. It's just something we've got to string together, man," Mosley said. "I think that'll kind of take us to the next level where we want to be as far as the postseason.
"We've got to string performances like this together."
If they do, the Detroit Lions, up one week, down the next, might just end up making the playoffs after all.
November, 28, 2013
11/28/13
3:45
PM ET
DETROIT -- A few thoughts on the
Green Bay Packers' 40-10 loss
to the
Detroit Lions
on Thursday at Ford Field:

What it means:
The Packers' playoff chances are not officially dead, but they might as well be. At 5-6-1, they fell 1½ games behind the NFC North-leading Lions (7-5) with four games remaining. The
Chicago Bears
(6-5) also stand between the Packers and the top of the division. The Packers fell under the .500 mark for the first time since they were 1-2 after Week 3.
Stock watch:
Matt Flynn
was not the answer at quarterback. Four days after he helped rally the Packers from a 16-point, fourth-quarter deficit in a 26-26 tie with the
Minnesota Vikings
in relief of
Scott Tolzien
, Flynn was as bad as or worse than Tolzien was against the Vikings. Flynn completed just 10 of 20 passes for 139 yards with zero touchdowns and one interception. The offense accounted for just three points. Flynn didn't get much help from his offensive line. Left tackle
David Bakhtiari
struggled with rookie defensive end Ziggy Ansah most of the day. Flynn was sacked seven times. However, he did not help himself by holding the ball too long. Going into the Packers' final series, the Lions had 563 yards to the Packers' 56. Green Bay got 70 yards on its final drive, which ended with a fumbled snap.
Defensive woes:
What does it say about a defense that created four turnovers but still got beat up and down the field? The Packers picked off Lions quarterback
Matthew Stafford
twice and recovered two fumbles -- one of which safety
Morgan Burnett
returned for a 1-yard touchdown. The Packers gave up 340 yards of offense in the first half alone and 561 for the game. Their run defense struggled again, allowing 148 yards rushing in the first half and 241 for the game, The Packers came into the game allowing an average of 159.2 yards rushing in their last five games after giving up only 79.0 yards rushing per game in the first six games of the season.
Injury problems:
The Packers played more than half the game without starting center
Evan Dietrich-Smith
, who left late in the second quarter with a knee injury. They also lost backup tight end
Ryan Taylor
to a possible concussion in the second half.
What's next:
The Packers have a mini bye with the weekend off. They return to action Dec. 8 against the
Atlanta Falcons
in a game that was originally scheduled for prime time but was moved to a 1 p.m. kickoff.
November, 28, 2013
11/28/13
3:44
PM ET
DETROIT -- A few thoughts on the
Detroit Lions
'
40-10 win
against the
Green Bay Packers
.

What it means:
After two losses in which the Lions gave up fourth-quarter leads and a week during which their future seemed tenuous, Detroit played its best, most complete game of the season Thursday against Green Bay. The offense put up 38 points. The defense didn't let Green Bay do anything at all, holding the Packers to 126 total yards and completely pummeling Green Bay quarterback
Matt Flynn
.
It was simply a game the Lions had to have for multiple reasons. First, the win stopped a two-game losing streak. Second, the win essentially eliminated Green Bay from the NFC North race, giving Detroit a two-game lead on the Packers in the win column. It also puts pressure on Chicago on Sunday to keep pace with Detroit. That's huge for the Lions' playoff hopes. Oh, and it is the first Thanksgiving win for the Lions since 2003.
Stock Watch:
Rising:
Jeremy Ross
. The Lions' returner for the second straight game, Ross also saw some offensive action against his old team. He caught a 5-yard touchdown pass in the first half and established himself as Detroit's returner. His best return of the day didn't even count, as it was called back by a penalty.
Darius Slay
. In his first start since Week 2, the Lions cornerback did a good job against the Packers.
Falling:
David Akers
. The kicker missed a chip shot at the end of the first half.
Dominant defense:
Josh Sitton
called Detroit's defense dirtbags and scumbags on Tuesday. On Thursday, the Lions' defensive line put together their most dominating performance in a long time. The Lions' line had 16 tackles, seven quarterback hits, five sacks, two fumble recoveries and one defining statement that they have the ability to change an entire game.
Rushing attack:
Before the season, Detroit had
Joique Bell
and brought in
Reggie Bush
. Together, the two time-shared their way to 211 rushing yards and two touchdowns on Thursday. Despite his fumble in the first quarter, Bush had a particularly good day, carrying the ball 20 times for 117 yards. Bell had 19 carries for 94 yards.
What's next:
The Lions enter the final month of the season by heading to Philadelphia next Sunday for a game with the Eagles, followed by two home games.
November, 28, 2013
11/28/13
2:04
PM ET
DETROIT -- Three halftime thoughts from Ford Field, where the
Detroit Lions
lead the
Green Bay Packers
,
17-10
.

Dominating defense:
Josh Sitton
called the Detroit Lions' defense scumbags and dirtbags on Tuesday. On Thursday, the Lions' defensive line -- who the comments were really directed at -- walked out of the tunnel during introductions together.
Then they shut down the Green Bay offense completely. The Lions' front four gave
Eddie Lacy
no room to run, holding him to 13 yards on seven carries. They pressured
Matt Flynn
, sacking him thrice and hitting him five times. Rookie Ziggy Ansah had two of those sacks. Flynn didn't have much success throwing, either, completing 3 of 8 passes for 45 yards. Even when he did throw, he made poor decisions.
Good Stafford, Bad Stafford:
Matthew Stafford
did not have a good first half. The Lions had three turnovers on their first four possessions, two by Stafford. He fumbled the ball on his 12-yard line and it was recovered for a Green Bay touchdown. Yes,
Riley Reiff
blew his blocking assignment, but it will still be credited to Stafford as a fumble.
The second turnover was all Stafford, though. He threw the ball essentially right to Green Bay cornerback
Tramon Williams
, who stepped inside of
Kris Durham
. Williams caught the ball and if not for a rough tackle by Durham, could have been an interception returned for a touchdown as well.
Of course, right after that, Stafford leads an 85-yard drive for a touchdown. It's part of the deal with Stafford. With the good comes the bad. Stafford finished the first half 14 of 20 for 202 yards, one touchdown and one interception.
Return of Ross:
Earlier this season,
Jeremy Ross
was cut by the Packers after fumbling the ball on a return. The Lions picked him up and stashed him on the practice squad before promoting him on Oct. 19. Since then he's seen a smattering of snaps -- less since
Nate Burleson
returned from injury -- but against his old team he went off in the first half on both special teams and on offense.
Ross returned two punts for 36 yards, two kicks for 57 yards, gained 24 yards on a reverse and also caught a 5-yard touchdown pass from Stafford. When Ross was signed, he said he understood why he was released and that he still had friends on the Packers. So far, he looks like he's trying to prove a point to his old team.
November, 24, 2013
11/24/13
9:00
PM ET
GREEN BAY, Wis. -- Give
Scott Tolzien
credit for one thing on Sunday: The
Green Bay Packers
quarterback gave an honest assessment of his second straight start.
"I probably would have pulled me, too, to be honest," Tolzien said after he was yanked midway through the third quarter of Sunday's 26-26 tie against the
Minnesota Vikings
at Lambeau Field.
Flynn
Packers coach Mike McCarthy opted for
Matt Flynn
after Tolzien led just one scoring drive in seven possessions on Sunday.
Tolzien didn't turn the ball over like he did a week earlier, when three interceptions ruined his 339-yard passing performance in a loss to the
New York Giants
. But other than his 6-yard first-quarter touchdown run -- in which he faked out Vikings defensive end
Brian Robison
and spun away from defensive end
Letroy Guion
-- he was largely ineffective.
He completed just 7-of-17 passes for 98 yards. Those deep throws he connected on against the Giants were much harder to complete on Sunday. He hit
Jordy Nelson
for a 34-yarder down the seam in the first quarter, but that was about it.
"I was just off a bit," Tolzien said. "I mean, I'm not going to sit here and make an excuse. Just didn't play well and a lot of throws you wish you could have back."
Though Packers coach Mike McCarthy was noncommittal about who would start at quarterback in Thursday's Thanksgiving game at the
Detroit Lions
, it's hard to imagine him going back to Tolzien if
Aaron Rodgers
can't return from his broken collarbone.
Flynn not only performed well, leading four scoring drives -- two touchdowns and two field goals -- but he probably has a greater understanding of the offense despite re-signing with the Packers less than two weeks ago. Not much has changed in the passing game since Flynn last played for the Packers in 2011 and with him, they used the no-huddle far more extensively than they did with Tolzien, who ran it only in two-minute situations.
"Matt Flynn was placed in the game to give the offense a spark," McCarthy said.