NFL Nation:

2013 Week 14 CLE at NE
December, 8, 2013
12/08/13
8:33
PM ET
FOXBORO, Mass. --
Josh Gordon
continues to set new standards for himself, and the league.
Gordon had his fourth amazing game in a row in the
Cleveland Browns
'
27-26 loss
to New England, accounting for 37 percent of the Browns' offense with 151 yards receiving and 34 rushing on a reverse.
[+] Enlarge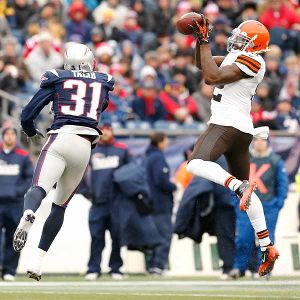 David Butler II/USA TODAY SportsGoing up against Patriots CB Aqib Talib, Josh Gordon creates room to run. The Browns' WR finished Sunday's game with 185 total yards.
The 34 yards led the Browns.
Gordon also scored an 80-yard touchdown, giving him touchdowns the past two weeks of 95 and 80 yards. Both were eye-opening, as he ran away from defenders with what looks like little effort.
On Sunday's touchdown, he caught a slant from
Jason Campbell
-- who had quite a day on his own with 391 yards and three TDs -- and ran away from
Aqib Talib
.
Talib is one of the league's most physical and talented corners, and the
New England Patriots
used him a lot on Gordon.
But Gordon was more physical.
"Hey," Talib said. "He's a hell of a player, man ... He's going to make some noise in this league."
Ahem.
He already is.
In his past four games, Gordon has 774 yards receiving -- an NFL record. In his last three, he has 649.
He also has 1,400 yards for the season -- a Browns record (that, probably thankfully, breaks the mark held by
Braylon Edwards
).
He has seven 100-yard games this season, and five touchdowns the last four games. Tight end
Jordan Cameron
is having an excellent season (72 catches, seven TDs), but Gordon's play is unprecedented.
The way he ran away from Talib on the touchdown was a sight to behold. Talib had the early angle on Gordon when he caught the pass, but within four steps Gordon was pulling away.
The skills, size, speed and talent that prompted Tom Heckert to shock the league by taking Gordon in the second round of the supplemental draft are exploding on the NFL scene. He is an extremely talented player doing everything he can to help his team.
Too, one of these weeks the Browns will actually win one of these games in which Gordon is so special.
December, 8, 2013
12/08/13
8:09
PM ET
FOXBOROUGH, Mass. -- It was fast, it was violent, it was dangerous and it was ugly.
And it was a choice
Cleveland Browns
safety
T.J. Ward
said he made as he saw
New England Patriots
tight end
Rob Gronkowski
running with the ball a step ahead of linebacker
D'Qwell Jackson
in the third quarter of the Browns' loss to the Patriots on Sunday.
"It was a decision I made to make a tackle on a big man," Ward said.
[+] Enlarge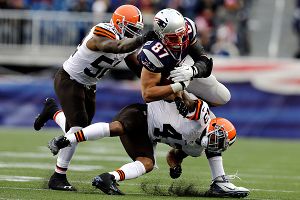 AP Photo/Steven Senne"When they set the rules, everyone knew what was going to happen," the Browns' T.J. Ward (43) said of the NFL, adding, "They force our hand with this."
Ward's decision was clearly influenced by the rules and emphasis the NFL has stressed to players over and over: Don't hit high, near the head. It's an admirable goal as the league tries to eliminate concussions, but it also results in defensive players being fined and/or suspended for hits that simply look close to the head.
So Ward hit Gronkowski low, and the timing of the play meant that Ward's shoulder drove into Gronkowski's right knee as Gronkowski planted to run.
Gronkowski's knee bent in a way it is not supposed to bend, and he flipped in the air before landing. It was evident immediately that Gronkowski had a serious knee injury,
believed now to be a torn ACL
.
Ward thought he hit Gronkowski in the quad and didn't realize the seriousness of the situation until 20 seconds later, when a teammate told him the tight end was down. Ward took a knee.
"I honestly prayed for him," Ward said.
And when Gronkowski was carted off, Ward approached him to shake his hand.
"My intention is never to hurt anyone," Ward said. "That's not what this game is about. That's not how I play. I hate to see guys go down with any kind of injury. I just wanted him to know, whether he accepted it or not, it wasn't an intentional hit. We have to play this game. We have to play the way that they force us to."
Which means avoid a high hit. Browns defensive back
Jordan Poyer
can vouch for that fact. His hit to the shoulder of
Julian Edelman
after a late touchdown was flagged as unnecessary on a defenseless receiver. The resulting penalty helped New England's field position when the Patriots recovered the onside kick.
Had Ward made a similar kind of hit, he'd have risked being fined, especially if Gronkowski had ducked or flinched.
"It's kind of being caught between a rock and a hard place," he said. "It's a decision you have to make, but you have to follow the rules at the same time. Gronk's a big dude. He's not small by any means, so already he has that height. It just makes it difficult. I made a tackle. Unfortunately he got hurt. If he would have got up, there would have been no discussion about this right now."
There used to be an unwritten rule among players never to hit an opponent in the knee or from behind. But those unwritten rules have been trumped by the new ones from the league. Ward predicted last season that the emphasis on eliminating hits to the head would result in more low tackles and knee injuries. He repeated that position on Sunday.
"When they set the rules, everyone knew what was going to happen," he said. "This can happen if you have those type of situations. It's pretty much inevitable. And they force our hand with this."
Ward could have tried to hit Gronkowski at the waist, but he's giving up seven inches and 65 pounds to the tight end. If he tries to make a high tackle and misses it, he loses his job.
"I've been fined three times," he said. "And I don't like playing for free. You can ask anybody in this league, would they like play for free? No. ... [And] I can't risk [suspension]. I won't risk that. I've got to play within the rules."
And the way the rules are written, there seems to be nothing illegal about a hit like Ward's.
December, 8, 2013
12/08/13
8:00
PM ET
FOXBOROUGH, Mass. -- It is the type of moment where time seems to stop, an eerie quiet taking over a stadium with 60,000-plus in attendance as the cart comes out for an injured player. Emotions of teammates swirl.
"It's like you're in a bad dream," Patriots special teams captain
Matthew Slater
said, "and you're hoping you wake up and it wasn't really happening."
It happened to the
New England Patriots
and tight end
Rob Gronkowski
on Sunday.
The potential season-changing moment occurred with 8:36 remaining in the third quarter of the Patriots' 27-26 comeback victory, Gronkowski's right knee taking a direct but legal hit from
Cleveland Browns
safety
T.J. Ward
.
As Gronkowski lay on the ground, medical staff surrounding him and calling for the cart, several of his teammates were devastated. Some, like Slater, began to pray.
"My heart is broken for Rob and having to see him go through that, seeing him in pain, and realizing what he has been through in his young career, it's heartbreaking, it really is," Slater said.
"You can't help but think about that. They always say 'injuries are a part of the game, injuries are a part of the game,' but that doesn't mean you get used to it. Guys are out here putting their bodies on the line week in and week out. ... That kid has been through so much, and he's worked his butt off to overcome a lot of different things at a young age.
[+] Enlarge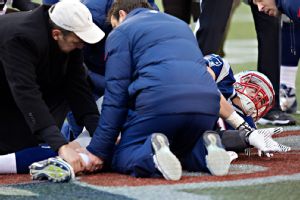 Matthew J. Lee/The Boston Globe/Getty ImagesGillette Stadium fell silent after Rob Gronkowski suffered what likely will be a season-ending injury.
"He means so much to this football team, not only what he does on the field, but in the locker room -- his presence. He brings a childlike joy to the locker room."
Slater's emotions captured a unique mood in the Patriots' locker room after their remarkable comeback win.
There was elation at accomplishing what looked like the impossible after trailing 26-14 with 2:39 remaining in the fourth quarter. But there also was the realization that they would now be chasing their Super Bowl hopes without a key member of the team, which has season-altering possibilities, as the Patriots fear Gronkowski tore his ACL, with an MRI scheduled for Monday to confirm the injury, a source told ESPN NFL Insider Adam Schefter.
Gronkowski's season got off to a delayed start, as he missed the first six games while recovering from offseason back and forearm surgeries. He seemed to be hitting his stride the past few weeks and had been a huge addition to the Patriots' offense.
Players from both teams came over to Gronkowski on the cart to offer encouragement before he waved to the crowd. Teammate
Matthew Mulligan
had helped Gronkowski onto the cart.
"Obviously, there is a lot of emotion there, from him and from me; I just wanted to be there in any way I possibly could," Mulligan said of the moment. "When you have a good player like him, and you know all the struggles that he's gone through already, I think it's catastrophic and everybody feels it.
"You spend so much time with these men on this team, a lot of times more than your family. When something happens that's out of the ordinary, and it's a difficult situation, you feel for him. It's just like your brother. It was very difficult to watch. That's why you go over and try to pick him up any way you possibly can -- whether it's physically [or something else]. He would do the same for me."
Transitioning from the injury back to the game naturally was a challenge for Patriots players.
"We're all human, so we have different emotions that come out," said Mulligan, the No. 2 tight end who elevated into Gronkowski's role after the injury.
"The first thing I thought was everything he went through to get back out here, and how hard he's worked," said safety
Devin McCourty
, another of the team's captains.
"To see him take a shot and go down, it kind of kills us a little bit," running back
Shane Vereen
added. "But we know he'll be back; he's a fighter."
It's unlikely Gronkowski will be back in 2013, which was a reality many players were wrapping their heads around at the same time they were dissecting an improbable victory.
"When it first happens, you're like, 'It's not real. It's not really happening,'" Slater said of Gronkowski being carted off. "But as you see him out on the field, in pain, and it was a tough pill to swallow."
December, 8, 2013
12/08/13
7:25
PM ET
FOXBOROUGH, Mass. -- The
Cleveland Browns
have found a lot of ways to lose these past many years.
Sunday in New England added one more to the ever-growing list, as the
New England Patriots
scored two touchdowns in the final 1:01 as the Browns turned a 26-14 lead into an improbable, head-scratching and hard-to-figure 27-26 defeat.
[+] Enlarge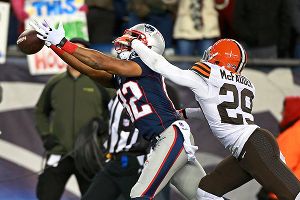 Jim Davis/The Boston Globe via Getty ImagesA controversial pass interference penalty against the Browns' Leon McFadden with 35 seconds left gave the Patriots a first-and-goal at the 1-yard line.
"Heartbreaking," defensive tackle
Phil Taylor
said.
Jason Campbell
's third touchdown pass had given the Browns a 12-point lead with 3:02 left. But somehow
Tom Brady
was able to pull yet another rabbit out of his helmet. Brady threw two touchdown passes and the Patriots recovered an onside kick in the final 1:01 to win.
"It's devastating," linebacker
Paul Kruger
said. "Trust me, it's devastating."
The Browns also were bitter and angry about two late penalty calls that they felt contributed significantly to the loss. The first came when
Jordan Poyer
tried to dislodge the ball form
Julian Edelman
after his touchdown catch with 1:01 left.
Officials flagged Poyer for unnecessary roughness. The Browns thought Poyer hit Edelman with his shoulder in Edelman's shoulder.
The second came after the Patriots recovered the ensuing onside kick, which was kicked from the 50 instead of the 35 thanks to the call on Poyer.
On New England's second play, Brady threw deep to
Josh Boyce
, who had the ball glance off his fingertips.
But the official ruled rookie
Leon McFadden
had interfered, and gave the Patriots the ball at the 1.
After watching replays, the same official made both the calls the Browns moaned about: Field judge Dyrol Prioleau.
"I think they were both terrible calls," Kruger said, "but then, I'm just a player."
"I thought both those plays were good, physical plays,'' safety
Tashaun Gipson
said.
Ward said he was "right there" for the hit on Edelman, and said Poyer's hit "was a total clean hit."
As for the penalty on McFadden? "I have no comment on that," he said.
Kruger was more direct.
"I think we got robbed a little bit," he said.
Which will be words that will be repeated often back in Clevleand. But it's also true that the defense had 82 yards to stop New England's first drive, and it didn't. It had a chance to recover
Stephen Gostkowski
's onside kick, but didn't as running back
Fozzy Whittaker
mistakenly thought Gostkowski touched the ball prior to 10 yards and jumped in trying, he said, to knock Gostkowski away from the ball.
New England recovered.
"All we had to do was recover that onside kick and the game was over," Taylor said.
With the Browns there always seem to be a lot of "if this" or "if that" situations. If they recover the kick, if the flags aren't thrown.
But the other "if" might have been the biggest. Because for the second week in a row, the Browns had a chance to stop the other team to gain a win -- and didn't.
"I don't think they took anything," Ward said of the officials. "We took it from ourselves. We had opportunities and we didn't get the job done."
December, 8, 2013
12/08/13
4:50
PM ET
FOXBOROUGH, Mass. -- A few thoughts on the
Cleveland Browns
' 27-26
loss
to the
New England Patriots
:

What it means:
Could a loss be more crushing? The Browns followed a teeth gnasher against Jacksonville with a spirit breaker in New England. Although Cleveland was up 26-14 with 3:04 left,
Tom Brady
somehow led the Patriots to two scores and the win. Oh, the Pats also recovered an onside kick in that time and got the benefit of a pass-interference call in the end zone in the final minute. Does anyone doubt anymore what folks refer to when they say OIC -- Only In Cleveland?
Stock watch:
The Browns do have heart, and they do believe in their coach. No team could play in New England the way the Browns did without both those traits. The Browns were woeful a week ago against Jacksonville. They were the exact opposite against the Patriots. It's hard to explain the NFL sometimes. Brady is the virtuoso of quarterbacks, and he plays his best when the games mean the most. The Browns nearly flipped that script -- but Brady came through (again) when it mattered most.
Bounce back:
Jason Campbell
had 391 yards and three touchdowns on a day when there was doubt he would even be on the field. Campbell brought some calm back to the Browns' offense, and he avoided
Brandon Weeden
's turnover bug. Campbell took care of the ball and did enough to keep the Browns in the game, then led the Browns on an impressive 80-yard drive in the fourth quarter to score a touchdown that should have sealed the game. Not bad for a guy whose first full practice in 11 days was the Friday before the game.
Ward takeout:
Patriots tight end
Rob Gronkowski
was the victim of a low hit from safety
T.J. Ward
, and the NFL rules. There used to be an unwritten rule in the NFL not to hit a guy low from behind. But the NFL has legislated so severely against the high hit that players now aim low. That's what Ward did to Gronkowski, and the result was what appeared to be a serious lower right leg injury to the Patriots' standout tight end.
Gordon's mastery:
It's tough to find the words to describe the way
Josh Gordon
has played the past four games. He's done everything, as he did in New England, where his day included an 80-yard touchdown, a 34-yard run on a reverse, and a clutch first-down catch on third-and-17 in the fourth quarter with
Aqib Talib
draped all over him. He has played like a superstar -- a 22-year-old superstar.
What's next:
The Browns return home to face the
Chicago Bears
for the final home game of the season.
December, 8, 2013
12/08/13
4:44
PM ET
FOXBOROUGH, Mass. -- Sharing thoughts on the
New England Patriots
' stunning
27-26 comeback win
over the
Cleveland Browns
:

What it means:
Everything. Not the outcome of the game, which was another amazing Patriots comeback that was only solidified after Browns kicker
Billy Cundiff
was short with a 58-yard attempt at the final gun. Tight end
Rob Gronkowski
being carted off the field midway through the third quarter with a serious leg injury is a season changer for New England. Gronkowski is that much of a difference-maker. In the postgame news conference Patriots coach Bill Belichick said, "Rob was taken to the hospital for a observation and evaluation on his injury. That's all I have on that."
Measuring Gronkowski's impact:
Since his return to action on Oct. 20, Gronkowski almost single-handedly changed the Patriots' offense. The Patriots were 22nd in points per game before Gronkowski returned; they were seventh entering Sunday's game. The Patriots were 30th in red zone efficiency without Gronkowski; they were 11th entering Sunday's game. The Patriots were 19th in passing yards per game without Gronkowski; they were 10th entering Sunday's game. The Patriots were 16th in first downs per game before Gronkowski returned; they were fifth entering Sunday's game.
Where the Patriots go from here without Gronkowski:
Assuming tests reveal what many assume -- that Gronkowski will be out for the season with a leg/knee injury -- the Patriots won't be able to find a player to replace his production. They'll need to find new ways to create offense, such as what we saw in parts of the second half with running back
Shane Vereen
becoming a greater part of the passing offense. From a pure 1-for-1 personnel standpoint, tight end D.J. Williams -- who was released on Wednesday -- could be brought back to add another tight end, along with
Matthew Mulligan
and recovering
Michael Hoomanawanui
(knee).
Unbelievable comeback:
Gronkowski's injury cast a cloud over a remarkable comeback. How do the Patriots keep digging themselves into an early hole, when it seems the game is lost, only to pull it out? It's one of their most redeeming qualities -- they are hard to knock out and play all 60 minutes (and sometimes beyond). This was simply stunning, requiring an onside kick to be recovered with one minute remaining -- and the benefit of what looked like a generous 29-yard pass-interference penalty -- to set up the winning touchdown. Wow. Patriots fans have seen some of the ugliest football the Patriots have ever played this season ... and also some of the most remarkable comebacks.
Where's the protection?
When considering why the Patriots' offense struggled as much as it did, after crediting the Browns' defense, one area to look at from a New England perspective is inconsistent offensive line play. Quarterback
Tom Brady
was under pressure at various points in the game. Left tackle
Nate Solder
and left guard
Logan Mankins
, arguably the two best linemen on the team, were beaten for sacks.
Stock watch -- coaching staff:
Falling: One week after being praised for its in-game adjustments, the Patriots' staff finds itself in this category, as the Patriots sputtered out of the gate with another slow start. Something isn't getting through.
Ridley back in the mix with 17 snaps:
After he was a healthy scratch last Sunday in Houston because of ball-security issues, running back
Stevan Ridley
was active and used as part of a committee with
Shane Vereen
and
LeGarrette Blount
. Ridley was the third player in the mix, as we counted him on the field for 17 snaps (including penalties).
What's next:
The Patriots travel to South Florida to face the Dolphins on Sunday, Dec. 15 (1 p.m. ET).
December, 8, 2013
12/08/13
2:35
PM ET
FOXBOROUGH, Mass. -- Sharing some halftime thoughts as the
New England Patriots
trail the Browns
6-0
:

Uninspiring performance from Patriots:
Dropped passes. Missed blocking assignments. Substitution issues on the sideline with the coaching staff and players that lead to 12-men-on-the-field penalties and general confusion. Simply put, it's been uninspiring football from the Patriots. At the same time, credit also goes to the Browns in some areas (e.g.
D'Qwell Jackson
's range on an interception of a throw that was forced), who certainly haven't quit after last week's loss to the Jaguars.
Not as much about adjustments as execution:
Unlike last week, when the Patriots altered their offensive plan at halftime, this game doesn't strike us as much about being adjustment-based. It's more about execution. There are opportunities there if they can make the plays. The Patriots looked like one of the NFL's worst teams in the first half.
Charting Ridley's usage:
The Patriots have eased running back
Stevan Ridley
back into the mix after he was a healthy scratch last week because of ball-security issues. He played five snaps in the first half.
Siliga's presence highlights focus on interior rush defense:
One of the areas prioritized defensively during the week of practice was the Browns' inside running game. Along those lines, the Patriots started nose tackle
Sealver Siliga
(6-2, 325) over
Joe Vellano
(6-2, 300), electing for more bulk and power (and choosing Siliga over veteran
Isaac Sopoaga
to provide it). That was a notable personnel shift, and the results have been good. The inside running game, outside of the first few plays of the game, hasn't been a big factor.
Closer look at cornerback usage:
The Patriots started
Aqib Talib
and
Logan Ryan
at cornerback in the base defense, with Talib shadowing receiver
Josh Gordon
all over the field. When the Browns go to a three-receiver package, the Patriots are taking Ryan off the field and adding cornerbacks
Alfonzo Dennard
and
Kyle Arrington
as the fourth and fifth defensive backs. Something different, with Talib and Ryan two of the bright spots in a half with few of them.
Patriots open the half with ball:
After winning the opening toss and deferring the choice to the second half, the Patriots will receive the opening kickoff of the half.