NFL Nation:

2013 Week 14 DAL at CHI
December, 10, 2013
12/10/13
9:00
AM ET
CHICAGO -- At the end of a long, cold night in old Solider Field, defensive end
DeMarcus Ware
was honest about himself.
He needs to play better.
Ware
"Health wise, I'm fine, I feel good, I was running around out there, I didn't get tired," Ware said after the
45-28 loss
to the
Chicago Bears
on Monday night. "At the end of the day I haven't been playing like the DeMarcus of the past and I got to get back to that. It's December (and) people always say the light turns on in December and you set yourself apart from everybody and I got to get back on track with that."
Ware ended a two-game sack-less streak with a meaningless fourth-quarter takedown of
Josh McCown
. Ware has six on the season and with three games remaining in the regular season, his string of getting double-figures in sacks is nearing an end.
It's not like Ware it getting double-teamed on every snaps, tackles
Jermon Bushrod
and
Jordan Mills
, a rookie, held him for most of the night. Now Ware is dealing with some health issues, a stinger and a thigh injury, but he said he's healthy.
"I've been effective, but I have to go back to the fundamentals of practice and honing in on things, keying on things and making myself a better player," he said.
Added Cowboys coach Jason Garrett: "He's coming off that injury he's been dealing with that for most of the year. It's just one of those deals he's got to get himself going and start impacting the game a little bit more. Sometimes the conditions are tough on a night like this to do that, but we certainly need him down the stretch."
December, 10, 2013
12/10/13
8:30
AM ET
CHICAGO -- It's one thing to get torched by quarterbacks who are household names, such as
Eli Manning
,
Philip Rivers
,
Peyton Manning
,
Matthew Stafford
and
Drew Brees
.
McCown
But what about the sixth quarterback to pass for at least 300 yards against the
Dallas Cowboys
this season?
"Is that
Luke McCown
or Cade McCown?" Cowboys cornerback
Orlando Scandrick
asked after Monday night's
45-28 blowout loss
to the
Chicago Bears
.
Um, actually it was
Josh McCown
, who is Luke's brother and not related to former Bears first-round bust
Cade McNown
.
Scandrick meant no disrespect -- "He's been playing great this year," he added -- but his slip of the mind makes the point. The Dallas defense got dominated by a 34-year-old journeyman backup.
McCown has consistently performed well while filling in for an injured
Jay Cutler
, but this was a career night for a guy who couldn't keep a starting job at SMU. He completed 27 of 36 passes for 348 yards and a career-high four touchdowns, plus he ran for another score.
To be brutally honest, the numbers would have been much more impressive if the Bears weren't in clock-killing mode for most of the fourth quarter. Chicago never punted or committed a turnover.
All due respect to McCown, but he's not a guy who should account for five touchdowns against an NFL defense.
"If you were back there at quarterback and we played the way we played, you'd probably have five touchdowns," defensive end
DeMarcus Ware
said in response to a question from a 40-something television reporter. "I mean, that's the way I feel. If you don't play a fundamentally sound game, a guy that can just get out there and play, he'll hurt you and that's what he did."
In doing so, McCown added his name to a long list featuring a bunch of big-name quarterbacks.
December, 10, 2013
12/10/13
2:10
AM ET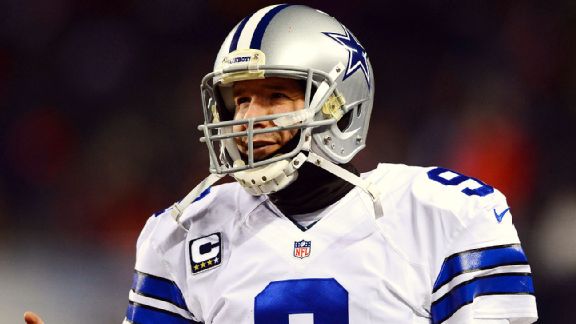 Andrew Weber/USA TODAY SportsThe Cowboys will have to rely on Tony Romo and not their defense if they want to make the playoffs.
CHICAGO --
Tony Romo
's performance ranked far down the list of the
Dallas Cowboys
' problems in this Monday night massacre. His name might not have even made the first page.
But the
45-28
butt-kicking delivered by the
Chicago Bears
at Soldier Field did happen in December, so slap another loss on Romo's record in the final month of the regular season.
In case you've been hiding under a rock or had your cable and Internet wiped out by Icemageddon, the lopsided loss drops Romo's career December record to 11-16. Fair or not, only franchise quarterbacks and head coaches get assigned win-loss records in football. That's just a fact.
Here's another dose of reality: Romo will have to be a superhero to give the Cowboys any chance of being successful enough in this December to extend their season.
"I just look at our football team needs to keep improving," Romo said when this theory was presented to him. "We just need to execute better and play better football. We did not play a sound enough and good enough game to win."
That's a bunch of politically correct bull, and Romo knows it.
Romo is smart enough to know how foolish it is to think that a defense that ranks dead last in the league and just got lit up by a journeyman backup is going to be dependable down the stretch. The Cowboys' only hope is to outscore opponents, especially if Green Bay's
Aaron Rodgers
is cleared to play next week.
Romo might not be willing to say it, but if he doesn't perform magic with his play over the next few weeks, the Cowboys will watch the playoffs from the couch for the fourth straight year. Now is the time to earn the $55 million in guaranteed money from the deal he signed last summer.
Decent isn't going to get it done on a team that features Monte Kiffin's dreadful defense. Romo was just OK against the Bears, completing 11 of 20 passes for 104 yards.
Romo did throw for three touchdowns and had a passer rating of 109.2. That means his December passer rating since 2009, which ranks second to Rodgers in that span, got boosted a bit. And his ridiculous touchdown to interception ratio in those games improved to 30-5.
Wait, is this a bad time to bring up those stats? They certainly aren't going to comfort any Cowboys fans after watching Monday's football failure.
Ultimately, all that matters is the Cowboys are 6-8 in games started by Romo in that span. Rational arguments about how much fault falls at his feet can drowned out by the screams about Romo fading when the weather gets cold and the pressure gets hot.
Sometimes, even greatness from Romo can't rescue the Cowboys in December.
There is a pair of glaring examples from the past two seasons. Romo threw for 321 yards and four touchdowns with no interceptions in a 37-34 loss to the
New York Giants
in December 2011. He threw for 416 yards and four scores in a 34-31 loss to the
New Orleans Saints
last December.
But Romo couldn't cover anyone or make a tackle in either of those games. And the Dallas defense didn't do a whole lot of that sort of thing, either.
"I just think we've got to have everything we can possibly get out of him," owner and general manager Jerry Jones said. "You don't have to be flawless to win a football game, but we've got to count on getting some stops."
The Cowboys can't count on this sorry defense getting any stops, so Romo better be close to flawless to give them any hope to avoid more December misery.
December, 10, 2013
12/10/13
2:05
AM ET
CHICAGO -- It's time to end this nonsense.
It's time for defensive coordinator Monte Kiffin to go home. It happens to every great coach, because at some point, while they still have the smarts, the message doesn't get through.
Kiffin reminds me of some prize fighter hanging on, knowing they are a shell of themselves, but they keep fighting.
Kiffin's defense defense allowed the
Chicago Bears
to score on eight of nine offensive possessions in a
45-28 loss
on Monday night. The only reason the Bears didn't score on every possession is because they took a knee to end the game.
And the indignity of it all came from Jerry Jones, the team owner/general manager, who said he wants more tricks and more risks from the defense.
Sounds like he wants the man whom he fired last season in Rob Ryan.
[+] Enlarge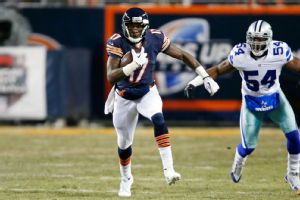 AP Photo/Charles Rex ArbogastAlshon Jeffery and the Bears offense shredded the Cowboys' defense on Monday.
"I'm not talking about philosophy or I'm not talking about technique," Jones said. "What I'm talking about is within what you saw out there (Monday night), there were times that we took more risk. They hit us on one when we were taking risks and actually scored a touchdown when we were taking more risk, but my quick first blush is we need to take more risks. A more conservative approach like (Monday), the results are probably going to be about the same, so we might as well try to somehow get more turnovers."
More turnovers?
The Cowboys have forced 25 turnovers this season.
"They gave us a lot of problems," Jones said of the Bears. "They're a good offensive team and we suffered because of it. They took us out of our offense. That's the story of the game. But, on the short week, we've got to really turn around (for Green Bay on Sunday). What we told the players, the team's got to do it. We've got to look for a way with whatever gimmick, whatever plan that we can to get the ball and get some either turnovers or get some possessions. Did we ever stop them one time tonight? Didn't they score every time? Yeah, scored every time. That says it all. We've got to try to do something different."
Kiffin's response: "We blitzed early, you know, and tried to get some pressure and they got the ball off and we mixed it pretty well."
The Cowboys' defense is not good enough.
Bears quarterback
Josh McCown
was sacked once and hurried three times. McCown used his big receivers to tear apart the Cowboys pass defense which dropped two interceptions, one by
Orlando Scandrick
in the end zone.
Sterling Moore
intercepted a pass, but it was negated by a holding call on
Brandon Carr
.
The Bears had plays of 41, 37, 34 and 25 yards on Monday. Running back
Matt Forte
had seven receptions for 73 yards,
Brandon Marshall
caught six passes for 100,
Alshon Jeffery
caught five more for 84 yards. Former Cowboys tight ends
Martellus Bennett
and
Dante Rosario
combined for six catches for 56 yards.
"We were horrible," middle linebacker
Sean Lee
said. "We lost the game. We played terrible. We got dominated. We got to figure out something if we want to get into the playoffs, we got to play a lot better starting with myself."
Is there still a belief in Kiffin's defense?
"Why you would ask that question," defensive tackle
Jason Hatcher
said. "You answer that."
The Cowboys defensive players are saying the right things.
DeMarcus Ware
said he's not playing like himself and he's healthy. Lee said he needs to play better. Carr, too.
The reality is the Cowboys don't have the talent necessary to win with this defense. Kiffin needs to stop playing rookie cornerback
B.W. Webb
. He's not ready for this level. The Cowboys might need to sit
Jeff Heath
and return
J.J. Wilcox
to the starting lineup at free safety.
When you hear Jones talk about tricking things up and wanting more pressure on the quarterback, it reminds me of what he had here for two seasons in Ryan.
We all know Jones wanted more results from Ryan's defense, but injuries and the complex scheme were too much to handle.
Ryan, like Kiffin, is a good coach, but the old man has lost the fastball.
Time to retire. Not at the end of the season, but like right now.
"It sure wasn't a whole lot of fun," Kiffin said. "We thought going into the game we really were going to play well, I really did."
December, 10, 2013
12/10/13
1:49
AM ET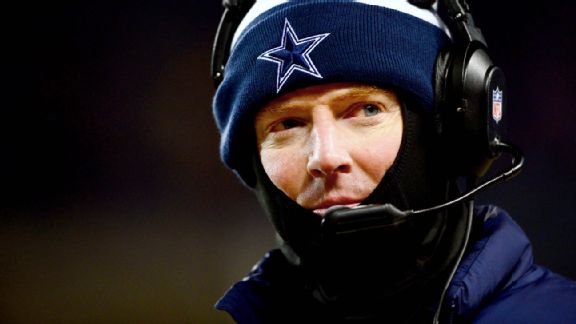 Andrew Weber/USA TODAY SportsJason Garrett was calm and measured after the loss to the Chicago Bears.
CHICAGO -- A year ago Jason Garrett delivered a nearly five-minute, emotional talk about what
Jerry Brown
meant to the
Dallas Cowboys
.
Little was known about the outside linebacker, who joined the team's practice squad after the season had started, but Garrett spoke passionately about Brown after the Cowboys beat the
Cincinnati Bengals
on Dec. 9, 2012, on a
Dan Bailey
field goal.
He connected in a way that he has been reluctant to do since taking over as the Cowboys' head coach.
Monday's circumstances were vastly different than what the Cowboys experienced a year ago. Life is much more important than any football game.
But there was little of that emotion from Garrett after the Cowboys' 45-28 loss to the
Chicago Bears
. You wanted to hear that emotion. You wanted to feel that emotion. You wanted some of that Jimmy Johnson that Garrett must have seen when he was a backup quarterback. You wanted some of that Nick Saban that Garrett must have seen when he was the
Miami Dolphins
quarterbacks coach.
You wanted some of that Garrett you heard from TheMMQB website when he addressed the players to open training camp. And you wanted some of the Garrett you heard in one of the Cowboys' darkest hours after the loss of Brown.
Instead you got the measured Garrett. You got the businesslike Garrett.
It's not that anything he said was wrong. The defense was awful. The offense did not capitalize on its chances. The Cowboys need to bounce back when they play the
Green Bay Packers
on Sunday at AT&T Stadium.
The Cowboys can still achieve what Garrett talked to them about in Oxnard, Calif., at the beginning of training camp. They have just lost their wiggle room. They would need the
Philadelphia Eagles
to lose one of their intervening two games if Dallas doesn't beat the Packers to make the Week 17 season finale another de facto NFC East title game.
"Whatever emotion you're talking about, we all have them," Garrett said. "You're disappointed in a lot of different things, but somehow, some way you've got to get your focus on what we need to do right now and learn from this game as coaches, as players and make the necessary adjustments to get ready for the next challenge. And that's where our focus has to be."
At halftime, the Bears retired Mike Ditka's No. 89. You wanted some of that Ditka after the game. You wanted some combativeness. You wanted to see anger, not just disappointment. You wanted to hear anger, not just level-headedness.
There is a time for that. It's when the players get back to work Wednesday. Or it's when the coaches get back to work Tuesday.
On Monday you needed to see Garrett feel the same hurt you felt. It's there. There's no question it is there. He has shown it enough so you know it's there. You didn't need Princeton Garrett. You needed Jersey Shore Garrett.
"Certainly it was a disappointing loss for everybody and the loss stings," Garrett said, "but the worst thing we can do is have a hangover after this loss. It's a short week, so we have to somehow, someway when the wheels touch down tonight, we've got to get back to work and clean up what happened tonight and get ready for Green Bay. The players will be off [Tuesday], back in on Wednesday and we have to get back to work. You have to shake this one off. That's the nature of this league, particularly on a short week and a big challenge for us in our plays with the Packers on Sunday."
Garrett's message was repeated by most everybody else in the locker room. Linebacker
Bruce Carter
tiptoed to the line of expressing true displeasure.
"It's very frustrating. Kind of embarrassing at the same time," Carter said, but then he went to Garrett-speak with, "but we've got to learn from it and keep pushing forward. We've got three games to go."
December, 10, 2013
12/10/13
1:48
AM ET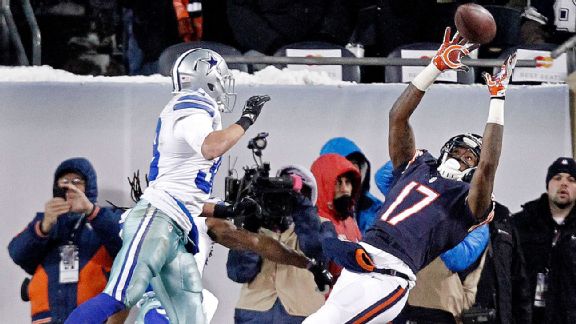 Ron T. Ennis/Fort Worth Star-Telegram/MCT via Getty ImagesAlshon Jeffery's leaping touchdown just before halftime put the Bears up 24-14.
CHICAGO --
Brandon Marshall
pulled in a 14-yard catch in the first quarter, making him and
Alshon Jeffery
the first
Chicago Bears
receiving duo to each gain 1,000 yards in a season since 1995.
"We've got a lot of guys who can make plays," receiver
Earl Bennett
explained following the Bears
45-28 stomping
of the
Dallas Cowboys
. "Once those guys are given the opportunity, the sky's the limit."
Marshall and Jeffery proved that against the Cowboys, with the duo combining for 11 catches for 184 yards and a touchdown. They played a major role in the team converting 73 percent of its third-down attempts.
Although Marshall led the Bears with six catches for 100 yards, Jeffery made perhaps the game's most difficult -- not to mention most exciting -- catch of the night. The play came just 10 seconds before the half when Jeffery jumped to haul in
Josh McCown
's 25-yard pass in the corner of the end zone for a touchdown. The scoring play led to the Bears putting up 10 points on the Cowboys in a matter of one minute and 23 seconds on the way to taking a 24-14 lead into intermission.
Bennett called Jeffery's TD catch between a pair of Cowboys defenders "crazy," while cornerback
Tim Jennings
called the grab "ridiculous."
Marshall said he expected "a touchdown" as soon as the play was called.
"We got a touchdown. We didn't know it was going to be so sweet," Marshall said. "I just embraced him. Held him, [and told him] 'You're awesome.' Me and Earl [Bennett] were on the sideline. Earl brought it up and [Jeffery] had the best deep-ball skill of anybody in the game; maybe even ever. He's just a freak."
Jeffery explained the touchdown grab before the half was the "same play we ran against Minnesota" last week, when the receiver reached up high to pull down a 46-yard TD in the third quarter of the team's loss, despite a Vikings defender draped all over him.
"Just throw it up, and make the catch," Jeffery said. "It's just something I practice all the time, something we're always taught. It's just a natural instinct to keep the ball away from the defender and have strong hands."
In addition to the sure hands, Jeffery made sure to get both feet down on the ground inbounds.
"His catch was unreal," said McCown. "I just know those guys will make plays [when the ball is thrown their way]. I trust them all the time."
With Marshall drawing so much extra attention from defenses, Jeffery has capitalized by destroying opponents in one-on-one situations. But that dynamic has also allowed Chicago's quarterbacks to spread the ball around to other players such as tight end
Martellus Bennett
and running back
Matt Forte
, who combined for 12 grabs for 116 yards and a TD.
During the offseason, Marshall invited Jeffery out to Florida to train in preparation for this season, and the veteran is glad the extra work has paid dividends for the second-year receiver.
Through the first 13 games, Marshall and Jeffery have combined for 159 receptions for 2,283 yards and 15 touchdowns.
"We all knew what [Jeffery] was capable of doing," Marshall said. "He's not just helping me out. He's helping the special teams, defense, the whole organization. He's just special."
December, 9, 2013
12/09/13
11:37
PM ET
CHICAGO - A few thoughts on the
Dallas Cowboys
' 45-28
loss
to the
Chicago Bears
on Monday.

What it means for the Cowboys:
With this embarrassment, the Cowboys now find themselves chasing the
Philadelphia Eagles
, and they need to win intervening games versus Green Bay and at Washington to make sure the Week 17 meeting at AT&T Stadium is for the NFC East title.
If they can, they will be in their third straight de facto NFC East title game to close the season. If they can't, owner and general manager Jerry Jones will have to reassess his statement that Jason Garrett will be the coach in 2014.
It's December, so the Cowboys struggle because that's what they do.
Tony Romo
has taken the brunt of the criticism for that record, but Monday's loss falls squarely on the defense.
Josh McCown
threw for four touchdowns and ran for another score. Wide receivers
Alshon Jeffery
and
Brandon Marshall
did whatever they wanted against whomever they wanted.
Matt Forte
ran for more than 100 yards.
If there was ever a sign that Monte Kiffin should be out as coordinator after this season, it was this game. It's one thing to get lit up by
Peyton Manning
and
Drew Brees
. It's quite another to have it happen against a backup quarterback, even if McCown had been playing well in
Jay Cutler
's absence.
Stock watch:
DeMarcus Ware
, falling. Last week, Ware said the strength had finally returned to the quadriceps that kept him out for three games. But he was invisible versus the Bears before he was gifted a sack in the fourth quarter. Ware has two sacks since his return but is likely to see his streak of having at least 10 sacks in a season end at seven.
There's no defense in Dallas:
Blame the injuries all you want, but Rob Ryan at least had an injury-riddled defense competitive last year. Kiffin has had to deal with injuries, but he had zero answers for the Bears.
The Cowboys allowed 24 points in Monday's first half. Only New Orleans and Denver had more against the Cowboys in an opening half (28 each). The Cowboys allowed 32 first downs. Only New Orleans (an NFL-record 40) and Denver (34) had more. The Cowboys allowed 498 yards. Only San Diego (506), Denver (517), Detroit (623) and New Orleans (625) had more. It's the fourth time a quarterback has had four touchdown passes against the Cowboys.
In the first half, the Bears had 12 plays of at least 10 yards. They scored quickly (a 37-second drive) and they ate up clock (90 yards, 8:10).
They did whatever they wanted to do.
Hurt again:
Sean Lee
made his return to the lineup after a two-game absence because of a hamstring injury but he could not finish the game after suffering a neck injury with 12:33 left in the third quarter.
Lee returned briefly for five plays before he went to the locker room for the rest of the game. Lee has yet to play a full season in his career because of injuries. He is the best playmaker on the defense, but even with him the defense has not been close to adequate. Imagine how bad things would be if Lee missed even more playing time?
The Cowboys might be about to find out.
Hey, a running game:
Let's get about the only positive the Cowboys had from Monday's game: They ran the ball well.
DeMarco Murray
ran for 145 yards on 18 carries. He now has 842 on the year and has a shot at reaching 1,000 for the season.
But why be positive on a night like this?
What's next:
The Cowboys return to AT&T Stadium on Sunday to face the
Green Bay Packers
. The biggest question is whether
Aaron Rodgers
will make his return from a collarbone injury. If he does, the task is much more difficult. The Cowboys are 5-1 at AT&T Stadium this season, but the Packers have some good memories there as well, having won Super Bowl XLV there.
December, 9, 2013
12/09/13
11:37
PM ET
CHICAGO -- A few quick thoughts on the
Chicago Bears
' 45-28
victory
over the
Dallas Cowboys
on Monday night at Soldier Field.
What it means:
Game on for the
Detroit Lions
in the NFC North title race. The Lions slipped up by losing at Philadelphia on Sunday and opened the door for Chicago to get back into the race. The Bears kicked it open by destroying the Cowboys. The Lions close the season with Baltimore and the
New York Giants
at home, before playing the finale at Minnesota on Dec. 29. One Lions mistake could lead to the Bears sneaking away with the division if they can maintain momentum.

Take advantage of the smallest mishaps:
That's what the home team did in the first half. After Chicago took a 17-14 advantage on
Robbie Gould
's 27-yard field goal with 1:38 left in the first half, the Dallas Cowboys had three incompletions on the ensuing drive, which allowed the Bears to take possession again with 47 ticks remaining.
Instead of sitting on the three-point lead, the Bears mashed on the gas with
Josh McCown
hitting
Alshon Jeffery
-- who was being draped by two defenders -- for a 25-yard touchdown with 17 seconds left to go up 24-14. With the quick score, the Bears went into the locker room at the half with momentum.
What was better for the Bears is they got the ball back to start the second half, and scored on that drive as well to go up 27-14 on a Gould 34-yard field goal.
Potent WRs:
Jeffery and
Brandon Marshall
became the first set of Chicago receivers to gain 1,000 yards apiece since 1995 (Curtis Conway and Jeff Graham). Jeffery entered the game with 70 catches for 1,109 yards, but Marshall needed 10 yards against the Cowboys to reach 1,000.
With Marshall leading the way with 100 yards on six receptions, the duo combined for 184 yards and a TD.
McCown pinpoint accurate:
McCown started Monday night's game by connecting on 8 of 10 passes for 145 yards on throws traveling more than 10 yards in the first half. The quarterback's eight deep completions in the first half tied the most McCown had completed in one game.
McCown's play allowed the Bears to reel off 24 points in the first half, which is quite a difference considering the Bears hadn't scored more than 23 points in any of their previous four outings leading into Monday night.
McCown finished with a passer rating of 141.9, completing 27 of 36 passes for 348 yards, four touchdowns and no interceptions to go with a rushing TD. He's passed for 1,055 yards over the past three games with eight TDs and only one INT.
What's next:
The Chicago Bears take the day off Tuesday before returning to the facilities to begin preparations Wednesday for Sunday's game at Cleveland. The Bears face a short turnaround in the first of back-to-back road games before the Dec. 29 season finale against the
Green Bay Packers
.
December, 9, 2013
12/09/13
8:45
PM ET
CHICAGO -- Monday's game against the
Chicago Bears
is officially the coldest regular-season game in
Dallas Cowboys
' history at 10 degrees at kickoff. (
UPDATE
: The official game-time weather was changed to 8 degrees at kickoff).
The previous low was a 16-degree affair at St. Louis on Dec. 15, 1963. The Cowboys beat the Cardinals 28-24 to finish the season at 4-10. Before Monday the second-coldest game came Dec. 6, 1992 when the Cowboys beat the
Denver Broncos
31-27 with a 19-degree day at Mile High Stadium.
Of course the coldest game in franchise history is the Ice Bowl, the 1967 NFL Championship when it was minus-13 at kickoff and the Cowboys lost to the
Green Bay Packers
21-17 at Lambeau Field.
It was 25 degrees at kickoff for the Cowboys' Nov. 24 road game at MetLife Stadium against the
New York Giants
.
The Cowboys practiced twice in cold weather last week at Valley Ranch but had to move their Friday to Highland Park High School's indoor facility because of an ice storm. The practice fields could not be cleared in time to practice Friday, but they were able to hold their Saturday practice outdoors at Valley Ranch.
December, 9, 2013
12/09/13
7:45
PM ET
CHICAGO -- The
Chicago Bears
announced their list of inactives for Monday night's game against the
Dallas Cowboys
, and as expected the team will be without quarterback
Jay Cutler
and linebacker
Lance Briggs
.
Briggs
Cutler
Other Bears inactives included safety
Sean Cattouse
, defensive tackle
Christian Tupou
, offensie lineman
James Brown
, offensive tackle
Jonathan Scott
and rookie defensive end
Cornelius Bennett
.
The timetable for return for Cutler and Briggs remains uncertain. Cutler returned to the practice field last week, and took part in workouts on Thursday and Friday before the club held him out of Saturday's session to rest him. Bears coach Marc Trestman said the quarterback didn't suffer a setback that led to the club holding him out.
But Trestman also declined to give a definitive timeline for Cutler's return. Cutler has missed the team's last three games due to a high ankle sprain, while Briggs has missed five consecutive contests because of a fracture in his left shoulder. Trestman said that Cutler will be evaluated prior to Monday night's game by team doctors, but the team won't make a decision on how to proceed with the quarterback until Tuesday.
Briggs, meanwhile, was originally expected to miss four-to-six weeks with his injury. But the matchup against the Cowboys will mark the seventh week Briggs has been out of action.
December, 9, 2013
12/09/13
7:43
PM ET
CHICAGO --
Dallas Cowboys
wide receiver
Dwayne Harris
is active, which could be a big boost to the special teams, but linebacker
Justin Durant
is inactive.
Harris
Harris missed the Thanksgiving Day game against the
Oakland Raiders
because of a hamstring strain and was only a limited participant in Saturday's practice. Durant will miss his third straight game. He was probable entering the game. He has been working his way back from a hamstring injury.
With Durant out,
Kyle Wilber
will start for the third straight game at strong-side linebacker.
Cornerback
Morris Claiborne
, safety
Jakar Hamilton
, linebacker
DeVonte Holloman
, defensive end
Everette Brown
, tackle
Darrion Weems
and linebacker
Orie Lemon
are inactive.
Harris is averaging 14 yards per punt return and 31.3 yards per kickoff return.
Terrance Williams
fumbled the opening kickoff against the Raiders and saw it returned for a touchdown.
Cole Beasley
served as the punt returner.