NFL Nation:

2013 Week 14 DET at PHI
December, 8, 2013
12/08/13
9:05
PM ET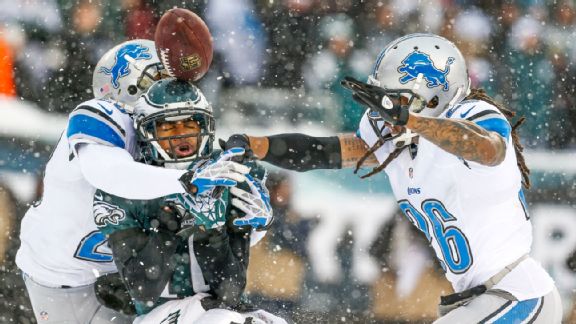 AP Photo/Brian GarfinkelLions CB Chris Houston (left) and Louis Delmas try to jam up Eagles WR DeSean Jackson.
PHILADELPHIA -- Detroit's latest fourth-quarter collapse had been completed a moment earlier and already
Stephen Tulloch
and
Ndamukong Suh
were gone inside the Lincoln Financial Field tunnel.
After what happened again Sunday, it made some sense. The Lions had just collapsed in the fourth quarter for the third time in four games for their third loss in four games, this time a
34-20 loss
to Philadelphia in which the defense disappeared in the final 15 minutes.
A defense that had been one of the best in the league against the run let
LeSean McCoy
set an Eagles record with 217 yards, and afterward there was annoyance, disappointment and even a hint of disgust.
"We just didn't play well," linebacker
DeAndre Levy
said. "It's not fun to lose and go out there and play soft. We just played like crap in the second half."
Soft?
Of all the things Detroit could be described as this season, that was not going to be one of them. If anything, for much of the season, the Lions' defense -- especially their front four -- had been described as the opposite. Perhaps a little too violent. A little too aggressive.
But on Sunday, one of their defensive leaders had no other word for it.
"A little bit, man," Levy said. "I think mentally and physically soft. We gave up a big play and we continued to fit runs the wrong way, missed tackles, myself included. I think everybody on the defense had a breakdown here or there that hurt us, and that's just something we've got to get on the same page with.
"When we feel the momentum switch, we've kind of got to get guys together and not panic and stay focused and keep battling."
The Lions did essentially everything opposite of that Sunday. Big play begat big play. Touchdown came after touchdown. And a Detroit shutout in the first half turned into complete failure in the second.
The Lions, at one point in the second half, led 14-0 and appeared to be in complete control of the game despite having an offense struggling to move the ball in a snowstorm that left anywhere from six to eight inches of snow on the field.
Nick Foles
, who had his interception-less streak snapped by
Chris Houston
in the first half, completed passes. McCoy started to find holes and Detroit, as it has done often over the past month, began to make mistakes.
The Eagles, offensively impotent in the first half, scored touchdowns on five straight possessions in the second just as the Lions started to tighten up.
"Us as the leaders on the team, we have to get a hold of, get a feel of the game," Levy said. "We give up a play, we can't start panicking, we can't start getting down on ourselves.
"We have to be able to respond on the next drive and we've been up-and-down doing that this year. I think we've had stretches where we've responded well and we just didn't do it this second half."
Not at all. Not on defense, where the Lions allowed 388 yards in the second half on defense. Not on offense, where the Lions gained 83 yards in the second half and fumbled the ball seven times throughout the game, losing three.
How bad was it? Returner
Jeremy Ross
, who had both a kick and a punt return for a touchdown, gained 243 yards on returns. The Lions had 228 yards on offense the whole game. It was that bad everywhere.
Detroit's most glaring failure came on defense, specifically against the run.
"I'm puzzled by the whole situation," Delmas said. "I've never seen my defense have one running back who could do that much and be able to have that much success on our defense."
Part of the issue, it would seem, is how Detroit approached the second half. The Lions saw, as Delmas mentioned, what they had done to Philadelphia in the first half. They contained McCoy. They held Foles to 35 yards passing and the Eagles to 90 yards of offense. So they had confidence after Ross returned the punt for the touchdown and a 14-0 lead.
Then Philadelphia scored touchdowns on its next five drives, taking what could have been a much-needed win for the Lions and turning it into a loss. Just like Tampa Bay and Pittsburgh did last month.
"I think we got too comfortable relying on the weather and underestimating them throwing-wise and being able to put that foot in the ground and running the ball," Delmas said. "But I don't take no credit from them. They are a great offense and obviously they proved that."
Detroit proved something, too. Every time the Lions appear ready for all this -- for winning the NFC North, for making the playoffs, for taking another step as a franchise -- something like this happens. For every dominating performance -- Green Bay on Thanksgiving -- there is at least one that allows for just as much doubt.
Speaking of those Packers, they are now back in the NFC North race with three games left. And Chicago can once again tie Detroit, record-wise, if the Bears knock off Dallas on Monday night.
"We put a little bit of pressure on ourselves with this loss here," Levy said. "Obviously each game here on out is going to get bigger and bigger for us.
"We have to seize the moment, embrace it a little bit and be ready to battle."
At times this season, Detroit has been ready. At other points, it has appeared to be ready, has played like it was ready -- and then, like Sunday, gave it all away at the end.
December, 8, 2013
12/08/13
8:30
PM ET
PHILADELPHIA --
Cary Williams
figured it was worth a shot.
The Eagles cornerback was having a rough time changing direction in the snow and staying with the
Detroit Lions
wide receivers. It stood to reason the Lions defensive backs were having the same issues.
Williams
So, early in the second half, Williams did something he'd never done before. He went over to his head coach, Chip Kelly, and suggested an offensive strategy.
"I just haven't had that happen in my career where you could go up to a guy and tell him what's the best thing to do," Williams said. "I am just grateful that Chip listened. I really didn't expect him to listen, but I am happy he did."
Kelly called for a deep throw to
Riley Cooper
.
Nick Foles
hung a pass up that Cooper ran under. It wasn't pretty, but Cooper caught the ball falling backward into the snow. That 44-yard gain set up the Eagles' first score and really changed the energy in the game.
"It was a big play, a real tough catch," Kelly said. "It was funny. Cary Williams was the one who came up to me and he was like, 'Coach, this is what you've got to do, because you can't make up speed if the receiver makes a stick move on you just because of the footing.' It's coming from a defensive guy saying, hey, if you have an opportunity to throw a post or throw a corner, it's hard to make up. It's almost like that catch kind of got us going."
Williams found that out the hard way. He was covering
Calvin Johnson
when
Matthew Stafford
hit him for a 33-yard gain in the first half.
"It wasn't the fact that I couldn't run with Calvin," Williams said. "It was the fact that when I tried to turn, I was sliding initially. I didn't get the initial grab into the ground the way I wanted to. I saw a lot of times they were slipping, and they were having an issue with sliding."
Williams said he was surprised the Lions didn't throw the ball to Johnson more often, given the conditions.
"You practice backpedaling and turning on a level surface," Williams said. "Out there, with the snow, it was completely different. It's hard for us to stop and then turn and run."
December, 8, 2013
12/08/13
8:10
PM ET
PHILADELPHIA -- Eagles quarterback
Nick Foles
lost a record but won a game. That's OK with him.
Foles
"I care about the wins," Foles said after leading the Eagles to a fifth consecutive win,
a 34-20
snowball fight against the
Detriot Lions
. "I learn from it, it's an interception. I am going to move forward and I can't wait to get back on the field and throw a touchdown, make a big play, because that's what teammates look at."
Foles threw an interception to Lions cornerback
Chris Houston
. It was Foles' first interception of the season. He had thrown 19 touchdown passes, one shy of
Peyton Manning
's NFL record of 20 touchdowns before throwing an interception. Overall, Foles had not thrown an interception in 238 attempts.
"When you have a streak like that, it means you are putting your team in a position to win games," Foles said. "But there are also times you are going to have a mistake happen and you have to have a shorter memory. Mistakes are going to happen, and they did today, but I'll get better for it and keep improving."
It should be easier to move on for Foles, considering the circumstances. With snow falling hard and swirling, he and
Matthew Stafford
both had tough days throwing the ball.
"You are seeing a lot of white, a lot of snow coming down, but you try to zone all of that out and focus on the team and what is going on," Foles said. "We got more and more comfortable as the game went on. We made some mistakes, but that is a football game."
On the interception, Foles overthrew wide receiver
Riley Cooper
. The ball found Houston, who returned the pick 30 yards to the Eagles 20. The Lions scored their only offensive touchdown five plays later.
"I think any mistake Nick makes is kind of surprising," Eagles coach Chip Kelly said. "But I understand what happened. The ball kind of sailed. Obviously, it's a weather deal. The biggest disappointment was where they got it in terms of, we put our defense on an extremely short field."
For Foles, the record would have been nice. But an interception was inevitable at some point. He can write this one off as weather-related and take comfort in the fact it didn't really hurt his team.
"They happen," Foles said. "You let one interception defeat you, you cannot play this game."
Foles completed just one pass beyond the line of scrimmage in the first half, according to ESPN Stats & Information. In the second half, he found Cooper for a 44-yard gain, then lobbed a 19-yard touchdown pass to
DeSean Jackson
to start the Eagles' comeback.
"You just have to make plays and just try to give them a chance," Foles said. "You cannot really zip balls. You just have to lob them up there and just say, 'Hey, one of you go up there and get it and make a play.' That was one of those plays."
December, 8, 2013
12/08/13
8:07
PM ET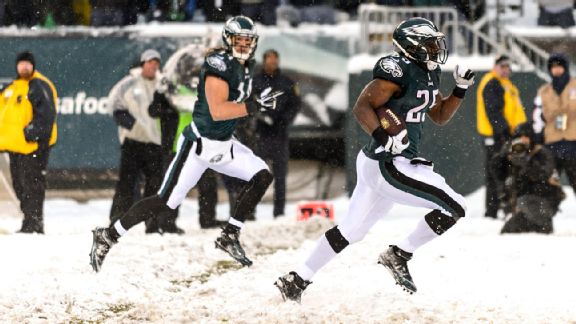 Howard Smith/USA TODAY SportsLeSean McCoy, right, gained 217 yards Sunday, setting a new single-game team rushing record.
PHILADELPHIA -- Whether you're Chip Kelly or Bode Miller, the best way to handle 3 1/2 inches of fresh snow is the same.
Go downhill. Fast.
The Eagles weren't able to build a freestyle course in time for Sunday's game against the
Detroit Lions
. But they were able to turn running back
LeSean McCoy
loose, letting him freestyle his way to a franchise-record 217 rushing yards -- including game-changing touchdown runs of 40 and 57 yards.
"It was very tough, especially with this defense, to go lateral," Kelly said. "We learned with the weather that it was very difficult to go lateral. We felt like we had to get a downhill game going."
In football talk, of course, that means running straight ahead rather than skiing down a slope. The problem here was that the Lions' defensive line, with
Ndamukong Suh
and
Nick Fairley
in the middle, is very good against the run. The Lions had held their past six opponents to fewer than 70 total rushing yards.
The Eagles ran for 299 yards Sunday -- 244 of them after halftime. McCoy ran for 148 yards and both touchdowns in the fourth quarter.
He regained the NFL rushing lead from
Adrian Peterson
, who was injured Sunday. McCoy has 1,305 rushing yards on the season.
"He's obviously a great player," wide receiver
DeSean Jackson
said. "He's done great things in this offense. As long as I have known him, he's been doing great things. It's a blessing to have that guy on our team."
Listening to his teammates marvel, you'd think McCoy can walk on water. In this game, he did. It was frozen, which made McCoy's cuts and moves that much more impressive.
"It was insane," tight end
Brent Celek
said. "Sometimes it felt like there were eight inches of snow out there. When you would step, you wouldn't be touching the grass. The fact that he was doing that, it's insane."
McCoy's Twitter handle, @CutonDime25, is a not-so-humble reference to his ability to change direction and leave defenders with armfuls of nothing. He wasn't able to make the really sharp moves, but then, the Lions' defenders were hampered at least as much.
"To be honest, it was definitely tough," McCoy said. "You just didn't have the normal footing and traction that you get when stopping and cutting. Sometimes I couldn't really plant. I can usually plant on a dime, but it all worked out. The guys were giving me so much room.
"I feel like it is a mental thing. Obviously, it's going to be tough because of the snow and weather, but you don't think about it when you're running."
The Eagles had minus-2 yards of total offense in the first quarter. They weren't much better in the second and were trailing 8-0 at halftime. After Detroit's
Jeremy Ross
returned a punt 58 yards for a third-quarter touchdown, it was 14-0 and the game seemed out of reach. That's how extreme the conditions were and how poorly the Eagles seemed to be handling them.
But quarterback
Nick Foles
threw two passes -- a 44-yarder that
Riley Cooper
caught while rolling through the snow like a sled and a 19-yard touchdown to Jackson -- to make it 14-6 (there was no kicking game in this one).
"I think we took some shots deep, which kind of set [the Lions] back a little bit," McCoy said. "The guys up front gave me opportunities one-on-one by blowing those guys off the ball. I just felt with how well the line was blocking today, we would gash them once Nick started throwing the ball."
"We just kind of kept poking and prodding and then we started to move the ball," Kelly said. "When we got in here at halftime, I thought our offensive staff did a good job of putting together some formations of how to run some things and what we could come back with."
Center
Jason Kelce
said Kelly's scheme was designed "to attack the explosion out of [their defense]. Those guys rely on such explosion, and I think that slowed them down a bit. I think as we got the game going, we realized the snow was taking them out of their game, in terms of the defensive ends being able to rush up the field quickly. We just had some success moving the ball vertically and the coaches picked up on that."
Vertically. Downhill. North and south. Whatever you call it, McCoy was suddenly unstoppable. He broke a 40-yard run to tie the game. After Ross took the kickoff back 98 yards for a second touchdown return, the Eagles came back with the same offensive approach.
"We just weren't firing off the ball," Eagles right tackle
Lane Johnson
said. "We really had to slow it up and let the Lions linebackers overrun their gaps. Then we just sealed off and Shady [McCoy] hit them on the back side for long runs."
McCoy broke a 57-yarder to give the Eagles the lead for good 22-20.
Chris Polk
ran 38 yards for another fourth-quarter touchdown. Foles took one in from the 1-yard line.
In the fourth quarter, McCoy broke Steve Van Buren's 64-year-old franchise record of 205 rushing yards in a game.
It was a win that gave the Eagles an 8-5 record, doubling their win total from last season. It kept pressure on the
Dallas Cowboys
, who have to beat the Bears in Chicago to keep pace in the NFC East race. Mostly, it was a comeback win in adverse conditions that represented another step in the growth of this team in Kelly's first season.
"I don't think this group gives up," Kelly said. "I think they've got way too much invested, and I think the more you have invested in something, it's a lot more difficult to quit."
With three games left, as Bode Miller might have said, it's all downhill from here.
December, 8, 2013
12/08/13
4:13
PM ET
PHILADELPHIA -- A few thoughts on the
Detroit Lions
'
34-20 loss
to the
Philadelphia Eagles
.

What it means:
What a complete collapse by the Lions. They held Philadelphia to essentially nothing in the first half: no points and fewer than 100 yards in a mess of a snowstorm. But then the snow subsided, and so did the Lions' control of the game. Philadelphia scored 34 points in the second half and ended up with 299 yards rushing for the game -- literally running right past Detroit in the second half. The Lions, who had one of the top run defenses in the league entering the game, allowed 6.5 yards per carry after giving up fewer than 2 yards a carry in each of their past four games. They hadn't allowed a rushing touchdown since September and only five the entire season. They gave up four Sunday.
It was yet another second-half mess, the third time in four games Detroit has surrendered a lead in the fourth quarter. Now it has three games to try to hold on to the NFC North lead and a playoff berth.
Stock watch:
Rising:
Jeremy Ross
. The returner had a career day with 172 kick-return yards and 71 punt-return yards, two touchdowns and more total yards -- 243 -- than the Lions' offense did. Falling: Detroit's run defense. The Lions had been stout up the middle and contained running back after running back. Not Sunday.
LeSean McCoy
had a career-high 217 yards and rushed for two touchdowns, completely embarrassing the Lions. Meanwhile, fumbles. The Lions had seven of them and lost three -- two from
Joique Bell
, who scored Detroit's only offensive touchdown, and one from
Matthew Stafford
.
Ross has a career day:
Two weeks ago, Ross started to claim the punt- and kick-returner gig as his own. He might not let go of it for a while now. Ross returned a punt 58 yards for a touchdown and a kick 98 yards for a touchdown -- the first time a kick and punt return for a touchdown happened in the same game for the Lions since Dec. 17, 1977, when Eddie Payton, the brother of Walter Payton, accomplished the feat.
What's next:
The Lions have two straight home games -- two critical home games -- first on Dec. 16 against the
Baltimore Ravens
, then against the
New York Giants
the next week.
December, 8, 2013
12/08/13
4:13
PM ET
PHILADELPHIA -- Quick thoughts on the
Philadelphia Eagles
' 34-20
victory
over the
Detroit Lions
in snowy Lincoln Financial Field on Sunday.

What it means:
If
LeSean McCoy
isn't the best all-around back in the NFL, he made a case for being the best all-weather back in the game. In a game changed immeasurably by the measurable snowfall, McCoy's fourth-quarter touchdown runs of 40 and 57 yards turned what looked like a dispiriting loss into a win with major playoff implications. The Eagles (8-5) scored 28 fourth-quarter points for their fifth win in a row. They took a half-game lead in the NFC East over Dallas -- which plays Monday night in Chicago -- and gained a tiebreaker edge over another possible wild-card contender.
Snow job:
The forecast for Philadelphia called for a "wintry mix" of rain and light snow. Instead, a driving snow started about 90 minutes before kickoff and rendered both teams' game plans useless. Lions quarterback Matt Stafford fumbled his first snap, one of six Lions fumbles in the first half. Visibility was terrible. Footing was worse. Field goals and PAT attempts were impossible. It was fun, in the way crazy-weather events are fun, but it wasn't exactly NFL football.
Stock watch:
Falling: Eagles special teams. The snow obviously had an impact on the footing, but the Eagles allowed two return touchdowns by
Jeremy Ross
. He returned a punt 58 yards and a kickoff 98 yards to account for all of the Lions' second-half scoring. Ross also returned a fourth-quarter kickoff to midfield to give the Lions excellent field position.
What's next:
The Eagles continue their tour through the NFC North with a game at Minnesota next week. They host the Bears on Dec. 22. Those two games will have a huge impact on their season-ending showdown at Dallas on Dec. 29. If the Eagles can be tied or ahead of the Cowboys, a win would give them the division title without tiebreakers coming into play.
December, 8, 2013
12/08/13
2:24
PM ET
PHILADELPHIA -- Three halftime thoughts from the
Detroit Lions
' game against the
Philadelphia Eagles
. Detroit
leads 8-0
at halftime from Lincoln Financial Field.

Let it snow:
The weather was, by far, the big story in Philadelphia during the first half. It snowed throughout the first half and made moving the ball essentially impossible. More than midway through the second quarter, the Eagles had 16 yards on 15 plays. No real ability to gain traction and footing, so all straight ahead running here. It was the same for Detroit, which mostly used
Joique Bell
during the first half, especially with
Reggie Bush
essentially not playing after aggravating his injured calf muscle during warm-ups.
Fumbles all over the place:
Part of the issues in the snow were holding on to the ball. Detroit fumbled six times in the first half -- the NFL record for fumbles in a game is 10 -- but only lost two, both on Bell runs. Quarterback
Matthew Stafford
fumbled four snaps in the first half, out of shotgun and under center. Not a pretty sight.
Johnson breaks a record:
Calvin Johnson
caught two passes in the blizzard of a first half Sunday, but one of them was a big one. Johnson caught a 33-yard post, giving him the
Detroit Lions
franchise record for receiving yards with 9,175. He passed
Herman Moore
, who has 9,174. Johnson also caught a facemask full of snow on the play for his effort on the post. That, though, was fairly common throughout the game Sunday.
Bonus thought:
Rashean Mathis
had a heck of a half in the snow. He had three pass breakups, including two in the end zone on Philadelphia's only sustained drive of the half. Mathis had no tackles in the first half, but he might have had the two best defensive plays. Also helping was
Chris Houston
, who picked off
Nick Foles
for Foles' first interception of the season.