NFL Nation:

2013 Week 14 KC at WAS
December, 8, 2013
12/08/13
7:30
PM ET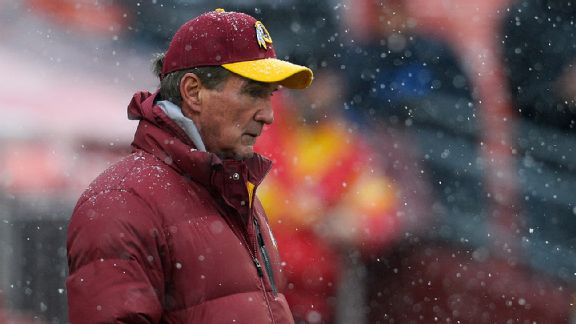 Patrick McDermott/Getty ImagesWith rumors swirling around the franchise, Redskins coach Mike Shanahan's days as coach could be numbered.
LANDOVER, Md. -- The game didn't matter at all, just like too many December games in Washington in the past dozen or so years. It's down to this: trying to figure out whose version of the truth is the correct one.
Both sides -- the Mike Shanahan camp and the Robert Griffin III camps -- come across the same way. They look and sound exhausted by what has transpired. One side leaks out how the relationship between Dan Snyder and Griffin displeases the head coach and is damaging. They're too close. The other side says that's just not the case. They rarely talk during the season; they're not
that
close.
But this is the state of the
Washington Redskins
. Trying to parse meaning from every sentence, from the way someone answers a question. Did they look angry? Defeated? Teary-eyed? Other cities talk about playoff races; in Washington it returns to politics and body language. Oh, and job security: Will Snyder fire Shanahan? If so, is it imminent? Will Snyder let him twist a little?
Shanahan had the opportunity to deny
an ESPN.com report about the events of last season
, when it was reported that he planned to quit because of Griffin's relationship with Snyder. Shanahan obviously didn't quit -- nor did he shoot down the story. If a guy wants to get fired, one good way is to have a story like this come out (and then not say who your starting quarterback is for next week, as Shanahan did as well).
It was the first topic he discussed after the
Redskins' 45-10 loss
to the
Kansas City Chiefs
in front of a record-low 56,247 fans at home.
"It's not the right time or place to talk about my relationship with Dan Snyder," Shanahan said, "or it's not the right time and place to talk about something that happened a year ago. I will get a chance to talk to Dan at the end of the season and I will give him some viewpoints from me and I'm sure he will give me his thoughts. I'm not sure what direction we will go, but we will communicate that at the right time."
Shanahan wouldn't answer any questions about anything other than what happens on the field. His focus, he kept repeating, is on next week's opponent Atlanta.
"I'd like to talk about the job at hand," he said, giving the impression he was already resigned to his fate. "And not speculation or my relationship."
That will be tough to do as long as he remains employed by the Redskins. As Shanahan exited Fed Ex Field at 5:20 p.m. ET, he still was the coach. And as long as he's the coach all aspects will be picked apart because they all play into any decision Snyder will make.
The players harp on the old lines of not focusing on what they can't control. But it takes a toll, not just the losing but the endless speculation.
"It's extremely difficult," tight end
Logan Paulsen
said. "It's like going to work every day and someone is standing outside your window telling you how much you sucked. It's a distraction and it's very difficult to navigate that. I think that's the biggest thing. It's noise constantly. People talking about your coach getting fired. People talking about cutting players. People talking about everything under the sun. That's always really difficult.
"I do worry about [what might happen]. Shanahan is a guy I have a ton of respect for. I want to play at a level that is going to keep him here. Every time we have a game like this, I feel I'm not helping him keep his job."
It's clear that Griffin is perturbed as well. He's a 23-year-old quarterback who was the talk of the NFL a year ago. He still is, for different reasons. It's one thing for him to hear his game picked apart; it's another to have other aspects of his life probed. There's always noise that accompanies terrible seasons in Washington, especially when there are questions about whether or not the head coach will return.
Now Griffin is caught up in it. Safe to say he understands how it looks for him. Safe to say he's frustrated about how his relationship with Snyder is portrayed, that they rarely talk during the season and not about football. Snyder was pilloried in the past for his chummy relationship with players, something that was not an issue the past several years.
"I'm not going to talk about that stuff guys," Griffin said. "It's not relevant to the game or relevant to my life. That is my answer to that. This is ridiculous."
But he did go longer when asked why his relationship with the coach or owner is always being questioned.
"I don't know," Griffin said. "I'm getting frustrated now, too, and trying to hold everything back. Some things are allowed to happen and we can cut a lot of this stuff out and it is not being cut out. I don't know what else I can do about that. It is very unfortunate."
This is no longer a healthy relationship, this one between Shanahan and Griffin. When these stories come out, it makes you wonder why.
"Is it calculated?" Griffin said. "I don't know what it is."
Here's what many would call it: the end.
December, 8, 2013
12/08/13
7:27
PM ET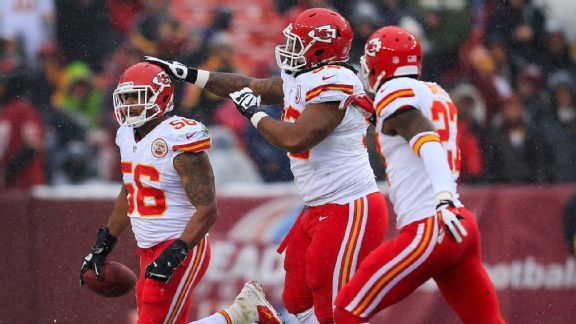 Rob Carr/Getty ImagesThe Chiefs ended a three-game losing streak thanks to plays like Derrick Johnson's interception.
LANDOVER, Md. -- The
Kansas City Chiefs
didn't clinch a playoff spot Sunday, but with three more chances to do it, that wasn't the essential item on their weekend to-do list.
Far more important were some simple, less tangible goals. The Chiefs needed to get their game back, the one that carried them to a nine-game winning streak to start the season. They needed to strangle an opponent with their defense, dominate on special teams, be efficient on offense, break their three-game losing streak and establish some favorable momentum.
They achieved all of that emphatically in their
45-10 win
over the
Washington Redskins
. The Chiefs suddenly look playoff-ready again, no small thing this late in the season.
Their trip to the nation's capital, despite doses of snow, ice and rain, was an unqualified success.
"In the NFL, there are ebbs and flows to every team's season," defensive end
Mike DeVito
said. "But you have to be careful with momentum. We had lost three straight games. There was a sense of urgency. We talked about it all week, put a point of emphasis on that.
"If there was ever a time in the season we needed a game like that, it was now."
It's not too dramatic to say the Chiefs saved their season. They were going to make the postseason anyway, thanks to the early season winning streak and a lack of qualified wild-card playoff contenders elsewhere in the AFC.
But a playoff berth was starting to sound like a booby prize for the Chiefs, given the way they had played since their last victory on Nov. 3 in Buffalo. The past three weeks there had been an unmistakable stench to their play, and arguing that two of the games were against the
Denver Broncos
ignored the lemon of a game against the
San Diego Chargers
wedged in between.
"It's tough to lose three consecutive games in the National Football League," coach Andy Reid said. "It seems like a year. Those are dog years, each week that you have a loss in the NFL."
The Chiefs needed something to clear the air.
They needed to sack some quarterbacks, pressure opponents into mistakes, score some touchdowns on special teams. So they went out and sacked Washington quarterbacks
Robert Griffin III
and
Kirk Cousins
six times, forced a pair of turnovers and returned a punt and a kickoff for touchdowns.
The Chiefs jumped all over the Redskins, leading 17-0 after the first quarter and 38-10 at halftime. Feeble though the Redskins might be, the Chiefs were in no position to take those accomplishments for granted.
"It was good to see all three phases function the way they did today," Reid said.
The Chiefs were able to get running back
Jamaal Charles
out of the game at the end of the third quarter, after he had rushed for a season-high 151 yards and scored two touchdowns. They were able to rest quarterback
Alex Smith
shortly afterward, after he had completed 14-of-20 throws for 137 yards and two touchdowns.
It was that kind of day for the Chiefs and, as DeVito said, it happened not a moment too soon.
"It's December," safety
Quintin Demps
said. "We've been through our adversity, which all good teams, all Super Bowl teams, go through. It's time to get on a roll."
Maybe, just maybe, the Chiefs are on that roll. They failed to clinch a playoff spot, but only because the
Miami Dolphins
and
Baltimore Ravens
rallied for victories and retained their mathematical possibilities of catching the Chiefs in the wild-card race.
The Chiefs can snuff out those faint hopes by winning next Sunday in Oakland, or on Dec. 22 against the
Indianapolis Colts
or even in the regular-season finale on Dec. 29 against the Chargers.
So nothing has changed there. The playoffs will happen for the Chiefs. The bigger mystery is whether they are capable of accomplishing something once they get into the postseason.
For the first time in several weeks, they have reason to feel good about that.
"We still have a few games left," Reid said. "We've got to make sure we take care of business here."
December, 8, 2013
12/08/13
4:06
PM ET
LANDOVER, Md. -- Thoughts and observations after the
Washington Redskins
'
45-10 loss
to the
Kansas City Chiefs
:

What it means:
The end of the Mike Shanahan regime. With stories now detailing the nature of numerous relationships at Redskins Park -- Shanahan and
Robert Griffin III
's; Griffin and Dan Snyder's; and Kyle Shanahan and Griffin's -- it'll be tough for Shanahan to survive, especially after a disastrous and embarrassing 45-10 loss to Kansas City on Sunday. If Snyder fires Shanahan, it can be justified based on the record over the first three-plus years (24-37) and the fact that they have not improved this season. They'll have salary cap room, but the direction they're headed in is the wrong one. Shanahan has complained about how much noise accompanies coaching the Redskins. It certainly has annoyed him during his tenure and it probably makes coaching more difficult. Nothing is ever as bad as it seems, but it's hard to paint this season in any sort of positive light. For a while bringing Shanahan back was a legitimate option. Players have maintained support, both privately and publicly. But there just seems to be too much ongoing "noise" for Shanahan to survive for a fifth season.
Stock watch:
Down: special teams coach
Keith Burns
. The Chiefs returned a punt for a touchdown and then later a kickoff for a touchdown. Burns' first season in Washington has been a disaster, whether it's all his doing or not. The fact is, the special teams have been dreadful. They were not a great unit before he arrived; they've been terrible all year. Really, we could put an entire list of Redskins players -- and coaches -- on the "down" portion of the stock report.
QB watch:
Griffin had a miserable day in the sloppy weather, completing 12 of 26 passes for 164 yards. He eyeballed a receiver leading to an easy read and interception by linebacker
Derrick Johnson
. Griffin was replaced by fellow second-year QB
Kirk Cousins
, who didn't fare much better. He completed 7 of 16 passes for 59 yards. Both quarterbacks were put in obvious pass situations quite a bit. There are a lot of reasons the passing game didn't work, but neither one provided much of a spark. In truth, the Redskins' offense was never in this game. Nor was their defense. Nor their special teams.
Up next:
The Redskins play at Atlanta in a game that, before the season, looked like one that would have playoff implications. That notion died a long time ago.
December, 8, 2013
12/08/13
4:04
PM ET
LANDOVER, Md. -- A few thoughts on the
Kansas City Chiefs
'
45-10 victory
against the
Washington Redskins
:

What it means:
The Chiefs got back to playing the kind of game that produced a nine-game winning streak earlier in the season, even if it was against the lowly Redskins. After getting just two sacks in the last five games, the Chiefs dragged down Washington quarterbacks
Robert Griffin III
and Kirk Cousins six times. They also scored two special teams touchdowns. The 10-3 Chiefs snapped their three-game losing streak.
Stock watch:
The Chiefs have been solid on special teams most of the season but had their best kicking game.
Dexter McCluster
returned a punt 74 yards for a touchdown and set a team record for punt return yardage.
Quintin Demps
also returned a kickoff 95 yards for a touchdown.
Knile Davis
returned a kickoff for a touchdown last week against the
Denver Broncos
. After being shut out for the past four weeks, linebacker
Tamba Hali
had a pair of sacks. Rookie cornerback
Marcus Cooper
was picked on mercilessly by Denver quarterback
Peyton Manning
last week but bounced back with a solid game.
Incredible Charles:
Jamaal Charles entered the game as the AFC's leading rusher and had his best game of the season, rushing for 151 yards and one touchdown. He also caught a touchdown pass. Charles last week went over 1,000 rushing yards for the fourth time in his Chiefs career. That's a Kansas City record. The Chiefs removed Charles from the game after the third quarter was finished, and that may have cost him another score. His backup, rookie Davis, scored on a 17-yard touchdown run early in the fourth period.
What's next:
The Chiefs continue their two-game road trip by playing the
Oakland Raiders
on Sunday in Oakland. The Raiders are 4-9 after losing Sunday to the
New York Jets
. They lost 24-7 to the Chiefs in October in Kansas City.
NFL SCOREBOARD
Sunday, 2/2
WEEKLY LEADERS