NFL Nation:

2013 Week 14 MIN at BAL
December, 9, 2013
12/09/13
8:00
AM ET
BALTIMORE -- A review of four hot issues following the
Minnesota Vikings
'
29-26 loss
to the
Baltimore Ravens
:
Peterson's health:
For the Vikings, this is probably
the
issue: Running back
Adrian Peterson
will have a MRI on his sprained foot on Monday, and while he was optimistic about his prognosis on Sunday -- he said X-rays were negative, and added he would push to play Sunday against the
Philadelphia Eagles
-- Monday's tests might have the final say about whether Peterson plays again this season. He said the pain was in the middle of his foot, which would be in the region of the dreaded Lisfranc injury, and turf toe could also still be in play. We'll find out more after his exam on Monday.
Peterson
Henderson
Toby time?
In Peterson's absence, running back
Toby Gerhart
continued to show what a capable replacement he can be, romping 41 yards for one of the Vikings' would-be game-winning touchdowns in the fourth quarter and posting 89 yards on 15 carries. It is the third time in four weeks that Gerhart has posted at least 60 yards, and it was the first time this season he has carried the ball more than 10 times in a game. He is averaging 6.2 yards per carry this season, and could be making a case for more of a shared workload in the final games of the season (though it will be hard to convince Peterson to carry the ball less, if he's healthy). Gerhart will be a free agent after the season, and it's looking increasingly likely that he's going to make himself some money.
Henderson marginalized:
The Vikings moved
Erin Henderson
to outside linebacker this week, putting him back on the field after he'd missed the last two games in the wake of his Nov. 19 drunken-driving arrest and a subsequent personal issue that kept him away from the team for several days. But with
Audie Cole
starting at middle linebacker, and once again playing every snap, Henderson saw how little the Vikings use their third linebacker in their current defense. He played just six snaps in the loss, one more than
Marvin Mitchell
saw on defense. When Henderson was the Vikings' weakside linebacker last year, he still played in the middle in the nickel package, keeping his snap counts high. But without the nickel snaps, Henderson didn't get a chance to do much. Cole was in coverage on
Marlon Brown
's two big catches on the Ravens' last drive -- including his game-winning touchdown -- but the linebacker nearly tipped Joe Flacco's pass away before Brown could catch it in the back of the end zone, and coach Leslie Frazier credited Flacco for a good throw more than he pointed to a coverage breakdown.
Fines coming?
Peterson was critical of both referees and Ravens fans after the game, pointing out a number of calls he disagreed with and calling the Ravens' fans the "worst in the NFL" after they were throwing snowballs on the field in the fourth quarter, and it stands to reason he might hear from the league this week. Fullback
Jerome Felton
was also critical of the referees, saying there were four questionable calls that all went against the Vikings, but other players were more diplomatic, particularly when discussing two dubious pass interference calls in the fourth quarter. "I'm not going to say anything to get on Roger Goodell's list," defensive end
Brian Robison
deadpanned.
December, 8, 2013
12/08/13
8:50
PM ET
BALTIMORE -- After the
Baltimore Ravens
came from behind for a
29-26 win
against the
Minnesota Vikings
, Ravens cornerback
Jimmy Smith
ran out of the field and shouted: "Do you believe in miracles?"
The more appropriate question is this: Do you finally believe in quarterback
Joe Flacco
and the Baltimore Ravens? If you watched the final minutes of Sunday's unforgettable comeback, it's difficult to say no.
And, honestly, it doesn't matter what you or I think about the Ravens. What's important is this team is starting to believe. A teetering 4-6 team a month ago has turned into a confident 7-6 one.
[+] Enlarge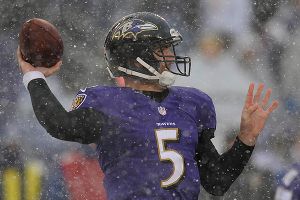 AP Photo/Nick WassJoe Flacco has made big plays when the Ravens have needed them most this season.
This is what happens when the Ravens rip back the lead every time it seemed like the Vikings had pulled off the upset. The defending Super Bowl champions refused to fold, scoring three touchdowns on their final eight plays of the game.
It's officially time to stop counting out Flacco and the Ravens. How many "miracles" need to happen before you're convinced? There's no disputing this is a team with flaws. But this is also a team that plays its best when the odds are stacked against it. All you have to do is google "Hey diddle diddle,
Ray Rice
up the middle" and "Mile High Miracle."
Sure, a blowout victory over a last-place team that played without the NFL's leading rusher would've been more of a statement. But there is something to be said for a team to experience something like this -- again.
"It probably makes you tough. It probably makes you resilient," coach John Harbaugh said. "It probably puts a lot of callouses all over your psyche and your character. When you've got callouses on your character, that's probably a good thing in the end."
No one is anointing the Ravens as a Super Bowl contender, but for the first time, they're showing playoff mettle. The Ravens have won three straight games and are finding out how to pull out close games again.
There are still season-long problems like Flacco's interceptions and the defense's inability to get the other team off the field late in games. The Ravens are winning now because they're finding ways to overcome their mistakes.
After throwing three interceptions, Flacco completed 7 of his final 10 passes for 62 yards and two touchdowns. Down 26-22 with 45 seconds left, Flacco marched the Ravens 80 yards on five plays. Flacco's nine-yard touchdown pass to
Marlon Brown
with four seconds left marked his 18th career game-winning drive in the fourth quarter or overtime, and his third of this season.
If you didn't think Flacco and the Ravens had that final drive in them, you're not alone.
"[The Vikings] probably thought it was over, and I'm not going to lie, part of me thought it was over at that point, too," Jimmy Smith said. "For Joe Flacco and the offense to go back down and score the way they did, it just says a lot about them."
What's confounding about Flacco is he can look so pedestrian for most of the game and so brilliant late in it. His second interception of the game, a low-lining pass that should've been thrown out of bounds, resulted in a touchdown for the Vikings. But, when the game was on the line, Flacco throws his best pass of the game, putting the ball only where Brown could leap up and get it.
"This game was crazy and we could've lost it, but we're a confident football team," Flacco said. "We're starting to get healthier. We're starting to put it together as a team. We just need to start putting it together for a full 60 minutes and see where it takes us."
Of all of the Ravens' comebacks, this one made you doubt them the most. In the final 125 seconds, the Ravens needed touchdowns from a fourth-and-goal pass to tight end
Dennis Pitta
, a 77-yard kickoff return by
Jacoby Jones
and a last-second toss to Brown in the back of the end zone to keep control of their playoff fate. There were seven lead changes in the game, including five in the final 2 minutes, 5 seconds.
Was this game crazier than the Mile High Miracle? That was last season's AFC divisional playoff game in Denver when Flacco thew a high-arcing 70-yard pass to Jacoby Jones with 31 seconds remaining to send the game into overtime.
"I think this is probably crazier," Flacco said. "That one was probably a little more exciting, just because of what was on the line. But when you look at this, similar things were on the line, just not at the same time of year. In the time period that Jacoby [Jones] scored that touchdown in the Denver game, I think we probably scored three touchdowns in this game."
The Ravens finish out the season with three games against division leaders: the
Detroit Lions
(7-6),
New England Patriots
(10-3) and
Cincinnati Bengals
(9-4). It would be easy to doubt whether the Ravens can make the playoffs with such a brutal stretch. And, based on Sunday, that's probably how the Ravens would like it anyway.
December, 8, 2013
12/08/13
8:20
PM ET
BALTIMORE -- The
Minnesota Vikings
' remote chances of making the playoffs for a second straight season officially died on Sunday, when they watched another last-minute lead evaporate in M&T Bank Stadium's snowy west end zone. That means they will play their final three games with nothing at stake other than their draft positioning, and if they haven't had a consequence-free environment in which to evaluate their quarterbacks, they have one now.
Cassel
That could give the Vikings reason to put
Josh Freeman
on the field for a game or two. Or they could go back to
Christian Ponder
once he is cleared to return from a concussion.
Matt Cassel
, though, made another case that he is the man who can run the Vikings' offense most efficiently on Sunday.
He hit just 17 of his 38 passes, but threw for 265 yards -- the most by a Vikings quarterback this season -- and connected on two touchdown pases that put the Vikings ahead in the fourth quarter. Cassel found
Jerome Simpson
in the back of the end zone early in the final period, and hit
Cordarrelle Patterson
on a screen pass that the rookie took 79 yards for a touchdown.
"I thought he did some good things," coach Leslie Frazier said. "He battled. He kept giving us a chance throughout the ballgame under some tough conditions against a good defensive team."
Frazier did not say who will start next Sunday against the
Philadelphia Eagles
, and that decision could take his coaching staff some time to figure out this week, if Ponder is ready to go and Freeman factors into the final three games of the season.
But Cassel might have as good an argument as any of the quarterbacks, with the way he's run Minnesota's offense the past two weeks.
"I would like to start every week, but then again, as you well know, it's not my decision," he said. "All I can do is try to get myself ready and be ready to play every week. Then I need to make the most of my opportunity."
December, 8, 2013
12/08/13
7:55
PM ET
BALTIMORE -- The forecast for Sunday's
Minnesota Vikings
-
Baltimore Ravens
game initially called for snow and freezing rain to arrive sometime after kickoff at M&T Bank Stadium. But when snow arrived hours before kickoff, blanketing the field in white, the circumstances of the game changed dramatically.
The Vikings and Ravens both struggled to throw the ball early on Sunday. On an early third down in which the Ravens appeared to be short of a first down, officials couldn't find the yard markers through the snow, and gave the Ravens a first down. Fox's broadcast of the game superimposed the line of scrimmage and a first-down marker on the field, but the graphics juxtaposed on the white snow made players look translucent.
Even as both offenses were able to move the ball more efficiently as conditions improved in the fourth quarter, neither the Vikings nor Ravens were able to find a normal rhythm on the sloppy field.
Matt Cassel
completed 17 of his 38 passes for 265 yards and two touchdowns, and
Joe Flacco
went 28-of-50 for 245 yards, but Flacco threw three interceptions and had a fourth called back because of a Vikings penalty that gave the Ravens a chance to score the game-winning touchdown.
"There was one time in New England we played in a snowstorm, but today was as bad as it's ever been (in my career)," Cassel said. "In the first half, everyone was having trouble with their footing, and we were sliding all over the place. The snow let up in the second half, and we were able to run our offense."
Until
Toby Gerhart
's 41-yard touchdown with 1:45 left, both running games also struggled to do much;
Adrian Peterson
had just 13 yards on seven carries before he left with a sprained foot, and
Ray Rice
wound up with 67 yards on 17 carries.
"It was hard to burst right off the bat," Gerhart said. "And I know even for (fullback) Jerome (Felton) and the other guys up front, it was hard. It was one of those 3-yards-and-a-cloud-of-snow games for a while. In the second half, they cleared the field quite a bit, and people started making more dynamic plays. It was a tough situation to play in. Tough weather -- football weather, I guess. It was an experience."
December, 8, 2013
12/08/13
7:00
PM ET
BALTIMORE -- As the
Minnesota Vikings
stewed over their
29-26 loss
to the
Baltimore Ravens
on Sunday afternoon, with nowhere to go after a catering truck hit the plane that was scheduled to take them back to the Twin Cities, many players struggled to find the right emotions for the most dramatic loss in a season that's been full of eventful endings.
[+] Enlarge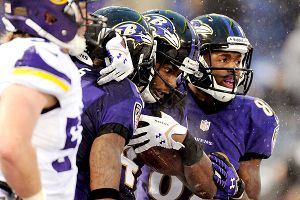 Evan Habeeb/USA TODAY SportsMarlon Brown's late touchdown won the game for the Ravens.
Were they to be upset with themselves about allowing a last-minute touchdown for the fourth time this year, or angry with officials for what they felt like were a series of short-sighted calls? Were they supposed to be grateful for the chance to participate in one of the wildest finishes in NFL history, or bitter that they had come out on the losing end of it?
The overriding emotion, after a game that featured a NFL-record six lead changes in the fourth quarter, seemed to be numbness.
"That was the first time I had ever been part of something like that," said wide receiver
Cordarrelle Patterson
, whose 79-yard touchdown in the final minute put the Vikings ahead by four. "I had always wanted to play in the snow, and I got my opportunity today. It was a tough game. The way we fought on offense, defense and special teams, the way we stepped up in this game, we expected to win. And, at the end, it wasn't what we expected it to be."
So many things happened on a snowy Sunday at M&T Bank Stadium that it was hard for the Vikings to process all of it. They had reason to be encouraged by how their offense responded after losing running back
Adrian Peterson
to a sprained foot, by Patterson's continued emergence as a game-breaking receiver and by their secondary's resoluteness through most of the second half. But for the seventh time this year, their fate hung in their inability to stop a team in the last minute. They are now 2-4-1 in those games, and on Sunday, they allowed not one, but two Ravens touchdown drives at the end of the game, with a
Jacoby Jones
kickoff return sandwiched between them.
Several players -- Peterson and fullback
Jerome Felton
among them -- aired their displeasure with referee Pete Morelli's officiating crew, while others bit their tongues. "I'm not going to say anything to get on Roger Goodell's list," defensive end
Brian Robison
said. Coach Leslie Frazier said he was "bewildered," in particular, by two late pass interference calls -- one on safety
Robert Blanton
, the other on linebacker
Chad Greenway
-- that gave the Ravens 55 yards on their final two offensive series and wiped out an
Andrew Sendejo
interception that would have ended the game.
But in the end, all the Vikings' two quick-strike touchdowns served to do was set up their defense for another collapse.
"It was really emotional," defensive end
Jared Allen
said. "You try not to get too high or too low. We thought the game was over four times. But, we have to play all four quarters. Three times in the last two minutes, we had to stop them, and we didn't."
December, 8, 2013
12/08/13
6:55
PM ET
BALTIMORE -- The
Baltimore Ravens
knew Sunday's game against the
Minnesota Vikings
was a must-win in terms of their playoff hopes. They just didn't know they would have to win it three times in the final 2 minutes, 5 seconds of the game.
The Ravens took late-fourth-quarter leads on touchdowns from tight end
Dennis Pitta
and kickoff returner
Jacoby Jones
, but it wasn't until
Joe Flacco
hit
Marlon Brown
in the back of the end zone with four seconds remaining that Baltimore could finally breathe a sigh of relief.
[+] Enlarge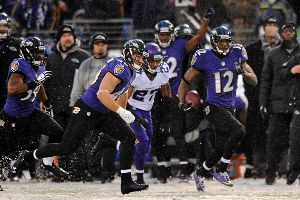 AP Photo/Gail BurtonJacoby Jones returned a kickoff for one of five touchdowns in the final 2:05 of Sunday's game.
By the time the dust cleared -- actually, it was a few inches of snow at M&T Bank Stadium that needed to be cleared-- the Ravens had won
29-26
and held onto the No. 6 and final seed in the AFC by coming out on top in a fourth quarter that featured 42 points and six lead changes.
"Will we ever see another game like that again?" Ravens coach John Harbaugh asked after the game.
It's going to be hard to top a finish that included five touchdowns in the final 125 seconds:
With 2:05 remaining, the Ravens went ahead 15-12 on a 1-yard pass from Flacco to Pitta (in his first game back since dislocating his hip) on fourth-and-goal.
After the Vikings took the lead back on a 41-yard touchdown run by Toby Gerhart, Jones returned the ensuing kickoff 77 yards down the Ravens' sideline (Steelers coach Mike Tomlin was not here to interfere this time) to put Baltimore up 22-19.
Minnesota rebounded with a spectacular 79-yard catch-and-run by Cordarrelle Patterson to jump back ahead, but Flacco marched the Ravens 80 yards on five plays in the final 45 seconds of the game. His 9-yard pass to a leaping Brown sealed a victory that had often proved elusive.
"I don't know if there has ever been a crazier minute-and-40-some seconds ever," Flacco said.
The day began with both teams struggling to move the ball because players had trouble with footing on a snowy field. The conditions got so bad that a plow got stuck at the 20-yard line because too much snow had accumulated.
"This was just a really crazy game under really crazy conditions," defensive tackle
Haloti Ngata
said.
The Ravens (7-6) needed this win if they were to have any hope of winning the AFC North or capturing a wild-card berth because the
Cincinnati Bengals
(9-4) and
Miami Dolphins
(7-6) had both won. That just heightened the drama of what became a one-of-a-kind, back-and-forth finish for the Ravens.
"You couldn't even really get emotional," said Jones, who scored his first touchdown off a return since the Super Bowl. "It was too confusing."
The Ravens have had memorable finishes in 2013. There was the Mile High Miracle in the AFC divisional playoff game in Denver and the late fourth-down stand in the Super Bowl against the
San Francisco 49ers
.
"I've never seen a game like that before," outside linebacker
Terrell Suggs
said. "Besides the Super Bowl, that's probably the most special win I've ever been a part of."
While the finish was scintillating, the final score shouldn't come as a surprise. This was the Ravens' eighth game decided by three or fewer points this season, and the Ravens have now won four of them.
"That was like playing 'Madden,'" wide receiver
Torrey Smith
said. "If you have a heart condition, you can't watch the Ravens."
December, 8, 2013
12/08/13
4:29
PM ET
BALTIMORE -- A few thoughts on the
Baltimore Ravens
' 29-26
win
over the
Minnesota Vikings
:

What it means
: In a wild finish, the Ravens (7-6) braved a snowy field and a fourth-quarter collapse on defense to come back and beat the last-place Vikings.
Joe Flacco
's 9-yard touchdown pass to a leaping
Marlon Brown
with four seconds remaining capped a thrilling comeback. Flacco drove the Ravens 80 yards on five plays as they won for the fourth time in five games. This allowed the Ravens to hold on to the sixth and final playoff spot in the AFC. The Ravens are now 32-9 against teams with losing records, and they needed three late touchdowns to avoid an upset loss to a Vikings team that lost NFL leading rusher
Adrian Peterson
in the second quarter.
Crazy finish:
In the most unbelievable finish in Ravens history, the teams combined for five touchdowns in the final 2 minutes, 1 second. The Ravens thought they had pulled out the victory when
Jacoby Jones
returned a kickoff 77 yards for a touchdown. But the Ravens couldn't stop
Cordarrelle Patterson
, who took a short pass and ran past the entire defense for a 79-yard touchdown. Then, not to be outdone, Flacco drove the Ravens down the field in the final minute for his 18th career comeback in the fourth quarter or overtime.
Clutch catch
: Before Jones' touchdown, it looked like tight end
Dennis Pitta
would be the hero. In his first game back since dislocating his hip, Pitta scored on a 1-yard touchdown catch on fourth-and-goal to put the Ravens ahead in the fourth quarter. He was just activated off the injured reserve and looked rusty at the beginning with two drops.
Stock watch
: Rising: Undrafted rookie Marlon Brown. After only one catch in each of his past two games, Brown came up big. He finished with six catches for 83 yards and the winning touchdown.
Flacco's costly mistake
: Flacco's second interception was the most critical one. Getting pressured in his own territory, Flacco should've thrown the ball out of bounds. Instead, he threw a low pass to the sideline, where it was intercepted by safety
Andrew Sendejo
at the Ravens' 34-yard line. The Vikings converted that into a 8-yard touchdown pass to
Jerome Simpson
to put Minnesota ahead 12-7 early in the fourth quarter.
Capitalizing on questionable turnover
: The Ravens scored first off what was a debatable turnover. It looked like
Toby Gerhart
's knee was down before he fumbled, but the call was upheld on a replay challenge. Flacco scrambled for 22 yards before hitting
Ed Dickson
for a 1-yard touchdown pass on third-and-goal. It marked the fourth time in five games that the Ravens scored first.
What's next
: The Ravens begin a season-ending stretch when they play three straight division leaders. It begins next Monday night at the
Detroit Lions
.
December, 8, 2013
12/08/13
4:28
PM ET
BALTIMORE -- A few thoughts on the
Minnesota Vikings
'
29-26 loss
to the
Baltimore Ravens
:

What it means:
The Vikings have had plenty of wild finishes this year, but on a wet, snowy day in Baltimore, nothing could compete with this one. Minnesota fell behind on a fourth-down score with 2:07 left, took the lead back 38 seconds later on
Toby Gerhart
's 41-yard romp, gave up a 77-yard kickoff return touchdown on the ensuing play, regained the lead two offensive plays later on
Cordarrelle Patterson
's 79-yard touchdown and still managed to lose in the final 45 seconds, after
Joe Flacco
moved the Ravens 80 yards in five plays. Five touchdowns were scored within the game's final 2:05.
Stock watch:
Rising: Patterson. He already had 62 receiving yards and 67 kick-return yards before the final minute of the game, when Patterson took a screen pass from
Matt Cassel
and saved his most electrifying moment for last. He followed a key block from
John Sullivan
, cut across the field and raced 79 yards for a touchdown. We've wondered at different points this season why the Vikings weren't trying to get Patterson the ball on more screen passes, and on a slippery track that made it hard for defenders to adjust to him, Patterson showed -- once again -- how good he can be with the ball in his hands.
Peterson leaves with ankle injury:
Running back
Adrian Peterson
left shortly before halftime with a right ankle injury, and reportedly left the stadium in the third quarter to get more tests after an X-ray. But Peterson was back on the sideline in the fourth quarter, standing up without crutches or a boot on his ankle, and told ESPN's Josina Anderson in a text, "I'm good." We'll get more information about Peterson's health after the game, but for now, it appears the Vikings might have avoided a major scare.
Secondary allows late TDs after strong showing:
The Vikings' secondary had one of its stronger games of the season in the first three and a half quarters, collecting two of Minnesota's three interceptions on Flacco and stalling the Ravens' passing game in the snow. But once again, a late-game touchdown burned the Vikings; Flacco found
Dennis Pitta
on fourth-and-1, and he hit
Torrey Smith
for a two-point conversion when
Marcus Sherels
and
Robert Blanton
got caught on a crossing route. Blanton committed a key penalty for the third week in a row, getting called for a 36-yard pass interference penalty that moved the Ravens to Minnesota's 17. And on the Ravens' final drive, an 18-yard interference penalty from
Chad Greenway
loomed large.
What's next:
The Vikings (3-9-1) host the
Philadelphia Eagles
next Sunday.

NFL SCOREBOARD
Sunday, 2/2
WEEKLY LEADERS