NFL Nation:

2013 Week 14 NYG at SD
December, 8, 2013
12/08/13
11:45
PM ET
SAN DIEGO -- Mike McCoy acknowledged after the
San Diego Chargers
' win over the
New York Giants
that teams may covet his offensive coordinator, Ken Whisenhunt, for potential head coaching vacancies.
But those organizations will have to wait until the end of the season for a chance to interview Whisenhunt.
[+] Enlarge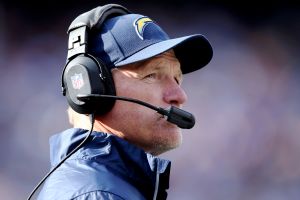 Photo by Jeff Gross/Getty ImagesChargers offensive coordinator Ken Whisenhunt will get plenty of attention from teams seeking a new head coach.
"He's ready to go this week to try and find a way to beat Denver," McCoy said. "He's going to take care of all of that down the road. Ken's not worrying about that one bit. He put a great plan together, and he's not worrying about that right now."
ESPN's Adam Schefter reported on Saturday that the
Houston Texans
have Whisenhunt squarely on the radar for their vacancy, and are expected to interview the San Diego Chargers offensive coordinator at the soonest chance possible, according to league sources.
Per Schefter, Texans general manager Rick Smith and Whisenhunt got to know each other well from the one year they spent together working on the NFL's competition committee.
Whisenhunt served as head coach of the
Arizona Cardinals
from 2007-12. He joined the Chargers after being fired by Arizona following a 5-11 season in 2012. Whisenhunt was 45-51 overall with the Cardinals and led them to Super Bowl XLIII, where Arizona fell to the
Pittsburgh Steelers
.
In his first season with the Chargers, Whisenhunt is partly responsible for quarterback
Philip Rivers
playing his best football during his 10 years in San Diego.
"His record for where he's been speaks for itself," McCoy said about Whisenhunt. "Good coaches get good opportunities. And when you have good players and you win games, and offense, defense and special teams -- your phase does well -- it's deserving."
December, 8, 2013
12/08/13
10:15
PM ET
SAN DIEGO -- The easy joke is that you can forgive
New York Giants
' wide receiver
Hakeem Nicks
for not knowing he wasn't in the end zone, since he hasn't been there all season. Nicks went up to catch
Eli Manning
's Hail Mary pass at the end of the first half of Sunday's 37-14 loss to the Chargers. He outfought defenders for it and came down with the ball at the six-yard line. Then he got up and started acting as though he'd scored a touchdown, because he believed he had.

Nicks
"I thought I was in the end zone until I got up and everybody was just looking at me," Nicks said. "I was thinking, 'Why isn't anyone celebrating?'"
Nicks did nothing wrong on the play. He went for the ball and got it. Had he actually been in the end zone, he would not have been able to catch it. But as it stands, he is still without a touchdown catch in this, the final season of his contract with the Giants.
He didn't have a bad game, though. He caught a 51-yard pass early in the game that he thought would help the offense get going. He had a 28-yarder in the second half, and ended up with 135 yards on five catches. He and tight end
Brandon Myers
each were targeted seven times to lead the team. And the two Nicks didn't catch, while they weren't uncatchable, were balls Manning threw behind him on short routes across the middle.
"Each week I strap it up and I'm ready to go," Nicks said. "I had a lot more opportunities today and I wanted to take advantage of it."
It's hard to imagine the Giants re-signing Nicks, especially since he'll likely be looking for the biggest contract he can get. But a strong final month would help him in that pursuit, whether it's the Giants who sign him or some other team.
December, 8, 2013
12/08/13
9:52
PM ET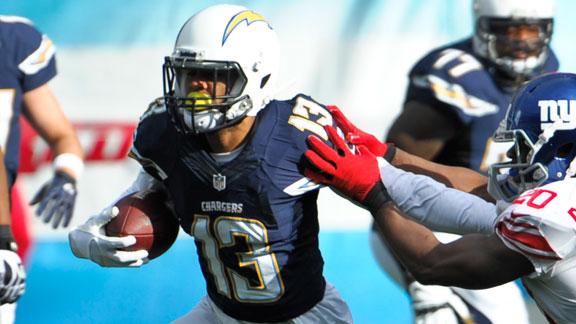 SAN DIEGO -- The public address announcer let the fans here at Qualcomm Stadium know who was starting at quarterback for the
New York Giants
. And as
Eli Manning
jogged out onto the field for the game's first series, they let him have it.
Fans of the team for which Manning famously didn't want to play when it drafted him first overall in 2004 hadn't had a chance to boo him since early in the 2005 season. But they have not forgiven Manning for spurning them, and they booed him every time he came onto the field and every time he dropped back to pass.
Having
lost the game 37-14
, Manning was in no mood to discuss the San Diego fans' treatment of him.
"Fans have never affected my play," Manning said. "I just tried to go out there and play good football."
After drafting Manning first overall in 2004, the Chargers immediately traded him to the Giants for quarterback
Philip Rivers
(whom the Giants selected fourth overall as a condition of the trade) and several other picks. Among the newspaper front pages of franchise highlights hanging on the wall in the press box is one from the 2005 game in which the Chargers beat Manning and the Giants 45-23 here in 2005. Until Sunday, that was Manning's only career game in San Diego.
Sunday, fans chanted things at Eli that we cannot print here. They held up unflattering signs. And as the teams went in for halftime with the Chargers up 24-0, the fans chanted "We love Philip" in reference to Rivers, who'd thrown three touchdown passes in the first half.
"I think that's more for you all or the fans I guess," Rivers said of the Manning issue. "I felt like I was competing, and we were competing, against the Giants' defense. I know that's a sidebar story, but I've never felt like it's me vs. him."
December, 8, 2013
12/08/13
7:39
PM ET
SAN DIEGO -- A few thoughts on the
New York Giants
' 37-14
loss
to the
San Diego Chargers
:
What it means:
The Giants fell to 5-8 with three games left to play and therefore cannot finish with a winning record. Since the Eagles and Cardinals won, this loss eliminated the Giants from playoff contention. Obviously, they hung in longer than could have been expected after starting the season 0-6. But that 0-6 start meant they couldn't afford any more stinkers. And this was a stinker.

Stock watch:
Run defense, DOWN. A Giants strength for much of the season, the run defense failed the Giants in this game. They went into the game concerned about
Danny Woodhead
because he and the manner in which the Chargers use him are different from any running back they'd yet faced. And Woodhead had a big game. But so did
Ryan Mathews
running between the tackles.
Nicks Watch:
Wide receiver
Hakeem Nicks
, a nonfactor in the passing game for most of this season, had catches of 51, 37 and 28 yards in the game. The middle one was a Hail Mary short of the end zone at the end of the first half. The other two were deep downfield in traffic. Nicks was able to outfight defenders for the ball all three times but still isn't separating from them. He also had a couple of drops on shorter patterns, though each of those seemed to be thrown a bit behind him. And he briefly left the game in the second half with some sort of leg injury. Nicks will be a free agent at the end of the year and is likely in his final month as a Giant.
Tuck Watch:
Justin Tuck
, also a pending free agent, had two sacks after collecting four last week in Washington and is now up to 8.5 for the season. Unlike Nicks, Tuck appears to be making an inspired case to stay.
Turnover redux:
Eli Manning
threw his 20th interception of the season and had another potential pick overturned by replay review. The Giants are the only NFL team with at least one turnover in every game this year.
What's next:
The Giants return home, where they will host the
Seattle Seahawks
in a 1 p.m. ET game at MetLife Stadium on Sunday. The Seahawks are tied with the Broncos for the best record in the NFL.
December, 8, 2013
12/08/13
7:34
PM ET
SAN DIEGO -- A few thoughts on the
San Diego Chargers
'
37-14 victory
over the
New York Giants
.

What it means:
San Diego recorded its largest margin of victory this season. The Chargers move to 6-7 and are tied with the
New York Jets
(6-7) and a game behind the
Baltimore Ravens
(7-6) and
Miami Dolphins
(7-6) for the final AFC spot with three games to play.
Manning sputters:
In his first game back in San Diego since 2005, New York Giants quarterback
Eli Manning
struggled, finishing 20-of-32 for 259 yards, a touchdown pass and two interceptions. Manning was loudly booed by fans at Qualcomm Stadium when he took the field. Manning, who spurned the Chargers in the 2004 draft, is 0-3 in his 10-year career against San Diego.
Melvin Ingram solid in return:
In his first game in nearly a year coming off anterior cruciate ligament knee surgery in May, Ingram unofficially played 13 snaps. Ingram had trouble containing the run a few times and finished with just one tackle. But he left the game healthy, which is the most important thing for the Chargers.
Stock watch:
Running back
Ryan Mathews
gained 103 yards on a season-high 29 carries, as the Chargers controlled the line of scrimmage on both sides of the ball. Mathews eclipsed the 100-yard mark for the fourth time this season.
What's next:
The Chargers travel to Denver for the team's final road game of the season, a Thursday night contest at Mile High Stadium at 5:25 PT.
December, 7, 2013
12/07/13
2:00
PM ET
SAN DIEGO -- The
New York Giants
are 5-7 and in third place, still mathematically alive in the race for the NFC East but needing a ton of help to make their hopes realistic. The
San Diego Chargers
are 5-7 and in third place, eliminated from their division race but still very much alive in the pitiful race for the final AFC wild-card spot. These two teams meet at 4:25 pm ET on Sunday at Qualcomm Stadium, and here are a couple of things to keep an eye on in the matchup.


Third-down terrors:
The Chargers have converted 46.4 percent of their third-down attempts this year, second only to the Broncos in that department. Giants linebacker
Jon Beason
specifically mentioned third-down running back
Danny Woodhead
as a player for whom his group would have to account. The Giants have been good all year at limiting the production of running backs, but offensive coordinator Kevin Gilbride said Woodhead is a different kind of back than they've faced, and that the way the Chargers use him presents different challenges. Woodhead leads all NFL running backs this year with 61 receptions and is second to the Saints'
Darren Sproles
among running backs with 482 receiving yards.
The turnover battle:
The Chargers' defense has forced only 11 turnovers this year, which ranked them 29th in the league through Week 13. The Giants' offense, of course, has committed a league-leading 31 turnovers and at least one in every game. But while they turned it over 23 times and forced only seven while losing all of their first six games, the Giants have turned the ball over only eight times and forced 13 while going 5-1 in their last six games. So if the Chargers can't take the ball away (as they have not been able to do all year), they forego a significant potential advantage against the Giants.
Is this the week for Hakeem Nicks?
This replaces our weekly "Is this the week for
Eli Manning
?" segment, since Manning was a cool 22-for-28 in Sunday's victory in Washington and obviously has overcome at least some of the comfort issue that arose early in the season due to the Giants' inability to protect him. What would help even more is a big game from Nicks, who was once Manning's top wide receiver but has been a shell of himself in his contract year. Nicks has yet to catch a touchdown pass this season and hasn't had more than 51 receiving yards in a game since Week 6. Fellow wideout
Victor Cruz
(who himself hasn't been to the end zone since Week 4) said he thought the Chargers' defense would offer the Giants opportunities to hit big plays in the passing game. What remains to be seen is whether Nicks can get open and catch the ball well enough to take advantage of those opportunities.
NFL SCOREBOARD
Sunday, 2/2
WEEKLY LEADERS