NFL Nation:

2013 Week 15 BUF at JAC
December, 15, 2013
12/15/13
7:50
PM ET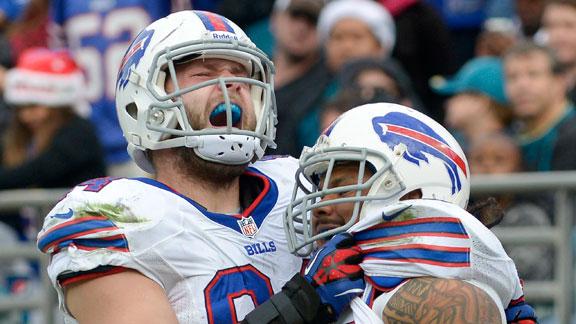 Haven't we seen this before?
It was four weeks ago when
EJ Manuel
helped the
Buffalo Bills
snap a losing streak, passing for 245 yards and two touchdowns in a victory against the
New York Jets
. Coming off a dismal outing in Pittsburgh, that performance quieted critics of the rookie quarterback and appeared to set the Bills back on the right track with their first-round pick.
But then came the slide. Manuel's completion percentage dropped to 56 percent in a loss to the
Atlanta Falcons
, he threw four interceptions to help the
Tampa Bay Buccaneers
blow out the Bills last week, and then he may have hit rock bottom Sunday.
In what became a 27-20 victory against the
Jacksonville Jaguars
, Manuel's had a 6.0 passer rating in the first quarter, the seventh-lowest by any quarterback this season. He completed two of his seven first-quarter passes and lobbed what may have been the easiest interception of Jaguars linebacker
Geno Hayes
' career.
At that point, any questions about Manuel were fair. Anything from "Is he regressing?" to "Should the Bills draft another quarterback in the first round?" would have sparked debate at holiday gatherings around Buffalo.
Then something clicked in the second quarter. First it was a 20-yard completion to
Robert Woods
. Then it was a 28-yard catch by
Chris Gragg
. Five plays later, Manuel found Woods open in the end zone. All of the sudden, there was hope.
Even when Manuel was strip-sacked in the third-quarter, he rebounded, leading the Bills on another touchdown drive. Manuel finished with 193 yards on 17-of-24 passing, a 71 percent rate that matches his season-high in the win over the Jets.
For now, the heat is off Manuel, but the next two games are still critical.
The Bills need more than just glimmers of progress from their quarterback. Manuel led them on a game-winning touchdown drive in Week 2, only to struggle in his next two games against the Jets and
Baltimore Ravens
. He had a strong day in his second meeting with the Jets, only to take a significant tumble after the bye week against the Buccaneers and in the early going in Jacksonville.
We're almost to the point where Manuel is no longer considered a rookie. It's true that there is a maturation process with Manuel, but taking one step forward -- like he did Sunday in Jacksonville -- only to take two steps backward is not acceptable. The bar needs to be raised and there needs to be less of a tolerance for "growing pains" as the Bills try to move forward.
What Manuel sparked Sunday in Jacksonville must catch flame the next two weeks, when the Bills host the
Miami Dolphins
(8-6) and travel for their finale against the
New England Patriots
(10-4). These are both teams that the Bills need Manuel to beat in the coming seasons if he is to be their franchise quarterback.
If Manuel and the Bills can pull off upsets in one or both of those games, it will give renewed hope for next season. But if they slide again, Sunday's win in Jacksonville will have little meaning, only having dealt a blow to Buffalo's draft position next May.
The questions will begin again, and the Bills will be right back where they started.
December, 15, 2013
12/15/13
7:45
PM ET
JACKSONVILLE, Fla. -- The
Jacksonville Jaguars
have been a better team since the bye week for various reasons, but one of the biggest was turnovers.
They were forcing them but not committing them.
They did the first part against the
Buffalo Bills
on Sunday, but it was the other part that cost them in
a 27-20 loss
at EverBank Field. The Jaguars (4-10) committed a season-high four turnovers, including two on potential scoring plays, and that sloppy play ended their three-game losing streak.
"Four turnovers -- we're not going to win any games," said quarterback
Chad Henne
, who threw two interceptions. "You lose the turnover battle your chances of winning are very slim, so our job is to protect the ball and score points when we're down there and keep it in our favor when we're on the field."
The Bills (5-9) turned two of those turnovers into field goals, although the second was a questionable call that did not get over-turned by replay.
Henne's first interception came on the game's third play. He had hooked up with tight end
Marcedes Lewis
for a 25-yard gain the play before. Henne tried to go back to Lewis but forced the ball and safety
Aaron Williams
picked off the pass. Four plays later the Bills had a 3-0 lead.
The Jaguars were driving to tie the game at 13-13 late in the first half when Bills cornerback
Nickell Robey
ripped the ball way from receiver
Mike Brown
. Replays appeared to show that Brown never had possession of the ball before Robey knocked it loose, but officials did not reverse the call.
The Bills, thanks in part to a 31-yard pass interference penalty, got into position for a 40-yard field goal and a 20-10 lead as the half expired.
The turnover that hurt the most, however, came on the Jaguars' first drive of the second half.
Denard Robinson
broke free for what appeared to be a 25-yard touchdown run but Williams hit him from behind at the 1 and knocked the ball loose. It rolled through the end zone for a touchback.
"I didn't see him [Williams] but I tried to double up once I [saw the goal-line]," Robinson said. "The ball was like this [out in front of him] and I was trying to grab it and it seemed like he just had perfect timing."
Henne is disputing the final turnover. Henne said Brown was being held in the end zone and he threw the ball to the back corner so they could get a penalty and a first down, but officials didn't throw a flag and Stephon Gilmore's interception stood with 3:15 remaining.
"You've got to throw it or they're not going to see who the receiver is," Henne said. "If you don't throw it they don't call it. My job is to throw it where he's supposed to be and obviously they didn't see it.
Mike and I are sitting there and [coach] Gus [Bradley] went after him [the official], but you can't do anything about it."
Henne said that play didn't lose the game, but the offense's collective carelessness with the ball did. It was reminiscent of the way the team played in the first eight games, when they turned the ball over 15 times and had a minus-7 turnover ratio.
In the first five games after the bye, the Jaguars' turnover ratio was plus-5: five turnovers against 10 turnovers first. They were 4-1 in those games.
They didn't follow that formula on Sunday. They picked off Bills quarterback E.J. Manuel once and forced him to fumble on a third-quarter sack, but the four turnovers wiped those out.
"It was a game of missed opportunities," Bradley said. "We had some missed opportunities in the game to capture and we didn't play like we're capable of playing, whether it was a fumble, interception, things like that. In the locker room our hearts are broken right now because of this but I felt like our spirit is not."
December, 15, 2013
12/15/13
6:55
PM ET
JACKSONVILLE, Fla. -- The
Jacksonville Jaguars
' final games of the 2013 season are really more about evaluation than victories.
It's ideal to be able to do both, but it's more important for general manager David Caldwell and coach Gus Bradley to be able to evaluate some of the younger players on the roster as they continue to reshape and rebuild the franchise. Are they worth keeping or should the Jaguars (4-10) go in a different direction?
They may have gotten their answer about
Jordan Todman
.
The first-year running back, pressed into his first start because of
Maurice Jones-Drew
's hamstring injury, responded with 153 all-purpose yards in the Jaguars'
27-20 loss
to Buffalo in front of 60,085 at EverBank Field on Sunday. It was a performance that showed he can be a role player -- and possibly even more -- in 2014.
[+] Enlarge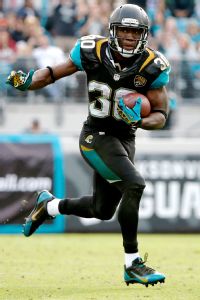 Photo by Sam Greenwood/Getty ImagesJordan Todman rushed for 109 yards and added another 44 yards receiving against Buffalo.
"It's up to them and it's their decision, but I want to be able to do what I have to do, whatever they need me, whatever it takes," Todman said. "If it's a couple carries, if it's 20 carries, any opportunity that I get I'm thankful and blessed to have it.
"I'm a believer that everything happens for a reason and today was a perfect example. I had that opportunity to do that and when my time comes I'm going to work hard and make sure I'm ready for it."
Todman rushed for 109 yards on 25 carries and caught four passes for 44 yards, but it was his timing that should have Caldwell and Bradley intrigued. Todman made big plays on three of the Jaguars' four scoring drives:
He had a 16-yard run on second-and-13 to extend a drive that ended with
Josh Scobee
's 32-yard field goal.
He had a 33-yard run on second-and-10 on the second play of a drive that ended with Scobee's 55-yard field goal.
Todman's biggest play of the day was a 30-yard catch-and-run on third-and-12 to the Buffalo 14-yard line to set up
Chad Henne
's 13-yard touchdown pass to
Marcedes Lewis
to tie the game at 20-20 early in the fourth quarter.
Todman's teammates were not surprised at what he did against the Bills. He led the team in rushing in the preseason and they have watched him do some of those things in practice. Rushing for more than 100 yards, which Jones-Drew had done just once in the previous 13 games, was a bit of an eye-opener, though.
"Ever since he's been here he's played hard," left tackle
Cameron Bradfield
said. "Never takes plays off and very fast guy. I think he did -- I'm not going to say what we expected or what we thought he would do -- but good job by him today."
Does Sunday's performance mean Todman, who had 138 yards on 43 carries coming into the day, is going to be the Jaguars' feature back in 2014? No, but it does show that he can shoulder a bigger load as a complementary back. Jones-Drew's contract expires after this season and the Jaguars are interesting in re-signing the franchise's second all-time leading rusher.
Jones-Drew will be 29 next season and his body is starting to wear down, so it'd be best to have another back capable of sharing carries closer to a 50-50 split. Todman made his case Sunday to be that back.
"I feel like this has been my dream to one day be a starter and I've been putting in the work throughout preseason and throughout the season," Todman said. "You see what you can showcase and kind of say the sky's the limit and try not to give yourself a set goal and just kind of let the chips fall as they go."
Bradley was pleased with what he saw from Todman, especially in the second half when he ran for 73 yards on 14 carries. Bradley said he was eager to see how Todman handled the bigger workload because he has only had one game in which he has carried the ball more than seven times (11 against Houston on Nov. 24).
"He's had six, eight carries, now he was going to get a lot more," Bradley said. "So that's what we concentrated on as a staff and said this game presents opportunities for a lot of these young guys for us to evaluate where they are and how they're going to fit in. And I think that guys took advantage of that."
Top of the list was Todman.
December, 15, 2013
12/15/13
4:33
PM ET
A few thoughts on the
Buffalo Bills
'
27-20 win
over the
Jacksonville Jaguars
:

What it means:
This game meant little in the standings for either team, but after their 27-6 loss in Tampa last weekend, the Bills couldn't afford to come out with the same performance. They didn't, which is a positive sign for Doug Marrone's group. It's a win that takes some pressure off a young team, but plenty of questions remain. The Bills are now 2-6 away from Ralph Wilson Stadium this season (including the game in Toronto).
Manuel rebounds:
Rookie quarterback
EJ Manuel
-- and the entire offense -- was awful in the first quarter. Manuel had a 6.0 passer rating in the first quarter, the seventh worst in the NFL this season. But then something clicked. The Bills were able to put together two long touchdown drives in the second quarter, injecting some confidence into the young signal-caller. Even when he was rattled by a third-quarter strip-sack that led to a Jaguars touchdown, Manuel came back and led the Bills on another touchdown drive. There's little time left this season, but the Bills need to see more of that.
Bills eliminated:
Minutes before the Bills sealed their win in Jacksonville, the Dolphins defeated the Patriots in Miami, officially eliminating the Bills from playoff contention. This will be the 14th consecutive January that the Bills will remain out of the postseason, the longest active drought in the NFL.
Stock watch:
Rising: running game. The Bills finished just shy of 200 yards rushing, which in addition to Manuel's bounce-back effort powered the offense through much of the game. It wasn't all pretty --
Fred Jackson
couldn't gain a first down on three consecutive runs in the fourth quarter, giving the Jaguars one last chance -- but the ground game is still the strength of this Bills offense.
What's next:
The Bills, now eliminated, have two more games to play. They'll host the streaking Dolphins, who are now 8-6, at Ralph Wilson Stadium next Sunday. They'll then head back on the road for their finale against the Patriots.
December, 15, 2013
12/15/13
4:11
PM ET
JACKSONVILLE, Fla. -- A few thoughts on the
Jacksonville Jaguars
' 27-20
loss
to the
Buffalo Bills
:

What it means:
What could have been a gut-it-out victory because of the loss of four starters turned into another loss at EverBank Field in front of 60,085 fans. The Jaguars turned it over four times, including once when
Denard Robinson
fumbled the ball at the Buffalo 1-yard line, and it bounced out of the back of the end zone for a touchback. The Jaguars had won three games in a row and were coming off their first victory at EverBank Field in more than a year.
Stock watch:
It's harder to be much higher than
Jordan Todman
, who ran for 109 yards and had 44 yards receiving. The first-year player was making his first start because
Maurice Jones-Drew
was inactive with a hamstring injury. Todman also had a pair of big plays, a 33-yard run on a drive that ended with a field goal, and a 30-yard catch-and-run to convert a third down and continue a drive that ended with a touchdown. Quarterback
Chad Henne
did not have one of his better games. He threw two interceptions, including one in the end zone late in the fourth quarter, and threw several other passes that were nearly intercepted. He made some plays with his feet and had to deal with heavy pressure, but he wasn't able to overcome his mistakes.
Banged-up offensive line:
The offensive line was hit hard by injuries. Starting left guard
Will Rackley
was added to the injury report on Saturday with a concussion and did not play. His replacement, Mike Brewster, suffered a left ankle injury in the first half and did not return.
Jacques McClendon
finished the game at left guard, which left the Jaguars with just one other healthy offensive lineman (
Sam Young
).
In a rush:
One of the things that had keyed the Jaguars' turnaround in the second half of the season was better rush defense. They went from allowing 162 yards per game in the first eight games to holding the next five opponents under 100 yards. That changed on Sunday, when the Bills battered the Jaguars for 198 yards on the ground.
Fred Jackson
rushed for 80 yards,
C.J. Spiller
67, and quarterback
EJ Manuel
37.
What's next:
The Jaguars play their final home game of the season against Tennessee at 1 p.m. on Sunday.

NFL SCOREBOARD
Thursday, 9/18
Sunday, 9/21
Monday, 9/22
WEEKLY LEADERS