NFL Nation:

2013 Week 15 GB at DAL
December, 16, 2013
12/16/13
11:00
AM ET
ARLINGTON, Texas -- A distraught
Dez Bryant
couldn't stomach the thought of helplessly watching the final 81 seconds tick off the clock.
His premature departure for the home locker room wasn't a great publicity move, but the Cowboys have about 1,000 more pressing problems after their miraculous meltdown in Sunday's
37-36 loss
to the
Green Bay Packers
.
"I'm hurt, man," Bryant whispered at his locker, declining further comment. He couldn't have said much more without breaking into tears.
This story should have been about a dominant performance that was overdue for Bryant, one of the NFL's most gifted receivers. But his 11-catch, 153-yard, one-touchdown outing -- boosting his somewhat disappointing season totals, given his ability, to 81 catches for 1,061 yards and 11 touchdowns -- was merely a footnote after the Cowboys figured out a way to blow a 23-point lead in the second half.
[+] Enlarge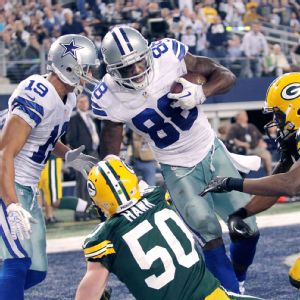 AP Photo/Tim SharpDez Bryant caught 11 passes for 153 yards and this 5-yard touchdown.
Coach Jason Garrett insisted this week that Bryant was a better receiver than last season, no matter what the numbers indicated. Bryant seconded that motion, then backed it up with the kind of production expected from a receiver blessed with so much talent.
His 5-yard touchdown catch should have been the postgame buzz. He freelanced while
Tony Romo
scrambled, then snatched the ball over two Green Bay defenders in the back of the end zone before somehow getting both feet down in bounds. It's the kind of play few receivers can make, and it put the Cowboys up a dozen points with 7:55 to play.
But Bryant ended the afternoon practically speechless, an emotional wreck.
Maybe he left AT&T Stadium thinking about the plays that could have been, not the plays he made. He set season highs for catches and yards, but he easily could have doubled his yardage total if Romo put some deep balls on the money.
Romo hit Bryant for a 37-yard gain on one go route, but it would have been a 69-yard score if the pass hit the target in stride. The Cowboys ended up scoring a touchdown anyway on that drive.
A few other Romo misfires were much more costly.
Romo badly underthrew Bryant on a deep ball early in the second quarter, allowing safety
Morgan Burnett
to break up a third-down bomb that should have been a 53-yard touchdown. Bryant couldn't make a diving catch on an overthrown pass in the end zone the next series, and the Cowboys settled for a field goal a couple of plays later. The Cowboys settled for another field goal early in the third quarter, when Bryant didn't catch another underthrown deep ball that could have been a 36-yard touchdown if Romo led him.
"I think the worst thing you can do sometimes with Dez is overthrow him, so obviously you would like to hit him perfectly in stride and go through," Romo said. "He's such a great athlete that he comes down with most of them. I look back and I wish that I had one or two where I gave it a little bit more."
Perhaps those plays would have been the difference. The Cowboys, with their defense that turns backups into Pro Bowlers, certainly can use all the points they can get.
That's why Bryant, who takes losing as hard as anyone in that locker room, better get over this soul-crushing defeat soon.
If he isn't dominant, time is sure to run out on the Cowboys' season in two weeks.
December, 16, 2013
12/16/13
12:50
AM ET
ARLINGTON, Texas --
B.J. Raji
and
Mike Daniels
were in their regular defensive meetings last week when a coach pulled them out.
The defensive tackles weren't sure what was going on until they arrived at a walkthrough for the offense.
That was their first indication that they might be needed to clear the way for a ball-carrier in a short-yardage situation. Sure enough, their numbers were called late in Sunday's
37-36 victory
against the
Dallas Cowboys
.
With the game on the line, the Packers unveiled their newest offensive look with a pair of 300-pound fullbacks.
Talk about your full-house backfield.
With Raji and Daniels lined up in front him, running back
Eddie Lacy
jumped over the pile for the 1-yard, go-ahead touchdown with one minute and 31 seconds remaining.
"It was like a five-minute thing," Raji said of the walk-through session with the offense last week. "At that particular time it came up, myself and Mike and the offensive line -- everybody did their job -- and Lacy wasn't going to be denied."
Raji said his responsibility was to get behind right guard
T.J. Lang
and clear the hole to his right.
"Anybody I see, just move them and push them back," Raji said.
And Lacy followed him.
"I didn't want to be stopped, and that's the only thing that was going through my mind," said Lacy, who rushed for 141 yards and became the first Packers' rookie running back to rush for 1,000 yards since John Brockington in 1971.
"Just don't get stopped, score any way. And ball security, just hold on to the ball if I don't score, just hold on to the ball for the next play."
Thanks to Daniels and Raji, a next play wasn't needed.
December, 15, 2013
12/15/13
11:50
PM ET
ARLINGTON, Texas -- In this very stadium,
Charles Woodson
delivered one of the more important halftime speeches in
Green Bay Packers
' history.
It was Super Bowl XLV, and the Packers' defensive leader was out for the rest of the game with a broken collarbone. He stood in front of his team and told them how much he wanted them to win it before he was moved to tears.
Sunday's halftime talk, led by defensive tackle
Johnny Jolly
and backup linebacker
Jamari Lattimore
, may have rivaled that in importance and impact.
Down 26-3 at halftime, something had to change for the Packers, who would go on to match the largest comeback in team history and pull out an improbable 37-36 victory over the
Dallas Cowboys
at AT&T Stadium.
"Jolly had a lot to say," Packers defensive tackle
B.J. Raji
. "He was talking about how, 'Just keep playing, keep fighting.'
"And actually Jamari Lattimore really spoke from the heart, got real emotional. I think the guys really felt them on that."
Like Woodson was in the Super Bowl, Jolly was sidelined with an injury -- a shoulder that would prevent him from returning in the second half.
"I just came in and told them 'keep fighting,'" Jolly said. "We took their best shot in the first half, and we knew if we kept fighting and stuck together something would break for us soon. We went out there and fought hard and those guys fought to the end and the results came out and proved we were right. If we stick together like we did, everything will fall in place. A couple of things didn't go our way in the first half, even in the second half, we kept playing and made things happen. It was good to see the guys fight through it.
"Guys need to hear those things. I'm on the sidelines seeing what's going on, so they need to hear it. They know I'm right there and I'm going with them. Hearing it from, it gave them a little push, and they went out there and did what they had to do."
On the other side of the room, the offensive players -- separated from the defense by a wall of lockers -- could hear what was going on.
"We're more the quiet side, but we definitely could hear what he was saying on the other side," running back
Eddie Lacy
said. "And we took what we heard as if he was talking to us even though he was on the other side."
Packers coach Mike McCarthy said he told the team at halftime that this was the most adversity this team had faced and the season was on the line.
"We're not going to panic," McCarthy said he told the team. "We're going to take it one play at a time. This game's going to come down to the last sequence of plays. You've got to believe in that.'
"I addressed the offense, what I felt they needed to do. The defense and special teams, and our players did it. I can't say how proud I am of our football team, especially our players, because they just stayed after it one play at a time."
From the first play of the second half, a 60-yard run by Lacy, it was clear those messages had been received.
December, 15, 2013
12/15/13
10:45
PM ET
ARLINGTON, Texas -- At some point you would think there is not enough room for losses like Sunday's against the
Green Bay Packers
, that the mantel might finally run out of space.
Somehow the
Dallas Cowboys
and
Tony Romo
keep expanding it.
Put Sunday's loss right next to the loss to the
Seattle Seahawks
in the 2006 playoffs. Nestle it up to the loss in the 2007 playoffs to the
New York Giants
and the crushing 44-6 season finale against the
Philadelphia Eagles
in 2008. Don't forget the 2010 loss to the
Detroit Lions
when they coughed up a 24-point lead.
[+] Enlarge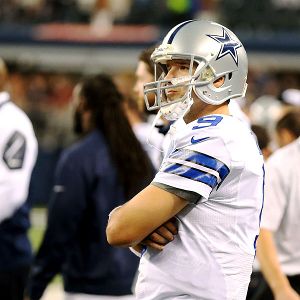 Matthew Emmons/USA TODAY SportsTony Romo's two fourth-quarter interceptions helped the Packers mount a 23-point comeback.
Romo opened 2011 with a fourth-quarter interception that led to the New York Jets' winning field goal and then in December saw an 11-point lead disappear against the Giants after
Miles Austin
lost a sure touchdown in the stadium lights.
And don't forget the three-interception finale against the
Washington Redskins
that led to the Cowboys' second straight loss in a de facto NFC East title game.
Oh, and there's this year's loss to the
Denver Broncos
when a fourth-quarter interception led to the game-winning field goal.
This one might not be the cruelest -- it's hard to top the Seattle loss because of the playoff significance and what it meant to the franchise -- but it is no less disheartening.
Romo was intercepted on back-to-back drives in the fourth quarter to set up the Packers'
37-36 victory
as the Cowboys blew a 23-point halftime lead and a 12-point advantage with 7:55 to go.
The decision to thread a pass to
Miles Austin
after Romo escaped an unblocked
Clay Matthews
and the miscommunication with wide receiver
Cole Beasley
will be scrutinized for the next week and even longer if the Cowboys do not make the playoffs for the fourth straight season.
The decision on the Austin throw that was intercepted by
Sam Shields
was a poor one. The Cowboys had a running play called, but with the Packers stacked where the Cowboys would run it, Romo threw a "smoke" route to Austin. He had to hitch because Matthews was in his way and he was unable to lead Austin, giving Shields the chance to come down with the interception.
"It was my fault for obviously putting the ball in a position where the defense could make a play," Romo said.
The Packers took the lead on the ensuing drive with 1:31 to play on
Eddie Lacy
's 1-yard touchdown run.
The Packers took the game seven seconds later when Beasley cut off his route and Romo threw wide, where
Tramon Williams
came up with the turnover after the pass was initially ruled incomplete. By the time Walt Coleman announced the reversal, Cowboys fans were headed to the exits and
Dez Bryant
was just about to the locker room.
"I think [Beasley] and Tony were just not on the same page on how to read the defense," coach Jason Garrett said.
Those throws will be the most scrutinized, but Romo missed a few chances to put the game out of reach earlier in the game. Twice he underthrew Bryant on deep balls that allowed Green Bay defenders to break up the passes. One pass to Bryant in the end zone in the first half was a hair too far in front. Once he underthrew
Jason Witten
when the tight end got behind the defense.
Garrett answered in coachspeak about Romo's deep misses, saying they needed to look at the tape but mostly lauded the quarterback's game -- 29-of-48, 358 yards, two touchdowns, two picks -- while almost ignoring just how much better those numbers could have been.
The Cowboys have not thrown deep much this year. Romo entered Sunday averaging a career-low 7.1 yards per attempt. He entered the season averaging 7.9 yards per attempt and made his name since taking over in 2006 with big plays to
Terrell Owens
,
Terry Glenn
, Austin and Bryant.
This season it has been different and it never was more evident than on the Cowboys' second-to-last drive that ended up in Shields' interception.
"We know what they're going to do," Garrett said. "They're going to put nine guys on the line of scrimmage. They're going to try and get you in second-and-12 and third-and-14 and get the ball back that way."
On first down from the Dallas 20, Shields was in single coverage on Bryant. Romo saw it. Bryant saw it. The chance for a big play was there, but Romo's pass was short and Shields was able to make a play. If the ball is two yards further, Bryant scores a touchdown and the aggressiveness of Garrett, offensive coordinator Bill Callahan and Romo is lauded.
Instead they are criticized for not running the ball more and the loss gets added to a mantel that just never seems to get too crowded.
"I think the worst thing you can do sometimes with Dez is overthrow him," Romo said. "Obviously you would like to hit him perfectly in stride and go. Sometimes he's such a great athlete that he comes down with most of them. I look back and I wish I had one or two where I gave it a little bit more. Usually I make sure if I err it's just slightly less and he always goes up and gets it. Obviously when I look back I'll push those down the field if I have the opportunity."
Romo will have two more opportunities with games left against the Redskins and Eagles.
"Hopefully we can get better," Romo said before turning down a hallway to an elevator. "We need to get better."
December, 15, 2013
12/15/13
9:52
PM ET
ARLINGTON, Texas -- Had the
Dallas Cowboys
beat the
Green Bay Packers
on Sunday, they could have had a situation where they clinched a playoff spot next week with a win against the
Washington Redskins
.
Now after their latest in incredible defeats -- 37-36 to the Packers -- they are stumbling once again in December and could find themselves eliminated from the playoff chase with a loss to the Redskins.
For that to happen, the Cowboys will have to lose to the Redskins and then see the
Philadelphia Eagles
beat the
Chicago Bears
.
In the NFC East, anything is possible.
On a day in which no team from the division won a game the Cowboys lost an incredible opportunity to claim first place with two games to go. The Eagles did their part with an embarrassing loss to the
Minnesota Vikings
, but the Cowboys could not do theirs with the loss to the Packers at AT&T Stadium.
"Disappointing loss, there's no question about that independent of what anybody else does around the league," coach Jason Garrett said. "We focus on what we do and we played very well in the first half and gave ourselves great opportunity to win this ballgame by how we were playing early and we didn't play well in the second half. It's as simple as that. We didn't get stops on defense. We didn't sustain enough drives on offense. We kicked too many field goals and ultimately they made the plays and we didn't."
The Cowboys blew a 26-3 halftime lead and saw a 36-24 lead with 7:55 to play disappear.
The Cowboys were that close to being able to possibly win the NFC East next week. That could have happened with a win against the Redskins and a Philadelphia loss to the Bears.
Now the best they can hope for is to make their Week 17 meeting against the Eagles matter on Dec. 29.
"It's tough," tight end
Jason Witten
said. "It's really tough. Words really can't describe it. I've been in some tough games, it's a tough league, but obviously this one was really tough. I feel like we were playing well for most of the game. Just didn't finish. That's the reality of where it is. It's a loss that hurts. At the same time, with Philly losing, you've got to regroup. Nobody feels sorry for you. We've still got a chance at this thing."
December, 15, 2013
12/15/13
7:48
PM ET
ARLINGTON, Texas -- A few thoughts on the
Dallas Cowboys
' 37-36
loss
against the
Green Bay Packers
on Sunday.
What it means for the Cowboys:
Mathematically the Cowboys (7-7) have everything in front of them still, which just sounds so hollow after an outcome like this.

The Cowboys had a 23-point lead against a backup quarterback and could not close the deal as they continued to find inventive ways to lose in 2013 as well as continue their December woes.
Tony Romo
threw two fourth-quarter interceptions. The first led to Green Bay's game-winning touchdown and the second killed any chance the Cowboys had of coming back for the win.
With a chance to take over first place in the NFC East in their sights thanks to the
Minnesota Vikings
beating the
Philadelphia Eagles
(8-6), the Cowboys are left with another staggering loss, like the earlier ones they suffered against the
Denver Broncos
and
Detroit Lions
.

This one was the toughest to take because
Aaron Rodgers
was a spectator.
Matt Flynn
became the second backup quarterback in as many games to throw four touchdown passes against the Cowboys, joining the
Chicago Bears
'
Josh McCown
.
Romo's final pass was picked off by
Tramon Williams
with 1:22 to play and it sent the Cowboys fans rushing to the exits and the large number of Packers fans into hysteria after Walt Coleman overturned what had been called an incomplete pass.
Stock watch:
Bill Callahan, Jason Garrett, Romo, falling. Since the Cowboys' offensive play calling is a team effort we'll go with all three as falling. The Packers could not stop
DeMarco Murray
and the Cowboys decided to pass, pass and pass some more when they needed to kill the clock by running, running and running. Romo's late interception to
Sam Shields
was a poor decision by the quarterback, but a poor call by the coaches.
Welcome back:
Six days ago
Dez Bryant
had two catches for 12 yards against the Bears. It was his lowest output since his rookie season when he had 8 yards against Detroit on three catches.
Bryant had season highs in catches and yards and had a gigantic third-down catch in the fourth quarter on third-and-12. Bryant finished with 11 catches for 153 yards and his toe-tapping touchdown on a 5-yard catch gave the Cowboys their final lead.
Bryant had gone six games without reaching 100 yards and did not have more than nine catches in a game this season. And it could have been so much better. Romo underthrew two deep balls to Bryant, one in each half, and was off on another potential scoring throw in the first half.
But when it mattered most the Cowboys went to
Cole Beasley
on back-to-back plays and not Bryant.
Depleted at LB:
Already without linebackers
Sean Lee
(neck) and
Bruce Carter
(hamstring) because of injuries, the Cowboys lost
Justin Durant
and
Ernie Sims
in the first half, leaving them not only thin but inexperienced.
Durant re-injured his hamstring in the first quarter and Sims suffered a hip injury on the final play of the half. That moved rookie
DeVonte Holloman
in at middle linebacker, and he was playing in his first game in two months due to a neck injury. And he had been an outside linebacker.
Undrafted rookie
Cam Lawrence
took over as the weakside linebacker and was immediately targeted by the Packers in the running game.
What's next:
The Cowboys travel to FedEx Field next week to take on the
Washington Redskins
. It will be the fourth straight game in which the Cowboys will go against a backup quarterback with
Kirk Cousins
starting for Washington.
December, 15, 2013
12/15/13
7:47
PM ET
ARLINGTON, Texas – A few thoughts on the
Green Bay Packers
'
37-36 win
over the
Dallas Cowboys
on Sunday at AT&T Stadium:

What it means
: One of the more unlikely comebacks in franchise history saved the Packers' season. They scored five touchdowns on their first five second-half possessions to erase a 26-3 halftime deficit. The unlikely victory kept their season alive. At 7-6-1, they trail the first-place
Chicago Bears
by a half-game with two remaining. The
Detroit Lions
could move into a tie with the Bears if they beat Baltimore on "Monday Night Football." But make no mistake, with two games remaining, there is still much at stake.
Stock watch:
So much for
Eddie Lacy
's bum ankle. A week after spraining his right ankle against Atlanta, Lacy looked like his usual self. He ran with power and speed, the latter of which was evident on his 60-yard run on the first play of the second half. Needing 113 yards to reach 1,000 for the season, Lacy hit that mark with a 10-yard gain in the fourth quarter. He finished with 141 yards on 21 carries, including the game-winning 1-yard touchdown run with less than two minutes remaining.
Overturned, twice
: The Packers thought they had a game-changing interception with 11:52 left in the fourth quarter when cornerback
Tramon Williams
appeared to pick off a
Tony Romo
pass intended for tight end
Jason Witten
, but replay overturned it. Williams finally got that interception with 1:20 left in the game. That one was initially ruled incomplete, but a booth replay review changed it, icing the game.
Injury updates
: The Packers lost defensive tackle
Johnny Jolly
(shoulder) in the first half and tight end
Brandon Bostick
(foot) in the second half. Neither returned to the game.
What's next:
The Packers play their final regular-season home game next Sunday against the
Pittsburgh Steelers
. They have a 2-1 record against the AFC North, but all three of those games were before
Aaron Rodgers
got hurt.

NFL SCOREBOARD
Thursday, 9/4
Sunday, 9/7
Monday, 9/8