NFL Nation:

2013 Week 16 MIN at CIN
December, 22, 2013
12/22/13
9:15
PM ET
CINCINNATI -- Veteran offensive lineman
Andrew Whitworth
is one of the more thoughtful interview subjects inside the
Cincinnati Bengals
locker room.
You can always count on him to drop some nugget of wisdom that makes you pause and say, "You know, I never looked at it that way."
Sunday afternoon, minutes after the Cincinnati Bengals earned a
42-14 win
that helped them not only clinch a playoff spot but also claim their third AFC North title, Whitworth had one of his notoriously profound statements.
Asked to reflect on the career-day quarterback
Andy Dalton
had in the win over the Vikings, Whitworth compared his signal-caller's up-and-down season to the roller coaster nature of the Bengals' year as a whole.
[+] Enlarge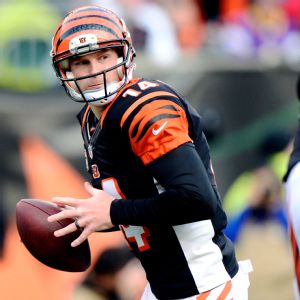 Marc Lebryk/USA TODAY SportsAndy Dalton completed 27 of 38 passes for 366 yards and four touchdowns.
"He symbolizes what this team does," Whitworth said. "People keep talking about this team and what we can't accomplish and we keep bouncing back and accomplishing it."
After dropping last Sunday night's game at Pittsburgh, pundits questioned their toughness and focus, and considered them a slightly flawed team because they couldn't win on the road.
The Good Andy, Bad Andy conundrum suddenly gave way to Good Bengals, Bad Bengals. Much like how Dalton has been hot and cold at random times this season, the Bengals have been equally as enigmatic when it comes to playing at home and playing on the road. With this latest win, they are now 7-0 inside Paul Brown Stadium, and 3-5 outside it.
Dalton was a major reason as to why they were so successful at home Sunday. In arguably his most complete game of the year, Dalton had a completion percentage of 71.0 percent, he threw for 366 yards and had four touchdowns. It was the type of performance that had his head coach saying he "played extremely well," and one that had his teammates fawning.
"He was really grooving out there," receiver
A.J. Green
said.
Green had a hand in the groove that Dalton got into. He caught seven passes for 97 yards and had his first two-touchdown game since the season-opener at Chicago. The second of those touchdown receptions was on a 2-yard pass that gave Dalton his 31st passing touchdown of the season. It also was the last of his four passing scores in the game, leaving him one shy of
Carson Palmer
's single-season franchise record of 32.
For as much trouble as Dalton has had at times this season -- during one stretch he had thrown an interception in five straight games -- he has had some days like Sunday that have helped quell some of the animosity about his play.
"We're in a really good spot right now," Dalton said. "We've just got to keep going. We've done a lot this year; a lot of the guys have gotten better. I think I've gotten better."
This marked the fifth time this season that Dalton had gone beyond 300 yards, and the fifth time he had hit a completion percentage beyond 70 percent. This was only the second time, though, that he passed for 300 and completed 70 percent of his passes in the same game.
At least one Bengals offensive lineman has embraced the cloud of doubt that he believes Dalton has played under this season. In his eyes, the bigger the cloud, the better Dalton has played.
"Just keep doubting him, please," center
Kyle Cook
said, joking with two reporters. "You should write something on there: 'Dalton played great, but ...' Don't give him too much credit."
After the teasing, Cook added a reason why he believed Dalton has played well much of this month, putting some of his darkest days this season well behind him.
"He's got a group of guys around him that tailor to his skill set," Cook said. "You give him time and guys get open. He'll throw the ball and deliver it to you. When all 11 guys are playing as one, that benefits him."
December, 22, 2013
12/22/13
8:30
PM ET
CINCINNATI -- A week after he turned in the best game by a
Minnesota Vikings
quarterback since
Brett Favre
,
Matt Cassel
looked like he had a lot more in common with the Vikings' current crop of quarterbacks than with the future Hall of Famer on Sunday.
He completed just 13 of his 27 passes for 114 yards, throwing three interceptions in the Vikings'
42-14 loss
to the
Cincinnati Bengals
, and playing poorly enough to once again prompt questions about whom the Vikings will start at quarterback in their season finale against the
Detroit Lions
. And while coach Leslie Frazier said his "initial thoughts" are that Cassel would start, he sounded much less certain of the decision than he had the previous two weeks.
[+] Enlarge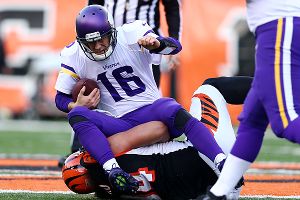 Andy Lyons/Getty ImagesMatt Cassel threw three interceptions and completed fewer than half his passes Sunday in Cincinnati.
Cassel's first interception -- a short pass into a crowd created by the Vikings' bunch formation -- was returned 25 yards by the Bengals'
Vincent Rey
for a touchdown, and the deep shot he took on his next pass fell into the lap of the Bengals'
George Iloka
after it got batted in the air. Cassel also fumbled on his first dropback, setting up Cincinnati's first score, and was sacked four times.
"As good as last week was, then you come in here and it was as bad as it gets," Cassel said. "We stunk it up here, quite frankly. But they dominated us on that side of the ball and that's what happens."
Cassel was pressured on 9 of his 34 dropbacks, according to ESPN Stats & Information, and hit just one of his three pass attempts under pressure, while throwing an interception. He has burned blitzes this season, and threw for 240 yards against them last week. The Bengals didn't need to bring extra men on Sunday, but when they did, it worked to great effect. They sent more than four rushers on just four of Cassel's 35 dropbacks -- including on Rey's sack that led to the fumble -- and got two other sacks that way. With a big lead, they were able to sit back in coverage the rest of the day and let their normal pass rush go to work.
It seems unlikely the Vikings would make a quarterback switch this week, with so little at stake, though stranger things have happened with their QB situation this season. Still, Cassel squandered a chance to keep his momentum going, get the Vikings their only road win of the year and make a stronger case for his future in Minnesota.
"I would love another opportunity to get out there and play," he said. "Obviously, you want to get the taste out of your mouth. It's a bad feeling anytime you go out there and have a game like we did."
December, 22, 2013
12/22/13
7:39
PM ET
CINCINNATI -- Last Sunday, when coach Leslie Frazier told
Adrian Peterson
he wouldn't be playing against the
Philadelphia Eagles
, Peterson was livid. He tried to plead his case to play, told reporters in the Mall of America Field press box that "the decision was taken out of my hands," and when he recalled the exchange on Friday, Peterson said he was "devastated" not to be on the field despite a sprained foot and strained groin.
Peterson
When Peterson got back on the field on Sunday, he looked tentative and unable to explode past defenders. He had carried just 11 times for 45 yards when Frazier made the decision after halftime to take Peterson out. This time, the running back didn't fight it -- much.
"We got down early, and he pulled me out," Peterson said. "I didn't like it, but when you think about it, being down 28 points, is the risk really worth it? I just accepted it for what it was."
Peterson, in all likelihood, won't repeat as the NFL rushing leader a year after gaining 2,097 yards and winning the league MVP award. He is 122 yards behind Philadelphia's
LeSean McCoy
, who plays Monday night, and Peterson is so hampered by injuries at the moment, it doesn't look like he's got the kind of performance left in him that it would probably take to catch McCoy this year. He will undoubtedly push to play in the final game of the season next week against Detroit, but Peterson won't be completely healthy until he gets a chance to recover from the season.
"It's been a good minute (since I felt completely healthy) -- probably five or six weeks," Peterson said. "I don't feel like I played with as much confidence as I would like. I was kind of hesitant on some runs. Mentally, I'm there. I'm in tune. My body is just not responding the way I want it to right now."
Peterson said he would have argued to stay in the game if the Vikings had been closer, and he continues to be remarkably productive while playing with injuries that would sideline many running backs. But it was striking to hear even Peterson admit he needed to sit down on Sunday.
"We were down by 28," Peterson said. "When they pulled me, it was a good call."
December, 22, 2013
12/22/13
3:59
PM ET
CINCINNATI -- A few thoughts on the
Cincinnati Bengals
'
42-14 victory
against the
Minnesota Vikings
.

What it means:
Sunday's victory means the Bengals have -- for one week, at least -- done exactly what they've been preaching since last Sunday's loss at Pittsburgh. They have controlled what they can control. The only way they can be assured that their postseason fate is playing out precisely the way they want is to simply win and win some more. Now that they have done that for one week, they have to do it one more when they play the Ravens in their final AFC North game of the season. At the time Sunday's early-afternoon game ended, the Bengals appeared headed toward clinching a third straight playoff bid. They had to wait to see if the
Miami Dolphins
would end up losing to the
Buffalo Bills
. A Miami loss would clinch that playoff for the Bengals. The late-afternoon
New England Patriots
-
Baltimore Ravens
game also had implications on the division race and the AFC's No. 2 seeding. After Cincinnati's victory, a Ravens win in that game would be enough to give the Bengals the conference's No. 2 playoff seed. A Patriots win would give Cincinnati the division title.
Stock watch:
Andy Dalton
: rising. As embattled as he has been all season, the Cincinnati quarterback has actually put together a solid month so far. With a game left in the season, he has played some of his best football of the year of late. It was tough to see that last week at Pittsburgh because of how far the Bengals fell behind in that game, but he kept them in the ballgame with a 230-yard, two-touchdown showing. Against a Vikings secondary that had several injuries, Dalton posted a career-best 136.5 passer rating in Sunday's win. He also completed 71 percent of his passes (27-for-38), throwing for 366 yards. It was the fifth time Dalton went over the 300-yard passing mark this year.
Catching Andy:
Dalton's passing numbers were supported by a strong outing by his pass-catchers.
A.J. Green
paced the group with seven catches for 97 yards and two touchdowns.
Mohamed Sanu
and tight end
Jermaine Gresham
also had touchdowns. Fellow receiver
Marvin Jones
had six receptions for 85 yards, including a diving grab along the Bengals' sideline. It was one of several head-turning plays the Bengals had, including
Andrew Hawkins
' awkward leaping grab in the red zone that set up Gresham's score.
What's next?
Cincinnati looks to close out the regular season on a high next Sunday when it hosts Baltimore in the Week 17 finale. The Bengals lost the teams' previous meeting this year, falling in overtime, 20-17. Green sent the game to the extra period when he caught a 51-yard touchdown pass on a Hail Mary from Dalton as time expired in regulation. The Bengals also will be putting their undefeated home record (7-0) on the line next week.
December, 22, 2013
12/22/13
3:57
PM ET
CINCINNATI -- A few thoughts on the
Minnesota Vikings
' 42-14
loss
against the
Cincinnati Bengals
:

What it means:
Whatever momentum the Vikings had created last Sunday with a win against the Philadelphia Eagles, whatever spark they had provided embattled coach Leslie Frazier as he tries to keep his job, all blew away on Sunday. The Vikings looked as lifeless as they had all season, giving up two touchdowns in each of the first three quarters, turning the ball over three times in the first half and mounting little resistance in a blowout loss. Minnesota finishes the season 0-7-1 in road games, and after a blowout loss like this, it's tough to see Frazier lasting past next Sunday's game against the
Detroit Lions
.
Stock watch:
Falling:
Chris Cook
. After missing last week's game because of a knee injury, the cornerback began the game out of the Vikings' starting lineup, and when he got in the game, the Bengals went after him.
Andy Dalton
hit
A.J. Green
for a touchdown after Green beat Cook on a double move, and the Bengals completed 21- and 13-yard passes to
Marvin Jones
against Cook on their next drive. Dalton later found Green for a 2-yard touchdown against Cook, who was called for a pass interference penalty on the same play. Cook is a free agent after the season, and he's probably cost himself a chance at a big contract with a miserable season. If he's back with the Vikings, it will likely be because he's available at a discount.
Cassel struggles:
After throwing for 382 yards last Sunday against the Eagles, quarterback
Matt Cassel
brought the Vikings back to their familiar realm of awful quarterbacking. He was sacked on his first dropback of the game, setting up a Bengals touchdown, and wound up throwing three interceptions on a day when he hit just 13 of his 27 passes for 114 yards. The performance was reminiscent of what
Christian Ponder
had done in several games this season, and while the Vikings had already announced Cassel as the starter for the final game of the season, it will be interesting to see if Frazier goes in another direction now.
Patterson's big day wasted:
Rookie
Cordarrelle Patterson
returned four kicks for 135 yards, taking advantage of the Bengals' inability to kick the ball out of the end zone. But the Vikings wasted a day of good field position, scoring just once after starting four drives past their own 40. One of the Vikings' two touchdowns was also created by Patterson, who took a handoff and scampered 35 yards for his second rushing score of the season. With
Adrian Peterson
playing hurt and limited to 11 carries, Patterson finished the day as the Vikings' leading rusher.
What's next:
The Vikings (4-10-1) finish the season against the Lions, in the final game at the Metrodome next Sunday.

NFL SCOREBOARD
Sunday, 2/2
WEEKLY LEADERS