NFL Nation:

2013 Week 16 NYG at DET
December, 22, 2013
12/22/13
11:45
PM ET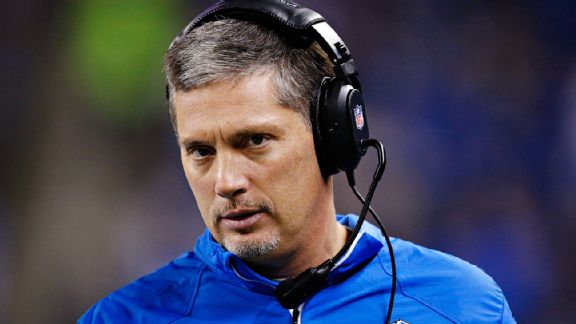 AP Photo/Paul SancyaFor the second straight year, Jim Schwartz's Lions collapsed in the second half of the season.
DETROIT --
DeAndre Levy
sat at his locker staring off into the distance, his team's playoff chances extinguished, his team's season effectively over.
He didn't get up. Maybe, he couldn't.
A few weeks ago, the
Detroit Lions
were 6-3. A week ago, they controlled their destiny in the NFC North. Now six days and two losses later, they're done. They're out of the playoffs for another season after a 23-20 overtime loss to the
New York Giants
on Sunday.
What else could Levy do, but sit, stare and fight back the emotions that brought him to this point, brought the Lions to this point.
While teammates packed up and left, Levy stayed, waiting, thinking, contemplating.
He collected his thoughts after spending all week waking up in the middle of the night for treatment on his foot so he could play Sunday. But now all he could do was take his massive hands and rub his beard. Or bury his face in those same hands.
The emotions he must have felt in that moment, the Lions' fifth loss in six games and second straight on a game-losing field goal.
"Today's a big game, man. Can't miss," Levy said as he hobbled out of the locker room. "There's no tomorrow after this is how I approached it. And we didn't come through."
That's been the theme the second half of Detroit's season. Not coming through. Being a play short. A drive short. A decision short. Losing leads. Making turnover after turnover but not forcing many of its own.
The way the Lions lost Sunday -- losing another fourth-quarter lead, turning the ball over again in the fourth quarter, curious play-calling toward the end -- was emblematic of so many of Detroit's problems this season under coach Jim Schwartz.
This is the second consecutive season the Lions have collapsed down the stretch. In 2012, Detroit lost eight straight games to end the season. This season, with the NFC North begging to be won by the Lions after injuries decimated the Packers and Bears, the Lions lost five of six games after holding fourth-quarter leads in every game.
Some of that can be attributed to players, the ones who make the same mistakes over and over again. But when the same problems keep popping up over and over again, that goes to the coaches.
"We've come a long way, but we're still not quite there, obviously," Schwartz said about the lack of significant progress from 2011 -- a playoff season -- to 2013 -- what looked like a playoff season. "We are still a play away from turning these games around on offense, defense or special teams.
"Any more than that, I think, just like I've always done, I think we'll characterize it after the season."
Schwartz, though, wouldn't answer whether he had done enough in his first five seasons to warrant being brought back for a sixth. He wouldn't answer any other questions about his job security. And when the Lions handed out quote sheets after the game, most of those questions and answers were deleted.
Schwartz steadfastly said he would be focused on the season finale against the Vikings, on a game that means nothing as far as making the playoffs, a place the Lions had been aiming toward all season.
Not after Detroit collapsed again, leading to whether or not Schwartz keeps his job.
Quarterback
Matthew Stafford
said he would like Schwartz to return as the Lions' coach. Receiver
Nate Burleson
wants Schwartz back, too.
"He's a good coach," Burleson said. "When you lose, everybody wants change and change makes people feel good. So, I'll be the first one to say this: Change isn't always the best thing."
Schwartz isn't thinking about what might have been.
"Speculation is not my business," Schwartz said. "My business is coaching the team and trying to keep the team focused. That's job enough without worrying about all the other stuff.
"Where we were, you can't worry about where we were. It's about where you are in the present."
The present includes wondering what went wrong the final seven games.
Maybe that's why Levy sat at his locker on Sunday.
As he watched guys he might only be teammates with for one more week walk by him, he didn't move. He did eventually stand up on his good right foot, put his green jacket on and paused for another minute, almost in disbelief.
As he stood, a Lions worker reached over him, pulling the "54 LEVY" nameplate from his locker. Levy didn't initially see him, but the man reached over Levy.
The man stopped, turned and asked Levy, "Are you OK, man?"
Levy nodded. It was all he could do.
There were no more answers for these Detroit Lions. There were no more weeks of making promises they eventually couldn't keep. There were no more declarations.
Just another season for a franchise with an all-to-familiar end.
December, 22, 2013
12/22/13
11:30
PM ET
DETROIT --
Will Hill
had a very interesting weekend, which isn't really surprising, because the
New York Giants
' young safety leads a very interesting life. Too interesting, at times, for his own peace and comfort.
Sunday night, Hill made the play of the game for the Giants, intercepting a
Matthew Stafford
pass and returning it 38 yards for a game-tying touchdown in the fourth quarter. The Giants would go on to win 23-20 in overtime.
According to multiple reports, about 48 hours before that play, Hill was arrested on charges related to child support payments. Hill has four children by three women. The Giants knew of the arrest but decided it was a personal matter that didn't require discipline, so they did not suspend or bench him for Sunday's game.
"We support him in every way we can," Giants coach Tom Coughlin said. "He's trying like heck to meet all of his responsibilities. It is a private matter, and that's something he's taken care of."
It's good that the Giants support their player. He's 23 years old and has a lot going on in his life. He's also a whale of a football player, and the very interesting weekend he just had sums up his status as an important but volatile part of the Giants' future.
Hill gets in trouble off the field. He was suspended while at the University of Florida for getting caught with marijuana. He drew attention for a Twitter feed on which he published repeated references to drug use and prostitution (later claiming he was hacked). Character concerns pushed him all the way out of the 2011 NFL draft, and he went to play in the Arena League before the Giants signed him prior to the 2012 season.
He was suspended four games last year for violating the NFL's drug policy, and he missed the first four games of this season for a second violation.
Again, he is just 23 years old. He almost hasn't had enough time to get into that amount of trouble. Yet he has, and the Giants are well aware that his next drug violation likely gets him suspended for a year. Just as they're aware that his off-field responsibilities to various women and children could distract him. They are aware, and they want to help.
"It means the world to me to have a coach and a staff and a team that's going to back me in any situation," Hill said after Sunday's game.
It helps that he can play. Hill is the best player in the Giants' secondary when he's on the field, and he showed that again Sunday. On the play that tied the game, the Giants were in a Cover 4 defense where Hill had support responsibility for fellow safety
Antrel Rolle
as well as a linebacker and a cornerback. It was third-and-7 from the Lions' 22-yard line, and Stafford fired a pass in the direction of tight end
Joseph Fauria
. The ball was tipped in the air and Hill saw it.
"As soon as that ball was tipped," he said, "all I saw was daylight."
He knew for a fact he'd run it all the way to the end zone, because he possesses the confidence that comes with supreme talent. It's also fair to suspect that the football field is where Hill feels the most in control and at peace, given everything he apparently has to deal with when he's away from it.
[+] Enlarge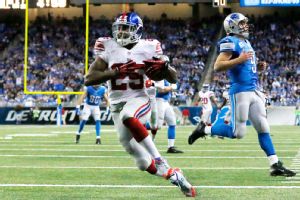 AP Photo/Paul SancyaWill Hill's pick-six was the play of the game.
"It hasn't been a tough weekend for me," he insisted. "It's just about coming out here, focusing on football and helping our team get a win."
Which he did, as much as anyone did. The Giants knew when they signed Hill that he had the kind of talent that could decide games. That talent was worth taking on the baggage, since they believed themselves to be deep at safety and figured they were covered if Hill didn't work out.
Now, though, he has played himself into an extraordinarily valuable position as one of their starting safeties. They face a dilemma with Rolle this offseason, as they likely can't afford to take him back at his $9.25 million cap cost next season and aren't sure he'll accept a pay cut or what it would take to extend him beyond 2014. If they have to part company with Rolle, then with
Stevie Brown
coming off ACL surgery Hill becomes the closest thing they have to a sure thing at safety. And Hill is never going to be a sure thing.
Sunday for the Giants offered a look at some things that could end up mattering in 2014 and beyond.
Jerrel Jernigan
as a more useful weapon at wide receiver than you may have thought.
Prince Amukamara
as the type of cornerback the team trusts to "shadow" the opponent's star receiver. Hill as the kind of safety who can find the ball and make a key play.
The end of this season is about looking ahead for the Giants. When they look ahead with Hill, they see potential for great things along with potential for trouble. Hill had a very interesting weekend, and it's not likely to be the last.
December, 22, 2013
12/22/13
7:45
PM ET
DETROIT -- A few thoughts on the
New York Giants
'
23-20 overtime victory
over the
Detroit Lions
on Sunday at Ford Field:

What it means
: Anyone wondering whether the Giants have given up on their season or on their coaches has the answer. The Giants are outmanned and overmatched pretty much every week, and Sunday was no exception. But in spite of having their offense choked off after halftime, they pushed the game into overtime, where
Josh Brown
won it with a 45-yard field goal.
Stoch watch
:
Will Hill
, up. After reportedly being arrested Friday night on charges related to child support, the Giants safety played in and changed Sunday's game. With five minutes left in the fourth quarter, Hill intercepted Lions quarterback
Matthew Stafford
and ran in from 38 yards for a touchdown. The ensuing extra point tied the game. The Giants were doing absolutely nothing on offense in the second half behind a shredded offensive line, and scoring on defense turned out to be their best option.
Tough Tuck:
Defensive end
Justin Tuck
appeared to injure his neck in the third quarter but remained in the game in spite of being in clear discomfort. It's worth pointing out that Tuck, who is free-agent-eligible at the end of the season, wanted to tough it out in a game like this with the Giants already eliminated from postseason contention. It backs up his team-first talk. Tuck's big second half of the season has helped his chances of returning next year.
What's next:
The Giants mercifully close out their season with a 1 p.m. ET home game Sunday against
Kirk Cousins
and the
Washington Redskins
at MetLife Stadium. They beat the Redskins
24-17
in Washington in Week 13.
December, 22, 2013
12/22/13
7:43
PM ET
DETROIT -- A few thoughts on the
Detroit Lions
' 23-20
loss
in overtime to the
New York Giants
.

What it means:
In many ways, this was a fitting end to Detroit's season: a fourth-quarter turnover returned for a touchdown to tie the game, the Lions choosing to play for overtime instead of taking a shot of getting in field goal range on the last drive of regulation, then seeing their season end on a winning field goal in overtime.
This loss epitomized so many of the Lions' problems this season -- the turnovers, the questionable clock management and play calling and, ultimately, a collapse that saw Detroit go from controlling its own destiny to out of the playoffs in six days.
Yes, the Lions have one more game to play -- on the road at Minnesota -- but they are now out of the playoffs for the fourth time in five years under Jim Schwartz, and the Lions might be close to a coaching change.
Stock Watch:
Rising --
Nick Fairley
. The defensive tackle has games where he disappears. Then he plays like he did Sunday, where he recorded a safety and had multiple pressures on New York quarterback
Eli Manning
. Falling --
Matthew Stafford
. Another game, the same problems over and over again. He threw another fourth-quarter interception -- this time a pick-six to
Will Hill
-- that took a seven-point Detroit lead and turned it into a tie game.
The case for Bell:
After
Reggie Bush
lost another fumble -- his second since guaranteeing he wouldn't fumble again this season in November --
Joique Bell
received the majority of the work for the Lions in the backfield. Not surprisingly, Bell played well. He scored Detroit's first touchdown of the game and kept the Lions in the game while the rest of the offense looked listless. He finished with 91 yards rushing and 63 yards receiving, and should make the Lions at least think about who should receive the majority of carries for Detroit the rest of this season and possibly beyond. He runs hard, smart and with patience.
What's next:
The Lions have their season finale on Sunday at Minnesota.

NFL SCOREBOARD
Thursday, 9/4
Sunday, 9/7
Monday, 9/8