NFL Nation:

2013 Week 16 TB at STL
December, 22, 2013
12/22/13
7:00
PM ET
ST. LOUIS – Before
Rodger Saffold
III stepped on the turf at the Edward Jones Dome on Sunday afternoon, he received some sage advice from his father, Rodger Saffold II.
"It's kind of crazy," Saffold said. "He called me and said, 'God forbid anything happens, just be ready.' I was like, 'OK, so obviously I'm probably going to be playing tackle again.' So of course after the first series I'm playing tackle for the rest of the game."
Breaking down the precognitive powers of Mr. Saffold will have to wait for another time. For now, it's more important to look at what the younger Saffold means to the Rams both in light of the injury to left tackle
Jake Long
and in the longer term.
[+] Enlarge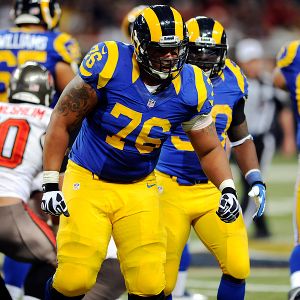 AP Photo/L.G. PattersonIn light of Jake Long's injury, keeping Rodger Saffold should be the Rams' top offseason priority.
Three plays into Sunday's
23-13 win
against Tampa Bay, Long suffered a right knee injury that required him to be taken off the field on a cart. After the game, Rams coach Jeff Fisher said the team
fears Long has a torn anterior cruciate ligament
.
Long's status will be confirmed in the next 24 hours, but if Fisher is acknowledging that as a possibility, it's probably the case. That injury would mean a long road to recovery for Long, the team's prized free-agent signing in March.
It also means that Saffold should become the single-most important offseason priority for the Rams. After starting at right guard for the fifth time this season, Saffold hopped over to left tackle on the team's first drive after Long left the field.
Despite the musical positions Saffold has played all season, he remained unfazed by the move, making the switch and holding up just fine as quarterback
Kellen Clemens
was sacked just once and hit only three times on the day.
"Rodger is a great asset for us," Clemens said. "To have the ability to go from right guard to left tackle, I don't know if any of you have ever played offensive line but your footwork is different, your calls are different, he's a true pro. We are really lucky to have him. He gives us a lot of versatility there on that offensive line."
Versatility is a fine quality, but plenty of linemen around the league have played multiple positions in a pinch. The Rams had a lineman named
Blaine Saipaia
in 2004-05 who played nearly every position on the line and even took snaps at tight end.
But standing in at many spots is one thing. Having the type of success Saffold has enjoyed is something different entirely.
Saffold has started eight games this season, five at right guard and three at right tackle. Before this season, he had started 35 games in his NFL career, every one of them at left tackle.
That makes moving back to his old position something akin to riding a tricycle, but it also makes moving to other spots where he isn't as comfortable more difficult.
"Right guard is a position I was never used to playing," Saffold said. "I have a lot of experience playing left tackle, and I think that's what saves me the most. When I had to go back and forth to right tackle I was able to practice it all through OTAs, all throughout training camp and that helped me too. It's basically just the experience of playing the game that allows you to move."
In Saffold's case, there's a lot more to it than that. At 6-foot-5 and 332 pounds, Saffold's strength and quickness make him a powerful run-blocker, particularly inside, but also more than capable as a pass-blocker against speedy edge rushers.
"The thing about Rodger, you all may not know this but he's probably one of the most athletic guys on the team," running back
Zac Stacy
said. "So with that his versatility is a big key in this game. He's able to play inside [and] outside, so he did a great job today being in a tough position trying to move to tackle. Hopefully he can keep that going."
With only one game remaining, next week against Seattle, the Rams should be fine simply plugging Saffold in for Long at left tackle. What the future holds beyond that is more important in determining how the Rams' offseason shapes up.
Saffold is scheduled to become an unrestricted free agent at the outset of the new league year. His extensive injury history could make teams, including the Rams, a bit wary, though his turnaround since an early season injury is rare.
By now, it's quite clear that Saffold's value when healthy should be enough to land him a healthy payday. Even before Long was hurt, a strong argument could be made that Saffold was the team's best offensive lineman. He'd been particularly adept at guard, with all the makings of an elite player on the interior.
Some would argue that Saffold could make more money as a pure tackle on the open market since it's a higher-profile position. Teams might also look at Saffold and want to offer him a big contract as a top guard.
Whether it's as a top guard or an above-average tackle is beside the point. The point is that Saffold can be any and all of those things at the drop of a hat. That's where his true value lies.
And, after losing Long to a potentially long-term knee injury, that value should be greater to the Rams than anyone else.
December, 22, 2013
12/22/13
5:47
PM ET
During our
in-game chat
, the job security of coach Tampa Bay coach Greg Schiano was more of a topic than anything that happened on the field between the Buccaneers and
St. Louis Rams
.
For the record, the Rams won a forgettable game, 23-13. Tampa Bay's defense played well at times, but the offense wasn't able to get anything going consistently. It was the same old story, the type of game the Bucs have played far too often this season.
Which begs the question: Does Schiano stay or does he go?
[+] Enlarge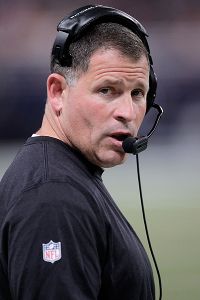 AP Photo/Tom GannamBucs coach Greg Schiano has an 11-20 record with one game left in his second season with the team.
There was speculation he could go during an 0-8 start. But it's rare to see a coaching change in the middle of the season, and the Bucs have stayed with Schiano -- so far. But, now, it's getting down to crunch time.
It's almost time for Bryan, Joel and Ed Glazer, the three men that make all the big decisions for the Bucs, to make one of the biggest decisions in franchise history. Soon after next week's season finale at New Orleans, the Glazer brothers have to decide if they want to proceed with Schiano or go in another direction.
The Glazers are extremely private, and they've done nothing to indicate which direction they're leaning. But the body of work is on the table.
It really doesn't matter if the Bucs win against the Saints, who have plenty to play for. The Bucs will finish either 4-12 or 5-11. Put that on top of a 7-9 record in Schiano's first season.
Logic says there is regression instead of progression and, for that reason alone, maybe the Bucs part ways with Schiano after just two seasons. Or maybe it's more complicated than that.
There are three years remaining on Schiano's contract. The coach had to change quarterbacks early in the season because Josh Freeman's alarm clock wasn't working right. Maybe the Glazers know more about the Freeman situation than the rest of us, and maybe losing a franchise quarterback in midstream buys Schiano some more time.
Sunday's game aside, rookie quarterback
Mike Glennon
has had some bright moments. But have they been bright enough?
I think Glennon might be all right, but he's a work in progress. So is Schiano. Should he be given more time to progress?
The coach has done a nice job of cleaning up a locker room that the Glazers wanted to be cleaned up. Schiano and general manager Mark Dominik, who also is on the hot seat, have assembled the nucleus of a nice, young defense. Receiver
Mike Williams
and running back
Doug Martin
will be back from injuries next season.
Schiano has yet to win, but you can look ahead and see some reasons why he should be allowed to stick around. Or you can look at his first two seasons, which haven't been nearly good enough.
A new coach might come in and solve everything. Or maybe Schiano just needs a little more time.
There's irony that part of the Glazers' family wealth was achieved by selling watches. Now, it's up to the Glazer brothers to decide whether or not Schiano has run out of time.
December, 22, 2013
12/22/13
4:02
PM ET
ST. LOUIS -- A few thoughts on the
St. Louis Rams
'
23-13 victory
over the
Tampa Bay Buccaneers
:
What it means:
The Rams had many opportunities to put the Bucs away early but couldn't get out of their own way. Still, the Rams found a way to win a game in which they didn't overwhelmingly claim the turnover battle. The defense dominated, and the offense was just good enough to overcome its offensive miscues.
The real takeaway here is the Rams have matched their win total from 2012, and we can probably safely say this team is better now than it was then. For a team that has long eyed 2014 as a potential breakout season, the importance of improvement can't be overstated.

Stock watch -- up:
Offensive lineman
Rodger Saffold
-- Maybe more accurately, this should be "price up." The Rams lost left tackle
Jake Long
to a knee injury on their third offensive play of the game. Saffold moved over from right guard to left tackle and held up just fine. If Long's injury is serious, the price to retain Saffold might have just gone up. There aren't many linemen in the league who can play so many spots and perform like Saffold. The Rams already had plenty of reason to retain Saffold. Now it may be imperative.
Stock watch -- down:
Red zone offense -- The Bucs entered the game eighth in the league in red zone scoring defense, a little known fact that has helped them stay close in many games. The Rams were 19th in scoring touchdowns in the red zone. Those numbers held Sunday and enabled Tampa Bay to keep it close. The Rams were 1-of-3 on their trips to the red zone, including a costly fumble on a strange quarterback draw call for
Kellen Clemens
. A game that easily could have been in hand early was far more interesting because of the Rams' inability to convert.
Defensive dominance:
The Rams faced the league's worst offense in terms of yardage output, so this was a game they should have dominated. But the Rams haven't always done what they're supposed to do in 2013, especially on that side of the ball. They shut down the run game, racked up seven sacks and two fumble recoveries, and held the Bucs to a measly 170 yards of total offense on the day.
Robert Quinn
led the way again with three sacks to set the franchise record for a season with 18.
What's next:
The Rams wrap up the regular season with a trip to Seattle to enter the Seahawks' House of Horrors. The Rams under coach Jeff Fisher have played the Seahawks close in their three meetings, including the season finale last year in Seattle. The question will be whether Seattle coach Pete Carroll elects to play his starters if his team has the No. 1 seed and home-field advantage wrapped up. Either way, the Rams will be looking to finish .500 or better for the first time since 2006.
December, 22, 2013
12/22/13
4:00
PM ET
A few thoughts on the
Tampa Bay Buccaneers
' 23-13
loss
to the
St. Louis Rams
on Sunday.

What it means:
The Bucs are 4-11. The bright spot is that they remain in position for a prime first-round draft pick in 2014. But the downside is that the Bucs lost a very winnable game. Their defense played well. But the offense sputtered almost all day. A loss like last week's to San Francisco is understandable, but a loss to a mediocre team like St. Louis does not bode well for coach Greg Schiano's future. He'll head into the final week of the season with all sorts of speculation about his job.
Stock watch:
Falling: Safety
Dashon Goldson
, who is under the league's microscope for his aggressive play, could be facing a fine or another suspension. Goldson was flagged for a helmet-to-helmet hit. The hit didn't look particularly flagrant, but the standards are stricter for Goldson, who already has served a one-game suspension.
No running game:
Rookie quarterback
Mike Glennon
, who was sacked seven times, will take most of the heat simply because he's the quarterback. Glennon was far from perfect. But he wasn't Tampa Bay's biggest problem. The Bucs are supposed to be a run-first football team. Running back
Bobby Rainey
had 37 yards on 20 carries. The Bucs have to run the ball better than that to have any chance to win.
What's next:
The Buccaneers close out their season next Sunday at New Orleans.