NFL Nation:

2013 Week 17 DEN at OAK
December, 29, 2013
12/29/13
11:00
PM ET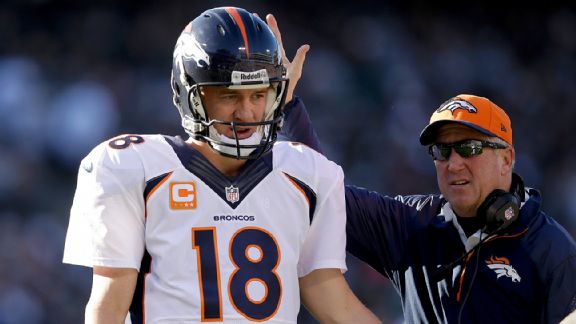 Ezra Shaw/Getty ImagesPeyton Manning set another record Sunday, but this team will be measured by the playoffs.
ALAMEDA, Calif. -- For two years,
Denver Broncos
quarterback
Brock Osweiler
has watched history unfold right next to him in the meeting room and on the practice field.
Sunday was the latest example.
"The season moves so fast and there's so much going on, when the offseason hits and I turn on 'SportsCenter,' NFL Network, I think then it will really hit me what this team accomplished, what
Peyton [Manning]
accomplished," Osweiler said. "But there's no question I've had a front-row seat to everything, a front-row seat to amazing things, to history. And it will help me immensely as a player, but as a person you're just proud to be around it."
Osweiler threw all of 16 passes this season as Manning's backup, 13 of those Sunday in a
34-14 win
over the
Oakland Raiders
. Osweiler and the Broncos watched Manning close out the regular season Sunday by giving an awfully good show.
The short list of remember when stuff basically starts with the Broncos epic pile of points.
Their day against the Raiders made the Broncos the highest-scoring team in league history, having also cracked the 600-point barrier at 606. Manning set a single-season record for passing yards (5,477) despite not playing after halftime against the Raiders. And the Broncos also set a record for touchdowns in a season with 76.
The Broncos had every incentive to crank things up early Sunday, as they would get home-field advantage with a win. Securing a big early lead would allow them to rest some players heading into the postseason. They came out with their foot firmly planted to the floorboard against the Raiders.
The Broncos scored on all five of their first-half possessions, four of those touchdown passes from Manning. So while Houston Texans interim head coach Wade Phillips may have challenged touchdown No. 50, Manning left no doubt about Nos. 52-55, the first coming before the haze from the pregame tailgates had even cleared.
Manning showed his command in a historical offense by attacking all areas of the field. He flashed the post-surgical power that remains in his right arm with a right-on-the-screws effort that resulted in a 63-yard catch-and-run touchdown to
Demaryius Thomas
that made it 24-0 with 5 minutes, 37 second still remaining in the first half.
"I think the whole team wanted to come out and set that tone early, show that focus, show that ability to close the deal," Broncos cornerback
Champ Bailey
said. "We did it on defense, we were aggressive all over and Peyton was at that level where he is just who he is."
"It was nice to get the lead in this game, get off to a hot start," Manning said. "[Demaryius Thomas'] long play was important, set the tone for the day in my opinion."
When Manning's day was done by halftime -- "it was Coach's decision to make the change" -- he already had four touchdowns and was 25-of-28 for 266 yards, giving him 5,477 for the season, or one more yard than former single-season record holder
Drew Brees
had in 2011. It was Manning's ninth game of the season with at least four touchdowns. The Broncos finished the regular season with five players who caught at least 60 passes and five players who scored at least 10 touchdowns.
And so the Broncos return to the playoffs, where they suffered perhaps the most crushing defeat in the franchise's history last season.
They finished 13-3 in 2012 and had the AFC's top seed when they lost in double overtime to the
Baltimore Ravens
on bitterly cold evening last January. And since that loss -- through off-the-field issues that included DUI arrests for front-office personnel and
Von Miller
's suspension, through injuries and a four-week leave of absence for head coach John Fox after open-heart surgery -- they have remained relentless in their pursuit of another chance.
"Just really good focus on the players' part," Manning said. "We've had a number of distractions, injuries, on-field situation, off-field situations, but I think the one constant has been the players' focus. We have remained focused on the task at hand. … A season unlike any other for me."
Bailey was asked about the trek back to 13-3, the playoff bye week and the home-field advantage that came with it. He was asked if it would indeed be an advantage this time.
"If we use it wisely," Bailey said. "Hopefully we give them a better showing than we did last year. We're very aware of playing that first game not ready, we're going to be ready. … We know we've got to be prepared, no such thing as over-preparing."
There's also no such thing as a one-trick pony winning the Super Bowl, either. History has been least kind to the offensive showpieces that have made the Big Game.
The Broncos hold the single-season scoring record and the four teams that sit immediately behind them on the list didn't win the Super Bowl. The highest-scoring Super Bowl winner was the 1999
St. Louis Rams
, who checked in with 526 points that season, or roughly what the Broncos had after Week 15. The other teams to have topped 500 points and also won the Super Bowl are the 2009 Saints (510 points), the 1994 49ers (505 points) and the 1998 Broncos (501).
That's it.
Granted, those high-flying affairs weren't fueled by the kind of disappointment the Broncos have lived with for most of the past 12 months. That was crystal clear Sunday as the Broncos prepared to load the bus for the airport. While they were happy with what they've done, they are ready to get down to real business.
They still must file the rough edges off their defense. They need to find more in their pass rush and they need to expand their running game. They need a Plan B if their record-setting passer and the highest-scoring offense in league history meet up with cold day and a hot defense in the postseason.
"It's not easy to go back-to-back 13-3s, not easy to go back-to-back one seeds, but obviously everybody in our building, our city, our region, maybe the country was disappointed in how we finished a year ago," Fox said. "Hopefully that set a fire in the belly of most everybody in our building since last January."
"We're in a great situation, we did some great things, but now it's all about the playoffs," Demaryius Thomas said. "We don't want the same thing as last year."
December, 29, 2013
12/29/13
11:00
PM ET
ALAMEDA, Calif. -- The
Denver Broncos
wanted to end their workday against the
Oakland Raiders
with a victory to earn homefield advantage in
the AFC playoffs
, but they also wanted to stay as healthy as possible doing it.
They were able to do that for the most part in the
34-14 victory
against Oakland. Safety Duke Ihenacho did leave the game with a concussion and will be evaluated on Monday as part of the league's concussion protocol. Ihenacho would have to be symptom free Monday to take part in a full practice by Friday under the guidelines of the protocol.
It was the only injury the Broncos formally reported from the game.
With a bye week to open the postseason the Broncos still believe they are on track to get wide receiver
Wes Welker
back for their first postseason game, Jan. 12, in the Divisional round against the lowest seed remaining in the AFC's playoff field. Welker made the trip with the team for Sunday's game and practiced on a limited basis this past week.
Welker, who suffered a concussion just before halftime of the Broncos' Dec. 8 victory over the
Tennessee Titans
, had not practiced since until this past Wednesday and has been held out of the last two games. Welker also suffered a concussion in the Broncos Nov. 17 win over the
Kansas City Chiefs
.
Before he can play in a game Welker would have to be declared symptom free by both the Broncos' medical staff as well as a designated independent physician who has been approved by both the NFL and NFL Players Association.
"I think we're getting healthier,'' said wide receiver
Demaryius Thomas
. "We want everybody we can in the offense and you always want a player like Wes out there.''
Defensive end
Derek Wolfe
is expected to practice at least some this week. The Broncos didn't place Wolfe on injured reserve earlier this month when they added
Jeremy Mincey
to the roster and the Broncos have continued to express some optimism he could get back in the lineup in the postseason.
Wolfe practiced twice last week, Wednesday and Friday as he missed Thursday with the flu. Wolfe did not travel with the team for Sunday's game. Wednesday's practice was Wolfe's first since suffering "seizure-like symptoms'' Nov. 29 on the team's bus ride to the airport in the days leading up to a Dec. 1 game in Kansas City.
Also, the Broncos held cornerback
Kayvon Webster
out of Sunday's game, but expect to have him ready to go for the playoff game. Webster, who had surgery Dec. 13 to repair a fractured right thumb, practiced on a limited basis this past week.
December, 29, 2013
12/29/13
7:32
PM ET
OAKLAND -- A few thoughts on the
Oakland Raiders
'
34-14 loss
to the
Denver Broncos
.

What it means
: The Raiders, for the second straight season under coach Dennis Allen, ended the year by losing eight of their final nine games. In that morass, a six-game losing streak to end the season. It was the Raiders' most uninspired effort of the season, and they were in danger of being shut out for the first time since Oct. 23, 2011, a 28-0 drubbing by the
Kansas City Chiefs
in
Carson Palmer
's first game with Oakland. Not a good look for a coach whose platform is built on progress and discipline. The Raiders allowed four touchdown passes by
Peyton Manning
(he finished the regular season with a record 55 TD passes) while also allowing him to set a new single-season record for passing yards (5,477). Plus, the Broncos, who earned home-field advantage in the AFC playoffs with the blowout victory, also established a new mark for points scored in a season (606). Manning did not play in the second half, which was won by the Raiders, 14-3.
Stock watch
: Falling --
Terrelle Pryor
. Rust was to be expected, what with Pryor having last started a game on Nov. 10. But his regression was shocking. He did not appear to play with much confidence, his accuracy was worse than off and, as former Raiders coach-turned-radio analyst Tom Flores said, "He looks like a quarterback that's hesitant to throw." Indeed, Pryor was not stepping into his throws and the ball wobbled. He finished 21-of-38 for 207 yards with touchdown passes of 14 yards and nine yards to
Rod Streater
and
Nick Kasa
, respectively -- Pryor's first touchdown passes since Oct. 13. Pryor did, however, rush for 49 yards and set a franchise mark for rushing yards in a season by a quarterback (576 yards), eclipsing Rich Gannon's mark of 529 yards in 2000. Pryor did play better in the second half.
A silver and black lining
: It was not all bad. Oakland honored the 1983 Super Bowl champions in a halftime ceremony, giving fans a glimpse of the last Raiders team to win a Super Bowl, albeit when the franchise was located in Los Angeles. Jim Plunkett addressed the crowd, and it was truly the liveliest O.co Coliseum was all day, especially since the Raiders were trailing, 31-0, at the time.
SeaBass sleeps with the fishes?:
Placekicker
Sebastian Janikowski
, the Raiders' first-round draft pick in 2000 and all-time leading scorer, missed his ninth field goal of the season, more than he missed the previous two seasons combined. Radio broadcaster Greg Papa said Janikowski was nursing a sore left quad, though Janikowski was not listed on the injury report this week. "Kind of a reflection of the whole season," Flores offered.
What's next
: The Raiders (4-12) must now play the waiting game to see if head coach Dennis Allen and/or his staff are retained after a second consecutive 12-loss season, and the 11
th
straight year without a winning record.
December, 29, 2013
12/29/13
7:28
PM ET
OAKLAND, Calif. -- A few thoughts on the
Denver Broncos
' 34-14
win
over the
Oakland Raiders
:

What it means:
The win means quarterback
Peyton Manning
and the Broncos' offense closed out the regular season with every significant scoring and passing record in their possession. Manning finished the regular season with 5,477 passing yards to go with 55 touchdowns while the Broncos had broken the league scoring record by halftime. Denver also earned home-field advantage throughout the AFC postseason.
Stock watch:
This past week Manning was asked about the records the Broncos were poised to break and he quickly said winning was most important. Perhaps in the big picture that is certainly true, but Manning's season, at age 37 and after four neck surgeries, was nothing short of remarkable. It was his first 5,000-yard season in his storied career and, with four more touchdown passes against the Raiders, it was his ninth game of the season with at least four scores thrown.
A tad worrisome:
Broncos punter
Britton Colquitt
had a punt blocked for the first time of his career in the third quarter Sunday. That play kept a rather disturbing trend going on special teams, with poor ball security, some big returns allowed and now a block over the past two months. The Broncos will practice several days during their postseason bye week and it's a sure bet special teams will be a big part of those sessions.
Two-man show:
The Broncos tried to get
Ronnie Hillman
involved in the running game Sunday -- he had 12 carries for 30 yards -- but the Broncos' running game is largely a two-man affair headed into the postseason. Rookie
Montee Ball
had 72 yards on 10 carries as
Knowshon Moreno
was largely given the day off (six carries, 23 yards). But Ball and Moreno have turned it into split duty because of their work in the passing game. Manning's first four completions of the game went to Moreno and Ball. And by the time the Broncos had finished their first two scoring drives, Moreno had five catches to go with one for Ball.
What's next:
The Broncos will get a weekend off with their bye through the wild-card round. They will try to balance enough work to keep their edge with the idea of getting a fairly battered team a little rest. But after last season's double-overtime loss at home in the divisional round, there will be a big push from the team's veterans to make sure everybody stays on track.
NFL SCOREBOARD
Thursday, 9/4
Sunday, 9/7
Monday, 9/8