NFL Nation:

2013 Week 17 KC at SD
December, 29, 2013
12/29/13
11:20
PM ET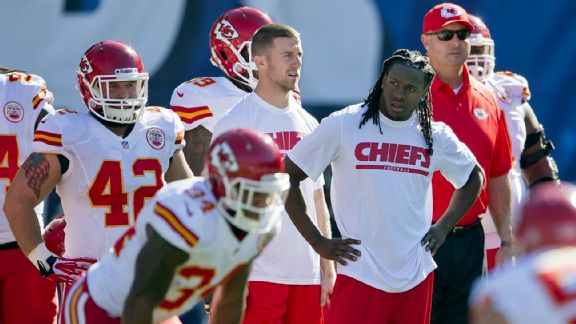 David Eulitt/Kansas City Star/MCT/Getty ImagesAlex Smith and Jamaal Charles were among the Chiefs starters who sat in advance of the playoffs.
SAN DIEGO -- Linebacker
Derrick Johnson
won't wake up on this Monday morning with the normal bumps and bruises, aches and pains. He will feel fresh, like he didn't even play football on Sunday, which of course he didn't. Johnson and many of his key
Kansas City Chiefs
teammates were given the day off.
"It's going to be great," Johnson said. "I'm going to be moving fast. We'll be rested and ready to go and we'll get started on Indy. We know we've got a great opportunity to beat a team we didn't play [well] against a couple of weeks ago. We know if we can play better than we played … this way, it's going to be an interesting matchup."
Multiply Johnson's situation by several others, and you understand why coach Andy Reid rested as many of Kansas City's playmakers as possible and why it was the right thing for the Chiefs to do, even though they finished the regular season on Sunday with a
27-24 overtime loss
to the
San Diego Chargers
.
This game was all about giving them a better chance to win Saturday's wild-card playoff game against the Colts in Indianapolis. Reid's move will no doubt do that.
The Chiefs might not beat the Colts. But if they don't, it won't be because running back
Jamaal Charles
didn't absorb the 20 or more hits he would have against the Chargers, because quarterback
Alex Smith
didn't take the two sacks backup
Chase Daniel
did, because nose tackle
Dontari Poe
didn't wind up on the bottom of a pile of humanity on each of San Diego's 72 snaps.
"I look at the positive of it when I do that," said Reid, who had the starters take some snaps in practice during the week. "It gave the guys a week to heal up and rest up and still at the same time get good practice in. If we do meet up again with San Diego then they've got that practice time in with a game plan."
It might be tempting to believe Reid's maneuver cost the Chiefs a victory, but don't go there. The Chiefs should have won in regulation but failed to finish when
Ryan Succop
's 41-yard field goal went wide to the right with four seconds remaining.
Charles, Smith, Johnson, Poe and the rest of Chiefs' starters lost to San Diego 41-38 last month in Kansas City. So it's fair to wonder whether the backups didn't do a better job on Sunday than the starters might have.
At any rate, the Chiefs had nothing to lose. They were destined, win or lose, to be a wild-card playoff entrant and the No. 5 seed.
Wild-card teams don't get a playoff bye, like the Chiefs would have had they won the AFC West. So Reid created a bye for them.
Among the starters who did not play were left tackle
Branden Albert
and linebacker
Justin Houston
. They were injured but would have hurried back to play for the first time in weeks if not for Reid's decision.
Instead, they had another week to get ready for the Colts.
"That's one way of looking at it," Reid said about giving these players a bye. "There were a couple of guys with a lot of snaps under their belt like Jamaal and [strong safety
Eric] Berry
. These guys have been playing and they play physical positions. They had a chance to rest up. It gave Albert and Houston another week to heal up. They're both ready to go but it gave them a chance to have one more week.
"That's all for the good."
What the Chiefs did is forfeit any chance at building some momentum for the playoffs. In their last game heading into the postseason, on Dec. 22, the starters played their worst game of the season in losing to, yes, the Colts 23-7 at Arrowhead Stadium.
But that goal is and was secondary to the one the Chiefs accomplished Sunday.
"We're wiping the slate clean now," Smith said. "It's a brand new season. This game is such a week-to-week thing anyway. [The notion of momentum going into the playoffs] is talked about but not necessarily realistic."
For the Chiefs, the game had an odd, preseason-in-December kind of feel. Smith, not in uniform as one of the inactive players, stood around during pregame warm-ups, searching futilely for a way to be useful.
"So weird," he said. "I was wandering around. I definitely felt out of place."
Likewise, Johnson was inactive and couldn't have played once the game started.
"I'm on the sideline warming up the whole game," he said. "I didn't know what to do with myself."
So, some awkward moments for the Chiefs? Sure. But they did what needed to be done and gave themselves a better chance at postseason success because of it.
"It's not so much for the quarterback, but some of these guys who play the really physical positions and bang a lot during the game," Smith said. "That's what's most important. Come tomorrow, those guys won't have all the dings and things that do go on in a game. They'll be fresh and be ready."
December, 29, 2013
12/29/13
7:55
PM ET
SAN DIEGO -- A few thoughts on the
San Diego Chargers
'
27-24 overtime win
against the
Kansas City Chiefs
.

What it means:
Everything fell into place for the Chargers to reach the postseason for the first time since 2009, with Baltimore and Miami losing early games. All San Diego had to do was beat a Kansas City squad playing mostly reserves because the Chiefs had already clinched a postseason spot. With the help of a
Ryan Succop
missed 41-yard field goal at the end of regulation, the Chargers got it done to finish 9-7 on the season. With the final AFC wild-card spot and No. 6 seed, San Diego now moves on to face a familiar foe in Cincinnati, the AFC's No. 3 seed. The Chargers lost to the Bengals
17-10 earlier this season
at Qualcomm Stadium.
Mathews to the rescue:
Running back
Ryan Mathews
again came up big, finishing with 144 rushing yards on 24 carries. It's the sixth time this season Mathews rushed for over 100 yards in a game. Mathews finished the season with a career-high 1,255 yards.
No defense for Chargers' D:
With nine different starters on offense, including reserve quarterback
Chase Daniel
and running back
Knile Davis
, San Diego's defense could not contain Kansas City's patchwork offense. The Chargers allowed over 150 rushing yards, but held firm when they needed to most at the end of the game.
Stock watch:
Keenan Allen
had another big game, finishing with five receptions for 89 yards to top 1,000 receiving yards for the season, boosting his chances to earn offensive rookie of the year.
What's next:
The Chargers travel to Cincinnati to face the Bengals in an AFC wild-card game next weekend.
December, 29, 2013
12/29/13
7:41
PM ET
SAN DIEGO -- A few thoughts on the
Kansas City Chiefs
'
27-24 overtime loss
to the
San Diego Chargers
:

What it means:
The Chiefs have some good backup players. They took the Chargers deep into the fourth quarter before San Diego tied the score and then outlasted the Chiefs in overtime. Because the Chiefs were locked into the fifth seed in the AFC playoffs, a victory was meaningless. So coach Andy Reid rested 20 of Kansas City's 22 starters, including all 11 on defense. With
Chase Daniel
making his first NFL start, the Chiefs put in a solid effort on both sides of the ball and almost denied the Chargers the AFC's final playoff spot. The Chiefs finished the regular season at 11-5, an improvement of nine wins over 2012.
Stock watch:
Rookie running back
Knile Davis
, playing for
Jamaal Charles
, started his first NFL game and delivered 81 rushing yards and two touchdowns. Daniel played about as well as the Chiefs could expect, completing 21 of 30 passes for 200 yards and a touchdown. Daniel also ran for 59 yards. An offensive line comprised of four backups and rookie right tackle
Eric Fisher
kept Daniel from being under consistent pressure and opened some nice holes for Davis. Cornerback
Ron Parker
had an interception to set up a Kansas City touchdown. Kicker
Ryan Succop
was wide right on a 41-yard field-goal attempt with eight seconds left in regulation that would have won the game for the Chiefs.
What's next:
Heading to Indianapolis. The Chiefs will play the Colts in the first round of the playoffs next weekend. The 11-5 Colts, winners of the AFC South, beat the Chiefs 23-7 at Arrowhead Stadium on Dec. 22 by forcing four turnovers while committing none of their own. The Colts have beaten the Chiefs all three times the teams have met in the playoffs, in the 1995, 2003 and 2006 seasons.
December, 29, 2013
12/29/13
9:00
AM ET
SAN DIEGO -- Though they've been mysterious about specific plans for Sunday's game against the
San Diego Chargers
, it's easy to know what to expect from the
Kansas City Chiefs
.


Players and coaches to a man have talked about how important it is for the Chiefs to beat the Chargers, but Andy Reid has talked about resting key players and trying to keep them fresh for next week's opening-round playoff match, a game that really is important.
If
Alex Smith
,
Jamaal Charles
and other star players are out of the lineup early in the game, that sends a stronger message about Kansas City's desire to win this game than anything they say.
Meanwhile, the Chargers may or may not be vying for a playoff berth by the time the game kicks off. If both Baltimore and Miami lose in early games Sunday, San Diego would get the final wild-card spot by beating the Chiefs. If either Baltimore or Miami win, the Chargers are eliminated and as far as the playoffs go will have the same motivation as the Chiefs, which is to say none.
The Chargers seem more motivated than Kansas City does regardless. The 8-7 Chargers have talked about the importance of finishing with a winning record and building momentum for next season. While those incentives aren't nearly as strong as playing for the playoffs, they are more than the Chiefs have going for them.
So the playing field definitely isn't a level one in this regard. Maybe the Chiefs will surprise with their effort but more likely they will be watching the clock and waiting for it to expire like a kid on an average school day.
The Chargers are an improved team since they came to Arrowhead Stadium and beat the Chiefs late last month. They had been allowing a lot of points and gave up 38 that day but since have progressed considerably on defense.
Outside linebackers
Melvin Ingram
and
Jarret Johnson
are finally healthy and playing well. The Chargers made a lineup change in the secondary, benching cornerback
Derek Cox
, and suddenly they're creating turnovers and getting opponents off the field on the third downs. San Diego is allowing just 16 points per game in the four games since they played against the Chiefs.
Offensively, the Chargers may be without running back
Ryan Mathews
and wide receiver
Eddie Royal
because of injuries. But it's hard to shake the memory of how easy things were for
Philip Rivers
and
Keenan Allen
against the Chiefs the last time. And they were playing reserves at the end of the game against the Chiefs. It was seldom used wide receiver
Seyi Ajirotutu
who caught the winning touchdown pass.
The Chiefs could rise up and play well, but it's not wise to expect that given the circumstances. They have bigger prizes to play for than Sunday's game and the result should reflect that.
Prediction: Chargers 31, Chiefs 17.

NFL SCOREBOARD
Thursday, 9/4
Sunday, 9/7
Monday, 9/8