NFL Nation:

2013 Week 17 NYJ at MIA
December, 29, 2013
12/29/13
10:56
PM ET
MIAMI GARDENS, Fla. -- Nearly 45 years ago, the
New York Jets
won a Super Bowl in Miami. On Sunday, they celebrated like they had won another, this time 15 miles from the old Orange Bowl.
Owner Woody Johnson walked into the locker room party after the Jets' resounding
20-7 victory
over the
Miami Dolphins
at Sun Life Stadium, and the room fell silent because Johnson, who is no Jerry Jones, rarely addresses the team. He spoke quietly, prompting some players to move in closer. Several players said they didn't know what to expect from the unassuming boss.
Johnson told the players he was proud of their 3-1 finish. Then he hit them with the news of the day: He announced that Rex Ryan -- known recently in articles as "Embattled Rex Ryan" -- would return as coach in 2014.
The room exploded. Players mobbed Ryan. He tried to speak, but he got so emotional that his voice cracked, halting his words.
"You'd think we won the Super Bowl," quarterback
Geno Smith
said afterward.
Yep, the Jets were the happiest 8-8 team you ever saw.
This was the Rex Bowl, because the players went out and backed up their recent "We love Rex" proclamations by playing like a team that had a playoff berth at stake. The afternoon was capped with Johnson's announcement, creating a vibe they hadn't felt since that remarkable playoff win against the
New England Patriots
three years ago.
The Jets made the right move by retaining Ryan. It would've been lunacy to fire him. He squeezed eight wins out of a roster that didn't have a single Pro Bowl player. The strong finish, Johnson said, was an "amazing" tribute to Ryan and his staff.
The outcome of the game had no bearing on Ryan's status. Johnson and general manager John Idzik had made the decision at least a couple of days before the game, and they shook on it with Ryan at the stadium before the warm-ups.
"I love being the head coach of the New York Jets, plain and simple," Ryan said. "I never wanted to go out this way, another losing season or something like that."
The question of Ryan's contract situation was left hanging in the thick Florida air. Neither Ryan nor Johnson divulged whether the coach received an extension on his current deal, which runs one more year. If not, he'd be a lame duck -- and that would be bad business.
You could argue that no coach with three straight non-playoff seasons deserves a one-year sweetener, but it's the price of doing business in the NFL. Assistant coaches don't want to work for a lame duck, and free agents don't want to play for a lame duck. It sends a bad message.
"You'd think they'd negotiate an add-on year," an AFC personnel director said on condition of anonymity. "[It's] symbolism."
The NFL Network reported that Idzik wants Ryan to make changes on the defensive staff. Presumably, that means coordinator Dennis Thurman, one of at least seven assistants with expiring contracts. He's Ryan's right-hand man. That, too, would be bad business. The head coach should pick his coaches, not the front office. Afterward, Ryan and Idzik danced around questions about the coaching staff.
"That's chicken crap if it's true," a longtime league executive said. "You don't pull the wings off a fly."
Obviously, Ryan agreed to whatever terms were on the table, and we'll find out in the coming days what they are. For now, the Jets have their coach and a feel-good vibe as they head into the offseason.
They said they won for Ryan on Sunday.
"We've been talking about the benefits of having him stay," receiver
David Nelson
said, "but as a team, we came together and said, 'The time for talking is over. ... The most powerful way to keep him is to go out and prove it.'"
They did, crushing the Dolphins' playoff chances. The Jets did so much right.
Smith, an overwhelmed rookie when these teams met four weeks ago, played his best overall game of the season. The kid acted like he belonged. Fellow rookie
Dee Milliner
made two interceptions.
Sheldon Richardson
, another rookie, continued his Refrigerator Perry impersonation, rushing for a touchdown.
Ed Reed
played young. The offensive line didn't allow a sack for the second straight week.
Linebacker
Calvin Pace
, 33, one of the Jets' oldest players, sat in front of his locker stall and surveyed the scene. He said the mood reminded him of how it was when they reached the AFC Championship Game in 2009 and 2010.
"It was fun to watch everybody grow up," he said, alluding to the five rookie starters.
What the Jets have to do now is avoid what happened to them in 1988. They closed the season with a rousing win over the
New York Giants
, finishing 8-7-1 and bouncing the Giants from the playoffs. Everybody called it a springboard. In reality, it was an illusion.
The following year, they went 4-12 and the coach got fired.
December, 29, 2013
12/29/13
10:00
PM ET
MIAMI GARDENS, Fla. -- The Super Bowl is coming to New Jersey in February. The
New York Jets
played theirs Sunday in South Florida.
"Our whole motto was, 'This is our Super Bowl,'" linebacker
Calvin Pace
said after their 20-7 win over the
Miami Dolphins
.
This was a sweet win for the Jets. Beforehand, they talked about wrecking the Dolphins' season. And they did just that, bouncing them out of the playoff chase.
"They get to sit home with us," said cornerback
Antonio Cromartie
, who set the tone last week by claiming the Jets are the better team.
The Jets were routed in the previous meeting, 23-3, playing their worst game of the season.
"Quite honestly, we owed them," Rex Ryan said. "They knocked us out of the playoffs by beating us."
That was the lowpoint of the Jets' season, their third straight loss, dropping them to 5-7. They rallied by winning three of their last four, ending with their first winning streak of the season.
The Dolphins needed a victory, and some help, to qualify as the wild card. They wound up 8-8, same as the Jets. In fact, the Jets took second place in the AFC East, finishing ahead of the Dolphins and
Buffalo Bills
(6-10).
December, 29, 2013
12/29/13
9:15
PM ET
By
Walter Villa
| ESPN.com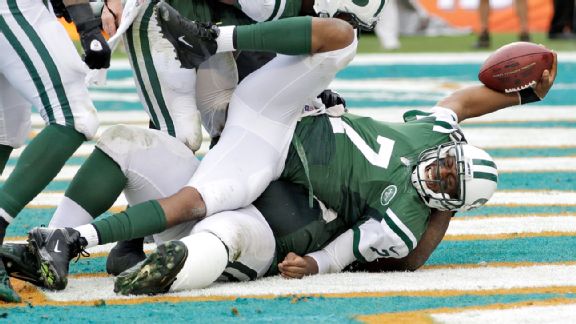 AP Photo/Alan DiazGeno Smith has rushed for 186 yards over his past four games.
MIAMI GARDENS, Fla. -- Run, Geno, run.
It's a simple explanation to the recent improvement of Jets rookie quarterback
Geno Smith
.
Early in the season, perhaps wanting to prove himself as a drop-back quarterback, Smith struggled to make first downs and suffered from a high rate of turnovers.
In the past four games, Smith has rushed for at least 44 yards each time out. The results have been startling: a 3-1 record and just two interceptions with no fumbles.
In the previous 12 games, Smith had a 5-7 record, 19 interceptions and eight fumbles, including four that the Jets lost.
Of his 366 yards rushing this season, 186 have come in the past four weeks.
"[Jets coaches] have been telling me [to run] all year," Smith said. "But, early on, I was so focused on my reads and trying to see the defense and figuring things out that I didn't play the game.
"My natural instincts and reactions are things they want me to do, and I'm getting better with that."
Smith scored the winning touchdown Sunday -- a 7-yard run -- in the Jets' 20-7 win over the
Miami Dolphins
. With three seconds left in the first half, Smith scrambled slightly to his right before turning upfield and finding some sturdy opposition in Dolphins linebacker
Dannell Ellerbe
.
That's when Jets running back
Bilal Powell
made one of the most underrated plays of the day, pushing Smith from behind and allowing his quarterback to crash into the end zone.
"I was really struggling right there with that linebacker," Smith said. "It was very smart on [Powell's] behalf to give me that extra push."
As for his passing, Smith finished Sunday with 17 completions in 27 attempts for 190 yards. It was his second straight game without a turnover, a remarkable stat given his propensity to turn the ball over earlier in the season.
What the future holds is anyone's guess. Smith led the Jets to an 8-8 season that just about says it all for the quarterback and his team -- not great but not terrible, either.
The Jets, of course, have designs on being more than just "not terrible" and will be expected to explore their options at quarterback for next season, as they would for any position.
Asked about the possibility of the Jets acquiring a veteran quarterback next season, Smith was typically cool.
"That's out of my control," he said. "The only thing I can do is come back to camp and be ready to compete once again."
For the season, Smith proved durable, taking numerous hard hits -- including 43 sacks, all of them in the first 14 games -- and yet starting all 16 games.
He completed 55.8 percent of his passes for 3,046 yards, 12 touchdowns and the 21 interceptions and four lost fumbles.
By comparison, last season in his fourth year for the Jets,
Mark Sanchez
completed 54.3 percent for 2,883 yards, 13 touchdowns, 18 interceptions, 14 fumbles and eight of them lost by the Jets.
In short, the veteran Sanchez had more turnovers and a lower completion percentage than the rookie Smith. The rookie also finished strong, which is not something Sanchez can claim.
"We saw [Smith] get better -- we knew it," Jets coach Rex Ryan said. "But the way he's protecting the football, the way he's running ...
"The run he made to score [Sunday] -- that's a pretty good linebacker [Ellerbe] he [ran away from]. He wasn't going to be denied. ... He just willed it. He's a tough guy.
"He carried our team on his back, and that was awesome."
December, 29, 2013
12/29/13
5:49
PM ET
By
Walter Villa
| Special to ESPN.com
MIAMI -- There are streaks of gray in his hair these days, and, at age 35, his best days are behind him.
But safety
Ed Reed
, playing in his alma mater's home stadium, proved again on Sunday that his reputation as a playmaker is well deserved. He helped the
New York Jets
keep the
Miami Dolphins
out of the playoffs with a
20-7 win
at Sun Life Stadium.
Reed
In the third quarter, with the Jets clinging to a 14-7 lead, the former University of Miami star made a shoestring tackle on Dolphins receiver
Rishard Matthews
at New York's 33 after a gain of 21 yards. That saved a touchdown. Three plays later, Jets rookie cornerback
Dee Milliner
grabbed an interception, adding more value to Reed's tackle.
"I was just happy to get [Matthews] down," Reed said. "I had his shin in my hand and just raised it up."
With 4:12 left in the game and the Jets leading 17-7, Reed came up big again. Deflections have never been safe around Reed, and this carom off the hands of Dolphins receiver
Marlon Moore
was no different.
Reed grabbed the high bounce for his third interception as a Jet and returned it 17 yards. It was his 64th career interception.
"It's always a good feeling to get a victory and an interception, [especially] the way the defense performed today," Reed said.
Reed said he was pleased Rex Ryan will be returning as the Jets' coach next season.
"It's well deserved," Reed said. "[The coaching staff has] put in a lot of work. I've sat in on meetings and had conversations at night at 9:30 or 10 o'clock. Just the work they put in to have us prepared is awesome."
December, 29, 2013
12/29/13
4:05
PM ET
MIAMI GARDENS, Fla. -- A few thoughts on the
New York Jets
'
20-7 victory
over the
Miami Dolphins
at Sun Life Stadium:

What it means:
The Jets (8-8) avoided their first back-to-back losing seasons since the 1995 season, won two straight for the first time in 2013 and -- perhaps sweetest of all -- ruined the Dolphins' playoff dream. Miami missed the playoffs for the third straight year, but a .500 season in a rebuilding year is a significant accomplishment.
Rex watch:
Rex Ryan reinforced his already-strong case to return as coach. Signs point to Ryan's return, but there are contract and coaching staff issues to work through. Ryan is 42-38 in five seasons, which is not a great record, but the team is pointed in the right direction. Clearly, it hasn't tuned out Ryan. The Jets outplayed a team that had everything on the line.
Stock watch
:
Geno Smith
closed his rookie year with one of his better performances, a continuation of his late-season rally. That it came against the Dolphins was significant. In the previous meeting four weeks ago, Smith was a wreck and was benched at halftime -- the lowpoint in a season with many lows. This time, he looked like a different player, especially with the ball in his hands. He rushed for 47 yards and a touchdown, a dimension the Jets had started to exploit only recently. More importantly, Smith didn't commit a turnover for the second straight game, finishing 17-of-27 for 190 yards. Smith didn't do enough to be the clear starter for 2014 (it's hard to forget about 21 interceptions), but his encouraging finish lessens the need at the position.
Milliner flashes again:
Rookie cornerback
Dee Milliner
allowed a 5-yard touchdown, but he made enough positive plays (including his third interception in two weeks) to leave a positive impression after a nightmarish start to his season.
Ed Reed
, in perhaps the final game of a Hall of Fame career, made his third interception and saved a touchdown with a shoestring tackle on a long pass.
Alternative methods
: Rookie
Sheldon Richardson
became the first defensive lineman since William "The Refrigerator" Perry (
Chicago Bears
, 1985) to score two rushing touchdowns in a season. He plowed in on a 1-yard run in the second quarter, giving the Jets a 14-7 lead. Most teams use their running backs near the goal line, but not the Jets. They use the quarterback and a defensive tackle; Smith and Richardson have combined for eight touchdowns. Hey, whatever works.
What's ahead
: Once they resolve the head-coaching situation, the Jets can focus on the coaching staff. At least seven assistants have expiring contracts. Linebackers coach Brian VanGorder already is a goner; he's headed to Notre Dame as the defensive coordinator. Then come free agency and draft prep.