NFL Nation:

2013 Week 17 PHI at DAL
December, 30, 2013
12/30/13
2:25
AM ET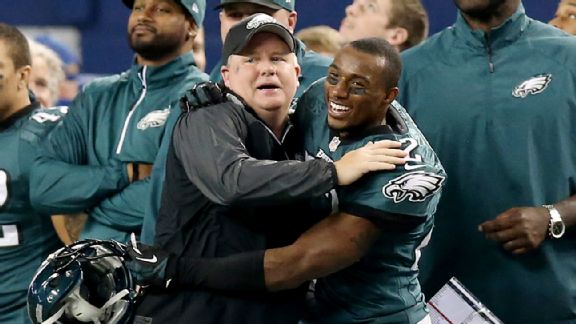 Matthew Emmons/USA TODAY SportsBrandon Boykin's interception sealed a playoff berth for Chip Kelly and the Eagles.
ARLINGTON, Texas -- Whatever Chip Kelly and
Nick Foles
accomplish together as coach and quarterback of the Eagles, in these playoffs and beyond, they will look back on Sunday night's
24-22 win
over the
Dallas Cowboys
as their first big game together.
And they will know, deep in their hearts, that those unheralded guys on the Philadelphia defense saved their postseason lives.
With a combination of smarts, sports science and magic, Kelly turned the 4-12 Eagles team he inherited into a 10-6 division title winner. Foles, who took over at quarterback in October, went 8-2 as a starter and finished the season as the NFL's highest rated passer.
The Eagles came to Foles' native Texas for a virtual playoff game against the Cowboys. Win and the Eagles would be NFC East champions. They would host the
New Orleans Saints
in a first-round playoff game Saturday night. They would have a puncher's chance to be that hot team that burns its way to the Super Bowl seemingly every year.
For a half, they had things in hand. Foles threw two touchdown passes, giving him 27 for the season against just two interceptions. His passer rating was 155.5. The Eagles had a 17-10 lead and possession of the ball to start the third quarter.
And then it started unraveling. The offense was brutal in the third quarter. Foles looked overwhelmed, completing 3 of 8 passes for 41 yards and fumbling the ball away at his own 20. It was so bad, Kelly had Foles throw exactly two passes in the entire fourth quarter.
"We made it a game," Eagles left tackle
Jason Peters
said. "Not scoring, stalling out a couple times on offense. We let them back in the game."
The defense took the game back.
After Foles' fumble, Dallas ran three plays for a total of 2 yards. Linebackers
Mychal Kendricks
,
DeMeco Ryans
and
Connor Barwin
made one-on-one tackles to stop
Jason Witten
once and
DeMarco Murray
twice. The Cowboys kicked a field goal and the Eagles clung to their slim, 17-16 lead.
After another three-and-out by Foles and the offense, the Eagles' defense allowed 1 yard on the Cowboys' next possession. That forced a punt that
DeSean Jackson
, who was held to three catches, returned 23 yards to the Philadelphia 48-yard line.
That was the spark the Eagles needed. They were at midfield instead of their own 20.
LeSean McCoy
ran three times for 24 yards. Foles completed a short pass that
Brent Celek
took 22 yards down to the 6-yard line.
That's when Kelly almost outsmarted himself. He couldn't resist bringing
Brad Smith
in for another of those gimmick plays that look so clever on the dry-erase board. The halfback option pass went incomplete.
"Trying to score," Kelly said. "We thought we would be in man coverage down there. We had a throw back to the quarterback [called]."
Foles threw incomplete on second down. On third down, Jackson caught a ball at the 1-yard line and was held out of the end zone by
Orlando Scandrick
and
Brandon Carr
.
Fourth-and-less-than-a-yard, late in the third quarter.
The book says kick the field goal. Kelly decided to go for it.
"We felt like with the ball on the half-yard line, we've got to be able to punch it in," Kelly said.
They couldn't. Foles was stuffed on the quarterback keeper.
If the Cowboys had seized the momentum there and won, Kelly would have had a very tough time living down the gadget play, the failed fourth down and the non-use of McCoy. That didn't happen, because the Eagles' defense wouldn't let it happen.
"That was an interesting fourth quarter," Kelly said. "Those guys didn't flinch."
The Cowboys drove 59 yards to a fourth-and-1 of their own at the Philadelphia 40-yard line. Jason Garrett decided to go for it. He had a good play call. The Eagles expected a run, so Murray slipped into the flat for a flare pass from
Kyle Orton
.
Barwin thought it was a run, saw that Orton still had the ball and closed in on him. Orton tried to get it over the 6-foot-4 linebacker's head. He couldn't. Barwin swatted it away. Eagles ball.
"I thought I could catch it," Barwin said. "I knew we were off the field. But I knew there was still some game left to play. I knew it was a big play in the game, but I knew we would be back out there on defense."
It was the first of several signature plays the defense made to save this game for the Eagles. The next was cornerback
Cary Williams
, breaking up a 2-point conversion pass for
Dez Bryant
that would have tied the game at 24.
Foles and the offense got the ball back with a chance to run down the clock. Instead, it was another three-and-out, another punt, another save required by the defense.
As it turns out, the Eagles' defense had been through this drill a few times this season. Those home wins against Washington and Arizona came down to late defensive stops.
On first down, needing maybe 30 yards to get within field goal range, Orton threw a pass intended for
Miles Austin
. It was a little behind him. It wasn't behind
Brandon Boykin
.
The nickel corner caught it and the Eagles were NFC East champions, Kelly had a division title in his first season and Foles won the first elimination game of his career.
"There's going to be adversity in games," Foles said. "We overcame it today as a team and it was an exciting game to win. I had a blast out there. Our defense was coming up big, special teams played really good ball, and our offense was able to put some points on the board. In those times of adversity, the game's not over. There's still time on the clock. That's how I've always looked at it -- I'm going to play until that clock says zero."
Earlier this season, Eagles owner Jeff Lurie said he wouldn't judge Kelly strictly on wins and losses. That was before Lurie knew there would be 10 wins and a home playoff game.
But his larger point still holds true. Lurie hired Kelly because he believed the unorthodox college coach with the cocky grin could build a winning program. His Eagles, on offense and defense and special teams, made a pretty good case this year that Lurie was correct.
"This team has character," Peters said.
That seems clear. And it's just as clear the coach is a character.
"He's a little different than what most coaches are," said Williams, who won a Super Bowl with John Harbaugh in Baltimore last year. "He goes against the grain. It's great."
December, 30, 2013
12/30/13
1:54
AM ET
ARLINGTON, Texas -- The chance to be a hero was there for
Kyle Orton
.
He could put his name next to Clint Longley, Jason Garrett, Steve Beuerlein and Bernie Kosar as backup quarterbacks who saved a game -- or, in Sunday's case, a season -- for the
Dallas Cowboys
.
With 1:49 to play, the Cowboys had the ball at their 32-yard line. All they needed was a field goal and the NFC East was theirs. All they needed was 40 yards on a night in which they put up 417 yards, and a playoff spot was theirs for the first time since 2009.
Playing only because
Tony Romo
had back surgery two days prior, Orton entered the game against the
Philadelphia Eagles
with just five pass attempts on the season and 15 in the past two. He was so close to being that guy for the Cowboys.
[+] Enlarge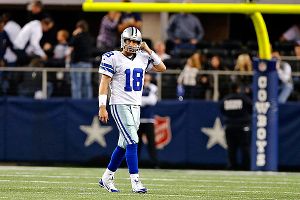 AP Photo/James D. SmithKyle Orton threw for 358 yards and two TDs, but a late interception ended the Cowboys' comeback try.
"I wish I had the throw back," Orton said.
On first down, Orton looked to the slot to
Miles Austin
. The Eagles showed pressure before the snap. Austin won on his route, but Orton's pass was behind, giving
Brandon Boykin
the chance to end the Cowboys' season and Orton's heroics with an interception.
Eagles 24, Cowboys 22
.
Just like that, the Cowboys' season was over. For the third straight year they finished 8-8. For the third straight year they failed to win an NFC East decider in Week 17. For the second straight year they were done in by a fourth-quarter interception. Last year it was a Romo interception with three minutes to play against the
Washington Redskins
with the Cowboys trailing by three points.
"Everybody puts in a lot through a season, and this is my chance to contribute," Orton said. "Had a chance down two with two minutes to go and expected to make the plays. Miles ran a good route, and I just have to make that throw."
But blaming Orton for the loss would be beyond wrong.
Starting for the first time since the 2011 season finale with the
Kansas City Chiefs
, he finished with 358 yards on 30-of-46 passing. It was the second-most passing yards by a quarterback in his first start for the Cowboys since
Jon Kitna
(who was Orton's backup Sunday) in 2010. He threw touchdown passes to
Gavin Escobar
and
Dez Bryant
. He was not sacked.
It wasn't perfect. His first interception came on a late throw to
Jason Witten
. He overthrew Bryant on a deep ball in the fourth quarter. He was late on the throw to Austin.
"Obviously there were a couple of plays in that game that he would love to have back, but I think if you look at the whole body of work, I think he did a heckuva job," coach Jason Garrett said. "He had a great week of practice. He was prepared. He was confident. I thought the guys responded to him. [He] made a ton of big plays in this game over and over and over again."
None was bigger than the 32-yard touchdown to Bryant. On fourth-and-9, he hit Bryant in stride and saw the receiver break free from safety
Patrick Chung
for the touchdown with 3:50 to play that made it 24-22. On the two-point conversion try, he went back to Bryant. Eagles cornerback
Cary Williams
was able to deflect the low pass to maintain the Eagles' advantage.
"It was tight coverage," Orton said. "I probably could've gave him a better ball, but one-on-one to Dez, we've taken our chances there all year."
Orton had one chance. The one he dreamed about before the game but didn't think about when he walked on the field.
"It was such a back-and-forth game the whole game, you're just kind of focusing on that drive and not trying to get too far ahead of yourself," Orton said.
Dan Bailey
would not get a chance to attempt a game-winning field goal. There would be no celebration inside AT&T Stadium. The NFC East championship hats and T-shirts with the Cowboys logo never got out of the box.
"It's frustrating when your season is done, no matter when it is," Orton said. "You put a lot into it and it's just a disheartening way for us to go out."
December, 30, 2013
12/30/13
1:33
AM ET
ARLINGTON, Texas -- The
Dallas Cowboys
' defense finished the season ranked 27th against the run, 30th against the pass and last in total defense.
There were injuries, four games in which the opponent finished with more than 500 yards in total offense, four quarterbacks who threw for at least 400 yards -- and did we forget to tell you
Calvin Johnson
got 329 receiving yards and the
New Orleans Saints
set an NFL record with 40 first downs?

The man in charge of this defense, Monte Kiffin, does not want out. He wants to return.
"I don't plan on retiring, I want to keep on coaching. I really would," Kiffin said after his defense played hard, compiling five sacks and forcing one fumble in a
24-22 loss
to the
Philadelphia Eagles
on Sunday night. "It's no laughing matter, I'm proud to be a Cowboy. I'd like to get another shot next year, we'll see."
Cowboys owner/general manager Jerry Jones, who fired defensive coordinator Rob Ryan after just two seasons, said he will not just take into account what Kiffin did or didn't do this season.
Said Kiffin: "I'm I thinking about it? No, I'm really not. I can still coach, I just coach one game at a time. I just want to coach another game."
December, 29, 2013
12/29/13
11:29
PM ET
ARLINGTON, Texas -- A few thoughts on the
Dallas Cowboys
'
24-22 loss
against the
Philadelphia Eagles
.

What it means:
For the third straight year the Cowboys failed in their Week 17 bid to win the NFC East and claim a playoff spot. As a result, they finished 8-8 for the third straight year under Jason Garrett and will spend the offseason lamenting close losses against the
Denver Broncos
,
Detroit Lions
and
Green Bay Packers
, but should not neglect close wins that could have been losses to the
Minnesota Vikings
and
Washington Redskins
.
The effort was fine. The Cowboys simply lost. The Eagles made more plays when it mattered most, with
Brandon Boykin
sealing the game for Philadelphia with a pick of
Kyle Orton
with 1:43 remaining. It was a horrible ending for Orton, who finished with 358 yards passing and had the Cowboys in position to do what few thought was possible. The Cowboys had a chance for the game-winning drive, but like last year at Washington with
Tony Romo
as quarterback, their fate was sealed by an interception.
Stock watch:
Jason Witten
, rising. He did what he could to keep the Cowboys in the game. He finished with a season-high 12 catches for 135 yards. He was a difficult matchup all night for the Philadelphia defense, but it wasn't enough.
Poor situational football:
Garrett preaches the importance of situational football, but it has been something that has plagued this team for years under his tutelage.
Third-down offense was an issue for the entire season and it was an issue Sunday. The Cowboys converted on just three of 11 tries.
They also had to settle for field goals on their first two drives of the second half with the defense rising up. The second
Dan Bailey
kick was the killer because the drive started at the Philadelphia 20 after
DeMarcus Ware
recovered a
Nick Foles
fumble. The Cowboys gained only two yards before they called on Bailey. Two first-half turnovers were also costly with the Eagles turning them into 10 points.
On fourth-and-1 in the fourth quarter, Orton's pass to
DeMarco Murray
was knocked down by
Connor Barwin
. The Eagles responded with an 11-play drive that ended with
Bryce Brown
' 6-yard touchdown run and a 24-17 lead with 6:09 to play.
A failed two-point conversion kept the Eagles in front, and after Orton's second pick the Cowboys were done.
The return of Hatcher:
Maybe he felt like he was snubbed in the Pro Bowl voting, but defensive tackle
Jason Hatcher
had his best game in nearly two months. Hatcher had two sacks and forced a fumble. He was a nuisance all night for the Eagles' offensive line. He had not had a sack since Nov. 24 against the
New York Giants
. He had not had a two-sack game since that tilt as well. He finished the season with a career-high 11 sacks in what might be his final season with Dallas. He is an unrestricted free agent in March.
What's next:
The Cowboys can begin focusing on the draft and figuring out their salary-cap situation. They have plenty of decisions to make on players like Ware,
Miles Austin
and possibly even
Brandon Carr
. As far as the draft goes, the Cowboys need to find the defense help in all areas, but especially the defensive line.
December, 29, 2013
12/29/13
11:25
PM ET
ARLINGTON, Texas -- Quick thoughts on the
Philadelphia Eagles
'
24-22 victory
against the
Dallas Cowboys
Sunday night.

What it means:
Chip Kelly won the NFC East title in his first season as a head coach in the NFL despite a rough night on the sideline. The Eagles' defense bailed Kelly and his offense out, holding the Cowboys to one touchdown and three field goals. Linebacker
Connor Barwin
batted down a
Kyle Orton
pass on a crucial fourth-and-1 play in the fourth quarter to prevent Dallas from taking a late lead.
Brandon Boykin
intercepted a pass to seal the Eagles' win with 1:43 left. The victory gives the Eagles a 10-6 record -- six more wins than last year -- and a date next Saturday night with the
New Orleans Saints
in the first round of the playoffs.
Kendricks shows up:
Second-year linebacker
Mychal Kendricks
has shown flashes of excellence all season, often negated by some lapses. He was the Eagles' best defender all night. Kendricks forced a
DeMarco Murray
fumble after the Cowboys drove to the Philadelphia 25 on their first possession. He intercepted a pass to set up an Eagles touchdown just before halftime. Kendricks also made some big tackles to hold Murray and
Jason Witten
to little or no gain in key situations.
Head scratching:
Kelly couldn't resist trying another gimmick play with
Brad Smith
in the red zone. This time, on first-and-goal at the 6, Smith lined up wide left. He took a handoff from
Nick Foles
and rolled out to his right. He threw an incomplete pass to
Zach Ertz
in the end zone. Foles had to throw the ball away on second down, and hit
DeSean Jackson
for five yards on third. That set up the fourth-and-goal play. Kelly decided to go for it instead of kicking a field goal. Foles was stuffed on the keeper and Dallas had a huge shot of momentum.
Stock watch:
Falling: Nick Foles. It didn't tank completely, but Foles' stock fell within the game. In the first half, he was terrific, completing 12 of 16 passes for 197 yards and two touchdowns -- a passer rating of 155.5. In the second half, Dallas started getting pressure as Foles struggled to get rid of the ball. Foles was 3-of-8 for 41 yards and a passer rating of 54.7 in the third quarter. He was sacked twice in the quarter, fumbling the ball away on his own 20-yard line. It's the kind of mistake Foles had avoided all season. The defense held the Cowboys to a field goal to minimize the damage.
What's next:
The Eagles host the Saints (11-5) Saturday night at Lincoln Financial Field. The Saints are 3-5 on the road this season. The Eagles have won their past four home games after enduring a 10-game home losing streak. It will be Kelly's first NFL playoff game, although he does have plenty of experience coaching on Saturdays.
December, 29, 2013
12/29/13
7:45
PM ET
ARLINGTON, Texas -- Eagles safety
Earl Wolff
is inactive for Sunday night's showdown against the
Dallas Cowboys
.
Wolff missed four games after injuring his right knee in Green Bay Nov. 10. He returned for last week's game against Chicago but left after playing one series. Veteran
Patrick Chung
will start at safety in place of the rookie.
Backup safety
Colt Anderson
(hamstring) and backup center
Julian Vandervelde
, who were listed as out, were both inactive. Otherwise, it was the usual group: quarterback
Matt Barkley
, running back
Matthew Tucker
, offensive lineman
Dennis Kelly
and cornerback
Curtis Marsh
.
Offensive lineman
Matt Tobin
is active for the second time this season. He takes Vandervelde's spot on the 46-man roster, but would not play center if anything happened to starter
Jason Kelce
. That role would likely fall to left guard
Evan Mathis
.
As expected, Cowboys quarterback
Tony Romo
and inside linebacker
Sean Lee
are inactive. So is former Eagle
Ernie Sims
, which leaves Dallas even thinner at linebacker.
December, 29, 2013
12/29/13
7:35
PM ET
ARLINGTON, Texas -- Since he remains on the active roster,
Dallas Cowboys
quarterback
Tony Romo
is officially listed as inactive for tonight's game against the
Philadelphia Eagles
.
Romo had back surgery on Friday but the team did not make the formal move of placing him on injured reserve. If the Cowboys win tonight, then they will place Romo on IR and add a player to the active roster for the playoffs. If they had made the move already and gone with just 52 players on the active roster, they would have lost some practice squad players.
Joining Romo on the inactive list are:
B.W. Webb
,
Jakar Hamilton
,
Sean Lee
,
Ernie Sims
and
Darrion Weems
.
This is the first game Webb has been inactive all season, but he lost his playing time to
Sterling Moore
and the return of
Morris Claiborne
means the Cowboys do not need to carry five cornerbacks.

NFL SCOREBOARD
Thursday, 9/4
Sunday, 9/7
Monday, 9/8