NFL Nation:

2013 Week 17 SF at ARI
December, 29, 2013
12/29/13
11:41
PM ET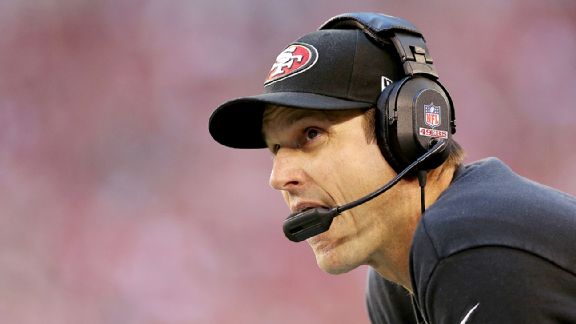 Christian Petersen/Getty ImagesJim Harbaugh's 49ers are the hottest team in the NFL, winners of 11 of their past 13 games.
GLENDALE, Ariz. --
San Francisco 49ers
coach Jim Harbaugh frantically sprinted down the sideline in the Sunday evening desert, trying to get one last timeout as the final seconds ticked toward overtime.
He was on the mission of a coach trying to save his season. Or at least the No. 5 seed in the playoffs.
It is Harbaugh's way to coach every game like it's his last. He has said it's a sin not to play like it's always on the line.
That's why his 49ers have to be considered one of the most dangerous teams in the NFL headed into the 12-franchise playoff tournament.
"Now, it's all about that gold ball," San Francisco fullback
Anthony Dixon
said. "That's what this team is playing for. We always have to win. That's our mindset. Losing doesn't help us much."
It can be argued that when
Phil Dawson
's 40-yard field goal attempt went through the uprights as time expired, the 49ers didn't do themselves any favors. Dawson's kick gave San Francisco a 23-20 win and secured the fifth seed in the NFC playoffs and a date at Green Bay in the wild-card round Sunday.
The Packers, who won in the final seconds over Chicago on Sunday, are going to be tough for anyone to beat at home with a healthy
Aaron Rodgers
, Green Bay weather and the aura of Lambeau Field. The suggestion was winning at either Philadelphia or Dallas next weekend would be easier.
The 49ers started the day eligible for the No. 1, No. 2, No. 5 or No. 6 seeds. The first two possibilities were out of their control and never materialized. The allure of being the No. 5 seed was having a better chance of not having to go to No. 1 seed Seattle until the NFC title game if No. 6 seed New Orleans wins at the NFC East winner.
Yes, the edge is minor, but the 49ers didn't seem to care. Losing is for losers.
"But that's not how we play," San Francisco cornerback
Carlos Rogers
said. "We know what our task is. We will go out and try to win anybody, win anywhere."
There is no team headed to the postseason hotter than the 49ers. They have won a league-best six straight games. The 49ers, who finished the regular season 12-4, have won 11 of their past 13 games. Their two losses during the stretch, to Carolina and New Orleans, were by a total of four points.
So while winning at Green Bay is no easy task, the 49ers approach the playoffs as one of the NFL's toughest tasks for opponents.
"We feel like we can play with anybody," Dixon said. "We are always confident we will win."
The 49ers frantically displayed their self-imposed mandate of never letting down Sunday. They roared to a 17-0 lead in the first quarter, but slowly let the Cardinals, who entered the game winners of seven of their previous eight games, back in the game.
[+] Enlarge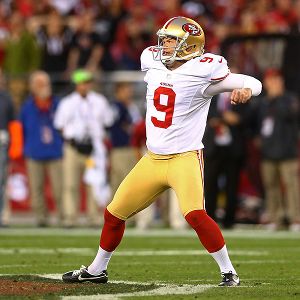 Mark J. Rebilas/USA TODAY SportsPhil Dawson made two fields within the last two minutes of the game, including a 56-yarder.
As the 49ers' offense went to sleep for eight drives, the Cardinals chipped away and tied it at 17 in the fourth quarter. The two teams traded field goals in the final two minutes.
The 49ers took possession at their own 36 (after a nice return by
LaMichael James
) with 25 seconds to go. Quarterback
Colin Kaepernick
then hit receivers
Anquan Boldin
and
Quinton Patton
for receptions of 18 and 29 yards. Patton, a fourth-round pick, made a tremendous sideline catch that inspired Harbaugh to run down field to call the timeout to set up Dawson's field goal.
"It was pretty exciting," said Dawson, whose two late field goals made up for a 24-yard miss at the end of the first half that halted his consecutive field goal streak at 27.
All for the fifth seed.
Now that the 49ers did all they could they are looking to start a new journey and do something they couldn't do last year -- win in February. The 49ers lost the Super Bowl to Baltimore. They were five yards from winning. It eats at this team.
"It's all about that big game," Dixon said. "We all want another shot at it. That big game still has left a nasty taste in our mouths. We all want it bad. This game was just a part of achieving that."
December, 29, 2013
12/29/13
11:30
PM ET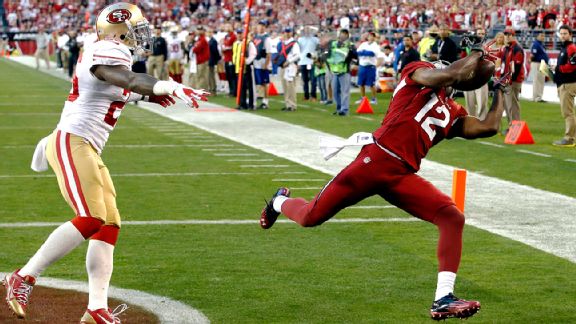 AP Photo/Ross D. FranklinAndre Roberts' 34-yard touchdown tied the score at 17 after the Cardinals trailed 17-0.
GLENDALE, Ariz. -- From the moment Arizona beat Seattle until kickoff Sunday, the Cardinals' season finale was built up to be a what-if kind of game.
What if the Cardinals beat the
San Francisco 49ers
?
What if, by some long shot, Tampa Bay went into New Orleans and pulled off an upset?
What if the miracle actually happened?
But none of that mattered by time the first quarter expired on Sunday. As they have for most of the season, the Cardinals came out slow and before they blinked, the 49ers built a 17-0 point lead. If anyone expected anything different from the Cardinals after last weekend's emotional win in Seattle, they haven't watched this team closely.
For as good as the defense has played all season and for as many times as they had saved games -- like it nearly did in Arizona's
23-20 loss
to the Niners -- Sunday wasn't going to be any different. It didn't matter if this was Arizona's biggest game since
Kurt Warner
last trotted onto the field at University of Phoenix Stadium in 2009. It didn't matter what was at stake. Arizona looked more like the team that struggled early in games than it did the one that finished the season 7-2.
"When we started slow we focused on what we had [to do]," center
Lyle Sendlein
said. "We knew coming in we didn't want to be saying, 'What if Tampa would've won and we didn't?' That's the taste we didn't want in our mouths. That's why our drive was strong today.
"We didn't want that feeling in case it did happen."
In a stroke of genius, the NFL flexed the New Orleans-Tampa Bay game to begin at the same time as Arizona-San Francisco. That way, neither the Cardinals nor the Niners would be playing with their postseason fate already decided.
It didn't matter, however. New Orleans smoked Tampa Bay 42-17 and ended Arizona's season by halftime.
None of the Cardinals said they snuck a look at the Saints-Bucs score. They were only concerned about trying to get themselves back in the game. With the playoffs out of the question, pride was on the line. And around the NFC West, pride and bragging rights are a close second.
"It didn't matter," Cardinals coach Bruce Arians said. "This is the only game that mattered at the time."
What Arizona could've done, however, was put themselves in the right position in case the right situation unfolded. But after quarterback
Carson Palmer
nearly threw an interception on Arizona's opening drive, the defense was forced to pick up the slack again. It stopped San Francisco on three straight plays from the Cardinals' 8, forcing the Niners to kick a field goal.
On the Cards next drive, Palmer threw his 22nd interception of the season, when he tried to force a pass to
Michael Floyd
, who was surrounded by about five Niners. San Francisco didn't waste any time, scoring in six plays to take a 10-0 lead. Arizona needed points on the next drive, but
Jay Feely
's 37-yard field goal attempt went wide right. The Niners went up 17-0 after a 63-yard pass from
Colin Kaepernick
to
Anquan Boldin
set up a 3-yard touchdown pass to
Vernon Davis
.
"They came out with a game plan, a lot of reverses, a lot of things early in the game to try to keep us off guard from stopping the run because they knew we would be very aggressive, and we were," Arians said. "Early turnover, missed field goals, we didn't play very well in the first half, but we kind of shot ourselves in the foot this ball game again.
"But, the no scoring opportunities hurt and [in] tight, tight games, always will."
But why should Sunday have been any different from the rest of the season?
While the offense was getting its motor running, the Cardinals' defense went to work. On the Niners' next eight drives, Arizona forced them to punt six times. San Francisco kicker
Phil Dawson
missed a field goal after Arizona held from its 3 and then the 6 on three straight plays. Then in the fourth quarter the Cardinals held on a fourth-and-1.
Before San Francisco knew it, Arizona had rattled off 17 straight points to tie the game, the last of which came on a 34-yard touchdown pass from Palmer to
Andre Roberts
along the left sideline of the end zone. Sound familiar? It looked eerily similar to the touchdown pass Palmer threw to Michael Floyd in Seattle.
By time Dawson gave San Francisco a 20-17 lead with 1:45 left in the game, Arizona knew the playoffs were nothing but a pipe dream. At that point it was all about pride.
While he had missed two field goals earlier in the game, Feely atoned by nailing a 43-yarder with 34 seconds left to tie the game at 23.
But Arizona's luck this season ran out when the officials ruled
LaMichael James
was down before the ball popped loose during the ensuing return. Dawson would eventually hit a 40-yard field goal as time expired to give San Francisco the win.
What started as a blowout finished as a nail-biter.
Arizona found itself where it wanted to. In a position to take care of its own business by beating a division rival. But as luck and a field goal would have it, neither happened.
And, as fate -- and the Saints -- had it, neither would've mattered.
December, 29, 2013
12/29/13
7:54
PM ET
GLENDALE, Ariz. -- Observations from the
San Francisco 49ers
'
23-20 victory
against the
Arizona Cardinals
on Sunday.

What it means:
The 49ers are the No. 5 seed in the NFC playoffs and will play at the No. 4 seed
Green Bay Packers
next week. The 49ers entered the game with a slim shot at having a bye and hosting a playoff game. That didn't happen. But the 49ers did what they had to do in a wild game -- they were leading 17-0 in the first quarter -- and kept the No. 5 seed. The 49ers are entering the playoffs as one of the NFL's hottest teams. They have won a league-high six straight games and they won 11 of their past 13 games. They finished the season 12-4.
Streak over:
49ers kicker
Phil Dawson
missed a 24-yard chip-shot at the end of the first half. It broke a streak of 27 straight successful field goal attempts, a franchise record.
However:
Dawson more than redeemed himself with a 56-yard field goal with 1:45 remaining to give the 49ers the lead, and then hit the game winner from 40 yards as time expired.
Goodbye Candlestick:
Candlestick Park is now history, unless the 49ers host the NFC title game against the No. 6 seed. That has never happened in the NFL since it adopted this format in 1990. Seattle won Sunday to claim the NFC West and the No. 1 seed. The 49ers will move into Levi's Stadium in Santa Clara next season.
Stock watch:
NaVorro Bowman
's defensive player of the year candidacy has only risen. He had an interception to set up a touchdown and forced a fumble, which he recovered. It was a nice response to his 89-yard pick-six to save the win last week against Atlanta. The inside linebacker has been special all season.
Big day for Boldin:
49ers receiver
Anquan Boldin
had nine catches for 145 yards against his former team. At one point, he had 106 of the 49ers' 109 receiving yards.
What's next:
A rematch of Week 1 against Green Bay, which the 49ers won in a wild home game.
December, 29, 2013
12/29/13
7:43
PM ET
GLENDALE, Ariz. -- A few thoughts on the
Arizona Cardinals
'
23-20 loss
to
San Francisco 49ers
.

What it means:
Not much changed throughout the season. Arizona showed Sunday it was still the team that liked to get down early, let its defense all but shut down the opposing offense and then, if it felt like it, the offense would come up with a big play to win. Arizona never gave up even as New Orleans was running over Tampa Bay, eliminating the Cardinals from the playoffs. There was more than that on the line in Glendale, especially against an NFC West foe that Arizona thought it should've beaten back in Week 6. The Cardinals also wanted to finish 11-5 to prove they were a playoff-caliber team.
Stock watch:
Michael Floyd
continued his tear despite shoulder and ankle injuries. He finished with 91 yards, topping 1,000 this season, on a variety of short passes as well as the deep ball he's become known for around Arizona.
Carson Palmer
tried to go to Floyd early but San Francisco was ready for him. Floyd should've come down with a few of those but his shoulder clearly limited him. When Arizona needed a spark, however, the Cardinals went to Floyd down the middle for a 44-yard pass.
No gain for RBs:
All week, the Cardinals' defensive line qualified any comment about being the No. 1-ranked rush defense by saying they hoped it'd continue against the Niners. Arizona held San Francisco's running backs --
Frank Gore
,
Kendall Hunter
and
Anthony Dixon
-- to 22 yards. A lack of a running game forced San Francisco to pass, which, in turn, allowed the Cardinals to go after
Colin Kaepernick
, who struggled on passes when he was chased. Every one of San Francisco's drives during the second and third quarters ended with either a punt, turnover on downs, or a missed field goal.
Slow start:
It plagued Arizona throughout the first half of the season, but anyone who watched this team -- and the team itself -- thought the first-half issues were, for the most part, solved. And they had been, until Sunday. The Cardinals allowed the Niners to score on their first three drives and went down 17-0 by the time the second quarter started. From there, Arizona simply couldn't recover.
What's next:
Arizona finishes with a 10-6 record.

NFL SCOREBOARD
Thursday, 8/21
Friday, 8/22
Saturday, 8/23
Sunday, 8/24
WEEKLY LEADERS