NFL Nation:

2013 Week 2 DAL at KAN
September, 15, 2013
9/15/13
8:43
PM ET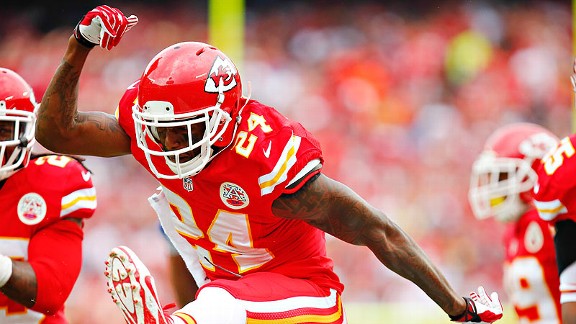 Kyle Rivas/Getty ImagesCornerback Brandon Flowers had 10 tackles Sunday in a win against the visiting Cowboys.
KANSAS CITY, Mo. --
Alex Smith
acknowledged he, like
Kansas City Chiefs
fans everywhere, was curious to see how he and his teammates would handle some adversity, not to mention an opponent on their own level.
Last week's game against the
Jaguars
in Jacksonville, Fla., dominated by Kansas City from start to finish, provided little drama and no clue as to the mental makeup of the Chiefs. So, yeah, Smith was eager to see how the Chiefs would respond when many things didn't go their way Sunday against the
Dallas Cowboys
.
"You've got to go through that," said Smith, the Chiefs quarterback. "You can't simulate that in practice. You can't simulate that anywhere else. You really have to experience that, situations like today. You've got to battle. You don't know what play it's going to be that makes a difference."
Down to down, it was a struggle for the Chiefs, but, remarkably, they were the ones who made the plays at crucial junctures during
the 17-16 victory over the Cowboys
. They won a game that they perhaps shouldn't have, beating a team that -- on this day at least -- was better than them.
But it's a win like this one -- earned more by grit than style -- that the Chiefs will remember if they make the playoffs and not necessarily a lopsided victory like last week's against the Jaguars.
"You need to win games like this," Smith said. "These are the games you look at when you get into November and December. You need [this] type of win. Not just against the caliber of team like that but the style of win. It's not always going to be pretty. It's going to be back and forth. You're going to make mistakes. The team that can find a way to kind of really bear down there in the fourth quarter …"
Smith, one of the many new guys in town, had no way of knowing this, but the Chiefs have rarely won games like this one in recent seasons. More often, they had to be the better team to come away with a victory, and, sometimes, even that wasn't enough.
The Chiefs found it impossible in the first quarter to cover Dallas wide receiver
Dez Bryant
, who, at that point, had five catches, 100 yards and a touchdown. Then, suddenly, they could cover him. Bryant had four receptions for 41 yards the rest of the way, and he dropped a pass in the fourth quarter that would have gone for a long gain.
The Cowboys had
Jamaal Charles
bottled up for most of four quarters (eight carries for 8 yards) until the Chiefs took over at their 16 with 3:48 left. Charles then had eight carries for 47 yards and chewed up all but 16 seconds, not enough time for Cowboys quarterback
Tony Romo
to lead Dallas into field goal range.
You think that's not difficult?
"That's a tough situation to be put in, that four-minute [offense]," Smith said. "They know we're running it. We know we're running it. The whole stadium knows we're running it. You've still got to get it done."
The Chiefs managed it and things like that happen only by getting dirty, by digging deep. The Chiefs kept trying to get in their own way. They downed a punt in the fourth quarter at the Dallas 1, but the first player to touch the ball came from out of bounds, giving Dallas the ball at the 20 instead.
Knile Davis
fumbled a kickoff return in the fourth quarter, though he pounced on it just before the Cowboys could get there. An
Eric Berry
interception, also in the fourth quarter, was wiped out by a defensive holding penalty.
Still, the Chiefs found a way.
"There were some ups and there were some downs, some things in crucial situations, those young-guy mistakes here and there," first-year Chiefs coach Andy Reid said. "The guys didn't let any of that get them down. The guys just kept pushing through.
"They fought. That's what they did. They kind of put everything else out of the picture and just fought. There are certain games where you just have to do that. They just kind of put their heads down and kept going. That might be what I'm proudest of. They didn't have those high highs or those low lows."
The Chiefs won't always get the fourth-quarter bounces or the breaks. They won't always win the close ones. But they know they have what it takes to survive in those kinds of situations. Don't underestimate how far that goes the next time the Chiefs play a game like this one, perhaps as soon as Thursday night against the
Eagles
in Philadelphia.
"We haven't been down this road [until Sunday]," Reid said. "We're experiencing it all together. That's how you come together as a team. You've got to go through these different experiences and just keep battling. Am I surprised? I'm not surprised because I've been around them. But you never know until you're there."
September, 15, 2013
9/15/13
7:10
PM ET
KANSAS CITY, Mo. -- The
Dallas Cowboys
didn't have any major injuries in the game against the
Kansas City Chiefs
. However, there was a scare late in the fourth quarter when defensive end
DeMarcus Ware
went down with a stinger to his left shoulder. Ware suffered the injury when he hit quarterback
Alex Smith
on a pass late in the fourth quarter.
Ware quickly left the field.
After the game, Ware described the shoulder as "shoulder stuff; I'm fine."
Ware didn't appear to have any problems moving his arm in the locker room after the game. In the offseason, Ware had surgery on his right shoulder.
Wide receiver
Dez Bryant
didn't appear to have any problems with his sprained left foot, though his back tightened up on him after the game. He received some medical treatment afterward and it doesn't appear to be any major concern.
Cornerback
Morris Claiborne
left the game briefly after slamming his left shoulder into Chiefs running back
Jamaal Charles
. Claiborne separated his shoulder in last week's victory over the
New York Giants
.
"I think he played hurt today and sucked it up," defensive coordinator Monte Kiffin said.
Cornerback
Orlando Scandrick
got some stitches in his chin after blocking a kick. Scandrick wasn't hurt on the play, but was while celebrating with safety
Will Allen
when they ran into each other after the play.
Also, running back
Lance Dunbar
(foot), defensive end
Anthony Spencer
(knee) and safety
Danny McCray
(hamstring) played without any issues. Spencer, normally a starter, rotated snaps at defensive end with
George Selvie
.
September, 15, 2013
9/15/13
5:39
PM ET
KANSAS CITY, Mo. --
Observed in the locker room after the Dallas Cowboys' 17-16 loss to the Kansas City Chiefs:
Same old Cowboys?
Cowboys owner and general manager Jerry Jones was not buying the "same old Cowboys," question from the media. For the second straight year the Cowboys could not follow up a season-opening win against the
New York Giants
with a win in Week 2. They lost at Seattle last season, 27-7. "Do I see similarities from last year?" Jones said. "No, I do not. I refute that."
Bryant
Key mistakes:
Dez Bryant
caught nine passes for 141 yards and a touchdown, but two plays hurt: a questionable pass-interference penalty in the second quarter that would have flipped field position, and a big drop of a deep ball from
Tony Romo
with the Chiefs leading 17-13 in the fourth quarter. But Bryant also played through a tight back that forced him to the sidelines on multiple occasions. He was unable to finish last season's season finale against the
Washington Redskins
with a back injury as well.
Romo's ribs not an issue:
Romo took a pain-killing injection before kickoff and said his bruised ribs did not affect him during the game. He completed only eight of 15 passes in the fourth quarter, but would not use the soreness as an excuse.
September, 15, 2013
9/15/13
4:24
PM ET
KANSAS CITY, Mo. -- A few thoughts on the
Kansas City Chiefs
'
17-16 victory
over the
Dallas Cowboys
:

What it means:
This was the kind of game the Chiefs might look back on at the end of the year as the point where their season turned. If nothing else, they have the experience of winning a game when not everything is working well. They were outplayed for much of the game but still found a way to survive. They were struggling to handle Dallas' pass rush, struggling to run the ball and struggling to cover
Dez Bryant
and the rest of
Tony Romo
's receivers. But they rallied from a 13-7 deficit in the third quarter.
Stock watch:
Cornerback
Brandon Flowers
was assigned to Bryant for much of the game, and he had a tough time. Early in the game, the 5-foot-9 Flowers had trouble covering the 6-2 Bryant down the field and allowed a couple of long gains. Later, he backed off and Bryant successfully made his way underneath. Bryant also dropped a pass that would have gone for a big gain. Rookie tackle
Eric Fisher
was among the offensive linemen who struggled with Dallas' pressure and also to create some room in the running game. Quarterback
Alex Smith
was among those who played well. He was under constant pressure but was able to improvise, often by scrambling from trouble for big yardage.
Red zone success:
The Chiefs scored a touchdown on each of their trips inside the Dallas 20. The Chiefs ran five plays from inside the Cowboys' 20 and gained 30 yards. The Chiefs were 3-for-3 inside the red zone in their opener against the Jaguars.
What's next:
The Chiefs head to Philadelphia for the Andy Reid Bowl, pitting their head coach against his successor, Chip Kelly, and the team he coached for the past 14 seasons. The game is on Thursday night, giving the Chiefs a very short week to prepare for the Eagles' fast-paced offense.
September, 15, 2013
9/15/13
4:14
PM ET
KANSAS CITY, Mo. -- A few thoughts on the
Dallas Cowboys
'
17-16 loss
to the
Kansas City Chiefs
.
What it means for the Cowboys:
For the fifth straight year, the Cowboys have started the season with a 1-1 record. They missed a tremendous chance to start 2-0 for the first time since 2008 because of a series of mistakes by the offense in the second half.

On their first drive of the third quarter, they got to the Chiefs' 4-yard line, but
Ronald Leary
had a false start on third down and they had to settle for
Dan Bailey
's field goal. The Cowboys' next two drives ended on fumbles by
Lance Dunbar
and
Tony Romo
. The fourth possession ended in a punt after
Dez Bryant
dropped a deep ball after getting by cornerback
Brandon Flowers
.
To close the game, the defense finally faltered as
Morris Claiborne
was flagged for pass interference on a third-down play that allowed Kansas City to hold the ball until only 16 seconds remained.

Stock watch:
Dunbar, falling. Dunbar's third-quarter fumble in Kansas City territory changed the complexion of the game. The Cowboys allowed a 40-yard field goal by
Ryan Succop
on the ensuing drive that gave the Chiefs a lead they would not give up.
Ware gets his:
Rod Marinelli left a cigar in
DeMarcus Ware
's locker after the Giants game -- as in, Ware was "close but no cigar" in his chase of
Eli Manning
. Ware came up with two sacks of
Alex Smith
on Sunday.
It is the 27th multi-sack game of Ware's career and his first since Week 2 last year at Seattle. A third sack was wiped out by a delay-of-game penalty, and Ware appeared to hurt his shoulder on the play.
Up the charts:
With a second-quarter catch for minus-2 yards,
Jason Witten
passed Hall of Famer
Shannon Sharpe
on the career list of catches by a tight end (Witten now has 817).
Witten will have a long way to go before catching the leader,
Tony Gonzalez
, who entered Sunday's game with 1,245 receptions.
Solid debuts:
Anthony Spencer
and
Brian Waters
made their season debuts against the Chiefs, which bodes well for a team in need of help along the offensive and defensive lines.
Spencer has practiced only twice since undergoing knee surgery on July 25, but he played well and brought pressure on Smith. Waters played two series in the first half in which the Cowboys had 10 of their 15 rushing yards in the first two quarters. He played two series in the second half, too.
What's next:
The Cowboys host St. Louis at AT&T Stadium, where they beat the
New York Giants
36-31 in the season opener. Dallas has never won the first two games of a season at the $1.2 billion stadium in Arlington.
NFL SCOREBOARD
Sunday, 2/2
WEEKLY LEADERS