NFL Nation:

2013 Week 3 BUF at NYJ
September, 23, 2013
Sep 23
12:40
AM ET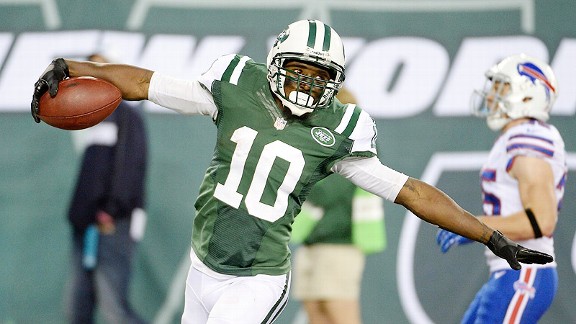 Robert Deutsch/USA TODAY SportsSantonio Holmes' 69-yard touchdown was the game's decisive score.
EAST RUTHERFORD, N.J. -- Instead of looking through rose-colored glasses, which many players do after an ugly win,
New York Jets
wide receiver
Santonio Holmes
wore orange-tinted contact lenses to his postgame news conference. Really, he did. It gave him a devil-eyes look, but he said the lenses eliminate the glare from TV lights.
The man knows how to deal with distractions. He was even better on the field, blocking out the ineptitude around him and rising up Sunday to score the game-winning touchdown in the Jets'
27-20
victory over the
Buffalo Bills
at MetLife Stadium.
On a day in which the Jets demonstrated a total lack of discipline, committing a franchise-record 20 penalties for 168 yards, Holmes, once regarded as the poster boy for bad behavior, was the epitome of fourth-quarter cool. How's that for irony? His 69-yard scoring reception with 9:23 remaining in the game culminated a five-catch game for a career-high 154 yards.
"He might have been the difference in the game," said Jets coach Rex Ryan, who contributed to the near-meltdown with a couple of questionable decisions.
This was an historically ugly win. The last time a team won a game with 20 penalties was the autumn of Bobby Thomson and Ralph Branca. Yep, it was 1951, when the
Cleveland Browns
beat the
Chicago Bears
with a blackjack day -- 21 penalties.
[+] Enlarge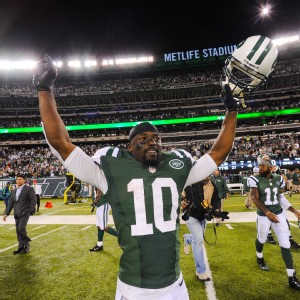 Ron Antonelli/Getty ImagesSantonio Holmes had reason to celebrate after a five-catch, 154-yard effort in a Jets victory.
The Jets almost busted with 20, blowing a 20-6 lead that seemed safe with a tenacious defense that gave rookie quarterback
EJ Manuel
a serious case of the yips. But they lost their minds with 15 penalties in the second half, including four on one drive by cornerback
Kyle Wilson
-- an embarrassing loss of poise that set up a game-tying touchdown for the Bills.
It was getting away from the Jets, just like it got away from the
Tampa Bay Buccaneers
in Week 1 on this same field. It was only a matter of time before someone became the Jets' version of
Lavonte David
, he of the last-minute bonehead penalty. Before that could happen, Holmes made it Tone Time.
Geno Smith
dropped back and launched a rocket. It came down like a feather, right on Holmes' left shoulder. He beat a fill-in cornerback named
Justin Rogers
, made the catch at the 35-yard line and ran in for the Jets' longest fourth-quarter (or overtime) touchdown pass since
Neil O'Donnell
hooked up with
Jeff Graham
for 78 yards in 1996.
Ah, yes, memories from a 1-15 season.
"The ball landed in the perfect place for me to get a chance to catch it," Holmes said. "The rest is in the history books."
It was significant for Holmes because it came one week shy of the one-year anniversary of his season-ending foot injury. It was a severe LisFranc injury, and it required two surgeries and several months of intense rehab. There was a lot of doubt as to whether he'd be ready for the opener.
Holmes made it back, but he was ordinary in the first two games, lacking his usual burst. After the Jets' six-drop debacle in Foxborough last week, the team needed a Holmes-ian performance to lift the maligned receiving corps.
"Kudos to him. He stood up for us in a big way," guard
Willie Colon
said of his former
Pittsburgh Steelers
teammate. "That's the Santonio I know. That's the only Santonio I know. He's a lot of things, but he's a gamer."
Holmes can be a diva, and he can be a malcontent, as he was in 2011. That year, he caused so many problems in the locker room -- as a captain, no less -- that Ryan abolished the practice of naming permanent captains.
He lost his "C," but the man still is an "A" performer in the fourth quarter.
"We all know -- every Jets fan knows -- what kind of player he is when he's healthy," Ryan said. "We're starting to see that now. He had a huge day."
Ryan should send Holmes a thank-you gift. If the Jets had lost, Ryan would be getting hammered for presiding over an undisciplined team. This was a carryover from the final seconds in New England, where they threw punches and bumped an official in a melee with the Patriots. This was like a bunch of unruly fourth-graders on the playground.
"We lost our composure," linebacker
David Harris
said. "You never want to have that many stupid mistakes. … It was ridiculous."
Ryan took the blame, saying, "It's on my shoulders." It was inexcusable. You expect growing pains from a rookie quarterback, but you don't expect the entire roster to behave like rookies. It will be hard enough to endure Smith's ups and downs, but they have no chance to win more than a few games if everybody else plays dumb football.
They should be thankful to be 2-1.
In the end, they avoided humiliation with a quick strike for the ages, the third-longest go-ahead touchdown in the fourth quarter in team history. Joe Namath hit Eddie Bell for 83 yards in 1972, and Matt Robinson found Wesley Walker for 75 yards in '78.
Now there's Smith to Holmes, 69 yards.
Afterward, the often sulky Holmes actually smiled a few times. He was asked to recall the last time he was this happy.
"I really don't know how to answer that question," he said. "I'm happy to be here. That's probably the most important thing, that I'm able to play this year."
September, 23, 2013
Sep 23
12:11
AM ET
EAST RUTHERFORD, N.J. -- Under the defensive-minded Rex Ryan, the
New York Jets
have not enjoyed too many days in which they resembled an explosive offense. But it happened Sunday, as they produced 513 total yards, the most ever in 67 regular season games under Ryan.
It was their first 500-yard day since the 2000 season finale in Baltimore.
And it came against Ryan's former protege, Bills defensive coordinator Mike Pettine. Afterward, Ryan didn't do any gloating.
"It's just the way it works," Ryan said. "Mike is a heck of a football coach and sometimes those things happen. You give up big plays and that number happens. Obviously, I'd much rather be on this end than that end."
Told it was the most total offense he's had as the coach of the Jets, Ryan laughed and said, "Well, don't give me credit."
Coordinator Marty Mornhinweg called an aggressive game, attacking downfield. The Jets had four pass plays of 40 yards or more, only one shy of their 2012 total. They exploited a secondary that began the day without two starters, and lost cornerback
Leodis McKelvin
during the game.
For those obsessed with Mornhinweg's run-pass ratio, the Jets had 41 runs and 29 passes. The Jets had a 300-yard passer, a 100-yarder rusher (
Bilal Powell
) and two 100-yard receivers (
Santonio Holmes
and
Stephen Hill
) for the first time since 2006.
The offensive line did a fantastic job, not allowing a single sack. Defensive end
Mario Williams
, who set a team record with 4 1/2 sacks last week, was held to one solo tackle. The Bills began the day tied for the league lead with nine sacks.
September, 22, 2013
Sep 22
8:19
PM ET
EAST RUTHERFORD, N.J. -- A few thoughts on the
New York Jets
'
27-20 victory
over the
Buffalo Bills
at MetLife Stadium:

What it means
: The Jets (2-1) are lucky because they played an embarrassingly sloppy game, setting a team record with 20 penalties for 168 yards. Cornerback
Kyle Wilson
lost his composure in spectacular fashion, committing three penalties on one drive. They blew a 20-6 lead and tried to give it away. In the end, the Jets overcame the penalties and questionable replay challenges by Rex Ryan. In between the flags, they played enough good offense and enough good defense to prevail over the Bills (1-2). The Jets managed a 300-yard passer (
Geno Smith
), a 100-yard rusher (
Bilal Powell
) and two 100-yard receivers (
Santonio Holmes
and
Stephen Hill
). They produced the most yards (513) in the Ryan era. The defense recorded eight sacks. Ryan should take this game tape and burn it. This marked the second straight game his team lost its poise.
Stock watch
: Smith outplayed
EJ Manuel
in the battle of rookie quarterbacks, but Smith was up and down. At times, he was fantastic, especially on deep throws -- 51- and 69-yard scoring passes. The Jets run a West Coast offense, but Marty Mornhinweg likes to incorporate a vertical element, and that was on display. On the downside, Smith suffered his third straight multiturnover day, this time with two interceptions. His total increased to six, way too many for the Jets to compete against the better teams in the league. But say this for Smith: He kept slinging, undaunted by the adversity. He rose up in the fourth quarter and made a great throw to Holmes for the game-winning score.
Revenge of the receivers
: The Jets' maligned receiving corps, which embarrassed itself last week with a six-drop nightmare, regained some dignity with a big game against the Bills' depleted secondary. History tells us the Bills are the ideal tonic for the Jets' ills (see last season's opener). Hill and Holmes combined for eight catches for 262 yards, including a 51-yard touchdown by Hill -- the first scoring reception by a Jets wideout in 270 pass attempts, dating to last Nov. 18.
Teacher schools pupil
: The Jets executed Ryan's defense a whole lot better than the Bills ran their version of the system under former Ryan protege Mike Pettine. Constantly battling poor field position, the Jets defense neutralized the Bills' playmakers. Running back
C.J. Spiller
and receiver
Stevie Johnson
combined for only 87 yards. Ryan mixed pressure and coverage, which confused Manuel, who was sacked eight times and was out of sync all day. Spiller left with an injury.
What's next
: The Jets hit the road to face the
Tennessee Titans
(2-1) at the scene of last season's Monday night meltdown that resulted in
Mark Sanchez
's benching.
NFL SCOREBOARD
Thursday, 12/12
Sunday, 12/15
Monday, 12/16