NFL Nation:

2013 Week 3 JAC at SEA
September, 23, 2013
9/23/13
12:30
AM ET
SEATTLE --
Jacksonville Jaguars
coach Gus Bradley said his team has to find out what it does well offensively and concentrate on that in order to improve.
Right now, it's not much.
It's understandable that the passing game is struggling considering two of the top playmakers -- tight end
Marcedes Lewis
and receiver
Justin Blackmon
-- have yet to play this season. But the fact the running game struggling is surprising.
[+] Enlarge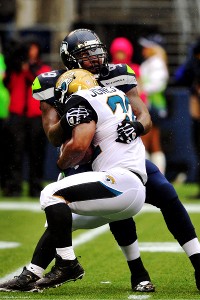 Steve Dykes/Getty ImagesMaurice Jones-Drew and the Jaguars' running game have struggled to get going.
The Jaguars are averaging just 2.4 yards per carry and have rushed for only 156 yards in three games.
Maurice Jones-Drew
, the NFL's leading rusher in 2011 (1,606 yards), has 115 yards on 44 carries.
Part of that is because the team has fallen behind and has had to pretty much abandon the run to try and catch up. But it's also because of the struggles of the interior of the offensive line. Guards
Uche Nwaneri
and
Will Rackley
and center
Brad Meester
have not gotten the push they did two years ago.
The solution, Bradley said after Sunday's
45-17 loss
at Seattle, might be to change the way the team blocks. Instead of the zone-blocking scheme installed this year by offensive coordinator Jedd Fisch and offensive-line coach George Yarno, the Jaguars could switch to a man-blocking scheme.
"We saw some gap schemes open up that we executed [against Seattle]," Bradley said. "But again, we have to go back and find out who we are. Are we a better gap team than a zone team right now? It doesn't matter where we want to go. It's what best fits the personnel we have at this stage."
A zone-blocking scheme requires that offensive linemen create movement along the defensive line rather than opening a specific hole. In a man-blocking scheme, players are assigned certain defenders according to the play called and defensive adjustments, and the running back is assigned to hit a particular gap.
The Jaguars are apparently having trouble adjusting – and not just along the offensive line.
"Obviously we want to be a zone team and that's new for everybody," Jones-Drew said. "The first week I didn't do well with it and they were doing a very good job. So we just have to keep working on it. We'll figure it out."
The ground game has been hampered by knee injuries to Rackley and Nwaneri. Jones-Drew left last week's game with an ankle injury and was questionable for the Seahawks game. He tested the ankle in pregame warm-ups and was cleared. He ended up with 43 yards on 19 carries. His longest run was 8 yards.
Bradley didn't say the Jaguars were definitely going to scrap the zone-blocking scheme they have worked on since minicamps and OTAs in the spring. But it's something he will examine, because the offense has to improve, and that starts with the running game.
Jones-Drew is the team's best player and he's averaging just 2.6 yards per carry. That's resulting in a lot of third-and-long situations, which is allowing opposing defenses to tee off in the pass rush. And since teams are rolling coverage toward wide receiver
Cecil Shorts
, the quarterbacks are trying to make plays by throwing to rookie
Ace Sanders
, first-year player
Jeremy Ebert
and a group of tight ends that includes two waiver-wire pickups (
Clay Harbor
and
D.J. Williams
) and
Allen Reisner
, who has played in just 13 games.
That's not working. The Jaguars have to find something that will.
September, 22, 2013
9/22/13
11:40
PM ET
SEATTLE -- Three games into the season and the
Seattle Seahawks
have a two-game lead over the field in the NFC West. And that includes the
San Francisco 49ers
.
The 49ers now have lost two in a row, first 29-3 at Seattle before a surprising 27-7 defeat Sunday at home against the
Indianapolis Colts
.

That's a little bonus none of the Seahawks expected after their
45-17 victory
over the
Jacksonville Jaguars
to go 3-0.
"Yeah, I saw where my man Andrew [Luck, Colts quarterback] helped us out today," said Seattle receiver
Doug Baldwin
. "I'm very excited about that. It's good for us."
Baldwin played with Luck at Stanford, but the Seahawks will face Luck and the Colts in two weeks at Indianapolis.
For now, it's nice to have a two-game cushion over the other three teams in the division, the
St. Louis Rams
, the
Arizona Cardinals
and the 49ers, all of whom are 1-2.
"It's a big day for us with the other teams struggling," said Seahawks coach Pete Carroll. "I'm glad we could take advantage of the opportunity."
The players didn't want to make too big a deal out of their 2-game lead.
"It's good for us, but we have a lot of games to play," said quarterback
Russell Wilson
. "The biggest thing for us is to focus on playing our best football every game. We have to focus on a championship mentality no matter what."
Even cornerback
Richard Sherman
wouldn't take the bait to rip on the 49ers.
"It's early and anything can happen," Sherman said. "It's always about what you do in November and December that counts."
September, 22, 2013
9/22/13
10:30
PM ET
SEATTLE -- Check every goal off the list.
The
Seattle Seahawks
entered Sunday's game against the
Jacksonville Jaguars
with some specific goals. When it ended with a 45-17 victory, the Seahawks had accomplished each task:
No letdown: check.
Fewer penalties: check.
No trap game against a lesser opponent: check
Get the passing game in gear: double check.
Despite entering the game 2-0, the offense struggled in the first half of both games with careless penalties and problems in the passing game overall.
Not this time.
Russell Wilson
threw for four touchdowns, including three in the first half. Backup quarterback
Tarvaris Jackson
had one touchdown throwing and one running. Together they combined for 331 yards and five touchdown passes, completing 21 of 29 throws for a 135.2 quarterback rating between them.
"I thought Russell played great," said Seahawks coach Pete Carroll. "He was all over the place making great plays and throws. And I thought T-Jack played lights out. He did everything just right. He handled himself beautifully."
Tight end
Zach Miller
and wide receiver
Sidney Rice
had two touchdowns each. Both Miller touchdowns came off play-action fakes that left him open in the end zone.
One Rice score came when it appeared Wilson threw the ball up for grabs, but that's what Rice wanted him to do on the 23-yard play.
"I rolled out and Sidney pointed to me to throw it up,'' Wilson said. "So I thought, 'You know what? Here ya go.' You have to trust your guys."
Rice made a leaping catch in front of two Jacksonville defenders.
"I saw the ball thrown so I went to attack it," Rice said. "We take advantage of the opportunities that come our way."
Doug Baldwin
did the same thing on his 35-yard touchdown grab down the sideline when he got a signal from Jackson.
"T-Jack came to the line and gave me a little smile," Baldwin said. "I knew the ball was coming my way."
Part of the improvement Sunday was the fact that the Seahawks did not stop themselves with penalties, a big problem in the first two games. Seattle had only four penalties for 24 yards.
"That's a big move up for us," Carroll said. "I'm glad we could make that such an emphasis this week [at practice] and see a real change."
And there was no letdown coming off the emotional 29-3 victory over the
San Francisco 49ers
last week.
"We talked about that early in the week," Baldwin said. "We addressed it by saying we were not going to waste this opportunity [to be 3-0]. For us, every game is a championship opportunity. We weren't going to let it slip away."
The Seahawks also didn't fall into the so-called "trap game." Seattle was a 19½-point favorite over the Jaguars. It would have been easy to look ahead to the game next week in Houston against the Texans.
"Those guys on the other sideline are an NFL team just like us," said cornerback
Brandon Browner
, who played for the first time this season after being out with a hamstring injury. "We talk about never overlooking any team. We looked at them just like we did San Francisco."
Seattle checked everything off the list and won the game they were supposed to win against an overmatched opponent. But it's the way they did it that mattered the most to the players.
''That's the way we need to play football," Wilson said. "We didn't have crazy penalties and we executed when we needed to. When we do that, we're hard to stop."
September, 22, 2013
9/22/13
9:23
PM ET
SEATTLE -- Observed in the locker room after the
Seattle Seahawks
'
45-17 victory
over the
Jacksonville Jaguars
:
What letdown?
The players had a lot of I-told-you-so looks over not having any letdown after the emotional victory over San Francisco last weekend and not falling into the so-called trap game against the lowly Jaguars. "We talked about it early in the week," receiver
Doug Baldwin said
. "We addressed and said we weren't going to waste this opportunity."

Rice
Just throw it:
The communication between quarterback and receiver was a factor in two Seattle touchdowns.
Russell Wilson
said
Sidney Rice
signaled for him to just put it up when it appeared Rice was well covered in the end zone, and Rice leaped and made the grab. Baldwin said quarterback
Tarvaris Jackson
gave him a "little smile," letting Baldwin know he was going to lob it up down the sideline and let Baldwin make a play, which he did for a 35-yard touchdown.
Touchdowns for the twins:
Tight end
Zach Miller
was beaming about what his two touchdown catches meant to him the day he brought twin baby daughters, Remi and Kaydence, on the field. "I got one for each of them," Miller said. "I had them on the field before the game, so now I guess I have to bring them on the field before every game."
September, 22, 2013
9/22/13
9:15
PM ET
Observed in the locker room after the
Jacksonville Jaguars
'
45-17 loss
to the
Seattle Seahawks
.
Shorts
Shortage:
For the second time this season, receiver
Cecil Shorts
didn't touch the ball until the game was well in hand. Shorts didn't make his first catch until inside the two-minute warning of the second quarter with the Seahawks ahead 17-0. In the Jaguars' season-opening loss to Kansas City, Shorts didn't catch his first pass until the fourth quarter. "That's not my position to talk," Shorts said. "I go out there and run what the play is called. That's just how it played out, I guess."
Calmer Jones-Drew:
In the days after the Jaguars' 41-0 loss in Seattle in 2009,
Maurice Jones-Drew
ripped the play calling and lack of offensive identity. He was much calmer after Sunday's game despite the team having some of the same issues. "I kind of went crazy," he said. "That can be something that ripples through the team, so we just want to stay positive."
Muddy waters:
Jaguars coach Gus Bradley said he's not sure if the players completely understand the defensive principles the staff is trying to teach. The blame for that is shared by the coaches, he said.
September, 22, 2013
9/22/13
8:33
PM ET
SEATTLE -- It was already not an ideal situation in the secondary for the
Jacksonville Jaguars
. But it got much worse -- and there was nothing the team could do but suffer through it.
One starting cornerback (
Dwayne Gratz
) was already out with a high ankle sprain. Then the other starter,
Alan Ball
, was ruled out in pre-game warm-ups because of a groin injury.
[+] Enlarge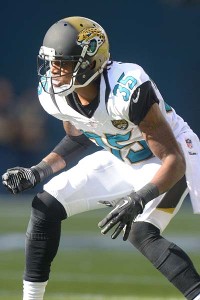 Kirby Lee/USA TODAY SportsStarting in his first NFL game, rookie cornerback Demetrius McCray had seven tackles in the Jaguars' Week 3 loss at Seattle.
Starting safety
Dwight Lowery
-- the team's most experienced defensive back -- left the game with a head injury in the first quarter. That left the Jaguars with three rookies and a waiver-wire pickup in the defensive backfield.
So it wasn't surprising that Seattle quarterbacks
Russell Wilson
and
Tarvaris Jackson
combined to throw for 323 yards and five touchdowns in a 45-17 victory or that outside receivers
Sidney Rice
and
Golden Tate
combined to catch 10 passes for 167 yards and two touchdowns.
"In this style of defense you have to be able to play on the perimeter and be able to handle those shots that they took," Jaguars coach Gus Bradley said. "There's some inexperience back there and they'll grow from what they had happen to them today."
It certainly wasn't pretty, especially for corner
Demetrius McCray
. The Seahawks obviously targeted the Jaguars' seventh-round draft pick early and often. He made a nice play on the first deep ball Wilson threw to Tate down the sideline, but he struggled after that.
It wasn't surprising that he'd have trouble against veteran receivers or that the Seahawks would keep going after him. The only thing quarterbacks like better than rookie cornerbacks are limping pass rushers.
"I kind of expected it," McCray said. "Being a rookie out there, a first-time starter, I kind of had it in the back of my mind.
"There's always going to be good and there's always going to be bad. You've just got to learn from it. I'm still young. I still can learn from it. That's the positive, because I can still learn from this game."
Lowery is in his sixth season. His replacement was
Josh Evans
, the Jaguars' sixth-round draft pick. He had played mainly on special teams until Sunday. His inexperienced showed, particularly on Rice's second touchdown catch.
Evans drifted back in coverage into the end zone and Wilson fired a pass straight at him -- in fact, replays showed Wilson reacted as if he had made a mistake by throwing the ball -- and Evans put up his hands for an easy interception. He didn't attack the ball, though, which allowed Rice to slide in front of him for a 23-yard touchdown.
Bradley said he needed to be more aggressive going after the ball at this level than he did at Florida.
"You get put in there and you learn new things," Evans said. "That's something that you take back and study and work on how you could make it better. I should have attacked it instead of waiting for it to drop but he made a great play on the ball and I moved on and played the next play."
The Jaguars became even more short-handed when defensive back
Will Blackmon
, whom the team signed on Aug. 28, left the game in the fourth quarter with a head injury. That put second-year pro
Mike Harris
on the field.
It wasn't all bad from the rookies, though. Safety
John Cyprien
, the team's second-round draft pick, sacked Wilson on a blitz and forced a fumble the Jaguars recovered.
But he was inconsistent, too, which is what you expect from rookies. The problem is with having too many of them on the field in the secondary at one time. You can overcome that along the defensive line and at linebacker because there are players behind them to cover their mistakes. That's not the case in the secondary and that's what burned the Jaguars on Sunday.
"We like our youth," Bradley said. "We like their speed. But their inexperience at times comes back and at critical times can bite us."
Which it did Sunday. Over and over again.
September, 22, 2013
9/22/13
7:39
PM ET
SEATTLE -- A few thoughts on the
Seattle Seahawks
'
45-17 victory
over the
Jacksonville Jaguars
Sunday at CenturyLink Field:

What it means for the Seahawks:
So much for the letdown after the 29-3 victory over the
San Francisco 49ers
. This was no trap game. Seattle controlled things from start to finish to improve to 3-0 against an awful Jacksonville team. And the Seahawks now have a two-game lead over the 49ers in the NFC West after San Francisco's loss to Indianapolis Sunday.
Stock watch:
Defensive tackle
Michael Bennett
, an offseason free-agent acquisition by Seattle, has been the team's best defensive lineman in the first three games. He had two sacks Sunday but did get flagged once for roughing the passer.
Chris Clemons
looked good in his return to the field. Middle linebacker
Bobby Wagner
made an outstanding athletic play with a diving interception off a tipped ball that ended the Jaguars' only scoring threat in the first half when the outcome was still in doubt.
Passing game comes to life:
Five of six Seahawks touchdowns came through the air, a major improvement over the first two games.
Russell Wilson
was 14-of-21 for 202 yards and four touchdowns for a 117.5 quarterback rating, which would have been better except for one interception in the third quarter before he left the game. Backup quarterback
Tarvaris Jackson
also had a big game with two touchdowns, one throwing and one running.
Playing time for the backups:
The one-sided game meant the Seahawks got a lot of playing time for the reserves, including both rookie offensive tackles:
Michael Bowie
and
Alvin Bailey
. Rookie running back
Christine Michael
also got his first action of the season.
What's next:
The Seahawks travel to Houston to play the
Texans
at Reliant Stadium, which, no doubt, will be a much tougher test than the Jaguars were Sunday.
September, 22, 2013
9/22/13
7:39
PM ET
SEATTLE -- A few thoughts on the
Jacksonville Jaguars
' 45-17
loss
to the
Seattle Seahawks
:

What it means:
This was another dismal offensive performance for the Jaguars. Granted, it came against the league's best defense, but the Jaguars never gave themselves a chance. They turned it over three times -- including once when
Chad Henne
's pass bounced off center
Brad Meester
's helmet -- and managed just 52 yards and four first downs in the first half. The offensive line continues to be pushed around, and the receivers, other than
Cecil Shorts
, are not able to get separation. It is probably a little unfair to pile on the lack of production in the passing game considering Henne is throwing to guys named
Allen Reisner
,
Clay Harbor
,
Ace Sanders
and
Stephen Burton
. That's not exactly a formidable list. Things should get a little better in the next few weeks because
Marcedes Lewis
(calf) should return next Sunday and
Justin Blackmon
will finish his four-game suspension and return in two weeks.
Stock watch:
By the middle of the first quarter, the Jaguars secondary was comprised of three rookies -- safety
Johnathan Cyprien
, cornerback
Demetrius McCray
and safety
Josh Evans
-- after safety
Dwight Lowery
left the game with a head injury and did not return. That was a huge blow because he was the most experienced player in the secondary. The Seahawks took advantage by picking on McCray, a seventh-round pick forced to start because of
Alan Ball
's groin injury.
Golden Tate
and
Sidney Rice
combined to catch 10 passes for 187 yards, and
Russell Wilson
and
Tarvaris Jackson
combined to throw five touchdown passes. Evans got burned on one because he stood waiting for the ball instead of going to get it and Rice slid in front of him to make the catch. Cyprien did force a fumble for the second consecutive week.
Unloaded weapon:
The Jaguars had hoped to get
Denard Robinson
more involved on offense today. He carried once for minus-2 yards and also fumbled when he tried to pull the ball out of Sanders' stomach on a read-option play. That is an inexcusable turnover, especially since Robinson ran the read-option countless times in his career at Michigan.
What's next:
The Jaguars play host to Indianapolis and the Seahawks play at Houston next Sunday.
NFL SCOREBOARD
Thursday, 11/27
Sunday, 11/30
Monday, 12/1