NFL Nation:

2013 Week 3 TAM at NWE
September, 22, 2013
9/22/13
8:45
PM ET
FOXBOROUGH, Mass. -- The
New England Patriots
altered their defensive strategy in Sunday's
23-3 victory
over the visiting
Tampa Bay Buccaneers
, turning to an outside-the-norm game plan that highlighted the value of a clear-cut No. 1 cornerback coupled with some coaching creativity.
It started early in the week when defensive coordinator Matt Patricia pointed in
Aqib Talib
's direction and told him that dangerous Buccaneers receiver
Vincent Jackson
was all his.
"That's what Matty P said -- that was going to be my task this week," Talib relayed after the game, saying he buried himself in tape of Jackson over the last seven days. "That's love. That's what you want to hear. My coach tells me to go get their No. 1 target; I take pride in that kind of stuff."
It's been a while since the Patriots had a cornerback capable of handling such a responsibility. With respect to
Asante Samuel
, who was a top playmaker, but not necessarily a man-to-man stopper, it's probably been since
Ty Law
was patrolling the New England secondary (1995-2004) that coaches could employ such a plan with confidence.
[+] Enlarge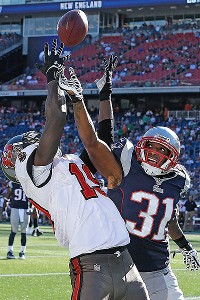 Jim Rogash/Getty ImagesAqib Talib is proving to be a shutdown corner, as the Buccaneers found out.
So it's not overstating things to say Talib has been a big-time difference maker for the Patriots since he was acquired from the Buccaneers last November.
"It's great. Being able to put him on [Jackson] and know he's going to be able to handle him pretty well is definitely a big thing and a big addition for our defense," veteran safety
Steve Gregory
said.
That was the first part of the Patriots' plan on Sunday, with Jackson totaling three catches for 34 yards before leaving in the second half with injured ribs. The second part, and this is where the creativity came into play, was how the defense matched up against the Buccaneers' three-receiver package.
Most weeks, the Patriots will be in their nickel defense (five defensive backs) against the three-receiver package, which lightens the box against the run but adds help in the passing game. On Sunday, the Patriots switched things up by subbing out Gregory at safety for a third cornerback (
Alfonzo Dennard
), while keeping their front seven intact.
That gave them a little more of a coverage element in the secondary without adding an extra defensive back, but kept them sturdy in the box against slippery
Doug Martin
(20 carries, 88 yards) and the Buccaneers' running game.
"Those are two premier players in this league and you need to understand where they are on the field and be able to contain them if you want to beat a team like that," Gregory explained. "It starts with stopping the run. We were able to execute our game plan pretty well today and limit those guys with what they could do."
The Patriots' defensive work included three stops on fourth down (two of which turned into touchdowns and one into a field goal), a Talib interception that set up an end-of-the-first-half 53-yard field goal, and two stops inside the 20-yard line. So while the Buccaneers chewed up yards at times, the Patriots won the critical situations. Some ineptitude by the Buccaneers also helped the cause.
The performance capped a strong three-game stretch for the Patriots' defense, which has had to carry more of the slack than usual as the offense has struggled to shift into the high gear that New England fans have grown accustomed to seeing. At the same time, even players themselves seemed to realize that it's one thing to do it against the
Buffalo Bills
,
New York Jets
and Buccaneers, and another to do so against what is ahead.
Next up: The
Atlanta Falcons
on Sunday night.
"If we hold Atlanta to three points, we will have played a hell of a game," admitted veteran defensive tackle
Tommy Kelly
. "We're just going to try to keep those boys out of the end zone --
Julio Jones
,
Roddy White
, they're a lot to handle.
"If you can't get up to play against Atlanta -- hey, they're going to throw the ball, you're going to get a chance to hit the quarterback, as a D-lineman your eyes have to light up. I'm looking forward to it."
Maybe then Kelly will be more willing to declare this Patriots defense as one developing an attitude similar to the units that were big parts of three Super Bowl championships in 2001, 2003 and 2004.
For now, it's being viewed as a promising start, with Sunday showing the combination of a clear-cut No. 1 cornerback and some coaching creativity can be a winning formula when the team's own offense is still searching for its identity.
September, 22, 2013
9/22/13
6:20
PM ET
FOXBOROUGH, Mass. -- For the third time in as many weeks, the
New England Patriots
had a new leading rusher, as running back
LeGarrette Blount
paced the team with 65 yards on Sunday against his old team, the
Tampa Bay Buccaneers
.
"I thought all our backs ran well," Patriots coach Bill Belichick said. "
Brandon [Bolden
] did a good job for us but
Stevan [Ridley
] and LeGarrette, they all had some good runs, some key runs for us."
And while Blount's production was critical, the biggest spark was provided by the second-year back Bolden, playing for the first time this season and amassing 100 yards of total offense (51 rushing, 49 receiving) in a convincing
23-3 win
.
[+] Enlarge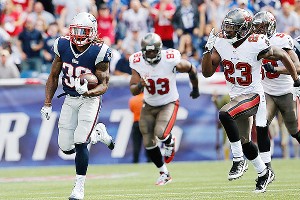 Jim Rogash/Getty ImagesBrandon Bolden couldn't go the distance, but did break free for 46 yards on a third-quarter run.
"Just missing the first few games, if that doesn't get you excited, I don't know what will," Bolden said of his return.
Bolden was the first back to have his number called, as he was on the field to start the game and finished with eight total touches.
He said following the game that he and his fellow running backs don't have a feel for how the Patriots' running back rotation will play out during the course of a game, and, interestingly, said they don't care.
"I can speak for Blount and Ridley. We don't care about that," Bolden said of the mix-and-match. "They call our name, they call our name; if they don't, they don't. But we're going to encourage that guy that does go in to go out there and make the best effort he can. And I think today you got the best effort from all three."
Ridley, who has been the bell-cow back for much of the past two seasons, was limited to just 35 yards on 11 carries. He's struggled out of the gate this season, registering a fumble in Week 1 and gaining just 3.4 yards per carry thus far.
And while a sluggish start for most team's lead back would be a major hindrance to an offense, the Patriots' depth has proved invaluable in the early going.
Bolden said that having three capable running backs stresses a defense.
"That's three different looks a defense has to deal with in the running game and also in the passing game, because all three of us can stay in there for third down, do blitz pick-up and all three of us can take it on first and second down," he said.
The Patriots already have been thinned at the position with third-year back
Shane Vereen
(wrist) on the injured reserve list with the designation to return (meaning he's out until Week 11), but Sunday was a reaffirmation that the team has power in numbers in the backfield.
Blount was called upon to bleed the clock late in the game, as he had a team-high 10 fourth-quarter carries.
He made the most of his expanded workload, as Blount bumped his season rushing average up from 2.36 to 3.96 yards per carry. His big-bodied frame helped wear down a tired Tampa Bay defense late in the game, likely a sweet escape for Blount facing his old teammates.
Ridley, at least for today, was the least effective of the group, as his touches didn't translate into production.
But in a way, that has defined what makes this Patriots rushing attack effective dating back to last season: the ability to spread the production out from one Sunday to the next.
And on this Sunday it was Bolden leading the way, putting together his most productive day since Week 4 of last season.
Truth be told, Bolden left yards on the field, as he had a 46-yard run -- a career-best -- that could have been even more had he not been caught from behind.
He said with a smile that that was exactly what was going through his head as his path cleared and he ran into open space.
"Don't get caught, but that didn't work for me unfortunately," he added. "But it was great, just to -- like I said, just to get back out and play with everybody."
How the Patriots split reps going forward remains to be seen -- Bolden's big day won't necessarily dictate how he is used a week from now -- but their spread-the-wealth mentality was on display again on Sunday, something this offense will continue to need as it finds its way through the early part of the season.
September, 22, 2013
9/22/13
6:10
PM ET
By
David Lefort
| ESPN.com
FOXBOROUGH, Mass. -- Situational football. It's a term you'll hear Bill Belichick and
Tom Brady
use often in their news conferences, and it was an area Sunday that best illustrated the differences between an elite team like the 3-0 New England Patriots and a struggling team like the 0-3 Tampa Bay Buccaneers.
That difference was most evident in a sequence just before halftime. With the Patriots inside the Bucs' 10-yard line and just under a minute before the end of the second quarter, the Bucs called a timeout, hoping to leave enough time on the clock after the Patriots scored to at least try to get into field goal territory.
Two plays later, the Patriots were in the end zone to go up 14-3.
Tampa Bay got the ball back and went to work, advancing to their own 31-yard line before calling their second timeout with 17 seconds left in the half. Bucs quarterback
Josh Freeman
targeted
Vincent Jackson
on his next pass near the right sideline, but Pats cornerback
Aqib Talib
dove in front of him for an interception.
[+] Enlarge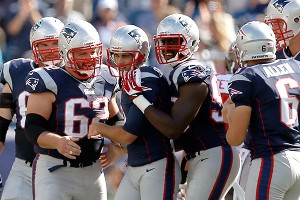 AP Photo/Elise AmendolaTeammates congratulate Stephen Gostkowski, center, after he drilled a 53-yard field goal right before the half.
That gave New England the ball at the Bucs' 43-yard line with 11 seconds to work with. Tom Brady connected with
Brandon Bolden
on a 3-yard pass and the Patriots called their second timeout with 6 seconds on the clock and the ball at the Tampa 40-yard line.
If they had stopped there,
Stephen Gostkowski
would have been stuck with a 58-yard field goal attempt, a bit out of his range. Instead, Brady on the next play kept the ball and rushed ahead behind his right guard, gaining another 5 yards for Gostkowski to work with and calling the team's last timeout with 3 seconds before the half.
"Obviously, what we were trying to do is get the ball as close as we could into field goal range," Belichick said after the game. "Where we had it there was on like the 40 or 41, it would have been 57-, 58-yard field goal with a strong crosswind. Each yard to get a little bit closer would increase our percentages on that. We only had, I think it was six seconds on the clock, so we didn't have a lot of time to run a play and call timeout, so we had to do something pretty direct, get as many yards as we could in a short amount of time and take a timeout."
On came Gostkowski, who nailed the 53-yard attempt to match his career high and send the Patriots in the locker room with a 17-3 lead. Had it gone the other way, the Bucs could have been within one score of the Pats and set to get the ball to start the third quarter.
"Coach always talks about those really important situational football plays that when you actually get a chance to finish the play, we finish the play," Brady said. "It was a great field goal attempt -- kick, blocking, snapping -- and a huge momentum play going in, with the interception, make two good positive plays and then a great kick to go into the half with three points.
Gostkowski, it should be noted, was 3-for-3 on field goal attempts Sunday and all five of his kickoffs were touchbacks. On the season, 14 of his 15 kickoffs have been touchbacks.
His 53-yarder and the plays that set it up were far from the only example of the Patriots winning the game of situational football (the Bucs were also 0-for-4 on fourth down and 0-for-2 in the red zone), but it was the one that sticks out the most.
"I thought our situational football was better: third down, red area, fourth down, kicking game," Belichick said. "I thought we made some improvement this week; that was good to see."
September, 22, 2013
9/22/13
6:05
PM ET
FOXBOROUGH, Mass. -- Observed in the locker room after the
New England Patriots
' 23-3
victory
over the
Tampa Bay Buccaneers
at Gillette Stadium on Sunday:
Talib's matchup with Jackson draws raves:
Cornerback
Aqib Talib
drew a big media crowd and talked about the coaching staff's plan to have him match up against Buccaneers receiver
Vincent Jackson
. "That's love. That's what you want to hear. I take pride in that kind of stuff," Talib said after limiting Jackson to 3 catches for 34 yards in the first half before Jackson left with a rib injury in the second half. Teammates took note that the performance came against Talib's former team. "Aqib came out and played with a chip today," safety
Devin McCourty
said.
Talib
Bolden the new face in the offensive backfield:
After missing the first two games of the season while recovering from a knee injury, running back
Brandon Bolden
made his debut and was on the field for 26 snaps (including penalties). Used as big part of a three-man rotation alongside
Stevan Ridley
and
LeGarrette Blount
, the second-year runner from Ole Miss was the final player to speak with reporters in the locker room as he was swarmed by a large crowd. "Just missing the first few games, if that doesn't get you excited, I don't know what will," he said of his return.
With kids at his side, Kelly looks ahead:
Veteran defensive tackle
Tommy Kelly
had his two sons, Tommy Jr. (8) and Jamison (5), by his side as he spoke with reporters. The Patriots' defense had three fourth-down stops in the game, and Kelly said when an offense goes for it on fourth down, it's almost like an insult to the defense. Then, without prompting, he looked ahead to next Sunday's game against the Falcons. "That's a big-time offense," he said. "They're going to throw the ball so as a defensive lineman, your eyes kind of light up.
Julio Jones
...
Roddy White
... they're a lot to handle."
September, 22, 2013
9/22/13
4:14
PM ET
FOXBOROUGH, Mass. -- A few thoughts on the
Tampa Bay Buccaneers
' 23-3
loss
to the
New England Patriots
on Sunday at Gillette Stadium.

What it means:
The Buccaneers are 0-3. If you thought the past two weeks were crazy around One Buccaneer Place, get ready for more of the same. Quarterback
Josh Freeman
is under the microscope and there is a lot of room to question coach Greg Schiano, who has lost eight of his past nine games, dating back to last season. This loss was much worse than the previous two, which came by a combined three points. This time the Bucs were blown out by a team that didn't have its full complement of receivers and tight ends. The Bucs have the look of a team in disarray, and it appears they're in for a long season.
History not on Bucs' side:
Of the teams to start 0-3 since 1990, only 3 percent have made the playoffs.
Stock watch:
Kicker
Rian Lindell
missed a 38-yard field goal attempt in the first quarter. That might have played a role in Schiano's decision to go for it, rather than attempt a long field goal, on fourth down later in the second half. I wouldn't be surprised if the Bucs look for a new kicker this week.
Stock watch II:
The Bucs had been holding a starting job as a carrot for defensive end
Da'Quan Bowers
. The coaches must have liked what they saw from Bowers in recent practices, because he got his first start of the season.
Talib's revenge:
New England cornerback (and former Buccaneer)
Aqib Talib
intercepted a Freeman pass with 47 seconds left in the first half, allowing the Patriots to kick a field goal to take a 17-3 lead into halftime.
Jackson out of action:
Wide receiver
Vincent Jackson
left the game with a rib injury in the third quarter and did not return.
What's next:
The Bucs host the
Arizona Cardinals
next Sunday.
September, 22, 2013
9/22/13
4:00
PM ET
FOXBOROUGH, Mass. -- Thoughts on the
New England Patriots
'
23-3 victory
over the
Tampa Bay Buccaneers
:

What it means:
The Patriots improve to 3-0 for the first time since their undefeated 2007 regular season. Some ineptitude from the Buccaneers helped their cause, but this was also a day in which the Patriots' defense continued to play well and the team's rookie receivers turned in their best game of the season.
Dobson and Thompkins bounce back:
After more than a week of talk about quarterback
Tom Brady
's on-field frustration with his young receivers, the kids responded well. Specifically, second-round pick
Aaron Dobson
rose up with a strong effort, after struggling to hold on to the ball last week, while
Kenbrell Thompkins
caught two touchdowns. There still figures to be growing pains ahead, but this was a step in the right direction for the Patriots' rookie pass-catchers. If anything, it was Brady himself who was a bit off in this game based on his usual standard.
Stock watch:
Rising -- cornerback
Aqib Talib
. Playing against his former team, he matched up against receiver
Vincent Jackson
in critical situations and also intercepted a
Josh Freeman
pass late in the second quarter to set up a 53-yard field goal as time expired in the first half. Talib now has three interceptions on the season.
Defense delivers:
For the third week in a row, the Patriots' defense has been tough to crack. The unit had three fourth-down stops against the Buccaneers, which were essentially three turnovers, and added the Talib interception. They came up with the key stop in a 23-21 season-opening win over the
Buffalo Bills
, then held down the
New York Jets
in a 13-10 victory on Sept. 12. As the offense still works to find a more consistent groove, the defense has picked up the slack in a big way.
Bolden's leading role in debut:
Second-year running back
Brandon Bolden
made his debut after missing the first two games with a knee injury and played more than 25 snaps as he was integrated into the mix alongside
Stevan Ridley
and
LeGarrette Blount
.
Injuries to monitor:
The Patriots played without tight end
Rob Gronkowski
(forearm/back), receiver
Danny Amendola
(groin) and special teams captain
Matthew Slater
(wrist); their status will be watched closely this week. Also, starting right tackle
Sebastian Vollmer
didn't play in the second half because of a foot injury.
What's next:
The Patriots visit the
Atlanta Falcons
on Sunday night.