NFL Nation:

2013 Week 4 MIA at NOR
October, 1, 2013
10/01/13
3:25
AM ET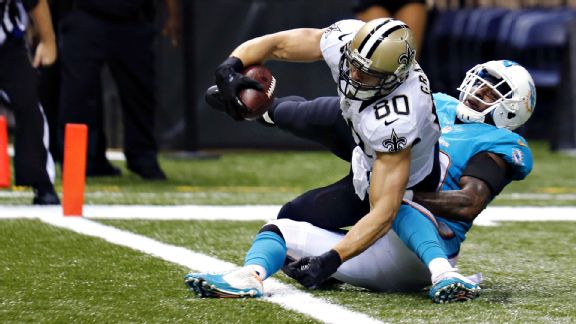 AP Photo/Bill HaberJimmy Graham had four catches for 100 yards and two touchdowns against Miami.
NEW ORLEANS -- For the first 21 minutes of Monday night's game, the
Miami Dolphins
did something that no other defense had been able to do against the
New Orleans Saints
all season. They contained tight end
Jimmy Graham
, holding him without a single catch.
The only problem? The Dolphins allowed Saints running back
Darren Sproles
to rack up more than 100 receiving yards during that span.
Then when Miami finally started focusing on Sproles, Graham wound up with 100 receiving yards of his own as the Saints' offense exploded in a
38-17 victory
inside the Mercedes-Benz Superdome.
Quarterback
Drew Brees
threw for 413 yards and four touchdowns, while the Saints moved to 4-0 on the season -- a far cry from their 0-4 start in 2012.
"Well, 0-4 to 4-0, this feels a lot better," Brees deadpanned afterward. "But still we haven't played our best football, and it feels good to say that. We left some opportunities out there tonight. We scored 38, but it should've been more."
Believe it or not, Brees is probably right. The Saints' passing offense is starting to show signs of finding the same rhythm it had in 2011, when Brees shattered Dan Marino's passing mark with 5,476 yards and 46 touchdown passes.
The Saints still need to find a running game; that has been practically nonexistent this year. But clearly they've rediscovered the nearly-indefensible combination of Graham and Sproles (not to mention receiver
Marques Colston
and several other weapons in their versatile attack).
"We tried a variety of different coverages. We tried zone. We tried man. We tried some pressures," Dolphins coach Joe Philbin said of the unique matchup problems the Saints present.
Sure, the Saints had those same weapons last year. But Graham and Sproles both battled injuries. And their symphony was missing its conductor.
When asked what's different now, Sproles didn't hesitate.
"Coach [Sean] Payton's back," he said.
And what specifically has Payton brought?
"He's a genius," Sproles said.
Sproles then expanded his answer to say that Payton is great at being able to move his pieces around and figure out where a defense is most vulnerable.
[+] Enlarge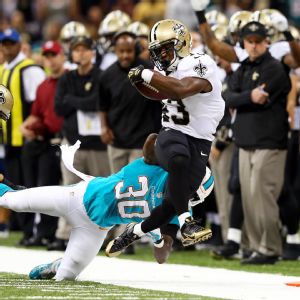 Chuck Cook/USA TODAY SportsDarren Sproles had seven catches for 117 yards and had two total touchdowns.
"He knows how to call the plays," Sproles said. "He knows what he's seeing."
Payton has been seeing even more opportunities to exploit defenses over his past two seasons as New Orleans coach.
The Saints' offense has been outstanding ever since Payton and Brees first arrived in 2006. But they became a whole different monster in 2011, when Graham and Sproles emerged as their two most dynamic weapons (Graham as a second-year player at the time, and Sproles as a free-agent acquisition from the
San Diego Chargers
).
Graham and Sproles create two of the most unique matchup challenges in the NFL. And they're downright deadly under the direction of Payton's scheming and Brees' on-field decision-making.
Graham said it's also made a big difference that Brees was around during the offseason. He was gone last summer while working out his new contract. Graham pointed out this is actually the first time in his career that he and Brees have been together for an entire offseason.
"And I feel like the first four games, it's showing," said Graham, who now has 458 receiving yards and six touchdowns through just four games.
"It feels great," Graham said after catching four passes for 100 yards and two scores on Monday night. "This offense is so dynamic, and in the first half [the Dolphins] were doing some things differently, especially when I was split out, with safeties and corners. And that leaves Sproles one-on-one. And he's terrifying from the backfield. He's just a dynamic player.
"And this team is so dynamic. We have so many weapons. And Drew knows exactly where to go with the ball. There's no hesitation in his game at all."
Case in point (A): On Brees' first touchdown pass to Graham in the second quarter, he fired the ball up high for Graham to go up and get it between three defenders for a 27-yard score. And when asked later if he was "surprised" Graham came down with it, Brees said, "No. We have pretty high expectations for ourselves. ... And there's certain places where I know I can put the ball where it's Jimmy or nobody."
Case in point (B): Sproles was actually Brees' third option on a 13-yard touchdown pass before halftime. But as Brees described it, "We had Jimmy and Marques running up on that side as well. So I think there was a lot of attention put on those guys, and Sproles just kind of snuck out to the sideline."
Obviously, it's not just a two-man show in New Orleans. As ESPN analyst KC Joyner said Monday night, Colston is an awfully dangerous "third" option in a passing attack. Colston also had zero catches in the first half before the Dolphins picked a different poison. And he wound up with seven catches for 96 yards in the second half.
Even more impressively, the Saints did this without injured receiver
Lance Moore
, who had a 1,000-yard season last year. Rookie receiver
Kenny Stills
caught four passes for 38 yards. Second-year pro
Nick Toon
caught his first NFL pass for 18 yards on a still-critical third-and-12 play in the first half. And veteran tight end
Benjamin Watson
caught his first touchdown pass as a Saint in the third quarter.
"You know, we move 'em around so much and we do so many different things with 'em that I think it's hard for defenses to get a key on exactly where they're gonna be," Brees said. "We've had a lot of time to practice it, so we'll continue to find ways to do that and keep defenses off balance."
The Saints offense just getting warmed up? A scary thought.
.
October, 1, 2013
10/01/13
2:31
AM ET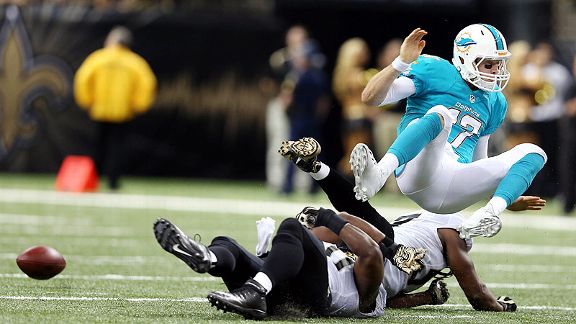 Chuck Cook/USA TODAY SportsRyan Tannehill's fumble was just one of four turnovers for the young quarterback.
NEW ORLEANS -- Some lessons can only be learned the hard way. For the
Miami Dolphins
, the harshest of NFL lessons came Monday against the undefeated
New Orleans Saints
.
The Saints and quarterback
Drew Brees
were the main performers and the Dolphins the obvious understudies. The stage was the rowdy Mercedes Benz Superdome, and the result was a
38-17 loss
for the Dolphins that can only be classified as a disaster on ESPN's "Monday Night Football."
Miami entered the game with a perfect record, but the Dolphins learned they are far from perfect.
There was not much the Dolphins did right in this game. And with each passing quarter, the gap between Miami and an elite title contender like New Orleans got wider and wider.
This loss was not a fluke -- it was an old-fashion beatdown. Miami's coaches and players know where they stand after this game and realize there is still plenty of work to do.
"You watched the game like everybody did -- and we played it," Dolphins cornerback
Brent Grimes
said. "We saw that they were the better team. They were a better team today."
The Dolphins thought they were ready for prime time after their 3-0 start. Miami has not played on Monday night since its 38-24 loss to the
New England Patriots
more than two years ago. This loss to New Orleans was worse. It was, by far, Miami's sloppiest performance of the season. They played careless football for four quarters with little attention to detail. Miami turned the football over four times.
The Dolphins did not look like the same efficient and effective football team that we saw during the first three weeks. Neither did
Ryan Tannehill
. Miami's second-year quarterback threw for 249 yards and one touchdown but had the third three-interception game of his career. Tannehill also had a big fumble in the first half that started Miami's downhill slide.
Tannehill's protection also was not very good. Once the Saints got the lead, they unleashed the pass rush on Miami's one-dimensional offense and recorded four sacks. Tannehill has been sacked 18 times, which is tied for the most of any NFL quarterback after four games this season. About the only thing Miami did well offensively was run the football. But that was rendered obsolete after the Dolphins fell behind big in the second half.
The Dolphins will only go as far as Tannehill's arm takes them. This was a good lesson for Miami's starting quarterback, who fell to 10-10 in his young career as a starter.
"It doesn't matter if we lose by one or we lose by whatever we lost by, it's still counts as a loss and nothing more," Tannehill said. "We're not happy with it. We need to correct the mistakes."
Miami's ability was tested on Monday. But next week is when we truly learn about the Dolphins' character.
Coming off a short week of preparation, Miami will host the defending Super Bowl champion
Baltimore Ravens
(2-2) at Sun Life Stadium. Not only are the Dolphins coming off their first loss, but they will be trying to recover from a three-touchdown pounding that could potentially shake their confidence. Miami has a much-needed bye the following week.
The Dolphins have a chance to go into the bye with a 4-1 record if they are able to quickly rebound from this embarrassing loss.
"I feel like we're going to learn and see about our character and what kind of guys we have in our locker room," Dolphins receiver
Mike Wallace
said. "I haven't been here long, but I feel like we have guys who are going to fight, we have guys who are going to compete and go back to work.
"I know tomorrow [Tuesday] when we get back to work, we're still going to compete like we're 4-0."
The Dolphins looked far from a 4-0 team Monday in New Orleans. But a 3-1 start in the first month of the season is pretty good for this young group, especially considering Miami's tough schedule.
Will the Dolphins bounce back?
"Honestly, I'm not [worried]," Grimes said. "It sucks. Nobody wants to lose like that. But I have full confidence in this locker room and this organization that can come back to the next game.
"We got a home [game], and just come back to playing Miami Dolphins-style football against the Ravens. That's what we're all thinking about right now."
Questions about the Dolphins might not linger if they had played a more competitive game. But being throttled by the Saints on national television shows there are a lot of flaws that need to be addressed.
"How you respond to the loss is more important than the loss," Dolphins right tackle
Tyson Clabo
said. "I think nobody is going to sit around feeling sorry for ourselves. We obviously have a lot of work to do."
October, 1, 2013
10/01/13
1:35
AM ET
NEW ORLEANS -- Observed in the locker room after the
New Orleans Saints
' 38-17
victory
over the
Miami Dolphins
:
Don't eat the cheese:
One of Sean Payton's favorite mantras was heard often from players this week: "Don't eat the cheese." In other words, don't fall into the trap of overconfidence. Clearly, it still applies -- at least with
Drew Brees
, who wasn't satisfied with his performance. Brees said the Saints' offense still missed too many opportunities and hasn't played its best game yet.
Lewis
Jersey swap:
A cool moment postgame when Saints cornerback
Keenan Lewis
and Dolphins receiver
Mike Wallace
swapped their game jerseys on the field as souvenirs. It was the first time these two lifelong friends from New Orleans played against each other as opponents.
Injury watch:
Lewis was in and out of the game with a leg strain but insisted it's nothing major. Meanwhile, receiver
Lance Moore
admitted it was tough to miss out on the offensive fireworks with a hand injury. He didn't specify how long he'll be out but said it just needs time to heal and hopes it's sooner rather than later.
Galette unimpressed:
The Saints torched Miami's offensive line with four second-half sacks. Then the onslaught continued postgame, with Saints linebacker
Junior Galette
's harsh words. "I wish we could play them again so I could tee off on them again," said the always-animated Galette, who said he was fired up because the Dolphins' linemen were talking trash even while they were down big. "I didn't think that team was as good as everybody was saying. ... I think we know who the real 3-0 team was."
October, 1, 2013
10/01/13
12:47
AM ET
NEW ORLEANS -- Observed in the locker room after the
Miami Dolphins
' 38-17
loss
to the
New Orleans Saints
:
Somber room:
It was the first loss for Miami (3-1), so this was as quiet as the locker room has been all season. This game wasn't a fluke. The Dolphins knew afterward they were beaten by a better team. Miami players and coaches admitted they were outplayed for four quarters.
Tannehill
Protection issues:
Miami's pass protection -- or lack thereof -- was a major topic during the postgame news conference and locker room interviews. Dolphins quarterback
Ryan Tannehill
was sacked four times. He continues to take a beating and is the most sacked quarterback in the NFL after four weeks with 18. Tannehill needs to stay upright and healthy if the Dolphins want to have a successful season. "We have to be better," Dolphins right tackle
Tyson Clabo
said. "Obviously, [Tannehill's] health is of the utmost importance to us."
Looking ahead:
Several players in the locker room said they're already looking ahead to the next game. Coming off a short week, the Dolphins will host the
Baltimore Ravens
(2-2) at Sun Life Stadium. Miami's character will be tested after suffering a blowout loss. Can the Dolphins bounce back from defeat? "We can't dwell on what happened," Miami cornerback
Brent Grimes
said. "Nobody is happy with it, from the players, down to the coaches. You just have to move on to the next game."
September, 30, 2013
9/30/13
11:56
PM ET
NEW ORLEANS -- A few thoughts on the
New Orleans Saints
' 38-17
victory
over the
Miami Dolphins
, which moved the Saints to 4-0.

What it means:
The Saints were off to a great start even before their potent passing offense really got going. Then they exploded Monday night against the previously-unbeaten Dolphins. The Saints still need to find their run game, but it sure looks like quarterback
Drew Brees
and dynamic playmakers
Jimmy Graham
,
Darren Sproles
and
Marques Colston
are in peak form, which makes the Saints bona fide Super Bowl contenders again. The Dolphins have a solid defense, but they couldn't figure out how to contain all of those guys.
Brees adds to legacy:
Brees completed 30 of 39 passes for 413 yards, four touchdowns and no interceptions. In the process, he passed Fran Tarkenton for sixth place on the NFL's all-time passing yardage list (now with 47,353). Brees also tied his own NFL record with nine consecutive 300-yard passing games. And he continued a ridiculous run of "Monday Night Football" dominance. He and the Saints now have a nine-game MNF win streak in which he's thrown 28 touchdown passes and just five interceptions.
Stock watch:
Sproles was a monster Monday, with seven catches for 114 yards, four runs for 28 yards and two touchdowns (though he ended on a low note with a late fourth-quarter fumble). Sproles was contained a bit in 2012 by injuries and constant bracket coverage from opposing defenses. But he offered the Dolphins a painful reminder that they can't leave him in single coverage. While Miami was focused on containing Graham at tight end, Sproles got all 114 receiving yards and both of his TDs before halftime.
Defensive assist:
For the first time this season, the Saints' revamped defense took a back seat to the offense -- but only barely. Two huge first-half turnovers helped New Orleans break the game open (a forced fumble by linebacker
Curtis Lofton
and an interception by cornerback
Jabari Greer
). Both led to touchdowns. A first-quarter third-and-1 run stuff by defensive tackle
John Jenkins
was also big. And in the second half, the Saints started piling on the sacks.
What's next:
The Saints leave the comfort of home the next two weeks with treacherous road games at the
Chicago Bears
(3-1) and the
New England Patriots
(4-0). The Saints struggled in their only other road game this year, at Tampa Bay in Week 2. These next two games will tell a lot about their makeup -- and could help determine if they get to play at home during the playoffs.
September, 30, 2013
9/30/13
11:49
PM ET
NEW ORLEANS -- A few thoughts on the
Miami Dolphins
' 38-17 blowout
loss
to the
New Orleans Saints
:

What it means:
The Dolphins were handed their first loss of the season and fell to 3-1. Miami simply was not ready for the big stage of "Monday Night Football" and the rowdy crowd in the Superdome. Miami needed to play a near-perfect game to beat the undefeated Saints (4-0) and was not close to reaching that goal. However, the Dolphins were playing with house money after their perfect start. The biggest key for the Dolphins is getting over the embarrassment and disappointment and avoiding a losing streak.
Stock watch:
The Dolphins did a couple of things well. The defensive line was strong against the run. Miami held the Saints to 69 rushing yards, and defensive tackle
Jared Odrick
played well. Miami's running game also improved, although the team didn't use it much in the second half after falling behind.
There is a lot more on the downside. This was, by far, Miami's sloppiest performance of the season. The Dolphins' attention to detail was not there. Miami had poor ball security and pass protection and too many blown coverages and missed assignments on defense. That usually leads to a blowout on the road, especially against a good team like New Orleans.
Tannehill's troubles:
Dolphins quarterback
Ryan Tannehill
was stellar in his first three games but finally fell on hard times in front of a rowdy crowd in New Orleans. Tannehill had four turnovers. The first turnover was a careless fumble when he didn't protect the ball while fighting for extra yards. The last three turnovers were interceptions thrown into coverage. Games like this provide a good lesson for a young quarterback.
What's next:
The big games do not stop for Miami. Coming off a short week of preparation, the Dolphins will host the defending Super Bowl champion
Baltimore Ravens
. Miami is 1-0 at home this year. The Dolphins had a brutal schedule to start the season but still have a chance to finish with a 4-1 record before the bye week.
September, 30, 2013
9/30/13
10:10
PM ET
NEW ORLEANS – The
Miami Dolphins
are trailing the
New Orleans Saints
, 21-10, at intermission.
Here are some notes at halftime:
The Dolphins are playing hard in the first half. But they are not doing the little things, and the Saints are taking advantage. For example, Miami failed to convert on third-and-short and also gave up a third-and-20 to the Saints. The latter led to New Orleans continuing a drive that was capped by a 27-yard touchdown pass to tight end Jimmy Graham. Dolphins cornerback Nolan Carroll also was a step late on another touchdown throw to Darren Sproles before the half.
Miami's offense is moving the ball well. But two big mistakes by starting quarterback Ryan Tannehill made the difference. Tannehill had a big fumble that killed a potential scoring drive and threw a pick in the second quarter. Miami had no trouble moving the ball and gained 224 total yards, but costly turnovers helped the Saints take the lead at halftime.
Dolphins defensive tackle Jared Odrick also is having a stellar first half. Odrick recorded three tackles, a sack and a tackle for a loss in the first two quarter. Both Odrick, Paul Soliai and Randy Starks have combined inside to hold New Orleans' running game to just 10 total yards.
The Dolphins have been a good second-half team all season. Miami has outscored opponents 41-16 in the third and fourth quarters during its 3-0 start. Let's see what the Dolphins have in store for the second half against the Saints.

NFL SCOREBOARD
Thursday, 8/21
Friday, 8/22
Saturday, 8/23
Sunday, 8/24