NFL Nation:

2013 Week 4 NYJ at TEN
September, 29, 2013
9/29/13
11:45
PM ET
NASHVILLE -- So is the answer more push-ups?

For the second straight week, the
New York Jets
were an undisciplined football team, committing 10 penalties for 66 yards in a
38-13 loss
to the
Tennessee Titans
Sunday at LP Field. That makes 30 penalties in the last two games.
If you want to take the glass-half-full approach, you can say they cut the number in half. Rex Ryan was in no mood to look at it that way.
"Ten penalties? How 'bout that?" he said sarcastically. "Obviously, we've got to do a heck of a lot better job than that. ... Apparently, I was wrong on the penalties -- at least it's going to take longer than I thought. But it's going to get fixed. Hell or high water, it's going to get fixed."
The most frequent offender was wide receiver
Ben Obomanu
, who was flagged three times -- unnecessary roughness, illegal shift and holding. (The holding penalty was declined.)
The other culprits: LG
Vladimir Ducasse
(false start and a declined holding), LT
D'Brickashaw Ferguson
(false start), CB
Darrin Walls
(defensive holding), LB
Garrett McIntyre
(personal foul), RG
Willie Colon
(illegal use of hands), TE
Jeff Cumberland
(illegal shift), DB
Ellis Lankster
(out of bounds on punt) and QB
Geno Smith
(delay of game).
The most alarming part? Five were pre-snap penalties, indicating a lack of awareness and focus.
It looks like Ryan needs to step up his penalty-prevention program.
September, 29, 2013
9/29/13
11:26
PM ET
NASHVILLE -- Can we please postpone the coronation of the
New York Jets
' defense?
Full of confidence after last week's eight-sack beat down of the
Buffalo Bills
, the Jets were sliced and diced by
Jake Locker
and
Ryan Fitzpatrick
, who combined for four touchdown passes in the
Tennessee Titans
' 38-13
victory
at LP Field.
The final indignity occurred with 7:06 remaining in the fourth quarter, when cornerback
Antonio Cromartie
,
Nate Washington
and back judge Billy Smith collided on a 77-yard touchdown pass -- another Jets blooper.
Cromartie said he asked the official, "What the hell are you doing back here?" He said Smith apologized.
[+] Enlarge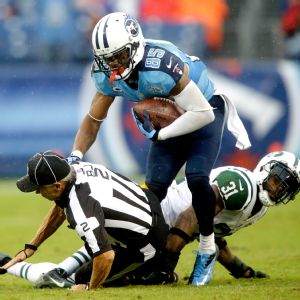 P Photo/Wade PayneJets cornerback Antonio Cromartie, back judge Billy Smith and Titans receiver Nate Washington collide. The result was a 77-yard score for Washington.
That pretty much captured the disastrous day for the Jets.
Truth is, Cromartie was beaten cleanly by Washington, who had to slow down because Fitzpatrick's throw hung in the air like a punt. Once Washington made the catch, the collision occurred with Cromartie and Smith.
"No, he didn't interfere with the play," Cromartie said. "That's on me fully. Me being the number one corner on this team, I need to make sure that I go up and intercept that ball or bat it down."
It was a tough day for the Jets' corners. Earlier, Cromartie slipped on the wet grass and allowed a 4-yard scoring pass to Washington.
Darrin Walls
, who started in the
Dee Milliner
-
Kyle Wilson
slot, allowed a 16-yard touchdown pass to rookie receiver
Justin Hunter
. It was a terrific catch by Hunter, but Walls could've played it better. The Titans use Hunter almost exclusively in the red zone, so it shouldn't have been a surprise that he got the ball -- especially in the final seconds of the first half.
"That's a killer," Rex Ryan said. "There's only one play they can run and that's the shot in the end zone. You know it's coming and everybody in the ballpark knows it's coming. The only time they put that kid in the game is to throw the jump ball, and there's a reason he came down with it."
The cornerback spot opposite Cromartie has turned into musical chairs. Walls started for Kyle Wilson, who last week started for Milliner, the struggling rookie who pulled a hamstring in practice. Ryan is running out of competent corners and, frankly, Cromartie was off his game as well.
Give credit to the Titans; they had a masterful game plan. Recognizing the Jets were focusing on running back
Chris Johnson
, the Titans put the ball in Locker's hands, letting him throw from the pocket. That's what the Jets wanted, but they got more than they expected from Locker, who completed 18 of 24 passes for 149 yards and three touchdowns. The Jets underestimated Locker, not known for his passing exploits.
"Maybe that's why it surprised us," rookie defensive tackle
Sheldon Richardson
said.
The Jets were held to two sacks and produced no takeaways for the third straight game. That's simply not acceptable. By the way, the Titans have yet to commit a turnover. In fairness to the defense, it had to play on a short field throughout the game because of
Geno Smith
's turnovers. The Titans' first three touchdown drives were 18, 26 and 46 yards.
No matter. Linebacker
David Harris
was visibly irked by the performance.
"Just say we lost," he said. "We got our butts kicked by a better team today. Simple as that."
Asked if the Titans might simply be a better team, Harris snapped, "We lost. Did you see the score?"
September, 29, 2013
9/29/13
11:10
PM ET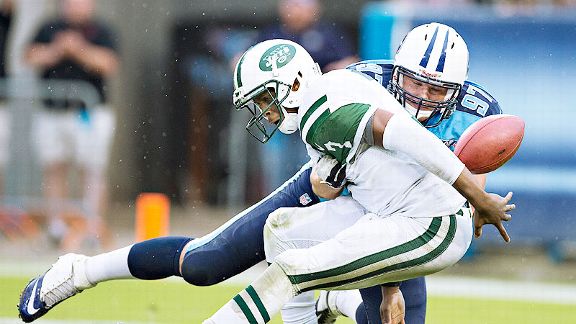 Wesley Hitt/Getty ImagesGeno Smith added yet another moment of ignominy to Jets lore: the Around-the-Butt Fumble
NASHVILLE, Tenn. -- If
Mark Sanchez
was healthy, the
New York Jets
would have one salacious quarterback controversy. But his injured right shoulder won't be healed until November (if then), so they have little choice but to ride with
Geno Smith
.
Better take a Dramamine.
After Sunday's
38-13 loss
to the
Tennessee Titans
at LP Field, Smith approached many teammates in the locker room, basically telling them, "It won't happen again." It will, of course, because he's a rookie, and rookies have days like this. He handed 28 points to the Titans with four turnovers, and introduced a new term into the franchise's long history of blooper plays -- the Around-the-Butt Fumble.
At 2-2, it would be a panic move for the Jets to bench Smith in favor of
Matt Simms
. They'd be going from little experience to no experience. Afterward, Rex Ryan eliminated any doubt, saying Smith will start next week against the
Atlanta Falcons
.
Unless he pulls a Greg Schiano and flip-flops, Ryan is making the right call by sticking with Smith. It's a no-brainer, really. This season is all about Smith, finding out if he's good enough to make him the centerpiece of the franchise. There may come a time to check out Simms, but not now.
So turn down the volume on the "We Want Simms" drumbeat.
The next chapter of this soap opera is waiting to see how the kid from West Virginia University responds to adversity. He has to get better, right?
Smith offered a scathing self-evaluation, describing his performance as "piss-poor." Hard to argue with that. He threw two interceptions and lost two fumbles because of careless ballhandling, evoking memories of some Sanchez-ian gaffes.
Smith scored points for creativity, trying to switch the ball to his left hand -- behind the back -- while getting bulldozed by defensive tackle
Karl Klug
at the Jets' goal line. Note to young quarterbacks: Don't try any trickeration when there's a 280-pound human attached to your body.
Naturally, Smith fumbled, and it was recovered for a touchdown to make it 31-6. The game probably was out of reach anyway, but that one moment -- that one brain cramp -- showed a young player overwhelmed by the moment and the day.
"It was kind of one of those tough situations," Smith said. "My only reaction was to swing my left hand around and grab it before I fumbled it. I couldn't get it around."
Sanchez, watching from the sideline in street clothes, could empathize. At least now maybe his Butt Fumble can be put to rest.
How bad was Smith? He was sacked, lost a fumble or threw an interception on nine of his 42 drop-backs, bringing his turnover total to 11 -- eight interceptions and three fumbles. He's tied with
Eli Manning
for the league lead in turnovers. In fact, Smith has more turnovers by himself than all but one team -- the
New York Giants
, according to ESPN Stats & Information.
A livid Ryan was in no mood to use the rookie-growing-pains alibi.
"How many times are we going to make that excuse?" he asked. "One of these days we're going to have to learn from them, and it better be soon. The team we're going to play next [the 1-3 Atlanta Falcons] is a pretty good darn football team, so we better learn in a hurry. It has to get better."
Smith was intercepted by
Alterraun Verner
on the second play of the game, underthrowing a deep ball to
Stephen Hill
, and he was cooked right there. He never regained his composure, rattled by the Titans' relentless blitzing.
Another lowlight occurred when he was scrambling in the open field for a first down, holding the ball with one hand and inviting what occurred next -- a tomahawk chop by linebacker
Zach Brown
, who slapped the ball loose. His second interception was a bad decision, forcing a ball into blanket coverage on
Santonio Holmes
, who was beaten to the ball by Verner.
Then came the Around-the-Butt Fumble.
"I'm extremely disappointed with the way I took care of the ball," Smith said.
Smith wasn't the only goat. The Jets committed 10 penalties (that's 30 in two weeks) and allowed four touchdown passes, so there was plenty of blame to go around. Ryan tried to emphasize that point. Sensing the media was picking on Smith in the postgame news conference, the coach insisted, "I think we're unfairly criticizing one man."
His teammates -- the ones who spoke, that is -- supported him, saying the right things. Holmes and
Calvin Pace
, veteran leaders, left without speaking to reporters.
"We believe in the guy,"
Kellen Winslow
said of Smith.
Do the Jets have a choice?
They are paying the price for mismanaging the quarterback competition in the preseason, resulting in Sanchez's injury. So now it's Smith or bust, trying to figure out a way to make him better. Marty Mornhinweg could help by calling more running plays. They actually ran well against the Titans, but the aggressive playcaller kept dialing up passes.
In the meantime, prepare for a bumpy ride.
"[The mistakes] are correctable," Smith said, "and they will be corrected."
September, 29, 2013
9/29/13
10:48
PM ET
NASHVILLE --
Muhammad Wilkerson
knocked
Tennessee Titans
quarterback
Jake Locker
out of the game in the third quarter with a potentially serious hip injury, but the
New York Jets
' defensive end insisted it was a clean hit. He said one of the officials told him so.
Wilkerson
"If it was late, they would've thrown a flag," Wilkerson said after the Jets' 38-13 loss at LP Field. "They didn't throw a flag. The ref told me it was a clean hit. I took my one step and that was that."
On the CBS telecast, analyst Dan Dierdorf said Wilkerson struck Locker in the chest with the crown of his helmet. If the league sees it that way, Wilkerson likely would be fined.
Locker absorbed the blow and fell awkwardly, immediately clutching his right hip. He was motionless on the ground, silent, on his back. Nearby, defensive end
Sheldon Richardson
dropped to one knee.
"I always say a prayer when guys go down like that," Richardson said.
The Titans didn't waste any time, immediately summoning for medical help. He was carted off the field, giving a thumb's up as he left. The Titans gave no immediate update, except to say X-rays were negative.
In two-plus quarters, Locker (18-for-24, 149 yards) torched the Jets, throwing three touchdown passes -- a career high.
September, 29, 2013
9/29/13
10:22
PM ET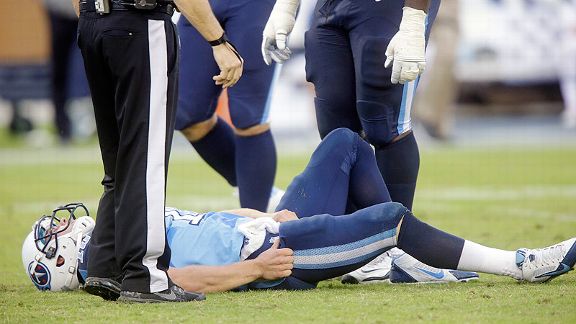 AP Photo/Wade PayneTitans QB Jake Locker had shown steady improvement before suffering a hip injury against the Jets.
NASHVILLE, Tenn. --
Jake Locker
was on his back and his hand was on his right hip. A shot from Jets defensive tackle
Muhammad Wilkerson
put the
Tennessee Titans
' young quarterback in that spot. Something awkward happened as Locker went to the ground, something bad enough that he would be quickly carted off the field.
But as receiver
Kendall Wright
and offensive coordinator Dowell Loggains arrived to check in, a grimacing Locker asked them: "Did Nate catch the pass?"
No,
Nate Washington
did not catch the pass.
It was the least of the Titans' worries on a day when they moved to 3-1 with a
38-13
stomping of the Jets. Locker threw three touchdown passes in two quarters and continues an impressive improvement curve.
The Titans still have not turned the ball over this season.
But Sunday night they didn't know Locker's status. X-rays at the stadium were negative. After those, he was taken by ambulance to St. Thomas Hospital for an MRI and further testing. The Titans had no idea what was wrong and when, or if, they will have him back.
"No turnovers for the offense is a direct correlation to his play," Loggains said. "I was really excited where he was going. Hopefully this thing isn't long for us. In the game, it deflated us, it took the energy out of us, it took the energy out of me. I need to do a better job, but when you lose your guy, lose the leader of your offense, it's tough."
The game was in hand when Locker went out, with the Titans ahead 24-6.
The Titans were flat for a good stretch after the injury, but still managed to build the blowout.
Defensive lineman
Karl Klug
forced a
Geno Smith
fumble -- as the rookie quarterback inexplicably tried to pass the ball from one hand to another behind his back -- and recovered it in the end zone for additional cushion. Washington caught a deep ball from No. 2 quarterback
Ryan Fitzpatrick
over cornerback
Antonio Cromartie
, bounced off back judge Billy Smith and went 77 yards for his second touchdown.
The Titans are confident they can be effective if they need to rely on Fitzpatrick.
It will not be the same, however, if he's the quarterback. We've seen his ceiling, and he stopped reaching it often enough that the Bills gave up on him not long after giving him a giant contract. Locker's ascent is ongoing.
"Jake's grown a lot," said Washington, who caught two touchdown passes. "He's able to do a lot of things now that he wasn't able to do in the past. He understands the offense, he understands the game, it's kind of slowed down for him."
The postgame locker room featured a mixture of emotions. The Titans were happy with a win that boosted their record to 3-1 and established them as one of the league's surprises through the first quarter of the season. But they were clearly concerned, too, about the way Locker left the field and the potential to be without him.
"You lose your general, you lose your captain, it's going to hit you a little bit," receiver
Damian Williams
said. "At the same time, we're a team. Not one person does it for us. That one person is a very important piece of this puzzle, but we've got to keep going. We can't let the season stop if one person gets hurt."
Said tight end
Delanie Walker
, "Jake was playing awesome. ... He got the feel, he got that buzz, he was moving. It's just sad for something like that to happen to him while he was having a great game."
When Locker was hurt, center
Rob Turner
hustled over to Fitzpatrick to fire off some snaps to help him get ready.
Turner didn't mean to sound harsh, but hit on the cold realities of the business. If the Titans are without Locker, they won't have time to really mourn it.
"That's what we have to do, that's part of being a team, it's not a one-man show," he said. "Absolutely Jake's improved each and every week. But it's one of those things we have to do, just like we have a 24-hour rule with wins and losses. It's not like we're going to forget about Jake, cause we're not. But we really have to step up and focus, refocus, and whoever is in there executes."
While Locker and the Titans have yet to turn the ball over, the Titans took the ball away from the Jets four times and scored touchdowns off of each. Tennessee hit Smith 11 times with five sacks. Locker had much better protection, taking two sacks and a third hit, the one from Wilkerson that ended his afternoon.
"I knew as soon as he was down [that it was serious]," Loggains said. "This kid is as tough a kid as there is. When he stayed on the ground, I knew he was in a lot of pain. It's an act of God to get him to come off the field"
Loggains left Locker a voice mail as soon as the game was over and talked to Locker's father, Scott, who was at the game and accompanied him to the hospital.
"He said Jake was doing good, waiting to see, at the hospital getting an MRI," Loggains said.
Now things might fall on Fitzpatrick. The Titans parted ways with
Matt Hasselbeck
in March, partly over price, partly over performance, and quickly brought in Fitzpatrick. They considered it an upgraded insurance plan.
When he got in the huddle against the Jets, he brought dry humor to the huddle that helped defuse a tough situation and was important for a team trying to get back to work, Williams said.
Fitzpatrick said given the circumstances his job amounted to, "just go in there and don't screw it up." It's a mindset that obviously changes if Fitzpatrick is the guy next week.
"We signed him for a reason, he's a good player, he's thrown for a lot of yards," Loggains said. "He's been a big part of this offense. We're going to have to tweak some things and tailor some things to his strengths, obviously. ... Once we get the word that Jake's not available this week, we'll start that part of the process."
September, 29, 2013
9/29/13
9:18
PM ET
NASHVILLE -- Observed in the locker room after the
New York Jets
'
38-13 loss
to the
Tennessee Titans
:

Ryan
Steamed Rex
: Rex Ryan was furious, and he didn't mince words. He began his postgame news conference by saying they were beaten in every phase, including coaching. He added, "It shocked me. I never expected that the game would turn out like this. Shocked. I don't know what else to say." He wasn't overly critical of rookie quarterback
Geno Smith
, instead spreading the blame everywhere.
Growing pains:
Before the media was allowed in the locker room, Smith approached individual players and, according to linebacker
Antwan Barnes
, told each one, "It won't happen again." Minutes later, Smith faced reporters, calling his four-turnover day a "piss-poor" performance. Later, Smith was seen walking to the team bus, limping noticeably on his still-tender right ankle. He was staring at his smartphone as he walked through the bowels of the stadium.
Silent treatment
:
Santonio Holmes
and
Calvin Pace
, two of the so-called leaders on the team, left the locker room without talking to reporters. Holmes, who injured his right hamstring, was limping. Pace wasn't injured; he just put on his headphones and bolted past reporters, none too eager to discuss an awful defensive performance. You expect veteran players to face the music after a humiliating loss.
September, 29, 2013
9/29/13
7:35
PM ET
NASHVILLE -- A few thoughts on the
New York Jets
' 38-13
loss
to the
Tennessee Titans
at LP Field:

What it means
: The Jets (2-2) blew a chance to stamp themselves as a legitimate early-season surprise. They were outplayed and outcoached, committing costly mistakes at every turn. Clearly, last week's win over the
Buffalo Bills
, which looked pretty on the stat sheet (save for the 20 penalties), was a mirage. The Jets were not ready for this game mentally or physically -- and it started with rookie quarterback
Geno Smith
, who committed four turnovers. That led to 28 points for the Titans (3-1). He received little support. Continuing their lack of discipline, they were guilty of 10 penalties for 66 yards.
Stock watch
: Smith took a major step backward -- and that's an understatement. I didn't think a quarterback could play as poorly as
Mark Sanchez
did last December against the Titans (five turnovers), but Smith did just that. Rattled by the Titans' relentless blitzing, Smith lacked poise, accuracy, pocket presence, situation awareness -- you name it. He was intercepted twice (eight for the season), putting him at a 32-interception pace. He also lost two fumbles, including one at his own goal line that was recovered for a touchdown. That play highlighted Smith's inexperience. Under duress, he actually tried to switch the ball to his left hand with a behind-the-back move. He has 11 turnovers in four games, a 44-turnover pace.
No doubt, fans will be screaming for
Matt Simms
. That would be a panic move by Rex Ryan and would serve no purpose. You have to ride this out with the rookie, finding out if he is the future. If Sanchez was healthy, it would be a different situation. But he's not, so be prepared to ride the rookie roller coaster.
Locked out
: The Jets accomplished their No. 1 defensive goal, containing running back
Chris Johnson
(15 carries for 21 yards), but they left themselves vulnerable to the pass by using their base defense at times against the Titans' three-receiver sets.
Jake Locker
executed a controlled passing attack that neutralized the Jets' pass rush and exploited deficiencies in the secondary. He set a career high with three touchdown passes before being carted off in the third quarter with a right hip injury.
The Raiders 2.0
: Ryan always has prided himself on having a low-penalty team, but that reputation is getting torched. He placed a huge emphasis on the penalty problem in practice (pushups for everyone), and it did no good. Many of the penalties were of the pre-snap variety, indicating a lack of focus. Ugly stuff.
Receiver problems
: The Jets lost their starting wide receivers to injuries, as
Stephen Hill
(head) and
Santonio Holmes
(hamstring) didn't finish the game -- injury to insult.
What's Next
: Now the Jets head into the difficult portion of their schedule: a Monday night road game against the
Atlanta Falcons
(1-2), who play the
New England Patriots
Sunday night.
September, 29, 2013
9/29/13
7:13
PM ET
NASHVILLE -- Rapid Reaction from the
Tennessee Titans
' 38-13
win
against the
New York Jets
at LP Field.

What it means:
The Titans rank as one of the NFL's surprise teams at 3-1 a quarter of the way into the season. But they are likely going to be moving forward without their quarterback, at least for a while.
Jake Locker
left the game with a right hip injury. He needed to be carted off the field and was eventually taken to the hospital, according to Titans Radio.
Ryan Fitzpatrick
replaced him. Locker threw three touchdowns and posted a 130.0 passer rating.
Stock watch, defense:
Cornerback
Alterraun Verner
is on fire. He collected two interceptions in the first half and scooped up a fumble that he would have returned for a touchdown if he had not tripped. The Titans wanted
Tommie Campbell
to win Verner's job in the preseason, but Verner raised his game and Campbell wasn't up for the challenge. Now Verner has four interceptions in four games. (Campbell got charity snaps late in the game.)
Stock watch, offense:
Nate Washington
is now over 5,000 receiving yards in his career. He pulled in four catches for 105 yards and two touchdowns, one from Locker and one from Fitzpatrick. He slowed down and went over
Antonio Cromartie
to collect Fitzpatrick's deep ball, then bounced off back judge Billy Smith and headed for the end zone on a 77-yard score.
Abusing the rookie:
Two
Geno Smith
interceptions and two Smith fumbles led to 28 points by the Titans. Once upon a time, defenses with a heavy Gregg Williams influence had a tendency to give up plays to rookies. Not on this day or with this rookie.
Tough sledding:
The Jets are very hard to run against, and
Chris Johnson
couldn't find any room. He wound up with 15 carries for 21 yards. In the second half, while trying to milk some clock and while they were stalling without Locker, they turned more to
Jackie Battle
, not that he had much more success. He finished with 11 carries for 42 yards.
What's next:
The Titans complete a three-game homestand with a game against another of the NFL's most improved teams -- the
Kansas City Chiefs
. Will Fitzpatrick be starting at quarterback for Tennessee?
September, 29, 2013
9/29/13
3:05
PM ET
NASHVILLE -- As expected, rookie cornerback
Dee Milliner
and running back
Chris Ivory
-- both with injured hamstrings -- were among the
New York Jets
' inactive players Sunday against the
Tennessee Titans
.
The Jets announced before the game that
Darrin Walls
will start at cornerback, opposite
Antonio Cromartie
. This doesn't come as a huge surprise, but it doesn't reflect well on
Kyle Wilson
, who started last week for the demoted Milliner. Wilson might have lost the job because of his ill-timed implosion in the fourth quarter, when he lost his poise and committed a penalty on four straight plays.
Wilson is expected to play in the nickel package.
Without Ivory, the Jets went into the game with only three running backs --
Bilal Powell
,
Alex Green
and rookie fullback
Tommy Bohanon
, who is capable of playing tailback in a pinch. The team didn't immediately announce who will replace Milliner, who was used as a nickel back last week after being demoted in the previous game.
The Jets' other inactives are quarterback
Brady Quinn
, guard Will Campbell, tackle
Oday Aboushi
, tackle
Ben Ijalana
and linebacker
Ricky Sapp
.
For the Titans, receiver
Kenny Britt
, the former Rutgers standout, is inactive. He's suffering from a rib injury. He also has fallen out of favor with the coaching staff and, according to ESPN Insider Adam Schefter, is on the trading block.
The Titans' other inactives are former Jets running back
Shonn Greene
, linebacker
Patrick Bailey
, center
Brian Schwenke
, tackle
Byron Stingily
, defensive tackle Sammie Hill and defensive end
Lavar Edwards
.

NFL SCOREBOARD
Sunday, 2/2
WEEKLY LEADERS