NFL Nation:

2013 Week 4 WAS at OAK
September, 29, 2013
9/29/13
11:59
PM ET
OAKLAND --
Washington Redskins
running back
Alfred Morris
, in the midst of a good game, suffered bruised ribs and did not return after exiting late in the third quarter. But coach Mike Shanahan said afterward that Morris did not break any ribs.
"My understanding is they're just sore," Shanahan said. "I don't know how serious it is. We'll wait and see on that."
Morris injured his ribs at the end of a nine-yard run late in the third, two plays before quarterback
Robert Griffin III
connected with receiver
Pierre Garcon
for a five-yard go-ahead touchdown pass. Morris finished with 71 yards on 16 carries.
Roy Helu
played the rest of the game at running back and gained 41 yards on 13 carries. Helu scored the clinching touchdown on a 14-yard run up the middle in the fourth quarter.
Because the Redskins have a bye this week, Morris would get extra time to heal before Washington plays at the
Dallas Cowboys
the following week.
September, 29, 2013
9/29/13
11:30
PM ET
OAKLAND -- The corner blitz was picked up, but the pressure was still forcing its way to
Robert Griffin III
. Worse, his first two reads were covered. That's when Griffin did something that
Washington Redskins
fans had been waiting to see: he returned to 2012.
Griffin, with a defender at his feet, escaped to the right and running back
Roy Helu
scampered to an open area. Griffin then dumped a pass to Helu, who hurdled a Raiders defender en route to a 28-yard gain to the Raiders' 14-yard line.
Griffin
Helu
It was set up by Griffin's slowly-returning mobility after his January knee surgery. Helu's hurdle returned some of the pizazz to an offense that has shown little of it this season. One play later Helu crashed through an opening for a 14-yard touchdown, sealing a much-needed 24-14 victory.
For Griffin, it was another game of mixed results as he completed 18-of-31 passes for 227 yards and a touchdown, a slant to
Pierre Garcon
for a 17-14 third-quarter lead. He did not turn the ball over, but he also had a costly intentional grounding penalty that left Washington with a third-and-goal from the 18-yard line.
But he again showed glimpses against a solid defense that gave the Redskins headaches all day with its multiple looks and blitzes. For a while, Griffin was unable to do much of anything as the Redskins had two three-and-outs and a four-play series on their first three times with the ball.
However, Griffin and the offense started to get a rhythm when they went to a no-huddle attack at the end of the first quarter. It led to a field goal drive, but it enabled them to get confidence after a bad start.
"When nothing is going your way you've got to try something," Griffin said. "Guys responded to it well."
Griffin did run three times for 10 yards, and still does not look like the same player he was a year ago. The Redskins knew it would take some time and it has. But he did do a better job avoiding pressure in the second half. The difference now is that instead of turning those plays into big gainers like a year ago, he's turning them into throwaways on the run.
But he also showed excellent presence on one third-quarter pass to tight end
Logan Paulsen
. It resulted in a fumble by Paulsen after 32 yards. However, Griffin made the play by sliding to his left to avoid pressure, keeping his eyes downfield and zipping a pass to Paulsen.
More than Griffin, though, having Helu come through with
Alfred Morris
on the bench with bruised ribs was a must. Helu had not done much this season after missing most of last season with turf toe. He looked good this summer, but it wasn't until late in the game that he resembled the player who was visible in training camp.
"We've still got a lot of work to do," Garcon said. "We made a lot of plays … We left some yards out there. We still have a lot to do."
The Redskins said that each of the past three weeks. This time they could say it after a win. They're not complete yet. They did show more of what they used to be.
September, 29, 2013
9/29/13
10:59
PM ET
OAKLAND -- For years, the responsibility fell on
Michael Bush
.
Then, last year,
Mike Goodson
and
Marcel Reece
shared the duties.
Now, paging
Rashad Jennings
.
[+] Enlarge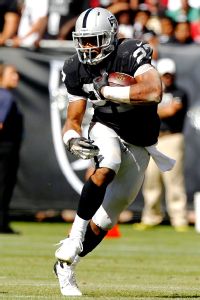 Cary Edmondson/USA TODAY SportsRashad Jennings rushed for 45 yards and had 71 yards receiving in place of Darren McFadden.
The job description, of course, is being Darren McFadden's backup, and being ready to play at the drop of a hat, or, in this case, the tweak of a hamstring.
Yes, McFadden went down to injury in the first half of Sunday's
24-14 loss
to Washington and Jennings, who signed with the Raiders as an unrestricted free agent this offseason, was put on the spot.
Jennings responded with 45 yards rushing (his second-highest total since 2010) on 15 carries and a career-high eight receptions for a career-best 71 yards. And don't sleep on his blocked punt that led to a quick 7-0 Raiders lead.
"You always have to see yourself as the guy," said Jennings, who spent his first four seasons in Jacksonville, primarily as
Maurice Jones-Drew
's backup.
"I do back up Darren, (and I) make sure he's always ready to go, and he's an awesome player and we're going to be excited when he returns."
Raiders coach Dennis Allen, though, was not sure of a timetable for McFadden's return in the immediate aftermath of the game. But this much is true -- McFadden has an injury history and the sixth-year pro in a contract year has never played more than 13 games in a season.
McFadden burst through the line for a 14-yard pickup on his first carry, outgaining his entire rushing production of 9 yards on 12 carries a game earlier. But something grabbed at his hammy shortly thereafter -- he left the game to get his leg wrapped and returned for a few plays, but his day was done.
He returned from the locker room at halftime in street clothes and watched the second half from the sidelines.
Jennings, meanwhile, became the Raiders' bell cow running back.
"I thought he went in there and ran the ball hard," Allen said. "I thought he did an admirable job of filling in for McFadden."
It's in the job description, no?
"As a player, period, in the NFL, you have the mindset that there aren't any backups, we all believe that those are the guys sitting at home," Jennings said. "Everybody that's in this locker room is capable of going out and making plays. We're accountable to go out there and make plays, and we always have the 'next man up' mentality.
"That's kind of how we took it as a whole backfield."
That's how Jennings has to take it for the time being.
September, 29, 2013
9/29/13
10:30
PM ET
OAKLAND -- As
Ryan Kerrigan
turned the corner, he just needed a little more help. That's when everything worked in concert. The defensive tackles collapsed the pocket so
Oakland Raiders
quarterback
Matt Flynn
had nowhere to run. And the defensive backs did what they had done for most of three quarters and left no one open.
So Kerrigan turned the corner, stripped the ball from Flynn and nose tackle
Barry Cofield
pounced on the loose ball. Two plays later the
Washington Redskins
' offense scored the clinching touchdown.
A much-maligned defense did more than just participate in this win. They swung the momentum with a 45-yard interception return for a touchdown by rookie
David Amerson
, cutting the score to 14-10. They kept it going with seven sacks of Flynn, a pocket passer behind a line that could not protect him. Washington more often than not only needed four rushers, allowing it to play coverage with seven.
The Redskins' defense was helped by facing Flynn, starting for the injured
Terrelle Pryor
. The Redskins found out for sure that Flynn would be starting Sunday morning. They had prepared all week for Pryor. Flynn held the ball at times too long.
"When we knew Flynn would play, we [knew] we had a little more opportunity to get there," said Redskins linebacker
Brian Orakpo
, who had two of the sacks. "He stays in the pocket longer than Pryor would."
The Redskins' secondary had been roundly criticized for their play in the first three games but they largely did their job Sunday. The Raiders had only two plays of 20 yards or more -- the Redskins had surrendered eight such plays in the past two games combined.
They mixed their coverages, rotated safeties
Reed Doughty
and
Jordan Pugh
-- even lining corner
Josh Wilson
up deep middle on at least one occasion. They played a lot of man, some three-deep zones and cover-2. Meanwhile, the front four was able to win one-on-one battles -- and then used games up front to create more. One of Kerrigan's two sacks came off of one. Cofield also had two sacks.
"We did a good job mixing it up," Redskins corner
DeAngelo Hall
said. "Any time the back end is working the front end is working. We didn't get a lot of chances to make plays on the ball because they beat us to the punch."
It helped that the Redskins could rush with a lead in the second half for the first time this season. Three of their sacks came after they took a 17-14 lead – and Flynn was forced to run on two other occasions, getting tackled for short gains.
"It felt great," Orakpo said. "We haven't did it all year. It's exactly what we talked about throughout the week, if we get a team that plays a conventional offense that tries to make plays downfield, holding the ball gives us an extra second we're gonna get there. When stuff isn't going your way, quarterbacks always try to make plays happen downfield and that gave us an opportunity to get there."
September, 29, 2013
9/29/13
9:51
PM ET
OAKLAND, Calif. -- Oh yeah,
Matt Flynn
heard the boos and catcalls.
How could he not? They grew louder with each sack (seven in all), miscue (a pick-6 interception that turned the tide) and fumble (try two).
Coming into the game, his biggest perceived sin was that he was not the ultra-popular
Terrelle Pryor
. After the
24-14 loss
to Washington, in which the Raiders blew a 14-0 lead, it was that he was anything but, ahem, Flynn-tastic.
Just Flynn, baby? Not on this day.
[+] Enlarge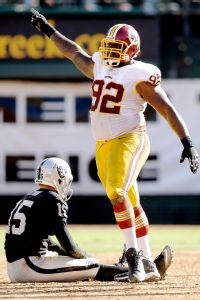 Ezra Shaw/Getty ImagesMatt Flynn was sacked 7 times, lost a fumble and was intercepted by the Redskins.
"Yeah, I mean, it's hard not to hear it," a deflated Flynn said of the hisses and jeering emanating from the sold-out O.co Coliseum crowd announced as being 53,549.
"You just try to focus on your job and do what you can. But it's definitely hard not to hear."
True, Flynn's performance -- an 83.7 quarterback rating on 21-of-32 passing for 227 yards with a touchdown and interception -- was not anything a $6.5-million QB should write home about.
But let's play Devil's Advocate for a minute.
The game quickly turned into a perfect storm for Flynn, who learned just Saturday night that he would be starting under center against Washington, despite taking the lion's share of reps in practice this week.
Not only did the Raiders lose breakaway threat tailback
Darren McFadden
in the first half with a hamstring injury, Oakland was also without Pro Bowl fullback
Marcel Reece
after the first quarter due to a knee injury.
"No question, those two guys are the heart and soul of the offense," Flynn said. "Two great players. I still feel like we ran the ball well after that, but that was definitely a big blow for us."
Flynn's security blankets were gone and it was on him to be something he is not -- an electric playmaker. It quickly became obvious that Pryor has made the offensive line look good, even if Flynn suffered from a serious lack of pocket presence.
"I don't think he saw the field very good today," said coach Dennis Allen. "I think he was obviously part of some of the sacks that we gave up in the game. It was a tough situation for him to go into and obviously, with the loss of McFadden and Reece, that didn't help him out any.
"Offensively, we didn't get it done, and that's really the bottom line."
Especially with some curious play-calling by offensive coordinator Greg Olson that did not move the pocket in an effort to try and buy Flynn some time.
It was as if
Rashad Jennings
and
Jamize Olawale
were the equivalents of McFadden and Reece.
But Allen had no issue with the play-calling. That whole next-man-up philosophy, right?
And yet ...
"I felt like I was seeing things fairly well," Flynn said. "There were a couple of times on some play-actions where there was a big jump on the line of scrimmage and I had a hard time making sure there were guys open, so I didn't want to force it by making any bad throws.
"I didn't think I wasn't seeing the field. I just didn't make the plays."
As the boos would attest.
September, 29, 2013
9/29/13
8:52
PM ET
OAKLAND -- Observed in the locker room after the
Oakland Raiders
' 24-14
loss
to the
Washington Redskins
.
McFadden
Long gone:
Neither running back
Darren McFadden
nor Pro Bowl fullback
Marcel Reece
were at their locker in the immediate aftermath of coach Dennis Allen's postgame news conference in an adjacent room. All that was left in their respective stalls were bottles of Gatorade, water and game programs, and unanswered questions. Then again, both left the game because of first-half injuries.
Like solitary soldiers:
While Allen took a seemingly extra long time in his news conference, the locker room was a virtual wasteland, socks and athletic tape strewn about the floor. But in the middle of the room were the player's jerseys, being stacked on top of each other with care, like solitary silver and black soldiers.
Media crush:
Of course,
Matt Flynn
had the biggest media throng surrounding him at his locker.
Charles Woodson
also had the usual gathering. Running back
Rashad Jennings
, who rushed for 45 yards on 15 carries, caught a game-high eight passes for 71 yards and blocked a punt that resulted in a Raiders touchdown, had three different waves of reporters come his way.
Something to smile about?:
As a team, the Raiders had little to celebrate. And as units, very few stood out in the locker room ... save for the defensive line. No, the players that make up the defensive line were not laughing about in their corner, but they seemed to enjoy talking with each other in hushed tones. Nothing wrong with that, not when they seemed to give everything until being worn out late.
September, 29, 2013
9/29/13
7:27
PM ET
OAKLAND –- A few thoughts on the Oakland Raiders' 24-14
loss
to Washington:

What it means
: Depth is an issue for the Raiders, no doubt. So when they had to play the final three quarters without their starting offensive backfield -- quarterback
Terrelle Pryor
(concussion) was inactive and running back
Darren McFadden
(hamstring) and fullback
Marcel Reece
(knee) were both lost in the first half -- it didn't go well. Simply put,
Matt Flynn
,
Rashad Jennings
and
Jamize Olawale
did not have enough staying power as Flynn was sacked seven times. And the defense, which started out hot, ran out of gas after taking a 14-0 lead.
Stock watch
: Falling: McFadden. He's in a contract year and has never played more than 13 games in a season, so give yourself a pat on the back if you had the injury-prone back going down in Week 4. He started strong, carrying the ball five times for 29 yards, including a 14-yard gain on his first carry. But he was lost in the first half with a hamstring injury and watched the second half in street clothes on the bench.
Just Flynn, baby?
With each sack he absorbed, the crowd's booing of Flynn grew. And sure, his pocket presence left something to be desired. But now you see why Pryor was a more attractive starting QB candidate. His running and ability to extend plays cover up many of the offensive line's deficiencies. Opposing defenses have to respect Pryor more than Flynn, so to speak, so they are able to pin their ears back and bull-rush Flynn, who finished 21-for-32 for 227 yards, one TD and a pick-six interception. He also lost two fumbles.
What's next
: The Raiders (1-3) play host to San Diego (2-2) next Sunday, the day after the A's play Game 2 of their American League Division Series at the O.co Coliseum. What is not settled yet, though, is the start time for Raiders-Chargers. If the A's play an earlier game on Saturday, the Raiders kick off at the regularly-scheduled time of 1:25 p.m. PT. But if the A's have a later game, kickoff will be at 8:30 p.m. PT. Major League Baseball is expected to announce its times early this week.
September, 29, 2013
9/29/13
7:26
PM ET
OAKLAND -- A few thoughts on the
Washington Redskins
'
24-14 victory
against the
Oakland Raiders
:

What it means
: Washington can exhale for at least another game. After an ugly 0-3 start, Washington's victory at Oakland enables them to enter their bye week feeling a little better about themselves. Yes, Oakland's offense is not that great when quarterback
Matt Flynn
is starting. But the Redskins needed a boost and Oakland provided one. The Redskins will not spend two weeks answering as many tough questions as they would have had they suffered their fourth straight loss. The Redskins showed a little more swagger in the second half on offense, with flashes of the old
Robert Griffin III
-- and a heck of a hurdle by running back
Roy Helu
.
Hurry up:
The Redskins' offense started to find its rhythm when they went to a no-huddle attack in the second quarter. They did not get a touchdown out of that look, but it sped the tempo and provided them with a little surge. It also seemed to provide some confidence. The Redskins do not like to use that strategy for an entire game because they feel it changes too much of what they like to do. But they favor it as a change-up approach, and it did its job Sunday. But perhaps the play that really turned their momentum around was a 45-yard interception return for a touchdown by rookie corner
David Amerson
.
Stock watch:
Rising: Nose tackle
Barry Cofield
. The past two weeks Cofield has been the Redskins' best defensive player. His quickness in the middle, plus his ability to handle -- and occasionally beat -- double teams has been huge. He recorded two sacks in a game for the first time in his career. The Redskins' defense recorded seven sacks and made one stop after another in the second half. Cofield recovered a fumble caused by linebacker
Ryan Kerrigan
's sack.
Falling: Special teams. They continue to make mistakes each game and put the Redskins in an early hole when
Perry Riley
allowed a stunt to get past him for a blocked punt and touchdown. They're not atoning for their mistakes.
Fortunate bounce:
The Redskins received a number of good bounces a year ago when they'd turn their fumbles into touchdowns. That hasn't been the case this season. But they received one huge break in the fourth quarter when Helu fumbled a third-down reception. The Raiders would have had the ball inside the Redskins' 30. But an offside penalty negated the play. The Redskins ended up punting on the play; it could have been worse.
What's next:
The Redskins have a bye on Sunday before traveling to face the
Dallas Cowboys
on Oct. 13.

NFL SCOREBOARD
Thursday, 9/4
Sunday, 9/7
Monday, 9/8