NFL Nation:

2013 Week 5 DEN at DAL
October, 7, 2013
10/07/13
2:00
PM ET
A review of four hot issues from the
Dallas Cowboys
' 51-48
loss
to the
Denver Broncos
:
[+] Enlarge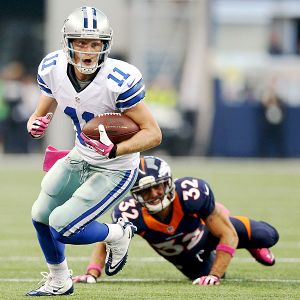 Matthew Emmons/USA TODAY SportsCole Beasley scored the first touchdown of his career and finished with four receptions for 47 yards.
Empty it out:
The Cowboys broke out their empty package against the Broncos and had great success. Unoffically, quarterback
Tony Romo
completed 10 of 13 passes for 235 yards when the Cowboys left the quarterback alone in the backfield. Only one of Romo's four sacks came in an empty look. That was one of the bigger changes the Cowboys used to attack the Broncos and Romo made it work. Romo's 79-yard throw to receiver
Dez Bryant
came out of an empty look, but Bryant's fumble came when the Cowboys motioned to an empty look. Romo's shortest completions in the 01 or 02 package were a pair of 10-yarders.
Finding the weakness:
As head coach Jason Garrett says, every defense has a weakness and the opponents have found the Cowboys' in their 4-3 scheme. San Diego completed 20 passes for 238 yards to running backs and tight ends. The Broncos completed 18 passes for 221 yards. They have given up back-to-back 100-yard games to tight ends in
Antonio Gates
(136) and
Julius Thomas
(121). With Minnesota's
Kyle Rudolph
, New Orleans'
Jimmy Graham
, Chicago's
Martellus Bennett
and Green Bay's
Jermichael Finley
left on the docket, the Cowboys better figure out how to defend the tight end better.
Playing to its level:
The Cowboys are realizing just how valuable defensive end
Anthony Spencer
is to this defense. Perhaps nose tackle
Jay Ratliff
too. With Spencer out for the year and Ratliff on the physically unable to perform list for at least one more game and possibly a lot longer, the Cowboys' defensive line is getting exposed. Defensive end
DeMarcus Ware
and defensive tackle
Jason Hatcher
are the only players in the roles that were set before the season started. The rest of the line was hardly expected to make the roster. For as well as defensive end
George Selvie
and defensive tackle
Nick Hayden
have played at times, they were still out of work this summer and not on a team last season respectively. Defensive line coach Rod Marinelli was lauded for his work the first three games, but in the past two games the Cowboys have one sack.
Filling a role:
It's too easy to compare receiver
Cole Beasley
to
Wes Welker
. The Cowboys have found a role for Beasley in the slot. Beasley caught four passes for 47 yards and had his first touchdown, a 4-yarder in the fourth quarter. He looked positively Welker-like on his 23-yard catch, working the middle of the field with his quickness on the defensive back. He will be limited as an outside receiver, but his effectiveness underneath and the trust Romo has in him will make Beasley a factor on the offense, especially if the Cowboys continue to roll out their aforementioned empty package.
October, 6, 2013
10/06/13
11:10
PM ET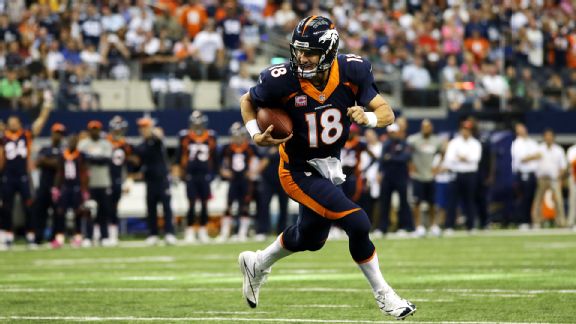 AP Photo/Tony GutierrezPeyton Manning tossed another four touchdown passes, and he also ran one in on a bootleg.
ARLINGTON, Texas -- Before the
Denver Broncos
arrived in Texas, the general consensus was they had lived the life of football luxury over the season's first month.
Their future Hall of Fame quarterback and the players around him were piling up so many points, the Broncos were inducing yawns on the way to 20-something-point wins. But it did all sort of raise the question, the one about how they would do if somebody really got up in their grill, slapped a touchdown or two on them early, forced a couple turnovers and put them on their heels.
"I guess I would say we would respond. That's what we felt in here," linebacker
Danny Trevathan
said. "I'd say we would find a way. We always believe that, and, you know,
Peyton Manning
would do what Peyton Manning does."
It was there Sunday for the Broncos, all kinds of vocational trouble tossed onto their doorstep, waiting to see what they would do with it. And, in the end, the Broncos sorted through the pile, albeit not always in the most appealing of fashions, and Manning did in fact do what he's done so many times before as the Broncos moved to 5-0 with a
51-48 victory
over the
Dallas Cowboys
at AT&T Stadium. Along the way, Manning moved into second all time on the NFL's career passing yards list (61,371), passing Dan Marino.
"I think it was just everybody fighting together, fighting until the end," Broncos wide receiver
Wes Welker
said. "You always want to have these kinds of games in the regular season to make sure you have that toughness."
Ultimately, the Broncos' toughness and their place in history will be measured by what happens after the new year begins. But Sunday gave them the chance to show they aren't just another pretty face.
No, the Cowboys, including several players who said this past week they were "sick and tired" of hearing about Manning and the Broncos, were inhospitable hosts with an upset on their mind. They scored touchdowns the first two times they had the ball and built a 17-7 lead after a third scoring drive to start the game. The Cowboys forced a fumble from wide receiver
Eric Decker
to end the Broncos' first possession. They made the first interception of a Manning pass this season. The Broncos were missing five defensive starters by game's end, and the Cowboys were ahead 48-41 with seven minutes, 19 seconds left.
"That's the best team in football that we played," Cowboys coach Jason Garrett said. "We stepped to that challenge. … We didn't do enough to win the game. They did, and we have to learn from it."
With suspended linebacker
Von Miller
and injured cornerback
Champ Bailey
yet to play this season, the Broncos' weekly flirtations with history seemed at an end as Cowboys quarterback
Tony Romo
was on the way to 506 yards passing. Defensively, the Broncos saw Romo find opening after opening as cornerback Chris Harris (concussion), linebacker
Wesley Woodyard
(neck) and defensive end
Robert Ayers
(shoulder) went to the sideline with injuries and did not return. But on a get-up-off-the-mat kind of day, it was almost fitting that Trevathan found a way to get the defense off the field and give Manning a chance to erase the bad stuff in the game's closing minutes.
Manning led a nine-play, 73-yard drive to tie the score at 48, but the Cowboys' offense, which had scored touchdowns on its previous four possessions of the second half, now had the ball with plenty of time -- 2:39 -- and all three timeouts, plus the two-minute warning, to close the deal. On first down, Romo took a sack from the Broncos'
Shaun Phillips
. On second-and-16, Romo tried to force the ball to tight end
Gavin Escobar
, and why not? Led by
Jason Witten
's seven catches for 121 yards, the Cowboys tight ends had enjoyed room to work against the Broncos defense for most of the afternoon.
"We had seen some things on tape we thought we could use," Romo said.
But Romo didn't quite unleash his best fastball -- "I just didn't get as much on it," he said -- and Trevathan cut underneath Escobar to make the interception. The same Trevathan who had been carted off the practice field Wednesday with a knee injury that his teammates, coaches and anyone else who saw the play thought was season ending.
"God works in mysterious ways," Trevathan said. "I felt that pop [Wednesday]. I started seeing baby memories and stuff out there. I thought I was done."
Trevathan's interception gave the Broncos the ball at the Cowboys' 24-yard line with 1:57 to play, all of their timeouts in their pockets and Manning at quarterback. They moved the ball all of 14 yards, with Manning taking the ball and hitting the deck on the last three plays from scrimmage. And with that,
Matt Prater
, who has spent much of the season kicking extra points and 50-yard field goals, trotted on and calmly hit the 28-yard game winner as time expired.
"I try to treat every kick the same," Prater said. "My mindset all year has been I kind of go with the flow, and when you have the opportunity to make a kick, you make it -- no matter the score -- when it is in the game or whatever. But it's always good to kick one with the game on the line and help us come away with a win."
"People say we haven't been tested or whatever," Broncos safety
Rahim Moore
said. "And it was kind of ugly; it was bad, good, bad, good, bad, good, bad, good … but it's how you finish, and we finished on good. That's what matters."
October, 6, 2013
10/06/13
10:45
PM ET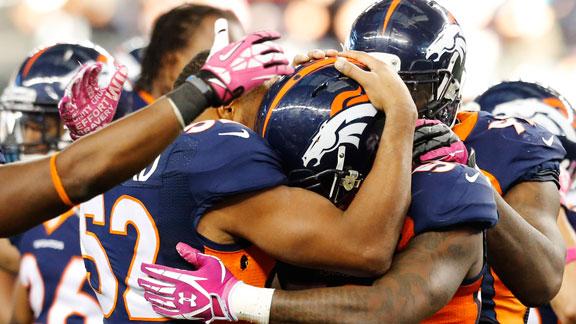 ARLINGTON, Texas -- For virtually all of
Knowshon Moreno
's football life, folks have asked him to fight for more, finish the play and when the game is on the line to get every inch he can.
Until Sunday.
"And I've never been part of that before," the
Denver Broncos
running back said.
It was an odd sight Sunday to close out the Broncos'
51-48 victory
against the
Dallas Cowboys
, but yet there was the league's highest-scoring offense trying not to score a touchdown.
Yes, in a game tied 48-48, with the two quarterbacks already having combined for nine touchdown passes, the Broncos did not want to score a touchdown. And after linebacker
Danny Trevathan
had given the Broncos the ball at the Cowboys' 24-yard line with 1 minute, 57 seconds to play, they tried their best not to.
After four plays the Broncos faced a third-and-1 from the Cowboys' 2-yard line. But not wanting to give the ball back to the Cowboys if they scored -- there was still 1:40 left on the clock at that moment -- the Broncos wanted to give the ball to Moreno and have Moreno get a first down, but not a touchdown.
A request that, at least initially, as he faced a difference of 36 inches between the score and a first down, flummoxed Moreno.
"We did not want to give [the Cowboys] the ball back. I've never been in a situation quite like that at the end," said quarterback
Peyton Manning
. "We needed to get the first down, but we didn't need to score. That difference was about a half of yard. Knowshon and I were arguing at the end, he basically asked: 'How am I supposed to do that? How am I going to get a half a yard, but not get a yard and a half.' [I said] 'You can't, you can't score.'"
"I was confused on how to do it," Moreno said. "Peyton said, 'Just do it it.' Whatever he says, do. You always talk about first down, fall-down mentality. I've never been part of that before."
So, Moreno took the ball and powered into the middle of the Cowboys defense and stopped himself just short of the goal-line in the sea of humanity.
"You try to go down,'' Moreno said. "... But at the same time it was a little crowded in there, so I tried to get the first [down]. I looked over at it and I was like let's see how close I can get without going in."
From there Manning took a 4-yard loss before taking a knee twice and Broncos kicker
Matt Prater
kicked the 28-yard game-winner on fourth down.
October, 6, 2013
10/06/13
10:40
PM ET
ARLINGTON, Texas -- We interrupt all the screaming about a performance that pretty much summarizes why
Tony Romo
is the world's most polarizing athlete to address the primary reason the
Dallas Cowboys
lost Sunday afternoon.
Concerned about Monte Kiffin's defense?
"Knowing my expectations playing Denver and playing
Peyton Manning
coming in," Jerry Jones said, "I'm going to cut him some slack."
Bryant
Witten
An NFL defense has never been so quickly forgiven for allowing 51 points. And a quarterback has never been more harshly criticized after leading his team to 48 points.
Romo's one turnover was about as painfully poorly timed as possible, but it's absolutely ridiculous to pin the blame for this loss on a quarterback who threw for a franchise-record 506 yards and five touchdowns.
Never has a team in NFL history scored more points in a loss. Let's call that indisputable evidence that this 'L' falls at the feet of a defense that has allowed three 400-yard passers in five games, including losses the past two weeks.
Get ready to cut Kiffin some slack on a regular basis. The Dallas defense still has to face
Aaron Rodgers
,
Drew Brees
,
Matthew Stafford
and
Robert Griffin III
twice during the rest of the regular season. That's an MVP, a pair of 5,000-yard passers and a Rookie of the Year.
You'll probably never hear this from Jerry, who made Rob Ryan the scapegoat for 8-8, but there is ample reason to fear that the game has passed the 73-year-old Kiffin by. He couldn't figure out how to stop Pac-12 offenses at USC, and he's appeared just as befuddled during his NFL return.
(By the way, Kiffin didn't bother to make himself available to the media after the loss, but I'm pretty sure we could hear Ryan's hooting and hollering about his New Orleans Saints' 5-0 start all the way in Arlington.)
The Cowboys' best hope to be a legitimate contender -- and not just win the weak NFC East -- is that this offense can prove itself capable of throwing haymakers with anyone in the league. That was certainly the case in Sunday's last-team-to-get-the-ball-wins game.
"You leave this game and obviously you're crushed and disappointed,"
Jason Witten
said, "But offensively, this needs to be the standard in which we play to give ourselves a chance to win."
Witten didn't mean that as a dig at the defense, but the shoe fits.
The positive spin here: We saw the potential of the Cowboys' offense, even with
Miles Austin
sitting with a strained hamstring.
Give Romo respectable protection, and the Cowboys' offensive line is capable of that on a consistent basis for the first time in years, and this should be an explosive option. The Cowboys feature a legitimate franchise quarterback with a lot of weapons at his disposal.
There's not a better wide receiver-tight end duo in the league than
Dez Bryant
and Witten. Maybe a defense can take away one or the other, but it's close to impossible to keep both from making plays.
The Broncos couldn't stop either, with Bryant blowing up for 141 yards and two scores on six catches, and Witten going off for 121 yards and a touchdown on seven catches. And rookie
Terrance Williams
led the Cowboys in receiving yards with 151 on four catches, including an 82-yard touchdown in what might have been the third-round pick's breakout performance.
DeMarco Murray
and
Cole Beasley
scored touchdowns, too. And you can reasonably make the case that Romo outplayed a four-time MVP who is in the midst of the best stretch of a certain Hall of Fame career.
The shame: All those offensive fireworks went to waste because Kiffin's defense got torched again.
October, 6, 2013
10/06/13
10:30
PM ET
ARLINGTON, Texas – The
Dallas Cowboys
defense is terrible.
This has nothing to do with Monte Kififn and his Tampa 2 scheme, though it is suspect at the moment.
Peyton Manning
was fabulous for the
Denver Broncos
on Sunday. He threw for 414 yards and four touchdowns in the dramatic 51-48 victory.
[+] Enlarge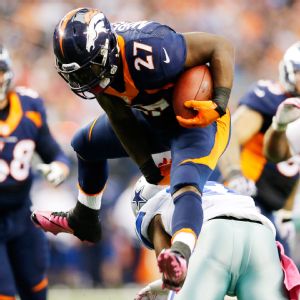 AP Photo/Tony GutierrezKnowshon Moreno averaged almost five yards per carry as the Broncos rushed for 103 yards against the Cowboys.
He completed passes to six different players and the run game averaged 3.3 yards per carry with
Knowshon Moreno
rushing for 93 yards on 19 carries.
But over the last two weeks, the Cowboys' defense has given up 1,028 yards in losses.
The Cowboys have to play better than this.
"They scored 48 points," linebacker
Sean Lee
said of the Cowboys' offense. "The fact that we weren't able to win when the offense scored 48 points is absolutely acceptable. We have to find a way to be a better defense. Right now, we're not a good defense. Right now, we're not a good defense. Two weeks in a row, we've given up way too many points and way too many yards. Until we get better, we're not going to win ballgame. That's purely on us."
The Cowboys are not getting to the quarterback and Manning, though he gets rid of the ball quicker than most quarterbacks in the league, is hard to bring down.
But there's a reason why
DeMarcus Ware
is considered the heart and soul of this defense. Yes, he will get doubled. Yes, he's playing with a balky back and a neck that could go numb at
any moment. Yes, he had cramps and needed an IV to get through the Denver game. But Ware has to pressure the pocket more than once, which is what he did on Sunday.
"[Manning] diagnoses what the defense is doing and gets the ball out of his hand against man, against zone and really does a good job not allowing those negative plays to happen," coach Jason Garrett said. "What you tell your defensive linemen is 'keep going, keep banging. When you do get an opportunity, try to make a play.' I do think he affect him a couple of times on some of those third down situations where we did get stops and those were important plays for us."
Cornerback
Brandon Carr
, who was targeted late in the second half, signed a five-year $50.1 million deal as someone the franchise is hoping will knock passes down and make interceptions. Offenses shy away from Carr at times and pick on
Morris Claiborne
. In the second half, Manning targeted Carr and he had zero pass breakups.
Claiborne, whom the Cowboys traded two draft picks for to select No. 6 overall last summer, has one interception in his career. He picked it up on an under thrown pass from Manning. He also recovered a fumble during the Cowboys rush to a 14-0 lead on Sunday.
"No matter what, all the plays we made, all the good things we did, we didn't come out on top," Claiborne said. "It was a good play, but we didn't get the victory so it doesn't mean anything."
The Cowboys played more nickel defense to combat the three-and-four receiver sets by Manning, but still lost the race.
Bruce Carter
was benched for
Ernie Sims
on the nickle and in the base 4-3 package. When Sims was not playing up to par, Carter was inserted.
Both did not make enough plays.
In some ways the Cowboys are missing defensive tackle
Jay Ratliff
. He's out another week, on the PUP, recovering from sports hernia surgery. The Cowboys need Ratliff to push the pocket and become a disruptive force in the run game.
Overall, the Cowboys defense is in need of a Yasiel Puig-like burst to their season right now.
"I just know we needed to make more plays," secondary coach Jerome Henderson said.
It's easy to blame the loss on quarterback
Tony Romo
, whose fourth-quarter interception set up the winning field goal, but it would be nice if the defense made a stop when it counted. In a game like Sundays where it resembled more like Madden 25, the defense needed to make one play. Just one.
"There is no such thing as a good loss," Carr said. "A loss is a loss. It's about wins and losses. We just weren't able to get the job done. It's one of those things. Back to the drawing board; break down these things on film. It's a 24-hour rule with this game. Get it out of your system and learn from it."
October, 6, 2013
10/06/13
10:23
PM ET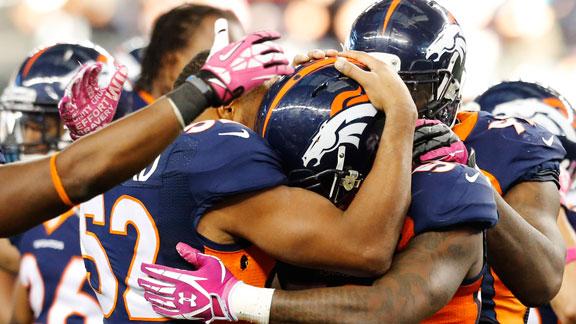 ARLINGTON, Texas -- As
Tony Romo
jogged on to the field with 2:39 to play Sunday everything was there for him.
He was a drive away from outdueling
Peyton Manning
. He was a drive away from pinning the
Denver Broncos
with their first loss. He was a drive away from potentially getting the
Dallas Cowboys
over whatever hump they have not been able to clear for so many years.
And then came the pass.
Looking for rookie tight end
Gavin Escobar
in the middle of the field, Romo's pass was intercepted by linebacker
Danny Trevathan
at the Dallas 24.
[+] Enlarge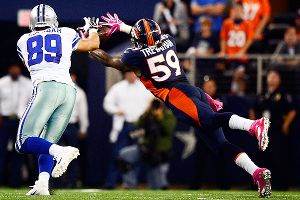 Aaron Ontiveroz/The Denver Post/Getty ImagesDanny Trevathan showed last season that he can be an asset when dropping into pass coverage.
The Broncos drove to the Dallas 1-yard line and
Matt Prater
kicked a 28-yard field goal to beat the Cowboys 51-48 at AT&T Stadium.
"I wanted to put it another two feet out in front," Romo said, "and I didn't put it exactly where I needed to. It's frustrating and disappointing."
A career day ruined in one throw. Romo passed for a Cowboys' record 506 yards. Only 11 quarterbacks in NFL history have ever thrown for more yards in a game than Romo's 506 yards. He completed 25 of 36 passes. He tied the team record with five touchdown passes, equaling his career high set on Thanksgiving 2006 against Tampa Bay.
There was a different feeling around Romo then. That was just his fifth career start. He was the undrafted kid from Eastern Illinois who saved a season under Bill Parcells. He could do no wrong. It was Romo-mania and Romo-mentum.
And yet now, for as great as he was Sunday, there was a feeling of uneasiness when the Cowboys took the field after Denver tied the game.
The last time Romo was in such a spot came in the final regular-season game last year at Washington. Trailing 21-18 late in the fourth quarter, Romo had the Cowboys at their 29 with 3:06 to play. Everything was there for him.
And his pass in the flat to
DeMarco Murray
was intercepted by Redskins linebacker
Rob Jackson
. Washington scored a touchdown and ultimately won the de facto NFC East title game 28-18.
Romo had lost. Again.
"You put so much into the week," Romo said. "It's funny you can get over the win pretty easy and get ready for the next one. But you lose and it just eats at you, just grinds away at you thinking 'What could we have done? What should I have done?' All of those things are part of playing professional sports and sports in general. So, yeah, it will take some times, but we'll have to be ready to go next week."
Unlike the Redskins' loss, there is a next week for Romo and the Cowboys.
The task got taller now that they are 2-3, but the offensive showing at least gave a glimmer of hope. Hope, however, should not be at the top of the list after what happened on Sunday.
Owner and general manager Jerry Jones said Romo "had a game of the ages today." Jason Garrett said Romo, "played an outstanding football game."
Jason Witten
, who had seven catches for 121 yards and a touchdown, called it the best game Romo may have ever played, adding, "They've got a great quarterback across the way, maybe the best ever, but No. 9 played pretty well today."
Don Meredith held the team record with 460 yards on Nov. 10, 1963 against the
San Francisco 49ers
. Meredith had three receives with more than 100 yards that day, just like Romo had with Witten,
Dez Bryant
(141 yards) and
Terrance Williams
(151 yards) on Sunday.
Romo's five touchdown passes went to four different receivers with Bryant catching two and Witten, Williams and
Cole Beasley
catching one apiece.
He answered everything Manning did. He even out-did Manning.
"You had the sense they were scoring a lot," Romo said. "You have to try and get rid of it a little bit and just look at the defense and take what they give you. That's an answer you hear a lot but it's true. Otherwise you're going to get yourself in trouble."
Romo said the throw to Escobar was not unlike the 25-yarder he completed to the rookie tight end in the first half for 25 yards.
"And the guy doesn't get his hand on it and it's down the middle," Romo said. "It's the same type of play, same type of look. The difference is I didn't get the same on the ball that I threw earlier … That's the difference sometimes."
The difference, yes, but also the same and the Cowboys were stuck with another agonizing loss.
"In some ways we like to think we can play against those types of teams and hold our own," Romo said, "but obviously we've got to come out on top at the end of it."
October, 6, 2013
10/06/13
9:05
PM ET
ARLINGTON, Texas -- Observed in the locker room after the
Denver Broncos
51-48
win
against the
Dallas Cowboys
:
Manning
Don't tell:
Broncos quarterback
Peyton Manning
said, in order to get everyone else on offense to sell it as a business-as-usual run play, he didn't tell anyone, either in the huddle or on the sideline, that he planned to run the naked bootleg for a 1-yard touchdown just before halftime. He made the decision as soon the Dallas defender covering tight end
Julius Thomas
went in motion with the tight end. "If you do it every five years, it's a good tendency-breaker,'' Manning said.
Battered:
The Broncos had a substantial injury report and will have plenty of players to be evaluated Monday. Defensive end
Robert Ayers
(left shoulder), linebacker
Wesley Woodyard
(neck) -- the Broncos said it was a shoulder injury during the game -- cornerback
Chris Harris
(concussion), and running back
Ronnie Hillman
(left ankle), all eventually did not return to the game. Hillman was walking with just a slight limp following the game and was set to return to Denver with his ankle taped.
Get used to it:
Broncos safety
Rahim Moore
has been Manning's teammate for less the two seasons, but says it would take a lot to surprise him about the future Hall of Famer. "He's a special player, a special player who makes special plays … He's done it over and over again.''
Hit the road:
There were plenty of Broncos, coaches included, who noticed just how many Broncos fans had wheeled and dealed themselves into the crowd of 92,758 for the game. Coach John Fox said; "It was surprising, I had our whole team convinced it was us against the whole stadium, and I wasn't telling the truth.''
October, 6, 2013
10/06/13
7:50
PM ET
ARLINGTON, Texas -- A few thoughts on the
Denver Broncos
'
51-48 win
over the
Dallas Cowboys
at AT&T Stadium:

What it means:
The Broncos were forced to adapt and overcome Sunday. The Cowboys jumped out to a 14-0 lead,
Peyton Manning
threw his first interception of the season and the Broncos lost three more starters on defense to injuries: cornerback
Chris Harris
(concussion), defensive end
Robert Ayers
(shoulder) and linebacker
Wesley Woodyard
(shoulder). It was all in the pile of trouble for the Broncos, yet they still came away with a win.
Stock watch:
It had to happen at some point, but the Broncos' defense has taken some hits on the stat sheet this season with
Von Miller
and
Champ Bailey
yet to play in '13. Cowboys quarterback
Tony Romo
feasted on the linebackers in coverage throughout the day, and he repeatedly targeted cornerback
Tony Carter
, who was in the game far more than planned because of Harris' injury.
Not the usual:
The Cowboys' beleaguered secondary, which had surrendered two 400-yard passing games to opposing quarterbacks before the Broncos arrived, was able to limit Denver's ability to get the ball to wide receiver
Demaryius Thomas
for much of the day. By the time the fourth quarter began, Thomas still had just two catches for 13 yards until he had a well-timed, drive-saving 26-yard reception late in the game to go with another leaping grab with just 1:49 to play.
Bumps and bruises:
The Broncos kept 11 defensive backs coming out of training camp -- a rare move for any team (they kept nine out of camp in 2012) -- and they have now needed every one of them. They have kept Bailey on the roster rather than designating him for return from injured reserve now five games into the season, and Harris will have to pass concussion protocol to even return to practice. Suddenly,
Quentin Jammer
and second-year cornerback
Omar Bolden
could become extremely important to the Broncos' defensive plan.
What's next:
The
Jacksonville Jaguars
entered Sunday's game as the league lowest-scoring team with 31 points in their first four games -- 13 fewer points than the idle 0-4
Buccaneers
had scored in their first four games. Things did not get better as Jacksonville scored 20 Sunday but finished with a pile of injuries for its troubles. The Jaguars will arrive in Denver to find an irate team which narrowly escaped against the Cowboys.
October, 6, 2013
10/06/13
7:45
PM ET
ARLINGTON, Texas -- A few thoughts on the
Dallas Cowboys
'
51-48 loss
to the
Denver Broncos
on Sunday at AT&T Stadium.

What it means for the Cowboys:
For the third straight season, the Cowboys are 2-3, and they have never recovered from so poor a start to make the playoffs since Jerry Jones took over as owner and general manager in 1989.
The difference-maker was a
Tony Romo
interception with 1:57 to play at the Dallas 24-yard line, which ruined what had been one of the best games of his career. He finished with a franchise-record 506 passing yards, but it was the mistake when it mattered most that doomed his game and the Cowboys' chance to knock off the undefeated Broncos.
Peyton Manning
was able to bleed the clock after converting two first downs to set up
Matt Prater
's 28-yard field goal to win the game as the clock expired.

Stock watch:
Falling -- Monte Kiffin. He was brought in to change the defense, and, so far, it just has not happened. The Cowboys are forcing more turnovers and came up with the first interception of Manning on the season, but the 51 points allowed is the most points they have ever allowed in a home game in team history. The Cowboys allowed 500 yards for the second straight game, with Denver picking up 517 after San Diego put up 506 last week.
Airing it out:
Terrance Williams
,
Dez Bryant
and
Jason Witten
all had touchdowns, and all had more than 100 yards receiving on Romo's 506-yard day.
A week after his fumble at the goal line cost the Cowboys at least a field goal,if not a touchdown, Williams responded with an 82-yard touchdown and 151 yards. Bryant scored a touchdown for the fourth straight game and had 141 yards, but he also had a crucial fumble in the first half. Witten caught seven passes for 121 yards and had a fourth-quarter touchdown that gave the Cowboys a brief lead.
Alas, it was not enough for the Cowboys or Romo, whose mistake cost the Cowboys a chance at victory.
Claiborne rebounds, sort of:
Morris Claiborne
has been maligned for his play this season, but the second-year cornerback was responsible for two takeaways that led to 14 Cowboys points.
Claiborne recovered a fumble on the Broncos' first drive of the game that ended in a
DeMarco Murray
touchdown, and his interception of Manning in the third quarter led to a Witten touchdown that gave the Cowboys a 41-38 lead.
It wasn't perfect. He was beaten by
Eric Decker
for a 57-yard catch and a touchdown, but it was at least a sign of fight from Claiborne.
What's next:
The Cowboys play their second NFC East game of the season with the
Washington Redskins
visiting AT&T Stadium.
Robert Griffin III
completed 20 of 28 passes for 311 yards and four touchdowns in the Redskins' 38-31 victory in Arlington on Thanksgiving last season. The Cowboys opened this season with a 36-31 win against the
New York Giants
.

NFL SCOREBOARD
Thursday, 9/4
Sunday, 9/7
Monday, 9/8