NFL Nation:

2013 Week 5 HOU at SFO
October, 7, 2013
10/07/13
2:30
AM ET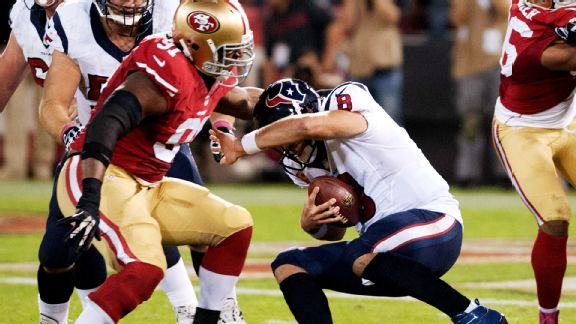 Ed Szczepanski/USA TODAY SportsThe Texans have lost three in a row and Matt Schaub has thrown his fourth pick-six in four games.
SAN FRANCISCO -- The mind is a funny thing, especially in sports.
It can subvert or bolster ability and skill. Confidence can change a lot, so can the lack of it.
After a thorough
34-3
drubbing at the hands of the
San Francisco 49ers
Sunday night, the Texans rushed through their postgame obligations, and no players spoke at the podium. Instead, Texans quarterback
Matt Schaub
stood at his locker searching for the answers everyone else sought, speaking softly and deliberately. He was asked about his confidence. Schaub's head swayed slightly before he answered.
"Obviously, it's tough right now," the Texans' starting quarterback said honestly. "After what we've been through tonight, going back to last weekend and even the week before. I am very confident in my ability and everyone in this locker room."
Schaub left the game just as he began it -- with the public confidence of his coach and his teammates. Texans coach Gary Kubiak said Schaub is still the Texans' starting quarterback. But this time, it followed a game in which Schaub became the first quarterback in NFL history to throw a pick-six in four consecutive games. Sunday night, he threw it on his first pass. This time, it came during a three-interception performance that could have been four. This time, for the first time in a long while, Schaub never looked comfortable.
The Texans do not need a perfect quarterback to make a deep playoff run or even win it all. They do not need Schaub to be
Peyton Manning
or
Tom Brady
. They do need him to turn back into the player he was early last season and late in San Diego and late against Tennessee this season. They need him to be the guy who got them a 20-3 lead against the
Seattle Seahawks
.
Can he?
That answer lies in the answer to this: What is Matt Schaub's mental state?
That is what this is about. It is not about his ability but whether Schaub can mentally move past four bad quarters. Kubiak mercifully removed him from Sunday's game at the end of the third quarter with the Texans already down 24-3 -- allowing
T.J. Yates
to finish Houston's second prime-time game of the season.
"I think it was time for him [Yates] to get some reps," Kubiak said. "Obviously, Matt took some hits and made some mistakes. And I just told him I was going to put T.J. in the game -- and we're going to go from there and talk about it after the game or throughout the course of the week and see where we're at."
Schaub finished with a passer rating of 32.2. He completed 19 of 35 passes for 173 yards and three interceptions. San Francisco safety
Eric Reid
dropped a fourth would-be interception. Schaub was sacked only once, and on that third-quarter play, he scrambled forward into the pressure, creating some where there was none.
All of Schaub's interceptions in San Francisco were on passes that traveled fewer than 10 yards. Seahawks cornerback
Richard Sherman
's pick-six was on a short throw, too.
"Maybe it's something they see on film," receiver
Andre Johnson
said. "Something they study on film and figure out and maybe something that we're doing offensively that we may not know we're doing."
The way Schaub carried himself this week indicated he had left behind his dismal finish to the Seattle loss. He knew it was bad and was ready to move on from it, but it seemed like his latest pick-six brought back the ghosts.
"The corner fell off of
Keshawn [Martin]
and jumped the route. He made a good play," Schaub said.
San Francisco corner
Tramaine Brock
kept the ball after his first NFL touchdown.
"We really didn't see that in film during the week," he said. "But we always call '55' and run a trap. But we really didn't know that was going to come right then."
Kubiak said Sunday that this better be rock bottom for the Texans, who are now facing their first losing record since the end of the 2010 season.
Schaub insisted rock bottom was here. He talked about how hard they all worked and how hard he personally had worked.
"I'm better than I'm playing," he said.
You know what? He is right.
But if he cannot rewire himself mentally, it will not matter how good he can be. For the Texans, all that matters is what he actually does. His mind will determine that.
.
October, 7, 2013
10/07/13
2:30
AM ET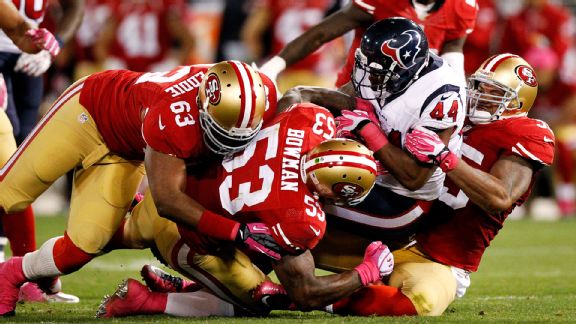 Cary Edmondson/USA TODAY SportsAfter giving up 84 points in three games, NaVorro Bowman and the 49ers are now clamping down.
SAN FRANCISCO -- The code for
San Francisco 49ers
to succeed under Jim Harbaugh has not been difficult to crack.
It begins with the defense, a unit that is dominating despite playing without All-Pro linebackers
Aldon Smith
and
Patrick Willis
.
Sure, the 49ers have been pretty spectacular on offense at times. But this team lives and dies with its defense. And if the 49ers stick around as serious contenders in the NFC, it will be because of the defense.
After all, it was the defense that a week ago lifted San Francisco out of a two-game funk. And while completely dominating the Houston Texans
34-3
on Sunday night, the 49ers showed the rest of the league that this is still one of the most dominant defenses in the NFL.
And that this is still a Super Bowl contender.
There was serious concern about the 49ers after they were humiliated by the Seattle Seahawks and the Indianapolis Colts in Weeks 2 and 3. They were outscored 56-10 in those two games. The defense looked tired, and injuries were mounting.
Yet it no longer appears to be a crisis situation in San Francisco. The 49ers have responded to those two drubbings by outscoring the Rams (on the road) and the Texans by a combined 69-14.
After Seattle lost to the Colts on Sunday to drop to 4-1, the 3-2 49ers are back in the NFC West hunt. And after a tough start, the schedule now softens a bit for the 49ers. They host Arizona next week, and then travel to play the
Jake Locker
-less Titans and then the winless Jaguars in London before the bye. If the San Francisco defense continues to play well, turning a 1-2 start into a 6-2 record at the bye appears more than realistic.
There is no reason to think this defense is going to sag now. It has thrived under adversity.
Smith went to an alcohol treatment center on Sept. 24. There is no timetable for his return, but he may not be back until after the Nov. 2 bye. Special-teamer
Dan Skuta
and rookie
Corey Lemonier
have played in his place. Willis went out with a groin injury in the Colts' loss. The team is being cautious with him (he was a game-time inactive Sunday), and barring a setback, Willis might return against Arizona. Meanwhile,
Michael Wilhoite
has played well in his absence.
This has been a theme for San Francisco this year. For a defense that hasn't rotated much under defensive coordinator Vic Fangio, its depth is really showing.
Glenn Dorsey
took over at nose tackle when
Ian Williams
went down for the season in Week 2.
Tramaine Brock
has been spectacular as the No. 3 cornerback since
Nnamdi Asomugha
went down with a knee injury two weeks ago. There is little chance Asomugha wins his job back.
Sunday's night's domination did not come without the potential of more adversity. Standout defensive tackle
Ray McDonald
left with a biceps injury. He said after the game he will have an MRI on Monday. McDonald would be missed if he is out for an extended period of time. However, his replacement,
Tony Jerod-Eddie
, had an interception Sunday night after McDonald was hurt.
That's what these 49ers are doing. Backups are producing when the stars are out.
To think the San Francisco defense has allowed just 14 points in two games playing without Smith, one of the most dynamic pass-rushers in the game, and Willis, a potential Hall of Famer, is stunning. How many other defenses could thrive without their best players?
"That's why we are here," Skuta said. "You see it in practice. You see guys step up when needed here."
Added standout safety
Donte Whitner
, who had a tremendous game Sunday night: "This defense runs 22, 23 [deep] … it's one of the deepest defenses in the league. … Yes, we miss our guys, but we still have to get the job done. You saw that tonight."
[+] Enlarge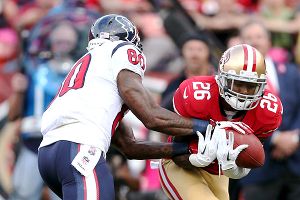 Jeff Gross/Getty ImagesTramaine Brock intercepted two passes and returned one for a TD on the game's first series.
The 49ers' defensive dominance started early Sunday. On Houston's first drive, Brock made the first of his two interceptions against quarterback
Matt Schaub
and returned the ball 18 yards for a touchdown. It was the fourth game in a row that Schaub had an interception returned for a score. It set the tone for a long night for the Texans' quarterback.
The 49ers forced four turnovers. The 49ers ate Schaub alive on short passes. According to ESPN Stats & Information, Schaub averaged just 4 yards on passes that traveled 10 or fewer yards. All three of Schaub's interceptions came on short passes.
The 49ers scored 34 points and were runaway winners -- and quarterback
Colin Kaepernick
completed just 6 of 15 passes for 113 yards and a touchdown. San Francisco was in game-management mode because of what the defense was doing.
"We look to set the tone on defense," Wilhoite said. "That's the plan every week, and it worked out well tonight."
There was a lot of concern about the San Francisco defense when this team was 1-2. It had allowed 84 points in three games. But I thought the point was misleading. The defense sagged late in games and got tired after the San Francisco offense couldn't muster and sustain drives against the Seahawks and the Colts.
Sunday night, the offense, led again by a strong ground game, held up its end of the bargain and again and fed off the defense. That's how the 49ers win.
"I know some people were worried about the defense earlier," Whitner said. "But this is a strong, winning defense. We are showing that."
October, 7, 2013
10/07/13
1:09
AM ET
SAN FRANCISCO -- Observed in the locker room after the
Houston Texans
' 34-3
loss
to the
San Francisco 49ers
.
Schaub
Coach is succinct:
The first question for Texans coach Gary Kubiak was whether or not
Matt Schaub
was his starter: "Yes, he is," Kubiak replied, simply.
Leaving the field:
Prior to walking into the locker room, Schaub was the fourth player off the field as the 49ers ran out the clock. Schaub was heckled roundly by San Francisco fans as he walked but stared straight into the tunnel.
Andre Johnson
was one of the last players to leave the field, and as he approached the sideline, he began peeling off his jersey and shoulder pads.
Support of a friend:
Center
Chris Myers
is one of Schaub's closest friends on the team, and Myers offered support for Schaub postgame. He stressed that Schaub helped lead the Texans to a 20-3 halftime lead last week. "He's in a slump a little bit, but he's got the whole team at his back."
October, 6, 2013
10/06/13
11:39
PM ET
SAN FRANCISCO -- A few thoughts from the
Houston Texans
' 34-3
loss
to the
San Francisco 49ers
.

What it means:
OK, now it's time for the Texans to panic. It is possible to win with a quarterback who isn't great, but it isn't possible when he struggles as much as
Matt Schaub
did on Sunday in San Francisco. The mental state of a quarterback who was given an extension worth $69.7 million before the start of the 2012 season has to be a major concern for Houston going forward.
Stock watch:
Schaub's stock bottomed out on Sunday. He threw a pick-six on his first throw of the game and became the first player since the 1970 merger to throw interceptions that were returned for touchdowns in four consecutive games. There was the occasional sharp throw sprinkled into a game in which just about nothing went right for the Texans and especially Schaub. Briefly, he looked broken. It was the right move to give Schaub a chance to redeem himself after last weekend's loss to the
Seattle Seahawks
. But given that chance, Schaub struggled so heartily that by the time he was benched in favor of
T.J. Yates
, he had 19 completions for 173 yards, no touchdowns and three interceptions. 49ers safety
Eric Reid
should have caught a fourth interception, but he dropped it.
What happened to the defense?
: Can't pin this loss on the defense even a little bit. They were put into bad positions by their offense frequently. They needed to be perfect if the Texans were to have a chance with their offense struggling, and they weren't. As Yates warmed up on the sideline, the Texans' gave up a 64-yard touchdown pass from
Colin Kaepernick
to
Vernon Davis
, but the 49ers quarterback didn't otherwise have many passing yards.
What's next:
The Texans get a reprieve after facing the Ravens, Seahawks and 49ers in consecutive weeks. But they have a lot of questions to answer before playing the
St. Louis Rams
next weekend.
October, 6, 2013
10/06/13
11:23
PM ET
SAN FRANCISCO -- A few thoughts on the
San Francisco 49ers
' 34-3
win
over the
Houston Texans
on Sunday night:

What it means:
The 49ers are making folks forget about their follies of losses to Seattle and to Indianapolis in Weeks 2 and 3. They were outscored 56-10 in those games. Since then, the 49ers have outscored the Rams and the Texans 69-14 and at 3-2 looking like a serious playoff threat. Sunday was a great all-around day for the 49ers. Not only did they dominate a strong AFC team, but Seattle lost to Indianapolis to fall to 4-1. So, the NFC West race just got tighter.
Stock Watch:
Tramaine Brock
has found himself a gig as the 49ers' No. 3 cornerback. He played well last week against the Rams with
Nnamdi Asomugha
out with a knee injury. Sunday night, he had two interceptions, including one he returned 18 yards for a score on the first drive of the game. There is no way Asomugha is going to regain his job anytime soon. Brock is a keeper.
Another hit on defense:
Standout defensive lineman
Ray McDonald
left with a biceps injury. If McDonald has to miss extended time, the 49ers will miss him dearly. They are already without starting nose tackle
Ian Williams
. Tank Carradine and Quinton Dial will be off the PUP soon. The 49ers have talked to free agent
Richard Seymour
and they could revisit talks if McDonald's injury is serious. But Seymour wants a lot of money.
What's next:
The 49ers are navigating to the easier part of the schedule. They host Arizona on Sunday, then are at Tennessee and then play winless Jacksonville in London before the bye. Going from 1-2 to 6-2 at the halfway point is very feasible.
October, 6, 2013
10/06/13
7:35
PM ET