NFL Nation:

2013 Week 5 JAC at STL
October, 7, 2013
10/07/13
12:30
PM ET
An examination of four hot issues from the
St. Louis Rams
' 34-20
win
over the
Jacksonville Jaguars
:
[+] Enlarge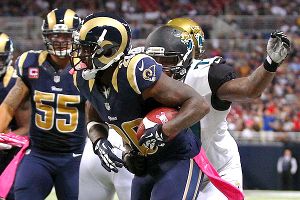 Dilip Vishwanat/Getty ImagesDarian Stewart's fumble recovery helped the Rams secure the win over the Jaguars.
A must not lose:
Credit to the Rams for doing exactly what they should do against winless Jacksonville: win. It didn't matter if they were playing the Jaguars, the '85 Bears or a high school team. The Rams needed a victory in the worst way after losing to Atlanta, Dallas and San Francisco.
In the postgame locker room, the Rams did not seem to have any delusion this was a cure-all or the season magically has been righted. Instead, there was an understanding that the win was important but there is still a lot of work to be done.
Giving new meaning to special:
The team's special-teams units continue to rack up penalties at a record pace, adding six more for 53 yards Sunday. One of those wiped out another long punt return from
Tavon Austin
.
For the season, the Rams now have 17 special-teams penalties for 145 yards on 101 plays. To put that in perspective, the offense and defense have combined for 16 penalties for 143 yards on 653 snaps.
At this point, a solution does not seem to be evident.
Stacy the starter?
In desperate need of a spark in the run game, the Rams found it in rookie bowling ball
Zac Stacy
. There was nothing flashy about Stacy's 14-carry, 78-yard performance but he was effective.
Stacy brings the hard-charging style that coach Jeff Fisher has always liked and showed the ability to get yards after contact that had been missing. Although he did it against Jacksonville's 32nd ranked run defense, he appears to be the best option from among the team's five running backs right now.
Stacy waited four games to get his first career start. His wait will be much shorter for No. 2.
Takeaway time:
For the first time this season, the Rams came out on the plus side of the turnover battle against the Jaguars. Two interceptions and a fumble recovery led to 14 points for the Rams, ultimately making up the final margin.
Since Fisher's arrival, the Rams are 3-1 when they are plus-3 or better in turnover margin. Each time, they have come out with a minimum of 13 extra points than the opponent.
The Rams defense has yet to show it can consistently stop teams so if it could develop a trend of getting turnovers and either scoring on the return (as safety
Matt Giordano
did) or turning it into offensive points right away (as they did following safety
Darian Stewart
's fumble recovery), it would go a long way toward more wins.
October, 6, 2013
10/06/13
8:15
PM ET
ST. LOUIS --
Blaine Gabbert
will be the
Jacksonville Jaguars
' starting quarterback next Sunday against Denver -- provided his left hamstring injury isn't severe enough to put him on the bench.
Coach Gus Bradley didn't hesitate a bit when asked that question after the Jaguars' 34-20 loss to the
St. Louis Rams
. Gabbert is his quarterback.
[+] Enlarge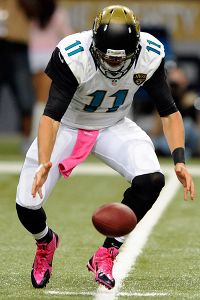 AP Photo/L.G. PattersonBlaine Gabbert threw a TD pass and two interceptions in the loss against the Rams.
Gabbert's performance against the Rams produced some compelling reasons why he shouldn't -- and should -- be.
First, the bad:
He air-mailed a pass 6 feet over Justin Blackmon's head that was intercepted and returned for a touchdown.
He fumbled twice while trying to scramble around in the pocket.
He threw an end-zone interception on fourth down.
And he missed a wide open
Cecil Shorts
on the sideline on a scramble, when he had enough room to run for a first down and time to set his feet and make a good throw.
Now, the good:
He threw a perfect pass to Shorts along the right sideline for a 28-yard gain from the Jaguars' 1-yard line.
He also converted a third-and-5 with a nifty pass to Shorts a millisecond before Rams defensive end
Robert Quinn
hit him in the legs.
He answered the interception return for a touchdown by guiding the team on a seven-play, 50-yard drive that culminated with Josh Scobee's 48-yard field goal to give the Jaguars a 10-7 lead.
But that's quintessential Gabbert. Inconsistent, with flashes of the kind of talent that would warrant being the No. 10 overall selection in the 2011 draft.
"We just need the consistency of making good decisions," Bradley said. "We just have to continue to train. The challenge is for our guys to play with some freedom. We have to find that balance, where we are making good decisions, but yet we have freedom to make plays."
The problem is that Bradley and GM Dave Caldwell haven't been able to get a full evaluation on Gabbert this season because he has been injured and playing without full firepower. He had a sprained ankle and fractured thumb in the preseason, then suffered a cut on his hand that required stitches and kept him out of two games. Now he's dealing with a hamstring strain that put him on the bench in the third quarter against the Rams.
He hadn't had Just Blackmon, his best receiver, until Sunday, and tight end
Marcedes Lewis
has been on the field for just two plays this season because of a calf injury. The Jaguars are now on their third left tackle after the trade of
Eugene Monroe
and the season-ending ankle injury to
Luke Joeckel
.
The running game has been no help, either, averaging just 49.0 yards per game going into Sunday's game -- although the Jaguars did run for a season-high 96 yards against the Rams.
"Things haven't gone the way we wanted to the first couple weeks of the season for this team and with some individuals on it, but it's just something that we've got to fight through," Gabbert said. "We've got to fight through some adversity, and we'll get better in the long run."
That's what he's been saying all season, but at some point you have to rise above adversity and just start making plays. There have been opportunities for big plays in every game he's played this season, and he has failed to make the throws.
He's making the same mistakes this season he made as a rookie. Any strides he made with his pocket presence evaporated on Sunday when he hopped around and bolted out early. Not once or twice, but several times.
Nobody is asking Gabbert to be
Peyton Manning
or
Tom Brady
or
Drew Brees
. The Jaguars just want him to not be
Mark Sanchez
, and that's not too much to demand in his third season.
Barring injury, Gabbert will start against the Broncos, but his time to prove that he deserves to have that job at the end of this season and beyond is running out.
October, 6, 2013
10/06/13
7:30
PM ET
ST. LOUIS -- Whether rookie
Zac Stacy
turns out to be the
St. Louis Rams
' long-term answer at running back won't be determined for a long while.
But for one day at least -- even against Jacksonville's league-worst rush defense -- Stacy was the cure for what's ailed the Rams' running woes.
"I thought Zac did a great job today," quarterback
Sam Bradford
said. "I think he showed everyone what he was about. He ran hard, he ran physical, he ran downhill. I don't think you could ask for much more from him today."
[+] Enlarge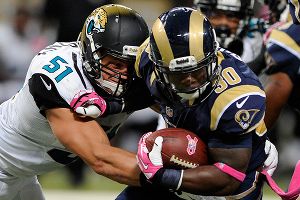 AP Photo/L.G. PattersonZac Stacy brings a physical element to the Rams' running game that had been missing.
After teasing some adjustments to the running game after a performance that yielded 18 yards on 19 carries against San Francisco, Rams coach Jeff Fisher followed through by taking the reins from
Daryl Richardson
and handing them to Stacy as the rookie from Vanderbilt made his first career start.
For most of last week, it was Stacy getting the bulk of the work with the first-team offense. Later in the week, the Rams informed him he'd be the starter. Undeterred by the moment, the workmanlike Stacy simply went about his business against the Jaguars.
Although his day ended a bit earlier than he would've liked after leaving with a late rib injury, Stacy finished with 78 yards on 14 carries. His longest gain was 12 yards, which means he was moving forward more often than not when he got his chances.
Unlike the other backs on the roster, Stacy brings a more powerful running style that had been missing in the first four weeks. The Rams were 30th in the league in yards after contact going into Sunday's game with an average of 1.15 yards after contact per rush.
Yes, the offense had struggled to run block entering the game but Richardson,
Isaiah Pead
and
Benny Cunningham
hadn't exactly been running through arm tackles or making defenders miss in the open field. Stacy didn't do much of the latter Sunday but he did plenty of the former.
"He was just running very physical," receiver
Austin Pettis
said. "I think that was the biggest thing that we needed. We were kind of secondary running in the first couple games and it wasn't working out for us. Whether it was a 10-yard run or a 2-yard run, he was sticking his nose in there and making sure he was going to get some yards for us positively. I think that opened up so much for us offensively."
Stacy's 78 yards were more than the Rams had posted in their Week 2 game against Atlanta, a 69-yard outing that was the team's best performance until Sunday. Acting as the jump-starter for the running game, Stacy keyed a rushing performance that yielded 143 yards on 36 carries. That average would've been even better were it not for some late Bradford kneel downs.
"It's definitely a confidence booster for the run game," Stacy said. "Coach Fisher, he loves that physical type of runner and that's one thing that we all emphasize in the running back room. We want to bring that physicality out there on the field so it was pretty much what we emphasized all week."
To be sure, one solid performance against the league's worst rushing defense doesn't mean the Rams have found the magic potion to suddenly be the power running team they once were with
Steven Jackson
at running back.
There's little doubt that Stacy brings more of that physical presence than any of his fellow backs and has at least earned another start next week in a game that should be right up his alley against Houston.
"It's one game but that's pretty much the mentality I have week in, week out, being productive, being consistent," Stacy said.
So long as Stacy continues to do what he did Sunday, he'll be doing something else consistently: starting.
October, 6, 2013
10/06/13
7:25
PM ET
ST. LOUIS --
Justin Blackmon
's presence on the field for the first time this season was supposed to make an impact on the
Jacksonville Jaguars
' offense on Sunday.
[+] Enlarge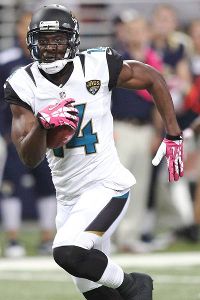 Scott Kane/USA TODAY SportsIn his first start of the 2013 season for the Jacksonville Jaguars, wide receiver Justin Blackmon had 136 yards and one touchdown.
How about immediately?
Blackmon's first touch was a 67-yard catch-and-run for a touchdown that gave the Jaguars a 7-0 first-quarter lead against St. Louis, which wasn't a bad debut for a guy who was suspended for the first four games because he violated the NFL's substance abuse program.
"It just popped open," Blackmon said. "Blaine [Gabbert] made a call and we reacted. The defense was flustered. We converted third down [the play before] and they were running off the field. We hurried up and just snapped the ball."
The Jaguars desperately needed that kind of spark on offense, and it was evident how much his presence affected the team in the first quarter. They racked up 156 yards (they had just 178 total against Kansas City and 205 last week against Indianapolis), had three plays of 20 or more yards, and scored 10 points.
But now the challenge is sustaining that impact, because that didn't happen against the Rams. Blackmon caught three passes for 90 yards in the quarter, but then caught only two more passes for 46 yards the rest of the game.
"We tried to get him the ball," Gabbert said. "You make plays, they do key on you but it's the quarterback's job to stretch the field and get him the ball."
Gabbert's right. They did try. The pass that safety
Matt Giordano
intercepted and returned 82 yards for a touchdown was thrown toward Blackmon -- except it was about 6 feet over his head. But Blackmon was targeted just once in the second quarter when the game was tied 10-10 and once early in the third quarter. But by the time Blackmon got his fourth catch on a 39-yard pass from
Chad Henne
late in the third quarter, the Jaguars were already behind 24-10.
Blackmon's presence on the field eased the coverage on
Cecil Shorts
, who had caught 26 passes in the first four games, but had struggled to make plays early in games when the coverages were tighter and he faced some double teams. He had more success against looser coverages in the second halves, which was when the games were well out of reach.
The Jaguars were also able to use their anticipated lineup at receiver for the first time this season. Blackmon and Shorts, who had five catches for 74 yards and his first touchdown reception of the season, were on the outside and rookie
Ace Sanders
was in the slot.
"It really eliminated them double-teaming our best guy, which is Cecil, so [Blackmon's presence] kind of allowed us to spread it out a little bit and get other guys the football," Henne said.
October, 6, 2013
10/06/13
6:30
PM ET
ST. LOUIS -- Looking back at three things worth watching from the
St. Louis Rams
' 34-20 win against the
Jacksonville Jaguars
on Sunday.
1. Revving the run. No, seriously this time.
[+] Enlarge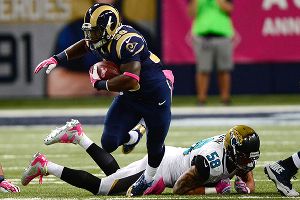 Jeff Curry/USA TODAY SportsZac Stacy had arguably the best performance for a Rams running back this season.
For the first time since the Atlanta game, the Rams showed some signs of life in the running game as rookie
Zac Stacy
got the start.
Stacy didn't break any particularly long runs or even score a touchdown but he showed a knack for falling forward after contact and even made a couple of tacklers miss.
The results were enough to keep the offense somewhat balanced and keep some drives moving. He finished with 78 yards on 14 carries, an average of 5.6 yards per attempt.
Yes, Jacksonville had the worst rush defense in the league entering the game but the Rams had the worst rush offense. Stacy provided a spark.
2. Slowing the run.
While Jacksonville's run defense entered Sunday as the worst in the league, it's rushing offense was better only than the Rams. The hope for the Rams was that they'd be able to get the ship righted against the Jaguars after San Francisco and Dallas gashed them for an average of 206 yards the past two weeks.
For most of Sunday's game, the Rams showed marked improvement, holding Jacksonville to 46 yards on 14 first-half carries but Jacksonville found a little room in the second half, gaining 50 yards on 11 tries as it tried to mount a late comeback.
Either way, the Rams fared much better against the run in holding the Jaguars to 3.8 yards per attempt on 25 tries and, at least for this week, stopped the bleeding.
3. Secondary first priority.
The Rams were banged up in the secondary with injuries to safety
T.J. McDonald
and cornerback
Cortland Finnegan
forcing them to play three safeties in the nickel package in the form of
Rodney McLeod
(as the slot corner),
Matt Giordano
and
Darian Stewart
.
That personnel grouping was on the field often against Jacksonville and though it was far from perfect, it was enough to come up with some big plays, especially Giordano and Stewart.
After the Rams got burned for a long touchdown in the first quarter, Giordano answered with a gift-wrapped interception he returned 82 yards for a touchdown to tie it up.
Later, Stewart forced and recovered a fumble to set up a touchdown gave the Rams a 17-10 lead they'd never relinquish. In the unofficial pressbox statistics, Giordano had four tackles and a pass defended to go with his pick-six and Stewart chipped in six tackles and the aforementioned forced fumble and recovery.
October, 6, 2013
10/06/13
6:00
PM ET
ST. LOUIS -- Observed in the locker room after the
Jacksonville Jaguars
'
34-20 loss
to the
St. Louis Rams
.
Jones-Drew
Feeling bad:
Running back
Maurice Jones-Drew
said he felt terrible about left tackle
Luke Joeckel
's injury because he was one of the players that ended up rolling on Joeckel's right leg. "It's always tough to see a guy that you count on go out. It's tough when you're the guy who probably hurt him, too, which was me," he said. "You never want to run up anyone's back like that."
Run down:
The Rams entered Sunday ranked last in the NFL in rushing yards per game (47.3) but they put up a season-high 143 yards. "We felt like we were well-prepared and we did a solid job for the most part," Jaguars linebacker
Paul Posluszny
said. "Then we let up a couple runs, missed a couple tackles, let a guy fall forward after hitting him ... the next thing you know they are over 100 yards."
Minus-3:
The Jaguars elected to take a field goal off the board in the third quarter when St. Louis cornerback
Janoris Jenkins
lined up offside.
Blaine Gabbert
's fouth-down pass in the end zone was intercepted. Jaguars coach Gus Bradley said he made the decision because they trailed by 14 points and needed some momentum.
October, 6, 2013
10/06/13
4:11
PM ET
ST. LOUIS -- A few thoughts on the
Jacksonville Jaguars
' 34-20
loss
to the
St. Louis Rams
:

What it means:
The Jaguars lost their fifth game of the season but there was progress. The team scored a season-high 20 points, it was a seven-point game at one point in the fourth quarter and the running game finally got moving (96 yards, including 70 by
Maurice Jones-Drew
). But the kinds of mistakes the Jaguars have made all season resurfaced and resulted in the franchise's 10
th
consecutive loss dating back to last season.
Blaine Gabbert
air-mailed a pass over
Justin Blackmon
's head that was intercepted and returned 82 yards for a touchdown.
LaRoy Reynolds
was penalized for an illegal block above the waist that nullified
Ace Sanders
' 88-yard punt return for a touchdown. The Jaguars did score on that possession, but it is an example of how penalties have hurt this team all season.
Clay Harbor
also fumbled and the Rams turned that into a touchdown, too. Still, the offense ended up with a season-high 363 yards.
Gabbert hurt again:
Gabbert was forced to leave the game in the second half after injuring his left hamstring. He had completed nine of 19 passes for 181 yards and one touchdown but threw two interceptions. It was a typical Gabbert performance: He threw several passes that flashed his potential but he also had plays where he panicked in the pocket and took off running and overthrew open receivers. He was replaced by
Chad Henne
, who led the Jaguars to one touchdown.
Stock watch:
The Jaguars' offensive line is essentially down two starters from the unit that opened the season. The team traded starting left tackle
Eugene Monroe
to Baltimore early in the week and
Luke Joeckel
, the No. 2 overall draft pick last April, moved from right tackle to left tackle but injured his ankle in the first quarter and did not return.
Cameron Bradfield
, who started 12 games at right tackle last season, stepped in for Joeckel.
Now you see him, now you don't:
Blackmon returned from a four-game suspension and made an immediate impact on the offense, catching five passes for 136 yards and a touchdown. The touchdown came on a pass over the middle and he out-ran the secondary for 67 yards. But Blackmon had only two more catches.
What's next:
The Jaguars play at Denver on Sunday.
October, 6, 2013
10/06/13
4:08
PM ET
ST. LOUIS -- A few thoughts on the
St. Louis Rams
'
34-20 win
against the
Jacksonville Jaguars
.

What it means:
The Rams did exactly what they were supposed to do, defeating lowly Jacksonville, though they found a way to make it interesting, particularly early in the game.
Given the struggles of the Jaguars, it's difficult to glean much from this in terms of what it means for the Rams big picture. They did many of the things they've been struggling to do better but again, the opponent clouds the picture.
Still, the Rams needed a win to break their three-game losing streak and they got it.
Stock watch, up:
RB
Zac Stacy
. His longest run went for 12 yards and he finished with only 78 yards on his 14 carries but that's not the point. The Rams' running game has been nonexistent most of the season and Stacy at least showed the ability to keep piles moving, make an occasional tackler miss and actually gain yards after contact. He may have hit 100 yards if not for a late rib injury.
Stock watch, down
: The special-teams units. It'd be hard for the stock of the return teams to drop much further but the coverage units had been strong most of the season. On Sunday, the Rams' special teams were responsible for six penalties for 53 yards, including one that wiped out a long return from
Tavon Austin
.
Johnny Hekker
also had a punt blocked. The Rams have more penalties on special teams than they do on either offense or defense through five games.
Turnovers key:
The final score made it look like a fairly comfortable win for the Rams but the numbers actually tilt quite favorably to Jacksonville. The difference, as is often the case, was turnovers.
Safety
Matt Giordano
took a gift interception 82 yards for a touchdown and the Rams turned a
Darian Stewart
fumble recovery into a
Lance Kendricks
touchdown. That's a step forward for a team that hasn't often made the most of such chances this season.
The scarier thought for Rams fans is what might have happened without those takeaways.
What's next:
The vacation is over as the Rams have a difficult two-game road trip against Houston and Carolina. From there, they return home to play Seattle on Monday night to reach the midway point.
NFL SCOREBOARD
Thursday, 10/23
Sunday, 10/26
Monday, 10/27