NFL Nation:

2013 Week 5 KAN at TEN
October, 6, 2013
10/06/13
9:03
PM ET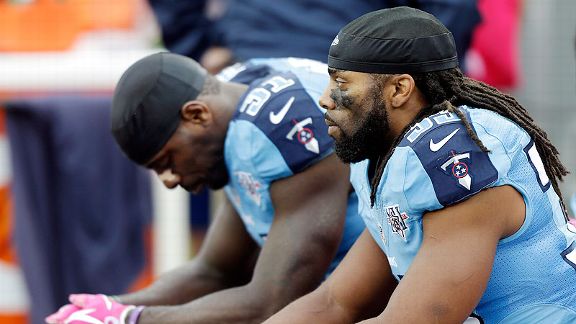 AP Photo/Wade PayneBernard Pollard (31) has been critical of the league's protection for quarterbacks but offered a calm assessment of the call that changed the game against Kansas City.
NASHVILLE, Tenn. -- Fans were outraged. The Twitterverse bemoaned the call. The LP Field crowd booed the officials the rest of the game.
On a third-and-5 from the Tennessee 44-yard line,
Kansas City Chiefs
quarterback
Alex Smith
scrambled to the right sideline. It looked like he was heading out of bounds. Middle linebacker
Moise Fokou
made sure Smith went out, launching and putting a shoulder into Smith that drew the flag.
Instead of fourth-and-3 the Chiefs got the two yards on the scramble and 15 more for unnecessary roughness. Five plays later, the Chiefs had retaken the lead for good en route to a
26-17 victory
that kept them undefeated and dropped the Titans to 3-2.
Outspoken Titans strong safety
Bernard Pollard
has been critical of the league's protection for offenses and quarterbacks. Pollard -- a guy who recently said the NFL should pull defenses off the field, let offenses play against air and see what the television ratings would be like -- would surely offer a strong objection to a crucial unnecessary roughness call against a teammate, right?
"It's a gray area," Pollard said. "It's something I think needs to be corrected in the rules, because it's hard for us as defensive players. Having said that, look at the situation we were in. You've got to let that go. The guy was two yards shy. But we make mistakes. That hurt us, when you keep drives going with penalties."
Fokou was less sure it was wrong, but wasn't defensive about it either.
"The officials felt what I did was probably a penalty," he said. "I'll have to go back and look, I feel like our sideline thought it wasn't. It's one of those things, when you're battling and playing hard, going full speed, things happen."
"I thought I was in a good position, you just never know. … You try to defend every blade of grass. When I looked at it, I thought he was still in. I left my feet and I don't know how to stop mid-air."
In his post-game press conference Titans coach
Mike Munchak
said he thought Smith was in bounds and Fokou was trying to make sure he didn't get a first down. There are inconsistencies in the way it's called, Munchak said, but the Titans know the boundary call is going to be closely inspected and the team has to be smart there.
I talked to Pollard, Fokou, defensive tackles
Mike Martin
and
Jurrell Casey
, cornerback
Alterraun Verner
, safety
George Wilson
, left tackle
Michael Roos
and Rob Turner about the call.
All but one of those eight basically said the call is to be expected and a defender has to avoid it.
"We've just got to be better at playing smarter football," Martin said. "When it comes down to plays like that, you can't leave it in the referee's hands."
"They are going to call that pretty much every time," Roos said. "They have to, they protect the quarterback. That's unfortunate. It is the way it is. At some point in our season I'm sure we'll get a call like that in our favor. That's the way it goes."
Munchak has spoken to his team on multiple occasions about the body language involved in getting called for penalties -- both by the player that gets whistled and by the victim. There are times when a player is on the verge of committing a hold or is committing one, where he can let go, not really impact the play and earn more benefit of the doubt.
Verner felt referee Bill Voinovich was left too much room for interpretation.
"We discuss that if it's close the referee could or could not call it," Verner said. "Of course I am going to say that Smith was still in, but it was one of those that was close. So the referee had a decision to make. It could have gone either way."
Only Turner spelled out a real case against the call, and he did so in a calm, understanding way, not in an angry, my-team-got-screwed manner.
"Alex Smith was trying to accumulate a first down," Turner said. "When he hit him, he didn't lead with the head, he led with the shoulder. He didn't target the head. Alex had not stepped out of bounds when he made contact. Now he hit him as his foot came down, but again, he was trying to get a first down.
"I'm not going to sit here and criticize the ref. From my viewpoint, what I saw on the replay, I thought it as a questionable call. ... I don't feel like he did anything wrong on that, he made a good play playing within the rules."
If Chiefs linebacker
Derrick Johnson
hit
Ryan Fitzpatrick
in a similar fashion, I suspect the Titans would have felt it worthy of a penalty.
I've never been a world-class athlete chasing a quarterback to the boundary in an NFL game at full speed with a major first down at stake. Still, I'd propose a strong push or shove is going to ensure the quarterback goes out of bounds and significantly reduce the risk of a penalty. Stay on your feet, keep your head up and hit him with an extended arm, not even a shoulder.
If you do that and the call goes against you, they'll be a lot more than public outcry to back you.
Give the crew gray area, it's going to go to the quarterback's side. Grumpy fans need to come to terms with that. It's pro football circa 2013.
October, 6, 2013
10/06/13
8:45
PM ET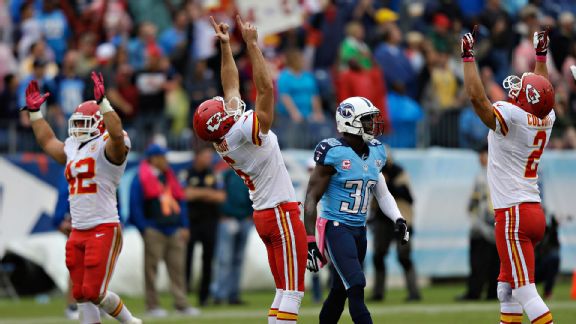 AP Photo/Wade PayneKansas City scored the final 13 points Sunday -- all in the fourth quarter -- to remain unbeaten.
NASHVILLE, Tenn. -- Just as the postgame celebration was in full swing in the
Kansas City Chiefs
' locker room, it hit a momentary lull. Guard
Jeff Allen
punctuated the brief silence by saying, to no one in particular, "We own the fourth quarter."
Nobody can dispute it. The Chiefs have built their 5-0 record by dominating in the fourth quarter, and that was certainly true in Sunday's
26-17 win
over the
Tennessee Titans
, in which Kansas City scored the game's final 13 points.
In the first four games, the fourth quarter was about protecting a lead. This time, it was about overcoming a deficit. The Chiefs had no reason to believe they would, not after the offense sputtered to just two field goals in the first three periods, and certainly not after quarterback
Alex Smith
threw a horrible interception in the third quarter that the Titans converted into their go-ahead touchdown.
The Chiefs had owned the fourth quarter before, but this one looked like it would belong to their opponent. Mainly through force of will, perhaps forged through those other successful fourth quarters, the Chiefs dug themselves from the muck.
Smith led the Chiefs on a touchdown drive to put the team back on top, and then the defense intercepted a pair of passes to snuff Tennessee's comeback hopes.
It started with the gritty touchdown drive. Smith, fresh off his interception, completed his final five passes on the possession. The Titans helped with a pair of penalties, including a questionable late hit on Smith that allowed the Chiefs to continue the drive.
Asked how he could have, at that point, believed in his offense, Chiefs coach Andy Reid said, "The eyes I'm looking into are positive eyes. Alex, he wants the ball back. He knows it's just a matter of time before it kicks in. The offensive line was that way.
Dwayne Bowe
was constant energy throughout the game.
"That was my picture. That's what I was looking at."
It can be easy to forget now, with the Chiefs being one of just three remaining unbeaten teams, but their offense achieved little the past two seasons, and while Reid has set a positive tone, Smith is the only significant new playing piece.
So much of this newfound will comes from their quarterback. This was the first time since joining the Chiefs that he had the outcome of a game resting with him, and everyone was more than a little curious to see how he would handle the situation.
"The players are all looking at him," Reid said. "They're looking at him every snap. That's their leader out there, and so if you're wavering at all or you don't have the right look in your eye, these guys can sense that. They can tell. So how you present yourself is huge.
"He's a tenacious competitor, that kid. I love that. I love that part of him."
Smith is hardly a rookie. He'd been in such situations when he was the starter for the
San Francisco 49ers
. He had a history of leading his team from behind in the fourth quarter, having done it six times in 2011.
"You get in those situations enough as a quarterback," Smith said. "I feel like I have played in a lot of tight games over the years, and with eight minutes or 10 minutes left in the fourth, you don't press. You just kind of focus in that much more, and you bring the guys in that much more and you know you're only one play away."
This was the first time he had tried it with the Chiefs. In front of a large and loud Tennessee crowd, they made it work. That will count for a lot the next time the Chiefs are confronted with a similar situation.
"No question it helps," Smith said. "This was a first for us this year: being down in the fourth quarter and having to have a game-winning drive, and we were able to put it together. These are great experiences to have, especially being together for the first time. Great experiences to build on."
The Chiefs appear headed for many new experiences. With five wins, they've already topped their total in four of the previous six seasons. Their 5-0 start is second best in club history, behind a 9-0 start in 2003.
More importantly, by rallying Sunday, they set themselves up to continue their run. They will play their next three games at Arrowhead Stadium, against the
Raiders
,
Texans
and
Browns
before they head to Buffalo to face the
Bills
.
It's not unreasonable to think they could be 9-0 in mid-November when they travel to Denver for their first of two meetings with the
Broncos
.
If they get to that point, it would undoubtedly be due to their ability to close games with a flourish.
"That's the time of the game where the team that's mentally tough wins the game," Allen said. "Everybody's tired, but you've got to push through. We've got guys on this team who do a great job of finishing games. Usually, it's the team that finishes that wins."
October, 6, 2013
10/06/13
8:25
PM ET
NASHVILLE, Tenn. -- When an easy throw skittered incomplete near
Delanie Walker
, the start of a brutal half for
Tennessee Titans
quarterback
Ryan Fitzpatrick
was officially underway.
Offensive coordinator Dowell Loggains thought that first incompletion put Fitzpatrick into a "funk" it took a long while for him to emerge from.
By the time the Titans went to the locker room for intermission, Fitzpatrick was five for 14 for 31 yards and a 44.3 passer rating. The Titans were down 13-0 and had just three first downs.
"I just didn't play well early," Fitzpatrick said. "I was trying to feel the game out rather than go out there and taking it. I think that was part of it."
He came to life a bit, to his credit, in the second half.
Escaping from a collapsing pocket, he flicked a ball to
Chris Johnson
and Johnson, finally in some open space, cut across the field and went for a 49-yard scoring reception.
"That's just on the fly," Fitzpatrick said. "I'm kind of running around and saw CJ getting up off the ground and threw it to him and you know, obviously, his specialty is when he gets in space, so he made a nice little run."
Still, after four games without a turnover, the Titans gave away a fumbled punt early and Fitzpatrick threw two interceptions in the second half.
He ended the game with 247 passing yards, two more than Kansas City's
Alex Smith
. But Fitzpatrick had just a 57.7 passer rating.
That hardly picked up where
Jake Locker
, who had gotten better in each of his four games, left off. Locker was on the sideline on crutches following a sprained knee and hip suffered last week in a victory against the
New York Jets
.
All the talk of the backup getting back into game speed has to be over now.
The
Titans blew a chance
to get to 4-1. Now they make the toughest road trip in the NFL for a game in Seattle.
Fitzpatrick has a reputation as a streaky player. In his first game substitution for Locker, he was mostly bad.
He'll probably have to be better than mostly good for the Titans to pull an upset in the Pacific Northwest and avoid going 3-3.
October, 6, 2013
10/06/13
6:41
PM ET
NASHVILLE, Tenn. – In late July, Mike Munchak wasn't talking about all the time the
Tennessee Titans
would need for their revamped offensive line to jell. He was not talking about the things the Titans needed to do to build
Chris Johnson
's yards per carry.
"If we're going to win," Munchak said then, "it's going to be because our offensive line is a lot better than it was last year, and we're physical, and we're relentless, and we're going to move people around on both sides of the ball. And if we do that, which we're very capable of doing with the guys that we have, then we're going to win a lot of football games. If we don't do that, then it doesn't matter."
[+] Enlarge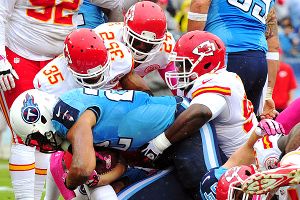 Don McPeak/USA TODAY SportsJackie Battle was stopped twice on the Kansas City 1-yard line.
They did not do it Sunday at LP Field against the
Kansas City Chiefs
. The backbone of the team went jellyfish, and the Titans got 50 of their 105 rushing yards from scrambling quarterback
Ryan Fitzpatrick
.
The Titans are a determined run team. But a determined run team with three new line starters and a couple new backs behind the starter should be better than this by Week 5.
And through Week 5 the Titans have a pricy running back who's average is down to a paltry 3.1 yards a carry.
The Titans are supposed to be a team that can get a tough yard. But facing first-and-1 from the Kansas City 1-yard line in the second quarter, this was the sequence:
First down: Jackie Battle up the middle, no gain, tackle by defensive end Anthony Toribio and inside linebacker Akeem Jordan

Second down: Fitzpatrick pass batted at line, caught by Fitpatrick, no gain

Third down: Fitzpatrick scrambles, sacked for no yards

Fourth down: Battle up the middle, no gain, tackle by defensive tackle Dontari Poe and Toribio
On the second down play Fitzpatrick got tripped up as he backed out, and had
Delanie Walker
open but could not deliver it.
"Once we see it on tape, there are probably a lot of reasons why that isn't in the end zone," left tackle
Michael Roos
said. "It's terrible on our part, to start with. As an offensive line being revamped like that, we have to get that in. You can't make excuses. …I'm sure there were multiple guys that had issues in it. We've just got to get it in."
Part of the Titans talk about their run game at this stage has been about the difficult fronts they have faced. But five games should be a pretty reasonable simply on defense in general, and five games should be more than enough time to figure out runs that can work.
"Third-and-1, fourth-and-1 from the 1, you've got to punch that in, that's unacceptable," offensive coordinator Dowell Loggains said. "Right now my concern is fixing the problem. We've got to figure that out ASAP. We've played some good defenses, but that's no excuse. We have a lot of talent up front. We need to do a better job."
I've credited this staff for not being stubborn with game plans and determined to prove it was right in planning. But I think Loggains was guilty of some of that here.
The Titans ran it mostly inside, and Poe is an immovable force in there. They hardly tested the edge, though Battle had they team's big run to the outside late, a 37-yarder.
"We didn't have anything in the game plan going outside," Roos said.
Said Loggains: "The strength of that defense is definitely the edge rushers and the linebackers are sideline to sideline players, (
Derrick Johnson
) can run, all those guys can run. The thing is we didn't do a good job inside getting those guys covered up. It's something we've got to continue to work on."
Taking the ball inside to where center Rob Turner, the line's weakest link, was struggling with Poe even with help seems like an idea to work on as well.
Meanwhile the Chiefs had personnel issues with right tackle
Eric Foster
out.
Kansas City was, nevertheless, what the Titans talk of being: A reliably effective run team riding a top back.
Jamaal Charles
took 22 carries 108 yards and scored a touchdown from, you guessed it, a yard out.
October, 6, 2013
10/06/13
5:55
PM ET
NASHVILLE, Tenn. -- Observed in the locker room after the
Kansas City Chiefs
'
26-17 win
over the
Tennessee Titans
:
Charles
One of the last unbeatens:
At the time their game concluded, the Chiefs were one of just two 5-0 teams, the
New Orleans Saints
being the other. The day could end that way depending on how the Broncos fare against the Cowboys. That didn't escape their attention. "I don't want to stop,'' running back
Jamaal Charles
said. "I want to keep going. I've never been 5-0 in my NFL career.''
Succop's big day:
Ryan Succop
made all four of his field goal attempts, including a 48-yarder on a wet field for the game's final points. Succop is 9-of-9 this season inside of 50 yards and 1-of-3 beyond.
Injuries:
Starting wide receiver
Donnie Avery
, who had two catches of more than 40 yards, had difficulty raising his arm afterward. He was injured late in the first half and returned for a handful of plays in the third quarter. X-rays were negative and the Chiefs called the injury a bruised shoulder.
October, 6, 2013
10/06/13
5:52
PM ET
NASHVILLE, Tenn. -- Observed in the locker room after the
Tennessee Titans
' 26-17
loss
to the
Kansas City Chiefs
at LP Field:
Expectations:
Last week's locker room was somber after a win because of
Jake Locker
's injury. This week's was sober because the Titans have graduated to a place where they expect to win a game against a team like the Chiefs, even if Tennessee is bad for long stretches. It's good to have those expectations, and maybe it'll have a positive impact somewhere down the road, but this loss was the difference between 3-2 and 4-1. Gigantic.
Britt
Still struggling:
Kenny Britt
continues to struggle. They gave him more chances in this game and he caught one of six balls thrown his direction. One of the misses came on a third-and-2 with the Titans trying to hold on to a 17-13 lead. That's' the one offensive coordinator Dowell Loggains said upset him the most. As for Britt going forward, Loggains said: "We have to reassess everything at this point."
Minty fresh:
I had a good, solo conversation with center
Rob Turner
after the game, primarily about the call against
Moise Fokou
that was instrumental on the Chiefs' drive that put them ahead for good. (More to come on that.) Turner was brushing his teeth at his locker and I thought he might ask for a second, but he talked right through it, excused himself to spit in a nearby garbage can and kept right on going. He and his guard help had a tough time with defensive tackle
Dontari Poe
, who has seven tackles and a sack and is a handful for anyone these days.
October, 6, 2013
10/06/13
4:31
PM ET
NASHVILLE, Tenn. -- Reaction from the
Tennessee Titans
'
26-17 loss
to the
Kansas City Chiefs
at LP Field.

What it means:
The Titans couldn't complete a sweep of their three-game homestand. They fell behind 13-0 after a bad first half, rallied for a 17-13 lead, then gave up a fourth-quarter touchdown drive to lose it.
Ryan Fitzpatrick
was down, then up, then back down with a late interception that basically sealed it. At 3-2, the Titans are still in better shape than many expected after five games. But this is one game they could have had.
Stock watch:
Chris Johnson
just couldn't get it going, again. Johnson appeared to have a favorable matchup against some smaller, but very athletic guys in a 3-4 front. He entered the game with a 3.3-yard rushing average. Against the Chiefs, that figure dropped as he had 10 carries for 17 yards. I didn't understand why the Titans didn't try to run it outside more. Johnson did take a little flip from Fitzpatrick that he ran for a 49-yard scoring pass.
Injury issues:
Nickelback
Coty Sensabaugh
was knocked out with a concussion as
Alterraun Verner
shifted inside and
Tommie Campbell
took over Verner's usual spot outside.
Patrick Bailey
, a linebacker who is a special teams captain, and rookie linebacker
Zaviar Gooden
, who was also playing on special teams, both left early with hamstring issues.
Waited too long:
Against a good opponent like the Chiefs, the Titans are not good enough to get away with a scoreless and unproductive first half.
What's next:
The Titans take to the road and make the toughest trip in the NFL -- to Seattle. The
Seattle Seahawks
have already beaten the
Houston Texans
and
Jacksonville Jaguars
from the AFC South. The Colts beat Seattle in Indianapolis on Sunday.
October, 6, 2013
10/06/13
4:27
PM ET
NASHVILLE, Tenn. -- A few thoughts on the
Kansas City Chiefs
' 26-17
win
over the
Tennessee Titans
at LP Field:

What it means:
The Chiefs, after leading 13-0 at halftime, survived, but only after a frantic fourth-quarter touchdown drive that was aided by a questionable late-hit penalty against the Titans. Until then, they were miserable in the second half, a collapse so steep that it's logical to wonder whether the Chiefs were good in the first place. The Chiefs had everything going for them in a lopsided first half but had trouble holding off the Titans, who were playing without injured starting quarterback
Jake Locker
.
Stock watch:
Quarterback
Alex Smith
had by far his worst game of the season -- throwing a horrible pass in the third quarter that was intercepted. The Titans then went on to score the go-ahead touchdown off the turnover. Smith went on to lead a big fourth-quarter touchdown drive that put the Chiefs ahead for good. Wide receiver
Donnie Avery
had two big catches of 40-plus yards. Rookie cornerback
Marcus Cooper
scored a touchdown when he recovered a fumbled punt in the end zone and later had a fourth-quarter interception.
Ryan Succop
made all of his four field goal attempts, including a 48-yarder with 2:12 to go that put the Chiefs ahead 26-17.
Defensive collapse:
The Chiefs allowed the Titans and backup quarterback
Ryan Fitzpatrick
153 yards in a dismal third quarter. The Titans climbed to within 13-10 by the end of the period. The Chiefs redeemed themselves with a goal-line stand that featured four plays from the Kansas City 1. They also intercepted Fitzpatrick twice in the fourth quarter.
What's next:
The Chiefs begin a three-game homestand next Sunday when they play the
Oakland Raiders
. The Raiders have beaten the Chiefs at Arrowhead Stadium in each of the past six seasons.